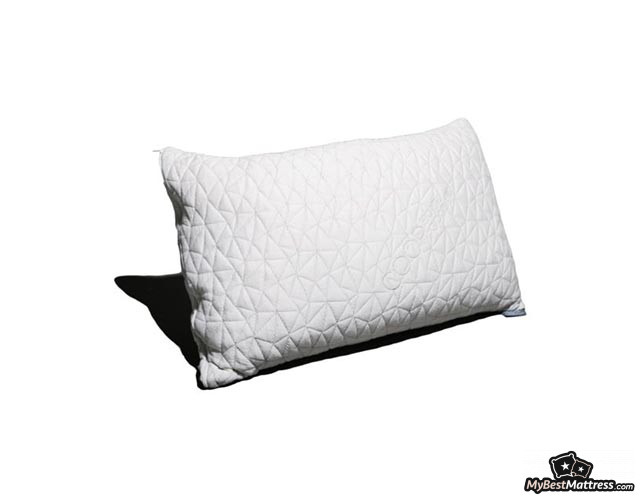 What do you think about when you hear the phrase "the most reviewed pillow on the internet"? Well, whatever it is, it probably involves something in the lines of "it must be a really good pillow, then!". Well, as a matter of fact, it is - and that's exactly what we'll be talking about in this Coop Home Goods pillow review.
Coop offers customers a few different products, but we'll be focusing on the two main pillows - the Coop Original and Eden. Both of these pillows are extremely popular and loved by the community of sleepers worldwide, so we'll see if we can figure out why that's the case.
TL;DR: Customer Coop Home Goods pillow reviews will tell you that both the Coop Original and Eden pillows are some of the top-tier products in the industry of sleeping accessories. Both pillows are filled with shredded memory foam, and are very comfortable and cool to sleep on.
Pros
Sleeps cool
Stuffed with shredded memory foam
Multiple firmness options
Cons
Some initial odor might be present
Poor shape retention
Coop Home Goods Pillow Review: PROS
What are the most important features that every comfortable pillow should have?
Customer Coop Home Goods pillow reviews mention a whole list of features that could fall into this category. That's normal - each individual person is going to have their own specific wants and needs as far as what the best pillow for them is.
However, it's still possible to create a generic list of the main features that are going to be applicable to all pillows out there.
First of all, the pillow insert. In order to be viewed as a decent product, every pillow should have an adjustable insert. You might say - that's a no brainer! Well, as a matter of fact, it is - there are quite a few pillows out there that don't allow you - the sleeper - to adjust the amount of stuffing that's in the product.

Don't get me wrong - there are great pillows that don't allow you to tinker with the insert. Latex pillows are a great example of that! However, as a general rule, Coop Home Goods pillow reviews will tell you that most people like to have the freedom to add or remove stuffing from their sleeping products.
The materials are, of course, the most important part of any pillow. They are usually the deciding factor on whether or not you're going to purchase the pillow. And I'm not only talking about stuffing, either - the cover matters a lot.
Speaking of which, good pillows will have even better covers - they should be allergy-free, allow you to easily remove them for washing purposes, and so on.
The list goes on and on, but you get the point. Given that the absolute majority of customer Coop Home Goods pillow reviews are very positive, you would think that the products (both Coop Original and Coop Eden) have managed to tick quite a few of those boxes off, right? Well, let's take a look.
Adjustable Loft
First things first, let's talk about the loft of both of the Coop pillows. I can tell you already - both the Original and Eden models have adjustable lofts.
An adjustable loft is exactly what we've talked about at the beginning of this Coop pillow review - it's the thing that you can manage by adding or taking out pillow stuffing from the product.
The Coop Original's filled with shredded memory foam and some microfibers. In conjunction with that, Eden is full of gel-infused shredded memory foam and the same microfibers. This makes both of these pillow memory foam-based - that's pretty spectacular.

If you're not aware, nowadays, people aren't really all that fond of memory foam pillows. They tend to have a really hard time adapting to your different sleeping positions, and can get really uncomfortable, real fast. Now, that being the case, it's still going to depend on the company in question. And, as you've likely figured out, Coop has managed to get it right.
Customer Coop Home Goods pillow reviews mention that, if anything, the fact that you can adjust the loft on both of the pillow products in-question means that the pillows are going to be useful and applicable for multiple different types of sleepers.
For example, stomach sleepers are usually the people that have the biggest issues with memory foam pillows, mostly because they have that sinking feeling to them. Well, truth be told, there are quite a few stomach sleeper Coop Eden pillow reviews which talk about how surprisingly comfortable the pillow was to sleep on - after removing some of the stuffing, of course.
Medium Firm and Soft Options
While Coop Home Goods pillow reviews will tell you that the Original Coop pillow is a medium-firm product, Coop Eden pillow reviews are going to name Eden as being "soft". So, basically, there are two different versions of firmness that you can choose from.
Now, firmness is a tricky topic. It's always balancing between the concepts of "want" and "need".
You see, while you might want a softer pillow, your back and neck might be saying the complete opposite. Instead of whispering subtly into your ear, however, they make their opinions known with a more effective method - pain.

Back, neck and shoulder pains are very common when it comes to sleep. Of course, there are many ways to combat these things - choosing a proper mattress is the very first one. That said, once you're sleeping on a decent bed, then come the smaller details - a proper pillow is just one of them.
Customer Coop Home Goods pillow reviews will tell you that, most of the time, you'll have no problems sleeping on either Eden or the Original pillow. Eden is definitely the softer option of the two, and will likely suit side sleepers more than, say, stomach ones.
The Coop Original, though, is firmer, and is thus loved more by both back and stomach sleepers, alike. That said, there are Coop Home Goods pillow reviews that talk about the pillows being comfortable to all of the different types of sleepers, since they (the products) do not bend your neck in any uncomfortable positions.
A Cool Sleeping Experience
If you read a lot of Coop Home Goods pillow reviews, you'll notice that there's a pattern of people saying that both of the pillows sleep rather cool.
And while there's indeed the possibility to sleep in style, the "cool" that they're talking about has to do with the temperature, rather than social standing.
Sleeping cool is absolutely essential for a good general sleeping experience. As do all things, this starts with the mattress, but pillows are also a key factor here.

If you want to fully know where I'm coming from, just remember that one damned time when you woke up in the middle of the night with a fever. There are few things that are as gross and uncomfortable as a drenched mattress and pillow.
Admittedly, as far as sleeping cool goes, the majority of opinions come from Coop Eden pillow reviews. This model of the pillow seems to provide people with the cooler sleeping experience of the two.
That said, though, there are plenty of Coop pillow reviews that note that while the Original model is a bit warmer than Eden, it's still pretty cool as far as memory foam pillows go.
Coop Home Goods Pillow Review: CONS
As good as a pillow is (and Coop pillow reviews have really placed the bar for this product pretty high), there are no perfect products. The same applies to the pillows in question - there are some customers that are not particularly happy with their Coop Home Goods pillows.
That being said, the reasons are rather lackluster, at least when compared to the actual benefits of these products.
Odor
New products tend to have odor - that's normal. However, most people would probably agree that a "new car smell" is a bit more pleasant than a "new pillow smell".
Well, as many Coop Home Goods pillow reviews would have you believe, Coop's pillow do actually have a pretty significant odor when you first unpack them.

Objectively, this is not a problem at all. The odor dissipates relatively soon (although, according to some customers, you might have to wait for a couple of days), and it's just a one-time thing.
That said, it can still get pretty annoying, especially if you need a pillow to sleep on the very same day you've bought Coop.
Poor Shape Retention for Some
Remember when we talked about having the option to adjust the stuffing of the pillow so that you could fit the height of the loft to your own, personal preferences? While that is definitely a cool feature, it also aids the pillow in becoming a bit flat over time.
Some customer Coop Home Goods pillow reviews mention how their Coop pillow did fall flat after a few nights of sleep. Now, the devil is surely in the details - even the customers themselves note that it was likely due to the fact that they had removed some stuffing from the pillow, but I digress.
While you can always add some insert into your product, there are still people who'd like to see both of the Coop pillows become a bit less prone to flattening.
Price
Pricing is one of the more difficult topics when it comes to decent pillows - at least with the majority of them.
Don't worry, though - many Coop Home Goods pillow review reviews note how price tags are among the best features of the products.
Here are the price tags for the Coop Original pillow:
And Eden:
Yup, your eyes aren't deceiving you - those are the actual prices of the pillows.
Now, given the fact that most of the high-end pillows these days retail for around $100 to $150 bucks, I think it's safe to say that Coop has definitely managed to get it right.

On top of the amazing prices, customers are also going to receive a 5-year warranty for their pillows. That's actually insanely long! Most pillows come with a 1-year warranty, and Coop increases that amount fivefold!
Warranties aside, however, it's worth stressing that I haven't encountered any notable customer Coop Home Goods pillow reviews that would complain about the make quality of either Eden or the Original. It's pretty likely that you're not going to need to invoke the warranty, altogether.
Conclusions
By this point, it probably doesn't need to be said, but I'm going to go ahead and exclaim it anyway - Coop offers some of the best pillows on the entire market. Pillows! That's a plural! Their Original product is rather amazing in of itself - yet, they've managed to pull it off twice in a row and made Eden, an improved version of the Coop Original!
Both pillows are stuffed with memory foam (Eden - with gel-infused memory foam) and microfibers, and thus both have adjustable lofts that allow any type of a sleeper to lay comfortable on the pillow. They are hypoallergenic, and the covers are designed to resist dust mites.
Also, both Coop Original and Eden are machine washable - no need to bend your back and wash the covers by hand.

Naturally, though, while looking at the products, you're bound to see some customer Coop Home Goods pillow reviews that aren't too fond about the odor that the pillows have once bought, and some people aren't all that happy about Coop products' shape retention.
All of that gets blown out of the way once you see the price though.
Honestly, no matter how you look at it, the fact of the matter stands - Coop has some of the best-priced pillows in the entire industry. Both of the pillows are very affordable, especially considering just how well-made and popular they are.
With that said, I thank you for reading this Coop Home Goods pillow review, and hope that I've helped you make up your mind on whether or not Coop is the right brand for your sleep. Cheers, and see you next time!
Leave your honest Coop Home Goods review
Leave your genuine opinion & help thousands of people to choose the best mattress. All reviews, either positive or negative, are accepted as long as they're honest. We do not publish biased reviews or spam. So if you want to share your experience, opinion or give advice - the scene is yours!