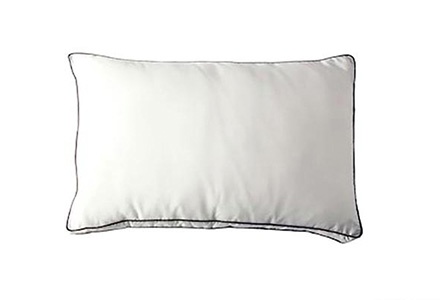 Primarily, Saatva is known to be a mattress-focused brand that produces and sells some high-tier luxury mattresses with an old-school, innerspring bed feel. That said, in this Saatva pillow review, we'll be taking a look at a quite popular sleeping accessory from the company - the Saatva pillow.
Straight from the get-go, I can tell you - Saatva has managed to incorporate many of the features that are so well-known from their mattress into the pillow. Customer Saatva pillow review are generally quite happy about the pillow, although there are a few notable issues that you should be aware of - we'll talk about 'em soon enough.
TL;DR: Customer Saatva pillow reviews are mostly positive towards the pillow. People like the fact that it's very cool to sleep on, is quite resistant to dust mites, easy to clean and provides some decent neck support.
Pros
Adjustable loft
Changeable insert
Great shape retention
Cons
Expensive
Unsuitable for stomach sleepers
Too soft for some customers
Saatva Pillow Review: PROS
If you were to take a few good looks at the highest-ranking pillows on the current market, you'd notice that they all have some similar features, albeit all being somewhat unique in their own, respective ways, too.
Well, those similar features are actually the important part here. Whether it be customer Saatva pillow reviews or any other brand reviews, the "pro" sections of these articles are commonly going to share some similarities.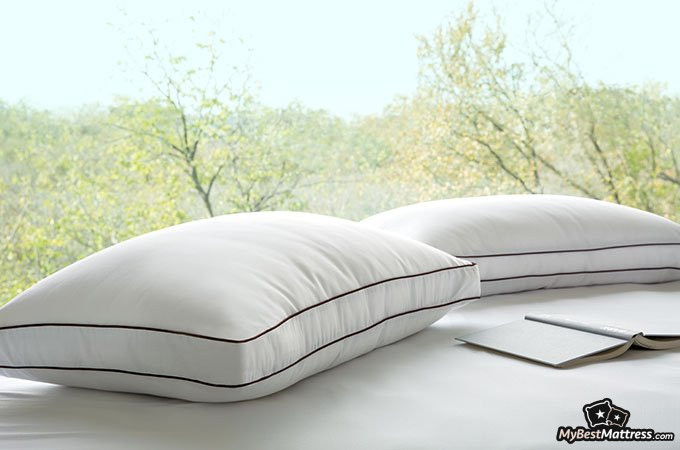 The very first of these similarities that pops to mind is proper head and neck support. It's one of the most important features that a pillow can posses. If the product has a too high or low of a loft, it won't offer you proper support while you sleep. This, in turn, results in an arched back and a whole lot of pain in the morning.
Also, shape retention. Some of the cheaper, less-than-known pillows on the market usually struggle with this feature. Basically, shape retention not only allows you to not worry as much about fluffing your pillow in the morning, but also prevents the pillow from "sinking in" while you sleep.
Finally, customer Saatva pillow reviews will tell you that most of the high-end pillows out there are going to be cool to sleep on. While temperature neutrality is a topic that isn't given as much attention as, say, neck and head support, it's still something that you should be aware of.
Breathability, cover materials, ease of cleaning, odors, size, weight… These and many more factors contribute to creating the overall impression of a sleeping product. And honestly, judging from the customer reviews, Saatva pillows have most of these features in check.
Great Shape Retention and Proper Spinal Alignment
Saatva pillow is made of Talalay latex, it is surrounded with micro-denier fibers on the outer layer of the product. This type of pillow design has a few significant benefits, one of them being the fact that the pillow is great at retaining shape and supporting your head and neck while you sleep.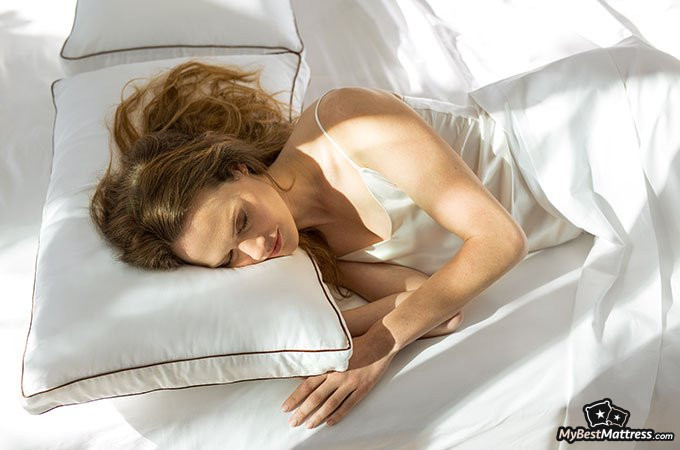 Shape retention is somewhat self-explanatory. As I've mentioned at the beginning of this Saatva pillow review, it's nice to be able to wake up in the morning and not have to spend extra time fluffing your pillow so that it would be back into its "perfect" shape.
But who am I kidding - we both know that this is but a minor inconvenience when compared to the other, actual benefit of pillows that retain shape very well - proper spinal alignment.
Assuming that the loft of your pillow is perfect for your body's measurements (we'll get to that in a minute), a product that retains its shape during the night, as you lay on it, is going to keep your spine from bending and arching into uncomfortable positions.
That's a huge deal.
Nowadays, our backs have to bear huge loads of straining and stress - humans spend more time hunched over a computer or in traffic than ever before. The only real way for your back to get a break (no pun intended) is while you're sleeping. And if you sleep with an arched spine, well… You're not going to have a good time.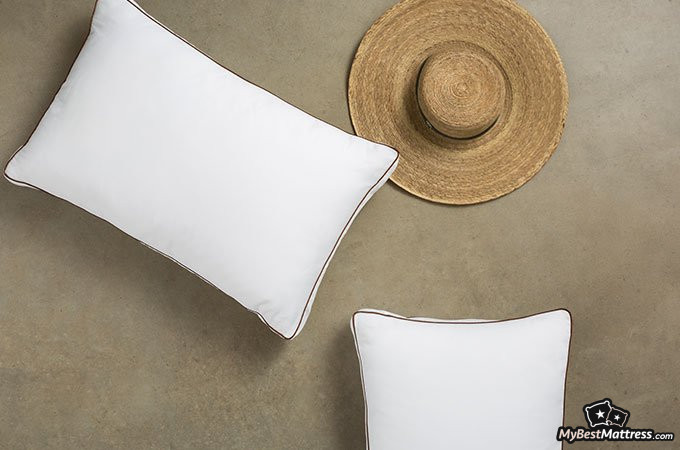 Customer Saatva pillow reviews emphasize this as one of the main benefits of the pillow. Shape retention will keep your spine in an optimal position while you sleep, allowing your back, neck and shoulder to relax and have a good night's rest.
Latest Saatva Coupon Found:
UP TO $500 OFF
Limited-time Saatva Sale
We're sharing a limited-time Saatva mattress discount with our readers! Grab this deal & enjoy your new mattress with huge discounts.
Expiration date: 27/09/2023
4,042 People Used
Only 83 Left
Adjustable Loft
Loft basically refers to the height of the pillow. Most pillow products these days deal with the issue of having somewhat high lofts, and thus tending to bend sleeper's spines in unnatural positions.
Many Saatva pillow reviews point out that the best-case scenario as far as the height of a pillow loft is concerned is going to be the option to adjust it. Many of the top-tier pillows have this feature - in one way or another, you can adjust the height of the product, thus being able to find the optimal setting for you.
Saatva pillow does, indeed, have this option.
If you choose to alter the composition of the pillow (take out the outer layer of micro-denier or the inner core of latex), you can get the height of the loft to be anywhere from 2" up to 8". With 5" usually considered as the "middle ground", these setting are actually pretty good - they should suit most people out there.

Did you know?
Great for Side and Back Sleepers
In the same way that different mattresses are going to suit different types of sleepers, Saatva pillows aren't going to be optimal for everyone. That being said, two major groups of people are likely going to find the pillow to their liking - side and back sleepers.
Customer Saatva pillow reviews point out that this is mostly because the pillow isn't particularly firm, and can get pretty high as far as loft is concerned. The design of the pillow is going to be most suitable for side sleepers - this group of people seems to find the most comfort with the product. Back sleepers, however, are also generally happy.
A Very Cool-Sleeping Pillow
As I've mentioned at the beginning of this Saatva pillow review, the company creates innerspring mattresses. Among other things, they are beloved for sleeping exceptionally cool.
Well, the Talalay latex-based pillow is exactly the same.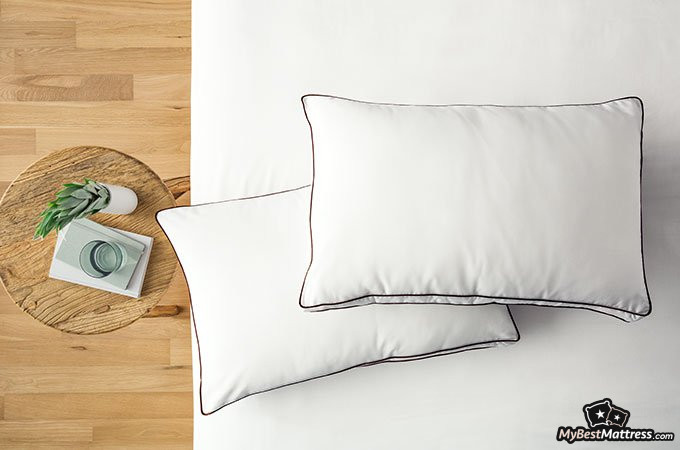 Customers report that Saatva pillow is among some of the coolest-sleeping pillows in the current sleep product industry. It manages to achieve this with a combination of its core design and a 100% cotton cover (that's also hypoallergenic and very resistant to dust mites, mind you).
The pillow itself is breathable, and the cover does a great job of taking the heat away from your face, thus providing a cool sleeping experience all throughout the night.
Saatva Pillow Review: CONS
While customer Saatva pillow reviews are mostly positive regarding the product in question, there are a few quirks that you should know before deciding whether or not the pillow is worth your money.
While most of the issues related to the Saatva pillow are somewhat dismissable, there's one that sticks out as being a bit more than the rest, and it has to do with sleeping positions.
Unsuitable for Stomach Sleepers
While doing research, I've noticed a rather overwhelming amount of customer Saatva pillow reviews that claim the pillow being very unsuitable for stomach sleepers.
In all honesty, that does make sense.
Stomach sleepers are a group of people that need a very specific set of features when it comes to their pillow. The ideal product for this type of a sleeper is going to be a very low-loft pillow that's also rather firm.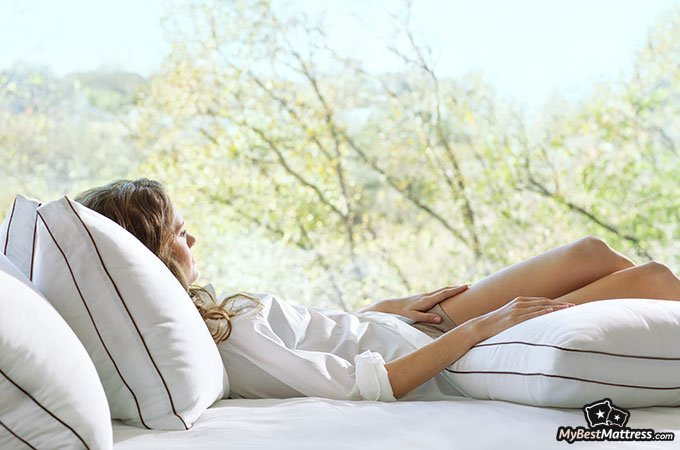 Yup - that's the opposite of what the Saatva pillow is.
Stomach sleepers note that Saatva pillow is quite a bit too tall (even though the loft is adjustable), and it's way too soft for most people out there. So, if you're looking for a good pillow and you prefer sleeping on your stomach, I'd definitely look elsewhere.
Too Soft for Some?
I've mentioned this while talking about the Saatva pillow not being very suitable for people who prefer sleeping on their stomachs, but the product is actually seen as "too soft" even within circles of side and back sleepers, too.
The main issue here lies in the fact that you can't really choose a different firmness level - what you get is what you have to make do with. While some other top-tier pillows such as the Leesa Hybrid offer customers an ability to simply flip the pillow for a different firmness level, that's just not the case with Saatva.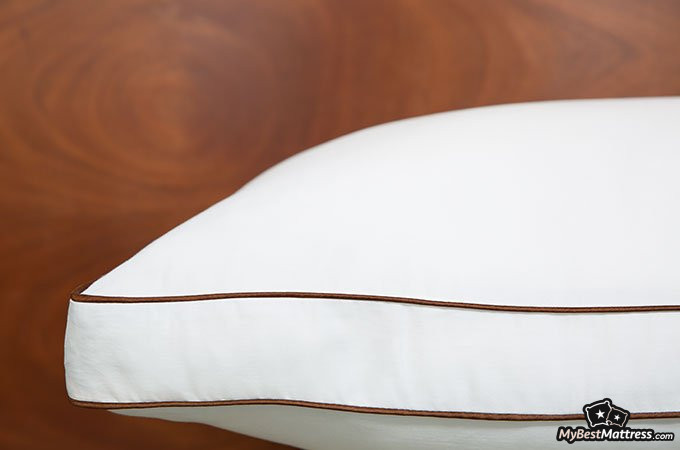 Do note, though, that the pillow isn't exactly the softest option around. Don't get me wrong, it's definitely on the softer side of things, but what I mean is that customer Saatva pillow reviews are more concerned with the fact that you can't change the actual firmness options, rather than the original softness of the pillow.
Price
Let's get something straight right off the bat - latex pillows are on the expensive side of the topic of pillow prices.
It is somewhat widely accepted that a standard price for a pillow that can be called a "top-tier product" is around the $100 mark. Well, I hate to say this, but the Saatva pillow isn't "a little bit more expensive" than that - it's actually one and a half times that price:
The product is, without a doubt, one of the most expensive pillows out there. Truth be told, this is also one of the main complaints that many customer Saatva pillow reviews point out - the price is simply insanely high.
That being said, all things considered, there are still many people that claim the price to be adequate when placed side by side to the quality of the product.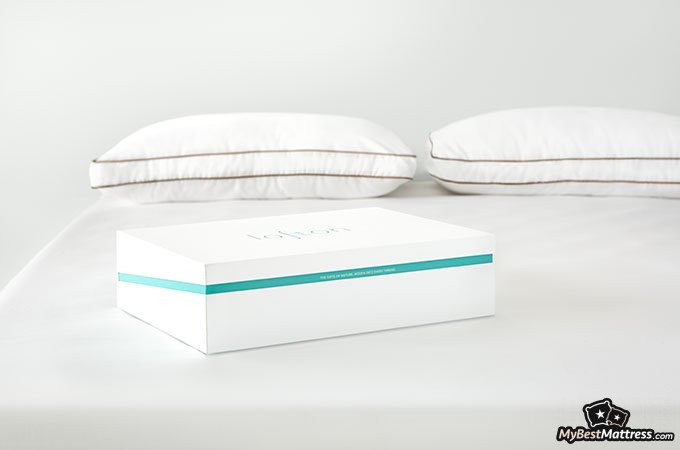 Furthermore, I should stress this again - latex pillows aren't cheap. Well, neither pillows, nor mattresses - these products do tend to cost quite a bit more than your average pillow or mattress, but they also offer additional benefits that you wouldn't receive from, say, memory foam or coils.
Also, Saatva offers free shipping in the US, and provides a 45-day money-back guarantee. That's more than for your average pillow, so it's pretty cool!
Here is The Best Saatva Offer I Found:
UP TO $500 OFF
Limited-time Saatva Sale
We're sharing a limited-time Saatva mattress discount with our readers! Grab this deal & enjoy your new mattress with huge discounts.
Expiration date: 27/09/2023
4,042 People Used
Only 83 Left
Conclusions
As of late, same as mattresses, pillow products have been on the rise. People have really started paying more attention to their sleep health, and a proper pillow is one of the easiest, cheapest and actually best ways to improve that.
However, it's no secret that when there are so many different pillow providers out there, it can get really difficult trying to find the optimal option for your own personal wants and needs.
The Saatva pillow offers side and back sleepers an optimal mix of comfort and support. The pillow has an adjustable loft, is soft and conforms to your head and neck pretty well. The pillow is also easy to clean and take care of, and the 100% cotton cover is hypoallergenic and very resistant to dust mites.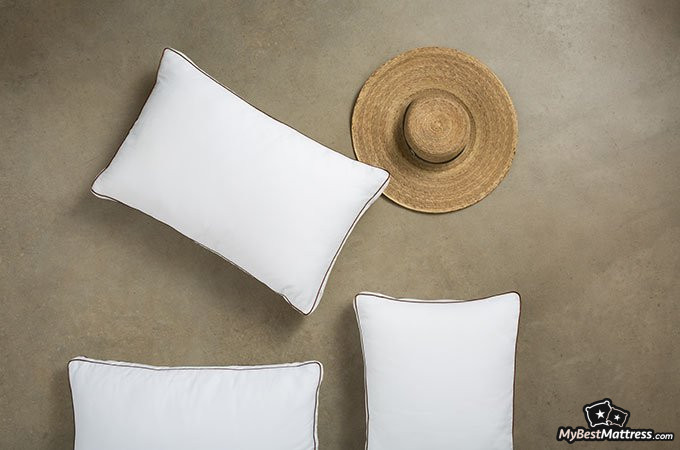 That being said, there are downsides to the product, too. Customer Saatva pillow reviews claim that the pillow is going to be rather unsuitable for anyone who prefers to sleep on their stomachs. Furthermore, since the product is pretty soft, the fact that there are no firmness adjusting options can be a significant nuisance.
If you decide to try the Saatva pillow out for yourself, you can expect the shipping to be free, and to receive a 45-day refund if something doesn't live up to your standard. Truth be said, these features are great, given that the pillow is so expensive.
If you're not super-excited about the Saatva pillow, however, and feel that some other product might suit your wants and needs better, do check out our list of the top pillow providers of the year. Perhaps you'll be able to find a better alternative?
Whatever the case might be, I thank you for reading this Saatva pillow review, hope that you've learned something new and wish you the best of luck finding the perfect pillow product for yourself!
Leave your honest Saatva Pillow review
Leave your genuine opinion & help thousands of people to choose the best mattress. All reviews, either positive or negative, are accepted as long as they're honest. We do not publish biased reviews or spam. So if you want to share your experience, opinion or give advice - the scene is yours!