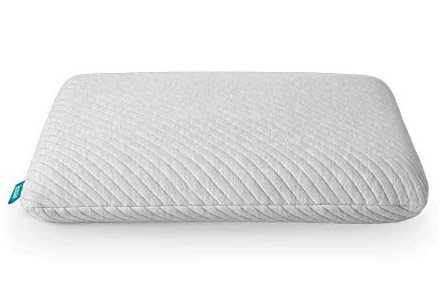 Leesa is a well-known mattress brand that has established a name for itself in the industry. It just so happens that the company doesn't only deal with mattresses, though - it also offers customers pillows.
In this Leesa pillow review, we'll mostly talk about the brand's hybrid pillow. While Leesa does sell a one-piece foam pillow, it would seem as if most customers out there are intrigued by the hybrid more than anything else. That being said, we'll still cover some of the more prominent features of the Leesa original pillow, too.
TL;DR: One of the main pros mentioned by many Leesa pillow reviews is that the company's hybrid pillow is flippable - you can flip it to change the firmness, which is automatically a huge win for the company. The pillow itself is also very cool to sleep on, easy to wash and maintain, and isn't too expensive.
Pros
Sleeps cool
Loft height suitable for most sleepers
Removable insert
Easy to take care of
Cons
Some initial odors might be present
Might be a bit too heavy for some people
Leesa Pillow Review: PROS
Leesa pillow reviews note that there are many different benefits attributed to this pillow. That said, let's first cover the main benefits that should be present with all of the best pillows out there.
First of all, neck and head support. A proper pillow should allow you to change the stuffing at any given time by either adding or taking some out. This way, you'll be able to change the height of the pillow loft, making it more suitable for your own, personal neck, head and shoulder position.
Customer Leesa hybrid pillow reviews also stress the fact that pillows that contour to your body should be given the priority above ones that don't. Truth be told, however, while contouring is a truly sought-after feature among the sleeping community, it's quite common among memory foam pillows.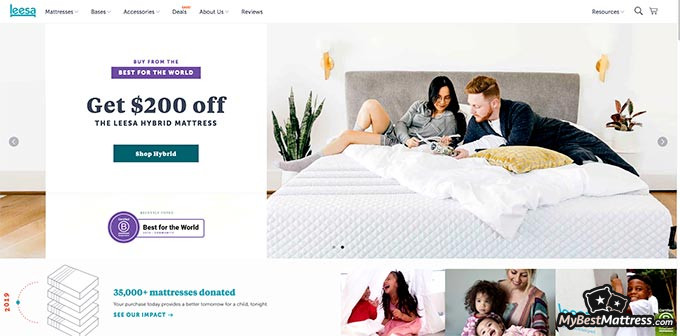 A single look online will tell you that many sleepers today avoid purchasing a memory foam-based pillow.
There are a few different reasons why that's the case, but it all mostly boils down to memory foam usually sleeping rather hot, and it being prone to sinking. Both of these issues are a nuisance if nothing more, and can both ruin your sleeping experience pretty hard.
Keep in mind, however, that there are always exceptions. Some memory foam pillows are still seen as some of the best products on the market, and a pillow not sleeping "cool" doesn't necessarily mean it's going to absorb heat all that much.
That said, sleeping cool isn't something you're going to have to worry about with the pillow in question - customer Leesa pillow reviews claim the product to sleep very cool.
Good Air Circulation / Cooling
The Leesa hybrid pillow is a very unique product. As I've mentioned at the beginning of this Leesa pillow review, the pillow is flippable - it has quilted pockets on one side, and a gel-insert on the other.
One of the main benefits of this type of a design is that the pillow becomes very cool to sleep on.
Some people are going to make a big deal out of this, while others might brush it off as a minor convenience. However, if you've ever woken up in the middle of the night with a high fever, you probably know just how nice it is to have a cool, breathable pillow and mattress.

The quilted pocket layer of the Leesa pillow is very breathable - by design, it moves heat away from your body (face and neck) as you sleep, thus not heating up and making you uncomfortable at 4 AM.
If you tend to sleep really hot, though, you're going to appreciate the other side of the pillow - as customer Leesa pillow reviews often claim, the gel-infused insert makes it exceptionally cool and comfortable to sleep on.
Frankly, though, judging from the many Leesa hybrid pillow reviews out there, this pillow can definitely be seen as "cool" - no matter the side you choose to sleep on, it's going to be much cooler than most other similar products out there.
Latest Saatva Coupon Found:
UP TO $500 OFF
Limited-time Saatva Sale
We're sharing a limited-time Saatva mattress discount with our readers! Grab this deal & enjoy your new mattress with huge discounts.
Expiration date: 08/12/2023
4,042 People Used
Only 83 Left
Medium Firm Pillow
Pillow firmness is somewhat of a difficult topic. That's mostly because there is no single consensus on which is better - a soft or a firm product.
Now, don't get me wrong - firm pillows are often seen as the better alternatives when it comes to your neck support and spine alignment, but they don't offer near as much comfort as their softer alternatives do.
Most sleep experts out there (and also - the majority of customer Leesa pillow reviews) are going to tell you that you should always look for the "best of both worlds" - a pillow that's neither too soft, nor too firm.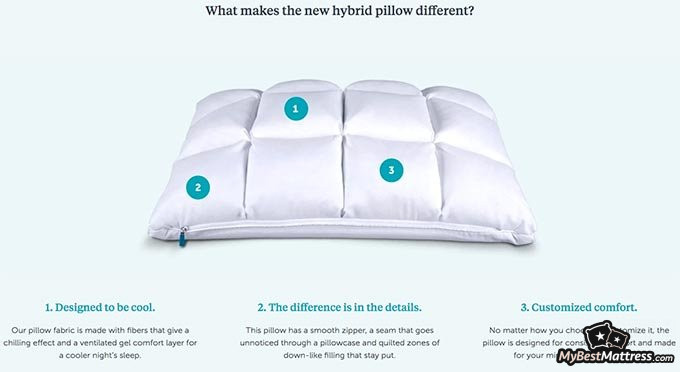 Well… The Leesa hybrid pillow is just like that.
The side of the pillow that has cooling gel within the insert is considered to be relatively firm, while the quilted side is seen as the softer alternative. It's somewhat ironic, but Leesa has seemingly managed to make a product that is going to be "just right" for most sleepers out there, whether you prefer a softer or a firmer pillow.
Customer Leesa pillow reviews mostly agree - while there are people that claim the firmer side to be a bit too soft at times, the majority of the company's customers are happy (or at least content) with the product.
Loft - Not Too High, Not Too Low
I've mentioned this earlier in the Leesa pillow review, but one of the more common problems with pillows today is the fact that they tend to have relatively high lofts.
Honestly, both a loft that's too high and one that's too low are going to be an issue. You see, if a loft doesn't fit your own personal preferences, the pillow itself is going to arch your spine. This results in a painful back and a sore neck in the morning - not ideal.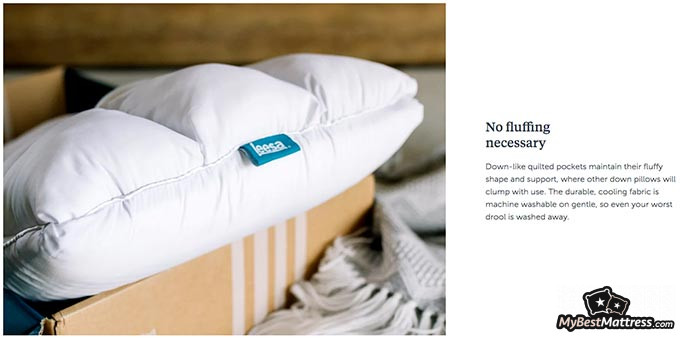 Customer Leesa pillow reviews are actually pretty happy with the height of the pillow's loft. By standard, it's 5" - most people are going to find a loft of this height pretty comfortable.
That being said, the interesting thing is that there are some Leesa pillow reviews that mention how the loft of the pillow might even be too low for some! That's rather odd, since (as pointed out earlier) the opposite is usually the case.
Easy to Clean
While I try to focus on pillow features that are actually relevant to your sleep, this is something that does deserve at least a brief standalone mention.
When you see the Leesa hybrid pillow, you might initially think that it's going to be pretty difficult to clean and take care of. That said, you don't need to worry - the process is actually quite simple and straightforward.
Both the cover of the pillow and the interlining are easily removable from the Leesa pillow. According to most Leesa pillow reviews, customers just throw 'em into the washing machine and that's it - no extra work needed there.

The only real "issue" here is when you reach the gel-infused insert. It has to be spot-cleaned, and cannot be machine-washed.
That said, if you opt to go with the original Leesa pillow, you would have to spot-clean the entirety of the pillow, not just one side (excluding the covers, of course). So, the hybrid has an advantage here.
Leesa Pillow Review: CONS
As with any other pillow out there, the Leesa hybrid does have its drawbacks. There aren't many issues that Leesa hybrid pillow reviews would point out, but some drawbacks should definitely be taken into account before deciding on whether or not it's worth trying the pillow out.
Pretty Heavy
One thing that you're bound to notice pretty soon after purchasing the pillow is that Leesa didn't make it light - it actually weighs 8 lbs (almost 4 kg).
Needless to say, that's definitely one of the heavier pillows out there! While this might not necessarily be an issue for some, a heavy pillow is going to cause inconveniences for most people.
Why? Well, imagine trying to adjust a heavy pillow in the middle of the night, after you've just woken up. That's basically going to result in one, single thing - you struggling, having to wake up completely and then encountering difficulties falling asleep again.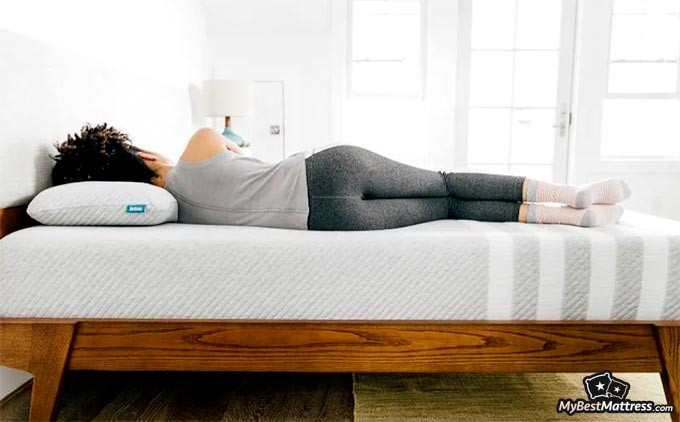 It's not something you'd encounter with a standard, light pillow, though - they're usually very easy to fluff around and adjust.
That being said, there's a really important point to be made here - multiple customer Leesa pillow reviews are going to emphasize the fact that the Leesa hybrid pillow does not need to be fluffed. Because of the way that it's built, the product doesn't sink - definitely a great feature indeed.
Initial Odor
Odor is something that's very common with sleeping products. There's always going to be that "new mattress" or "new pillow" smell whenever they first arrive at your doorstep.
That being said, most odors are going to be subtle, and dissipate in a matter of days. Well, this might not be the case with Leesa - customers report that the odor of the hybrid pillow is rather noticeable, and doesn't tend to leave all that soon.
Depending on your smell sensitivity, you'll either be really annoyed by this, or will brush it off as a non-issue. In fact, you might even secretly kind of like the "new pillow" smell - I know I do.
Price
Pillow prices seem to be a mystery for a lot of people. You can't blame them, really - price tags tend to sway quite a bit, and it's really difficult to figure the middle ground.
That said, the general rule of thumb that you could use is that the average, normal price for a top-tier pillow is going to be $100. Anything lower than that is awesome (given that the quality is right), and anything above can be considered on the expensive side of things.
Well, as with the features of their hybrid pillow, Leesa has actually managed to find the very middle ground with their prices, too.
The Leesa hybrid pillow comes in two different pricing and sizing options:
As you can see for yourself, the prices are very normal for what you'd come to expect from a top-tier pillow.
The pillow itself is made in the US, and it ships for free to all of the 50 states of the country. Furthermore, the company offers the industry-standard 100-night sleep trial, and provides a very generous 3-year warranty for their pillow (most other brands have 1-year warranties in place).
Here is The Best Saatva Offer I Found:
UP TO $500 OFF
Limited-time Saatva Sale
We're sharing a limited-time Saatva mattress discount with our readers! Grab this deal & enjoy your new mattress with huge discounts.
Expiration date: 08/12/2023
4,042 People Used
Only 83 Left
Conclusions
As you might have noticed, the general feel of the majority of Leesa pillow reviews is rather positive. Customers truly do seem to love the pillow, especially given the fact that it's such a unique product (it being flippable and all of that).
The Leesa hybrid pillow sleeps very cool, is easy to wash and clean, and provides near-perfect loft height for most people. On top of all of that, you can choose the firmness of the product at any given time by simply flipping it around - that's really cool.
While some customers do report initial odor with their newly-arrived Leesa pillows, the bigger problem with the product seems to be its weight. If you're not too fond of heavier sleep accessories, the Leesa hybrid might not suit you - the original Leesa pillow, however, might.

Whatever the case might be, there's no denying that Leesa has managed to create and sell one of the best pillows on the current market. Whether you're a side, back or even stomach sleeper, you're likely going to enjoy the experience that this pillow provides, and should feel your sleep improve exponentially.
Even if the Leesa hybrid pillow fails to meet your expectations, there's always that 100-night sleep trial for you to utilize. Don't like the product? No problem - return it anytime during the first 100 days of your initial purchase, and you'll receive a refund.
All in all, if you're looking for a decent pillow that would not only help you deal with your neck and shoulder sores, but would also give you the option to flip it around at any given time to change firmness and cooling settings, Leesa is definitely a decent choice to try out.
Thanks for reading this Leesa pillow review, and best of luck!
Leave your honest Leesa Pillow review
Leave your genuine opinion & help thousands of people to choose the best mattress. All reviews, either positive or negative, are accepted as long as they're honest. We do not publish biased reviews or spam. So if you want to share your experience, opinion or give advice - the scene is yours!