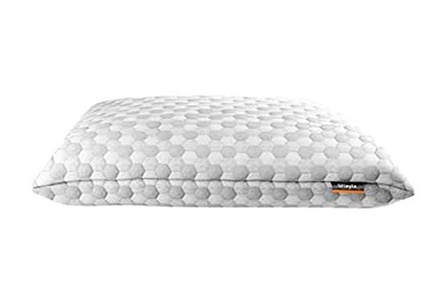 With the pillow industry booming, it can be difficult to find a decent product that would tick all of your preferences. Many people turn to customer reviews for help - it's one of the main ways of how you can inform yourself about the product before actually purchasing it. Well, that's exactly what this Layla pillow review is here for.
Layla is one of the top-dogs of the pillow market. While there are certain features that are lackluster with the product, most customer Layla pillow reviews are actually pretty positive.
TL;DR: Customer Layla pillow reviews note how the pillow is very breathable, and sleeps comfortably due to its shredded memory foam design. While cleaning the pillow can be a hassle, it makes up by offering pretty good body conforming and cooling features.
Pros
Sleeps rather cool
Designed to be comfortable for most sleeping positions
Good breathability
Cons
A hassle to clean
Loft might be too high for some people
Layla Pillow Review: PROS
Before going ahead and buying the very first pillow you lay your eyes on, it's important to figure out and understand what features of the product interest (and suit) you the most.
While some people will abruptly say "cool cover" or "fluffiness", there are certain pillow features that are essential to any and all people who want to have a good night's sleep.

Most Layla pillow reviews will tell you that proper neck and head support and adequate spine alignment are crucial when it comes to pillow features. While it's something that you have to worry about while talking about the top-tier pillows out there, it's still an important piece of information to keep in mind.
This is actually closely related to the height of the loft of the pillow, among other things. If you fail to pick out a product that has the optimal loft height, your spine is going to arch into uncomfortable positions while you sleep. Even though you might not feel it after your first night sleeping on the pillow, give it a few weeks and it will start to show.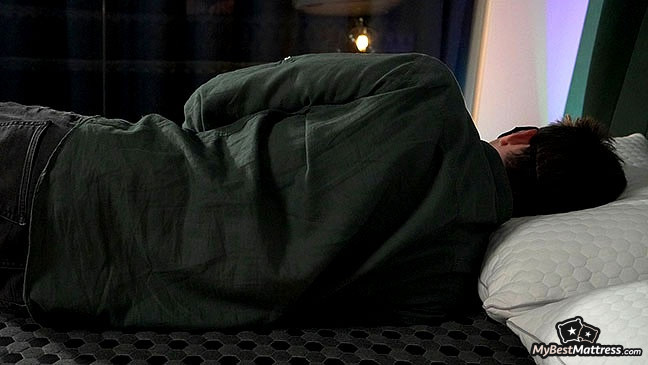 Another thing is sleeping positions. Everyone is a different kind of sleeper - some people prefer to sleep on their backs, others - on the side. Well, different pillow types are also going to suit different people because of this - a down pillow might be better suited for a side sleeper than a stomach one, and so on.
Just as a few of the customer Layla pillow reviews have pointed out, all of the main features of a good pillow are intertwined with one another. That's pretty obvious - the height of the loft is going to affect not only your spinal alignment, but also comfort, support and so on.
Best Suited for Side Sleepers
I've already mentioned the fact that different types of sleepers require pillows with different parameters and feature sets. Well, to keep things simple and organized, we'll focus on talking about the three main types of sleepers out there - side, back and stomach ones.
Customer Layla pillow reviews emphasize the fact that it is a shredded memory foam-filled product, mixed with fibers from the kapok tree, and with a copper-infused cover. The pillow itself maintains a relatively high loft, and is quite soft.
Layla Pillow Review - What's My REAL Opinion? (2021)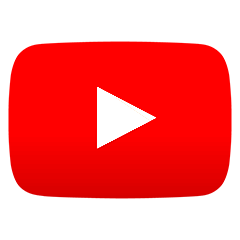 You can probably immediately tell that Layla isn't going to be suitable for stomach sleepers, so if you're one of them, you can already stop looking for those Layla pillow coupons.
The reasoning behind this is pretty simple - any pillow that has a higher loft and is on the softer side of the spectrum is going to be a real nuisance while trying to sleep on it laying on your stomach. Your face will keep sinking in, the height of the loft is going to make you arch your neck and spine - in general, it's not going to be a great time.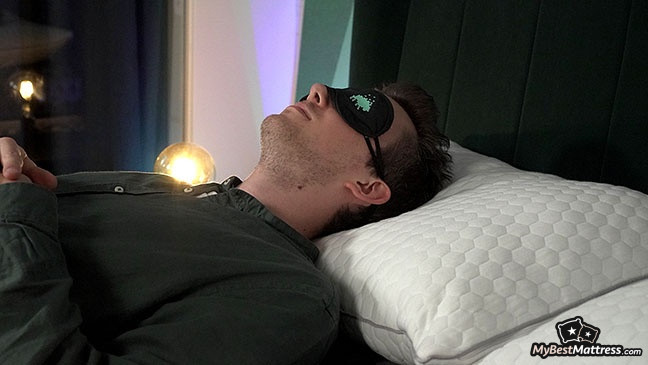 Back sleepers are naturally going to enjoy the Layla pillow more. Some Layla pillow reviews left by people who prefer to sleep on their backs note that the loft might still be a bit too high, but that's a rare occurrence.
All of that being said, though, side sleepers undoubtedly leave the most positive Layla pillow reviews out of all the groups of sleepers. It would seem that the softness of the pillow, combined with its loft height and cover cooling effects, is mostly appreciated by people who like sleeping on either side, as opposed to their backs or stomachs.
Latest Saatva Coupon Found:
UP TO $500 OFF
Limited-time Saatva Sale
We're sharing a limited-time Saatva mattress discount with our readers! Grab this deal & enjoy your new mattress with huge discounts.
Expiration date: 12/12/2023
4,042 People Used
Only 83 Left
A Very Moldable Pillow
A few customer Layla pillow reviews have pointed out that the term "moldable" sounds a bit strange when used in the context of a pillow, but it's one that probably best represents the quality of the product giving in to pressure and having that slightly elastic, plasticine feeling to it.
While this might sound like a strange benefit at first, it's actually super-useful in a particular scenario.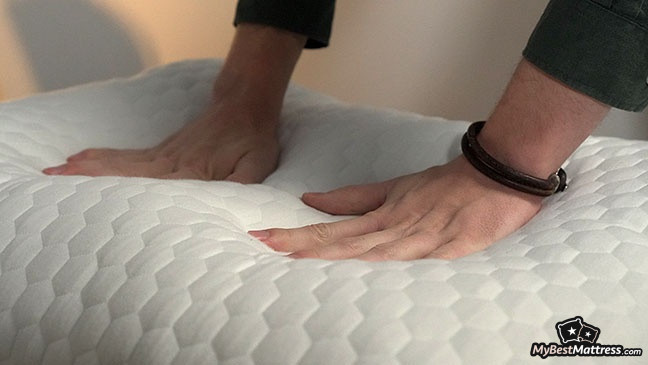 Many sources emphasize the importance of an extra pillow in the process of sleeping or even just laying down to rest. No, I'm not saying that you should stack two pillows on top of each other and then place your head on them - it's actually much more subtle than that.
Depending on your sleeping positions, you're going to want to place the extra pillow under your legs, knees or even back. This pillow acts as a support for your spine - it helps keep it aligned and removes a portion of the pressure that your back may endure while lying down.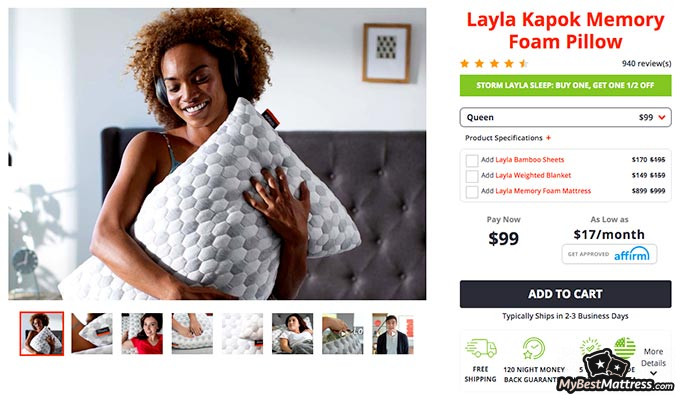 A simple concept, but even to this day, it's very rare for people to actually do this - it just isn't common knowledge.
Layla pillow reviews point out that with the product being as moldable as it is, it becomes the perfect choice to be placed between your legs or under your knees. The pillow is going to adapt (mold) to your legs, thus retaining comfort and not feeling awkward in all of the imaginable positions you might place it.

Did you know?
Copper-Infused Cover for Extra Cooling
Many customer Layla pillow reviews talk about the cover of the pillow. It's actually one of the more popular reasons why people look for Layla pillow coupons, in the first place!
The cover of Layla pillows is made out of polyester, spandex (Lycra) and viscose. It's a very breathable cover in of its own, but it gets even better - the mixture of materials is also infused with copper.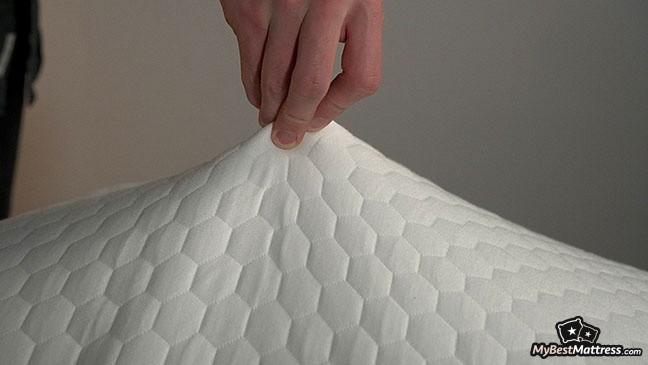 While it's rare to see this type of a combination, Layla pillow reviews are almost unanimous - it's one of the coolest-sleeping pillows in the market.
Sleeping cool might seem like a secondary feature at first, but many pillow companies nowadays try to make their pillows as breathable as possible. Imagine waking up in the middle of the night with your pillow soaked in sweat - that's definitely not a pleasant experience!

Another interesting thing with the copper-infused pillow cover is that some customer Layla pillow reviews claim that it might actually boost blood circulation for the person who's sleeping on the product. That's definitely a benefit that you're not going to see every day!
Layla Pillow Review: CONS
While Layla pillows have definitely managed to enter the mainstream market, there are some customers who aren't as happy with their experiences, too. It's important to mention that there are no "game-breaking" cons that would immediately discourage you from trying the pillow out. However, some issues are still worth being talked about.
Loft Too High For Some Sleepers
If we're speaking in a strictly general sense, Layla pillows aren't really the possessors of the "highest loft" award. On the contrary, with the average height of a lot being at around 5", Layla's 4" loft can be considered to be lower than usual.
Whatever the case might be, though, there are still quite a few customer Layla pillow reviews that claim the height of the loft being rather uncomfortable.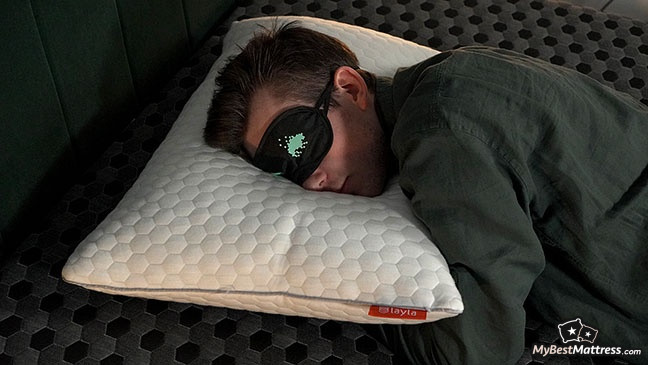 Admittedly, though, this is mostly referenced when talking about the fact that the Layla pillow has only a single loft height and firmness option.
You see, the majority of the top pillows on the market are going to allow the customer - you - to change the firmness and loft height of the product by simply adding in or removing stuffing.
Given that Layla pillows don't really have this option, it automatically removes a certain group of people from their potential customer list - you have to either try and force yourself sleep on the pillow, or be built in a very specific way that caters to the product.
Cleaning Can Be a Hassle
You might have gotten this idea earlier, when I mentioned that the Layla pillow is stuffed with shredded memory foam and fibers from the kapok tree, but ya - it's not an easy-and-fun product to take care of.
Some pillows (especially the top-ranking ones) have very easy cleaning procedures - you just remove the cover and throw it into the washing machine, while the insert itself can be washed on a slow and cold water-based program, too.

That's not the case with the pillow in question.
Layla pillow reviews emphasize that you're going to have to do a whole lot of spot-cleaning with this pillow. That's not really a huge issue, and it's not going to cost you a fortune, but what it is is time-consuming. Many people want to do their daily chores in as an efficient and quick way as possible, and spot cleaning a pillow can hinder that.
Price
So, the Layla pillow is a wonderful product, is uniquely built and designed, and - judging from the customer Layla pillow reviews - is beloved by the majority of people who try it out.
If you're thinking "there has to be a catch, and I bet it's the pricing!", I'm glad to be able to say that you're wrong - Layla does actually have some very reasonable pricing options.
In general, the "standard" price for a top-tier pillow is considered to be around $100. If it's less - great! If it's more - well, bummer.
Layla has two different sizing and pricing options to offer to the average customer:
As you can probably see for yourself, the price tags are actually right around the average! Truth be told, this is actually a really big deal - with all of the unique and interesting features that Layla has to offer, you would expect that price to be even higher.
Furthermore, Layla offers its customers a 120-night money-back guarantee, free shipping in the US and a 5-year warranty! Both the money-back guarantee and the warranty are actually quite a bit longer than with your average pillow provider.
Here is The Best Saatva Offer I Found:
UP TO $500 OFF
Limited-time Saatva Sale
We're sharing a limited-time Saatva mattress discount with our readers! Grab this deal & enjoy your new mattress with huge discounts.
Expiration date: 12/12/2023
4,042 People Used
Only 83 Left
Conclusions
Whether you're looking for Layla pillow coupons or are simply reading through some Layla pillow reviews left behind by customers of the brand, there's no denying the fact that the company has really managed to create a great pillow.
People love the product because of its unique design - shredded memory foam mixed in with fibers from the kapok tree and a copper-infused pillow cover make the product truly stand out of the crowd. These design options make for a cool-to-sleep-on, soft pillow that's mostly going to be enjoyed by side sleepers.
The only notable complaints that are worth mentioning and keeping in mind are that the pillow loft isn't really adjustable, and the cleaning process can give you a hard time if you're used to just throwing your pillow into the washing machine.

All of that said, the price of the pillow is great - while not being one of the cheapest options in the industry, Layla is still able to provide a great and unique product for an affordable price. On top of that, the fact that you get a 5-year warranty and 120 nights to test the pillow out is amazing.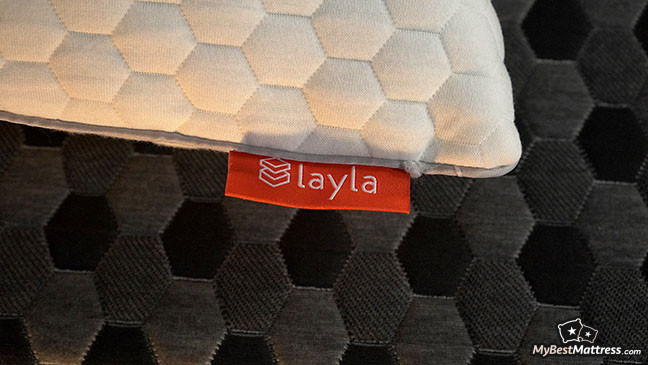 That being said, I hope that this Layla pillow review has helped you make up your mind on whether or not the product is worth trying out. If you're more of a stomach sleeper yourself, you can check out our list of the best pillows for stomach sleepers - perhaps you'll find a great alternative for Layla?
Thank you for reading the article, and I wish you the best of luck in finding the perfect pillow for yourself! Until next time!
Leave your honest Layla Pillow review
Leave your genuine opinion & help thousands of people to choose the best mattress. All reviews, either positive or negative, are accepted as long as they're honest. We do not publish biased reviews or spam. So if you want to share your experience, opinion or give advice - the scene is yours!