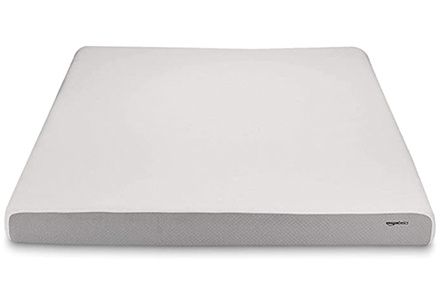 If you've been on the internet for longer than 10 minutes, it's simply impossible not to have heard of Amazon – it's the biggest online retailer in the world. You can find basically anything on there – from small knick-knacks and electronics to complete furniture sets for the bedroom.
Our AmazonBasics mattress review will look into the company's own label's sleep products. In 2018, Amazon began selling its own budget-friendly memory foam and hybrid mattresses.
But how do these AmazonBasics products fare? Today, we'll take a look at the quality of Amazon's mattresses. We'll see what works and what doesn't, and we'll find out how the AmazonBasics memory foam mattress compares to its other budget-friendly competitors.
So, without further ado, let's get started with our AmazonBasics mattress review.
TL;DR: The AmazonBasics memory foam mattress performs about as well as you'd expect from a mattress in this price range. While it doesn't overheat as much as other memory foam mattresses, it has issues with durability and is not suitable for heavier sleepers due to the deep sinkage.
Pros
Cheap & lightweight
Good motion isolation
Decent pressure support
Cons
Not very durable
Weak edges
Lacks air circulation
AmazonBasics Mattress Review: Memory Foam
Amazon started selling mattresses as part of their Basics line in 2018 as an affordable solution for customers on a budget. It was a convenient business decision – you can throw the mattress in your cart with the rest of your items on Amazon and have it delivered to your doorstep in a handful of days.
And this strategy has certainly paid off — if the hundreds of AmazonBasics mattress reviews are anything to go by. Between the lower-than-average costs and easy shipping, it's certainly a convenient option for US-based customers.
However, can you really get a quality mattress for just a smidge of the standard market prices? Does the AmazonBasics memory foam mattress stand the test of time, or will you end up paying twice?
Let's take a look at the benefits and drawbacks of this budget-friendly product in my AmazonBasics mattress review.
Pros
First and foremost, the AmazonBasics memory foam mattress is a good choice if you're on a really tight budget. Depending on the size and height, the mattresses average at around $200-$300 – far below the market average.
And if you happen to live in the US, you'll get the mattress shipped to your doorstep, free of charge. However, given that you're buying directly from Amazon, you won't get a white gloves service to help you transport the mattress to your location of choice.
That might not be a massive problem, though. Like many other memory foam mattresses, the AmazonBasics mattress is quite lightweight. The AmazonBasic queen mattress weighs around 66 lbs, which isn't very heavy. This is useful if you plan on moving and need an easy-to-carry solution.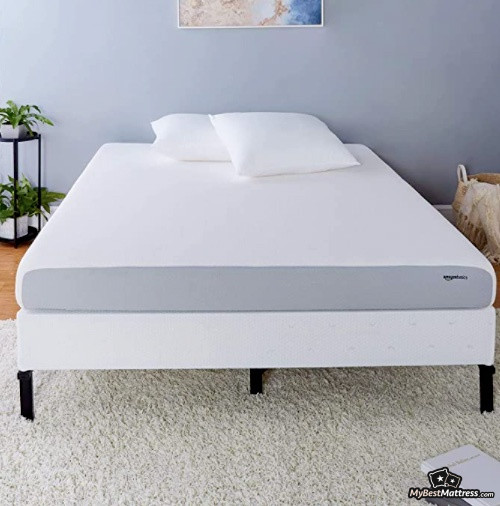 The AmazonBasics mattress comes in four height options – 6", 8", 10", and 12". While getting a taller mattress for adults to experience less sinking is recommended, the 6" and 8" mattresses can be used as transitional beds for children and teenagers.
The mattress is easy to set up and is ready to use in no time. Though it's recommended to give it at least 48 hours to settle into place and properly expand, some AmazonBasics mattress reviews have said that the mattress was ready to go after less than a day.
When it comes to the quality of the mattress itself, it performs well where a memory foam mattress is expected to. Thanks to the three layers of memory foam and polyfoam, it offers sound motion isolation. This makes the mattress a decent option for couples who share a bed.
Some people can find it hard to fall and stay asleep if they feel someone moving next to them. Foam mattresses absorb the movement, ensuring there's as little motion transfer as possible. As a memory foam mattress, AmazonBasics adapts to the body, keeping the motion firmly on each side of the bed.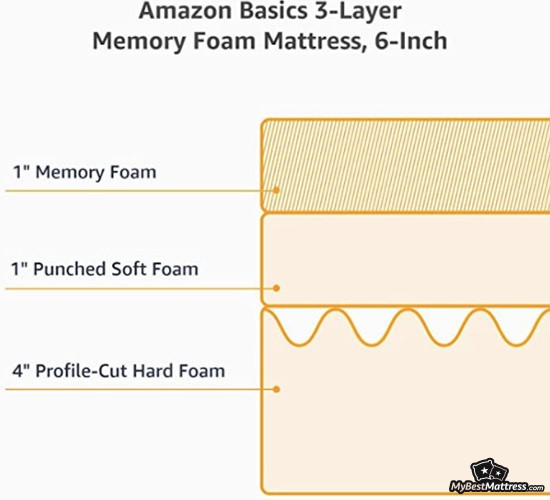 The memory foam also provides decent pressure support. It hugs the body and distributes its weight quite evenly. It may be more comfortable if you sleep on your back rather than your stomach. Lightweight sleepers might appreciate this feature more since they won't experience as much sinking when they lie down.
Side sleepers may also find the mattress decently comfortable. While hybrid and innerspring mattresses may cause uneven pressure distribution around the shoulders and hip area, memory foam mattresses conform to the body more. The 12" mattress may perform better in this regard than the 10" model.
One of the biggest concerns with memory foam mattresses is that they run very soft. However, this doesn't appear to be the case, if the AmazonBasics mattress reviews are anything to go by. The AmazonBasics memory foam mattress falls at around a 4-5 on the firmness scale (10 being the firmest), making it a solid medium-soft mattress.
So, as far as AmazonBasics mattress reviews are concerned, the product can be an okay choice if the budget is your biggest concern. It's very affordable, lightweight, and easy to set up. The mattress conforms to the body quite well and is a good choice for lighter sleepers, especially children and teens.
Latest Saatva Coupon Found:
UP TO $500 OFF
Limited-time Saatva Sale
We're sharing a limited-time Saatva mattress discount with our readers! Grab this deal & enjoy your new mattress with huge discounts.
Expiration date: 27/09/2023
4,042 People Used
Only 83 Left
Cons
So, as we can see, the AmazonBasics memory foam mattress seems to perform as well as a mattress of this type is expected to. However, there have been numerous issues reported about the performance of this product in other regards. Let's take a look at what issues the memory foam may have.
For starters, this mattress is not very durable. This isn't too surprising – memory foam mattresses aren't as long-lasting as hybrid models in general. Within this budget-friendly line, the AmazonBasics hybrid mattress reviews have received higher points for durability.
Foam is easier to damage and starts sinking once it's broken in. All three layers of the flagship AmazonBasics mattress are memory foam and polyfoam, with cooling gel that's infused in some newer models. This means that the mattress runs soft and sinks quite deeply without a sturdy support base.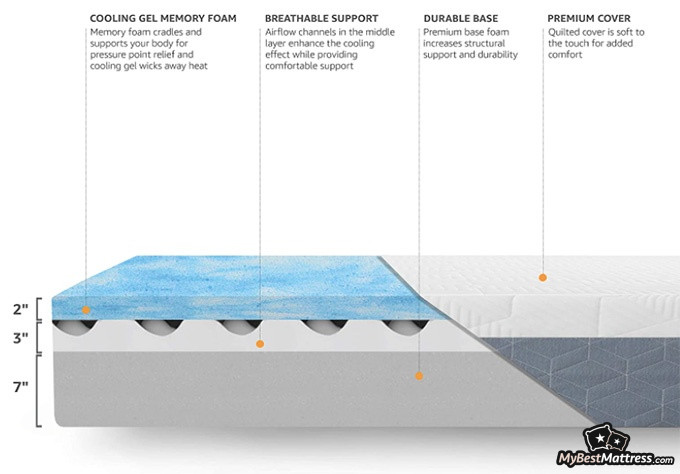 No sturdy support means no sturdy edges, either. As far as the AmazonBasics mattress reviews are concerned, the edges of the mattress are very soft and sink deeply, so there is a risk of rolling off the bed at night.
The soft feel and deep sinkage also mean that the mattress won't be comfortable for stomach sleepers as well as heavier sleepers. This is a massive problem with the 6" and 8" mattresses, in particular, so rather than sleeping on a cloud, you'll feel the bedframe poking at you each time you move.
I briefly mentioned the cooling gel layer. Although it helps somewhat to maintain temperature neutrality, it's still not ideal. The layers leave some room for air to circulate, so you might not overheat.
As a side note, although the mattress is distributed in the US, some AmazonBasics mattress reviews have pointed out that the label says it was made in China. This can be important if you're looking for a locally produced mattress and have specific materials that you prefer in mind.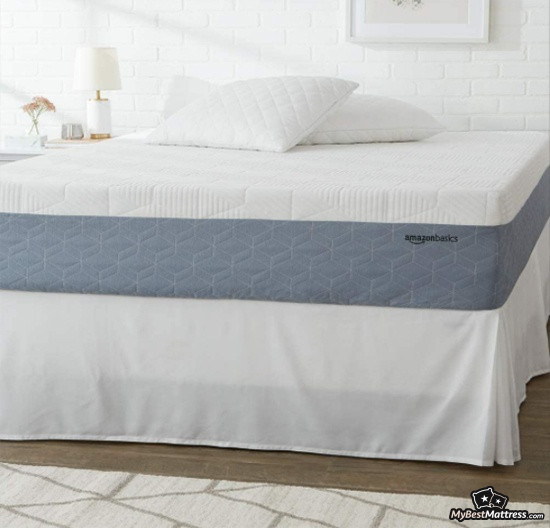 Amazon's mattress line isn't without its scandals either. According to the CPSC, in November 2023, Amazon had to recall over 15,000 memory foam mattresses. These products did not meet the mandatory federal flammability standard for mattresses.
Although there were no reported injuries related to the faulty mattresses, it can pose a massive safety hazard to the customers. Memory foam is very flammable, so any incident could end anywhere from injuries to property loss.
There's a different side to the coin to the fire hazard issue, though. Most mattress brands use fire-resistant materials within the structure to reduce the risk of the product going up in flames.
Several AmazonBasics mattress reviews have noted that this mattress contains fiberglass as its fire barrier. This can be extremely dangerous.
Fiberglass can cause damage to your lungs. If you have a respiratory illness like asthma or bronchitis, fiberglass can worsen your symptoms. It can also irritate your skin, eyes, and nose.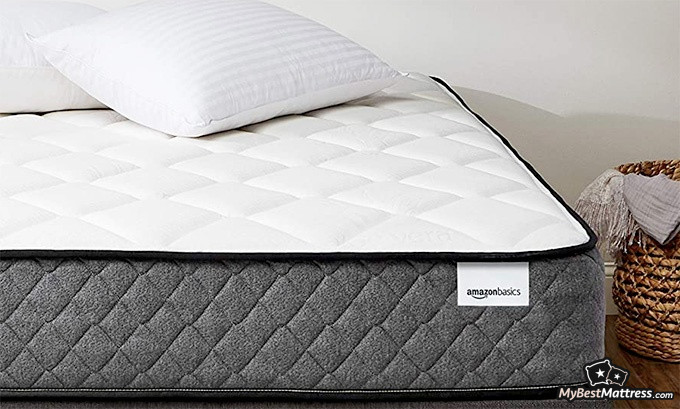 There's also the matter of item availability. At the time of writing this article, every single AmazonBasics mattress – that's both the memory foam and the hybrid – is out of stock. Every size, every style, every pattern.
This can make it challenging to actually find the mattress in the first place. Some items get discontinued only to reappear months later. As convenient as Amazon can be, it's not always the most reliable choice if you're in a rush to get a new mattress.
Pricing
So, we keep spieling about how budget-friendly the AmazonBasics memory foam mattress is. It's about time we look at the actual price tag:
Prices and stock are subject to change. You can check the Amazon listing to find out the most recent prices of the products and whether they're currently in stock. If you're looking into getting a Cal King mattress, only the 12" model comes in this size.
Looking at the sheer amount of AmazonBasics models in the catalog can get confusing. The availability of mattresses fluctuates, some sizes may be taken off the listing. At the time of writing this, all sizes are out of stock. See the Amazon listing for any updates on product availability.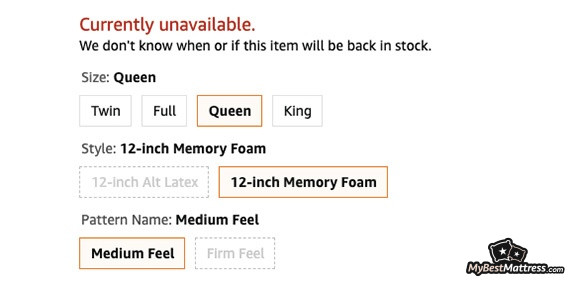 You can order the mattress the exact same way as any item on Amazon. This means that it'll be delivered just like any other Amazon order. Some customers have pointed out that the box the mattress comes in isn't very sturdy and can arrive damaged; however, the plastic cover protects the mattress from any direct damages.
Unfortunately, the fact that ordering works like any typical Amazon product means that the return window is very short. While other mattress brands offer a return window of at least 3 months, sometimes even up to a year, with Amazon, you only have the standard 30 days to return the mattress if you find yourself dissatisfied.
Looking through AmazonBasics mattress reviews, you'll also notice that some people have had issues with returns and refunds. So, make sure to check the fine print of Amazon's return policies to avoid any inconveniences.
AmazonBasics Mattress Review: Hybrid
In addition to the memory foam, the AmazonBasics line also offers a hybrid mattress for those who are looking for something a little firmer. Just like its memory foam counterpart, the AmazonBasics Hybrid mattress is affordable and easy to obtain.
You won't find quite as many AmazonBasics hybrid mattress reviews as you will for the memory foam. However, I'm here to do my diligence and offer you a brief overview of the product.
So, how does the AmazonBasics hybrid mattress perform? Does the quality exceed the price range? Let's see what the AmazonBasics mattress reviews have to say.
Pros
When you're looking into the AmazonBasics hybrid mattress, you have the choice between a standard and a Euro top model. A Euro top is a type of pillow top mattress. It has an extra layer of padding under the cover.
The Euro top padding makes the top layer of the mattress feel softer once you lay down in it. In addition to that, it reduces the sinkage of the memory foam and extends the durability of the mattress.
Just like the memory foam mattress, the AmazonBasics hybrid is pretty lightweight. The Twin XL model weighs around 60 lbs, so it's convenient if you're moving around or don't want to spend extra on white glove services.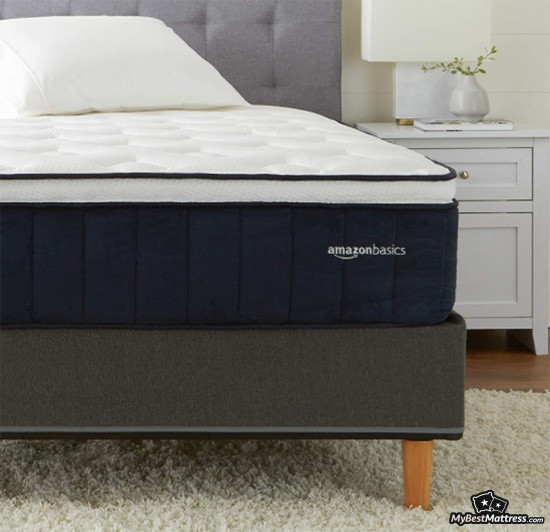 Compared to the memory foam mattress, the AmazonBasics hybrid is somewhat sturdier, thanks to the layers of individually wrapped steel coils. This helps provide the body with more support and makes it more comfortable for stomach sleepers.
You might see the word Premium attached to some of the Amazon mattresses. However, if you're looking for an AmazonBasics premium hybrid mattress review, I'll have to let you know that the Premium refers to one of the patterns you can choose from.
While the patterns mainly serve an aesthetic purpose, this can be pretty useful. Not every mattress brand allows you to customize the way your mattress looks. With AmazonBasics, you can choose which model works best with your interior.
Latest Saatva Coupon Found:
UP TO $500 OFF
Limited-time Saatva Sale
We're sharing a limited-time Saatva mattress discount with our readers! Grab this deal & enjoy your new mattress with huge discounts.
Expiration date: 27/09/2023
4,042 People Used
Only 83 Left
Cons
Unfortunately, as with the other AmazonBasics mattress reviews, it appears that longevity isn't one of the hybrid's perks. The top memory foam layer tends to start sinking quite soon after breaking it in – much sooner than the hybrid mattresses of competitor brands like Saatva do.
Although it's structurally a hybrid mattress, there have been complaints about the softness. One of the AmazonBasics mattress reviews noted that the mattress was softer than expected and didn't provide the expected support.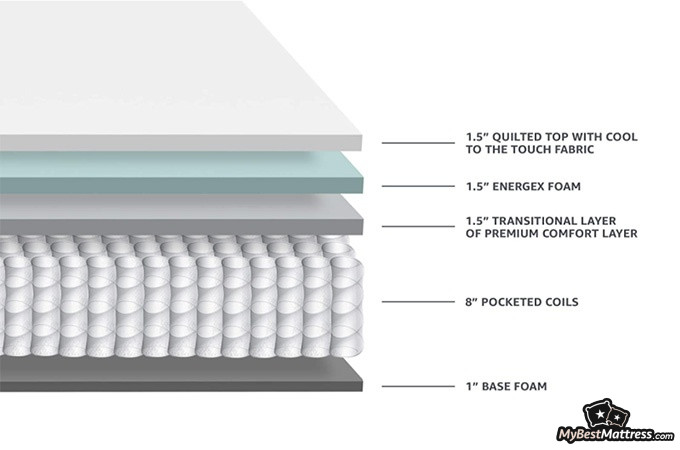 While the hybrid is more breathable than the memory foam, there have been complaints that the top layer of the mattress doesn't circulate air as well as expected and tends to run warm after sleeping for a while.
Unlike the memory foam, the hybrid comes in a vacuum seal. This is due to the layer of coils that provide the main support. Squeezing it into a box could damage the structure. However, this means that the product arrives in its full size. This can make it difficult to transport, especially in tight spaces, despite its relatively light weight.
Some of the AmazonBasics mattress reviews have also pointed out that the mattress has a strong off-gassing smell upon unpacking. This can be especially unpleasant in small spaces if the scent lingers for a while.
Pricing
At the time of writing this review, the AmazonBasics hybrid mattresses are out of stock and the initial price tag is unavailable.
However, based on AmazonBasics mattress reviews, the product appears to cost around $200-$400. The price depends on the size and whether you choose the regular or the Eurotop model.
If you're interested in this product, check the Amazon listing to see the availability and the pricing of the mattress.
Budget-Friendly Alternatives
Unfortunately, as you can see, the negatives seem to outweigh the positives when it comes to the AmazonBasics mattress review. Between the constantly fluctuating stock availability, the issues with quality, and the discomfort it may cause, you might want to consider an alternative option.
I understand that this can be difficult when you're on a budget. But that doesn't mean you have to go for the first thing that you find convenient. You have more choice than you might think! There are plenty of options that will make everyone's jaws drop when you tell them how much your snug new mattress actually costs.
Table: Evaluation of the Saatva, Puffy and Layla mattresses
So, I've found a few alternatives for you, both memory foam and hybrid mattresses. Although you're probably here because you're on the lookout for an affordable memory foam mattress, you might find that a hybrid will be more complimentary to your needs.
Memory foam is great for contouring your body and making sure it's aligned evenly on the mattress when you sleep. It can be comfortable to sleep on – until it isn't. Full foam mattresses tend to develop indentations after longer use.
And if there isn't a firmer base under the foam to support your back, you can start feeling physical discomfort from the deepening sinkage. A hybrid mattress contains both a comforting foam or latex layer and a supporting coal layer, so you can sleep comfortably and pain-free – and there are some budget-friendly options here, too.
So, let's take a look at what options are available as an alternative to the AmazonBasics mattress.
Happy Wallet: Puffy
Let's say that a memory foam mattress is your preferred option. Perhaps you enjoy a softer feel when you lie down to sleep. Or maybe you like the way a memory foam can distribute the weight.
If you're looking for memory foam, there are quite a few great options out there that won't hurt your wallet. One of these is the Puffy memory foam mattress.
Puffy is one of the best-known brands in the industry. They offer high-quality, all-foam mattresses for a very reasonable price. Their flagship model stands out for its excellent motion isolation and versatility.
Table: Structure of the Puffy mattress
The Puffy memory foam mattress is suitable for basically all sleeper types. The memory foam provides enhanced spinal alignment and support for back, side, and combination sleepers. Even stomach sleepers will find it comfortable – the mattress is just firm enough to provide full-body support.
Although it has similar issues as the AmazonBasics memory foam mattress, like weaker edge support and less than stellar temperature neutrality, the Puffy mattress still outperforms in these regards.
The brand also offers the Puffy Lux mattress for those who like to sleep fancy. The Puffy Lux is a high-quality hybrid memory foam mattress. It's even more structurally sound than the flagship Puffy, as it offers a supportive coil layer.
The prices of the standard Puffy mattress start at around $900. The Puffy Lux ranges between $1500 and $2000, depending on the size.
Table: Rating of the Puffy mattress
Although this is several times more expensive than the AmazonBasics mattress, Puffy offers you the possibility to finance your purchase with Klarna. So, you can buy the mattress now and enjoy a more comforting sleep experience as soon as it arrives – and pay as you go.
If you want to learn more, you can find our Puffy review here.
With a Twist: Layla
Like I've already mentioned, when it's time to make the decision, a hybrid is nearly always a more solid choice than a memory foam mattress. In general, hybrids are more durable, adjustable, and versatile.
Layla takes a different spin on a hybrid mattress. It doesn't follow the typical structure of foam, coils, and extra binding layers. Instead, the Layla mattress is flippable.
This 2-in-1 mattress contains copper-infused memory foam as its main two layers, softer on one end and firmer on the other. You can not only rotate but also flip the mattress around, depending on what you find more comfortable at the moment.
LAYLA

Lower Than Average Pricing
Flippable
Pressure Relief
Cooling Properties

Fair Edge Support
2-Week-Break-In-Period

Visit site
Read Review
Table: Information about the Layla mattress
The product contains ThermoGel which helps regulate your body temperature and ensures that you don't overheat at night. The convoluted foam layer allows extra air circulation, and the copper-infused gel contains antibacterial properties.
If you were to compare it to what AmazonBasics Hybrid mattress reviews have to say, there's simply no competition. Layla is lightweight, suitable for all sleeper types thanks to its adjustability, and provides good support for your pressure points.
The prices of the Layla mattress start at $749 for the twin mattress. However, the company often offers great deals and discounts. Even if you find the discounted price mark out of your range, you can check out Layla's financing options, powered by Affirm, and create your own payment schedule.
Curious to learn more? You can read our review of the Layla mattress by clicking here.
The Dark Horse: Saatva
I know, seeing Saatva on the list of budget-friendly mattresses seems strange at best and outrageous at worst. After all, Saatva isn't a name you'd exactly associate with the word "cheap".
I'm not messing with you, though. In fact, you can own one of the best mattresses in the market today, even if you're on a budget. But before I reveal exactly how that can be possible, let's see why Saatva is more than worth it.
Saatva is without a doubt one of the best mattress brands out there. Their flagship product is a testament to their ethos of quality and precision. It's an all-American, luxurious, durable hybrid innerspring mattress that will make you forget you ever dreamed of a memory foam bed.
A combination of their coil-on-coil innerspring system and high-density memory foam, the mattress feels plush on top while supporting your hip, back, and neck areas. The edges are as supportive as the middle, and the mattress will be enjoyed by all sleeper types.
Table: Key features of the Saatva mattress
Of course, Saatva mattresses are notoriously expensive. After all, luxury comes at a cost… Or does it?
Even if you're on a budget, you can acquire your very own Saatva Classic mattress. Saatva offers its customers the option of financing their purchase via Klarna. By setting up a payment schedule, you can pay as low as $94 a month – that's lower than the cost of the AmazonBasics mattress!
Sure, it's not a one-off payment. But when you take the fact that Saatva mattresses have a 10-year warranty into consideration, those monthly installments will go a long way. After all, you probably don't want to end up in a "buy cheap, buy twice" scenario.
Comfort doesn't have to be exclusive to a massive budget. Thanks to Saatva's partnership with Klarna, you can learn exactly what luxurious sleep feels like without making an enormous one-time investment that breaks your budget.
You can find our full review of the Saatva mattress by clicking here.
Here is The Best Saatva Offer I Found:
UP TO $500 OFF
Limited-time Saatva Sale
We're sharing a limited-time Saatva mattress discount with our readers! Grab this deal & enjoy your new mattress with huge discounts.
Expiration date: 27/09/2023
4,042 People Used
Only 83 Left
Conclusions
So, with everything we've discussed today, the question still stands: is an AmazonBasics mattress worth it?
The honest answer is – not particularly. Although it can feel comfortable for some types of sleepers, it has too many issues to overlook. From the safety concerns of the materials to the issues with durability — you might end up paying twice with this mattress.
And contrary to popular belief, money can buy happiness – if you define "happiness" as "restful sleep on a good quality mattress". Just because someone's on a budget, doesn't mean they don't deserve to sleep comfortably and painlessly.
So, why pay for a mattress that you'll have to replace in half the time that it takes for the warranty of a better mattress brand to expire? Instead, think long-term. Check out my recommendations for memory foam and hybrid alternatives to the AmazonBasics mattress review.
At the end of the day, your health and sleep quality matter the most. So, make sure you treat yourself right, check out the financing options for Saatva, Helix, and Layla, and allow the future you to sleep comfortably without breaking your budget.
Do you have experience with the AmazonBasics line? Are there any pros or cons that you'd like to share? You can leave your AmazonBasics mattress review in the comments below.
Leave your honest AmazonBasics review
Leave your genuine opinion & help thousands of people to choose the best mattress. All reviews, either positive or negative, are accepted as long as they're honest. We do not publish biased reviews or spam. So if you want to share your experience, opinion or give advice - the scene is yours!