A new mattress can be a really expensive purchase - however, "can" doesn't mean "has to". Not everyone can afford fancy, $3000 USD beds. That's why, in this list, we'll try to find the best mattress under 500 bucks.
Whether it be the best Twin-sized or the best Queen mattress under 500 - it doesn't matter! If a company has a product that costs less (or exactly) $500 USD, it's going to be on this list. Mind you, we're talking about 'good' products - you won't find $20 dollar alternatives here.
Now, do keep in mind that mattresses that cost up to and including $500 USD isn't going to be... ideal. That's why, after the top 3 best providers for cheaper beds, I'll provide you with a short list of more expensive, but better alternatives.
The best mattresses under 500 that we'll be talking about are:
As for the better alternatives, they will be, as follows:
Why Look for the Best Mattress Under 500 Bucks?
Now, for some people, the natural first question could sound something like this:
Why in the world would anyone be looking for "the best mattress under 500 bucks"?
While it is true that it is generally advised that you put in the time and the money to really look into a decent mattress provider, not everyone has this type of a luxury. People who are looking for the best mattress under $500 USD might be those who are struggling with money, and just want a comfortable bed to sleep on.
On the other hand, another reason for why someone could be looking for a cheaper mattress alternative could be the simple fact that they are, say, students who need a bed in their dorm. Not everyone wants to drag their Cal King-sized beds into a room that they might be changing in half a year or so.
Finally, cheaper mattress alternatives are a good option when you are expecting a lot of guests, and don't know where to put all of them as soon as everyone goes to sleep. If you're someone who likes to frequently throw parties and have friends over, the best mattress for under 500 bucks can be a real life-saver.
All in all, there are multiple different reasons for why people might be looking for cheaper mattress alternatives. More expensive beds are going to be better for your back and general sleep quality (especially latex and innerspring ones[1]), but cheaper, more-affordable ones can have a similar effect, too. On that note, let's get right into the list!
Note: I've mentioned this at the beginning, but I'll stress it once again - whether you're looking for the best Queen mattress under 500, or the best Twin-sized one, this list included providers who have at least one version of their product priced at the half-a-thousand price tag.
Ranks #1 out of 7 Mattresses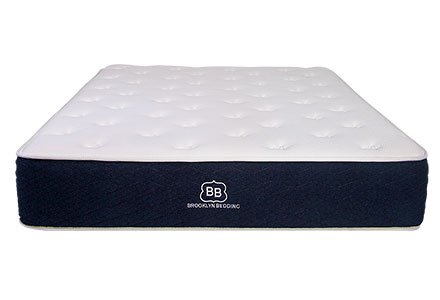 Things we liked:
+ Firmness Options
+ Six Different Models for Everyone
+ Free Shipping in the U.S
+ Lower Than Average Pricing
Things we didn't like:
- 30-Night Break-in Period for Free Trial
- Not All Mattresses Offer Similar Quality
First up on our "Best Mattress Under 500" list, we have the Brooklyn Bedding's Bowery - an all-foam mattress.
Bowery is one of the few notable products that Brooklyn Beddings offers to its customers. It stands alongside models such as Spartan and Aurora - a good company to be surrounded by!
Bowery itself, being an all-foam product, is rather straightforward - it offers the sleeper some pretty good body conforming and motion isolation features. The latter is going to be especially important if you sleep with a partner. People tend to toss and turn in their sleep, and this can easily wake their significant others up - motion isolation prevents that from happening.
Another really cool feature (literally) of the mattress is that customers report it sleeping significantly cooler than most other foam-based bed. This is surprising and good to hear all at the same time - one of the main reasons why people still avoid foam mattresses is because they often sleep way too hot.
On the other hand, however, Bowery does have its shortcomings. And yup, you've guessed it - all of them have to do with the fact that it's a foam product. However, being one of the first contenders on the "Best Mattress Under 500" list, the shortcomings aren't really all that bad - Bowery lacks proper edge support, and isn't all that responsive.
Now, when it comes to the pricing of the mattress, things are rather simple - the Twin-sized Bowery bed costs $400. Furthermore, as of writing this "Best Mattress Under $500 USD" list, there is a promotion happening - you can get 20% off of your order, making the price as low as $399!
Visit Brooklyn Bedding
...or read our Brooklyn Bedding review
20% Off
Brooklyn Bedding Coupon
Receive your special Brooklyn Bedding coupon code & enjoy great savings up to 20% off. Choose from premium mattresses & bed accessories.
Expiration date: 01/07/2020
1344 People Used
Only 16 Left
Ranks #2 out of 7 Mattresses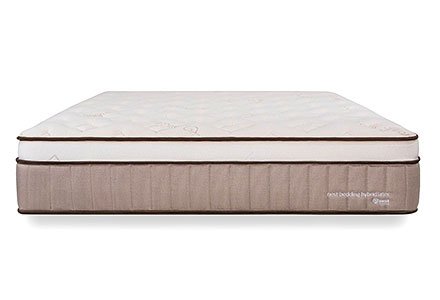 Things we liked:
+ Lifetime Warranty
+ Great Conforming
+ Options for Every Sleeper
Things we didn't like:
- 30-Night Break-in Period
- Poor Edge Support for Foam Mattresses
Another all-foam contender on the list, we have Nest Bedding's Love and Sleep.
As the name should probably imply, the mattress is designed with two activities in mind - loving and sleeping. Of course, by loving, we mean sex.
A single look at some of the company's customer reviews will show you that Love and Sleep really does fit the description of "the best mattress under 500 bucks". The bed comes equipped with some top-notch motion isolation - this is great for anyone interested in the "sleep" part.
As far as "love" is concerned, the bed has two distinct qualities - responsiveness and noise elimination. The first one is important for obvious reasons - most people prefer not to sink and drown in their mattress while having sex. That said, noise elimination is also important - whether it be paper walls and some neighbors behind them, or a roommate next door, you'd probably want your mattress to make as little noise as possible.
As for the cons of this "best mattress under 500" spot contender, there are a few.
First of all, the mattress doesn't seem to be very durable. Judging from the customer reviews found online, it tends to be worn down pretty fast. Also, some people emphasize just how weak the mattress edges are, even when compared to other, similar all-foam beds.
Pricing-wise, a Twin-sized Love and Sleep mattress will come out to be $499. Furthermore, if you apply a special code (NEST100), you'll get $100 off of your order, making the total just under $400 bucks! How about that for the best mattress under $500 USD?
Ranks #3 out of 7 Mattresses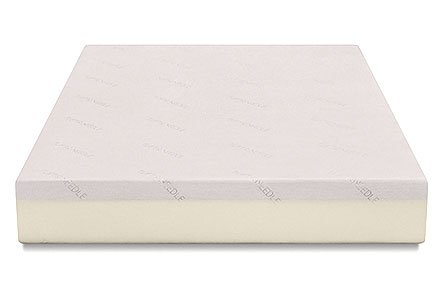 Things we liked:
+ Very durable
+ Isolates sound perfectly
+ Little-to-no off-gassing
Things we didn't like:
- Lackluster edge support
- Not the best responsiveness
Tuft and Needle is one of the more well-known mattress brands on this list. It's famous for the Mint version of their flagship product. Today, however, we'll be talking about their flagship product itself.
The original Tuft and Needle mattress is probably one of the best mattresses under 500 bucks you can find - it offers amazing durability, some of the best noise isolation features you're likely to come across, and is very good at absorbing motion (seeing as it's an all-foam product, that one's practically a given).
Somewhat of a debatable point, the Tuft and Needle's flagship bed is actually rather firm. I say "debatable" simply because there seems to be a split opinion on whether or not that's a good thing. While some people do enjoy a firmer surface to sleep on, others might prefer softer beds.
Believe it or not, but the Tuft and Needle flagship mattress is actually one of the cheapest products on this list, too! As of writing this "Best Mattress Under 500 Bucks" list, the product costs $350. As with most other high-tier mattresses in the industry, you'll also receive a 10-year warranty and a 100-night sleep trial.
Table: Top 3 mattresses under $500 bucks
Better Alternatives
Now that you know the main best mattresses under 500, let's take a look at some of the better alternatives in the current market.
Ranks #4 out of 7 Mattresses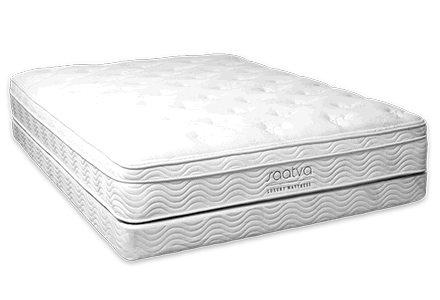 Things we liked:
+ Very bouncy and responsive
+ Cool (temperature AND visual-wise)
+ Top-tier edge support
+ Handcrafted in the US from ECO materials
Things we didn't like:
So, the very first mattress as far as the "better alternatives for the best mattress under 500" are concerned is Saatva.
Saatva is a traditional innerspring mattress - this is a phrase that I repeat almost every single time when I talk about this bed, but I can't help it - it describes the mattress perfectly! Furthermore, the word "traditional" is exactly the one to use here - lying on Saatva, that's the feeling that you get.
Being an innerspring mattress, Saatva has all of the great spring bed benefits - bounciness (responsiveness), great breathability and some of the sturdiest edges you'll find in a mattress.
Saatva might not be the coziest mattress in the world, but if you're looking for a cooler-sleeping bed, it should definitely fall on your radar.
What is the Saatva Mattress Price?
Saatva's prices and size options are:
The twin-sized Saatva bed can almost fall into the category of the best mattress under 500. Even so, other sizing options for the bed aren't all that expensive, either.
Ranks #5 out of 7 Mattresses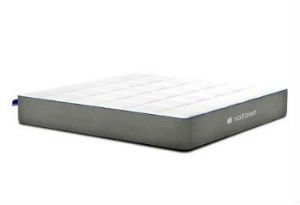 Things we liked:
+ Ultimate comfort for all sleepers
+ 100% risk-free 365-night trial
+ Pressure point relief for any body type
+ Unique 4-layer design
Things we didn't like:
- Might be a bit too firm for some people
- Some customers report that the mattress is a tad bit too warm
Let's get something straight right off the bat - Nectar does have two versions of the bed that are cheaper than $500 USD.
So... Why isn't it on the before-mentioned "best mattress under 500" list?
Simple - it isn't only a good mattress when it's under 500 bucks - it's actually an amazing mattress overall.
You see, the company behind Nectar has built a very sturdy and long-lasting bed. They have done so while still being able to maintain the price of the mattress at an extremely competitive level.
Since it's an all-foam product, Nectar is great at isolating motion. It's memory foam-based construction makes Nectar an ideal bed for anyone who's used to experiencing back pain problems.
What is the Nectar Mattress Price?
The prices of Nectar:
Just as I've mentioned before, the twin and twin XL versions of the Nectar bed are under $500 USD. That said, it definitely deserves a spot in the "Better Alternatives" section.
Ranks #6 out of 7 Mattresses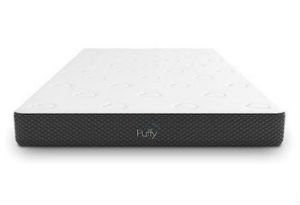 Things we liked:
+ Best for all type of sleepers
+ Lifetime warranty
+ Total spine pressure elimination
+ Highest breathability & coolness
Things we didn't like:
- Average temperature neutrality
Puffy has two versions of mattresses available to the customer - Puffy and Puffy Lux. The former will be out focus for today, though.
The flagship Puffy mattress is a foam bed. Customers do claim that Puffy is one of the better mattress alternatives as far as back, shoulder and neck pain alleviation goes.
Furthermore, Puffy (apparently) does a great job at isolating motion on the different parts of the bed. This will be very important to anyone who doesn't sleep alone, yet still wants to get a good rest. If you are a person who is easily disturbed and woken up at night, then Puffy might be the bed for you.
Also, it should be mentioned that Puffy's twin mattress does fall into the category of the "best mattress under 500". That said, Puffy is a very well-designed mattress overall, and it deserves to be placed in the section of better alternatives.
What is the Puffy Mattress Price?
Puffy's sizes and prices are:
Considering the quality of the bed, the prices definitely do make sense!
Ranks #7 out of 7 Mattresses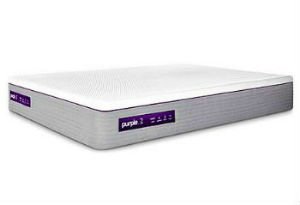 Things we liked:
+ Really good temperature neutrality
+ Firm, but not too much
+ Great motion isolation
Things we didn't like:
- Expensive
- Not the best edge support
The New Purple mattress is something that we at MyBestMattress truly love talking about. To say that it's an all-around great bed would be a major understatement.
The New Purple is a hybrid mattress. It was designed to combine all of the essential features of a good bed, pack them into a single product and ship it.
Was it successful? Oh yes.
The mattress is very good at keeping you cool while you sleep. It has good motion isolation and body-conforming features, and it's even relatively bouncy!
What you'll quickly notice with the New Purple is that it's made to last - the mattress is sturdy, and is expected to serve you for quite a long time to come.
What Are the New Purple Mattress Price?
The New Purple isn't cheap, but it's definitely affordable. Take a look for yourself:
If you're interested in a good bed, and are not hostile towards the idea of saving up some extra money, then you should definitely check the New Purple bed out!
Conclusions
So, then - this was the "Best Mattress Under 500 Bucks" list. We've talked about everything from the best Queen mattress under 500 dollars, all the way to some of the smaller, Twin-sized contenders, and some of the better options that you could save up for.
Remember - you won't really get "the mattress of your dreams" if you only invest $500 USD into the product. As you get older, your sleep cycles change[2], and you might thus require a higher-quality bed. If you want and can afford a mattress that might last you a lifetime, you could also check out our "Best Mattress" list for some of the best mattresses in the entire industry.
All in all, I hope that this "Best Mattress Under 500" list was helpful to you, and that you've managed to find a bed that might suit your wants and needs.
Table: Top 3 of the current 'better' mattress alternatives
20% Off
Brooklyn Bedding Coupon
Receive your special Brooklyn Bedding coupon code & enjoy great savings up to 20% off. Choose from premium mattresses & bed accessories.
Expiration date: 01/07/2020
1344 People Used
Only 16 Left
Scientific References

1. Radwan A, Fess P, James D, et al.: 'Effect of different mattress designs on promoting sleep quality, pain reduction, and spinal alignment in adults with or without back pain; systematic review of controlled trials.'
2. Junxin Li, PhD, Postdoctoral Research Fellow, Michael V. Vitiello, PhD, Professor, and Nalaka Gooneratne, MD, MSc, Associate Professor: 'Sleep in Normal Aging'
Leave your honest Best Mattress Under 500 review
Leave your genuine opinion & help thousands of people to choose the best mattress. All reviews, either positive or negative, are accepted as long as they're honest. We do not publish biased reviews or spam. So if you want to share your experience, opinion or give advice - the scene is yours!