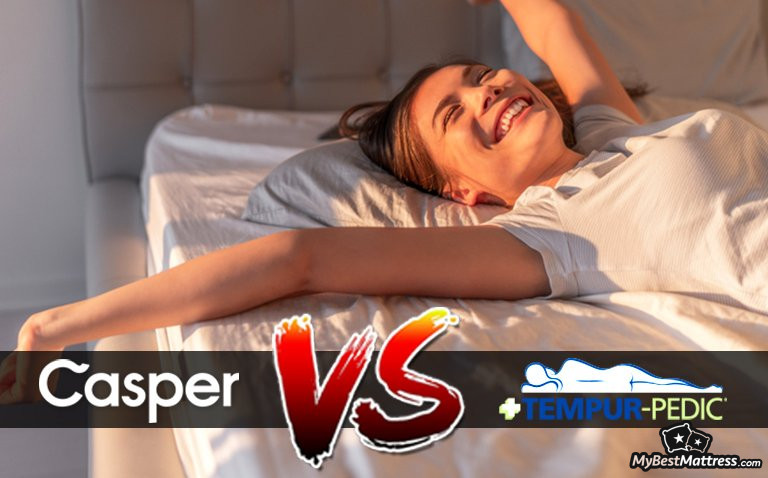 Searching for the right mattress for yourself takes both time and patience, however, when you find two products that you like, how can you make the right decision?
Casper VS TempurPedic - both memory foam mattresses, known for exceptional features and top-tier quality, it seems like no matter what choice you make, both of them will be great.
However, in this Tempurpedic VS Casper comparison, I'll go through each of the most important aspects one by one to give you a clear answer to which bed you should pick based on your needs.
You also have an opportunity to compare Casper VS TempurPedic using our tool that will show you all the technicalities that should be considered before making a choice.
Casper VS TempurPedic: The Most Crucial Measurements
Even though the majority of Casper VS TempurPedic comparison articles try to cover all the aspects of each mattress, they somehow manage to make it even more confusing.
Since I've also experienced such confusion and many times weren't able to pick between two products, my goal became to provide you with a detailed, yet clear and quite simple comparison that would allow you to easily make up your mind on which mattress to pick.
First, take a look into the evaluation of both Casper VS TempurPedic:
Table: Casper VS TempurPedic features' comparison.
It might seem like there's no big difference but, trust me, there's much more behind the numbers. Let me introduce you to the most important factors that I'll be using to evaluate how good each of the mattresses is:
Durability. Mattress's lifespan is what you should pay the most attention to. After all, when you invest in the mattress, you expect it to serve you for at least the next decade. I'll compare the Tempurpedic VS Casper mattress lifespan based on the aspects that determine how durable the bed is.
Firmness. Since we all have different preferences, it's important to have the options to pick the right mattress firmness. Even though most sleepers pick the bed based on what they like, it's crucial not to forget that health issues should also be considered.
Edge support. When laying on the side of the mattress or sitting on your bed, you might feel like being thrown away. It means that your mattress lacks edge support. In order to avoid this unpleasant feeling, you should pick the mattress of firm edges.
Temperature neutrality. Sleeping hot is not only unpleasant but also not healthy and can lead to lower quality sleep, thus you should make sure you're not sleeping in a mattress that traps your body heat.
Motion transfer and noise isolation. These two qualities are vital for couples. In order to allow each other to sleep without interruptions, you should find an alternative that doesn't transfer motion from your partner's side of the bed and doesn't produce any creeks or squeaks.
Suitability for sex. Both responsiveness and bounciness are important for this aspect. So, in order to give yourself and your partner quality time, it must be considered.
Pressure point relief. Defines how good the mattress manages to relief, back, neck and shoulder pain.
Not that we got these measures out of the way, it's time to move on to Casper VS TempurPedic analysis.
Casper VS TempurPedic: The Comparison
I'll go through each Casper VS TempurPedic measures one by one to make a thorough but clear comparison.
Durability
Both Casper and TempurPedic mattresses are made of high-quality materials, which have a major impact on their lifespan.
Here's the Casper mattress layer construction:
1.5" Latex Foam
1.5" Memory Foam
1.5" Polyfoam/Polyurethane Foam
5" HD Polyfoam

As you can see, even though Casper mattress uses memory foam, that was initially created by NASA-funded researchers, in its construction layers, its first layer is made of latex. Further into the comparison, when we'll be talking about temperature neutrality, you'll see that this aspect makes a major difference.
Now, take a look into the Tempur-Adapt construction:
Cooling Cover
TEMPUR-ES® Comfort Layer
Original TEMPUR® Support Layer
So, both mattresses are designed uniquely, however, all the materials that they're using are of top quality. That's why sleepers say that both Casper and TempurPedic beds serve them at least 10 years.
Even though Casper VS TempurPedic comparison is a bit tricky at this point if it would be my choice, I'd pick the Casper due to the first latex layer since, as you probably know, latex comes from nature.
Latest Saatva Coupon Found:
UP TO $500 OFF
Limited-time Saatva Sale
We're sharing a limited-time Saatva mattress discount with our readers! Grab this deal & enjoy your new mattress with huge discounts.
Expiration date: 12/12/2023
4,042 People Used
Only 83 Left
Firmness
It's crucial to pick the right mattress firmness because when you pick the wrong option, you may not be able to feel all the amazing qualities that mattress comes with. However, considering the fact that 80% of individuals choose medium-firm mattresses, almost every medium weight sleeper will find it a perfect option.
Now, Casper VS TempurPedic - how firm are they? Casper is 5,5 out of 10 while Tempur-Adapt mattress is 5 out of 10 on the firmness scale. They're both medium, so the way they feel is almost the same.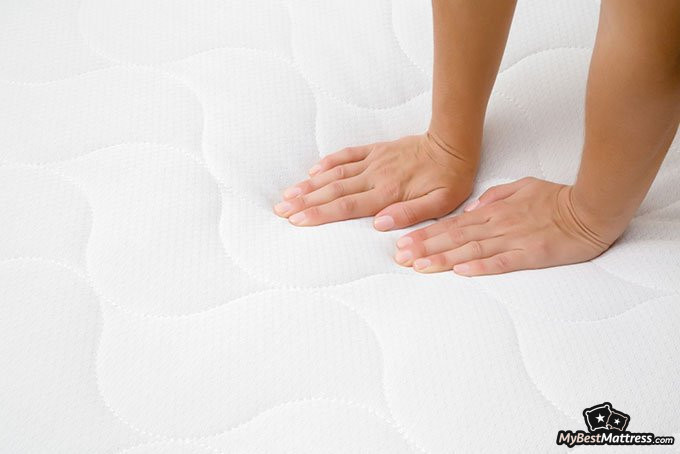 At this point, you should think if a slightly firmer or a little bit softer mattress is what you need. I, personally, love sleeping on a bit firmer mattress that gives me more support, so, I would go with the first option - Casper.

Did you know?
Edge Support
If you know how memory foam mattresses feel like, then you probably noticed that the original alternative provides very little firmness on the edges, and you feel like falling out of the bed when laying on the very side.
However, Casper and Tempur-Adapt are a few out of many mattresses of such kind that provide decent edge support. It might not be as perfect as, for example, innerspring, or hybrid beds can offer, however, customers didn't have any problems with it.
So, if you and your partner feel like the mattress that you're sleeping on currently lacks edge support, then you should change it for the better. Any Casper VS TempurPedic edge support comparison will tell you that they're amazing options compared to other memory foam mattresses.
Temperature Neutrality
It's known that people sleep better in cooler temperature. When you prepare for sleep, your core body temperature decreases[1]. It means that your sleep environment should be cooler when you sleep as well. However, there are many mattresses that instead of maintaining neutral body temperature, trap the heat.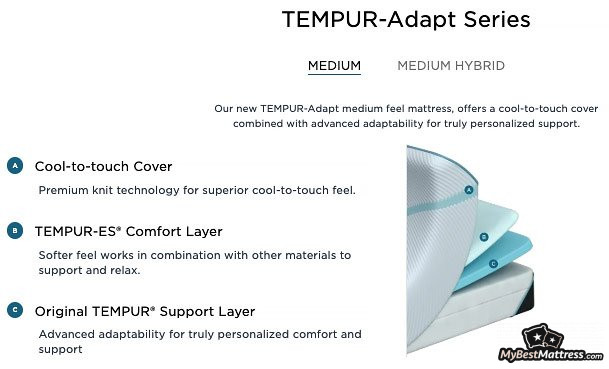 The problem of sleeping too warm is usually associated with memory foam mattresses, however, as I was comparing Casper VS TempurPedic, I found out that this issue cannot be associated with the providers.
Based on sleepers, TempurPedic mattress has better cooling properties than the Casper mattress but, all things considered, they both sleep relatively cool.
Now let me explain how they pulled it through. TempurPedic mattress uses cool-to-touch knit technology cover that works has breathable qualities and allows your body to stay cool throughout the night.
Casper mattress manages to maintain temperature neutrality due to the first latex layer. Latex is known for the temperature regulating qualities and allows the air circulate throughout the mattress while cooling your body.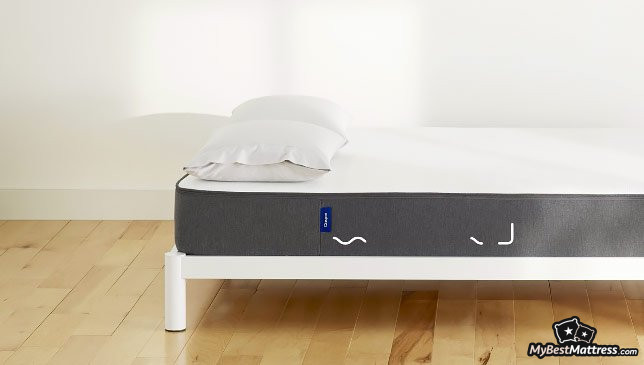 So, it's your personal preference which "Casper VS TempurPedic mattress" wins the battle, however, I would prefer Casper, only because I find latex mattresses more attractive due to environmental reasons.
Motion Transfer and Noise Isolation
Reduced motion transfer and noise isolation - qualities that are necessary for couples. As surprising as it might sound, there was a study performed by the Sleep Disorders Center of Georgia. The research results showed that individuals who constantly felt mattress motion experienced much more stage 1 sleep than stage 3 and 4 sleep[2] that is necessary for our body recreative functions.
Considering mattress motion transfer, Tempur-Adapt showed slightly better results - couples couldn't feel any interruptions due to movement during the night. Since Casper mattress is slightly more responsive, it did have some motion transfer, however, the majority of couples didn't mark it as an issue, more like a little flaw.
On the same note, let's move to the further section.
Suitability for Sex
As I've mentioned in the very beginning, the mattress suitability for sex mostly depends on two aspects - responsiveness and bounciness. I don't think there's a need to tell you why.
When considering Casper VS TempurPedic mattresses for sex, this time the Tempur-Adapt bed showed better abilities. Even though they're both relatively bouncy, the winner is clear.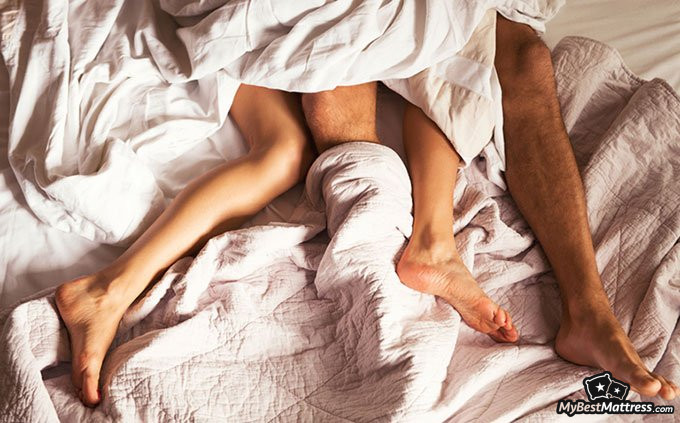 Now one of the aspects important to nighttime activities - responsiveness to pressure, also plays a major role in the ability to adapt to different sleeping positions. So, if you're a combo sleeper, this mattress is as important - both of the mattresses perform amazingly in this field.
Pressure Point Relief
Have you ever experienced neck or back pain? Maybe you woke up in the morning feeling sore? In that case, high chances are that your mattress is unable to provide you with the needed pressure point relieve.
Nowadays, not only seniors but also young adults who are sitting a lot throughout the day and exercise minimally have problems with aches and need a mattress that can offer both pain and pressure relief.
Table: Casper VS TempurPedic pressure point relief.
Even though many adults pick TempurPedic mattress for orthopedic reasons, it seems that in the Casper mattress VS TempurPedic bed battle, Casper revealed better results. It's surprising, however, not really unexpected.
Both mattresses offer similar back pressure relief, however, Casper offers better joint and neck pain relief. So, if you're experiencing aches daily, you might want to consider a mattress that can provide you with more benefits.
Evaluating Different Sleeping Positions
Some studies reveal that the healthiest sleeping position is on your back, however, the majority of us are combination sleepers and need a mattress that can fit different sleepers.
Based on all the aspects, Casper mattress fits the majority of medium sleepers while the TempurPedic is the best alternative for back and side sleepers. So, if you're a stomach sleeper, then when comparing Casper Mattress VS TempurPedic it's recommended to pick Casper mattress
Pricing
While both mattresses are truly amazing alternatives, I believe that the choice of Casper VS TempurPedic will mostly depend on the price. Take a look.
Table: Casper VS TempurPedic pricing.
As you can see the difference is significant! Tempur-Adapt mattress is two times more expensive than Casper. I'm on nobody's side, however, choosing a similar mattress for two times the price doesn't seem like the most logical decision.
Here are the full pricing and size options for Casper mattress:
And here you can find Tempur-Adapt mattress prices:
Note that this is the current pricing, so it might be slightly different at the time you're reading this comparison article.
Both mattresses come with a 10-year warranty, meaning that it's completely risk-free. In case of any manufacturing flaws, both providers will either return your money or change the mattress without additional charges.
By the way, you can find special offers for Casper mattress, so, don't forget to take advantage of them.
Casper Deal Active Right Now:
100-night
Sleep Trial For Casper Mattress
Grab this Casper coupon and enjoy 100-night sleep trial when you purchase a new Casper mattress. If it won't work out, returns are free & easy.
Expiration date: 08/12/2023
3,091 People Used
Only 9 Left
At this point, TempurPedic VS Casper mattress came to an end. The pricing should definitely have a major impact on your decision. Now let's move to the conclusions.
Conclusions
Therefore, both mattresses are unique and very different from one another. They're both made of high-quality materials, have good edge support compared to other memory foam mattresses, great noise isolation, and responsiveness.
On the other hand, some measurements were slightly better in TempurPedic mattress. It offers better temperature regulation, less motion transfer, and qualities needed for sexual activities.
However, Tempurpedic products are for those who are willing to invest in quality. Even though the major features were quite similar in both beds, the price is two times higher than Casper's.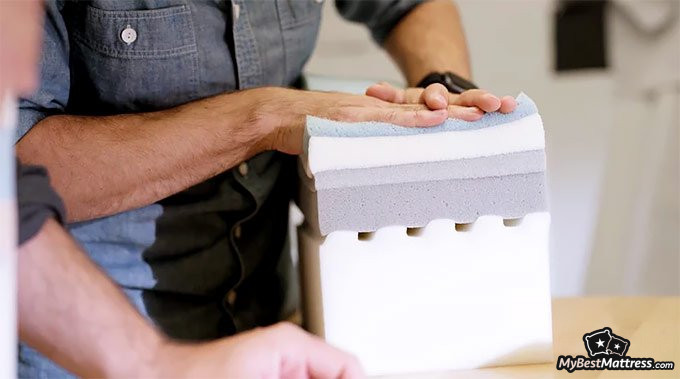 Therefore, the choice completely depends on your financial possibilities. If you're looking for a great bed for friendly pricing then Casper is your choice but if you can allow yourself to purchase a more expensive alternative, then TempurPedic might be the right choice.
If you want to go through each of the mattresses once again, then you should check out our comparison tool - you'll be able to find all the technical features aligned together.
Scientific References
1. Nick Obradovich, Robyn Migliorini, Sara C. Mednick, et al.: 'Nighttime temperature and human sleep loss in a changing climate'
2. Wellman JJ, Bohannon M, Vogel GW: 'Influence of lateral motion transfer on sleep'
Leave your honest feedback
Leave your genuine opinion & help thousands of people to choose the best mattress. All feedback, either positive or negative, are accepted as long as they're honest. We do not publish biased feedback or spam. So if you want to share your experience, opinion or give advice - the scene is yours!