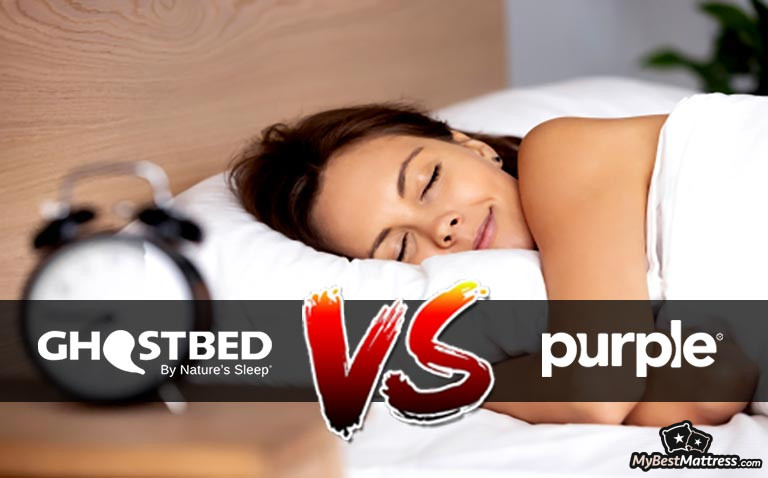 Purchasing a new bed can be a really simple and straightforward task… Or it can be a true headache. It all kind of depends on how much research you've put into learning about the best beds of the industry, and how well you've figured out what it is that you want. This GhostBed VS Purple should help you with both of those tasks.
Admittedly, both Purple mattress VS GhostBed have their own specific benefits for customers to utilize. Both beds are considered to be high-end, which is a good start - that means that either one you'd pick, you'd still end up with a pretty good purchase.
Table: GhostBed and Purple mattress introduction
That being said, the beds are rather different from one another, and are not going to suit everyone's preferences. Speaking of which, that's actually the first thing that we need to figure out.
GhostBed VS Purple: 5 Essential Features When Choosing a Mattress
While every single person is going to have a set of their own specific wants and needs concerning this GhostBed VS Purple comparison, there are some things that are universal.
Think of it this way - if you're purchasing a house, you might want it to have some sort of furniture inside of it, while another person might ask for a sauna or jacuzzi. The one thing that you'd both likely agree on, however, is that the house should have walls.
Table: Benefits and features of the GhostBed and Purple mattresses
While I admit that it's a bit of an "out-there" example, it does the job at illustrating my point pretty well - some GhostBed VS Purple comparison features are universal. Above, you can see the list of some of the more important ones. Now, for this article, I've chosen 5 such features and aspects - durability, firmness, motion isolation, temperature neutrality and responsiveness.
Durability. While you might think that durability is something that "doesn't even need to be mentioned", the truth is actually very different. You see, since we're talking about two industry leaders in this GhostBed VS Purple mattress comparison, both of these beds are likely going to be more or less durable. That said, the "more or less" part is actually really important - while some mattresses might last you a year, others will serve upwards of 5 or 6!
Firmness. While firmness is (quote, unquote) "important" because of people's different preferences, it's actually an essential feature to be discussed mostly because it can really impact the way that you feel. There's plenty of research that shows how some firmer beds are better for anyone who's suffering from back and hip pains[1] - that's why you should pay a lot of attention to just how firm the bed that you're purchasing is!
Motion isolation. Many Purple bed VS GhostBed customer reviews point out the fact that motion isolation is a somewhat underrated benefit when reviewing and comparing beds, whether it be GhostBed VS Purple, or any others. People tend to underestimate how valuable motion isolation can be for anyone who doesn't sleep alone - if your partner is a restless sleeper, and you're someone who's easy to wake up, this combination can result in some major sleep deprivation.
Temperature neutrality. If you're like most other individuals who leave GhostBed VS Purple mattress comparisons and reviews online, it's highly likely that you aren't too fond of sleeping hot. Cool mattresses are almost always the way to go - they should up your sleep quality, which, in turn, could lead to some major advantages in the long run.[2]
Responsiveness. Responsive beds are those which mold around your body once you lie down on them. Now, be careful and don't mistake "molding" with "sinking" - those are two very different features. Molding is something that you'd want out of your mattress, while sinking is the exact opposite of what a proper bed will provide you. An important point to pay attention to in this Purple mattress VS GhostBed comparison!
Now that we've figured out the main aspects of what a proper mattress should look like, let's move on to the actual GhostBed VS Purple comparison.
GhostBed VS Purple: The Comparison
The way that we'll go about this is by taking a closer look and analyzing each and every single of the above-mentioned features, one by one. In order to remain consistent, let's start off with durability.
Durability
While the durability of a mattress might not directly impact the quality of your sleep, it's definitely something that should be paid close attention to if you don't want to keep on changing your mattress.
Naturally, this might become an issue if you find yourself looking at some less-than-ideal bed offers. There are plenty of mattress companies out there that are making themselves out to look professional and high-end, while at the same time offering mattresses that'll break down after the first month of you sleeping on them.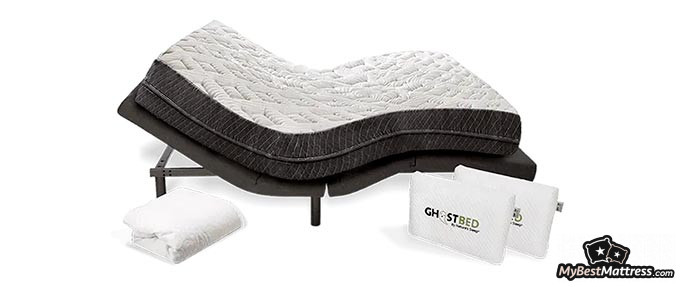 Admittedly, this isn't an issue in this GhostBed VS Purple comparison - both of the beds in question are expected to hold up rather nicely. Purple is a hybrid mattress - it's made out of a mixture of polyfoam, elastic polymer and buckling column gel. GhostBed, on the other hand, is made out of a few different kinds of foam and latex, with memory foam being the core of the mattress.
Foam beds are usually seen as the less-durable alternatives, especially when compared to hybrids such as Purple. While that's not really the case with GhostBed (it doesn't seem to lack durability as of yet), there's actually another issue at play here - the company being relatively young.
Now, don't get me wrong - the fact that it's a newer company doesn't necessarily mean that it's "worse" than, say, Purple. However, like some other customer Purple bed VS GhostBed comparisons have pointed out, there still hasn't been enough time to really see how well GhostBed's products hold up to the test of time.
Latest Saatva Coupon Found:
UP TO $500 OFF
Limited-time Saatva Sale
We're sharing a limited-time Saatva mattress discount with our readers! Grab this deal & enjoy your new mattress with huge discounts.
Expiration date: 12/06/2023
4,042 People Used
Only 83 Left
Firmness
As I've mentioned at the beginning of this GhostBed VS Purple comparison, firmness is a bit of an interesting topic when you're choosing a brand new bed.
Now look - it's actually pretty simple. What you have to do is make a definitive decision of what do you value more - comfort or the way that you feel. If your answer is comfort, then you should go for a softer mattress alternative, but if you're someone who suffers from lower back pains, then you should really turn your sights towards firmer mattress alternatives.
Table: GhostBed and Purple mattress firmness options
It just so happens, however, that this isn't particularly an issue in this Purple bed VS GhostBed comparison. Why? Simple - both of the mattresses in question are considered to be "medium-firm" by the vast majority of sleepers that have rated them.

Did you know?
Motion Isolation
I've mentioned earlier on in the GhostBed VS Purple comparison that motion isolation is usually quite an underrated feature - that's true. Allow me to elaborate.
If you're someone who sleeps with a partner, you probably know the struggle of having to wage war in order to get your half of the blanket or remain on your half of the bed. Well, if you're mattress is bad at isolating motion, none of these things might matter, in the first place.

Sleeping on a bed that doesn't isolate motion isn't inherently bad - doing so with a partner who's prone to tossing and turning in their sleep is a whole different story. This can have a grave impact on the quality of your sleep, and lead to a whole lot of arguments in the long run.
That being said, when it comes to this GhostBed VS Purple comparison, yet again, both beds are considered to be rather good at isolating motion. Sure, it does depend on your weight and other factors, but you shouldn't face too big of a problem in this regard.
Temperature Neutrality
If you were to take a look at the top-mattress lists online, most (if not all) of the beds you'd find there are going to have some form of cooling built into them.
Some beds sleep rather cool by design - this is especially so true with innerspring mattresses. Others, like hybrid ones (this is true with this Purple mattress VS GhostBed comparison, too) might have a layer of cooling material inside of them.

Staying on the topic of hybrid beds, let me just put this out there - Purple is likely to be the coolest-sleeping mattress that you'll ever come across. This is mainly thanks to its elastic polymer-based design - the material is super-breathable, promotes great air circulation and doesn't trap heat, whatsoever.
Taking a look at our other competitor of the GhostBed VS Purple mattress duel, the situation is quite different. GhostBed isn't "the hottest bed that you'll ever sleep on", but it's still quite warm - this is especially so true when compared to Purple.
Responsiveness
One of the best features of a responsive mattress is that these products tend to provide a lot of support and pressure relief to the sleepers - whether it be beds that we're talking about in this Purple VS GhostBed comparison, or else.
Support is a no brainer - responsive mattresses tend to be a bit firmer, and thus keep your body properly aligned all throughout the night. However, pressure relief is also very important - if your bed is good at relieving pressure, you should be able to get rid of some pesky joint pains that might have been plaguing you because of your old mattress.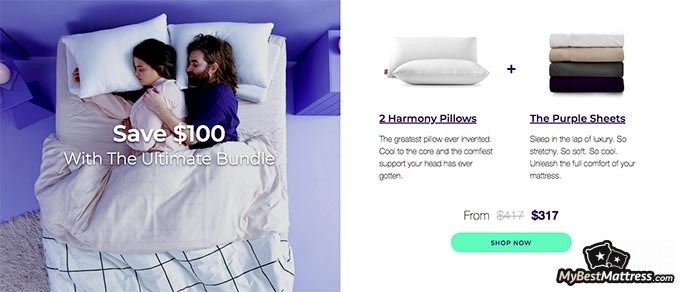 Truth be told, Purple VS GhostBed customer reviews note that while the Original Purple mattress is quite good at being responsive and providing proper pressure relief, GhostBed might actually be better at this feature. This is mostly thanks to its mixed foam and latex design - these materials, when assembled correctly, are going to be great for pressure relief and moldability.
Table: GhostBed and Purple mattress pressure points
Note, though, that foam beds do face the risk of being "sinky" and "swallowing" the sleeper, this breaking their proper body alignment and causing various strains and pains. While this isn't the case with the latter contender of this Purple VS GhostBed comparison, it's still something worth knowing!
Sleeping Positions
Now, before we go on and finish off this GhostBed VS Purple article with the pricing lists, let's quickly talk about one more important feature that I've decided to dedicate an entire chapter to, separately - sleeping positions.
It's no secret that different types of beds are better for different types of sleepers. Assuming that you fall into one or two of the main sleeping position types out there - side, stomach, and back -, you're going to want to pay close attention to whether or not the bed of your choice fits your sleeping position.
Table: GhostBed and Purple mattress sleeping positions
Most customer GhostBed VS Purple comparisons point out that Purple is going to be best for people who prefer sleeping on their sides, while GhostBed is going to be most-appreciated by back and stomach sleepers.
Do note, though, that this should be viewed more as a guideline than a "golden rule" - while the trend is as described above, there might perfectly well be stomach sleepers who love Purple, or side sleepers who are going to find GhostBed amazing.
Price
Finally, let's take a look at the pricing and sizing options of the two beds.
Table: GhostBed and Purple mattress pricing options
GhostBed's price tags look like this:
Purple's prices are:
Well, as you can probably see for yourself, the price tags for both of the beds in this GhostBed VS Purple comparison are almost completely identical.
Table: GhostBed and Purple warranty, shipping and trial information
Furthermore, Purple offers a 100-night sleep trial period, and a 10-year warranty, while GhostBed provides customers with a 101-night trial and 20 years of warranty! Both companies also provide free shipping within the US.
Also, please note that all of the prices presented above are subject to change at the product provider's sole discretion.
Conclusions
With all of that said, which of the two mattresses should you pick?
Well, to be completely honest, both of the beds in this GhostBed VS Purple comparison article are actually rather similar. If you want a really cool bed that's also amazing at conforming, your best bet is to go with Purple. However, if you prefer the feeling of memory foam, and are a dedicated back sleeper, GhostBed might be the better choice.
If neither of the beds suit you, though, do check out our list of the best mattresses, overall - perhaps you'll find the perfect alternative there?
Purple Deal Active Right Now:
Purple Black Friday Deal
Up To $800 OFF
Don't miss a chance to purchase Purple mattresses with an impressive $800 discount. You deserve to enjoy this Purple Black Friday Sale!
Expiration date: 12/06/2023
2,089 People Used
Only 72 Left
Scientific References
1. Kovacs FMEffect of firmness of mattress on chronic non-specific low-back pain: randomised, double-blind, controlled, multicentre trial.', Abraira V, Peña A, et al.: '
2. Rand.org: 'Why Sleep Matters: Quantifying the Economic Costs of Insufficient Sleep'
Leave your honest feedback
Leave your genuine opinion & help thousands of people to choose the best mattress. All feedback, either positive or negative, are accepted as long as they're honest. We do not publish biased feedback or spam. So if you want to share your experience, opinion or give advice - the scene is yours!