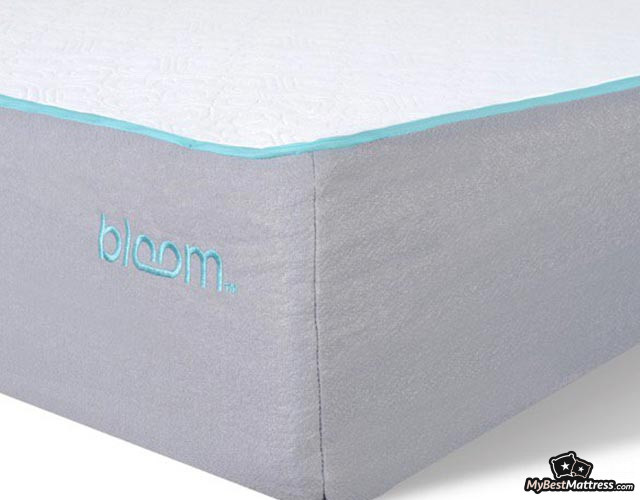 One of the most famous Canadian mattress brands, Sleep Country houses a whole lot of other top-tier beds, as well as their own beds that are known as the Bloom collection. While we've already covered a lot of the other brand products, it's about time to see whether or not Sleep Country's mattresses live up to their reputation - and what better way to do it than by taking a look at customer Sleep Country reviews?
That's right - today, we'll be taking a look at the Sleep Country Bloom mattress reviews and seeing what customers think about the all-foam products. We'll talk about both the pros and the cons, and see if the pricing matches them in an adequate manner.
Remember, though - it's always a better idea to purchase your mattresses online. You can get the same products, but for better prices and perhaps with some added bonuses, too!
TL;DR: The customer Sleep Country reviews that talk about the Bloom mattresses note that these beds are actually quite decent, considering their pricing points. The products contour to the sleeper's body rather well, and are comfortable to sleep on, but may possess some cooling and durability issues.
Pros
Very affordable mattresses
Decent pressure relief and body contouring features
Above-average motion isolation
A well-known Canadian mattress brand
Cons
Questionable durability and longevity
Sleeps warm for some
Sleep Country Reviews: PROS
As is custom with all mattresses that we cover, we'll start off by looking at the more positive customer Sleep Country reviews, and see what are the actual main benefits of the mattresses in question - the Bloom collection.
I've mentioned this in the introductory part of the article, but you should also keep in mind that Sleep Country does also sell other brands' products, too - Sealy, Dormeo, TempurPedic, and so on. Those are definitely some of the better-known names in the industry!
That being the case, however, we're not going to talk about any of them. Most of these brands we've covered already, and it would be counterproductive to go through all of them again. Also, we're here for the Sleep Country mattresses reviews - the Bloom beds are what we're going to concentrate on.
Decent Pressure Relief and Body Contouring Features
A single look at the official website of the brand in question is going to show you that the Bloom collection consists of four somewhat different mattresses - the Bloom Air, Cloud, Earth and Mist models.
Each of these beds are a bit different from one another, mostly in regards to their design and layer count. Even so, though, all four of the mattresses are made entirely out of different layers of foam.
In the majority of cases, this would automatically determine certain pros and cons of a bed. Well, customer Sleep Country reviews note that these products aren't an exception.
When it comes to the major benefits of an all-foam bed, pressure relief and body contouring are likely among the first features that pop into people's minds. That isn't at all surprising, though - it's simply what foam does best.

Pressure relief is somewhat self-explanatory - as your body lies down on a high-quality foam mattress, all of your body weight is then distributed along the surface of the bed, and thus, there are no "pressure clusters" - spots that would experience bigger amounts of pressure than some other areas of your body.
Body contouring fits into this quite nicely, too. The above-mentioned pressure relief utilizes body contouring in order to achieve pressure point elimination and (or) prevention.
Reading through all of the customer Sleep Country reviews, it would seem that the Bloom mattresses are actually rather good at dispersing pressure and not making you feel all sore in the morning. While some reviews argue about the longevity of this feature, the point remains the same.
Latest Saatva Coupon Found:
UP TO $500 OFF
Limited-time Saatva Sale
We're sharing a limited-time Saatva mattress discount with our readers! Grab this deal & enjoy your new mattress with huge discounts.
Expiration date: 12/12/2023
4,042 People Used
Only 83 Left
Comfortable Mattresses - Better Quality of Sleep
The comfort level of our sleep depends on a variety of different factors. Health issues such as sleep apnea or fibromyalgia can affect our quality of sleep quite tremendously[1], but smaller, less-drastic issues certainly make a difference, too.
Among these smaller issues, the most common one is actually very simple and straightforward - a lack of comfort when lying on a mattress.
No matter if you read through Sleep Country reviews, or any other customer mattress reviews, you should certainly be able to notice a common trend concerning discussion about "mattress comfort levels". Not only is this a big deal, but it's also a complicated one, too!

Why is that? Well, simply because it's a rather subjective topic - it's surely something that's difficult to measure, since there are many criteria that surround it.
That being the case, though, reading through customer Sleep Country reviews specifically, the general consensus seems to be that company's signature Bloom mattresses are actually quite decent in regards to their comfort!
Sleepers note that the beds are comfortable and cozy to sleep on, especially when combined with a comforter or a blanket. Being foam mattresses, these products are going to provide that feeling of coziness, either way, and the body contouring features of the beds are going to help create the overall feeling of comfort, in general.

Did you know?
Above-Average Motion Isolation
If there's one thing that all-foam beds are known for, it has to be motion isolation. It's definitely one of the foam's signature qualities, and also one that's very much appreciated by both restless sleepers, and those who sleep with their significant others.
Now, needless to say, Sleep Country Canada does sell beds that are great at isolating motion. The Bloom mattresses are going to be great for that job, especially the Cloud model.
That said, what's motion isolation actually good for, and how does it work?
Well, to find the answer to that question, you'll have to look back to the body contouring and conforming features of foam beds.

You see, since foam contours around your body, it automatically minimizes that motion that you'd make while being asleep. Some mattresses do so to a significant extent, others - to a more minimal one. When it comes to customer Sleep Country reviews, it would seem that the Bloom beds are somewhere in the middle - they could be better, but are surely OK.
While movement minimizing is great, foam also eliminates motion transfer - if your partner does move around on the other side of the bed, yet you both sleep on a high-tier all-foam mattress, you're probably not going to feel anything. This, in turn, will boost up your quality of sleep, since it eliminates the possibility of you waking up in the middle of the night due to your partner tossing and turning around.
So, if there's anything to take away from the Sleep Country Bloom mattress reviews in this regard, it's that all four of the foam beds in this collection are quite decent at isolating motion and minimizing it to a significant extent!
Sleep Country Reviews: CONS
As I've mentioned earlier, health issues such as sleep apnea can hinder your quality of sleep significantly (and things like drugs can affect your sleep apnea, making it an even worse experience[2]). I've also stated that a comfortable mattress is something that can play a significant part in deciding that same quality of sleep, too.
Well, if the bed has some fundamental issues, it's surely going to give you a bad time.
It's rare for customer Sleep Country Bloom mattress reviews to mention this, but less-known mattresses (rather, the brands behind them) do often "cut corners" and create lackluster products. And while brands such as Sleep Country Canada may be very well-known and popular regionally, when I say "popular", I mean names such as Saatva or Nectar - global industry leaders.

This segways into the next part of our article - here, let's try to see if customer Sleep Country reviews place the Bloom mattresses in the same basket as those above-mentioned "less-known, lackluster product-possessing brands", or if the opposite is actually the case. Let's take a look at some negative sides of the beds in question.
Durability Issues
You know, whenever a mattress has durability issues, but is a decent product from many other aspects, I actually don't even know how to break it down properly. Allow me to explain.
Reading through Sleep Country mattresses reviews, there is a significant number of customers who talk about the beds having a relatively short life expectancy, and also possessing some durability issues, too.
This… is not ideal.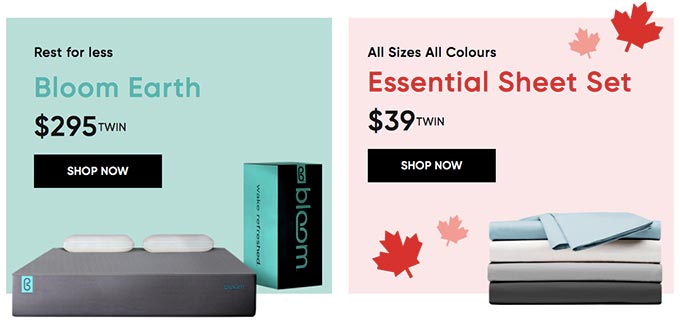 You see, whenever a mattress lacks durability, it's a huge problem. The reason behind this is pretty simple, too - if your bed isn't durable, and will break down in a short period of time after you've purchased it, any other "amazing features" aren't going to matter - you're still going to have to find a new mattress.
Now, when it comes Sleep Country reviews, customers aren't claiming that the Bloom mattresses are breaking down left and right - that's simply not the case, at all. While it is a hyperbole, though, the entirety of the sentiment still remains true.
So, ya - it would appear that there are some durability and longevity issues with the Bloom mattresses, especially the cheaper models.
Sleep Warm
Ah, yes - temperature neutrality! That one topic that appears to be the absolute bane of any and every foam mattress in the industry!
All jokes aside, be it Sleep Country mattresses reviews or any other foam bed reviews, you're almost always going to find people who aren't particularly happy about the temperature aspect of the products.
You see, foam traps heat - big time. It's a very common and well-known issue that even the best memory foam mattresses face.
So why isn't anyone doing anything to fix it, then?
Well, frankly, it's not as simple as that.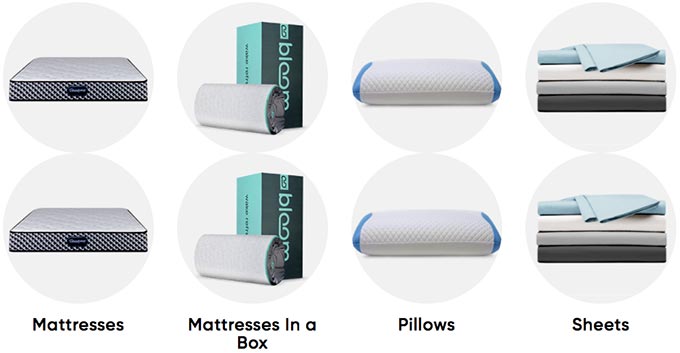 Making a foam bed sleep cool upon it arriving at your doorstep is relatively simple. However, creating an all-foam mattress that will retain it's temperature neutrality features for years to come is a whole different story - brands use everything from cooling gel all the way to different layer designs, but with time, heat always finds a way.
The mattresses offered by Sleep Country Canada are no exception.
Judging by the customer Sleep Country reviews, it appears that the beds don't necessarily sleep "hot", but are still on the warmer side of the spectrum, nonetheless. If you want the best cooling mattress, your best bet is to look at the innerspring market.
Price
All of the main pros and cons of the customer Sleep Country reviews concerning the Bloom mattresses covered and out of the way, let's take a look at the pricing points of each of the beds in question.
The price tags for Bloom Air are:
Bloom Cloud's prices:
Bloom Earth's prices:
Finally, Bloom Mist's prices:
No matter how you look at it, the prices for all of the mattresses mentioned above are actually great! The company also offers a 100-night sleep trial, from the moment that you pick your mattress up or it's delivered to you. While the trial period is pretty standard, yet again - all things considered, the prices are definitely in-line with what the products have to offer to most sleepers.
Here is The Best Saatva Offer I Found:
UP TO $500 OFF
Limited-time Saatva Sale
We're sharing a limited-time Saatva mattress discount with our readers! Grab this deal & enjoy your new mattress with huge discounts.
Expiration date: 12/12/2023
4,042 People Used
Only 83 Left
Conclusions
Would I recommend purchasing and trying out the signature mattresses of Sleep Country Canada?
Well, if you're on a budget, the Bloom mattresses might definitely be an option. Still, there are much better options around.
All of the beds within the Bloom collection are quite decent, whenever you keep their price range in mind. They aren't going to provide you with "top-tier comfort" or "amazing cooling" features, though. By extension of that, if you're looking for a long-term, reliable bed, you're much better off turning your sights to some industry-leading mattress brands.
With that, I hope that the article was useful to you, and that the summaries of all of the different customer Sleep Country reviews managed to leave a lasting impression. Until next time, and best of luck!
Scientific References
1. Saesen K, van der Veen J, Buyse B, Nuyts S: 'Obstructive sleep apnea in head and neck cancer survivors.'
2. Chen K, Yaggi HK, Fiellin DA, DeRycke E, et al.: 'Associations between obstructive sleep apnea and prescribed opioids among veterans.'
Leave your honest Sleep Country review
Leave your genuine opinion & help thousands of people to choose the best mattress. All reviews, either positive or negative, are accepted as long as they're honest. We do not publish biased reviews or spam. So if you want to share your experience, opinion or give advice - the scene is yours!