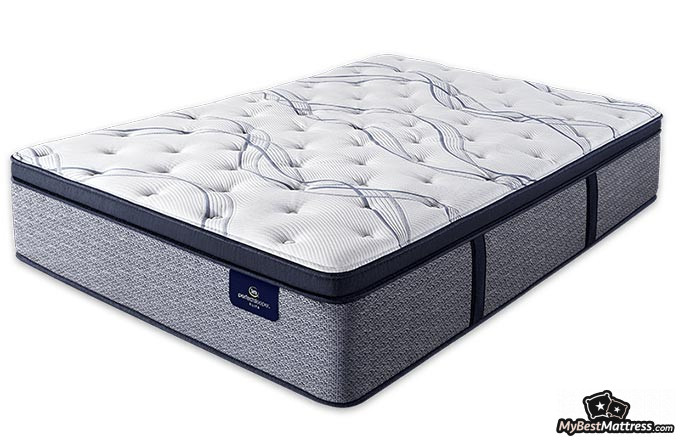 Need a new bed? Not sure where to start? Well, apart from the obvious choice of choosing a mattress online, you could also check out some customer Sit 'n Sleep reviews, too.
What is "Sit 'n Sleep", you ask? Well, I'm glad that you do - in this article, we'll be talking all about it.
Sit 'n Sleep is a mattress retail store chain located in California - one of the most popular mattress retailers, to be honest. We'll talk about three of the brand's top-selling mattresses, and I'll also tell you why you should instead buy the beds online and not bother visiting a physical store. Not that there's anything wrong with it - it's just not worth it.
TL;DR: Customer Sit 'n Sleep mattresses reviews will tell you that the retailer offers some high-end beds to its customers, with TempurPedic, Serta and Stearns & Foster being a few of the more prominent examples. Still, though, buying a new bed online remains the better option.
Pros
Fair pricing options
One of the most well-known mattress retailers in California
Decent mattress selection
Cons
More expensive than purchasing the same beds online
Doesn't have some of the best mattresses in stock
Sit 'n Sleep Reviews: Three Top-Tier Mattress Brands
As do many other well-known mattress retail stores, Sit 'n Sleep offers customers a pretty wide selection of beds. Among these beds, there are some truly high-end products that are worth paying extra attention to - these are the ones we'll be focusing on in this article, too.
Sure, we could go ahead and cover all of the different beds that the shop has in stock. Truth be told, however, that's not really worth it - focusing on the three top-level mattresses, we'll be able to talk about them a bit more extensively, and you'd probably want to pick one of them in the store, either way.
The three beds in question are:
Since may customer Sit 'n Sleep reviews concentrate on these particular mattresses in question, I'll take it a step further and also tell you about the brands, in general, and what you can expect from each of the beds mentioned above.

Remember, though - if you want a truly high-end mattress, your best bet is to search for one online. There are better options available - all you need to do is check out some lists, make your choice and simply wait for your new bed to arrive at your doorstep.
TempurPedic ProAdapt - Luxury and Comfort, Combined
First of all, let's take a look at customer Sit 'n Sleep reviews that talk about TempurPedic.
Well, I should probably say TempurPedic ProAdapt - this model seems to be the most popular option the company has for sale, both in retail stores and on their official website.
So, what's so special about the ProAdapt? Well, a few things, but the most notable ones would have to be durability, pressure relief and motion isolation.
Durability should be the first feature that you look into, no matter if you're researching Sit 'n Sleep mattresses, or any others. It's the most important feature, after all - while lack of motion isolation or bounciness can still be some of the more forgivable issues, lack of durability isn't.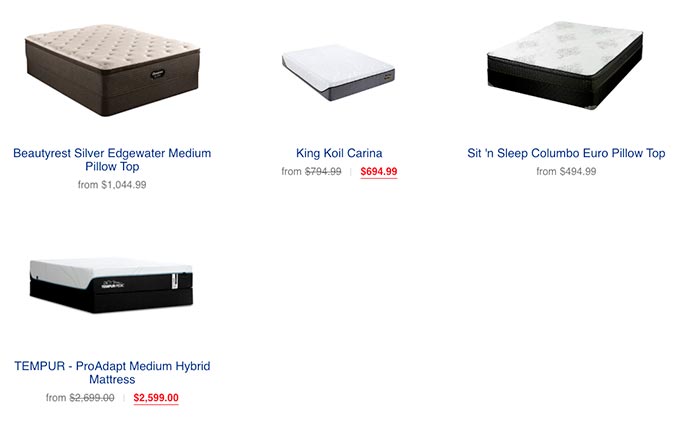 The interesting thing about ProAdapt is that it's a memory foam mattress - these don't tend to exceed in durability. TempurPedic, however, is a luxury bed brand - all of their mattresses come with top-of-the-charts durability and build quality, with Tempur-ProAdapt being a great example of this.
Pressure relief is another big one. The mattress disperses the pressure of your body all throughout its surface, thus alleviating any and all painful pressure points that might have built up from sleeping on an old bed.
Finally, probably the "household feature" of foam beds, motion isolation - according to customer Sit 'n Sleep reviews, the Tempur-ProAdapt is one of the best beds currently in the market when it comes to isolating your and (or?) your partner's motion during the night.
Price
As far as pricing is concerned, the customer Sit and Sleep reviews aren't as positive - TempurPedic is known for being a company that has some pretty shocking pricing options.
Purchasing the mattress from the brand's official website, it will cost you anywhere from $2399 up to $4798. You can expect that, in the shop, it's going to be at least a couple of hundred dollars more expensive.
That being the case, that's where the term "luxury" comes in - judging by the majority of different TempurPedic reviews found online (not only the Sit 'n Sleep reviews, but in general), customers do love the mattresses, even though they're truly on the "very expensive" side of the market.
Serta Special Edition II - Decent Breathability and Motion Isolation
Serta, same as TempurPedic, offers customers a few different mattresses to pick from. Reading through customer Sit 'n Sleep reviews, it would seem that the brand's signature iComfort models aren't available to be purchased from the retailer.
That's… a bummer. Still, you'll be able to buy Serta's Special Edition II models that come in different firmness options.
That's actually one of the main pros mentioned by customers, too - the fact that Sit 'n Sleep has multiple firmness options for their beds in stock. This means that, no matter which sleeping position it is that you prefer, you should always be able to find an alternative that would work for you.

The mattress in question - the Special Edition II Pillow Top - is a foam bed that has foam-wrapped coils in the support layer. This makes the mattress quite breathable - well, at least compared to some other all-foam beds out there.
On top of that, Sit and Sleep reviews also point out that the bed has surprisingly decent motion isolation, especially if you choose to go with the softer models. Still, however, it's advisable that you choose the firmer mattress alternative, for it's going to be better for the health of your lower back region, and will keep your body from developing painful pressure points.
In general, you should always go with firmer beds, if you care about such things - just a sidenote.
The only complaints that some customer Sit 'n Sleep reviews do point out have to do with the durability of the Serta Special Edition II beds. That's… Not ideal. Truth be told, however, some customers seem to point out that the durability issues are most prominent with models bought from Sit 'n Sleep, not online - just something to keep in mind.
Price
Compared to the before-talked about TempurPedic, Serta is definitely a more affordable option. Customer Sit 'n Sleep reviews point out that you'd be able to purchase the Special Edition II Pillow Top mattress for anywhere from $499,99 up to $799,99, depending on the size of the bed that you need.
Truth be told, the prices are definitely decent, especially given the fact that you'd be purchasing the mattress from a retail store!
Stearns and Foster Rockwell - Superb Breathability, Yet Very Expensive
Stearns and Foster is a company that sells some very high-end mattresses - this is true both if you choose to purchase the beds online, or if you drive down to your local Sit 'n Sleep.
In this article, however, we'll be looking at customer Sit 'n Sleep reviews that talk about the Estate Rockwell model - one that retails in Sit'n Sleep shops. If you didn't know, not all models are available in these shops - yet another point for choosing your bed online!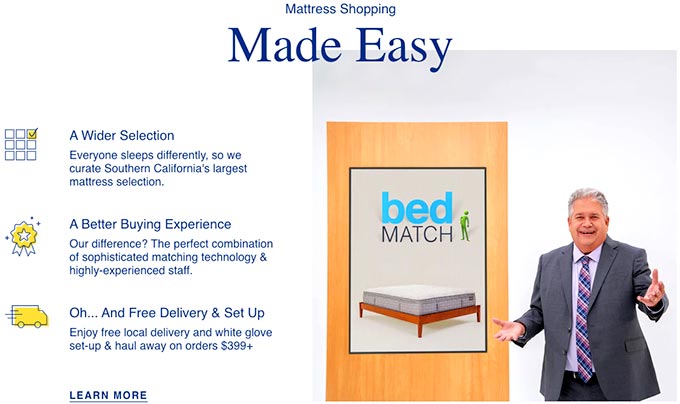 The Rockwell model is somewhat well-known for providing the sleepers with top-tier breathability features. The bed has some special cooling technology that allows it to remain cool all throughout the night - no matter how hot you sleep by default, you shouldn't catch yourself waking up in the middle of the night because of heatwaves.
Also, the Rockwell model comes in multiple different firmness options. Customer Sit and Sleep reviews will tell you that, same as Serta's Special Edition II, no matter which sleeping position you prefer, you'll be able to find an option for yourself.
Price
Stearns and Foster is one of the more expensive-mattresses selling providers. Some of the company's beds can reach up to almost $10,000! Worry not, however, - the Rockwell model is nowhere close that ballpark.
Purchasing the mattress online, it's going to cost you anywhere from $1699 up to $3798, depending on the size of the bed that you need. While it's definitely on the more expensive side of things, it's also one of the best Sit 'n Sleep mattresses that the company has in stock - a point worth noting!
Buying a Mattress Online VS In the Shop
All three of the mattresses mentioned in this article have garnered some pretty positive customer Sit 'n Sleep reviews - that's for sure. That being said, you should also keep in mind that there are better options available - in order to utilize them, however, you'll have to buy a new bed online.
To be completely honest, that's actually much better than having to drive down to your local retailer - quite a few Sit 'n Sleep reviews agree with this statement, too.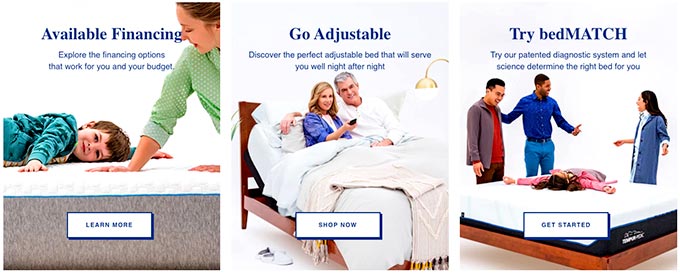 Think about it - the only "convenience" that you receive by buying a new bed in a shop is time. Quite frankly, you'll save some time, and be able to enjoy your mattress faster than you would if it had been bought online. That said, searching for a new bed online has many benefits - just to name a few:
Better deals. This is true both for the actual prices of the mattresses, and when it comes to warranties and sleep trials. Retailers need to make a profit, so they'll charge you more than the actual mattress providers themselves. Also, chances are that you'll receive reduced sleep trial periods and warranties from the retail shop - no matter if we're talking about Sit 'n Sleep reviews, or any other physical retail shop reviews out there.
Take your time. When you're shopping for a new bed online, you're probably doing it from the comfort of your bedroom. This means that you have all the time in the world to find a few mattresses that you'd like, compare and contrast them, and simply think. In a shop, however, you don't have this luxury - there's always going to be a sales consultant nagging you and trying to sell you their most expensive product. Not ideal!
Unlimited choice pool. No, really. Think about it - if you're sitting at your computer or smartphone, you basically have access to any and all noteworthy mattresses around the world! Inside of a shop, however, that's not the case - while customer Sit 'n Sleep reviews claim the brand to be one of the best and most well-known mattress retailers in the region, the stock that you'll find in an actual shop is still going to be limited.
In all honesty, I can't stress that last point enough - you'll struggle to find a mattress retailer that would offer all of the actual best mattresses of the industry. Sure, beds such as the TempurPedic ProAdapt are definitely "up there" on the list of high-end sleep products - that said, there are still better options available.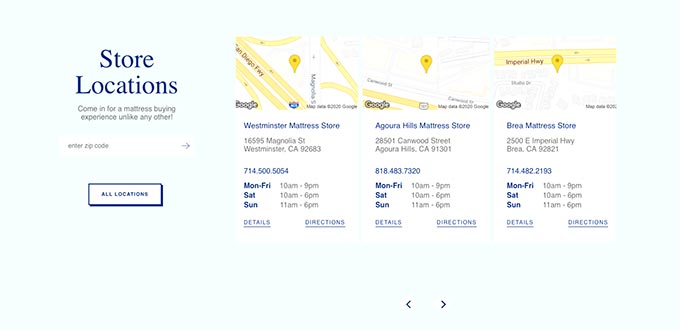 All in all, my point is this: if you don't have a fortune to spend on a new mattress, but still want to improve your quality of sleep[1] (or even want a top-tier bed, in general), I'd definitely advise looking at some customer reviews and purchasing your mattress online. Simple as that!
Conclusions
There are many different factors that can contribute to sleep disturbances - mental issues such as depression or anxiety[2], everyday stress, workloads, diet, and so on. Knowing this, your best bet in improving your sleep the natural way is by buying a mattress that would fit all of the important criteria - pressure relief, motion isolation, cooling, durability and so on.
Table: Top 3 of the best mattresses in the current market
No matter if you read through customer Sit 'n Sleep reviews and decide to go down to your local retailer and buy a new bed, or you take the online route, do make sure that the mattress that you're getting is definitely worth the time and money. Of course, my advice remains the same - take the online option, and save yourself some trouble.
With that, I thank you for reading this article, and wish you the best of luck in finding the best mattress for yourself!
Scientific References
1. Julia Whinnery, BS, Nicholas Jackson, MPH, Pinyo Rattanaumpawan, MD, MSCE, and Michael A. Grandner, PhD: 'Short and Long Sleep Duration Associated with Race/Ethnicity, Sociodemographics, and Socioeconomic Position'
2. Nathaniel F. Watson, MD, MSc, Kathryn Paige Harden, PhD, Dedra Buchwald, MD, et al.: 'Sleep Duration and Depressive Symptoms: A Gene-Environment Interaction'
Leave your honest Sit 'n Sleep review
Leave your genuine opinion & help thousands of people to choose the best mattress. All reviews, either positive or negative, are accepted as long as they're honest. We do not publish biased reviews or spam. So if you want to share your experience, opinion or give advice - the scene is yours!