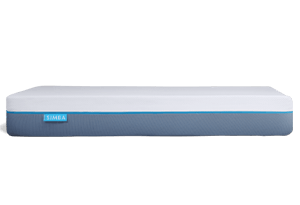 A good rest is more important than a tasty meal. Sleep highly affects the quality of our lives, meaning that the lack of rest could lead to serious consequences and even health issues. For this reason, it's important to choose a mattress that would suit your wants and needs.
Simba is one of the most recommended UK mattress brands that started the journey back in 1979 with a single piece of thread. In 2002 the company decided to start creating their own mattress design and started supplying.
Now, more than 50 million people from all over the world are using Simba mattresses. They're made of high-quality and are being regularly tested to ensure durability.
Now, even though Simba is offering two options to choose from, including The Simba Hybrid mattress and The Simba Hybrid Pro mattress, in this Simba mattress review, I would like to focus on the company's signature Hybrid mattress, including its pros and cons, pricing, and additional details.
Thus, without further ado, let's jump right into it.
Verdict at a Glance
Simba Hybrid mattress is designed using high-quality materials. It features miQro springs, Simbatex foam with graphite for cooling and hypoallergenic cover. According to multiple Simba mattress reviews, it's very breathable, has strong edges, provides bounciness and alleviates pressure points pretty well. However, just like the majority of hybrid mattresses, it's not that good at noise and motion isolation.
Pros
High-quality hybrid mattress
Great cooling properties
Bouncy and responsive
The right amount of support for back sleepers
Very affordable
Cons
Some motion transfer and noise
One firmness option
Simba Mattress Review: PROS
As always, I would like to focus on the positive aspects first. Therefore, I will begin by distinguishing the features of Simba mattress that customers evaluated positively. After that, I will take a look at its flaws.
Let's begin.
Made of High-Quality Materials
Mattress comfort and durability completely depend on the structure and quality of the materials that were used to create it. That being said, I would like to begin this Simba mattress review by introducing you to its construction.
Take a look into the Simba mattress structure:
Breathable sleep surface
Open-cell foam layer
Unique patented spring-comfort layer
High definition foam with edge support
Zoned support base
Simba mattress is 25 centimeters deep, the company is using highest-quality materials, including miQro springs that are made with 100% British steel, Simbatex foam with graphite for cooling and even hypoallergenic cover.

Judging from the structure, it seems that the Simba mattress should be able to provide you with temperature regulation properties, good support, firm edges and comfort. However, to find out more about it, I would like to take advantage of Simba mattress reviews and see how customers evaluate each of the features. Thus, let's jump straight into it.
On the Firmer Side - Good for Back Sleepers
When choosing a mattress for your personal needs, you have to take into consideration such aspects as your weight, body type, sleeping position and personal preferences. Mattress firmness is one of the most important factors that you have to consider.
Simba mattress has only one firmness option, which is about 6,5 out of 10 on the mattress firmness scale. Depending on what you're looking for, it might be an issue, however, some sleepers can highly benefit from such a level of firmness.
According to multiple Simba mattress reviews, it works wonders for average- and heavy-weight back sleepers. Studies show that back sleepers should choose firmer mattresses that provide enough support because they make sure that your spine stays in a healthy position.

Knowing that a significant part of people is experiencing the lack of quality sleep due to the back pain,[1] firmer mattresses, such as Simba, might be an amazing option that could help to deal with it.
Even though Simba has only one firmness option it doesn't mean that it's not suitable for other sleepers. According to multiple Simba mattress reviews, average- and heavy-weight individuals find it comfortable, no matter what's their favorite sleeping position. Only light-weight stomach sleepers can be slightly disappointed. However, when it comes to stomach sleepers, this position is not the healthiest one, in general.
Durable and Has Strong Edges
Mattress durability is something that can be rather difficult to evaluate, however, it's something that's more than important. Even if a mattress is super comfortable, provides you with motion isolation properties, breathability and other amazing qualities, you shouldn't forget about the durability.
If a mattress is made of low-quality materials and is unreliable, you'll be able to enjoy those amazing features for only a few years. I don't think it's something that you want. For this reason, I took advantage of multiple Simba mattress reviews just to find out whether or not it's durable.
According to the majority of customers that have had the Simba mattress for years, there's no significant sinkage, the mattress manages to maintain its initial shape even after years of using it.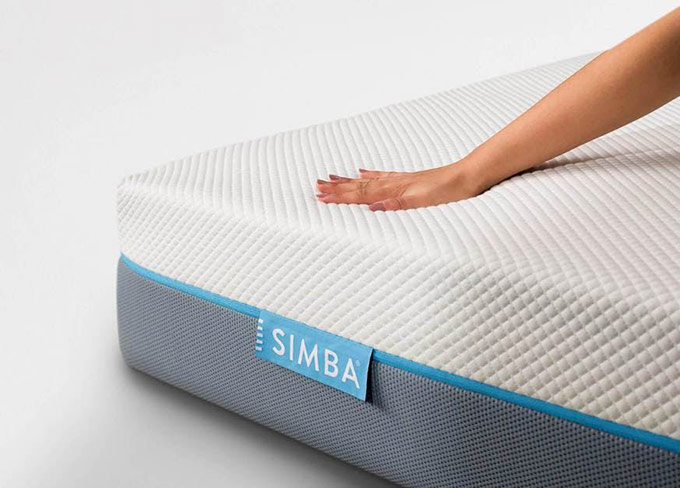 Therefore, when it comes to durability of the Simba hybrid mattress, there's nothing to be worried about. Since it's using high-quality materials, sturdy springs and is well built, it will serve you for years.
What is more, since it has strong edges that not only ensure you can sleep comfortably on the side of your mattress but also help to maintain its initial shape, you'll see that even after years of sleeping, it will look just like new.
Sleeps Cool
Breathability capabilities is one of the aspects that Simba reviews distinguish. According to the majority of customers, it sleeps really cool and doesn't trap heat at all. Considering the fact that temperature neutrality is crucially important to the quality of our sleep, this aspect is something you should always take into consideration.
Now, you might want to know, why is the Simba mattress so breathable? Well, there are a few reasons for that. First of all, Simba is designed using a breathable sleep surface that doesn't trap your heat. Secondly, the micro-coils promote the airflow and ensure that you don't get too warm. The foam layer is made with the graphite that promotes cooling as well.
Therefore, if you're looking for breathability, Simba mattresses might be just the right fit.

Did you know?
Bouncy and Responsive
Mattress bounciness is not something that many Simba mattress reviews talk about, however, that's the quality that you should be looking for if you want to improve your sex life. I'm not saying that it's bad right now, however, it can always be better, am I right?
When it comes to hybrid and innerspring mattresses, they tend to be really bouncy and responsive due to the coils in their construction. However, innerspring mattresses often lack this quality.
Since Simba is a hybrid mattress, you won't be having issues with the lack of bounciness and responsiveness. According to Simba mattress reviews, it can be highly beneficial to your sex life!
Decent Pressure-Relieving Properties
Pressure-relieving properties are needed in order to alleviate pressure points in your body. Usually, the most pressure is formed in your hips and lower back region. That being said, if you wake up feeling sore points in your body, it's probably because of an unsuitable mattress.

Usually, memory foam mattresses offer the best pressure relieving properties, however, when it comes to hybrid and innerspring beds, there's sometimes an issue.
Considering the fact that Simba is a hybrid mattress (on the firmer side), I wasn't expecting good pressure relief. However, as I was going through multiple Simba mattress reviews, the majority of customers claimed that it performs really well at alleviating pressure points.
Simba Mattress Review: CONS
As you probably already understood, a comfortable mattress can improve the quality of your sleep significantly, even if you're suffering from various health issues.
However, almost every mattress has flaws as well, especially considering the fact that we have personal preferences. That's why you should take into consideration not only perks but also quirks and decide if they won't be interrupting your sleep.
That being said, it's time to move to the less pleasant part of this Simba mattress review.
Some Noise and Motion Transfer
When it comes to sleep interruptions, both noise and motion transfer can do that. If you have a partner that keeps tossing and turning throughout the night and your mattress is unable to isolate motions and is noisy when bearing weight, then you're in trouble.
Studies on the motion transfer during sleep[2] reveal that if you're experiencing movement throughout the night, it can lead to more stage 1 sleep and less stage 3 and 4 sleep that is necessary for all the restoration functions that are happening in our bodies.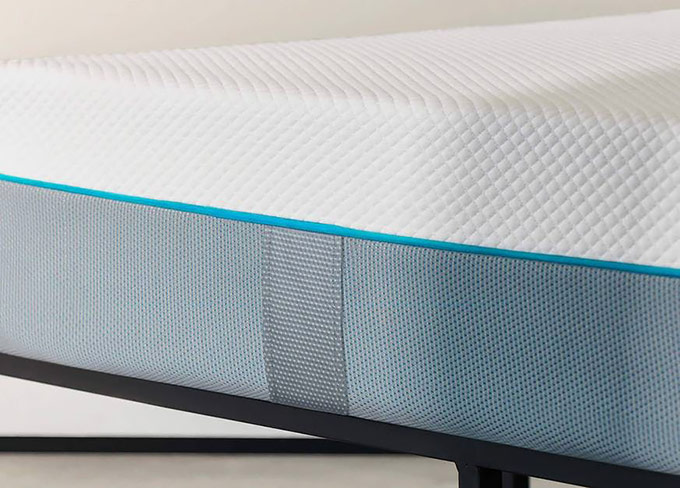 According to Simba reviews, some customers noticed that the mattress is not very good at isolation motion transfer and can produce some noise when bearing weight. Even though these issues are not that noticeable in the Simba mattress, it's still something that you should be aware of.
Only One Firmness Option
As I already mentioned in the beginning of this Simba mattress review, it only has one firmness option to choose from, which is about 6,5 out of 10 on the mattress firmness scale.
Since you have to pay attention to multiple aspects when choosing a mattress, including your weight and sleeping positions, one firmness cannot be suitable for everyone.
According to Simba mattress reviews, it's recommended for medium- and heavier-weight people, including back, side and stomach sleepers. However, if you're a light-weight individual, you might want to consider softer options.
Simba Mattress Price and Additional Details
Since we already went through Simba reviews and distinguished all the pros and cons, it's time to move further to additional details that might affect your decision. Needless to say, that includes pricing, size options, warranties, and even more. Let's take a look at each of them.
What is the Simba Mattress Pricing?
Let's take a look at Simba mattress prices and size options:
Note that the Simba mattress prices are changing regularly, so to find the most accurate pricing list, you should always check the company's official site.
As you can see, Simba offers really customer-friendly prices, even if you have a very limited budget. Also, the company offers discounts on a regular basis, so you can purchase it for even less. That being said, the Simba mattress is an amazing option for those who are looking for a mattress that offers a good price-quality ratio.
That's not the only good news. If you're not completely sure whether Simba is exactly what you're looking for, you should know that the company provides you with a 200-night free trial. This means that throughout this time you can sleep on the Simba mattress and see if it suits your needs. In case you want to try something else, you can simply return it and get a full refund.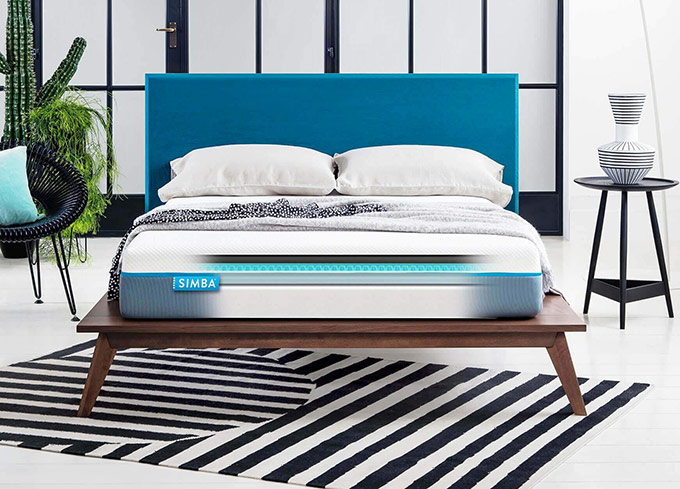 Also, Simba delivery is completely free to most of the UK. If you decide to return it, there will be no additional charges. Therefore, if you thought that purchasing a mattress online is risky, after reading all of this information, you should completely change your mind. Simba ensures that every customer gets a right to choose.
The final aspect that's important to mention is that the Simba mattress comes with a 10-year warranty. This means that if you notice any manufacturing defects or significant sagging that seems unnatural, you should contact the company and they will make sure to fix this problem.
Therefore, by now all the details regarding Simba mattresses should be completely clear and you might even have your decision on whether or not it could be suitable for you. In any case, let's jump to conclusions.
Conclusions
Therefore, Simba hybrid is definitely one of the recommended options. It's designed using high-quality materials and seems to be very durable.
Customers claim that Simba mattress is breathable, sleeps cool, provides a good amount of support for back sleepers, is bouncy and responsive. However, just like many other hybrid mattresses, it could provide better motion isolation.
If you want to find more, well-evaluated UK mattresses, you can check this list.
Scientific References

1. Ahmed Radwan, Philip Fess, Darcy James, et al.: 'Effect of Different Mattress Designs on Promoting Sleep Quality, Pain Reduction, and Spinal Alignment in Adults With or Without Back Pain; Systematic Review of Controlled Trials'
2. J J Wellman, M Bohannon, G W Vogel: 'Influence of Lateral Motion Transfer on Sleep'
Leave your honest Simba review
Leave your genuine opinion & help thousands of people to choose the best mattress. All reviews, either positive or negative, are accepted as long as they're honest. We do not publish biased reviews or spam. So if you want to share your experience, opinion or give advice - the scene is yours!