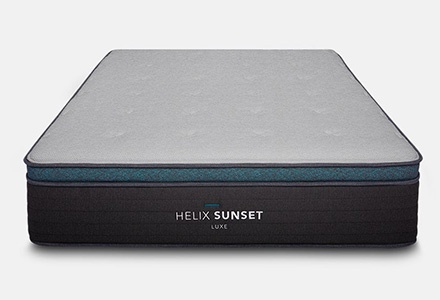 Are you interested in learning more about smart beds and how they work? This ReST mattress review is here to help clear up any misconceptions and answer some of the questions you may have about innovative mattress technologies.
ReST Performance is a unique brand that offers smart mattresses for athletes and those looking to solve their pain problems. The brand's name is an acronym that stands for Responsive Surface Technology. And this technology is where the secret weapon lies.
So, what makes this innovative air bed so special? Is it simply a fad, or has ReST cracked the code of good sleep? Given that smart sleeping beds are a pretty recent invention, we have to determine if they're worth the money.
Throughout my ReST mattress review, I'll take a look at the pros and cons of the company's flagship product. I'll explain how the technology works within the mattress and how it affects the overall quality.
We'll also see how air mattresses compare to other air mattresses and smart sleeping beds.
TL;DR: If you like staying up to date with cutting-edge technologies, then the Original ReST Performance mattress might pique your interest. It allows you to adjust the firmness and can feel comfortable if you experience pain. However, like most air mattresses, it's not a durable product and has a very costly price tag.
Pros
Adjustable firmness
Very quiet
Cons
Not very durable
Not bouncy
The app can glitch
Very expensive
ReST Mattress Review: PROS
ReST Performance is an American mattress brand that launched in 2013. The brand has developed its own unique technology for its flagship product – the ReST smart bed. The mattress creates its own closed WiFi system and connects to a mobile app that lets you adjust the comfort levels to your liking.
This all seems like techy mumbo-jumbo now but we'll look more into how it works in due course. The mattress has other enhanced features, like different modes of operation and compatibility with the BedJet 3 Climate Comfort sleep system.
For the sake of clarity, our ReST mattress review will look into the ReST Original smart bed. The brand also offers a cheaper Essential model and the Original bed with an additional GelGrid layer.
So, let's get started with our ReST mattress review and take a look at what works about these smart sleeping beds.
Adjustable Firmness
To start off, let's talk about the stand-out features of the ReST mattresses. The brand's products have a very unique construction, with some layers that you won't see used by other companies:
Cover – the cover of ReST beds is called Sleep Skin. The cooling fabric wicks moisture and is fully removable and machine washable
Comfort layer – the 4" gel-infused memory foam layer helps relieve pressure. The gel maintains temperature neutrality
Transition layer – the sensor grid uses the AI Inside technology that reads 2000 points of data across the surface
Support layer – the main feature of the bed, the adjustable air bed consists of five body zones that support your head, shoulders, lumbar, hips, and legs
Let's take a better look at the support layer. The air bed is split into five air chambers. They can be adjusted manually or automatically via the mobile app. There are three modes you can choose from – manual, automatic, and auto-position. You can also adjust settings for back or side sleep positions.
You can literally lie down on the mattress and adjust the settings to your preference. This helps you test out which one of the many comfort combinations suits you best. Although you'll see us use the 1-10 firmness scale for our ratings, the app settings let you choose your preference on a scale of 1-40.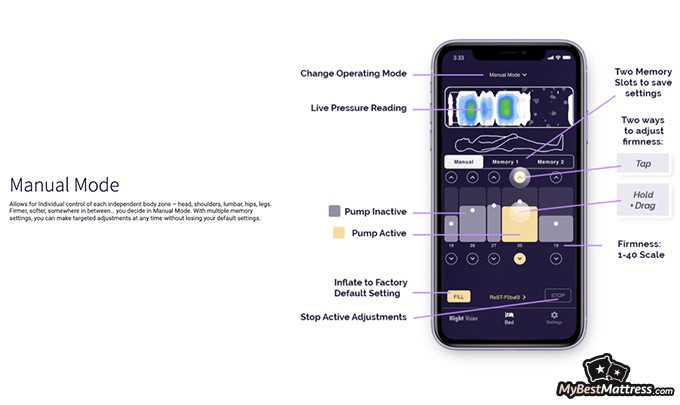 In more common terms, the firmness of the mattress ranges anywhere from a soft 3 to a firm 8. This is particularly useful if you share a bed with a partner and opt for the split model. Both sides of the mattress can be adjusted individually, so no one has to sacrifice their personal comfort.
In general, most ReST mattress reviews were satisfied with the manual firmness settings. While they ran into some issues with the automatic mode, adjusting each of the five chambers manually appears to have a positive outcome on the sleep experience.
And here's the convenient bit. If one of the adjustable parts starts malfunctioning – which, according to ReST, is very unlikely – the company will simply send you the part that needs replacing. So, you don't need to buy a whole new mattress just because one part isn't working.
Latest Saatva Coupon Found:
UP TO $500 OFF
Limited-time Saatva Sale
We're sharing a limited-time Saatva mattress discount with our readers! Grab this deal & enjoy your new mattress with huge discounts.
Expiration date: 12/12/2023
4,042 People Used
Only 83 Left
Good for Pain Management
ReST beds have a very specific target demographic – athletes and those dealing with physical pain. In fact, the company's Ambassadors program shows that the brand is endorsed by professional athletes and trainers.
As the company itself states, the mattress may help alleviate pain for those suffering from scoliosis, muscle sprains, or acute injuries. However, it's emphasized that the mattress cannot and will not cure or prevent these conditions and that you should seek medical advice first and foremost.
But how does this pain management process work, exactly?
Well, we have to look at the sensor grid layer to figure this out. The sensors are constructed by using three layers of fabric. The two outer layers contain sensor lines that form a grid, with a warp knit nylon-polyester layer in between.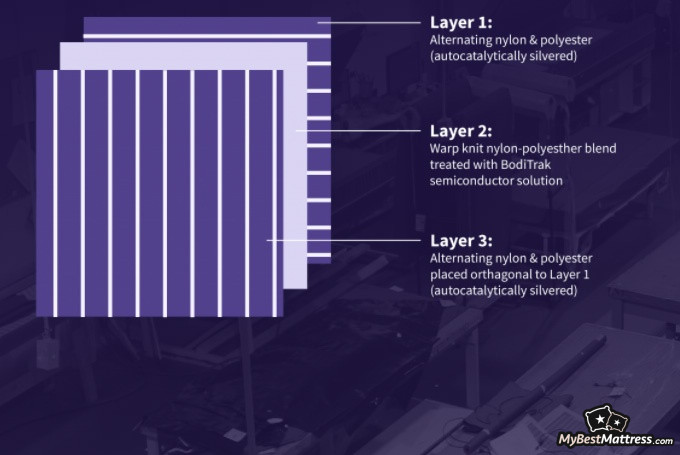 The AI within the grid sensors records the real-time data of your respiration and body movement while you sleep, and transfers it to the app. Using this data, you can adjust the settings of the air chambers to best suit your needs.
As far as ReST mattress reviews are concerned, this is one of the biggest advantages of the mattress. You can adjust to the needs for each of the five body zones – head, shoulders, lumbar, hips, and legs – and see what works best for you individually.
Edge Support
One thing that the ReST mattress reviews have pointed out is that the sinkage is pretty consistent throughout the surface of the bed. There's no significantly deeper sinkage around the edges compared to the middle.
That's thanks to the pretty good edge support within the structure of the ReST beds. The support layer is encased by a layer of high-density polyfoam around the edges. It's a sturdy material that protects the air chambers from any outside damage.

In addition to keeping the mattress construction in place, the polyfoam layer ensures that you stay solid on the bed if you don't tend to sleep more towards the middle. While there's some sinking due to the upper memory foam layer, the edges hold firm and stable, keeping you from falling off the side.
Very Quiet
With all the tech involved, you might be expecting the mattress to be humming and buzzing once it's in use. However, that appears to be far from the case.
Usually, with air mattresses, there can be issues with noise since the air pump tends to work quite loudly while you inflate or deflate the mattress. However, I've yet to come across a ReST mattress review that has complaints about the noise levels.

This is thanks to the unique pump technology used to circulate the air in ReST beds. Instead of a single pump for the entire air bed layer, the ReST Performance bed has multiple mini-pumps that regulate the five individual sections within the structure.
The mattress might make a little noise when it's set to automatic or position mode. However, it doesn't appear to cause any issues if you adjust the comfort levels manually.
ReST Mattress Review: CONS
Comfortable and quiet are certainly two words you can come across in various ReST mattress reviews. Between the cutting-edge technology and the individual comfort, it could almost seem like the perfect product for a modern household.
However, there's a very big 'but' here. While these smart sleeping beds are certainly innovative, at the end of the day, they're air beds at their core. This type of mattress tends to run into quite a few issues related to durability. Not to mention that ReST mattresses have a whole other branch of digital issues that may be looming.
Digging through ReST mattress reviews, it appears that the product is kind of a mixed bag. While it does well in some regards, like structural support, some of its key functionalities, especially the ones related to smart technology, fall flat.
So, it's time to go through the disadvantages of owning a smart sleeping bed, based on what the ReST mattress reviews have to say.
Minimal Bounciness
ReST mattresses are overall pretty thick. Altogether, it stands at about 13" – which is good, because you're unlikely to feel the bed frame or the floorboards underneath you.
However, the memory foam layer alone takes up about 4". That's over a third of the whole mattress structure. And memory foam is notorious for some issues of its own.

While memory foam allows you to enjoy good motion isolation, it does not have much bounciness to it. Instead, it conforms around the body and adjusts to its shape.
This has both upsides and downsides for couples. While the motion isolation of the mattress means that there's little transfer of movement and you won't feel the person next to you toss and turn, memory foam also notoriously lacks bounce.
So, if you want to use the mattress for sex, you might not find it very comfortable since it sinks more than a hybrid or an innerspring mattress would.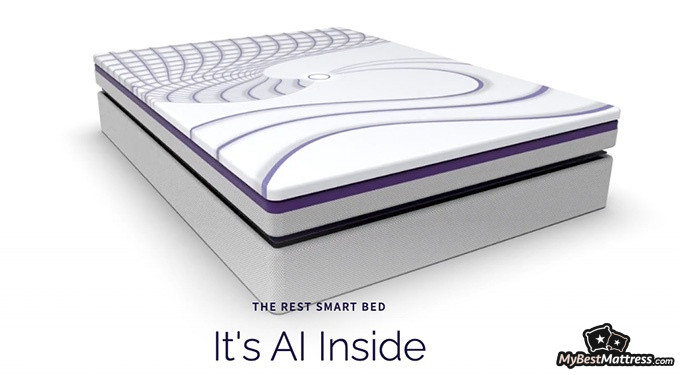 The sinkage can also somewhat restrict your movements. The response time is quite slow, so setting the air chambers to a softer feel can cause discomfort if you're a combination sleeper who changes positions a lot throughout the night.
While setting the mattress to a firmer setting can alleviate this issue a bit and provide some more responsiveness, the memory foam layer is simply too thick to completely eliminate the (lack of) bounciness issue.
Dependent on Power
ReST mattresses rely on power to work. The air pumps create their own closed WiFi system that connects to the app. This means that the air chambers are controlled solely by the app and cannot be adjusted if the power goes out.
The support page assures that the mattress will not start leaking air in case of a power outage since the pumps can only be opened or closed using the closed network.
However, this means that if you lose power in the house, you'll be stuck with your last firmness settings. This might not be an issue in some cases, but if you rely on the automatic mode, it can be very inconvenient.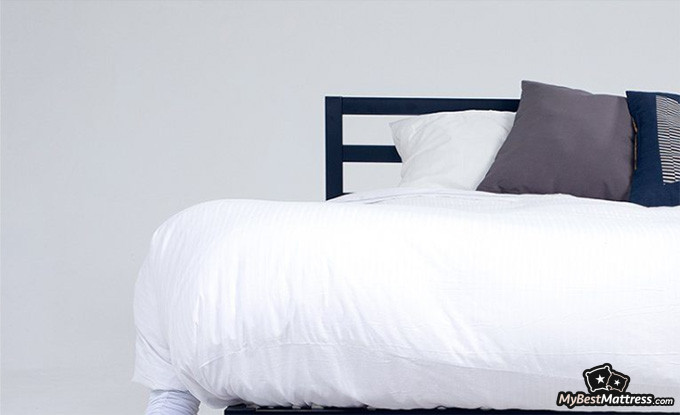 Some ReST mattress reviews have also reported issues with the ReST app. From glitches with the interface to the inability to adjust the comfort levels to their preference, sleepers have found the app somewhat lackluster.
The automatic setting in particular appears to malfunction occasionally. A few of the ReST mattress reviews mentioned that some of the features show up in Beta mode only and don't work according to their description.
One ReST mattress review pointed out that the NightVision data collection function does not appear to work during the daytime. This would make the function basically useless if you work night shifts or like to nap during the day.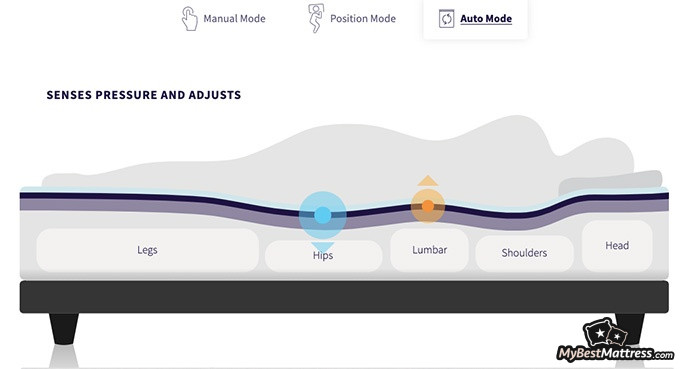 Relying on an app to adjust the air chambers can pose some issues in the future. System updates and bugs can interfere with the settings of the mattress and cause the sleep experience to be imbalanced. This is something that mattresses like the Saatva Solaire avoid by opting for remote control instead.
Very Expensive
There's no way to sugarcoat it. The ReST smart bed is really, really expensive. The prices start at nearly $4000 and can go all the way up to $8000. This is far more than the average memory foam or hybrid mattress.
When you're purchasing a ReST smart bed, you also have the option of choosing various add-ons, like an adjustable bed base, the BedJet 3 climate control system, and hypoallergenic bed sheets.
Add the mattress removal services and additional costs if you're in Canada, and you could end up paying well over $10,000 for your ReST gear!
Short-Term Solution
This problem isn't unique to just the ReST products. This is a pretty universal issue across the board with air mattresses — they're simply not very durable. Due to their structure, they tend to wear out quite quickly. This can be both physical wear of the mattress materials and technical wear of the gadgets.
And since the mattress uses sensors in its structure, there's the question of outdated technology. The electronic parts may wear down, and problems arise if they become scarce and irreplaceable. Consider the current global shortage of materials – if your mattress stops working, you may be down on your luck for a while.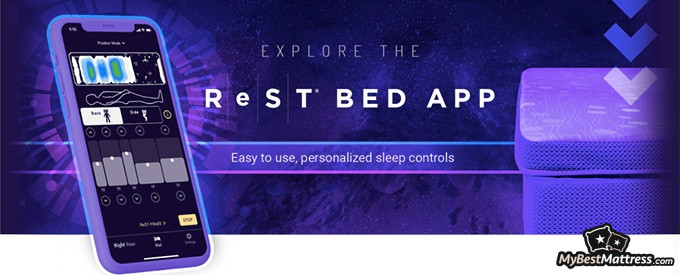 Therefore, it's far more common to use an air mattress as a spare bed rather than a full-time, heavy-duty mattress. However, you have to take the cost of the mattress into account here (and we're about to cover the actual pricing) – is it worth investing thousands of dollars into a temporary solution?
Pricing
Before we look into how much a ReST Performance mattress costs, there's something we need to establish. REsT does not provide Twin or Full-size mattresses. However, a Twin XL mattress is available.
In addition to that, you'll find Eastern King as one of the options. If you're looking for a standard King size mattress, this is the option you should choose.
So, here are the prices of the ReST mattresses:
As you can see, an average ReST Performance mattress costs more than your standard hybrid or memory foam mattress. This is due to the technology used in air beds. From the air chamber technologies to the interactive app – it's all part of the cost.
You will receive free white glove delivery, meaning you won't have to set up the mattress on your own. For an additional payment, you can also have your old mattress removed.
ReST offers its customers a 90-day money-back guarantee home trial. If you find your experience with ReST unsatisfactory during this time, you can contact the company to return it.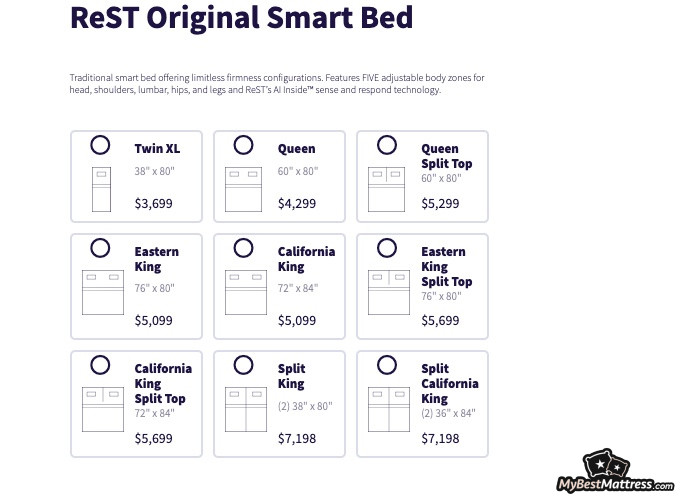 All ReST mattresses come with a 10-year warranty. It covers the costs of replacement components and their shipment. Rather than replacing the whole mattress, the company sends out replacement parts to fix the issues with the air chambers.
The company states that it takes about 8-10 weeks to receive your ReST smart bed. However, some dissatisfied ReST mattress reviews have stated that they waited for months without receiving the product.
ReST Mattresses vs Other Brands
So far, our ReST mattress review has covered the key features of the product – but that only gives you half the impression. Since air mattresses – especially smart sleeping beds – aren't all that common, it's good to know how one model compares to another.
We'll take a look at three of ReST's competitors and see how regular and technologically enhanced air mattresses compare to the Original ReST smart bed.
ReST Bed vs Intex
Let's start off simple. What's better – a classic, straightforward air mattress or a smart sleeping bed enhanced with cutting-edge technology?
I know, the question might seem absurd. But more doesn't always mean better. Let's see what holds true in this case.
The ReST smart bed is structured to help alleviate physical pain and be individually adjusted to the personal comfort of the sleeper. While it's quite massive, the mechanism works quietly. The lack of innerspring construction also means it won't creak.
Table: Rating of the Intex mattress
The Intex air mattress is a decent solution for short-term sleep arrangements, like visiting guests or camping. It's lightweight and quite supportive, so you won't be suffering from long-term back pain caused by a couple of nights on an air mattress.
However, the Intex is a prime example of why air mattresses shouldn't be a long-term sleep solution. While it's more durable than some other basic air mattress alternatives, it's going to wear out faster from constant use and will not serve you as long as a hybrid mattress.
The Intex has been shown to have issues with air leakage. This isn't the case with the ReST, though. According to the company (and the ReST mattress reviews), the air cannot escape the mattress in case of a power outage because the pumps are sealed shut.
Table: Pricing of the Intex mattress
When it comes to the financial aspect, comparing the two products is kind of ridiculous. The prices of ReST mattresses are in the thousands of dollars. When it comes to the Intex, tough? You'll find that the queen-size model costs $19.99.
Nope. Not a typo. An Intex mattress will only cost you twenty dollars. It's absolutely not something you might expect given how much mattresses cost on average.
Obviously, given the price, it's a question of the quality of materials compared between the two mattresses. A ReST Performance bed comes equipped with two air pumps, five air chambers, and quite literally thousands of sensors. Meanwhile, an Intex is your standard, single-layer air mattress.
So, if you're looking for a more permanent solution, the ReST mattress is without a doubt the way to go. However, if you're just looking for something to store in your closet for when your friends are visiting or keep in your holiday home, it's better to go with the budget-friendly Intex.
You can find our full review of the Intex air bed by clicking here.
ReST Bed vs Sleep Number
One of the main rivals for ReST in the industry is Sleep Number. This brand also offers an app-controlled sleep experience with its air mattress line. Let's have a little ReST bed vs Sleep Number mattress gladiator fight. Which one will come out on top?
For the sake of clarity, we're comparing the Original ReST bed vs Sleep Number's c4 model, which we have reviewed here. To start off, both mattresses are roughly the same size and follow a similar structure.
Table: Pros and cons of the Sleep Number mattress
The comfort layer of the Sleep Number mattress uses polyfoam, providing a softer feel and thorough support to the key pressure points of the body. This layer is 3" tall, so it's a tad thinner than the one on the ReST mattress. This may make the sinkage of the Sleep Number mattress lower and feel more responsive.
When it comes to the smart technology itself, the ReST appears to be more innovative. It offers three different modes, depending on your preference, and can adjust to a couple of specific sleep positions.
The Sleep Number, on the other hand, only has one mode of operation. It also has just one air chamber, compared to ReST's five, so there's less room for configurations.
Sleep Number mattresses are known for running colder than some other brands, even with the polyfoam layer on top. While ReST mattress reviews haven't really complained much about the temperature, it's possible that it's a bit warmer than the Sleep Number due to a slightly thicker layer of memory foam.
Table: Key features of the Sleep Number mattress
Both mattresses can collect data on your sleep. ReST uses the NightVision mode to detect your sleep patterns throughout the night. Sleep Number's SleepIQ evaluates your sleep quality and provides personal insights.
The queen model of the Sleep Number c4 costs $1799, making it significantly cheaper than the ReST. Overall, out of the two mattresses, ReST appears to be somewhat more versatile. However, both mattresses have downsides that may require you to look for a different alternative.
ReST Bed vs Saatva Solaire
Saatva needs no introduction – but here's one anyway. Saatva is one of the biggest and best-rated mattress brands in the world. They offer a wide array of products – from your classic innersprings and memory foams to latex hybrids and, yes, even adjustable air mattresses.
The Solaire is Saatva's air mattress, and if you want to learn more in-depth details about it, you can find our review here. It's a customizable bed with 50 firmness options that you can adjust to your comfort levels.
Table: Key features of the Saatva Solaire mattress
Unlike the ReST mattress, the Solaire uses a remote to adjust the settings. This can be more reliable than an app, since it's not interrupted by a power outage or a lack of network connection. And given the issues with the app that some ReST mattress reviews have reported, it's simply the safer choice.
If you go for a bigger model of the Solaire, your mattress will contain dual air chambers. While this isn't quite as flexible as ReST's five air chambers, it's still convenient as it can be adjusted to individual needs, making sure both sleepers are comfortable.
The Solaire is as durable as you'd expect a Saatva product to be. While it's not quite as long-lasting as their flagship innerspring mattress, it contains a layer of high-quality natural latex, as well as the Euro pillow top to give your body the support and comfort it deserves.
One downside of the Solaire compared to the ReST is that it appears to be quite loud. However, this is only an issue while you're filling up the mattress with air. The bed itself is quiet, and if you feel like the pump is disturbing your sleep, you can easily find a solution, like getting a white noise machine.
Table: Rating of the Saatva Solaire mattress
Saatva is known for its luxurious quality – and the prices certainly reflect that. However, compared to the ReST, the Solaire actually appears far more affordable. A queen-sized mattress costs $3125 – and that's without applying one of the many discounts that Saatva offers.
So, while the ReST mattress may have a few more tricks up its sleeve thanks to the app, if you're looking to commit to an air bed, you want tried-and-true quality. That's exactly what the Saatva Solaire is going to provide you with.
Here is The Best Saatva Offer I Found:
UP TO $500 OFF
Limited-time Saatva Sale
We're sharing a limited-time Saatva mattress discount with our readers! Grab this deal & enjoy your new mattress with huge discounts.
Expiration date: 12/12/2023
4,042 People Used
Only 83 Left
Conclusions
If there's one thing I can say for certain as I wrap up this ReST mattress review, it's that the product is unquestionably innovative and unique, even among other smart sleeping beds.
However, when it comes to comfort and performance, is the mattress really worth it?
Well, that depends on your choice. While it introduces a new kind of sleep experience, it's not exactly an experience that's guaranteed to last for a very long time. And for something that has the potential to malfunction due to unexpected tech issues, this is a very pricey investment.
After all, there are reliable – and cheaper – alternatives that will give you a great smart sleeping bed experience. So, why not check out the Saatva Solaire – or take a wider look at our lists of the best air mattresses and the best mattresses overall?
Do you have any experience with any of the ReST smart sleeping beds? Share your thoughts with us and leave your own ReST mattress review in the comments below.
Leave your honest ReST review
Leave your genuine opinion & help thousands of people to choose the best mattress. All reviews, either positive or negative, are accepted as long as they're honest. We do not publish biased reviews or spam. So if you want to share your experience, opinion or give advice - the scene is yours!