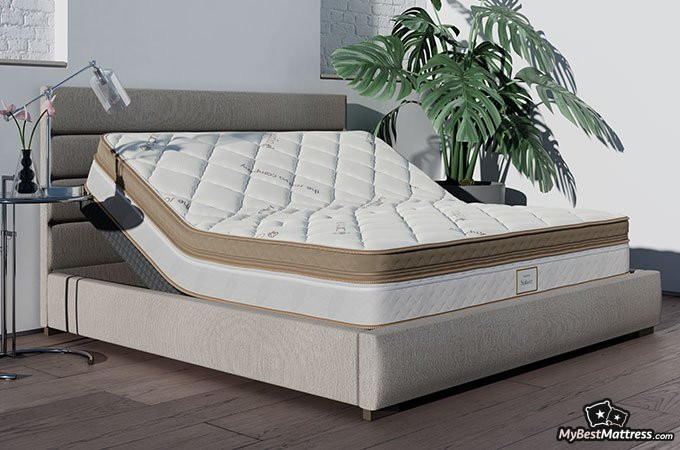 Saatva is one of the best-known names in the entire mattress industry - the brand offers customers amazing innerspring and latex mattresses, and has branched out to provide some other bed accessories, too. Today, we'll be taking a look at one of the company's more ambitious projects - we'll see what customer Saatva Solaire mattress reviews have to say about this bed.
Truth be told, Solaire truly is one of the more interesting mattresses that Saatva offers to its customers. It's basically a combination of some top-quality latex and memory foam, and technological ingenuity. But I'm getting ahead of myself - let's take this from the top.
TL;DR: Customer Solaire mattress reviews argue that the mattress is one of the more interesting and unique sleep products that are currently circulating the market. The airbed offers superb cooling, a crazy variety of firmness settings and some top-tier edge support. That said, Solaire is, admittedly, on the pricier side of things.
Pros
50 different firmness options
Great cooling and breathability
You're able to choose two different firmness options at the same time
Isolates motion pretty well
Cons
High pricing point
Can get noisy
Solaire Mattress Reviews: PROS
In order to keep this collection of customer Solaire reviews clear and concise, we'll talk about the benefits and noteworthy features of the mattress, first. Let me just be frank - there are quite a few of them to cover! Solaire is a very unique product - we should probably address the reasoning for why that's the case, first.
An Airbed Made Out of Memory Foam and Latex
Addressing the elephant in the room, yes - customer Saatva Solaire mattress reviews will tell you that this mattress is actually an "airbed".
Now, the mistake that quite a few people make here is that they associate and mix up the terms "airbed" and "air mattress". Those are two very different products!
An air mattress is just what it sounds - a type of a mattress that is filled with air (usually with a specific, designated air pump). These mattresses are rather popular among people who frequently have guests, or those who tend to camp outdoors and want to sleep relatively comfortably.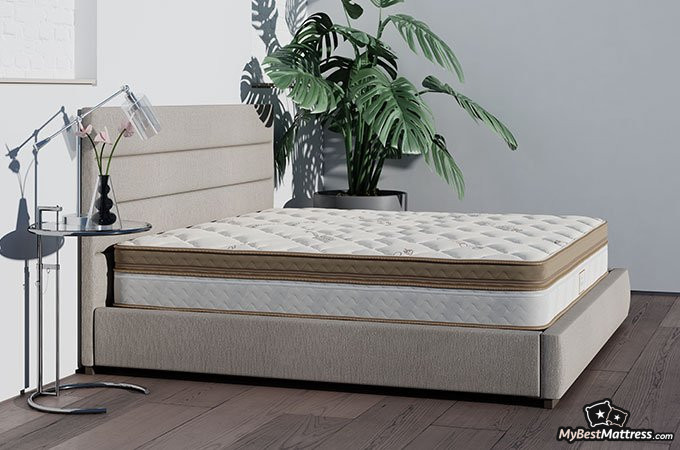 Now, an airbed is a whole different product. Airbeds are actually made out of the same, (for a lack of a better word) "mainstream" materials as other types of mattresses - latex, foam, springs, and so on.
Reading customer Solaire mattress reviews, you'll quickly find out the main difference between an airbed and, say, a foam one is that the former has some specific "air chambers" - with a special sort of a device (usually it's just a remote control), you can adjust the amount of air that's in these chambers at any given time.
Needless to say, this isn't just a fancy design that doesn't serve a neat purpose - all it takes is a single look at the price tag of an airbed to notice that there's probably something rather special about these products. But we'll get to that in a minute.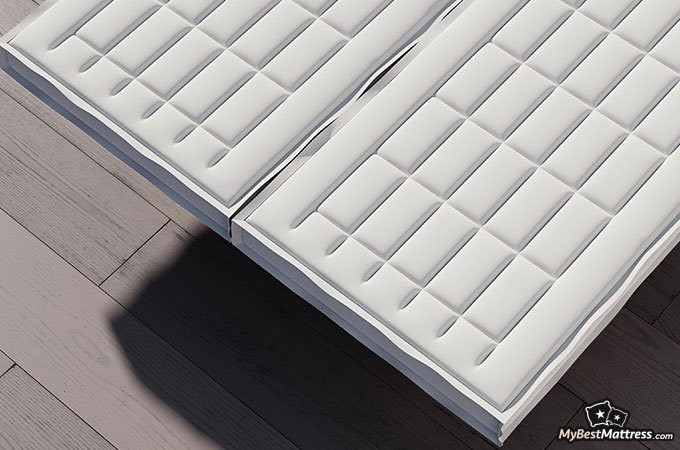 Coming back to Saatva Solaire mattress reviews, this specific airbed is made out of high-end Talalay latex and memory foam, with either a single or two air chambers inside of it. The number depends on the size of the mattress - smaller sizes will have a single chamber (Twin XL and Full), while the rest will rock two.
All of the materials used in the construction processes of the Solaire mattress are top-tier - this ensures that the bed is going to not only be comfortable, but will also hold up to the test of time and wear rather nicely.
Latest Saatva Coupon Found:
UP TO $500 OFF
Limited-time Saatva Sale
We're sharing a limited-time Saatva mattress discount with our readers! Grab this deal & enjoy your new mattress with huge discounts.
Expiration date: 08/12/2023
4,042 People Used
Only 83 Left
As Firm (or Soft) as You Want it to Be
Without a doubt, this is the single, most unique feature of the airbed.
Remember when I mentioned that Solaire can come with either a single, or dual air chambers? Well, the main reason why they're there has to do with the firmness of your mattress.
Truth be told, you don't even need to read customer Solaire mattress reviews to see that firmness is a rather contentious topic. While many different aspects of our day to day lives impact our quality of sleep (diet[1], stress, relationships, etc.), the features of our beds are likely at the top of the list, as far as impact goes.
Firmness is one of the more important of those features. You see, many people are often stuck in a "choose one, miss out on the other one" type of a deal - either you go with a soft mattress that provides a lot of comfort, or pick a firmer option which, while it may lack that comfort, is going to be better for the health of your back[2].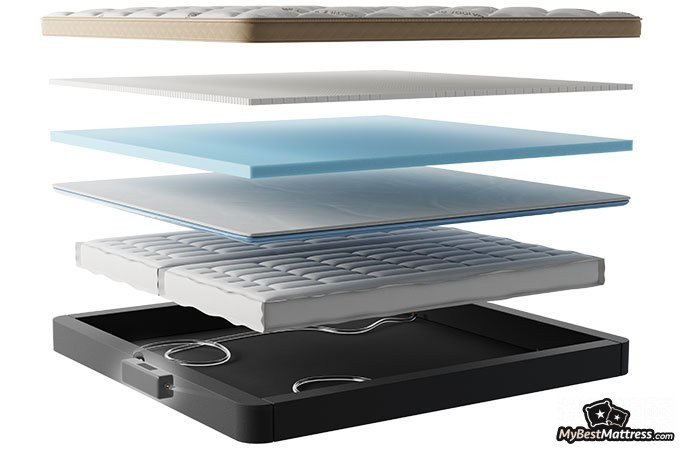 Judging by the Solaire mattress reviews found online, it's pretty obvious that mattress providers know this struggle pretty well - some brands offer the same mattress model in different firmness settings, others might even have flippable beds. That said, Solaire completely blows all of that away.
With the before-mentioned remote control, you'll be able to adjust the firmness level of your Solaire mattress with ease - there are 50 levels of firmness to pick from! This is done by filling or emptying the air chambers with small amounts of air, and the settings range anywhere from "soft" to "decently firm".
This, however, is just half of the story. Yes, it gets even better.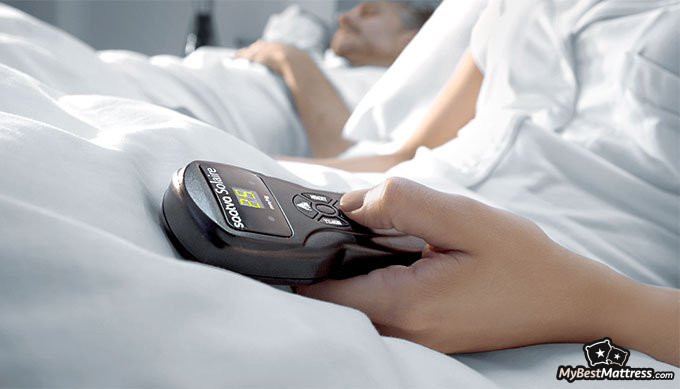 A super-unique feature that many customer Solaire reviews mention is that the bed can actually have two different firmness settings at the same time. This is only the case if you purchase one of the bigger sizes, since it's only available with the dual air chamber option - that said, if you sleep with your partner, both you and them will be able to utilize personalized firmness settings.
If that isn't unique, I don't know what is.

Did you know?
Pressure Relief
Pressure points are specific areas throughout your body that, when you lie down, suffer from the most pressure, and can thus become rather painful. Each of the different sleeping positions has its own areas where pressure points may form - for example, side sleepers face the risk of forming pressure points at their shoulders and hips.
While there are a few different ways of how you can alleviate this issue, the most optimal one is - obviously - to choose a mattress that would not only prevent the formation of these areas, but also alleviate any and all pains that you might already have, from your older bed.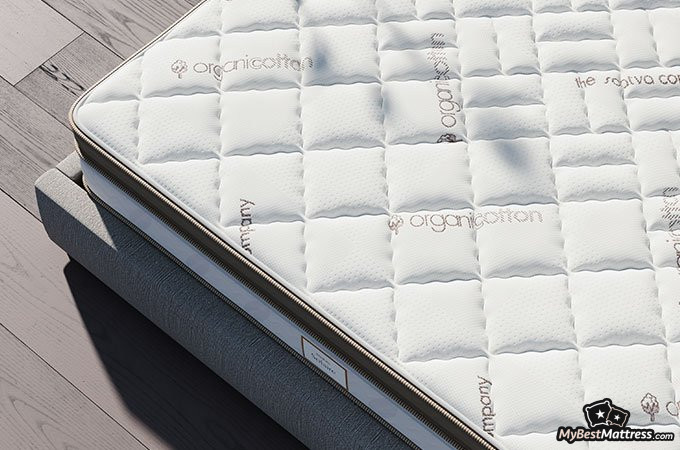 Judging by the customer Solaire mattress reviews, this airbed seems to be perfect for the job.
Solaire offers customers a "5-zone latex support system" that's unique to the high-end Talalay latex that Saatva uses. What this system does is that it creates certain levels of density at the "danger zones" of the mattress - places where your hips, shoulders, torso, knees and tighs should be located.
The different latex density parameters should work wonders for anyone suffering from joint pain, and seems to relieve the before-mentioned pressure points pretty well.
Breathable and Cool to Sleep On
Breathability is, without a doubt, one of the most important features of any type of a mattress out there.
You see, if a bed is breathable and cool to sleep on, you will feel fresh and rather well-rested in the morning - at least it will add to it. If, however, you're sleeping on an all-foam mattress that has no cooling technology to counter the heating effects of foam, well…
Let's just say that it's going to be a really bad time.
Customer Solaire mattress reviews are pretty unanimous, though - the mattress utilizes an organic cotton cover, and the memory foam within the construction of the product is infused with cooling gel. This combination provides customers with a very cool sleeping experience - even if you're a hot sleeper by default, this shouldn't be a problem with Solaire.
Great Motion Isolation
Motion isolation is important to both individual sleepers, and people who sleep in pairs. Even though the latter group might notice the benefits of motion isolation sooner than the former, the sentiment still stands true.
Customer Solaire mattress reviews note that, if you sleep with another person who isn't the calmest of sleepers out there, Solaire will help minimize the motion transfer, and you shouldn't be abruptly woken up in the middle of the night because your partner decided to wage a war against their pillow.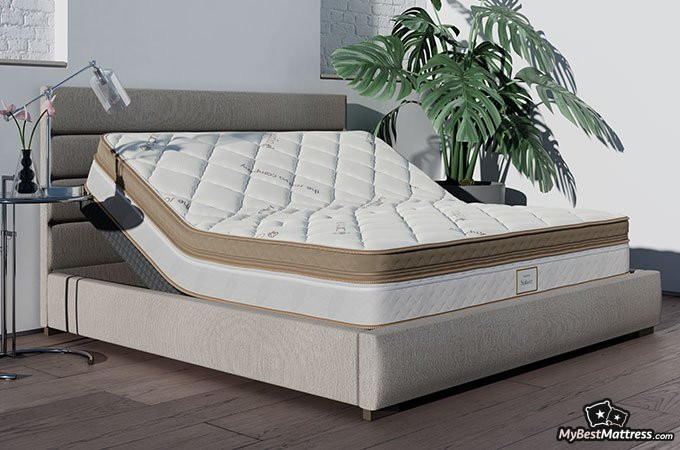 When it comes to sleeping alone, though, Solaire should also help you minimize your own motions that you might be making throughout the night. The mattress offers a rather decent compromise between sinkage and support. So, if you're tired of waking up on the other side of the bed, with your blanket nowhere to be seen, Solaire might help with that.
Solaire Mattress Reviews: CONS
Now that we've covered the majority of the main benefits that customer Solaire mattress reviews tend to emphasize, let's take a look at some of the more prominent complains that people might have with the bed in question.
Noisy
Quality sleep is important to anyone and everyone - while younger people tend to feel the effects of sleep deficits sooner and in a more of a noticeable fashion[3], sleep deprivation will impact everyone. That being said, noise probably isn't the best thing when it comes to the quality of your sleep.
Airbeds aren't known to be the most silent of mattresses out there - with good reason, too. Solaire reviews note that the mattress does tend to make a significant amount of noise when you're adjusting the amount of air that's in the chamber(s).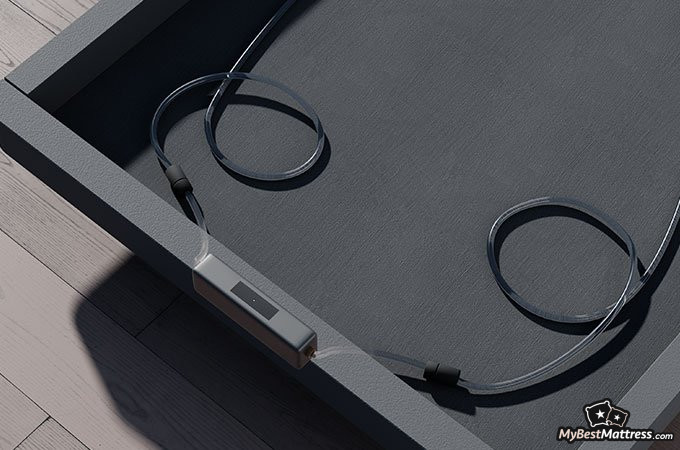 This isn't an issue in most situations. That said, it can become one, real fast - imagine if you were to wake up in the middle of the night, and decide to fill your chamber with just a tad bit more air. Well, if you sleep with your partner, chances are that this process might wake them up pretty fast.
Notably, though, the airbed itself isn't "loud" - it makes little-to-no sound when weight is placed on it, at least according to the majority of Solaire mattress reviews found online. The majority of sound complaints come from when people are adjusting the bed's air chambers.
Price
While pricing is a topic that we would be discussing within this version of Solaire mattress reviews anyway, it can actually be considered a "con", too.
Why? Well, Solaire is pricey - pricier than most high-end beds on the market.
This, however, shouldn't come as a surprise, given that it is, yet again, an airbed - unlike most other mattresses out there, Solaire isn't only built from high-quality materials, but also comes equipped with some next-level technology. Even so, this might be little condolence to your wallet - take a look:
These price tags do come with some added benefits, though! You can choose from three different mattress configurations - Standard, Upper-Flex and Split King. If you go with the Upper-Flex configuration, you'll also receive a set of Saatva's organic cotton sheets - completely free of charge!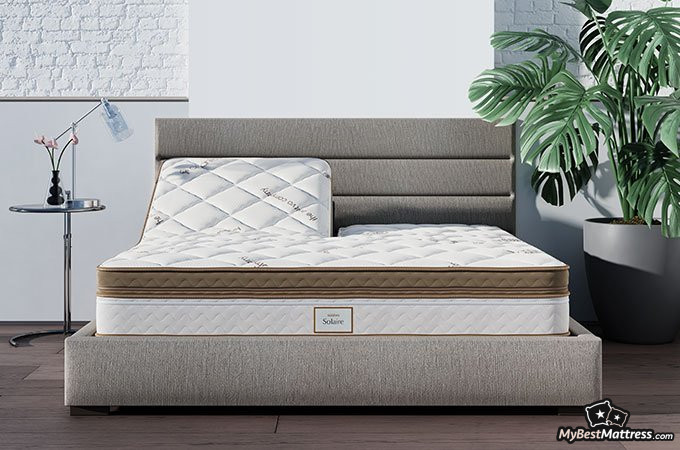 Furthermore, no matter which configuration it is that you choose, you'll also get a 25-year warranty, free white glove delivery and even free old mattress removal! So, yet again - while the price tags are, indeed, up there, customer Solaire mattress reviews are rather split in this regard - the bed is expensive, but comes with a wide range of benefits.
Here is The Best Saatva Offer I Found:
UP TO $500 OFF
Limited-time Saatva Sale
We're sharing a limited-time Saatva mattress discount with our readers! Grab this deal & enjoy your new mattress with huge discounts.
Expiration date: 08/12/2023
4,042 People Used
Only 83 Left
Conclusions
High-quality airbeds are too far and wide in between - it would seem that Saatva's Solaire mattress truly does aim to break this stereotype.
The bed comes equipped with up to 50 different firmness options - 50! All of them are accessible with a single click of a button, and range from "soft" up to "firm" options - because of this, everyone should be able to find a setting that's going to be close-to-perfect for them.
Solaire also sleeps really cool, is breathable and durable. The bed absorbs motion very well, and should suit most types of sleepers out there.
Table: Information about Saatva
Do note, however, that it isn't the most silent of mattresses out there - this is especially true when you're configuring the different amounts of air within the air chambers.
When it comes to the price of Solaire, well… It's not the most affordable product in the industry, either. That being said, you do receive a wide range of benefits with your purchase!
All in all, I hope that this Solaire mattress review was useful to you, and that - perhaps? - you have managed to find the airbed of your dreams!
Scientific References
1. Roo Killick, Siobhan Banks, and Peter Y. Liu: 'Implications of Sleep Restriction and Recovery on Metabolic Outcomes'
2. Radwan A, Fess P, James D, et al.: 'Effect of different mattress designs on promoting sleep quality, pain reduction, and spinal alignment in adults with or without back pain; systematic review of controlled trials.'
3. Kirsi-Marja Zitting, Mirjam Y. Münch, Sean W. Cain, et al.: 'Young adults are more vulnerable to chronic sleep deficiency and recurrent circadian disruption than older adults'
Leave your honest Solaire review
Leave your genuine opinion & help thousands of people to choose the best mattress. All reviews, either positive or negative, are accepted as long as they're honest. We do not publish biased reviews or spam. So if you want to share your experience, opinion or give advice - the scene is yours!