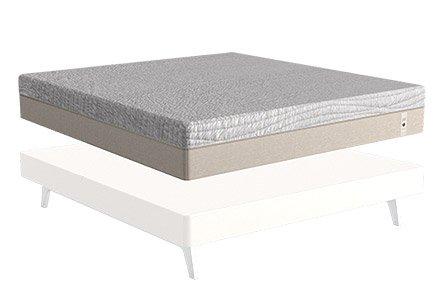 Before people decide to go on out and purchase a new mattress, they usually look up the various brands and mattress types online. Same as with any other product provider, there are many different Sleep Number bed reviews circling the internet. In this article, I'll help you sort through them, and find the information that would help you decide whether or not you want to go with this mattress.
We'll start off by covering the pros, and then move on to some of the more prominent Sleep Number complaints. In the very end, right after the pricing evaluations, we'll try to answer the question of whether the company is worth paying attention to or not.
In case you're looking for the very best alternatives, be sure to check out Saatva, Layla and Puffy.
Also, do keep in mind that, for the sake of keeping things fair with our other reviews, we'll be talking about their Classic series mattresses, and won't be covering the Innovation and Performance series (at least not in a thorough manner).
TL;DR: Online, there are mixed Sleep Number bed reviews - it would seem that while some people do enjoy this airbed, others are having a hard time trying to adjust to it. The beds are good for heavier sleepers and great as far as motion isolation goes, but there are also some notable quirks to be kept in mind (noise, durability, etc.).
Pros
No off-gassing
Good motion isolation
The c2 model is relatively inexpensive
Cons
Not very durable
Noisy
Might sleep too cool
Sleep Number Bed Reviews: PROS
Let's start analyzing the Sleep Number reviews from the positive side of things. As mentioned in the beginning, there are definitely better alternatives.
Before we do that, however, let me quickly reiterate something that I'd mentioned in the introductory part of this article - for the sake of providing a thorough and in-depth look into the most trustworthy Sleep Number bed reviews, and to avoid any possible confusion, we'll be analyzing only the reviews that have to do with the Classic series.
There are two models that we'll be looking at - the c2 and the c4. One of the bigger differences between the two mattresses is that the c4 model has a slightly thicker comfort layer than its counterpart.
So then, with that out of the way, let's talk benefits.
No Initial Bad Smells
In the mattress industry, there is a term called "off-gassing". It's used rather widely by both mattress providers and customer reviews, as well.
Now, I have to be honest with you - when I first heard this expression, I had some… Different ideas for what it might mean. I mean, read the word out loud yourself… Ya, I know.
Apparently, though, the meaning behind this term is rather simple - when you see some Sleep Number bed reviews referencing "off-gassing", keep in mind that that stands for the initial odors that a mattress may have right after you unpack it back at your place.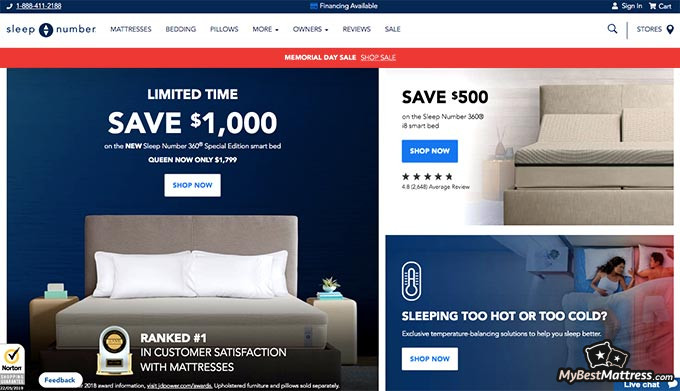 Now, this is somewhat of a tricky subject - some mattress smells linger for only a few hours, while others may smell like hell for weeks to come. Also, it really does depend on the material that the mattress is made of - natural and organic mattresses have a nicer smell than those of, say, foam. That said, they are usually the ones that off-gass more, too.
All of that said, if we were to believe Sleep Number mattress reviews, this isn't going to be a problem you'd have to deal with.
You see, Sleep Number specializes in air mattresses - inflatable beds that have a layer of polyfoam on top of them. This type of mattresses are usually used for when you have guests over, or when you move a lot and can't afford to purchase a 100lbs mattress to drag around everywhere you go.
Them being air mattresses, both of the c2 and the c4 models come with very little initial off-gassing. It is highly likely that you won't notice any smells at all - great start!
Latest Saatva Coupon Found:
UP TO $500 OFF
Limited-time Saatva Sale
We're sharing a limited-time Saatva mattress discount with our readers! Grab this deal & enjoy your new mattress with huge discounts.
Expiration date: 08/12/2023
4,042 People Used
Only 83 Left
Very Good for Back Pain Relief
One of the main reasons for why people spend a lot of time looking through Sleep Number bed reviews is because they are trying to find a mattress that would be suitable for back pain relief[1].
Yes, that's a thing. Let me explain.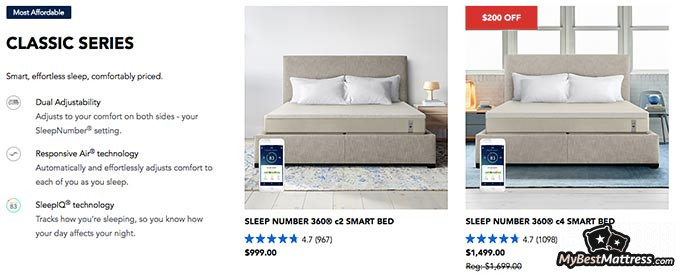 When you sleep, your body is constantly pressuring the surface on which you are lying. Since the human body doesn't weigh the same all throughout, over time, you might start developing certain painful areas - places which are in a bigger amount of pressure while you sleep.
In order to avoid that (or to alleviate the pain that you may already be in), most mattress reviews (including Sleep Number bed reviews) state that you should find a mattress that would even out the pressure that your body applies to the surface area all throughout the bed. Memory foam is the material that is most famous for being used for this reason.

However, the same can also be said about air mattresses.
Reading and searching through the various Sleep Number bed reviews, you'll notice that there's a significant number of people who are pretty happy with both the c2 and the c4 models, claiming that they can feel their back and neck pain dissipate after each and every night. That's a great thing indeed!

Did you know?
Good for All Types of Heavier Sleepers
Sleeping positions are a tricky topic - we all have our own, but sometimes it can get rather difficult to pinpoint "that one position in which we sleep at night".
As a general rule, you'll find that most Sleep Number bed reviews talk about three main sleeping positions - back, stomach and side.
This isn't likely to come as a surprise to you, but all the different types of sleepers require some different sleeping conditions. Well, at least most of the time - it's pretty hard to please everyone with the same product, now isn't it?

However, seeing the Sleep Number mattress reviews, it would seem that the company has almost managed to do just that.
Both the c2 and the c4 models of the mattress are rather firm - you can adjust this firmness by increasing or decreasing the amount of air within the special chambers of the bed. Combine that with the fact that the beds tend to conform to a person's body rather well, and you have yourself a pretty good result.
Now, what is that result, you may ask?
Table: Sleep Number's pressure point relief
Well, if we were to judge the product according to the Sleep Number reviews, it would seem that the heavier person you are, the more you're going to appreciate the mattress. And it doesn't even matter what your preferred sleeping position is - given the fact that you can adjust the firmness[2] of the mattress, this feature makes that factor almost irrelevant!
Sleeping Number Bed Reviews: CONS
Now that we've dealt with the most commonly-referenced benefits of the Sleep Number Classic series mattresses, let's turn towards the negative aspects of the Sleep Number bed reviews.
Noisy
Noise is one of the very first topics that are "up for discussion" that you'll notice when you're looking for negative Sleep Number bed reviews. It's actually rather interesting - a fair amount of people claim that the bed is rather noisy, but then there are also those who talk about c2 and c4 being some of the quieter air mattresses, especially when compared to other competitors.
So, then… Who's lying?
Actually, probably no one is. Let me explain.

A lot of the noise complaints come from the fact that you would be constantly adjusting the firmness options of the bed - this is no quiet process! With that said, actually lying and turning around on the mattress doesn't really cause all that much noise.
Or does it..?
You see, the majority of Sleep Number bed reviews tend to compare the noise factor of the company's products with other air mattresses. In that sense, sure - the bed might be rather silent. However, in the grand scheme of things, especially when compared with an all-foam product, the Classic series of Sleep Number's mattresses isn't really the most silent line of products around.
You can see that this bed is missing many features that every quality provider should have. So why don't you take a look into the most recommended mattresses? They will offer you what this mattress can't.
Not the Most Durable Mattress
Another popular topic that many of the Sleep Number reviews mention is durability.
Let's get something straight - air mattresses aren't really that well-known for their "incredible durability". I've had one, myself - while it was pretty good at the beginning, with time, the mattress started becoming more and more worn down.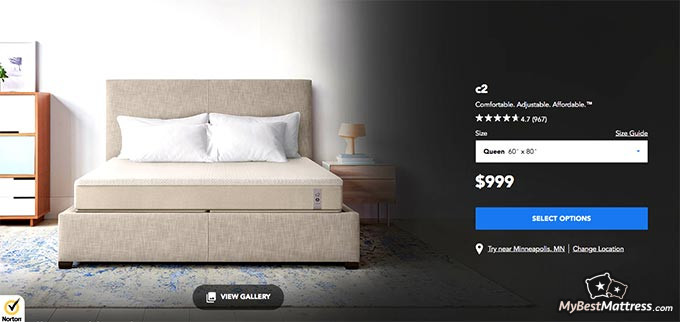 That being said, it would seem that a lot of the Sleep Number bed reviews claim the c2 and c4 models to be even less-sturdy than other air mattresses in the industry! The most common form of complaints that you're likely to come across would be those that talk about the air chamber not being able to hold air properly - it would seem that this is an ongoing issue for the company.
Too Cool..?
Now, this is something that hits close to home.
If you've ever read any of my other product reviews, you're probably fed up with me constantly going on about how I hate sleeping hot.
Let me just say it one more time - I despise it.
This is why, when I saw that some Sleep Number bed reviews claim the mattress to be too cool, I actually giggled.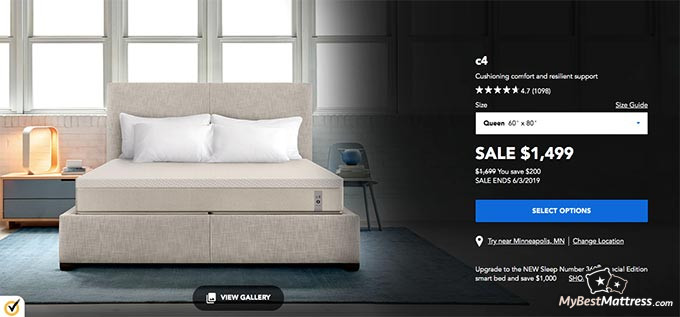 It's rare to come across a mattress that would get this type of comments, even in the air mattress industry. Most mattresses deal with the problem of absorbing too much heat from the sleeper's body, and thus becoming too warm to sleep on in a comfortable manner.
Apparently, Sleep Number is an exception.
While this may not be a big issue for some, it's definitely a point worth keeping in mind if you're a person that doesn't mind sleeping on a warmer mattress.
What is the Sleep Number mattress price?
Finally, after all of the pros and cons of the Sleep Number mattress reviews, let's talk about the Sleep Number bed cost and sizing options. Here's a list of the company's c2 mattress pricing options (note, though, that the prices of both of the models might change - that's completely dependent on the provider in question):
Twin - $599
Twin XL - $699
Full - $799
Queen - $999
King - $1499
Cal King - $1499
Now, the c4 model:
Twin - $1199
Twin XL - $1299
Full - $1349
Queen - $1499
King - $1999
Cal King - $1999
The prices do tend to make sense, given the products in question. While the pricetags for the c2 model are completely rational, some people might find the c4 numbers to be a bit high.
Do keep in mind that there's also a shipping fee in addition to the Sleep Number bed cost. However, the company offers a 100-night sleep trial period. This means that you'll be able to test the mattress for more than 3 months before deciding whether or not it suits your expectations.
Also, it's worth mentioning the 25-year warranty. Since most mattress-providing companies go with a 10-year warranty, this fact alone should give a potential customer some confidence with Sleep Number.
If you're looking for a top-notch mattress for the same price or less, check out this list of best mattresses 2023 and definitely grab a coupon code.
Here is The Best Saatva Offer I Found:
UP TO $500 OFF
Limited-time Saatva Sale
We're sharing a limited-time Saatva mattress discount with our readers! Grab this deal & enjoy your new mattress with huge discounts.
Expiration date: 08/12/2023
4,042 People Used
Only 83 Left
Conclusions
By this point, we've covered the pros and cons of the most popular Sleep Number bed reviews, talked about the Sleep Number bed cost and discussed shipping, trial periods and warranties.
That's a lot of information to take in! Now, after all of that, would I personally recommend purchasing one of the Sleep Number Classic series mattresses?
That's a tricky question to answer, but I'd say that it depends on the circumstances.
Air beds are a tricky business, in general. Most people - me included - would tend to go with an all-foam, innerspring or a hybrid mattress before they turn their sights to an air one. Why? Well, mostly because of the fact that the majority of people want to have the "typical" type of a scenario - a sturdy, durable bed that they'll be able to rely on for a very long time.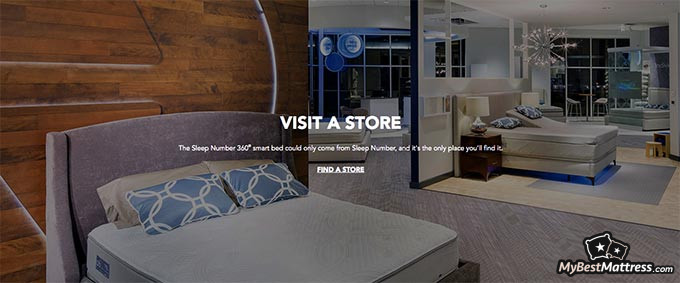 Air mattresses, on the other hand, don't have that reputation. As I've mentioned earlier, they're most commonly associated with either being bed to lay guests down in, or some good alternatives for people who are always on the move.
That being said, Sleep Number does seem to be a good alternative as far as air beds go. Sure, it has some issues to deal with, but it's actually one of the better options in the industry.
So, to conclude, if you are strictly looking for an air bed and won't even consider any other type of a mattress, then Sleep Number might be an option worth taking into consideration.
If, after reading this review, you're still not sure about the product, go check out some of the best mattresses in the current industry. I recommend paying crucial attention to Saatva, Puffy and Layla. Perhaps your dream bed is waiting for you there?
Scientific References
1. Carol Hagino and Parham Erfanian: 'Before-after study to determine the effectiveness of an adjustable wood frame-foam and wool mattress bed-system (The Natura Mattress System) in reducing chronic back pain in adults'
2. Kovacs FM, Abraira V, Peña A, et al.: 'Effect of firmness of mattress on chronic non-specific low-back pain: randomised, double-blind, controlled, multicentre trial.'
Leave your honest Sleep Number review
Leave your genuine opinion & help thousands of people to choose the best mattress. All reviews, either positive or negative, are accepted as long as they're honest. We do not publish biased reviews or spam. So if you want to share your experience, opinion or give advice - the scene is yours!