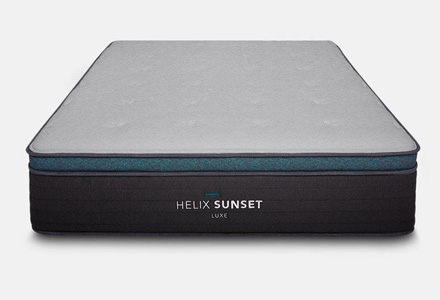 If you've read my other article covering the Helix Dusk Luxe mattress, I can immediately tell you that this Helix Sunset mattress review will be about an entirely different Helix bed. When I say Helix Sleep manufactures a lot of contrasting sleep products, I truly mean it.
Look at the list - there are 6 Helix Base models (all of which have very adorable names related to the times of the day). Each of the baseline models also has a luxury version of them. Even more upgraded models, to be exact. Same goes for Helix Sunset and Helix Sunset Luxe mattresses that I'm going to talk about here.
For those who get overwhelmed or lost in the variety of options - as Helix customers you can fill out a questionnaire about your height and weight, how you sleep, and how firm your beds are generally, and get matched to the appropriate mattress.
Also, we have other Helix reviews - Helix Plus, Helix Midnight, and Helix Luxe. So, sit back, relax and read on!
Helix beds are great, nonetheless, there are other options out there such as Saatva, Layla, or Puffy that you might want to check out.
TL;DR: Helix Sunset and Helix Sunset Luxe are great mattress choices for side sleepers. The beds are on the softer side, providing a sufficient body contouring feature and being well-liked by those who prefer a plush feeling. For stomach sleepers it might get too soft, nonetheless, the bed is quite comfortable for a lot of sleepers.
Pros
Soft
Perfect for side sleepers
Cool
Great edge support
Helix Sunset Mattress Review: PROS
In this part of the Helix Sunset Mattress review, I'll be talking about the positive aspects of the Sunset series. The Sunset series include two beds - Sunset and Sunset Luxe. Both of which have a lot of greatness in them.
Therefore, let's take a look at it ourselves.
Soft Feel
When it comes to the bed's firmness, there are mainly two groups of people - the ones that prefer to feel a soft hug, and those cold folks with their firm mattresses. Just kidding, both types are equally as good.
Nonetheless, I feel obliged to point out that there is a point at which the bed becomes too soft. In the mattress market, too much sinking should not even be an issue, yet it is.
We were all used to hearing stories about "sleeping on a cloud" or falling into a comfortable bed when we were kids. We're taught that the best sleep is when you're completely relaxed. And it goes hand in hand with overly soft, sinking beds. However, you are probably aware this isn't the case.

Nowadays, "sleeping on a cloud" can refer to the feeling as if you're floating on top of your bed. No sinking, but also no pressure or stiffness. The perfect middle ground.
Sleeper Helix Sunset Luxe mattress reviews indicate that both models are more on the soft side. Moreover, it's said that Sunset has a memory foam sense, while Sunset Luxe feels a little more solid. The Helix Sunset Luxe mattress has two additional layers, which might be the reason behind it.
Both beds contain a DuraDense foam layer at the very bottom. This is a support layer that creates steadiness throughout the whole extent of the beds. It also prolongs the life of the mattress. Moreover, sleeper Helix Sunset mattress reviews indicate that the beds are very durable.

The pocketed coil layer, which is included in both versions, provides lumbar and edge support. After all, these are hybrid beds. If you were given a list of the advantages of individually wrapped coils, you would take quite some time to read it, since there are so many.
To begin with, various people require different types of support, which might vary based on their weight and sleeping position. Pocketed coils allow the bed to be customizable satisfying the expectations of every individual. Because of the structure of the individually wrapped coils, they can adjust to your pressure points independently.
Knowing that this mattress is on the softer side, easily adjusting coils can create the feeling of "sleeping on a cloud" we've talked about earlier.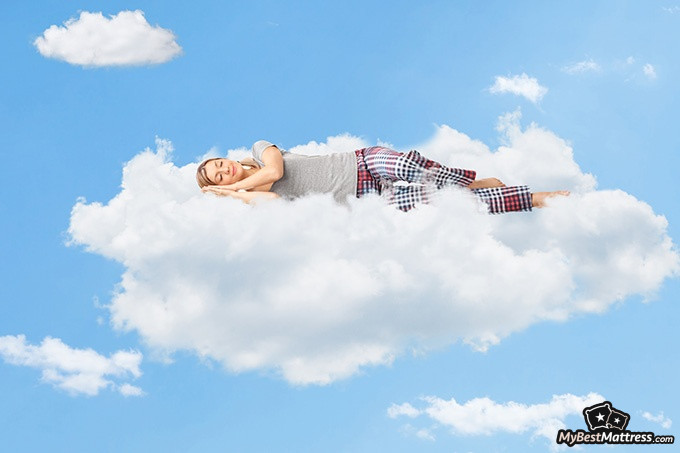 Coils add protection to the mattress as well. It's said that the foam layers last longer on top of a pocketed coil layer, therefore increasing the overall durability of the product.
Leaving the coils behind, let's move along in this Helix Sunset mattress review to the transition layer. Helix Sunset Luxe and the base model both have the Helix dynamic foam. This layer provides body contour and soft cushioning. The Luxe model has an additional high-grade polyfoam layer that adds even more support.
On top of those layers, both beds have a memory plus foam comfort layer. As they describe it - a soft feel and high density.

Alright, we've talked about all the layers in this Helix Sunset mattress review, another thing adding the softness is the cover. The Helix Sunset has a Helix soft-touch design cover, and the Luxe has a premium breathable pillow top.
It's an extra-comfortable quilted top with breathable Tencel technology to improve airflow and keep you comfortable.
Altogether, enthusiasts of softness should be pleased with these beds.
Latest Saatva Coupon Found:
UP TO $500 OFF
Limited-time Saatva Sale
We're sharing a limited-time Saatva mattress discount with our readers! Grab this deal & enjoy your new mattress with huge discounts.
Expiration date: 12/12/2023
4,042 People Used
Only 83 Left
Cooling
Sleep is crucial for all people (you don't say). There's a lot of evidence that getting enough sleep helps with memory and learning and interference resistance[1]. Besides that, sleep is primary for your overall well-being.
I wouldn't want to startle you with a never-ending list of factors that decrease your sleep quality. But let me acknowledge a few of them. For example, a large percentage of individuals in the research, matched criteria for poor sleep quality, internet addiction, and depression[2].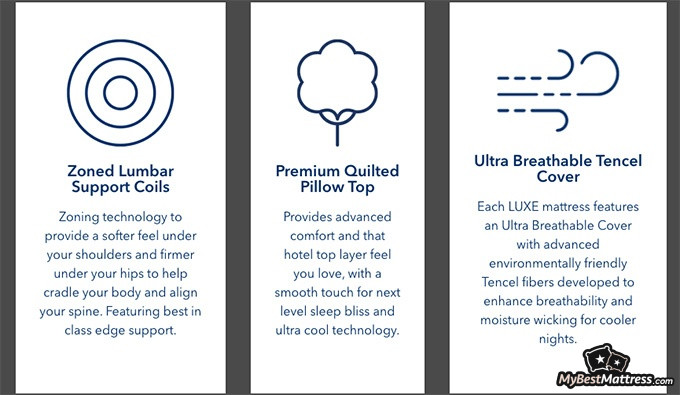 Another, simpler indicator, might be overheating. That's what I wanted to talk about in this section of the Helix Sunset mattress review. Overheating is unavoidable when your mattress absorbs, traps, or does anything else that it shouldn't do.
Even severe remedies may be ineffective in the worst-case situation. I'm referring to things like opening your windows, using lighter blankets, and so forth. Even after that, you might wake up covered in sweat in the middle of the night. That's when your sleeping quality decreases.
There are these complete life-savers called cooling mattresses such as Layla and Saatva. And I'm glad to say that the Sunset line also fits in the category. Helix Sunset beds are hybrid as well as Saatva. The pocketed coil layer makes it easier for the air to flow, so there isn't any heat absorption.
Table: Features of the Saatva and Layla mattresses
But that's not the only thing that makes this mattress cool. All of the foams are known to optimize airflow. Note that the Sunset Luxe mattress has more cooling components than the regular model, so it's a better choice for hot sleepers.
Great for Side sleepers and Good for Back Sleepers
Did you know that sleeping on your left side is better than sleeping on your right? Your organs will be freer to eliminate toxins while you sleep this way. Nonetheless, sleeping on both of your sides is regarded to be quite beneficial.
Sleeping on your side can also prevent snoring. Yes, it might not affect you as much, but it can get quite annoying for those around you.
Don't get me wrong, people who sleep in this position also tend to get morning aches and pains due to pressure point formation. In regards to that, the mattress has to be a bit softer and contour the sleeper's body very well. And that's precisely what these beds do.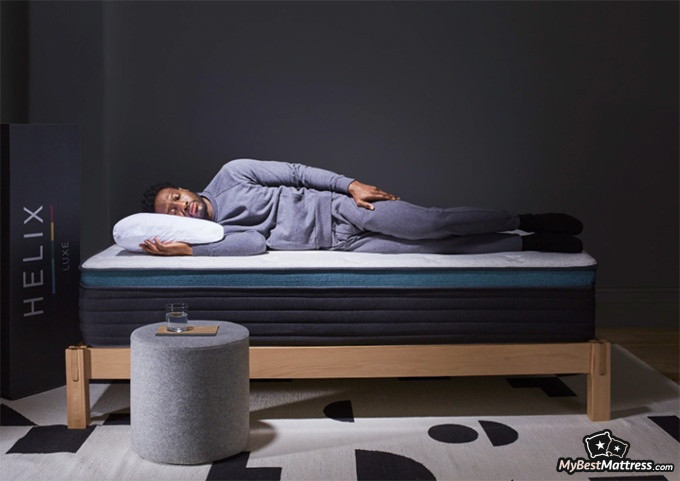 Besides that, the Helix Sunset mattresses provide extra cushioning for joints. And as the Sleeper Helix Sunset mattress reviews would tell you, the products are great at alleviating pressure, pains and aches.
Also, these beds are suitable for back sleepers. Back sleepers will feel less pressure in their hips and have more stability beneath their spine, which will help them avoid improper posture and discomfort. Additionally, sleeping on your back has its advantages. Preventing wrinkles (by your face not brushing against the surface of the pillow) and even acid reflux.
All in all, side sleepers, back sleepers, and those who roll from their side to their back and vice versa should be very satisfied with this bed.
Good Edge Support
A cliff, a volcano, and Mount Everest. Isn't it true that none of these places would be your first choice for a night's sleep? Obviously, due to the weather, the deadly lava, and so forth. But isn't it also due to a lack of control?
Now, I know this is kind of a dramatic example, but hear me out. A mattress with a lack of edge support usually fails to be supportive throughout the whole extent of the bed. And lying on the edge could feel very similar as it would be lying on an icy, slippery mountain.
While you most likely wouldn't hurt yourself by falling out of bed, it wouldn't be a pleasant experience. And let me tell you a little secret - it only gets worse over time. Luckily, sleeper Helix Sunset mattress reviews indicate that the bed has good edge support.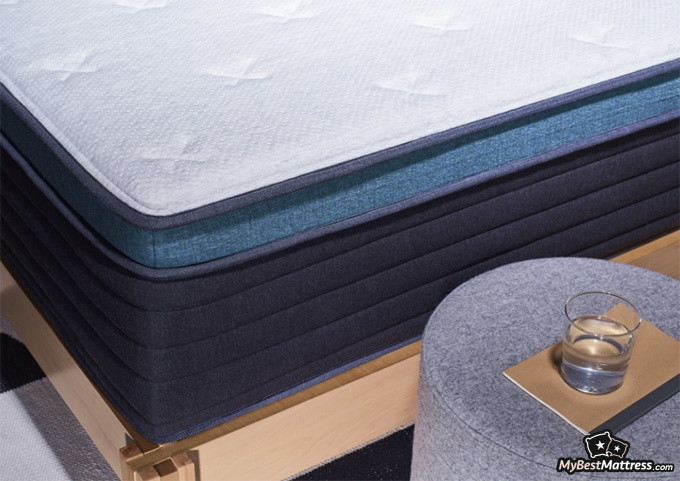 So, thanks to the pocketed coil area and high-quality foams, you won't get to know the feeling of lying on the edge of Mount Everest. However, you could travel to Mahalangur Himal sub-range of the HimalayaSunset (I know you didn't read the whole location), if you wish to find out.
Furthermore, good edge support increases the overall life expectancy of the mattress. You can view it as an additional proof that your bed will serve you for a long time.
Pain Relief
It's no secret that the pressure from your old mattress can form pressure points. Pressure points usually form in the hip, shoulder, or lower back area. Following that, the pains and aches come. That's not the consequences you should be getting from your mattress, to say the least.
A mattress that reduces pain is a big aspect that will keep you comfy all night without hurting your hips, knees, shoulders, or lower back. Happily, sleeper Helix Sunset mattress reviews would tell you this bed is very good at pain and pressure relief.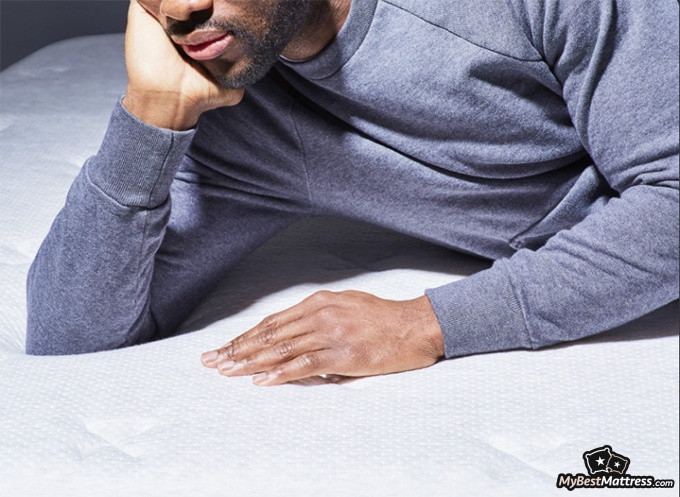 Furthermore, the mattress can even help ease the preexisting pain. Keep in mind that Helix Sunset Luxe mattress is a bit more upgraded, meaning it has even better pressure relief tendencies. The memory foam layers ensure top-notch body contouring as well as comfort. The coil layer adds to the support that's crucial for correct spine alignment and responsiveness.
Helix Sunset Mattress Review: CONS
You can see the sunrise and the sunset all in one day. You'll also see the negative and positive sides in one article. In this one, to be exact.
This is an objective review, after all. So, let's shift our focus to the negative sleeper Helix Sunset Mattress reviews, and see what's up (pun definitely intended).
Might Transfer Noise and Motion
Perhaps you sleep with a partner? With a super fluffy Chow Chow dog? Maybe you tend to host sleepover parties with your BFFs? If so, you definitely know how vital is motion and sound isolation. Well, if you don't sleep like a rock.
When sleeping, we are all more or less sensitive to motion and sound. The disturbance has the ability to wake you up and damage your rest. Because of the extra cushion top, the Helix Sunset Luxe is a little better at motion control, but the standard model can't keep up.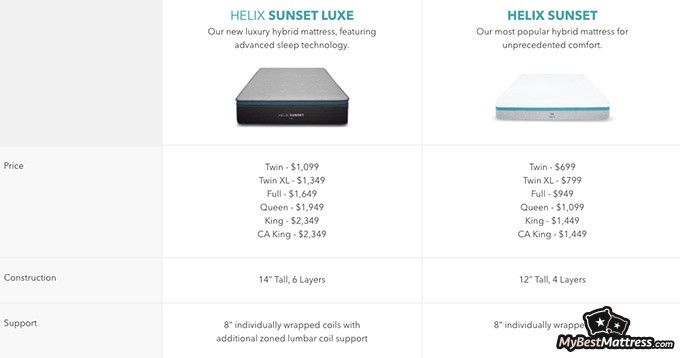 So I'd suggest choosing the Luxe model if you have a sleeping companion.
Furthermore, another complaint I saw in the sleeper Helix Sunset mattress reviews is a bit of noise coming from the bed. While it might be minimal, it's still something to consider.
If you're a super sensitive sleeper (like me), you might need a different mattress. My suggestion would be to check out Puffy or Puffy Lux. It's a unique, well-liked mattress brand. Take a look at the pressure point table:
Table: Pressure points of the Puffy mattress
The original Puffy is a foam mattress, and Puffy Lux is a hybrid mattress. Nevertheless, they're both top-notch when it comes to motion and sound isolation. To be fair, this bed is one of the best options for couples out there.
Besides that, these beds provide exceptional pressure relief and are great for all types of sleepers. If you're interested in finding out more about this brand, their prices start from $899.
Not as Suitable for Stomach Sleepers
Our stomach sleeper pals are the most difficult to please, if you didn't already know. Stomach sleepers require sufficient lumbar support, which may necessitate a firmer mattress. However, this mattress may be overly soft, causing their hips to sink in excessively.
Sinking can also result in back bending leading to pain later on.
But if you would have the need to choose a mattress from the Sunset line, the Helix Sunset Luxe mattress would be a better choice since this product provides more support. However, sleeper Helix Sunset mattress reviews say that both beds aren't the best for stomach sleepers overall.
If you are, in fact, one of the rare species that sleeps on their stomach, I have something that you might actually appreciate. That something being Saatva. Yes, I am well aware of the magnitude of the surprise. Who would have guessed? Probably, everyone who understands the value of a decent mattress. Including me. Take a glance for yourself:
To put it simply, Saatva is currently one of the best beds on the market. One of the reasons why the mattress is so well-liked might be because it's suitable for all sleeping positions.
Meaning, no more headaches about finding a fitting bed for two people who sleep in different positions, because Saatva is equally comfortable for everyone.
Can Be Too Soft For Heavier Weight Sleepers
People on the heavier side (over 250lbs) require a bit more body support and firmness. Lacking these properties, mattresses may cause sinkage and abnormal back bending. Which can result in bad posture, pain, and difficulty moving on the bed.
Sleeper Helix Sunset mattress reviews indeed say that the bed is too soft for those on the heavier side. Helix does, however, provide a mattress designed expressly for those who are heavier - the Helix Plus.
Moreover, it would be a shame if I didn't mention the Saatva HD bed. This one is also made specifically for heavier-weight people, and it would be my ultimate choice since it holds up to 500lbs on each side.
Table: Features of the Saatva HD mattress
Keeping that in mind, it's great for heavier-weight couples. Additionally, Saatva HD is responsive, cooling, and exceptionally firm. Besides, Saatva is a high-quality mattress brand overall, so none of their models should disappoint.
Helix Sunset VS Serta Mattress
Now that we know almost everything about the Helix Sunset and Luxe mattresses, it's time to compare them with another, quite similar bed. To start, Helix Sunset vs Serta mattress is way more well-known among sleepers. Everyone probably heard or came across Helix at some point.
Serta, like Helix, offers a wide variety of different types of mattresses, and it can get very confusing. From memory foam to hybrid and then adding other firmness options.
| | | |
| --- | --- | --- |
| Features | Helix Sunset Mattresses | Serta Mattresses |
| Temperature Control | Excellent | Bad |
| Sleeping Positions | Side and Back | Side and Back |
| Durability | Excellent | Average |
| Edge Support | Excellent | Average |
Helix Sunset vs Serta mattress is way better at temperature control. In fact, some owner Serta reviews indicate that people should avoid this bed if they tend to sleep hot. Besides that, I have found additional complaints talking about the lack of edge support and durability. So, as the sleeper Helix Sunset mattress reviews would tell you, this line is superior when it comes to these features.

Helix Sunset compared vs Serta mattress is more suitable for back and side sleepers, and both of the beds aren't the best for belly sleepers. One thing that Serta mattresses might be better at is motion control. It absorbs motion and prevents it from being transferred. In regards to that, Serta mattresses could be good for sensitive people.
All in all, both mattresses are good. Nonetheless, in my honest opinion - the Helix Sunset line is way better. It's no surprise since Helix has similar features as some of the best beds in the market - Saatva and, Puffy. Take a look at some of their features:
SAATVA
PUFFY

Very bouncy and responsive
Cool (temperature AND visual-wise)
Top-tier edge support
Handcrafted in the US from ECO materials

Best for all type of sleepers
Lifetime warranty
Total spine pressure elimination

Average temperature neutrality

Visit site
Read Review
Visit site
Read Review
Table: Features of the Saatva and Puffy mattresses
So, if I were you, my choice between the two options would undeniably be the Helix Sunset. Well, it could be Saatva if we were to choose between all of the mattresses out there. Since this bed does have the best reviews.
What's the Helix Sunset Mattress Price?
Alright, this is it, the moment of truth. We know that Helix Sunset is the base model with many amazing benefits, and the Helix Sunset Luxe is the upgraded version that's even better! So, now it's time to figure out the price.
Note that the prices can change at any given moment, so make sure to click on the list below and check them for yourself:
Helix Sunset:
Helix Sunset Luxe:
As you see, the price difference between the baseline and luxe models is quite significant. Well, luxury mattresses are always a bit more on the high-end side. In regards to that, make sure to take a glance at our Helix sale offers to see if we have a Helix Sunset mattress discount code there.
Also, without looking at the prices, make sure to assess what size bed you need. I mean, if you always felt like you could use some extra space when sleeping with your partner on a Queen mattress, you could then choose the King Helix Sunset Luxe mattress.
Nonetheless, if you're planing to be a single pringle for a long time you might be okay with a Twin XL or a Full size bed. Moreover, Twin bed is mostly suitable for children.

Speaking of costs, if we were to look at other luxury beds in the market, the Helix prices are still above average. Take Puffy Lux as an example. This model is also labeled as luxury, nonetheless, it's probably a bit more affordable even if you were to find a Helix Sunset mattress discount code.
Puffy Lux is a hybrid mattress that's known for its ability to isolate motion and sound to the fullest extent. So, those with sleeping companions or pets would really appreciate the Puffy Lux bed.
Furthermore, Puffy mattresses are ideal for everyone. Helix beds are always designed with a specific sleeper in mind. Speaking of purchasing these beds, Puffy offers a lifetime warranty, while Helix Sunset has a 10-year and Helix Sunset Luxe has a 15-year warranty.
Table: Pricing of the Puffy mattress
Oh, almost forgot - according to sleeper Helix Sunset mattress reviews, those that purchase the bed gets a complimentary gift of two Dream pillows. And who doesn't love gifts?
Here is The Best Saatva Offer I Found:
UP TO $500 OFF
Limited-time Saatva Sale
We're sharing a limited-time Saatva mattress discount with our readers! Grab this deal & enjoy your new mattress with huge discounts.
Expiration date: 12/12/2023
4,042 People Used
Only 83 Left
Conclusion
We now know that Helix Sunset mattresses are as good as their other models. Overall, if you were to ask me if the bed is worth it - I would say yes, without a doubt.
Sleeper Helix Sunset mattress reviews are seemingly positive. Saying the beds are cool, soft, alleviate pressure and have fairly strong edges. Besides that, the mattresses are durable. So, it would be a long-time investment.
Nonetheless, Helix beds are usually targeted at a specific sleeper group and not everyone at once. That's the reason these particular beds aren't suitable for stomach sleepers.
However, as I already stated, there are alternatives such as Saatva or Puffy. These beds are appropriate for anyone and everyone. They are considered some of the greatest mattresses on the market and are quite popular among sleepers. So I'm confident they wouldn't let you down.
Table: Company info of Saatva and Puffy mattresses
Saatva is a hybrid mattress, crafted from eco-friendly materials and provides great responsiveness, cooling and comfort for all. Puffy Lux is a suitable alternative if Helix beds seem a bit pricey.
Be confident, evaluate all things important and choose the perfect match! It surely is out there, somewhere.
Scientific References
1. Mary A Carskadon 'Sleep's effects on cognition and learning in adolescence'
2. Parash Mani Bhandari , Dipika Neupane, Shristi Rijal, et al. 'Sleep quality, internet addiction and depressive symptoms among undergraduate students in Nepal'
Leave your honest Helix review
Leave your genuine opinion & help thousands of people to choose the best mattress. All reviews, either positive or negative, are accepted as long as they're honest. We do not publish biased reviews or spam. So if you want to share your experience, opinion or give advice - the scene is yours!