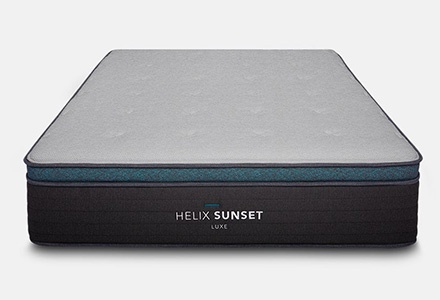 You might have heard about the Helix Sleep brand before and maybe even read our previous article about their mattresses. But did you know that they also offer luxurious upgraded models? If not, then great, because with the Helix Luxe mattress reviews within this article, you'll be able to discover a new quality bed range.
If you already have — well, why not find out about its features in more depth? And Helix definitely wants to find out about their customer — about you — in more depth as well. One of the features I personally found quite touching, is that on their webpage they have a questionnaire about your body type and sleep preferences.
And in a few clicks, they're ready to offer the mattress that would best suit your needs per their algorithm.
Pros
Good pressure relief
High body conform
Great edge support
Cons
Options can be confusing
Pricey compared to competitors
Helix Luxe Mattress Reviews: Pros
So, the Helix brand does provide quality mattresses. But what exactly is simply high quality, and where does the luxury begin? All will be answered in this Helix Luxe review. Let's see why those mattresses are indeed luxurious.
Pressure Relief
The main aspects that Helix Luxe mattresses offer as an upgrade to their regular collection, are pressure relief and body contour. The pressure relief aspect is especially targeted at side sleepers. Namely, that would be Sunset, Twilight, and Helix Midnight Luxe mattress.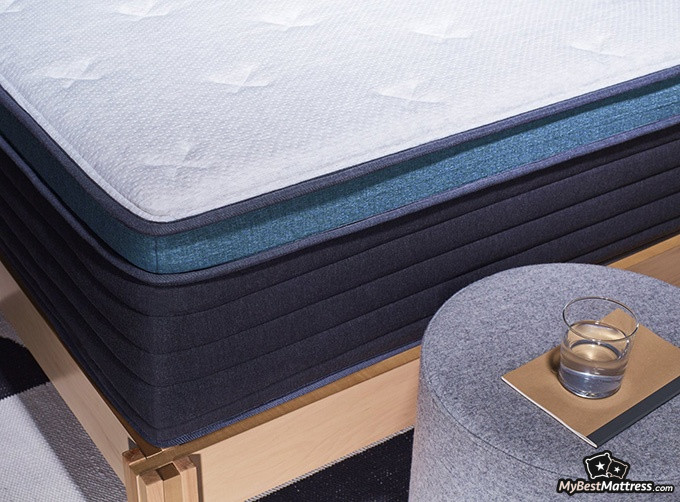 The three layers of various types of foam aim for the best and the most beneficial combination for your sleep. The usage of memory foam helps the mattress to give the plush feel, and cushion your pressure points — such as shoulders, hips, or lower back.
Various customer Helix Luxe mattress reviews indicate that these products do feel good for the mentioned sensitive pressure points. The coil layer is designed so that it's softer around the shoulders, and firmer under the hip area. This provides advanced support for your lower back, helping to keep your spine alignment intact.
Latest Saatva Coupon Found:
UP TO $450 OFF
Limited-time Saatva Sale
We're sharing a limited-time Saatva mattress discount with our readers! Grab this deal & enjoy your new mattress with huge discounts.
Expiration date: 29/09/2022
4,042 People Used
Only 83 Left
Edge Support
The mattresses that Helix offers are all hybrids. This means they have both a foam layer (or multiple foam layers), and a coil layer. Usually this means a considerably better edge support than in purely foam mattresses, although it still doesn't mean a superb one by default.
However, Helix models have what's called enforced perimeter. It might be a confusing term, but actually it's quite simple. Within the coil layer, you have two rows of narrower coils, going around the edges (i.e. around the perimeter) of the usual coils.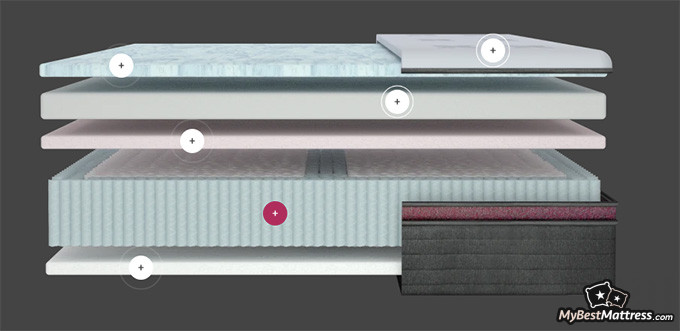 These narrower coils mean the mattress is sturdier along the very sides of it. This does not allow you to slip off of the bed, either when you're asleep or just sitting on the edge (I can definitely attest to the latter not feeling nice).
Better edge support also means that the sides of your mattress will not sag as quickly. So whichever Luxe variant you choose after reading through user Helix Luxe mattress reviews, it will last longer than some competitors.
Body Contouring
It's actually quite important for a mattress to conform to your body shape. Overall, what does it mean if the bed is conforming? If a mattress conforms well to your body, it means that it quickly adjusts to your body shape and outline.
To put it differently, if you move around during sleep (and you're bound to do that at least to some extent), the mattress will adapt itself to still cradle you and provide comfort. But why is this relevant, you ask? Well, as numerous customer Helix Luxe mattress reviews will tell you — first and foremost, it makes you feel comfortable.
And if you sleep comfortably, you can definitely feel all those benefits to your body throughout the following day as well. Foam mattresses — and especially memory foam — usually are not the best for this aspect. Hybrid mattresses — like Helix Luxe — are much better choices for that adaptability factor.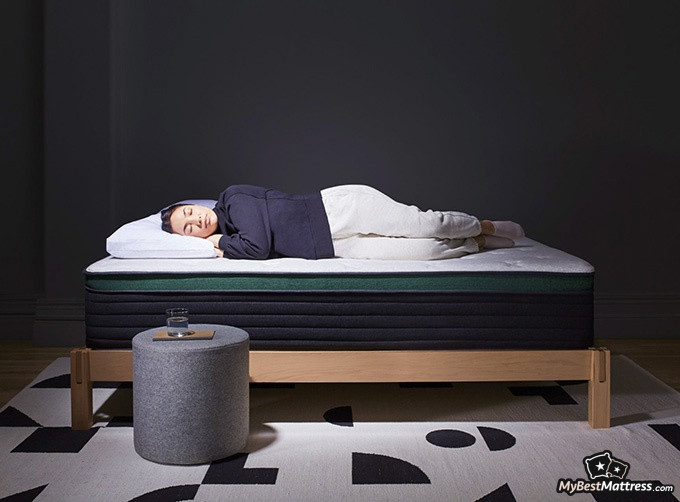 And that layer of coils is a gamechanger for this aspect. Due to the nature of the spring coils, the mattress will be both bouncier and more responsive. In addition, because the coils are separated from each other in pockets, the mattress will respond better to your movements throughout the night.
In other words, when you turn from one side to another, it would take significantly less time for you to feel comfortable and soothed in your bed again. You'd be less disturbed during sleep, would potentially wake up fewer times, etc.
And you probably don't need user Helix Luxe mattress reviews to tell you that this way, the quality of your sleep would be much better and you'd feel more rested in the morning. But it's not just about feeling comfortable (even if that entails being more productive or feeling better the following day).
On top of the level of comfort, an adaptable mattress means fewer worries regarding shoulder, hip, or back pain. It also means fewer concerns about lower back pain and, most importantly, your spinal alignment.
Motion Isolation
Now, it's probably clear what motion isolation means — isolating the motion — but what does it actually mean in terms of your sleep? If you sleep with a partner, you might have experienced disturbances due to them moving around. And if you haven't — I'm jealous.
So, good motion isolation in a mattress means that you should feel close to nothing when someone or something else (e.g. a pet) moves around in bed, gets in and out of it, etc. It also means that your own movements would not disturb you while asleep.
Don't be surprised if some customer Helix Luxe mattress reviews use the term "motion transfer" instead. This term is used when talking about the exact opposite of the same criteria. In other words, it's the motion of your bed partner being 'transferred' to your side of the bed.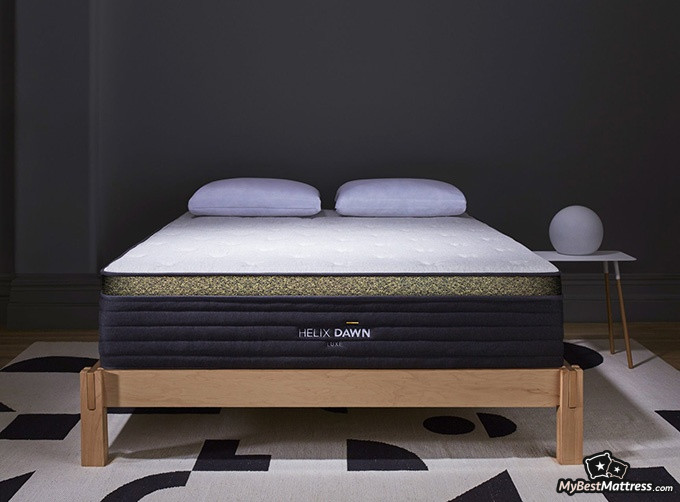 So for a high-quality mattress, you want to see either good motion isolation, or low motion transfer. Memory foam mattresses are considered to be the best for motion isolation. However, Helix beds use pocketed coils. This term is used because each coil is wrapped individually — as if each one would be in a pocket of fabric.
Now, because every coil is wrapped separately from each other, they also move almost separately from each other. In other words, because the coils are not connected, but separated, it is significantly less likely to transfer the movement to another, connected coil.
So, the idea is if your partner tosses around on the other side of the bed, the movement should stay mostly within the physical space of your partner, and should not be transferred toward your area.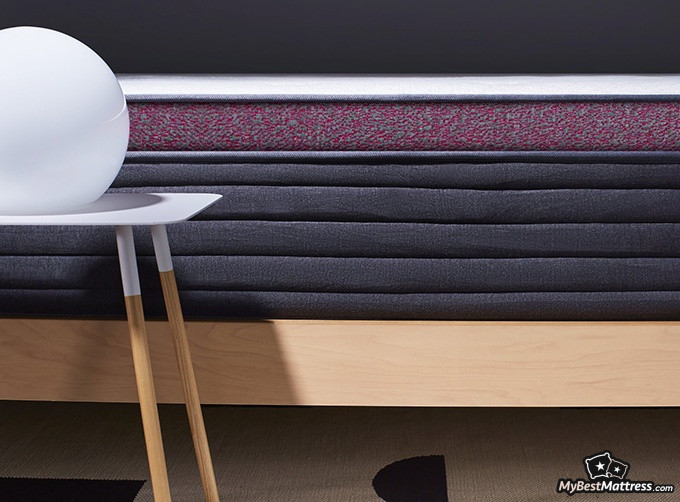 You might ask, "Okay, but that is for all Helix mattresses, what about the Helix Luxe collection specifically?". Great question, and one to which I do have an answer. Standard Helix mattresses have several hundreds of pocketed coils. Which does sound quite impressive, now doesn't it?
But only until you find out (either from this one, or from other user Helix Luxe mattress reviews) that the Luxe mattresses have over 1,000 pocketed coils. With a higher number of individually wrapped coils, there's an even smaller chance of transfering the motion from your sleeping partner's side of the bed to yours.
Helix vs Helix Luxe Mattress Reviews
Helix offers 6 different mattresses: Sunset and Moonlight for the soft feel, Midnight and Dusk for the medium feel, and Twilight and Dawn for the firm feel. Sunset, Midnight, and Twilight are more suitable for side sleepers, while Moonlight, Dusk, and Dawn — for back and stomach sleepers.
Talk about commitment to the brand with all those night-related names, right? Each of the 6 mattresses has their own upgraded version — Luxe. What is the difference, you ask? Well, Helix names those differences as Luxe upgrade features.
While standard Helix mattresses are already good-quality products, the Luxe variants add the luxury feel and features to them. The Luxe beds include an additional 2-inch layer, more pocketed coils, and enhanced lumbar support for your lower back.
But don't worry, we'll get into more details within the mini Helix Luxe mattress reviews for their different models in a moment.
The Luxe mattresses consist of 6 layers. 3 of those layers are exactly the same for all the Helix mattress variants. The bottom layer is DuraDense foam. It provides general base support and durability to your Helix Luxe bed. The next layer up is the pocketed coils.
The base models have several hundred coils within the equivalent layer, but the Luxe variants have over 1,000 pocketed coils instead. The term 'pocketed' means that instead of being in a single intertwined block, each coil is wrapped in fabric individually and separately from each other.
This layer is designed to be a bit softer around your shoulder area, and firmer around your hip area. This distribution of pressure relief should help with your spine alignment while sleeping and provide additional support to your lower back. In addition to the effect it has on your body, such coil system means great edge support.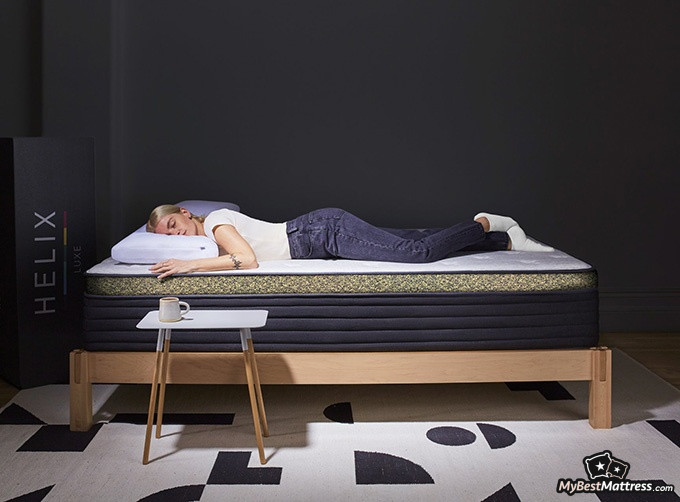 The topmost layer is the breathable premium pillow top. It has ultra breathable Tencel technology to maintain the airflow during the night. This helps you to sleep cool and not be bothered by the heat.
Aside from the additional Soft Touch Design for extra airflow, the baseline Helix models also have the two same layers: the DuraDense foam for the base, and the coil layer. The Luxe models essentially have one layer added, which — in combination with the baseline layers — brings out the full potential of the model.
In the following mini Helix Luxe mattress reviews for each model, I'm gonna focus mostly on the differences regarding the layers in between. This way you can focus on how the Luxe models improve the standard ones, rather than trying to make the comparisons between them yourself.
Dawn
Dawn has a firm feel and is designed for back and stomach sleepers. (Fun fact: younger people are more likely to be stomach sleepers[1] than older people) The Helix Dawn Luxe mattress has the additional layer of Gel Visco foam. Now, usually such layer would add a cushion effect and a softer comfort.
However, this specific variety used is high-density and still has a firm feel. Which is actually very useful for the initial Dawn variant as well. As a back sleeper, you want to have strong support for your body, so that you're kept closer to the surface of the mattress.
In other words, Helix Dawn Luxe mattress is a great choice for you if you prefer sleeping on your back or your stomach, since it provides that extra needed support for your body, sleeping in such manner.
Midnight
The most popular item among the Luxe collection is the Helix Sleep Midnight Luxe Hybrid mattress. It is a medium firmness hybrid mattress, most suitable for side sleepers. The base model Helix Midnight consists of high-grade polyfoam and memory plus foam. The polyfoam provides support and contour.
This works as a transition layer and helps your body to ease into the mattress, going from the foam layers towards the sturdy parts of it. The memory plus foam is actually a high-density variant, which is firmer than you would usually expect from this material.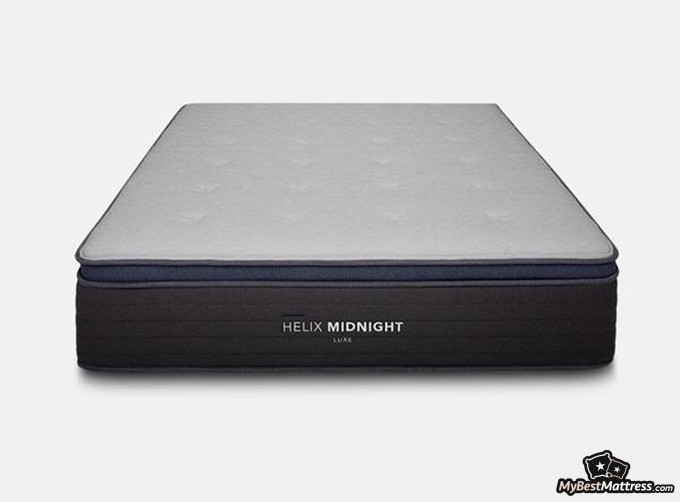 However, in this specific mattress, the special Helix blend is still designed to have a medium firmness feel. This layer provides a good amount of pressure relief. The addition in the Lux model is a Gel Visco layer. Gel Visco is a specific type of foam that really conforms to your body's curves and shape.
These aspects are extremely important to side sleepers. So, the Helix Midnight Luxe mattress makes it even more suitable for its original purpose. Due to the effect of this foam, you should feel a high level of support and weight distribution. It also helps with the cooling of your bed.
Dusk
Helix Dusk is a medium firmness mattress for back and stomach sleepers. Aside from the base layer, coil layer, and cover, the standard Helix Dusk mattress offers 2 layers of foam. Those layers offer responsiveness, body contour, and pressure relief for the mattress.
The main difference between the standard model and the Luxe, is the high-grade polyfoam layer. This is the additional layer that's offered in the Luxe variant, but not in the standard one. High-grade polyfoam offers additional body support and body shape contouring.
Full support is especially important if you're a back or stomach sleeper. If you don't have enough support while sleeping on the back, you will sink it a bit too much and your spine alignment will be positioned in a not-so-natural curve.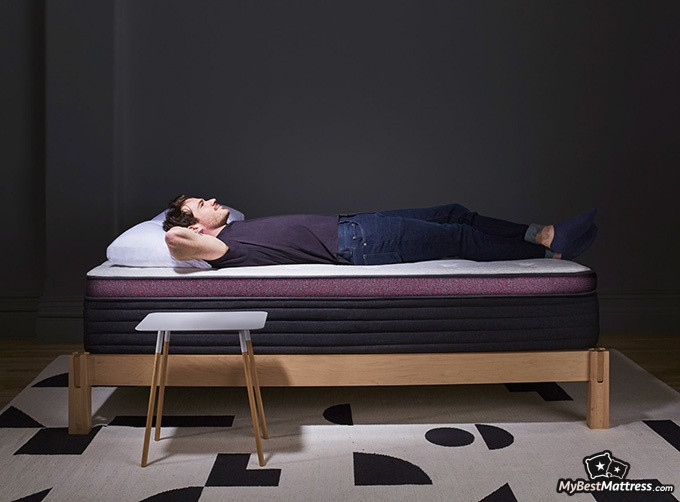 Body shape contouring also greatly helps to keep your spinal alignment straight and intact while you sleep, because this means the mattress will better adapt to your body shape and curves.
Several customer Helix Dusk Luxe mattress reviews have attested to helping them with back pain, after switching to this bed. And even scientists agree that the firmness of your mattress can affect the levels of your back pain[2].
Sunset
Helix Sunset is designed for side sleepers with some softness on the side. Well, the softness is all over the mattress, to be fair, and not just the sides. Helix Sunset has 2 layers of foam (in between the base, coils, and cover, that is), and the Luxe variant adds on another one — high-grade polyfoam layer.
This high-grade polyfoam provides better body contouring and support. Usually, such features are dedicated to back or stomach sleepers, so you might be slightly surprised to see them here. However, as probably any customer Helix Sunset Luxe mattress review would tell you, this makes Sunset a more universally applicable mattress.
So while Helix Sunset is targeted at side sleepers, Helix Sunset Luxe should be comfortable for sleepers of any position.
Moonlight
Helix Moonlight is of soft feel and is meant for stomach and back sleepers. The classic Helix Moonlight consists of two different Helix dynamic foam layers. One of them is a special Helix blend of latex-foam hybrid, which is firmer and more supportive, while still maintaining the softness.
The Moonlight Luxe adds the high-grade polyfoam into the mix. It will provide more support and higher adaptability to your body shape. In addition, soft and mainly foam mattresses are not that great for sleepers with higher BMIs, especially for the ones preferring to sleep on the back or on the stomach.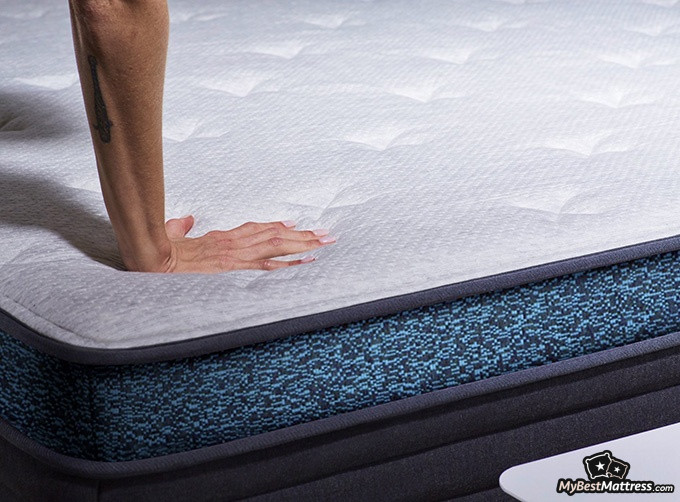 Even some softer hybrid models are not always fully suitable for such sleepers. If there's not enough support, heavier sleepers will sink too much, and thus their spine alignment will spend hours in an unnatural position.
One could easily have such concerns with Helix Moonlight as well, but that's why the Moonlight Luxe option can end up as a bigger upgrade. With more support from the additional high-grade polyfoam layer, this would be a more suitable model for heavy sleepers as well.
Twilight
Twilight is meant for side sleepers and has a firm feel. While you do want to have some support as a side sleeper, proper firmness is usually not ideal for such position preference. However, here's where the upgraded Luxe version has a significant difference.
The additional Gel Visco layer adds support for your body, but also has a softening effect. Which does help to offset the initial firmness of Helix Twilight, and thus decreasing the chance of shoulder or hip pain. You see, for side sleepers you want to have some support from the mattress.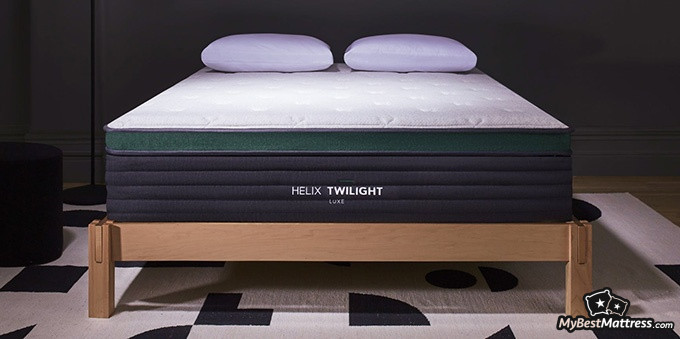 Without enough support, you will probably sink down too much. And with sleeping like that on a frequent basis, you risk warping your natural spine line. However, with too much support the mattress will end up too firm. In that case, you will be repeatedly sleeping on a surface that's too hard, and therefore quite likely develop shoulder or hip pain.
Helix Luxe Mattress Reviews: Cons
Helix Luxe mattresses definitely live up to their luxurious name. However, perfection is rarely achievable. Let's see what cons do Helix Luxe beds exhibit, since such section is important for all the Helix Luxe mattress reviews.
Overwhelming Combinations
If you have a specific Helix mattress model in mind, considering its Luxe variant is relatively easy. However, it would probably feel a bit different if you knew you were going for a Luxe, and wanted to examine all of the options in detail. In such scenario, the subtle differences can get quite overwhelming and maybe even confusing.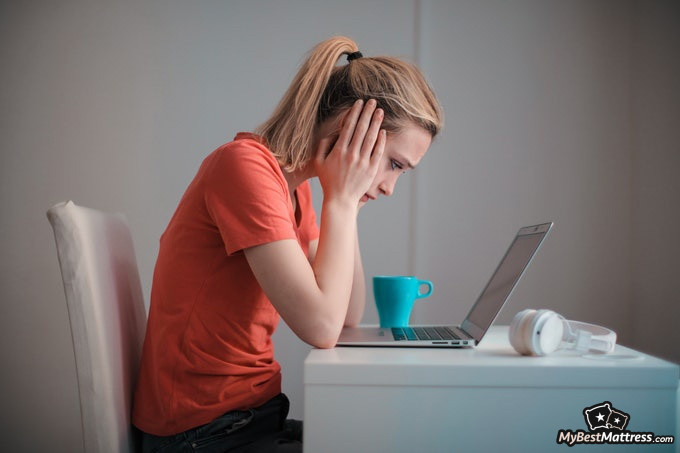 Different variants can feel quite similar, with a difference of just 1 or 2 layers. So even with the help of this or other customer Helix Luxe mattress reviews, it can feel complicated to try and figure out which exact layer combination and in which sequence is the best choice for you.
No Option for Combination Sleepers
As you might have noticed, Helix Luxe does provide a reasonable variety of options, based on the combination of preferred softness or firmness, and sleeping position. They offer two ranges of options based on your sleep position: one that's suitable for side sleepers, and one that's suitable for either back or stomach sleepers.
People rarely sleep purely on their side or on their back throughout the whole night. In most cases we still change our positions throughout the night, at least to some extent. And that's categorized as being a combination sleeper.
If those are your nightly habits, it may be that neither of the two Helix Luxe categories is an adequate choice for you, no matter how many user Helix Luxe mattress reviews praise these beds. And that's nothing surprising — it is considerably difficult to make sure a mattress is an amazing fit for everyone.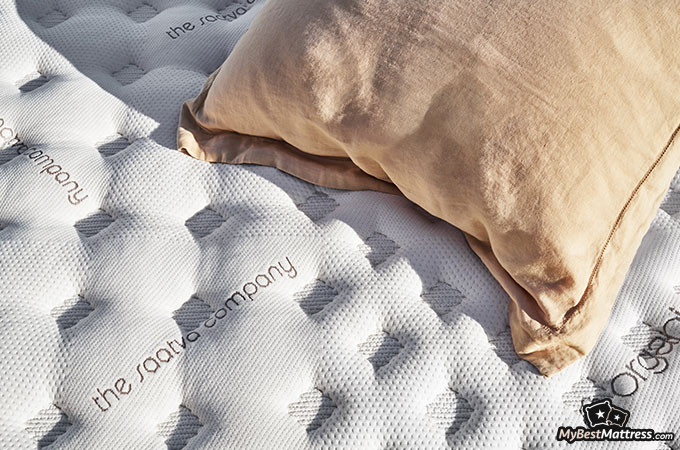 That being said, there are some available alternatives in the market. Currently, the best mattress, suitable for any position of sleep — and thus, for combination sleepers as well — is Saatva. Not only does it work well for various sleepers, whichever sleep position they prefer, but it also works well despite your weight category.
Saatva is a top-tier hybrid mattress with great noise isolation, outstanding temperature neutrality, and top-notch edge support. Their Queen size mattress is available only for $1574 (though do have in mind that prices can change any day). Definitely a reasonable price for such a high-quality bed.
Helix Luxe Mattress Price
And now to another important section of Helix Luxe mattress reviews. The prices for Helix mattresses are the same for all 6 of the Luxe variants (the same actually goes for their baseline variants as well). They do, of course, differ depending on the size. The prices are as follows:
Of course, do have in mind that prices are dynamic and can change at any time. Feel free to also check out the special deals we have for Helix. Luxe prices are a bit on the high end, in comparison to other mattresses on the market. Of course, this is a luxurious Luxe experience, so the premium price tag is very reasonable.
However, the price is above average even if we compare it to a similar experience. For example, one of the market leaders, which offers a luxurious version of their standard bed, is Puffy. Puffy Lux is also a hybrid mattress.
Usually memory foam (or foam overall) beds are the quietest, and innerspring or hybrid mattresses produce at least some noise due to the spring coils. However, in this case that seems to be the exception, because Puffy has quite a few customer reviews, saying that this product produces no noise whatsoever.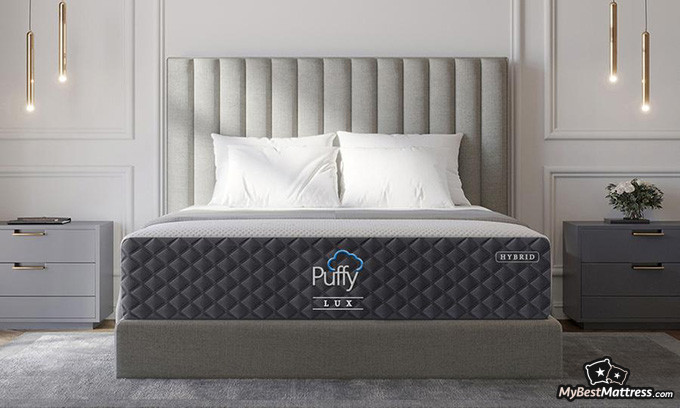 It also has superb motion isolation, and is highly suitable for all types of sleepers. Helix Luxe are targeted at either side sleepers, or back and stomach sleepers, but not really at combination sleepers. And Puffy mattresses have lifetime warranty!
If we were to go back to the price comparison, we can see that Puffy Lux costs $1799 for the Queen size (now only $1499), as opposed to $1949 for a Helix Lux Queen mattress. Of course, couple hundred dollars may not be that significant of a difference, when you're spending several times more for the bed.
At the same time, this does mean you can treat yourself with some additional high-quality pillows, sheets, or other sleep accessories — for overall the same price.
Other Details
All Helix Luxe mattresses come with the 2 additional, free Dream pillows. The industry standard for warranties is 10 years — same as for Helix baseline models. However, for Helix Luxe products you get a 15-year warranty instead.
This signals not only special care for Luxe mattresses, but also about their higher durability and longevity, compared to the standard versions. As with non-Luxe Helix mattresses, there is a 100-night free trial, 30-day break-in period, free shipping (except for Hawaii and Alaska), and free returns.
Here is The Best Saatva Offer I Found:
UP TO $450 OFF
Limited-time Saatva Sale
We're sharing a limited-time Saatva mattress discount with our readers! Grab this deal & enjoy your new mattress with huge discounts.
Expiration date: 29/09/2022
4,042 People Used
Only 83 Left
Conclusions
The Helix Luxe is a premium range of mattresses, focused on pressure relief and adhering to your body contour. We went through several mini Helix Luxe mattress reviews to see how each of the baseline models compares to its Luxe counterpart.
The main difference is that the Helix Luxe line has an additional 2-inch foam layer. In combination with the layers of the base models, this creates various options, based on your sleep position and firmness feel for the mattress.
Helix Luxe mattresses are high quality, have good edge support and motion isolation. However, combination sleepers may not find a highly suitable option for themselves. If so, it is best advised to look into Saatva mattresses, excellent for any sleeping position.
In addition, Helix Luxe mattresses can feel a bit pricey, compared to other brands on the market that offer similar Luxe options for a lower price — for example, Puffy.
Whatever spiral of thoughts you may be having, while choosing your Helix Luxe mattress, I'm sure you'll make the right choice for your sleeping habits.
Scientific References
1. Bjørn Bjorvatn, Jelena Mrdalj, Ingvild W Saxvig, et al.: 'Age and sex differences in bedroom habits and bedroom preferences'
2. Bert H Jacobson, Ali Boolani, Guy Dunklee, et al.: 'Effect of prescribed sleep surfaces on back pain and sleep quality in patients diagnosed with low back and shoulder pain'
Leave your honest Helix Luxe review
Leave your genuine opinion & help thousands of people to choose the best mattress. All reviews, either positive or negative, are accepted as long as they're honest. We do not publish biased reviews or spam. So if you want to share your experience, opinion or give advice - the scene is yours!