Helix is a company that is well known in the world of mattresses. It creates great quality Hybrid mattresses for anyone and everyone that enjoys their type of bedding. Keeping that in mind, in this Helix Plus mattress review, I'll talk about a mattress that's best for the heavier weight folks out there.
Additionally, there aren't many options in the market for people on the heavier side.
As you might have noticed, Helix focuses to make their products suitable for all sleepers. Regardless of their sleeping position, or their weight. Everyone deserves a godlike snooze from time to time.
So, let's dive into the key features of this mattress and see what the sleepers have to say about their experience.
Nevertheless, if this mattress isn't the perfect fit for you, there are alternatives like Saatva HD or Puffy, and on the other hand, you can always take a glance at our list of the best mattresses.
TL;DR: Looking at the Helix Plus mattress reviews you could see that the mattress is made for people on the heavier side. The bed is great for mixed-weight couples and can even be suitable for lighter sleepers. Also, the bed has more layers than usual, great firmness, and temperature control. It's made out of pocketed coils and three layers of gel-infused foam.
Pros
Good motion isolation
Temperature control
Great for back and stomach sleepers
Versatile
Cons
Mediocre edge support
Not as good for side sleepers
Helix Plus Mattresses Review: PROS
Although the Helix brand is well-known and well-liked by many sleepers, the Helix Plus might be a completely new and unheard mattress.
Keeping that in mind, various people require different types of bedding. And because there are so many basic, practical factors to consider, this Helix Plus mattress review will be focusing on how the mattress fits people on the heavier side.
Moreover, if you think about it, unique strategies could be needed to create a mattress that's best for a specific weight category.
So, without further ado, I believe we should start by looking at the good things this unusual mattress has to offer.
Great Firmness and More Layers
I highly doubt that what I'm going to say is news to you, but layers determine every aspect of the mattress' key features. In this case, the Helix plus size mattress. That's one of the very first things you are bound to notice when reading the Helix Plus mattress reviews.
So, what are these magical layers?
To be honest, there is no magic behind them. It's just the modern technology and attention to detail that makes your new mattress feel like something out of a fairytale.
Firstly, let me specify, that this mattress has 6 different layers! Besides, each layer has a purpose, of course.

Let's take a look at this bed from the bottom DuraDense foam layer. Its purpose is to provide the mattress with steady support and to increase durability.
The more stability the longer it will take for the mattress to sag. So, something great already.
Next, there are the XL-wrapped coils. This part is the one that makes Hybrid mattresses stand out. There are hundreds of individually wrapped coils in this Helix plus size mattress. The coil area is quite extensive, since it's made to fully support people on the heavier side.
Additionally, the coils are a bit longer than usual, giving more volume to the bed.
That also, in most cases, should enhance the edge support.
Without that, it's one of the reasons this mattress is a bit firmer than average. If you had to put this mattress on a scale, it would be just above the medium line. As we've already established, the mattress is designed to be comfortable for all people, particularly those who are on the heavier side.

Furthermore, mattresses typically become too soft for heavy-weight sleepers, which becomes an issue due to incorrect spine alignment and the formation of pressure points.
Keeping that in mind, in this Helix Plus mattress review, I want to emphasize that the company made sure that heavier-weight people would feel way more comfortable on the Helix Plus size mattress, than the usual one.
Looking back at the layers, next, there is the memory foam, a famous and widely-known component of a mattress. To be exact, this is the part that provides extra support on the top of the coils. Nevertheless, its main purpose is to add cushioning. Well, no one would sleep on naked coils, so it speaks for itself.
The top layers are considered slightly softer, however, they also have density. You could say, a great mixture of both.

Speaking of density, on the top of the memory foam is the Helix dynamic foam. The foam is also used in the other Helix mattresses such as Moonlight, and Dusk. It provides a medium-firm feel and mimics the responsiveness of latex foam.
Let me add that the three different foams on top of each other make this mattress stand out from the other ones. You could say it's a way of fighting with sinkage, and contouring the sleeper's body well enough.
Contouring, on the other hand, does not imply that you are being hugged by your mattress. It means that the bed fits your body shape and eliminates pressure.
Above the dynamic foam is the memory foam layer, once again. However, the difference is that it's ultra-dense. Keeping that in mind, another essential aim of this Helix Plus size mattress layer is to relieve pressure points. Besides, feeling pressure from lying on your mattress every night, can be damaging in the future. Additionally, it's said that the foam is extra durable.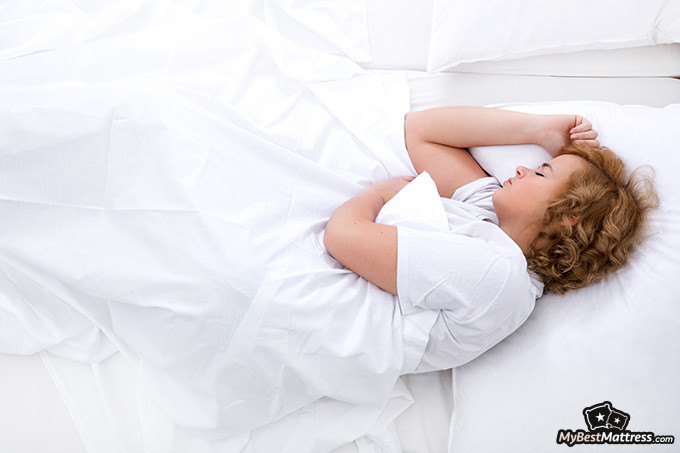 The foam layers also act as transition layers, to provide more support and comfort.
Also, even though the Helix Plus Size mattress is made thinking about heavier-weight people, and might be suitable for all, there are some limitations to that. For example, some of the light-weight people could find this mattress too firm. Moreover, there are other Helix mattresses such as Helix Moonlight or Helix Dusk you can look into.
So keep in mind that firmness is one of the best qualities of this mattress. Furthermore, according to sleeper Helix plus mattress reviews, the mattress may be softer for individuals who weigh 300-500 pounds.
Thus, it really depends on the situation.
Additionally, I would like to mention the ultra-breathable cover made with Tencel technology, which has cooling properties and is designed to increase airflow.
So, that's all there is to it. These were the layers that create the Helix Plus Size mattress.
In regards to that, the customer Helix Plus mattress reviews state that while there are more layers than usual and the bed is rather firm, they only felt minor movement from their companion, if any at all.
As someone who feels and hears everything while sleeping, this feature is super important.
All in all, if your partner or pet tends to toss, turn and move around in bed, you shouldn't be disturbed.
Latest Saatva Coupon Found:
UP TO $500 OFF
Limited-time Saatva Sale
We're sharing a limited-time Saatva mattress discount with our readers! Grab this deal & enjoy your new mattress with huge discounts.
Expiration date: 08/12/2023
4,042 People Used
Only 83 Left
You Won't Get Hot While Sleeping
The temperature neutrality option should be standard on all mattresses, in my opinion. Despite the fact that it isn't a cooling bed like Layla, this mattress offers a nice temperature neutrality feature.
For someone who is prone to sleep hot, but despises the feeling of being drenched in sweat while sleeping or in the mornings — this Helix Plus King mattress is a way to go.
Foam beds, on the other hand, are thought to absorb heat. Furthermore, this mattress includes several foam layers stacked on top of each other. Nevertheless, the Helix Plus bed breaks the stereotype.

Numerous sleeper Helix Plus mattress reviews state that they didn't get hot throughout the whole night. Moreover, the foam is infused with cooling gel, and the Tencel top cover provides airflow. So, even though the mattress is very thick and has a lot of layers, the company didn't forget the overheating issue.
Overheating, without a doubt results in lots of awakenings and lack of sleep. Furthermore, studies show that sleep deprivation impacts mood, autonomic function, and immune system[1].
Keeping this in mind, the mattress structure, long coils, and proper airflow should all assist to prevent sleep deprivation. Well, as far as the temperature neutrality can control your awakenings during night time.
Responsive and Controls Motion Transfer
Did you know that responsiveness is an important aspect in making it simpler to move around in your bed? It means that the mattress adjusts to every movement and goes back to the neutral state almost immediately.
To put it another way, responsiveness promotes motion isolation as well, which is an essential feature for couples. While you could feel a little bit of motion if your partner is tossing and turning, this shouldn't be an annoying problem, since the transfer is very minimal.
Nevertheless, there are other mattresses out there that provide good motion isolation. For instance, you can take look at the Layla mattress, which controls everything involved with your partner moving around — motion and noise. To be honest, I'm mentioning this mattress because I've heard really good things about it myself.
Table: The main features of the Layla mattress
Moreover, yes, the Helix Plus size mattress is made for heavier-weight sleepers, nonetheless, it should be comfortable for a mixed-weight couple. So, if you had a problem when sleeping on a regular mattress with your heavier weight partner, the Helix plus mattress reviews say, that this particular bed, could be the solution.
Comfortable For Back and Stomach Sleepers
It's not a surprise that people have different dominant sleeping positions. Besides, there are a variety of different mattresses aimed at specific positions. This Helix Plus size mattress is no different.
Having that said, a question might appear, what makes this mattress suitable for back and belly sleepers? Speaking of back sleepers, the foam layers should make sure that their hips sink in a little bit so there is no pressure forming.
Moreover, there should be enough body support from the coils so that the spine is aligned naturally.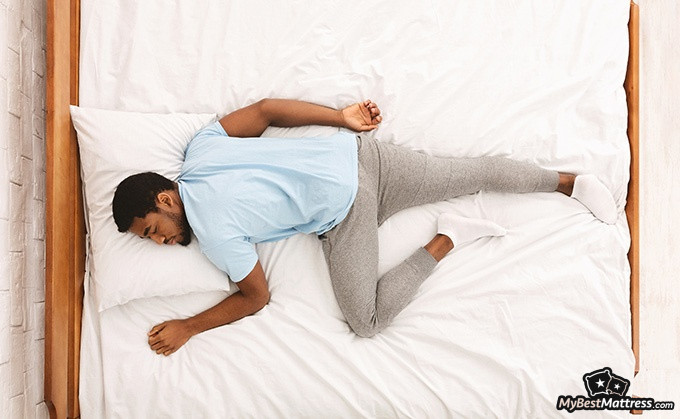 Additionally, as rare as it is, the Helix Plus mattress reviews say that this bed is super comfortable for stomach sleepers. That's because the firmness is distributed evenly throughout the whole bed, and while lying in this position. Furthermore, since there is no sinkage, there is also no bending of the neck or spine in the wrong places.
Also, did you know that sleeping on your stomach can help to reduce snoring[2]?
All in all, heavier sleepers should feel very comfortable sleeping in these positions. Nevertheless, it could be too firm for lighter sleepers.
Versatile
Perhaps this isn't news for you, but the Helix Plus mattress weight limit is quite versatile. So, let's break down for whom this mattress is the most suitable, and who would have a harder time getting comfortable.
Light-weight sleepers (under 130lbs) should feel quite comfortable in any position. However, for them, this mattress would be exceptionally firm. So, it depends on what kind of body support they would prefer.
For average-weight people (130-250lbs), this mattress would be a little softer than for the light-weight sleepers. Nevertheless, it still has a quite firm feeling.
According to the customer Helix Plus mattress reviews, the optimum sleeping positions for those over 250 pounds are on their stomach and back. People on the heavier side may experience some sinkage depending on their weight, but it will be a comfortable and healthy level.
Sleeping on one's side, however, isn't as recommended for heavier sleepers. It's possible that you'll feel pressure in your shoulder and hip area.
Furthermore, the Helix Plus mattress has a weight limit of 300 pounds on each side. So, if you're a couple who's a little heavier, this mattress would be a great choice since it doesn't transfer motion too much from one side to the other.
Very Minimal Off-Gassing
Off-gassing can be so uncomfortable that it might ruin your new mattress's entire unboxing experience. However, that chemical odor is fairly frequent in new products.
By analyzing Helix Plus mattress reviews, I came to the conclusion about what you could expect when unboxing this particular bed.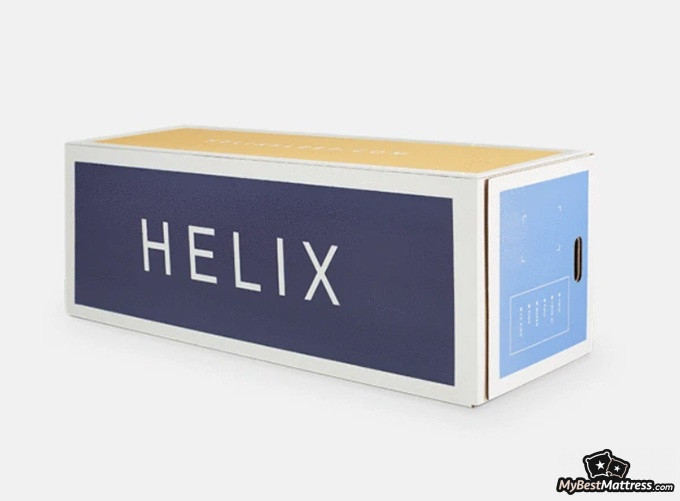 While some people say that they felt minimal odor, it does go away completely after a few days. It's great compared to a lot of other memory foam mattresses out there, because they tend to have a more irritating odor at first.
Furthermore, the company states that their high-grade materials shouldn't have any scent at all, in most cases. Also, their foams are certified by the CertiPUR-US program and they don't contain any heavy metals or harmful chemicals.
Helix Plus Mattress Review: CONS
Alright, this mattress is different. It's unique. It has a great approach. Nevertheless, there are some risks when you attempt to create such a product. With that being said, I believe that there is always something that can be done better.
Keeping that in mind, I took a glance at the negative side of the Helix Plus mattress reviews and came up with a few key features that could be upgraded. So, take these aspects into consideration.
Mediocare Edge Support
I'm not sure about you, but I dislike falling out of bed. I also enjoy reading, while sitting on the edge of my bed. Keeping that in mind, it should feel like a workout to keep yourself from sliding down, if the edge support is weak. Furthermore, your muscles could be strained from trying to maintain balance.
Well, those aren't the feelings you should think about when imagining your bed.
Moreover, if this feature is new for you then yes, it's a thing. Edge support is an advantage that can even determine how long will it take for your mattress to sag. Also, it means that the firmness is distributed evenly throughout the whole mattress.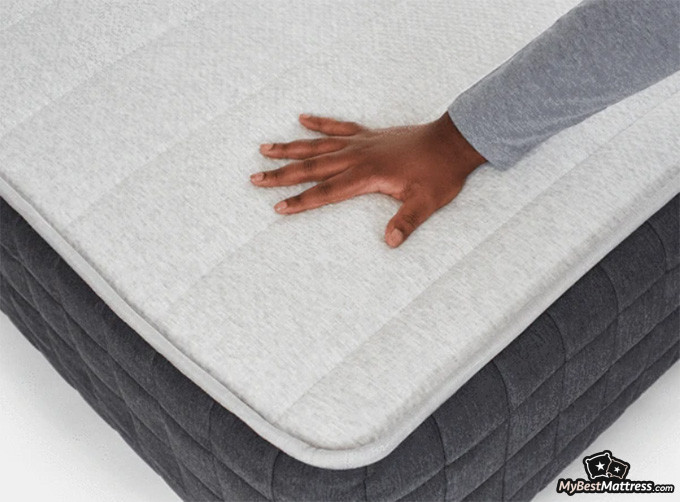 Unfortunately, some Helix Plus mattress reviews by customers indicate that the edge support is lacking. This bed might not be the safest for you if you toss and turn a lot across the entire mattress surface area.
However, let me add that other sleepers indicate that the edge support is great. So, perhaps it depends. Furthermore, you can't say for sure until you try it yourself.
Keeping this aspect in mind, there are alternatives out there. For example, the most perfect one in this scenario — the Saatva HD mattress.
A few of the things Saatva HD mattress is known for, besides also being created for heavier sleepers, are the strong edges and exceptional firmness.
Table: The features of the Saatva HD mattress
The innerspring design is what makes the entire mattress evenly firm and sturdy. On that note, you can confidently sit or place items on the edge of the mattress. They won't fall off.
Additionally, you can sit on your bed and eat, read or even tie your shoelaces, and be confident that you won't slide off.
Can Form Pressure Points and Not the Best for Side Sleepers
Speaking of sleeping positions, I'm going to be honest, there are Helix Plus mattress reviews by sleepers that say sleeping on their side is out of the world comfortable. Nevertheless, there are a few that say they felt pressure on their shoulder and hip area almost immediately.
Keeping that in mind, it takes me one night to notice the effects of pressure point formation. The consequences in the morning aren't pleasant, to say the least. As a result, it's something I'm always on the lookout for. So, if you are like me, take this into consideration.
Nonetheless, you just have to try it out and see for yourself.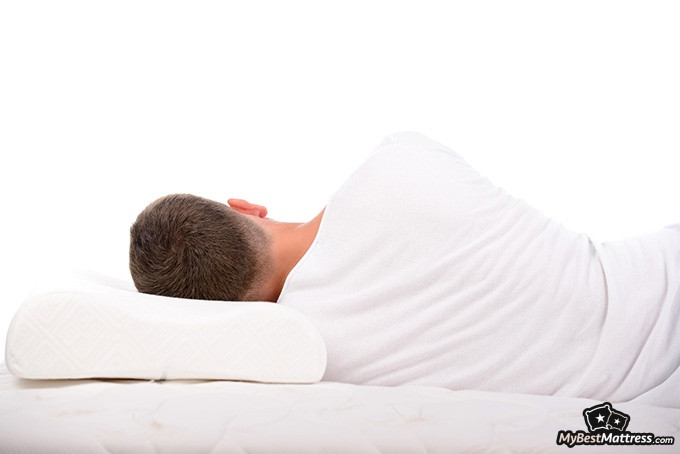 Moreover, as an alternative, you could take a look at the Layla mattress. Their beds aren't particularly created for heavier sleepers, however, depending on your weight, you could find a suitable mattress.
Layla mattress is comfortable in any sleeping position and relieves all the tension from your body. Additionally, you can be sure that you won't wake up with random pains and aches.
So, no scary pressure points with this one.
Sinkage While Moving
While the coil mattresses tend to be very responsive and bouncy, sleepers notice that there is some sinkage when moving around more intensively. So, it could be difficult to switch positions more often.
Some sleeper Helix Plus mattress reviews mention feeling trapped at times. This could indicate that the mattress might not be firm enough for people that are over a specific weight range. That would be unfortunate, since, the mattress should be exceptionally firm.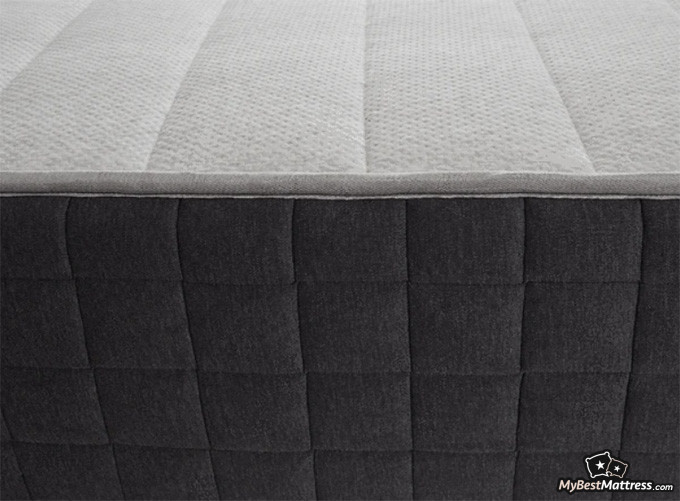 A great alternative for that as well is the Saatva HD mattress. As I've mentioned before, the mattress is extra firm and made of innerspring coils. While that kind of firmness is the best for back sleepers, people that sleep in other positions can appreciate this mattress as well, if they are not fond of the soft feel.
Additionally, the great firmness of this Saatva HD mattress should make it easier to move around, change sleeping positions and even have sex, for heavier-weight sleepers.
Also, customers say that the mattress relieves pressure, and has a cooling feature (amazing for those who don't like being too warm in their bed).
However, it is not recommended for light sleepers due to the mattress's firmness. If you have a lighter-weight companion, bear this in mind.
Heavier Than Usual
The queen-size Helix Plus mattress weighs around 100lbs, while the usual queen-size mattress weighs 60-90lbs, so you could say it's a little bit heavier.
Keeping that in mind, you should evaluate whether or not your bed frame is sturdy enough, as the weight of the mattress could easily break the bed frame's bottom. Furthermore, if it isn't, keep in mind that you'll have to spend more money to have a stronger bed frame.
Also, you could need some additional help for setting the new mattress in your bedroom.
However, don't forget that it doesn't affect the mattress quality. For instance, Saatva mattresses are also heavier than usual, but they are still some of the best beds in the market.
The Helix Plus Mattress Price
Given that we've covered all the important factors of this mattress, it's only reasonable to move on to the Helix Plus mattress price.
At the moment of writing this, the Helix Plus size mattress is definitely one of the pricier ones in the company. So, let's look for ourselves:
You might already have a feeling that the prices vary between sizes. Also, that Helix King mattress will always cost more than the Helix Plus Queen mattress. So, do you sleep alone? Perhaps with your dog? Maybe you are a happily married couple? You should choose the best size, depending on these answers.
Getting that out of the way, as the sleeper Helix Plus mattress reviews would tell you, this mattress is not the most affordable out there. But remember, beds like these, unfortunately, are hard to find in the first place.
Keeping in mind, that this is a unique, great quality mattress, created thinking about every important detail, the price should reflect that.

Additionally, Helix constantly employs discounts, so make sure to keep an eye out for that. You might catch a great deal!
Furthermore, the company offers free shipping in the US and no contact delivery. So, the mattress will be at your door without any additional payment. Let's not forget that Helix provides a 100-night sleep trial, to make sure that if any discomfort appears, you can return the product and get your money back.
In regards to that, let me mention that the Saatva HD bed provides even a 120-night trial, free shipping, and a 20-year warranty! So, a really trustworthy choice.
Table: Shipping information of the Saatva HD mattress
Nevertheless, another thing I want to mention in this Helix Plus mattress review, is that the Helix Plus queen size weights around 100lbs, and the Helix Plus king size weights 125lbs. So, the mattress, without a doubt is a bit heavier than usual.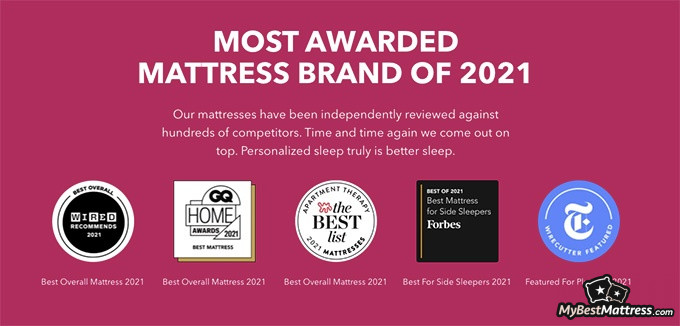 Keeping that in mind, make sure to ask someone to help you to place the mattress in your bedroom. Believe me, it's nearly impossible to do it alone, unless you are the Incredible Hulk.
Also, remember to do some stretching before.
Thinking of all of these aspects that I've mentioned, the price tag seems much more reasonable and understandable. Well, for me, at least.
Here is The Best Saatva Offer I Found:
UP TO $500 OFF
Limited-time Saatva Sale
We're sharing a limited-time Saatva mattress discount with our readers! Grab this deal & enjoy your new mattress with huge discounts.
Expiration date: 08/12/2023
4,042 People Used
Only 83 Left
Conclusion
Sleep is one of the most significant factors in human life. Regardless of your weight, everyone deserves a sweet snooze on the best mattress, that perfectly suits their sleeping habits. So, it's quite comforting to know that in this modern world, no one will be left out.
In this Helix Plus mattress review, we saw that the mattress is targeted at heavier-weight people, has great temperature control, a unique layer structure, and great motion isolation. Moreover, it's great for mixed-weight couples and those who sleep on their belly or their back.
However, nothing can be completely perfect, would you agree? Speaking of which, the mattress has weak edge support, forms some pressure points when sleeping on the side and even though is responsive, some heavier folks report that they felt sinkage while moving.
If these cons are major for you, you should take a look at the Saatva HD mattress. This bed is one of the best choices for heavier people in general. It's super firm, has great edge support and cooling properties.
Table: Company info of the Saatva HD mattress
The best thing is, it's made to support 500lbs on each side! That tells a lot about this bed.
However, when we compare pricing, the Helix Plus Size bed is a little more affordable. Furthermore, all beds like these are a little more expensive than typical.
That's it from me, I hope this Helix Plus mattress review was helpful, moreover, you can also check out our list of the best firm mattresses out there.
Scientific References
1. Syed W Malik, Joseph Kaplan 'Sleep deprivation'
2. M J L Ravesloot, J P van Maanen, L Dun, N de Vries 'The undervalued potential of positional therapy in position-dependent snoring and obstructive sleep apnea-a review of the literature'
Leave your honest Helix Plus mattress review
Leave your genuine opinion & help thousands of people to choose the best mattress. All reviews, either positive or negative, are accepted as long as they're honest. We do not publish biased reviews or spam. So if you want to share your experience, opinion or give advice - the scene is yours!