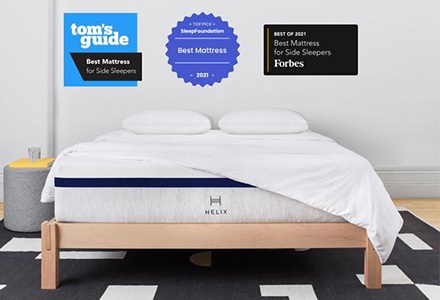 Almost all of us have a couple of helixes in our ears. But have you ever had a Helix bed in your home? If you have not — or even if you have, keep reading this Helix Midnight mattress review to find out more about this bed and why you will not be waking up mid-night if sleeping on this mattress.
With this hybrid bed, you will feel both the support of the coil layer, and the softness and motion isolation of a special-blend foam. The medium firmness will suit many, especially combined with good edge support and pressure relief.
Verdict at a glance
The Helix Midnight is a great hybrid mattress choice for side sleepers. It has good support for your body and can quite easily adapt to its shape. That is partially due to pocketed coils, which also provide good-quality edge support. It is medium firm, so it can feel a bit too firm for those who like plush feeling, but overall it is still a great choice for a variety of firmness preferences.
Pros
Great for side sleepers
Good edge support
Fair motion isolation
Cons
Not enough plush feel
30-day break-in period
Helix Midnight Mattress Review: Pros
The first pro about the Helix brand overall is that they name their mattresses based on parts of the night.
Okay, this should be a serious Helix Midnight mattress review, so I'll get onto the proper pros of the bed in question before my carriage turns into a pumpkin, like it usually does at the actual midnight.
Layer Composition
The Helix Midnight mattress consists of 4 inner layers, and a Soft Touch Design cover. The bottom layer is made out of DuraDense foam. As is usual for the base bottom layers, this layer provides the support and durability for the whole mattress.
The next layer up is the Body Shape layer. This is where you'll find hundreds of pocketed coils. Spanning 8 inches high, this number and quality of the coils will give the whole mattress reduced motion transfer. In addition, it will both give your body support and will be able to quite easily adapt to your body shape.
As if that wasn't enough, this layer has reinforced perimeter. In other words, there are narrower coils around the edges of the coil layer. This gives you improved edge support.
Above that we have two foam layers — high-grade polyfoam and the memory foam. The first one works as a transition layer between the coils and memory foam. It gives ergonomic support and some softness to your body. It has medium firmness, which is often beneficial to your back[1].
The Memory Plus foam is actually a special blend by Helix. This foam layer also has the medium firmness feel, and it provides significantly above average pressure relief for the sensitive points of your body.
I absolutely love the idea of mattress brands putting effort and attention into making things special, and specifically suited for the sleepers that their specific mattresses are meant for. It just shows the company has a particular vision for the product and its purpose.
The top layer, as can be expected, is simply the cover. Though while I say 'simply', it doesn't mean it's simple or plain. The Soft Touch Design cover is optimized for airflow, so it gives you quite decent breathability. It also has a light stretch, so it should easily conform to your mattress, even as the years go by.
Latest Saatva Coupon Found:
UP TO $450 OFF
Limited-time Saatva Sale
We're sharing a limited-time Saatva mattress discount with our readers! Grab this deal & enjoy your new mattress with huge discounts.
Expiration date: 29/09/2022
4,042 People Used
Only 83 Left
Firmness
The standard firmness scale for beds is between 1 and 10, with 1 being the softest, and 10 being the toughest feel there is for a bed. Usually, mattresses are rated with a specific number within that scale, but for this one, Helix just gives the interval of 'medium feel' instead.
Numbers wise, it falls within the interval of 4-7 score. This interval ranges from medium soft to slightly firm. On one hand, it may sound a bit ambiguous, but on the other hand, it means that this bed can fit for both those who prefer their mattresses softish, and those who want a bit more firmness.
This also means the mattress should work quite well for couples. Because even if your partner has somewhat different firmness preferences than you, you both still are very likely to enjoy sleeping on the Helix Midnight.
Edge Support
Memory foam mattresses usually flomp down when you sit on the side of them. However, because we're talking about a hybrid mattress, you can expect fairly decent edge support. While the top two layers are made of foam, the coil layer underneath mitigates the sinking effect.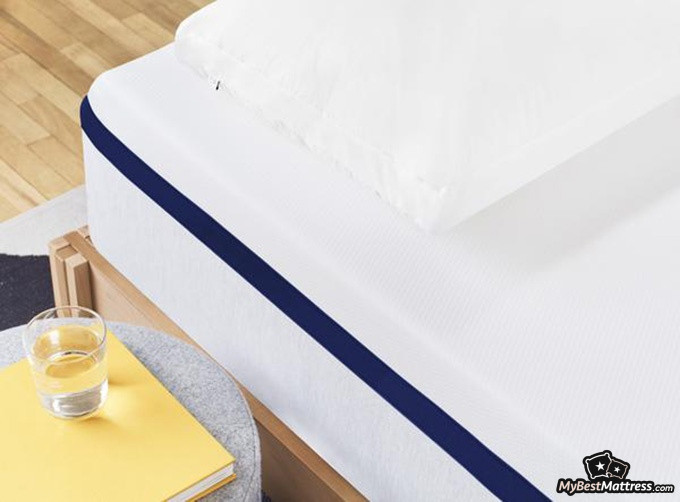 In addition, the coil layer is outlined with narrower coils. This is called enforced perimeter and it gives the mattress a much better edge support as well. In essence, these narrower coils hold you back from sliding off the bed, if you sit on the very edge.
Aside from sitting on the edge, this means that you don't have to be afraid of falling off the bed while you're sleeping. Which also means you can allow yourself to get closer to the edge and thus, have more sleeping space overall. I'm sure you'll agree that having more sleeping space is both comfortable and awesome.
Size
This mattress comes in 6 different standard mattress sizes. To start off, their dimensions are:
Twin — 38x75 inches
Twin XL — 38x80 inches
Full — 54x75 inches
Queen — 60x80 inches
King — 76x80 inches
CA King — 72x84 inches
Twin and Twin XL mattresses are usually used for children or adolescents. A standard adult will most likely not have enough space. Full size mattress will be suitable for an adult, but some restrictions are still quite possible.
For example, if you're a tall person who likes to sleep without scrunching up, or a wider person who sleeps on the back, Full-sized bed may be leaving too little room aside from the bare minimum.
If you have a sleeping partner, or even if you're a single sleeper, I would recommend considering the Helix Midnight Queen mattress as your main option. Queen size mattresses are the most popular in the US at the moment.
It means you'll be most likely to find bed frames or other accessories for the mattress, as well as fit it in different apartments or rooms.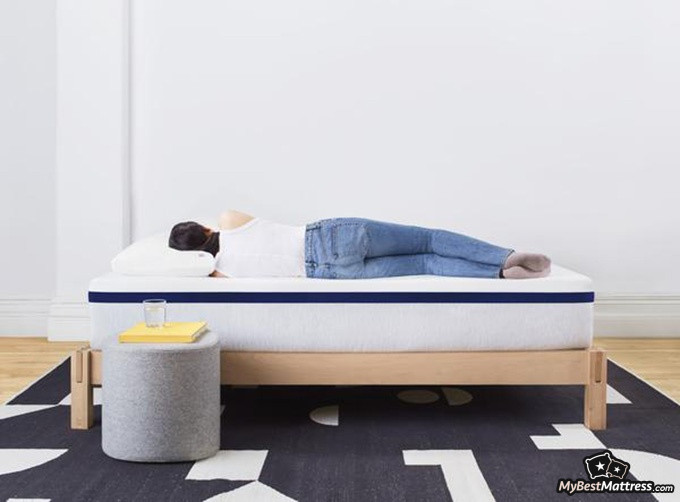 If you do have a sleeping partner, I would suggest looking over the Helix Midnight King mattress or the CA King variant as well. Queen would fit a couple, but the King option is great for those who like their own space while sleeping as well. On top of that, it would have enough space in the middle or on the side for a child or a pet.
If your pet likes to sleep at the end of your bed, though, the California King may be the ideal choice for you. This mattress size is narrower and longer than the standard King. It has slightly smaller total area, but therefore it has more length, and is good for really tall people or those whose pet likes to sleep at their feet.
Helix Midnight Mattress Review: Cons
While the Helix Midnight is a great choice for a mattress overall, there are a couple of factors that are not that favorable nonetheless.
Not Enough Plush Feel
As we've mentioned in this Helix Midnight mattress review, the mattress is of 'medium firm' feel and scores between 4 and 7 on the firmness scale. While 'medium firm' is, naturally, not the same as the firm feeling, this mattress still may lack softness for those who strongly want or need that feeling in their mattresses.
There have been several reviews mentioning that this mattress was a bit firmer than they expected it or needed it to be. If you keep sleeping on a mattress that is too firm, you may end up feeling some pain at your pressure points. You could also experience a worse spinal alignment.
There was one customer Helix Midnight mattress review, where the person said they exchanged it for Sunset, and that suited their needs for softness better. From our reviewing experience, the best soft mattresses are Puffy and Layla.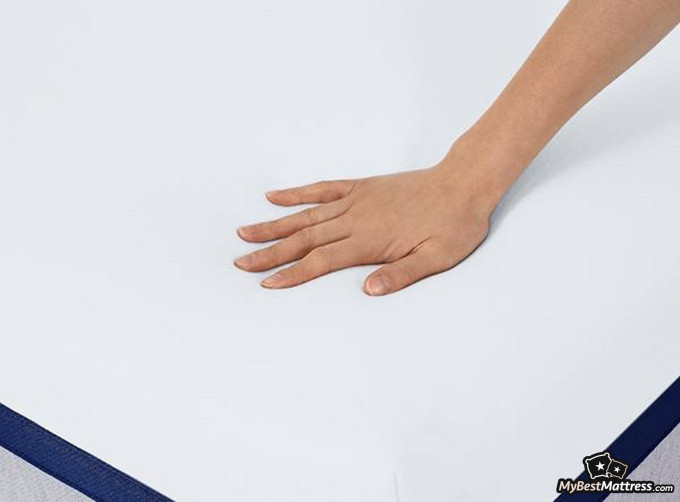 Puffy is a memory foam mattress that's classified as medium firm as well. Also mostly suitable for side sleepers, but should work well for a sleeper of any position.
Puffy mattresses have great motion and noise isolations, as well as provide high-quality pain and pressure relief. Their prices start at $899 (now only $599) for their base model, and at $1449 (now only $1149) for their Luxe model.
Layla is a flippable memory foam mattress with a soft and a firm side. Which is great and very convenient if your sleep preferences or habits alternate. It has superb motion isolation, noise isolation, and it conforms really well to your body shape and contour.
The memory foam is copper-infused, which results in a good-quality cooling system. And it's within a very affordable price range. Their prices start at $749 (now only $599).
Mandatory 30-Day Break-In Period
You might remember from this Helix Midnight mattress review that Helix has a 100-night sleep trial, but also a mandatory 30-day break-in period. The brand wants that before you change your mind, you make sure it's their mattresses that are causing you discomfort, rather than you just being unused to new beds.
The brand wants you to properly give their mattresses a go and make sure you don't like them, rather than just being unused to them.
I definitely agree you need to spend a few nights and to get accustomed to your new Helix Midnight mattress. However, in most cases you can know if the mattress fits you or not quite sooner than a whole month. So such a relatively long mandatory break-in period can definitely be a factor for your decision.
Helix Midnight Mattress Price and Other Details
The prices are quite affordable, compared with other market leaders. And with our coupons, you can get it even lower. Please note though that prices change all the time, so do check the Helix website as well for the time-relevant information. Those prices are as follows:
Even though the prices are very modest for the product, I understand that saying goodbye to several hundred dollars at once can still make a significant impact on your budget. Not to worry — Helix offers even two flexible payment plans, either with Klarna or Katapult.
The order comes with 2 free Dream Pillows. Well, in theory you have the option to add these free pillows, but to be perfectly honest, I'm not sure why you wouldn't want to make use of it.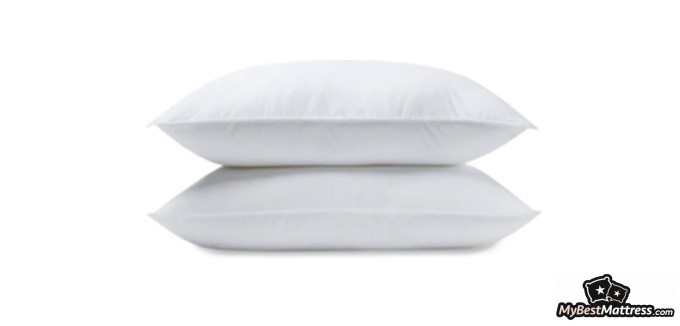 You also have very convenient options if you want to add other extra items to your order. Things like mattress protector, foundation, frame, sheets, or blanket. Aside from the 10-year warranty against manufacturer's faults, it offers to purchase coverage against accidental damages.
While you may not be interested in these additional products as such, I think at the very least it's quite useful to see all those options right away.
Shipping, Delivery, and Returns
The mattress is 100% custom-built and made in the US. It is shipped from the Helix facility within 3-10 business days after the order is placed. This does not account for shipping time itself, so in the end, it might take more than just a couple of weeks for it to be delivered.
However, there are quite a few testimonies about a relatively quick delivery — even within a week — so it seems like you might want to have the timeline in mind, but shouldn't worry about it too much.
All the items within your order will be delivered separately, which can be quite inconvenient for some. The shipping itself, though, is free of charge within the US. If you choose delivery to Canada, there will be some additional fees involved, applied during checkout.

Unboxing the mattress is easy with just a few simple steps. You take the rolled-up mattress out of the box, and place it on whatever base or surface you plan to use it. After carefully removing/cutting away the plastic packaging layer, just let it expand.
Usually, mattress brands recommend allowing up to 24, or sometimes even 48 hours for full expansion before using the mattress, but here the recommended time is only under an hour.
I would probably still recommend allowing some more time for proper expansion and off-gassing, but it's good to know you're not as restricted with time as you might be with other mattresses.

All Helix mattresses have a 100-night sleep trial. It is worth noting that they have a mandatory 30-day break-in period as well. If you do decide you want to return your standard or the Helix Luxe Midnight mattress, their Sleep Specialists will arrange the mattress pickup for you.
There will be no need for you to fuss or lose sleep about trying to figure out the logistics from your end. That's very much a great and practical factor for me, at least.
Where to Buy Helix Midnight Mattress?
The easiest and the best place to buy the Helix Midnight Mattress is simply on the Helix website. There you'll be able to find all the needed information, both that was and was not covered in this Helix Midnight mattress review.
You can also have a live chat with one of the Helix's customer support agents, in case you have further questions. And most importantly, the purchase through the website is gonna save you any hassle of leaving your home during this cold and COVID-filled time.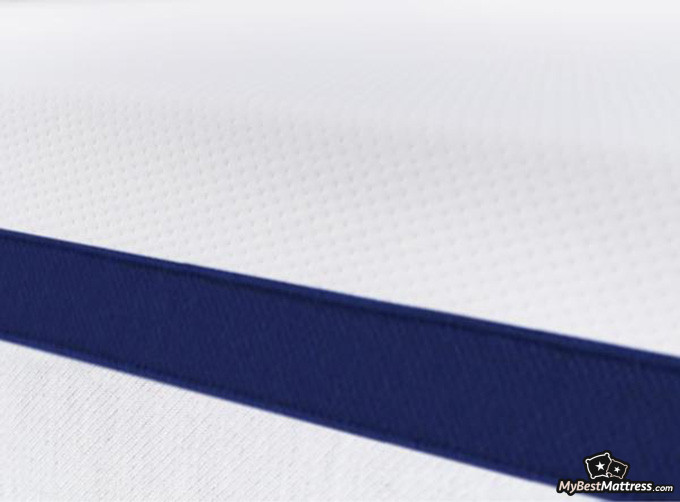 You can find some select models of Helix mattresses in some of their partners' showrooms. Do have in mind that these showrooms hold only some of the models, and because they are still separate sellers, they may apply different policies or even different prices.
Therefore we do recommend purchasing directly from Helix, without any intermediary. So as you can see, the answer to the question "where to buy Helix Midnight mattress?" is quite easy — just do it on their website. It's only a click away.
Comparisons
We often get asked not just about specific mattresses, but also about how they compare to other brands. So let's look into some of the alternatives and competitors and how they stand (well, rather how they lie) against our main star of the article, shall we?
Helix Midnight Luxe Mattress
Helix has 6 different mattresses and offers a Luxe variant for each of them. Now, essentially the Helix Midnight Luxe mattress is a more luxurious experience compared to its base counterpart. But what does that really mean?
The main difference is in the structure and layer composition. In total, the Helix Luxe Midnight mattress has 6 layers and the same breathable cooling cover. The base layer of DuraDense foam is the same. The coil layer is somewhat the same, but there are more coils involved.
The Helix Sleep Midnight Luxe Hybrid mattress has over 1,000 individually wrapped coils. Now, in this Helix Midnight mattress review I've mentioned how important individual coils are for motion isolation and more targeted support for your pressure points and just your body shape overall.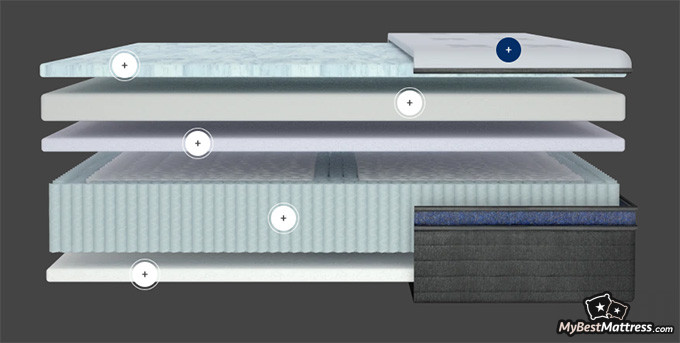 So having such a significant increase in the number of coils from the base mattress, also makes a significant difference for those effects as well. Because the movement and weight are distributed over a higher number of the individual coils, the coil layer of the Helix Midnight Luxe mattress can adapt to your body shape and contour even better than the base model.
This would result in higher pressure relief, even if you change positions at night quite frequently. The coils specifically provide the lower back support, for an even more enhanced help for your body contour.
The same goes for motion transfer — because there are more individual coils, the motion is less likely to be transferred to another coil, and thus to another place in the mattress. This means you will be sleeping with considerably fewer disturbances from your partner (or they from yours), or even from your own movement in bed.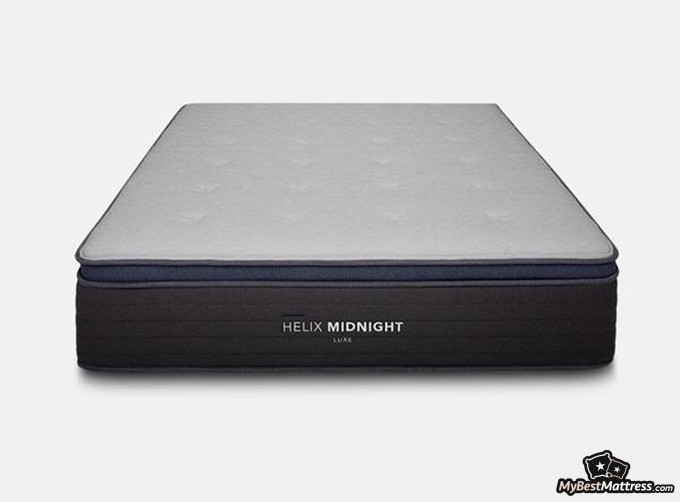 One layer up — the high-grade polyfoam is also the same. The next one is the additional layer that did not exist in the base model — Gel Visco layer. This layer, somewhat similar to the high-grade polyfoam one, is meant to support and pad your body for full support and comfort.
The layer on top is once again the memory plus foam of medium firmness feel. However, this one is high density memory plus foam. Such foam is often used as a base layer, because it's quite firm. You will rarely see a mattress, made with high-density foam as the main and most abundant material or layer.
Usually it would mean a highly firm mattress that provides a lot of support. This specific blend, however, is medium feel, so the firmness should not bother you, but you would still get the high level of support for your body.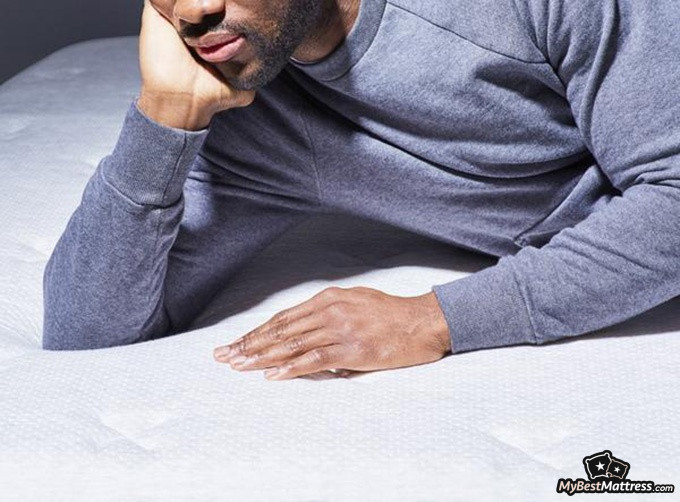 The top layer is the breathable premium pillow top. No, that doesn't mean the top of the mattress is meant for a pillow. It's just a name for a specific mattress topper type.
This pillow top will add softness to the mattress, while still providing the needed support. It will give extra comfort, and is meant to increase airflow and make sure you stay cool during the night.
While the Helix Luxe Midnight mattress has more firmness-focused layers than the main Helix Midnight, it is still presented as medium-firm overall. It will give you considerably more support than the standard, though, as well as even better motion isolation and pressure relief.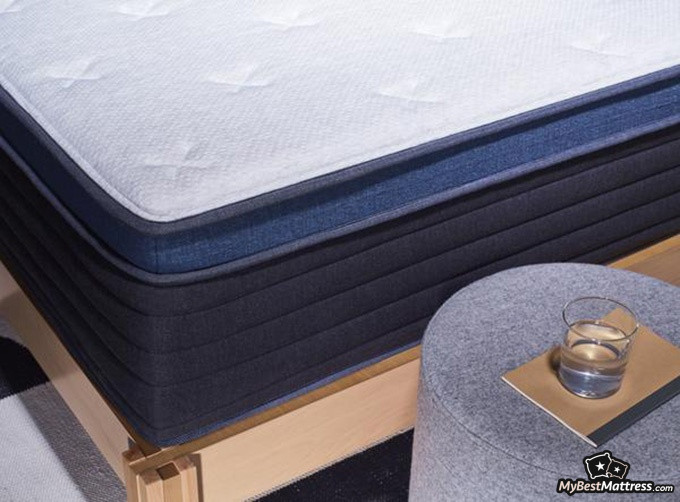 The additional two layers also means a thicker mattress. The Helix Sleep Midnight Luxe Hybrid mattress is 14 inches thick, while the Helix Midnight mattress' thickness is 12 inches instead. The Helix Midnight Luxe mattress also includes 2 free Dream pillows as well, and is subject to the same shipping and delivery policies.
The main difference within that category is that Luxe models are more durable than the standard ones. For the Helix Sleep Midnight Luxe Hybrid mattress given warranty is 15 years, instead of 10 years, like it is for the standard model.
Depending on the chosen size, the price differs from the base model by $400 to $900. The Helix Midnight Luxe mattress prices are such:
Midnight vs. Moonlight Helix mattress
What's the difference between Midnight and Moonlight? One is a 2022 Korean thriller movie, starring one of the actors from the famous Squid Game; the other one is a 2016 American drama movie, which won an Oscar.
Oh, sorry, you wanted to know the difference between Midnight and Moonlight mattresses by Helix. I got you covered there too.
The main difference when discussing Midnight vs. Moonlight Helix mattresses, which creates almost all other differences, is the layer structure. Just like Midnight, the Moonlight version has 5 layers in total. The DuraDense foam base, pocketed coils, and breathable cover layers are all the same.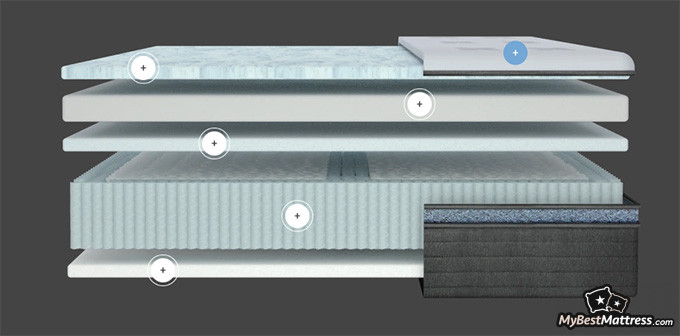 The difference comes in the main foam layers. Midnight uses high-grade polyfoam and Memory Plus foam, while Moonlight has Helix Dynamic Foam for both of its foam layers instead. These two layers still provide the same purpose — the lower one is meant to support and contour the body, while the upper one is for pressure relief.
However, this does simply create a significantly softer mattress for the Moonlight variant. Like we've talked about in this Helix Midnight mattress review, the Midnight model is of medium firmness. That would be a score between 4 and 7 within the mattress firmness scale. The Moonlight variant would fall around 2 or 3 in this scale — soft.
Another substantial difference is the target sleeper. Or, to be more specific, your sleeping position. Midnight is quite suitable for side sleepers, while Moonlight is designed more for back and stomach sleepers, or couples with different preferences.
While both mattresses offer reasonably good pressure relief, Moonlight more focuses on body contouring — in other words, adapting to your body shape.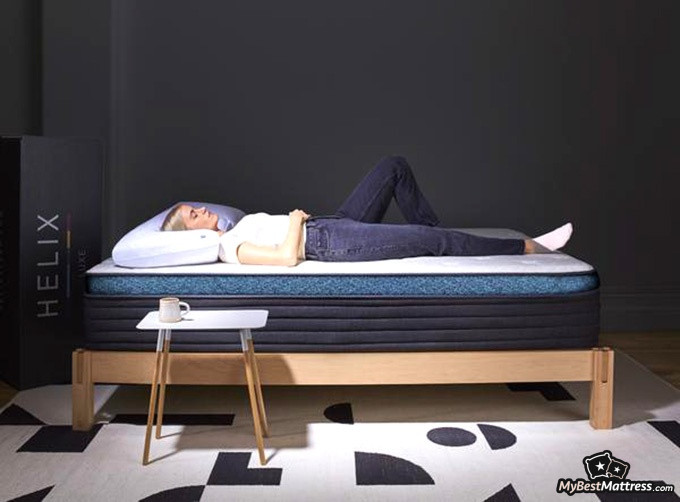 Because they're both non-Luxe models of Helix, all the policies (like, for example, the 2 free Dream pillows) and warranties are exactly the same. And actually, even the prices are the same. We do recommend checking the Helix website for more precise updates, as prices can change quite frequently, depending on the brand.
If we compare Midnight vs. Moonlight Helix mattress reviews on the website, though, we do see a slight difference. Midnight mattress is rated as 4.6, while Moonlight is 4.4 (both out of 5). On top of that, Midnight has a higher percentage of 5 stars specifically.
However, both these mattresses are of considerably different firmness levels and serve different kinds of sleepers — in terms of sleeping position and firmness preference. Therefore, you should not focus solely on the score difference or a similar aspect. It's all about what you want in your Helix mattress, and what kind of purpose it will serve for you.
Helix Midnight vs. Leesa mattress
The first difference that comes to my mind and attention, when comparing the Helix Midnight with the Leesa mattress is the mattress type and layer count. As mentioned in this Helix Midnight mattress review, the bed has 4 layers (not counting the cover). Leesa is an all-foam mattress, having only 3 layers (also not counting the cover).
All 3 of those layers are using different kinds of foam. The bottom layer is 6 inches of Dense Core foam, used as the base or foundation layer. Then you have 2 inches of memory foam, which is meant to adapt to your body shape; and 2 more inches of Premium foam.
The latter creates the bouncy feeling, gives pressure relief, and has the cooling properties you usually find in latex mattresses.

Another big difference is the sleeping position. Leesa is a bit firm for a memory foam mattress (it is of medium firmness as well), which means that side sleepers will most likely find it too firm and not receive as much pressure relief.
The Helix model has support for side sleepers (mainly in the middle layer), which is the high-grade polyfoam. The Leesa firmness should suit back and stomach sleepers, but so does the Helix Midnight. Quite a few of the customer Helix Midnight mattress reviews have reported improvement regarding the person's back pain.
Both mattresses have good motion isolation, but where the Helix Midnight certainly beats Leesa mattress is edge support. Leesa, being a memory foam mattress, has about average edge support. This is quite normal for memory foam mattresses.
However, the Helix Midnight mattress has a coil layer — which in most cases already gives a slightly better edge support than all-foam mattresses — with the enforced perimeter.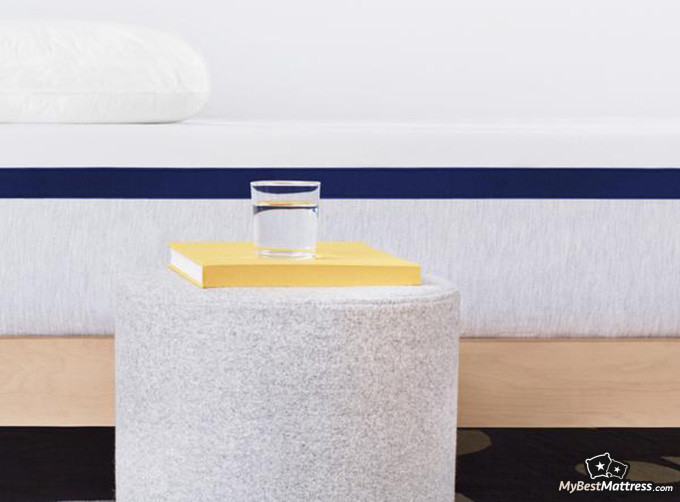 Like we've discussed previously in this Helix Midnight mattress review, enforced perimeter means a significantly improved edge support, due to narrower coils around the edges. So you're considerably more likely to stay on the mattress safely with the Helix Midnight, rather than with the Leesa mattress.
Are you a hot sleeper? Even if you usually aren't, you probably still don't want to sweat during the night. Memory foam mattresses tend to sleep hot. Unfortunately, the Leesa mattress is not an exception, even if there is some cooling in its layers. If we compare it to just memory foam mattresses overall, Leesa is on the cooler end though.
The Helix Midnight, however, is significantly more suitable for hot sleepers. It's not precisely meant for hot sleepers as such, but still quite suitable and useful. Its breathable cooling cover has a high level of airflow. This is aided by the pocketed coils.

As you probably remember from this Helix Midnight mattress review, individually wrapped coils mean that air can travel in between the coils much better, and thus the whole mattress feels less stuffy and more breathable.
In terms of their price points, Leesa mattresses are more expensive by about $100 at the moment (not taking into account discounts from either brand). Leesa's prices range from $849 for their Twin to $1399 for their CA King. While the Helix Midnight mattress price ranges from $699 for the Twin to $1449 for the Helix Midnight King mattress.
So on the one hand, the price difference is not as significant in comparison, but I wouldn't say it's small enough to completely dismiss it either. Especially when you consider that hybrid mattresses are usually more expensive by about $300-$400 than memory foam ones.
Here is The Best Saatva Offer I Found:
UP TO $450 OFF
Limited-time Saatva Sale
We're sharing a limited-time Saatva mattress discount with our readers! Grab this deal & enjoy your new mattress with huge discounts.
Expiration date: 29/09/2022
4,042 People Used
Only 83 Left
Conclusions
To summarize this Helix Midnight mattress review, this mattress is a great choice for side sleepers. The two layers of memory foam will give more support to your body.
Individually wrapped coils mean the mattress will be able to respond well to your body shape and contour. The same coils also give the whole bed a good edge support, especially with the enforced perimeter.
The mattress is medium firm. Due to that, it should fit most customers in terms of being the middleground between firm and soft. However, those who do like it a bit on the softer side, may feel inadequate pressure relief to their shoulders or hips.
If you do realize you want different firmness, you can check out Puffy or Layla for the best soft mattresses currently in the market.
Scientific References
1. Gianfilippo Caggiari, Giuseppe Rocco Talesa, et al.: 'What type of mattress should be chosen to avoid back pain and improve sleep quality? Review of the literature'
Leave your honest Helix Midnight review
Leave your genuine opinion & help thousands of people to choose the best mattress. All reviews, either positive or negative, are accepted as long as they're honest. We do not publish biased reviews or spam. So if you want to share your experience, opinion or give advice - the scene is yours!