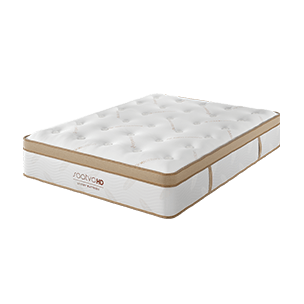 While the current mattress market is filled with various different beds that cater to different kinds of people, there's still one group that is often left with the short end of the stick - heavier people.
If you fall into this category, worry not - after reading these customer Saatva HD mattress reviews, you might want to quit your search for the "best mattress for heavy people", since you might find it right here.
While it may seem like I'm exaggerating, I assure you - the Saatva HD bed really is that good. But empty talk is cheap - let's get to the actual facts and see what Saatva's customers really think about this mattress.
TL;DR: Customer Saatva HD mattress reviews will almost unanimously tell you that this bed is going to be one of the best choices for any heavier sleepers out there who are struggling with finding a decent mattress for themselves. The Saatva HD model is an innerspring bed with layers of latex, polyfoam and memory foam to complement it.
Pros
Good breathability and cooling
Firm
Pressure relief capabilities
Best for back sleepers
Cons
Might make some occasional sounds
Not the best option for lightweight sleepers
Saatva HD Mattress Review: PROS
As with any other mattress article, we'll be conducting this Saatva HD mattress review by taking a look at both the pros and the cons of the bed in question. I can already tell you, however - if you fall into the category of people who weigh 300lbs or more, there are very few cons to talk about.
An Innerspring Design
Same as the company's flagship model, the Saatva HD is an innerspring mattress. Truth be told, that's a rarity, in of itself - most beds these days focus on latex or foam as their go-to construction materials, and innerspring mattresses are seen by some as being "outdated" and "old-fashioned".
Well, Saatva blows all of those comments straight out of the water.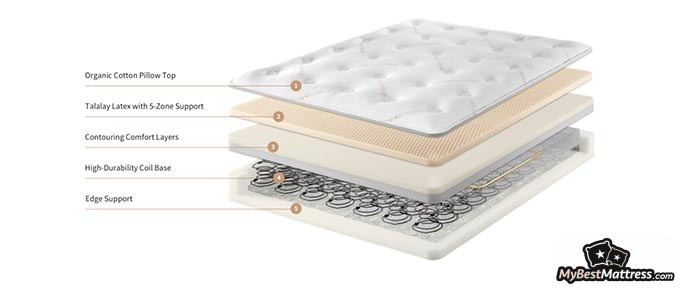 The brand offers customers luxurious innerspring beds that provide all of the benefits of coil-based mattresses, while also keeping up with other, more-popular materials. Customer Saatva HD mattress reviews note that the HD model does also have layers of Talalay latex and foam (polyfoam and memory foam, to be exact) accompanying the springs.
This type of a design allows the Saatva HD model to provide optimal comfort features to people who weigh 300lbs or more.
Latest Saatva Coupon Found:
UP TO $500 OFF
Limited-time Saatva Sale
We're sharing a limited-time Saatva mattress discount with our readers! Grab this deal & enjoy your new mattress with huge discounts.
Expiration date: 12/12/2023
4,042 People Used
Only 83 Left
Super-Cool and Breathable
Temperature neutrality is something that is important to everyone, no matter if you fall into the heavier category of sleepers or not.
Basically, while I've been preaching this in almost every single mattress review I've ever written, the sentiment always stands true - no one likes to sleep hot. That's just the way it is - if you THINK that you do, think about the last time you woke up in a puddle of sweat.
Ya - not the most comfortable feeling in the world, is it?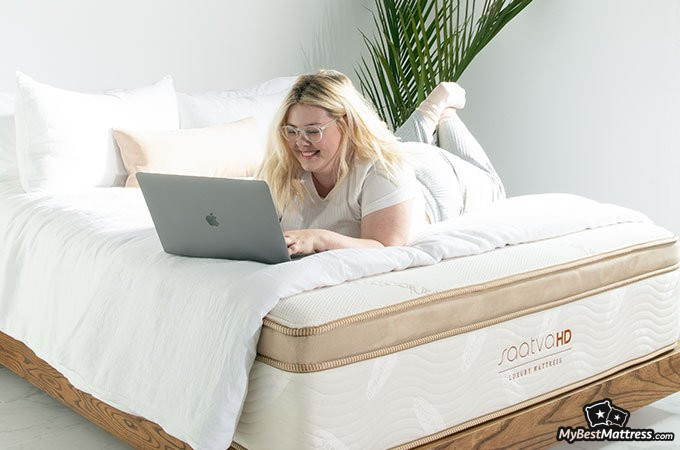 All of that being said, this isn't an issue that you'd need to worry about when it comes to Saatva. Customer Saatva HD mattress reviews emphasize how the bed sleeps exceptionally cool.
That is mostly due to the before-mentioned innerspring design of the bed. The springs offer superb breathability and airflow - this isn't ever negated by the foam layers of the mattress.
You see, foam beds are the ones that have a reputation of sleeping really hot. That's because foam tends to trap heat - a mattress needs to have some special technology in order for it to remain cool. This is also true with beds that might have layers of foam within them (most Saatva HD mattress reviews will tell you that this product is just like that).

All of that being said, again - it's not an issue that would come up while reading customer feedback about Saatva HD. Even if you fall into the "heavier sleeper" category, you should still be able to sleep really cool.

Did you know?
Best for Back Sleepers
As you may or may not know, people have different dominant sleeping positions. Some prefer sleeping on their sides, while others are going to feel awkward if they're forced to lie in any way different than on their stomachs.
Having said that, it should also be of no surprise to you that each of the sleeping positions have their own specific requirements for comfort - side sleepers are generally going to like softer beds, while back sleepers might need a firmer mattress.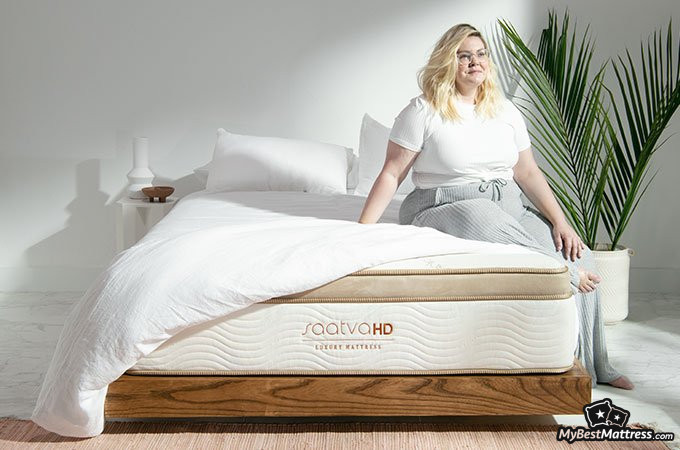 All of that leads to this - Saatva HD mattress reviews emphasize how the mattress is going to be best for back sleepers. Naturally, this is just the general tendency, and perhaps there are some stomach sleepers who'd absolutely love this bed - the point, however, remains the same.
Truth be told, many heavier sleepers do tend to sleep on their backs. There are a few reasons for why that's the case, but in short, this sleeping position provides optimal comfort for a heavier person - more so than sleeping on your stomach would.
Strong Edges
Since most Saatva HD mattress reviews emphasize the fact that it's an innerspring bed, it will probably be of no surprise to you that the product comes equipped with some really sturdy edges.
Quality edge support will benefit all types of sleepers in two rather distinct ways. First of all, it's a great assurance that you won't fall out of your bed while you sleep.
You think I'm joking? I'm not - take it from someone who's experienced this before - twice, actually.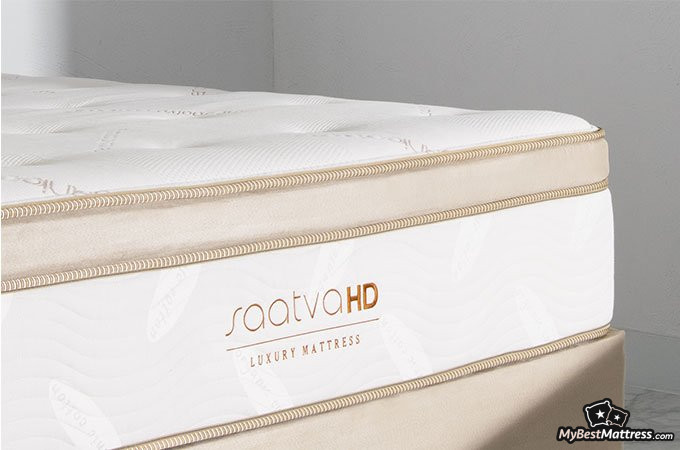 Saatva HD's edges aren't going to sink down when you place weight on them - whether it be some item, or your own body. While I risk sounding like a broken record, this is, yet again, thanks to the bed's innerspring design - the entire mattress is sturdy and firm, and shouldn't cause any sinkage troubles, in general.
The other great thing about sturdy edges is that you can confidently place items on the edge of the mattress without the fear that they will fall off. Say, you want to keep some clothes or other equipment on your bed during the day, in order to save space - you can confidently do that, and not risk making a mess.
One of the Firmer Mattresses Out There
Research done by Denice C. Jarrin and colleagues suggests that shorter sleep duration can have a direct correlation with obesity, at least in children and teenagers[1]. This is especially important for heavier sleepers - with proper amounts of sleep, you can improve your general health, and feel more energetic, at the same time.
In order to improve the quality of your sleep, however, you need proper sleep-related products, mattresses being at the top of the list. A proper mattress that would help you sleep better would be one that has pressure relief capabilities - Saatva HD is (kind of) like that.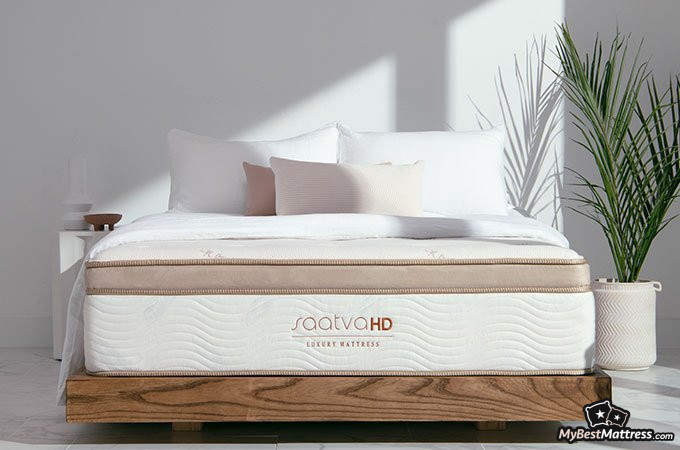 Customer Saatva HD mattress reviews emphasize the fact that the bed is really firm - one of the firmer options on the mainstream mattress market! It does make perfect sense, though - being designed with heavier people in mind, the HD model will offer medium pressure relief features to any heavier sleeper out there.
What pressure relief means is basically that the bed spreads the pressure that your body applies to its surface all throughout itself. This, in turn, eliminates pressure points - painful areas on your body that apply the most pressure onto the mattress - and helps you to not feel broken in the morning.
Saatva HD Mattress Review: CONS
Now, we've already established the notion that the vast majority of customer Saatva HD mattress reviews are overwhelmingly positive - that's awesome. With that being said, though, let's take a look at some of the less-than-positive comments that people have about this bed, and see why some people might have issues with Saatva HD.
Not Really Suitable for Lighter Sleepers
Let's address the elephant in the room - Saatva's HD model is specifically designed with heavier people in mind. While this doesn't AUTOMATICALLY mean that it's not going to suit lighter people, some Saatva's customers concur - the bed is going to be way less-optimal for a lighter person than a heavier one.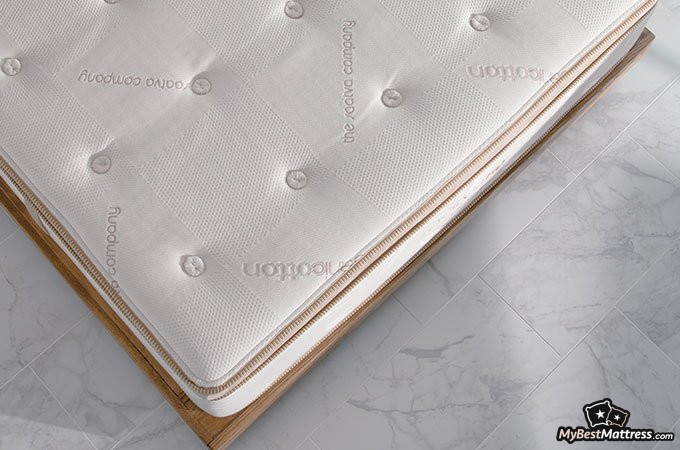 It all kind of boils down to firmness - as I've mentioned earlier, the Saatva HD mattress is really firm, which is a feature that's somewhat "negated" by the product's target audience - heavier sleepers.
If you're anyone under 170lbs or even 200lbs, however, the mattress might feel way too firm for you. That's just because your bodyweight isn't going to be enough to mitigate the high levels of firmness that Saatva HD provides.
Table: Information about the Saatva company
Now, that being said, if you ARE a lighter sleeper, I would advise you to take a look a look at Saatva's flagship product - it offers all of the features and benefits of Saatva HD, but is much more suitable for anyone who falls into the "light sleeper" category.
Might be a Bit Noisy
Notice the term "might" - that's actually the main keyword in that statement.
Why is that the case? It's pretty simple, really - while there are customer Saatva HD mattress reviews that note that customers can hear slight squeaking coming from inside the mattress once it's bearing weight or being jumped on, there are also other opinions that state the bed being completely silent.
Even if the HD model did make some noise, however, that's somewhat to be expected - after all, it's an innerspring mattress, and metal coils and springs tend to not be the most silent of materials within the industry. Yet again, though - reading through Saatva HD mattress reviews, it would seem that while this might be something to take note of, it's far from being a game-breaker.
Price
Given that we've now discussed the pros and cons of the Saatva HD mattress, all that's left to do is talk about the actual price of the product in question.
As of writing this Saatva HD mattress review, the price tags of this mattress look like this:
Customer Saatva HD mattress reviews will tell you that, while it's not the most-affordable bed out there, the price of the mattress truly does fit the quality. Furthermore, it's a 'luxury' product for heavier sleepers - beds like that are rare to come by, at least as far as mattresses that are actually worth paying attention to are concerned.
Furthermore, Saatva provides its customers with a 120-night sleep trial and an out-of-the-ordinary 20-year warranty. 20 years is a really long time for a mattress warranty! It's actually double the average life expectancy of a standard, high-quality mattress.

Lastly, Saatva will also take care of the delivery processes of your new bed. Customer Saatva HD mattress reviews take it a step further by stating that the company will also remove your old mattress, completely free of charge!
After saying all of that, it's pretty easy to justify the above-average price tag of the bed. While it is a bit of a more expensive mattress than most, with all of these added benefits, the prices start to make perfect sense.
Here is The Best Saatva Offer I Found:
UP TO $500 OFF
Limited-time Saatva Sale
We're sharing a limited-time Saatva mattress discount with our readers! Grab this deal & enjoy your new mattress with huge discounts.
Expiration date: 12/12/2023
4,042 People Used
Only 83 Left
Conclusions
Sleep deprivation can cause you various different problems - anything from loss of attention to some more serious health concerns. Combine that with some other factors (i.e. menstrual cycles in woman, stress and anxiety, etc.), and you have yourself a real recipe for disaster.
A lot of the causes that are responsible for sleep deprivation can be alleviated or even eliminated by a proper mattress, however. Saatva HD is a perfect example of that - targeting the group of some heavier individuals, the HD model provides great cooling capabilities, is sturdy and firm, has strong edges and is most suitable for back sleepers.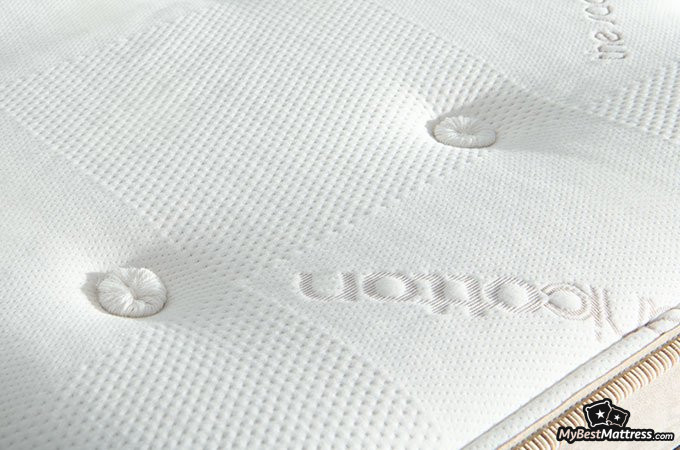 The mattress comes with an above-average price tag, but seeing all of the different benefits that it provides, that's completely justifiable. Granted, with a 20-year warranty period, chances are that you're not really going to need to change your bed for a very long time to come, and it's a one-time investment into your future quality sleep.
All of that being said, I hope that this Saatva HD mattress review was useful to you, and that you now now that there are, indeed, luxury mattresses that would be aimed at heavier sleepers out there.
Scientific References
1. Denise C. Jarrin, Ph.D., Jennifer J. McGrath, PhD., M.P.H., and Christopher L. Drake, PhD: 'Beyond Sleep Duration: Distinct Sleep Dimensions are Associated with Obesity in Children and Adolescent's'
2. Parisa Vidafar, Joshua J Gooley, Angus C Burns, et al.: 'Increased vulnerability to attentional failure during acute sleep deprivation in women depends on menstrual phase'
Leave your honest Saatva HD review
Leave your genuine opinion & help thousands of people to choose the best mattress. All reviews, either positive or negative, are accepted as long as they're honest. We do not publish biased reviews or spam. So if you want to share your experience, opinion or give advice - the scene is yours!