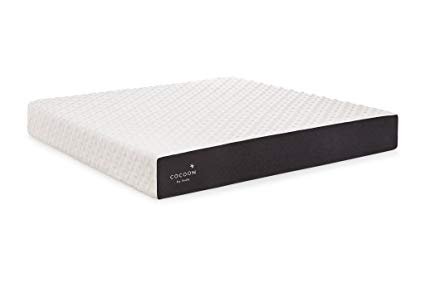 Do you like the feeling of memory foam? What about sleeping soft or medium-firm? What if I told you that there's a product that is made out of memory foam, is responsive and comfortable, all at the same time? This product is the Cocoon Chill mattress by Sealy, and today, we'll be looking at some of the most prominent customer Cocoon mattress reviews out there.
The Cocoon mattress isn't really an all that well-known product. That said, the customers that have, in fact, purchased it, report various different benefits that the bed brings to the table… And a few shortcomings. Worry not, however, for we shall cover all of it in this Sealy Cocoon review.
TL;DR: The Cocoon mattress is an all-foam bed with some above-average motion isolation, noise reduction and responsiveness features. That said, it might not suit people who are looking for a cool-sleeping mattress that would also be good for sex.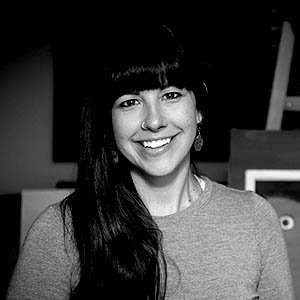 Denise Gassner
Biologist & Family Sleep Educator
What are the main things that contribute to the quality of our sleep?
Healthy eating and daily exercise - sleep, diet, and exercise are the three pillars for a healthy foundation. Instability in any one of these can cause the others to collapse.
Pros
Great motion isolation
No noise
Responsive
Multiple firmness options
Cons
Weak edge support
Sleeps warm
Some off-gassing
Cocoon Mattress Review: PROS
Out of all of the different kinds of mattresses out there in the industry, memory foam beds tend to be some of the most popular ones, to date.
What's so special about these mattresses, in the first place?
Well, for starters, multiple customer Cocoon mattress reviews will tell you that memory foam is one of the best materials as far as conforming and responsiveness goes. If you need a bed that will adapt to your body and conform closely to your limbs and torso, then memory foam is the way to go.
Also, motion and noise isolation. Foam is (usually) amazing at isolating motion - whether it be your own motion, or that of your partner - throughout the night, and this type of a bed sleeps exceptionally silent.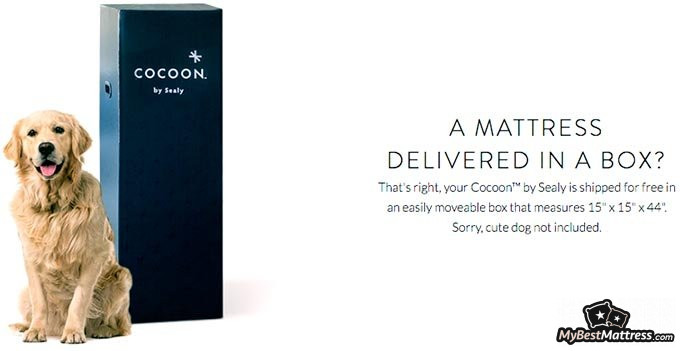 Now, foam mattresses do have their shortcomings, too. Foam isn't all that well known for providing proper firmness, so if a firm bed is what you need, then you best look somewhere else. Actually, Cocoon also has a hybrid variant.
Also, there's the topic of durability, too. Foam mattress lifespans tend to be shorter than those of latex or innerspring beds - while there are many reasons for why that's the case, and there are definitely exceptions, the tendency remains the same.
As you'll notice while going through this Cocoon mattress review, the mattress in question falls into the "stereotypical foam bed category" pretty well.
Great Responsiveness
Responsiveness is a term used to describe how well the mattress conforms to the sleeper's body, and then distributes your weight all throughout its perimeter.
In other words, if your bed is responsive, it's going to offer you great pressure relief features. Needless to say, that's pretty significant.
As you may or may not know, there are many different things that impact our quality of sleep. Some of them are pretty easy to identify (a snoring co-sleeper, sirens outside of the window, heat), others are a bit more difficult to spot (quality of sheets, light exposure[1], etc.). However, one of the more significant factors would have to be pain.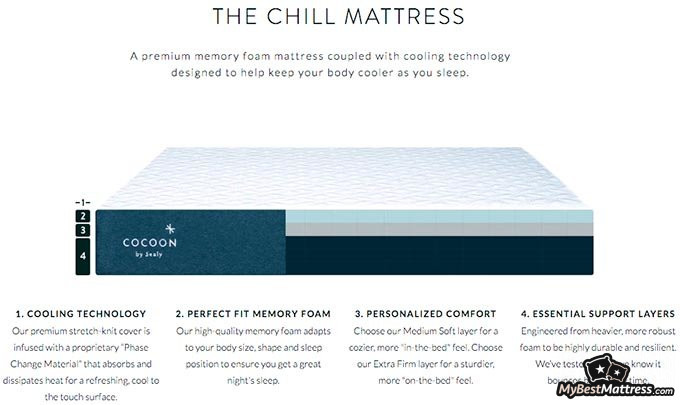 I'm talking about a pretty specific type of pain, too - one that's related to your lower back, spine, shoulders, hips and neck.
You see, all of these pains are (more often than not) caused by the bed that you sleep on. If your current mattress is prone to sinking down when you lie on it, it might break your proper spine alignment and thus cause pressure point formation. These pressure points are exactly the areas that soon become painful.
All of that being said, though, customer Cocoon Chill mattress reviews note that the Cocoon bed offers above-average responsiveness which, in turn, leads to your spine remaining aligned throughout the night.
Latest Saatva Coupon Found:
UP TO $500 OFF
Limited-time Saatva Sale
We're sharing a limited-time Saatva mattress discount with our readers! Grab this deal & enjoy your new mattress with huge discounts.
Expiration date: 29/09/2023
4,042 People Used
Only 83 Left
Isolates Motion Pretty Well
Motion isolation is a feature that is, most commonly, appreciated by people who sleep with their significant others.
That being said, that shouldn't be the case - believe it or not, but motion isolation can be a very beneficial feature if you sleep alone, too. This Sealy Cocoon review will help you find out why that's the case. Let's tackle the "sleeping in pairs" part first, shall we?
If you sleep with another person, there's always the chance that their movement is going to wake you up in the middle of the night. This is especially true if that person is a restless sleeper who tosses and turns for the majority of the night. In this case, motion isolation allows you to lie peacefully on your side of the bed, without the fear that you'll be abruptly woken up.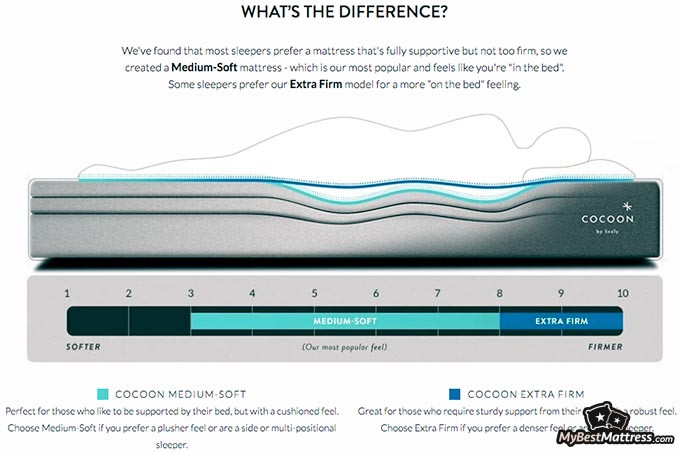 Now, how can a mattress that isolates motion well help you if you sleep alone? Well, it's pretty simple, really - quite a few customer Cocoon mattress reviews report that the bed has managed to reduce their own movements, altogether.
This isn't only the case with Cocoon, though - you'll find that most top-tier foam beds have this in common. Because of the above-discussed conforming feature, you should "sink" into the mattress just enough for it to stop you from excessively moving around, yet still provide proper support at the same time.

Did you know?
No Noise
Reading through Cocoon mattress reviews, you might notice that there are quite a few customers who talk about noisy beds. This issue is especially common with innerspring mattresses - the metal coils inside of their construction tend to become more and more noisy with time, which can get really irritating.
Yet again, this is not a problem that you'd face sleeping on a foam mattress.
When it comes to Cocoon by Sealy customer reviews, the mixture of memory foam and polyfoam of the bed in question allows it to remain completely silent throughout its lifetime. While this is a pretty neat feature in of itself, it can also have practical uses, too.
What practical uses, you may ask? Well, let's just say that if you're looking for the best mattress for sex, and don't mind some lack of bounciness, then Cocoon mattress reviews might point you to this bed.
'Soft' and 'Medium-Firm' Options
Today, it's relatively common for mattress providers to offer their products in a few different firmness options. This is mostly done with the comfort of different types of sleepers in mind - some people prefer to sleep soft, while others want their beds to feel as hard as a rock.
A medium-firm mattress is widely accepted to be one of the best options for anyone who's suffering from back pain and is looking for pressure point relief. We've already talked about this earlier on in the Cocoon mattress review, but if you sleep on a medium-firm bed, it's going to keep your body in a proper position, and prevent the formation of the above-mentioned painful pressure points.

Well, most of the time - it does depend on your bodyweight and preferred sleeping positions, but the sentiment itself still stands.
That being said, however, Sealy Cocoon reviews note that the Cocoon Chill mattress comes in a few different firmness options. Even though the medium-firm option is going to be best for most customers, there are quite a few Cocoon by Sealy mattress reviews that are happy about the brand offering a softer alternative for their product, too.
Cocoon Mattress Review: CONS
By now, you should have gotten a pretty good idea about the pros of the Cocoon mattress. It's rather obvious that the bed is a pretty typical foam mattress with some above-average parameters as far as its benefits go.
That said, Cocoon being an all-foam bed does also mean that it possesses some of the more prominent shortcomings that are associated with such products, too.
Very Weak Edges
Edge support is going to be important for two groups of people - side sleepers and people who like to keep their things on the bed.
Without proper edge support, side sleepers face the risk of falling out of their beds in the middle of the night. Admittedly, I haven't encountered any customer Cocoon mattress reviews that would talk about such an event, but this is, indeed, something that has happened to me before.

When it comes to placing stuff on your bed, it's pretty straightforward - perhaps you want to keep some books on the edge of your mattress throughout the day, or you have limited space in your room and thus use your bed as a "storage area" while you're not sleeping on it?
Whatever the case might be, I'm afraid that, since this feature is in the "CONS" section of this Cocoon mattress review, I have to break the bad news to you - Cocoon really doesn't have sturdy edges. If you place something on the side of the mattress, it's likely to slide down without much effort, especially if it's a heavier object.
Not Bouncy Enough
As far as important and almost essential features go, it's worth mentioning that Cocoon isn't a bouncy bed. It's not really one that tends to sink, either, but if you're looking for that extra bounce, you won't find it with this product.
Naturally, though, one of the main reasons why anyone would be looking for a bouncy mattress, in the first place, is sex. If that's what you're concerned about, and are searching for an optimal bed for sex, more often than not, you're going to want to look at innerspring mattresses - do take a look at our list of the best mattresses for sex, too.
Sleeps Warm
Arguably the most detrimental shortcoming of Cocoon (at least according to many of the Cocoon by Sealy customer reviews), heat is something that you definitely wouldn't want bugging you while you sleep.
One thing that's worth mentioning is that Cocoon doesn't seem to sleep (quote, unquote) "hot". Instead, for the average sleeper, it's going to feel warm - that said, even "warm" can be a nuisance, depending on just how sensitive you are concerning this topic.

You see, heat is one of the more common triggers that constantly wake people up throughout the night. This disturbs your sleep cycle, which can then lead to the formation of various unpleasant health issues[2].
Not cool. Literally.
It's pretty simple, really - if you're reading this Cocoon mattress review and know that you're really sensitive to heat, chances are that Cocoon isn't the best option for you, then. However, if you're a "cool sleeper" by default, then the "warmness" aspect of the bed might not bug you too much.
Price
Now that we've gone through the pros and cons of the Cocoon mattress, let's take a look at the pricing options that the company offers to its potential customers. Do note, though, that the prices might change at any given point in time, at the sole discretion of the mattress provider!
Cocoon's prices are:
Truth be told, those are some of the better price tags that you'll see with mattress providers nowadays! Sure, the bed isn't "cheap", but if you were to compare it with some of the best mattresses in the industry, it's actually very affordable!
In addition to the prices discussed above, each customer will also receive a 100-night sleep trial, free shipping and a 10-year warranty.

Furthermore, the company promises that their return processes are "hassle-free" - if you decide to return your Cocoon mattress at any point during the trial period, Sealy will refund you the money, pick the bed up for you for free and donate it to a local charity - that's honestly amazing!
Here is The Best Saatva Offer I Found:
UP TO $500 OFF
Limited-time Saatva Sale
We're sharing a limited-time Saatva mattress discount with our readers! Grab this deal & enjoy your new mattress with huge discounts.
Expiration date: 29/09/2023
4,042 People Used
Only 83 Left
Conclusions
Most customer Cocoon Chill mattress reviews agree that Cocoon is a pretty standard foam bed with all of the main features and benefits that you would expect out of this type of a product.
The mattress is great at isolating motion and staying silent, and should be a rather decent option for anyone who's looking for pressure point relief and lower back support.
That said, if you're someone who tends to sleep warm, and want to improve your sex life, then Cocoon might not be the best option for you. Maybe the Cocoon Chill Hybrid mattress would be a more suitable choice?
If you want a truly cool and bouncy mattress, you could check out our list of the best innerspring beds out there. Alternatively, perhaps one of the best mattresses, overall, might suit you better?
In any case, I hope that this Cocoon mattress review was helpful to you, and I thank you for reading. Cheers, and until next time!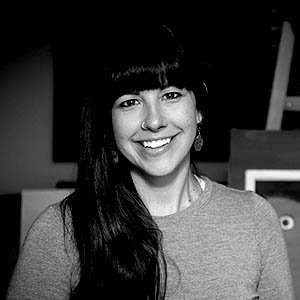 Denise Gassner
Biologist & Family Sleep Educator
Contributed By Denise Gassner, Biologist & Family Sleep Educator
Denise is a university educator with a Ph.D. in Biology/Anthropology, and the Founder of There's a Monster in My Closet, a platform dedicated to providing evidence-based education and support to pr...
Read Full Bio...
Scientific References
Contributed by
Denise Gassner
, Biologist & Family Sleep Educator
1. Maurice M. Ohayon, MD, DSc, PhD and Cristina Milesi, PhD: 'Artificial Outdoor Nighttime Lights Associate with Altered Sleep Behavior in the American General Population'
2. Michael A. Grandner, Azizi Seixas, Safal Shetty, and Sundeep Shenoy: 'Sleep Duration and Diabetes Risk: Population Trends and Potential Mechanisms'
Leave your honest Cocoon by Sealy review
Leave your genuine opinion & help thousands of people to choose the best mattress. All reviews, either positive or negative, are accepted as long as they're honest. We do not publish biased reviews or spam. So if you want to share your experience, opinion or give advice - the scene is yours!