One of the biggest decisions that you have to make when purchasing a brand new mattress is the size. This won't only impact the price - it will also determine just how comfortable the mattress will be, how many people are going to be able to sleep on it, and so on. In this "Best Twin Mattress" review, we'll take a look at the smallest mattresses out there.
First of all, we'll talk about the "why" - why would anyone need such a small mattress? Are they worth the money? How small are they? After that, we'll move on straight to the list to search for the best twin mattress for kids and adults.
The list is going to include:
Why Buy the Best Twin Mattress?
It's pretty obvious why you'd need "the best" mattress - but why would anyone look for the best-rated twin mattress?
A few reasons.
First of all, if you're a single person living in a small apartment, chances are you don't really need a queen-sized bed. Many people who find themselves in such situations opt to go with a smaller mattress - this way, you don't only save quite a bit of money, but also space.
Another big reason for why anyone might be looking for the best twin mattress is also pretty simple - kids.
If you have a child (not a baby or a toddler - more like someone who's entering their teenage years), the best twin mattress for kids is going to be one of the most worthwhile purchases you can make. Good twin-sized mattresses are not only going to be super-comfortable to sleep on, but will also have back-supporting and breathability features.
Finally, some of the best twin-size mattresses will be quite suitable for you if you're a student who simply wants to have a decent bed, but also can't really allow yourself to spend a lot of money on it.
All in all, there are a lot of different situations where a person would be more inclined to go for a smaller, more compact mattress instead of a giant queen or king-sized bed. With that said, let's go straight to the best twin mattress reviews.
Ranks #1 out of 7 Mattresses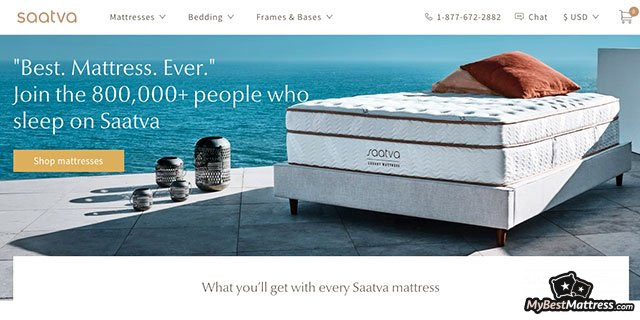 Things we liked:
+ Very bouncy and reponsive
+ Cool (temperature AND visual-wise)
+ Top-tier edge support
+ Handcrafted in the US from ECO materials
Things we didn't like:
The original Saatva mattress has become a very well-known product all throughout the different mattress reviews and review sites. Customer Saatva reviews compliment that - let's take a look at why that's the case.
First of all, it's important to mention the fact that Saatva is an innerspring mattress. Although this type of mattresses is becoming quite rare (latex, foam and hybrid beds are taking the mainstream by storm), Saatva carries the torch of innerspring mattresses very well.
As far as the best twin mattresses are concerned, Saatva stands at the front of the line. The mattress is superb when it comes to being responsive and breathable. While responsiveness might not be a very important feature for twin-sized mattresses (it's usually associated with sex, and that'd be rather uncomfortable on even the best-rated twin mattress), breathability is a whole different story.
If a bed "breathes", it means that it doesn't trap the sleeper's body heat. This, in turn, leads to a cool night's sleep - you won't need to worry about waking up in a pool of sweat.
Another big point why the original Saatva is often considered to be one of the best twin-size mattresses is the fact that it has some really sturdy edges. This feature, same as the other two, can be attributed to the fact that it's an innerspring mattress.
While this is open for debate, I would tend to argue that edge support is one of the most important features for a twin-sized mattress - especially if you're looking for the best twin mattress for kids. Think about it - weak edges mean that it's going to be easy to fall out of bed. NOT something you'd want to happen to your child.
Even excluding kids falling out of beds, proper edge support means that you'll be able to place a lot of items on the edges of the mattress, without them rolling off. As we've discussed earlier, quite a few of the people who are looking for the best twin mattress are going to have limited space in their apartments - having the option to place something on the bed can be rather useful!
What is the Twin-Sized Saatva Mattress Price?
The original twin-sized Saatva mattress is going to cost you $599,00 USD. That's a pretty good price, for one of the best twin mattresses out there!
Ranks #2 out of 7 Mattresses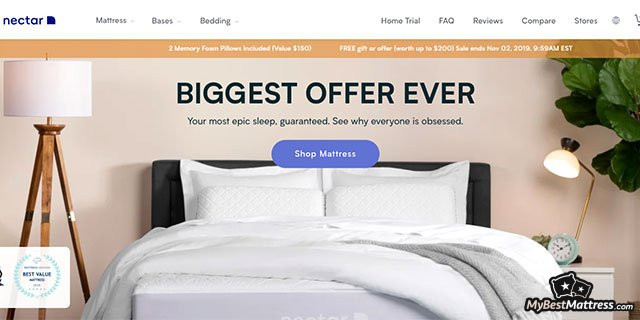 Things we liked:
+ Ultimate comfort for all sleepers
+ 100% risk-free 365-night trial
+ Pressure point relief for any body type
+ Unique 4-layer design
Things we didn't like:
- Might be a bit too firm for some people
- Some customers report that the mattress is a tad bit too warm
Next up, let's talk about Nectar - an all-foam mattress that's become rather well-known for being built out of some high-tier materials.
The whole "quality material" part comes into play when talking about the bed's longevity. As far as the search for the best twin mattress goes, Nectar is probably one of the best-designed and built mattresses - this, in turn, makes it that the product should serve you for quite some time over the average mattress lifespan (which is around 5 years).
Nectar is also great at conforming to the sleeper's body. This is probably most important for people with back problems, and anyone looking for the best twin mattress for adults.
You see, in a similar way to Casper, Nectar eliminates the pain and pressure points from your body while you lie down on the mattress. Since adults are the people who tend to develop the most back problems (constant sitting, hunching, etc.), this feature becomes essential to have.
What is the Twin-Sized Nectar Mattress Price?
The original price for the twin-sized Nectar mattress is $524,00 USD, but as of writing this best twin mattress list, there's a promotion going on - you can buy the mattress for $399 USD ($125 USD off) and receive 2 free pillows. That's a definite bargain!
Ranks #3 out of 7 Mattresses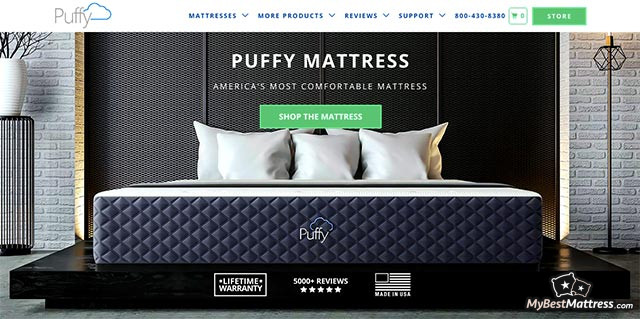 Things we liked:
+ Best for all type of sleepers
+ Lifetime warranty
+ Total spine pressure elimination
+ Highest breathability & coolness
Things we didn't like:
- Average temperature neutrality
While Puffy might not be as well-known as some of the other mattress providers on this list, it certainly deserves a spot of the best twin mattress. Let me tell you why that's the case.
First of all, it is an all-foam bed. Being one, however, Puffy doesn't cut corners - it has all of the features you'd expect from a foam mattress, only on an amplified level.
Foam mattresses are best-known for their motion isolation and body conforming features. However, Puffy take that one step further and adds cooling into the equation - that's very rare for a memory foam-based bed!
Some customers do claim that the mattress isn't really all that bouncy, and this might be a slight inconvenience for anyone who's interested in a mattress for sex, as well as a good bed to sleep on. That being said, however, it shouldn't be too big of an issue.
What is the Twin-Sized Puffy Mattress Price?
The price for a twin-sized Puffy mattress is $495 USD. A great price, especially considering the quality of the product!
Ranks #4 out of 7 Mattresses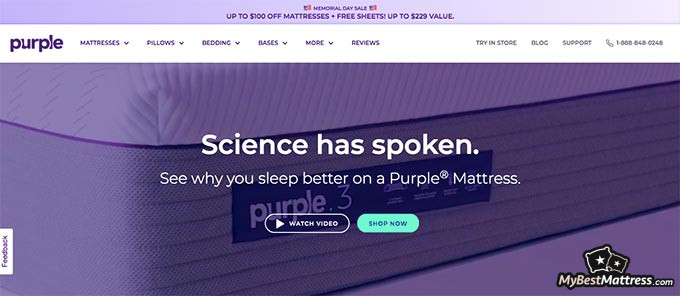 Things we liked:
+ Really good temperature neutrality
+ Firm, but not too much
+ Great motion isolation
Things we didn't like:
- Expensive
- Not the best edge support
The company behind the Purple mattress has a few different mattresses for the customer to select - the original Purple and the so-called New Purple series. Again, we'll be looking exclusively at the original product, although it's worth mentioning that the New Purple is everything the original was - and more.
So, the Purple bed. When it comes to the best twin-size mattress, Purple is an interesting product. It's an all-foam mattress, and comes equipped with all of the features that you'd expect out of a foam bed.
That said, however, Purple has some great temperature neutrality.
This is actually a very strange situation, indeed. The special construction that Purple utilizes allows the mattress to be very breathable - this, in turn, makes it so that the bed stays cool all throughout the night.
The only real complaints that people seem to throw towards Purple have to do with the mattress not being very bouncy. That being said, we've already established that this isn't really a particularly important criterion in the grand scheme of twin-sized mattresses.
What is the Twin-Sized Purple Mattress Price?
The twin Purple bed costs $649,00 USD. Not the cheapest option, but also far from being the most expensive one, too!
Ranks #5 out of 7 Mattresses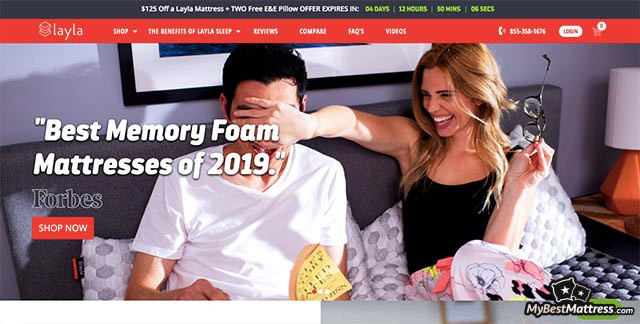 Things we liked:
+ Lower Than Average Pricing
+ Flippable
+ Pressure Releaf
+ Cooling Properties
Things we didn't like:
- Fair Edge Support
- 2-Week-Break-In-Period
Layla is a flippable memory foam mattress. This type of a bed is pretty rare to encounter - it allows the sleeper to choose a firmness setting at any given time, without the need to purchase a new mattress or an additional layer.
When it comes to the best twin size mattress, this is a super-valuable feature. Think about it - such a small mattress isn't going to be difficult to flip when needed, which makes it one of the best beds for guests with different firmness preferences (although medium-firm beds are generally considered to be the best for the health of your lower back[1]), children and teenagers, and - naturally - the owners of the mattress themselves.
This isn't the only "trick" that Layla has up its sleeve, however. The mattress is actually very well-designed all-around, with great durability, cooling and motion isolation features. Sleeping on it, you shouldn't hear any sounds, and the memory foam found within should help you alleviate any and all back pain problems.
What is the Twin-Sized Layla Mattress Price?
A twin-sized Layla mattress is going to cost you $499 USD. A great price indeed!
Ranks #6 out of 7 Mattresses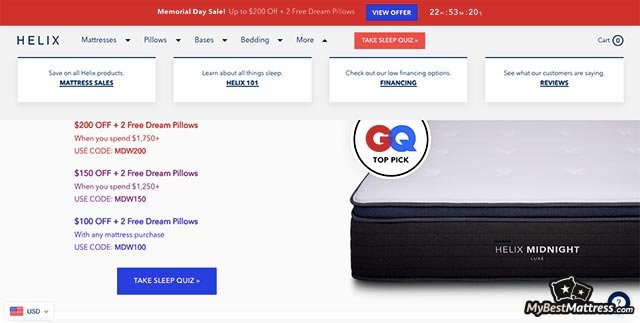 Things we liked:
+ Different levels of firmness
+ Responsive and bouncy
+ Good motion isolation
Things we didn't like:
- Somewhat noisy
- Some off-gassing involved
While Helix has 6 base models in stock, we're going to be talking about the Helix Midnight - their best-selling model.
Midnight is a medium-firm mattress, although some people report it to be on the firmer side of things. It's a hybrid mattress and comes equipped with some pocketed coils. These coils do wonders as far as air circulation is concerned, so you don't need to worry about "keeping it cool" - the mattress does that pretty well.
In addition to good airflow, Helix Midnight has some pretty strong edges, and conforms to your body relatively well. Some customers report some squeaks, but overall, the mattress should be silent.
What is Twin-Sized Helix Midnight Mattress Price?
Helix Midnight's price is the same as with any other Helix based mattress - $525,00 USD.
Ranks #7 out of 7 Mattresses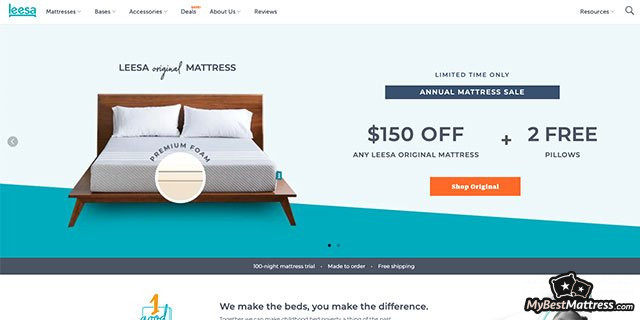 Things we liked:
+ High-Quality Layers
+ Medium Firmness - Almost for Every Sleeper
+ Almost For Everyone
+ Minimal Off-Gassing
Things we didn't like:
- Not Perfect for Side-Sleepers
- Not Great for Cool Sleepers
Leesa is a foam mattress. All things considered, it's a pretty standard foam mattress at that - it's equipped with all of the pros and cons that you would come to expect out of an all-foam product.
To make it more concrete, Leesa is good at isolating motion and conforming to the object placed on the mattress - your body included. It's a pretty durable foam mattress, too - there aren't many user complaints that would be disappointed with the quality of the bed.
As for the cons, Leesa (reportedly) has some weaker edges, and isn't the coolest-sleeping foam mattress around. Just something to keep in mind!
What is the Twin-Sized Leesa Mattress Price?
Pricing-wise, this contender for the spot of the best twin mattress for adults costs $595,00 USD.
Conclusions
Now, we've reached the end of this "Best Twin Mattress" list. Now, you might wonder - how should you choose a single best twin mattress provider from the list?
Simple - it's all preference-based.
Today, researchers around the world have various different ways of how they can measure the quality of a person's sleep. For example, did you know that, when it comes to couples, a male's sleep duration depends on that of the partner's, but not the other way around[2]? Having said that, with all the "fun facts" out there, it's still impossible to predict an individual person's preferences mattress-wise.
All of the providers on this list have their own pros and cons. Your choice ultimately depends on the criteria that we've discussed in the beginning - are you buying a mattress for yourself, or your child? Do you need motion isolation? What other features do you value in a bed?
All of the providers mentioned on this list have sleeping trials and money-back guarantees. If you find that you've made the wrong choice, you can always just return the bed, get a refund and try something else!
All in all, I hope that this "Best Twin Mattress" list was helpful to you! Good luck in choosing the right product for yourself!
Table: Top 3 twin-sized mattresses
---
Other Less Favoured Mattresses in This Category
Here are other mattresses related to the category but not as favoured by MyBestMattress readers yet. In my personal opinion, today there are much more optimal mattresses in the list with the higher rating that I'd recommend for the same price range or less.
TempurPedic - Good for Pressure Point Relief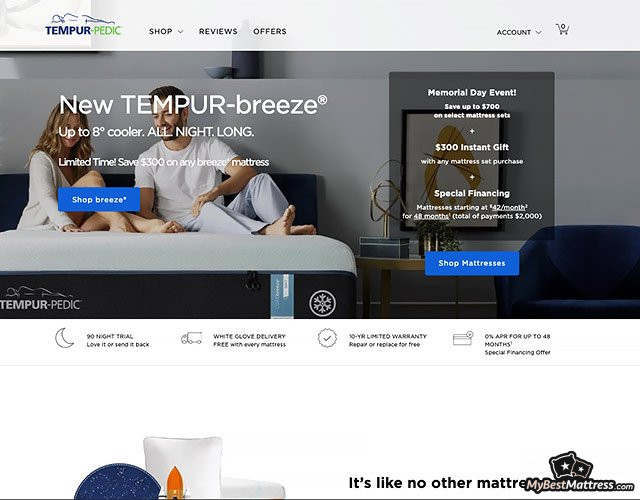 Things we liked:
+ You Can Choose From Different Firmness, Thickness and Construction Options
+ Zero-Motion and Amazing Sound Isolation
+ Very Durable (Customers Approved)
+ Great for All Sleepers
+ 90-Nights Free Sleep
Things we didn't like:
- Minimal Off-Gassing
- High-Price
- 30-Nights Break-in Period Required for Sleep Trial
In this "best-rated twin mattress" list, we'll be talking about the foam TEMPUR-Adapt model of the company.
TempurPedic's foam mattress brings all of the main foam mattress features to the table. The bed is very good at absorbing motion and conforming to your body, it rather soft and comfortable to lay on, and sleeps relatively cool (for a foam mattress, that is).
TEMPUR-Adapt is suited for all types of sleepers - whether you sleep on your side, back or stomach, you're bound to enjoy the feeling that the bed provides. Back sleepers, however, will appreciate the mattress the most, for the exact same reason for why we've talked about Nectar being an option for the best twin mattress for adults - back pain elimination.
While TEMPUR-Adapt doesn't really have sturdy and reliable edges, they are still far from being some of the worst you'd ever seen. What will definitely scare you, though, is the price - the twin-sized bed costs $1699,00 USD. Ya… Not a bad jump from Saatva's or Nectar's prices.
Casper - Nice Comfort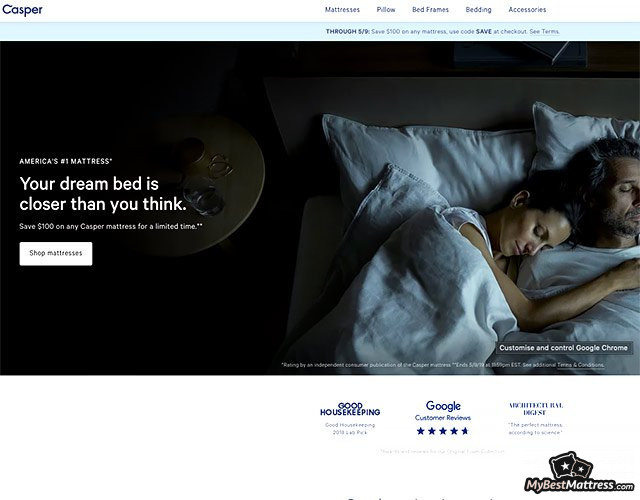 Things we liked:
+ Made of Quality Material
+ Casper is For Every Sleeper's Needs
+ Medium-Firm Level of Support that Works for Almost Everyone
+ 100-Nights Sleep Trial
+ Durable (Confirmed by Users' Reviews)
Things we didn't like:
- Only One Firmness Option
- Not so Great for Hot Sleepers
Even though Casper offers quite a few products of the general customer, for consistency's sake, we'll be looking at the company's flagship product.
A noteworthy fact, Casper is actually probably one of the best-known mattress providers in the industry. The company has spent years building and perfecting its reputation with some of the best products around - twin-sized mattresses are no exception.
An all-foam bed, Casper has some amazing motion isolation. This means that, if you tend to twist and turn throughout the night, you avoid the possibility of accidentally waking yourself up, or even flinging yourself out of the bed.
Now, I'll admit - motion isolation is a tad bit more important when it comes to sleeping with another person. After all, it's much more likely that you'll be woken up by someone else bumping into you, rather than from your own movement. That said, it's still a good feature, nonetheless.
To add to that, Casper is also (reportedly) very comfortable - sleeping on this mattress is going to help you deal with any and all back pain that you might be experiencing. The way that it works is that Casper's memory foam design helps to alleviate certain pressure points from your body.
Something to keep in mind is that, while Casper is a truly good contender for the spot of "the Best Twin Mattress", its all-foam design does have its drawbacks. The main notable one that's relevant to this list would have to be weak edge support.
Casper's twin-sized model costs $695,00 USD. While this is actually on the more expensive side of things, Casper does hold its ground as a great option to become the best twin mattress for adults and kids.
1. Kovacs FM, Abraira V, Peña A, et al.: 'Effect of firmness of mattress on chronic non-specific low-back pain: randomised, double-blind, controlled, multicentre trial.'
2. Soomi Lee, Lynn M. Martire, Sarah A. Damaske, et al.: 'Covariation in Couples' Nightly Sleep and Gender Differences'
Leave your honest Best Twin Mattress review
Leave your genuine opinion & help thousands of people to choose the best mattress. All reviews, either positive or negative, are accepted as long as they're honest. We do not publish biased reviews or spam. So if you want to share your experience, opinion or give advice - the scene is yours!