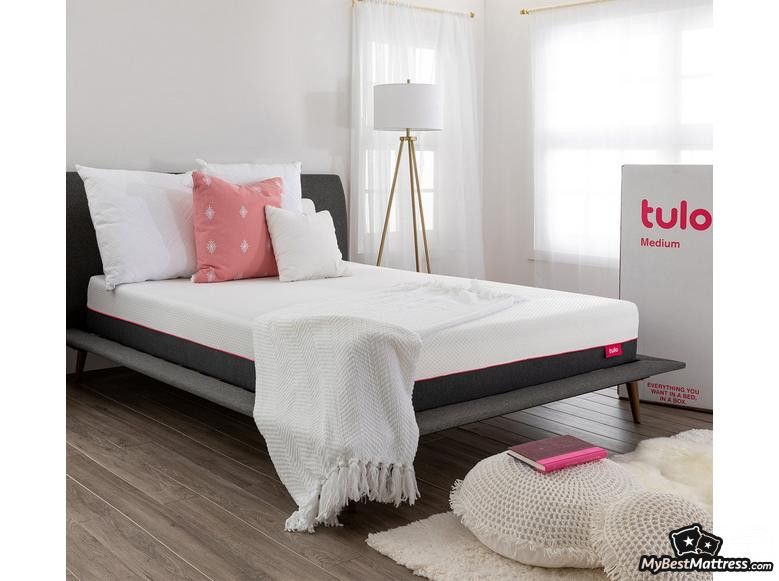 These days, when hybrid-type mattresses are usually seen as "the way to go", it can be difficult to find yourself a proper, old-school all-foam bed. That being said, there are still definitely beds like that around - in this Tulo mattress review, we'll be trying to figure out whether or not Tulo offers one just like that.
Admittedly, foam beds tend to have rather obvious benefits and shortcomings. Worry not - we'll discuss all of them in the article below by taking a look at some of the more reliable and trustworthy customer Tulo bed reviews. You'll be able to see how the Tulo mattresses fair against some of the best memory foam mattresses out there.
That said, if you're trying to find the best mattress for yourself, you should still probably take a look at our list of the best beds on the current market.
TL;DR: Customer Tulo reviews will tell you that the company offers a rather decent all-foam mattress. The bed comes in three different firmness settings, and should thus suit most types of sleepers out there. It's also quite durable, and provides proper motion isolation and pressure point alleviation.
Pros
Great motion isolation
Very affordable
Proper pressure relief
Very silent
Cons
Lack of proper edge support
Might sleep a bit warm
Not bouncy at all
Tulo Mattress Review: PROS
Let's start off this Tulo mattress review by taking a look at some of the more positive aspects of the product.
Quite Durable
Durability is often one of the main issues that foam mattresses face. This is especially true when you place them near innerspring or hybrid beds - foam products tend to age the fastest of the three.
That said, it all kind of depends on the quality of materials used, and the construction and assembly process of the mattress. While foam, as a material, might not be as durable on its own (when it doesn't have, say, springs and coils to support it), if the mattress is made by professionals, it's going to hold up.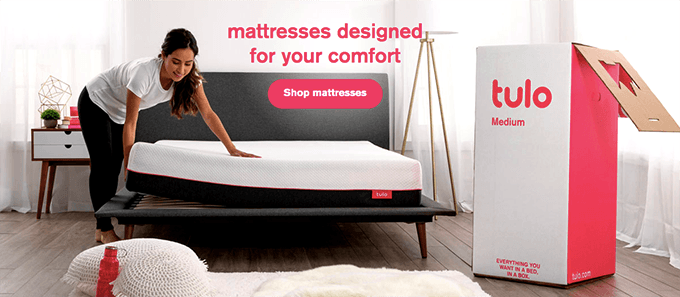 Well, judging by the customer Tulo mattress reviews, it would seem that the Tulo mattress is just like that.
Most customers claim that the Tulo mattresses are sturdy and well-built, and should thus last a pretty long time before starting to show signs of wear. Given that durability is likely the most important feature that you should be looking for in a top-quality mattress, that's definitely a good piece of news.
Latest Saatva Coupon Found:
UP TO $500 OFF
Limited-time Saatva Sale
We're sharing a limited-time Saatva mattress discount with our readers! Grab this deal & enjoy your new mattress with huge discounts.
Expiration date: 27/09/2023
4,042 People Used
Only 83 Left
Multiple Firmness Options
When you first go to purchase the Tulo bed from the company's official website, you'll notice that there are three versions of the product to choose from - soft, medium and firm.
Truth be told, that's one of the biggest strengths of the mattress. Many customer Tulo bed reviews seem to agree.
Multiple firmness options mean that the bed is going to be suitable for most types of sleepers out there. And I'm not only talking about sleeping positions - you might be a stomach sleeper who loves a soft bed! What I mean is that, no matter what your mattress preferences are, you'll be able to find an option with Tulo.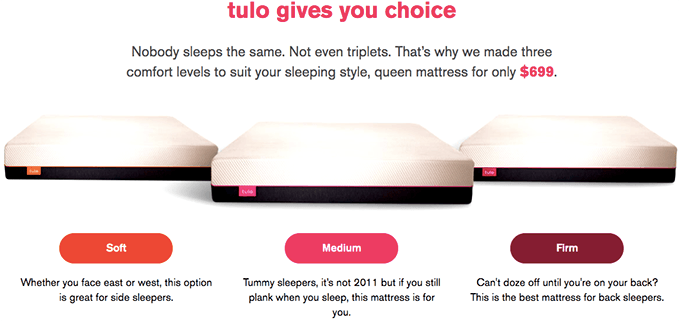 Now, that being said, there are many factors that play major roles in your quality of sleep - diet[1], stress, the temperature of the room, and so on. However, the firmness of your mattress is one of the most essential of these factors - it is widely agreed upon that medium-firm beds are going to be best for a good night's sleep.
Why? Well, customer Tulo mattress reviews will tell you that a proper, medium-firm mattress is going to provide most sleepers with optimal pressure relief capabilities.
Speaking of which…

Did you know?
Decent Pressure Point Alleviation
Pressure points are certain areas of your body that are impacted by the biggest amounts of pressure when you lie down on your bed. More often than not, these would be elbows, hips, shoulders, neck and knees.
Multiple Tulo mattress reviews will let you know that foam mattresses are actually considered some of the best products for pressure point relief. That's thanks to foam's natural ability to conform and contour around the sleeper's body - if there's not too much sinking involved, the bed is going to disperse the pressure, and alleviate already-existing painful spots.
Since we've already established that Tulo mattresses are quite durable and well-built, it will probably be of no surprise to you that the beds (especially the medium-firm option) are reported to provide great pressure point alleviation. That's definitely great news, especially if you're struggling with painful pressure points on your body from sleeping on an old mattress.
Isolates Motion Very Well
According to multiple customer Tulo mattress reviews, one of the most notable features of the Tulo mattresses is that they offer really good motion isolation.
Naturally, as you might expect, this is going to be most important to anyone who sleeps with their partners.
Throughout the night, people tend to make a lot of motions in their bed - some are very restless, while others might just turn around a few times and that's it. Whatever the case might be, if you're a really light sleeper, a single motion that your significant other makes might be enough for you to be woken up.
Not a fun situation to be in.

While there are many different things that can result in low amounts of restedness[2], being woken up by another person's movements is definitely of the more annoying ones. Tulo mattress reviews, however, state that this isn't an issue that you're likely to face while sleeping on the Tulo bed.
The mattress is going to isolate your partner's (or your) movements on that specific side of the bed, while also minimizing the amount that the person moves around, in general. This is, yet again, thanks to the foam's natural ability to sink your body a little bit down into the mattress, while also contouring around it.
Completely Silent and Minimal Initial Odors
While these features might not be the deciding factors when choosing a new bed, they still contribute to the overall image of the mattress, so it's worth it to at least mention them.
Tulo reviews often talk about the beds being completely silent and being practically odorless when you first unpack them in your bedroom.

The "completely silent" part shouldn't surprise anyone - foam mattresses are among the products that produce the least amount of noise, even as they age. Foam tends to be even more silent than latex - if you're really looking for the most silent mattress out there, foam is definitely the way to go.
Lack of off-gassing isn't too big of a surprise, either. While some types of foam do have initial odors that might be less-than-desirable, Tulo mattress reviews will tell you that this isn't the case with the product in question. The bed is made out of memory foam and polyfoam - these types of foam aren't really prone to having any noticeable (or at least annoying) odors.
Tulo Mattress Review: CONS
So - we've established the fact that most customer Tulo mattress reviews online are rather positive towards the beds, and that the medium-firm option of the mattress is going to be best for most types of sleepers out there. Now, let's move on and take a look at some of the more prominent complaints that customers might have about their Tulo mattresses.
Lack of Edge Support
Truth be told, a lack of proper edge support is one of the main issues that all-foam mattresses share. Whether it's a high-end foam mattress, or a less-known one like Tulo, the situation is usually similar - since there are no metal coils to support the mattress, the edges tend to be rather weak.
Weak edges might result in the bed wearing down towards the side and the middle. That's because your body will naturally roll over to either side of the mattress. If the situation is extreme, it can be a real issue, since you won't be able to retain proper spinal alignment and will thus start to feel pain in your lower back area in the morning.
Thankfully, though, reading through the various different customer Tulo mattress reviews, it doesn't seem to be that bad of a deal with Tulo. While all three of the models (firmness options) of the mattress offer little-to-no edge support, you shouldn't catch yourself rolling off the bed (at least of you're a lighter person).
Not Bouncy
Yet another issue that's very common with all-foam beds, bounciness is something that couples are going to appreciate.
More often than not, bouncy mattresses are bought in order to improve the sex life of a couple. Foam beds aren't a good option for this - foam tends to have sinking features, which can be absolute hell when it comes to sex.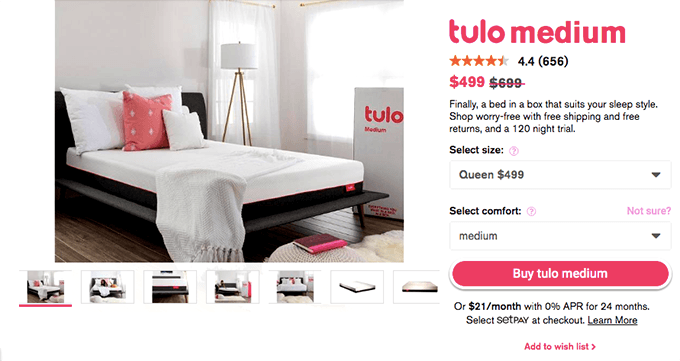 Tulo mattress reviews will tell you that Tulo is no different in this regard - while you'll find proper pressure relief and motion isolation with the beds in question, the trade-off here is bounciness. It does depend on what it is that you need - if you want to get the "best of both worlds", you should look into getting yourself a hybrid mattress.
Price
Whether it be Tulo reviews or any other mattress brand reviews out there, you'll likely notice that pricing is often one of the more contentious topics. Everyone and their dogs are constantly looking for the best deals possible, but finding the perfect balance between price and quality can prove to be more difficult than you initially thought.
That said, multiple Tulo bed reviews will tell you that the mattress in question is priced rather… Oddly. Take a look for yourself:
The prices above refer to the "Medium" version of the mattress, but the "Soft" and "Firm" ones come with the same price tags, too. The prices are subject to change, though - keep that in mind!
The first thing that you're likely to notice is that the beds are REALLY affordable. For a mattress that has so many different features and benefits, those are definitely some difficult-to-believe price tags.

That said, however, the truly interesting thing here is that all of the sizes up to King are priced at the same value. That's definitely something you don't see every day! Naturally, your best bet would be to purchase the biggest size possible - that said, it does depend on what it is that you need, and just how much space in your bedroom you have to work with.
On top of all of that, customer Tulo mattress reviews note that the brand offers a 100-noght sleep trial, and a 10-year warranty on their beds. Furthermore, if you live in the US, you'll also receive free white-glove delivery - that's an amazing deal, given the price tags of the mattress!
Here is The Best Saatva Offer I Found:
UP TO $500 OFF
Limited-time Saatva Sale
We're sharing a limited-time Saatva mattress discount with our readers! Grab this deal & enjoy your new mattress with huge discounts.
Expiration date: 27/09/2023
4,042 People Used
Only 83 Left
Conclusions
All of that being said, only one, single question remains - is the Tulo mattress worth paying attention to, and even investing in?
Let me put it this way - if you're looking for the best option for a limited budget, then it's a definite yes. Tulo offers its customers some truly good mattresses - multiple firmness options, great durability, high-end pressure relief and motion isolation… All of that for some truly difficult-to-comprehend prices!
That being said, if you can afford a better mattress, you should definitely purchase the best option you can. Some foam beds are going to have special technology that helps them deal with naturally weak edges and lack of bounciness - there are definitely better options around.
Or, perhaps, you're not too adamant about purchasing a foam bed, in general? If so, then you should definitely take a look at a list of the best mattresses that are currently dominating the market. There, you'll be able to find a whole lot of different beds that, while being more expensive options than Tulo, are going to provide much more higher-end features, too.
All in all, just keep in mind that while the majority of customer Tulo mattress reviews are positive, there are much better options around, especially if you're looking for a long-term purchase. That being said, I thank you for reading this article, and wish you the best of luck in finding the best bed for yourself. Cheers, and until next time!
Scientific References
1. Erica C. Jansen, PhD, MPH, Galit Levi Dunietz, PhD, MPH, Maria-Efstratia Tsimpanouli, PhD, MS, et al.: 'Sleep, Diet, and Cardiometabolic Health Investigations: A Systematic Review of Analytic Strategies'
2. Alexa Martin-Storey, Kate C Prickett, and Robert Crosnoe: 'Disparities in sleep duration and restedness among same- and different-sex couples: findings from the American Time Use Survey'
Leave your honest Tulo review
Leave your genuine opinion & help thousands of people to choose the best mattress. All reviews, either positive or negative, are accepted as long as they're honest. We do not publish biased reviews or spam. So if you want to share your experience, opinion or give advice - the scene is yours!