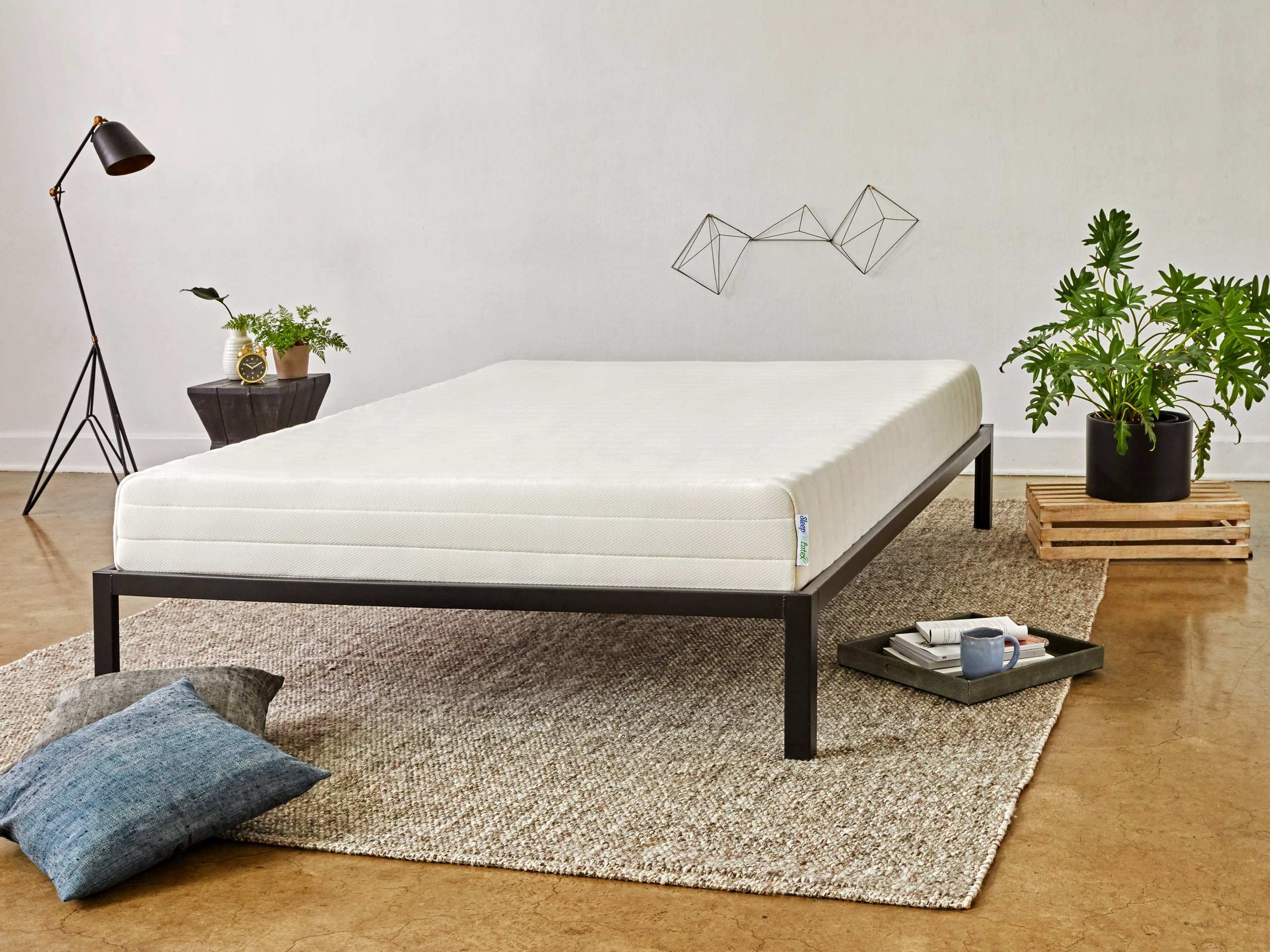 If you're looking for a proper latex mattress, you'll soon learn that these products aren't all that easy to come by. Still, many researchers believe that medium-firm latex mattresses are among the best beds you could purchase[1]. That is why today, we'll take a look at some of the more prominent customer Sleep On Latex reviews.
Latex mattresses offer sleepers a unique set of features, same as foam and innerspring products. In this article, we'll try to find out whether or not Sleep on Latex beds live up to the standard, and if you should be looking at the company as a viable latex mattress provider.
That being said, if you're looking for the best possible mattress for yourself, you can find a reliable list here.
TL;DR: All it takes is a single look at the online customer Sleep on Latex reviews to see that the majority of the company's customers actually do love their new mattress. The Pure Green beds provide superb motion isolation and pressure relief, are completely silent and quite durable, as far as latex mattresses go.
Pros
Absorbs motion well
Quite durable
Best for side and back sleepers
No noise and minimal off-gassing
Cons
Might sleep warm for some
Not the best option for stomach sleepers
Weak edges
Sleep on Latex Reviews: PROS
Let's start off this Sleep on Latex Pure Green review on a positive note and talk about the benefits that the product in question offers to sleepers.
Multiple Firmness Options (Great Pressure Relief)
Customer Sleep on Latex reviews note that the Pure Green mattress comes in a few different firmness (and thickness!) options for the potential customer to choose from.
This is actually great news - it means that the vast majority of sleepers out there are going to be able to find an option that would suit them best.
Now, what this choice pool means is that the beds are going to provide some great pressure relief capabilities. This is backed up by quite a few Sleep on Latex mattress reviews found online - granted that it's a latex mattress, this shouldn't come as too big of a surprise.

Pressure relief refers to the body-contouring feature of the mattress. This type of products are able to conform to your body, thus alleviating any pressure points that would otherwise build up (or that are already there from you sleeping on your old bed).
Latex is often considered to be one of the best materials when it comes to pressure relief. It appears that Sleep on Latex has managed to "get it right", too - the brand's mattress is reported to have truly great pressure alleviation features.
Latest Saatva Coupon Found:
UP TO $500 OFF
Limited-time Saatva Sale
We're sharing a limited-time Saatva mattress discount with our readers! Grab this deal & enjoy your new mattress with huge discounts.
Expiration date: 12/06/2023
4,042 People Used
Only 83 Left
Above-Average Durability
Durability refers to how long you'll be able to sleep on the mattress before you have to go out and search for a new one. It is because of this that durability is also often seen as the most important feature of a proper bed - no other features matter if your bed is breaking down, do they?
Well, customer Sleep on Latex reviews seem to agree with this statement - thankfully, though, it would seem that the Pure Green mattress has no issues with durability.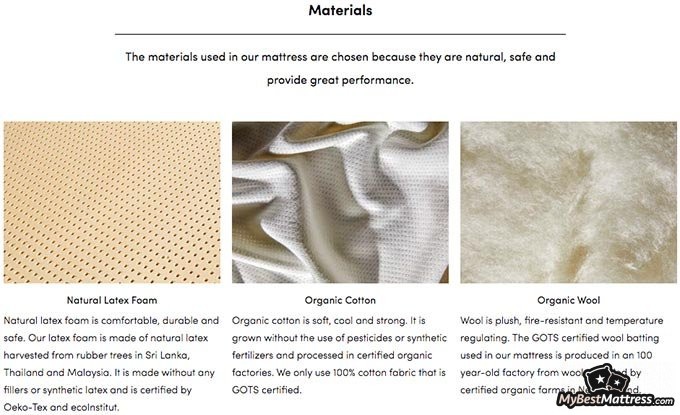 The brand produces its mattresses out of 100% organic and natural materials - these include organic Dunlop latex, wool and cotton. The beds being organic means that you're very unlikely to develop any sort of allergies while sleeping on them - in other words, the Pure Green mattress is hypoallergenic.
That being said, some customer Sleep on Latex Pure Green reviews actually note that organic materials are the reason why the bed is as durable and it is. Arguably, its longevity is strongly related to the construction processes that happen behind the scenes, but high-quality materials definitely have a lot to do with it, too.

Did you know?
Isolates Motion Rather Well
According to some researches, more than half of Americans report that they sleep less than 7 hours per night[2]. Among other factors such as stress and sleep-related diseases, having a restless partner by your side is a huge reason for why that might be the case.
If you do sleep with a person who tends to toss and turn all night long, Sleep on Latex reviews will tell you that your best bet in salvaging your sleep is a mattress that absorbs motion pretty well. Usually, these would be foam beds - that said, latex mattresses are known for this feature, too.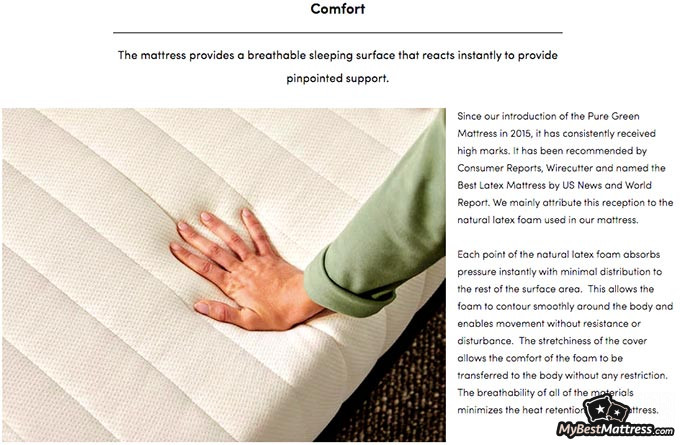 Motion isolation does exactly what you might think - it absorbs the motion that you make in your sleep, and doesn't transfer it (or transfers but a minimal amount) to the other side of the bed, where your partner might be sleeping. This allows both you and your significant other to get a good night's rest.
Customer Sleep on Latex mattress reviews are mostly positive in this regard - the majority of people who have bought and slept (still sleep) on the bed claim that it is great at absorbing motion, and if that's your biggest concern, you should rest at ease.
Best for Side and Back Sleepers
This will probably come as no surprise to you, but people who sleep in different sleeping positions are going to require different mattress specifications in order for them to feel comfortable.
It makes perfect sense, though - while stomach sleepers might need a really firm bed that offers a lot of support and doesn't sink down when bearing weight, side sleepers might prefer some softer mattress alternatives.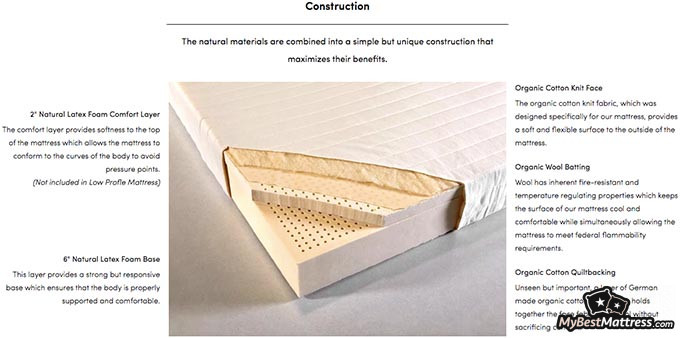 Reading through customer Sleep on Latex reviews, this becomes even more evident.
Now, while the Pure Green bed is reportedly going to suit most types of sleepers out there (more or less, at least), it's going to be best for side and back sleepers. The fact that you can choose the firmness and thickness options of the mattress make it somewhat universal, but it might still be "too conforming" for some stomach sleepers.
Completely Silent and Odorless
Admittedly, the sound that your mattress makes and the scent that it has upon first unpacking it perhaps aren't the most important features when choosing a new bed. Even so, these things should still definitely be taken into account - Sleep on Latex reviews will tell you that the brand has both of them down and figured out.
As far as sound is concerned, that's not at all surprising - since latex mattresses lack any coils in their construction (unlike innerspring beds), they are virtually silent, by default. Things become a bit more interesting when you consider Pure Green's lack of odor, though.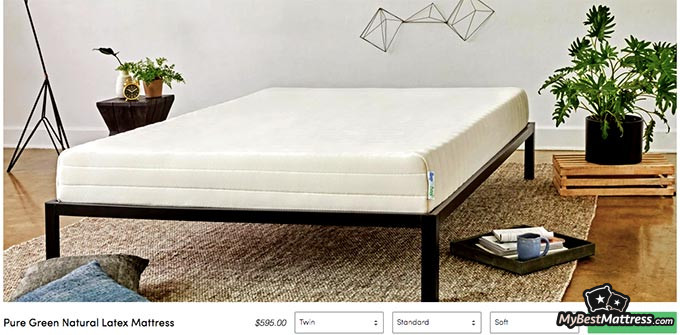 You see, latex products aren't particularly known for being all that odorless. This is especially true when you take into account the fact that the brand uses 100% organic materials - a combination like that tends to make itself known quite a bit!
Judging from multiple customer Sleep on Latex reviews, however, the company seems to have managed to tackle this issue rather well - while you shouldn't expect the bed to be completely odorless upon first unpacking it, compared to the majority of latex beds on the market, it's going to produce minimal off-gassing, either way.
Sleep on Latex Reviews: CONS
Now that we have all of the main positive aspects of the product down and discussed, let's take a look at some of the more negative customer Sleep on Latex reviews, and see what sort of complaints sleepers have when it comes to the Pure Green mattress.
Might Sleep Warm
One of the main issues that customer Sleep on Latex Pure Green reviews emphasize is temperature neutrality - rather, the lack of it.
Sleepers note that the Pure green mattress tends to sleep on the warmer side of things. Notably, though, it doesn't sleep hot - if you're a "cool" sleeper by default, you might even find the bed to be OK, as far as cooling is concerned.
That said, given that there are very few natural cool sleepers out there, most people are likely going to find the bed to be a bit too warm for comfort.
That's not too surprising, though - some latex mattresses do sleep hot. One way how you can mitigate this issue, however, is by purchasing a cooling-oriented mattress topper - this way, you can still get the mattress that you want, while also making sure that you sleep cool.
Relatively Weak Edges
Edge support can be useful for a variety of different reasons.
First of all, if a mattress has strong edges, this is a pretty good indication that the entire bed is quite sturdy and well-built. This, in turn, means that it is less likely to develop sinkage in the middle - something that older innerspring and foam mattresses are quite infamous for.
Furthermore, with proper edge support, you can rest assured that your body won't roll to either side of the bed while you sleep. This issue is most common with side sleepers - some people might actually fall out of their beds completely (though this would require some REALLY weak edges).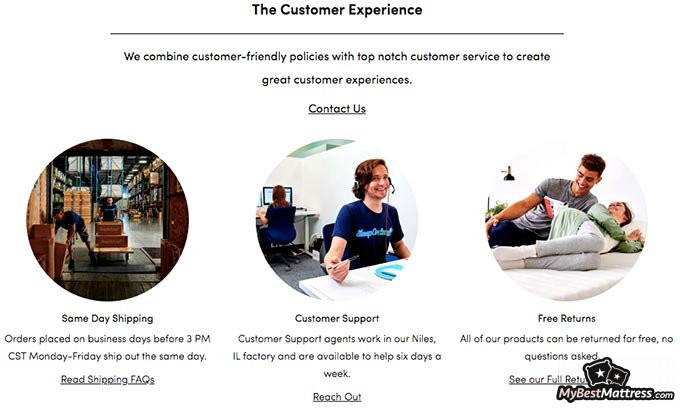 Thankfully, reading through the various customer Sleep on Latex mattress reviews, it would seem that the company's products aren't THAT bad when it comes to edge support. Still, when compared to other mattresses in this price range, they do fall short by quite a bit.
Yet again, though, that's not all that surprising - latex beds aren't really known for having top-tier edge support, since they don't really have any coils within their construction to mitigate this issue. If edge support is really that important to you, you should be looking at innerspring or hybrid mattresses instead of pure latex ones.
Might Not Suit Stomach Sleepers
Now, I've already noted this a bit earlier on in the article, but I feel that it deserves a separate mention, altogether.
Online, you'll find some customer Sleep on Latex reviews that hint at the Pure green bed not really being all that suitable for people who prefer to sleep on their stomach.
That's likely because of the material that the bed is made of - while the company does offer multiple firmness options, latex still tends to be a little bit sinky, which, in turn, might form pressure points for stomach sleepers.
It's worth mentioning that it's not really a "golden rule", though - there are definitely stomach sleeper Sleep on Latex reviews that claim that the bed sleeps perfectly fine. That said, it's surely something worth keeping in mind, nonetheless.
Price
Generally, latex mattresses tend to sway somewhere on the pricier side of the spectrum. That's because of the quality of materials used in the bed's construction, and them being organic, too.
That said, multiple customer Sleep on Latex reviews note that the Pure Green mattress that the brand offers to its customers is actually very affordable. And honestly, compared to some other, higher-end latex mattresses ou there, I have to concur - take a look for yourself:
Note, though, that the prices displayed above are for the standard edition, medium-firm option of the Pure Green mattress. Also, the price tags are subject to change at any given time - always look up the most recent prices!
The company also offers its customer free shipping within the US, a 100-night sleep trial and a 10-year warranty. While these are some pretty standard numbers for most brands out there, it's still nice to know that the company does stand behind their product, and offers customers three whole months to test it out, worry-free.
Here is The Best Saatva Offer I Found:
UP TO $500 OFF
Limited-time Saatva Sale
We're sharing a limited-time Saatva mattress discount with our readers! Grab this deal & enjoy your new mattress with huge discounts.
Expiration date: 12/06/2023
4,042 People Used
Only 83 Left
Conclusions
Proper, quality sleep is so important that sleep deprivation has been declared as a public health issue by Centers for Disease Control[3]. More and more people today are having a hard time managing their sleep, and getting some proper rest.
One of the better tools to help you do that, however, is a high-quality mattress. Now, does Sleep on Latex's Pure Green fall into that category?
Well, for the most part, yes.
Customer Sleep on Latex reviews are generally really positive towards the bed in question. People seem to love the fact that the bed is durable and made out of completely organic materials, while also offering good motion isolation and pressure relief capabilities.
That being said, however, if you're looking for a truly high-end mattress, you should definitely check out our list of the best mattresses of the year. Thanks for reading, and good luck!
Scientific References
1. Fan-Zhe Low, BEng, Matthew Chin-Heng Chua, PhD, Pan-Yin Lim, BEng, and Chen-Hua Yeow, PhD: 'Effects of Mattress Material on Body Pressure Profiles in Different Sleeping Postures'
2. Christopher M. Depner, PhD, Ellen R. Stothard, BS, and Kenneth P. Wright, Jr., PhD: 'Metabolic consequences of sleep and circadian disorders'
3. Dorit Koren, Magdalena Dumin, and David Gozal: 'Role of sleep quality in the metabolic syndrome'
Leave your honest Sleep on Latex review
Leave your genuine opinion & help thousands of people to choose the best mattress. All reviews, either positive or negative, are accepted as long as they're honest. We do not publish biased reviews or spam. So if you want to share your experience, opinion or give advice - the scene is yours!