What happens when you have to choose between one of the two top-tier mattresses, such as Nectar VS Leesa?
Well… A lot of confusion, that's what.
Worry not, however, because we're here to sort all of that confusion out. After this Nectar mattress VS Leesa comparison article, you should be able to make up your mind on which mattress is the better alternative for you.
Table: Nectar VS Leesa comparison overview
Before we begin, however, you can check out a side-by-side comparison of these two beds - note, though, that while it's quite informative, you'll have to read on if you want to get the full, in-depth experience of comparing these two industry giants.
Nectar VS Leesa: The Criteria of Comparison
While there are many different opinions considering such questions as to whether or not our sleep duration is declining over the years[1], one thing's for certain - if you want to get enough proper sleep, you have to possess a top-tier mattress.
Now, what makes a mattress "top-tier"? Reading through various customer Nectar VS Leesa mattress comparisons, you'll see a whole lot of varying opinions - while you might develop the idea that it's "completely preferential", I'm here to tell you otherwise.
Table: Nectar VS Leesa features and benefits
Above, you can see some of the more prominent features of both of the Leesa VS Nectar mattresses. That said, today we'll focus on five of the most important ones: durability, firmness, motion isolation, cooling and responsiveness.
Durability. The term "durability" can mean a couple of things. If you're talking about some lower-end beds, then durability usually refers to how long it will be until the bed collapses and you have to go out and buy a new one. However, in this Nectar VS Leesa comparison, durability is mostly related to the question of how long will it be until the mattress starts showing signs of wear, and looses its beneficial features.
Firmness. While firm beds definitely aren't everybody's cup of tea, they should certainly be paid more attention to. We'll talk more about why that is as we progress with this Leesa mattress VS Nectar comparison, but for now, you should just keep in mind that discussions about the optimal firmness of a mattress can get pretty heated - there's always the question of "comfort VS health benefits" up for debate.
Motion isolation. Mattresses that isolate motion aren't all that spectacular if you sleep alone. However, if you're reading this article and have your significant other by your side, then motion isolation should definitely be something that appeals to you. You see, if a bed is good at isolating motion, you won't really feel when another person turns around at night, thus avoiding any sleep disturbance that you may experience. Whether surprisingly or not, but many customer Nectar VS Leesa reviews do point to this feature as a huge factor in picking out the right mattress for yourself.
Cooling. While there are people out there who might like sleeping warm, no one in their right mind is going to enjoy a bed that feels like a turned-on oven. This is why most of the higher-end mattresses have some sort of cooling technologies installed into them (Leesa mattress VS Nectar are no exceptions). That said, some of these "technologies" work better than others - we'll see which of the two beds has managed to remain the cooler option soon enough.
Responsiveness. If you want to feel great in the morning while also reducing or even eliminating all of the already-existing painful spots on your body (they were likely caused by your old bed, mind you), then responsiveness is the features you should always look for. Responsive beds are adaptive and supportive - while this is surely beneficial to anyone suffering from the above-described issues, it does have a whole lot of benefits to everyone and anyone.
In addition to all of these 5 main features, there's one more thing that we'll discuss at the end of this Nectar VS Leesa comparison article - sleeping positions. However, the topic is a bit too expansive to just throw it into the list, so we'll dedicate a separate chapter to it, altogether.
Nectar VS Leesa: The Comparison
Now that we've figured all of that out, let's move on and start with the actual Nectar VS Leesa mattress comparison. First up - durability.
Durability
This probably does not need to be said, but both Nectar VS Leesa beds can be considered rather durable, at least as far as higher-end mattresses are concerned.
That being said, there's one major risk factor that is evident in both of these products - the fact that they are both made from foam.

Nectar utilizes layers of memory foam, some infused with cooling gel - Leesa, on the other hand, is comprised of memory foam and polyfoam. With foam being at the core of both of these products, it's worth mentioning that this material is widely seen as the least-durable material from which a bed can be made of.
Is that true? Well, somewhat - it depends. However, if you're worried whether or not it's something that you should be afraid of while deciding between Leesa mattress VS Nectar, then don't fret - both brands have created some durable, high-quality products that should hold up for many years to come.
Latest Saatva Coupon Found:
UP TO $500 OFF
Limited-time Saatva Sale
We're sharing a limited-time Saatva mattress discount with our readers! Grab this deal & enjoy your new mattress with huge discounts.
Expiration date: 29/09/2023
4,042 People Used
Only 83 Left
Firmness
There are many different things that might lead you to not feel rested after waking up in the morning - do so long enough, and you risk developing various sleep deprivation-related issues[2]. One of the bigger reasons for sleep deprivation lies in the firmness of your mattress.
You see, while softer beds might be more appealing to sleep on comfort-wise, they also always a pretty significant risk of breaking your proper spine alignment and thus creating a lot of back pain-associated problems.
Not ideal.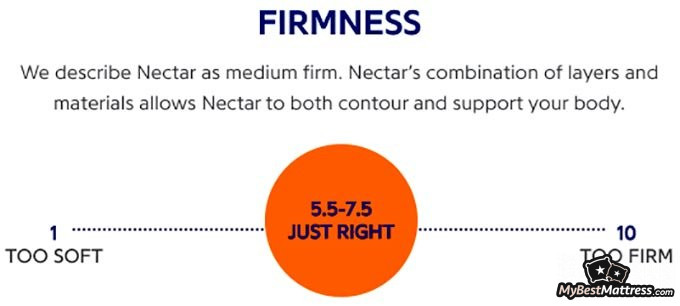 Firmer mattresses, however, are known to correct these issues. The general sentiment is that medium-firm beds are going to be best for alleviating pressure from your lower back region, and lifting a lot of the pains that you might have from your old bed.
Table: The firmness levels of Nectar and Leesa
Many customer Nectar VS Leesa mattress reviews note that while these two mattresses have a similar firmness level, Nectar is still going to be the firmer option of the two. Also, some sleepers have pointed out that while the Leesa memory foam mattress can be considered to be "medium-firm", it's still on the softer side of that spectrum.

Did you know?
Motion Isolation
Sleeping with a partner can be the coziest experience ever - or it can be absolute torture. Among other things, your mattress is going to be one of the main deciding factors for this predicament.
You see, if your bed is good at isolating motion that is made by another person turning around at night, you won't really feel it, and thus avoid the risk of being woken up by a random change of sleeping position or even your significant other getting out of bed.

Fortunately, most foam mattresses (at least top-tier ones) have a pretty good track record at providing proper motion isolation - Nectar VS Leesa are no different. Customers note that both of these beds are pretty decent at absorbing motion, and you shouldn't face any issues, sleep disturbance-wise.
That said, however, do keep an eye out for foam mattresses that have taken the concept of motion isolation too far - these beds are going to be very prone to sinking, which is something that you definitely don't want.
Cooling
Remember when I mentioned the "cooling technologies" at the beginning of this Leesa VS Nectar? Well, I also pointed out that some mattress providers are better at keeping their products cool than others.
The same applies to our Nectar mattress VS Leesa comparison, too.
You see, foam is not a breathable material, whatsoever. It can be really difficult to keep an all-foam mattress cool - many companies fail miserably in this regard.
Nectar, however, is not one of those companies.

As noted earlier, Nectar has some cooling gel-infused foam in its construction. Customers claim that it's actually super-effective - the mattress can be considered to be one of the coolest-sleeping foam beds on the market!
Leesa, on the other hand, isn't so successful in this regard. While the mattress doesn't seem to sleep hot, people still claim that it can get pretty warm, and it's definitely not a bed that you'd recommend to a person looking for the coolest, most temperature-neutral mattresses out there.
Responsiveness
In the most simple of terms, responsiveness refers to a mattress's ability to adjust to the changes in the pressure that's applied to its surface. In other words, if your mattress is responsive, it's going to be able to alleviate certain painful pressure points from your body, and keep it aligned all throughout the night, while you sleep.
Table: Nectar and Leesa's pressure point alleviation
Furthermore, many responsive beds are actually considered to be better for sex. Sure, you'll need bounciness and breathability here, too, but since responsive mattresses tend to be firmer (at least they should be), that might also be considered as a contributing factor.
In this regard, both of the beds in this Leesa VS Nectar comparison are pretty responsive. Neither one of them doesn't really sink down when lied upon, which is a really important factor to mention - sinking is the last thing you'd want from your mattress, since it will break your spine alignment and cause a lot of morning pains.
Sleeping Positions
So, then - as I've mentioned earlier on in the Nectar mattress VS Leesa comparison, the last thing we need to discuss before we take a look at the pricing options of both of the beds are sleeping positions.
In total, there are three major sleeping positions out there - stomach, side and back. Oftentimes, you might find that there's also a fourth one thrown into the mix - "combination sleepers". While it's not technically a sleeping position per se, a "combination sleeper" is someone who has two or more dominating sleeping positions throughout the night.
NECTAR
LEESA

Ultimate comfort for all sleepers
100% risk-free 365-night trial
Pressure point relief for any body type
Unique 4-layer design

High-Quality Layers
Medium Firmness - Almost for Every Sleeper
Almost For Everyone
Minimal Off-Gassing

Might be a bit too firm for some people
Some customers report that the mattress is a tad bit too warm

Not Perfect for Side-Sleepers
Not Great for Cool Sleepers

Visit site
Read Review
Visit site
Read Review
Table: Best sleeping positions for the Nectar and Leesa mattresses
Sticking with the three actual sleeping positions mentioned above, I probably don't even need to tell you that each and every one of them is going to need some different mattress specifications in order for that person to sleep well and not be uncomfortable.
As it relates to this Nectar VS Leesa comparison, this is what you should know: Nectar is considered to be universally great for all three types of major sleeping positions, while Leesa is going to best suit back sleepers.
Why is that the case? Well, while both beds are made out of foam, Nectar has better cooling and edge support features, and is firmer than Leesa. These things make it a more suitable mattress for other types of sleepers, not only back ones.
Price
Now that we'll talk prices, the one thing that you should know beforehand is that all of them might change at any given time. The ones provided below simply represent the price tags that are present as of writing this article.
Table: The pricing options for the Nectar and Leesa mattresses
Nectar's prices are:
Leesa is priced like this:
While many of the Nectar VS Leesa customer comparisons do make sure to emphasize the fact that Leesa is a more expensive product, you should note that it's still not an "expensive mattress", in the grand scheme of things - there are far more expensive beds out there.
Table: Nectar and Leesa's shipping, warranty and trial information
Finally, Nectar provides its customers with a 365-night trial and a LIFETIME warranty, while Leesa offers 100-night trials and 10 years of warranty. A significant difference for the Nectar VS Leesa comparison!
Both beds ship free within the US, but neither ships internationally.
Conclusions
With all of that said, which one of the two Nectar VS Leesa is better?
Well, if I was to pick, I'd definitely go with Nectar. This doesn't mean that Leesa offers "bad" mattresses, however - it's just because Nectar takes everything that Leesa does, and amplifies it, while also being more affordable. That's a deal that isn't easy to come across!
If you've found this comparison informative, do make sure to check out our more technical, side-by-side Nectar VS Leesa comparison, too. Also, if you're still not sure about either of these two beds, you can always visit our list of the best mattresses of the year - perhaps you'll find your best option there?
Scientific References
1. Shawn D. Youngstedt, Eric E. Goff, Alex M. Reynolds, et al.: 'Has Adult Sleep Duration Declined Over the Last 50+ Years?'
2. Erik K. St Louis, MD, MS, Bradley F. Boeve, MD: 'REM Sleep Behavior Disorder: Diagnosis, Clinical Implications, and Future Directions'
Leave your honest feedback
Leave your genuine opinion & help thousands of people to choose the best mattress. All feedback, either positive or negative, are accepted as long as they're honest. We do not publish biased feedback or spam. So if you want to share your experience, opinion or give advice - the scene is yours!