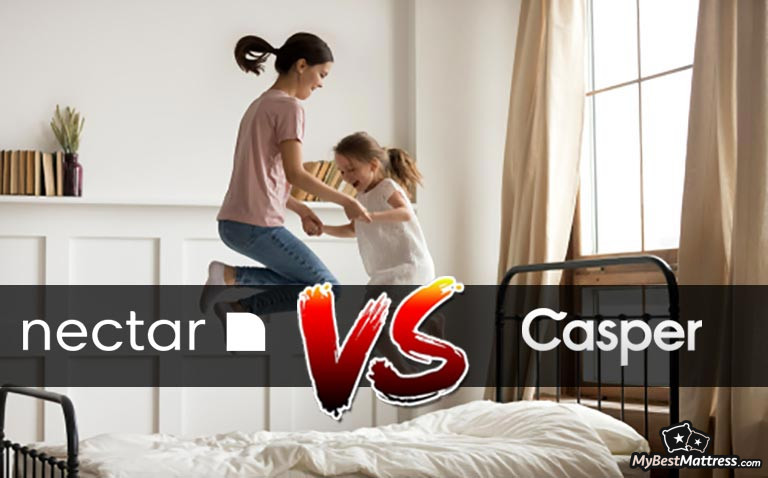 There are but a few things more difficult than picking out one out of two industry-leading mattresses - this is exactly the dilemma that you'd face reading most Nectar VS Casper comparisons. That said, in this article, I'll try and make the process of decision making as smooth as possible for you.
Whether you're completely new to these mattress providers, or are already well-familiar with them, I would, either way, suggest checking out our Nectar VS Casper mattress side-by-side comparison before or after reading this article. There, you will find the information compacted into an easy-to-follow and understand manner.
Table: Nectar and Casper mattress introduction
Now, before we begin the actual Casper VS Nectar mattress comparison, there are a few ground rules that need laying down, first.
Nectar VS Casper: The 5 Key Features of a Good Mattress
Whether you know this or not, but there are a few key features that all of the best mattresses share. Truth be told, these features are quite universal - what this means is that they can be found in any type of a mattress, whether it's a spring bed or a full-on latex one.
That being said, though, out of all of the different features in question, there are 5 that you should be paying the closest attention to - durability, firmness, motion transfer, temperature neutrality and responsiveness.
Table: Main features of the Nectar and Casper mattresses
In the table above, you can see these and a few other features presented and laid out for our Nectar VS Casper comparison. While we'll focus on the 5 key features I've already mentioned, I'll try to elaborate on the remaining ones, too.
Durability. Many different things add up to make a mattress durable - whether we're talking about the Nectar VS Casper dilemma or any other, you'll always want to pay really close attention to the quality of the materials used in a bed's construction (and the materials themselves), creation and assembly processes, customer feedback, warranties, and so on. If a mattress isn't durable, no other features really make a difference, now do they? Well, the same applies to our Nectar mattress VS Casper comparison, too.
Firmness. Soft beds feel cozy and comfortable - that's an undisputed fact. Unfortunately, however, comfort still isn't everything - a vastly-increasing amount of people suffer from back pains every single day. Researchers note that the firmness of your bed might have something to do with it - if you actually do care how you feel in the morning and throughout the day, you'll have to find a balance between the Casper VS Nectar mattress firmness and comfort.
Motion transfer. If your mattress transfers motion, this might be detrimental to the quality of your sleep. This is especially so true for couples and other people who don't sleep alone. An important note to make here is that it doesn't even matter if we're talking about Nectar VS Casper mattress reviews, or any other beds in the industry - motion isolation is something that's pretty difficult to achieve, and should thus be paid extra careful attention to.
Temperature neutrality. I tend to always use this example whenever I speak about a bed being temperature-neutral and cool-to-sleep on, but it's honestly the best way to illustrate my point. Do you remember the last time when you woke up in the middle of the night, soaking wet, with a high fever? It's a really unpleasant feeling, for sure - however, it's also one that can be alleviated with the help of a cool mattress. Definitely an important point to pay attention to in the Nectar VS Casper mattress comparison!
Responsiveness / Bounciness. Bounciness and responsiveness are often two features that are grouped into one. While bounciness is self-explanatory, responsive mattresses are those that "react" once pressure is applied unto any part of it. These products can be beneficial for a few reasons - multiple customer Casper VS Nectar mattress reviews will tell you that the main ones are sex and body alignment.
While you should definitely always keep the other, smaller things in mind while choosing a new mattress, too, the five features discussed above are going to be essential to pay attention to.
Nectar VS Casper: The Comparison
Moving on to the actual Nectar VS Casper comparison, let's repeat the same pattern and start off from the top - from the durability aspect of a proper mattress.
Durability
It would rather difficult to talk about the durability aspect of the Nectar VS Casper comparison without actually discussing the materials from which each of the two beds are made of, don't you think?
To be completely honest, this is actually a pretty even duel to be discussing - both Nectar and Casper are based out of memory foam. Furthermore, as far as construction is concerned, both beds are also comprised of 4 layers of materials.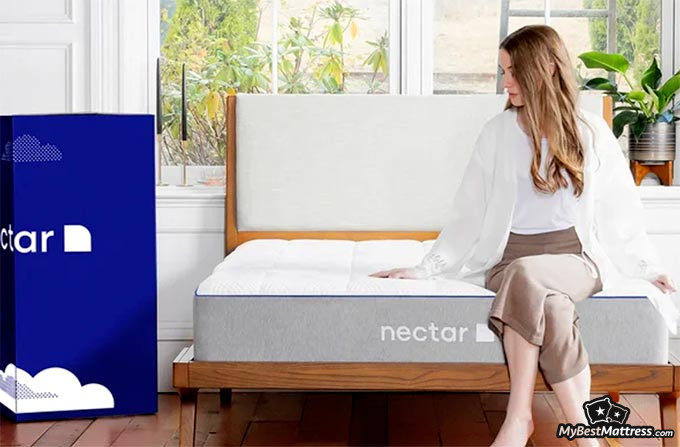 Keeping this information in mind, it will probably come as no surprise that many customer Nectar mattress VS Casper reviews actually rank both of the beds as being equally-durable. What is surprising, however, is the fact that both Nectar and Casper are seen as rather durable beds, in the first place.
Why is that surprising? Well, you see, memory foam doesn't necessarily have a good track record when it comes to being (quote, unquote) "durable". It tends to sink down a lot, which can really shorten the lifespan expectancy of the mattress. That said, however, both of the companies of the Nectar VS Casper duel have managed to solve this issue pretty well.
Latest Saatva Coupon Found:
UP TO $500 OFF
Limited-time Saatva Sale
We're sharing a limited-time Saatva mattress discount with our readers! Grab this deal & enjoy your new mattress with huge discounts.
Expiration date: 13/06/2023
4,042 People Used
Only 83 Left
Firmness
Continuing to elaborate on the point I've made when introducing the concepts of "firmness" and "softness" earlier on in the article, it's really important to figure out what's best for you before buying a new bed.
Most of the time, people tend to go for a compromise - a mattress that's neither too soft, nor too firm. Funny thing is, that might actually be the best alternative health-wise, too.
Table: Nectar and Casper mattress firmness options
You see, research done by F. M. Kovacs and colleagues found that medium-firm beds are actually better than firm ones, at least as far as lower back pains are concerned. This is quite interesting, since the general, widespread opinion goes a little something like this:
More firm - less pain.
This, seemingly, isn't the case. That said, you should still turn towards firmer mattresses, if given the choice between those, and their softer alternatives.
Firmness-wise, both Nectar VS Casper mattresses are actually very similar, too. Nectar is seen as the slightly-firmer alternative, both beds are considered to be "medium-firm", nonetheless. Definitely a good sign for anyone suffering from back and hip pains!

Did you know?
Motion Transfer
If you're someone who's easy to wake up, and you don't sleep alone - motion transfer is definitely going to be one of the most important features of this Nectar VS Casper comparison.
You see, there are beds out there that are great at isolating any and all motion while you lie on them. This means that, if there's a person who's a restless sleeper on the other side of the bed from you, you shouldn't feel them turning around at night - at least not to the extent where you'd wake up from it.

According to customer reports, Nectar is actually really good at isolating motion. Casper, however, is different - there are quite a few Casper reviews that talk about how Casper is far from providing ideal motion isolation, and that many people actually do feel their significant others tossing and turning around during the night, when they sleep on this mattress.
Temperature Neutrality
If you're someone who values sleeping cool, then the choice here is pretty simply - Nectar is the way to go.
You see, while memory foam doesn't have a good track record at staying cool while being in contact with a sleeper's body, Nectar has actually managed to tackle this issue. Casper, on the other hand, hasn't.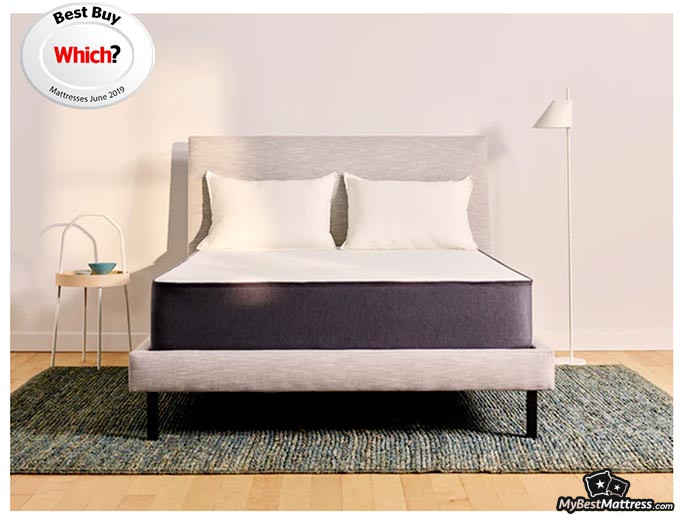 In all honesty, it isn't easy to make an all-foam product actually cool to sleep on. There are many ways of how companies try to achieve this goal, yet not all of them are successful.
According to customer Nectar VS Casper comparisons, while Casper isn't the hottest-sleeping bed on the market, it does fall short to many foam beds - not to mention spring ones! Just something to keep in mind before deciding on your purchase.
Responsiveness / Bounciness
Most responsive beds out there share a few different benefits. If your mattress is responsive, this likely means that it's going to have above-average edge support, and is going to be at least relatively firm. While this isn't the case with all of the different beds out there, a pattern like this can definitely be spotted.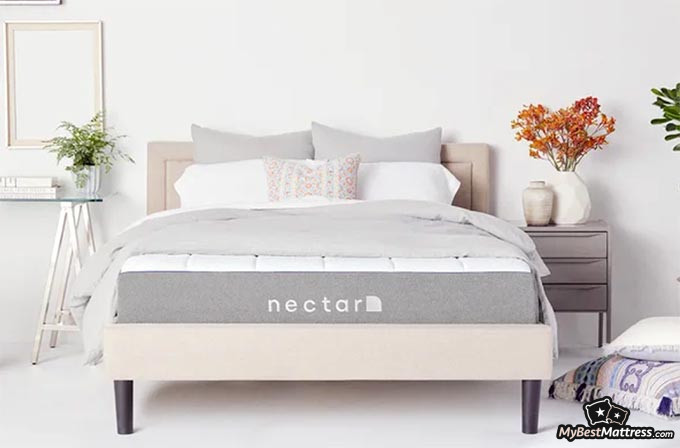 Nectar is actually like that. It's responsive and bouncy, which means that it will be great for improving your sexual endeavors, but it also has some rather sturdy edges and an above-average firmness level.
Casper, on the other hand, is one of the exceptions to that "rule". While the mattress does provide decent responsiveness, overall, many customers still claim that it's far from being the best bed for sex (meaning, it lacks proper bounce).
Sleeping Position
Now, with the five (six) of the main mattress features out of the way, there's still one thing that we need to talk about concerning the essential aspects of a good mattress.
That's right - sleeping positions.
No matter what type of a comparison it is that you're reading (whether this Nectar VS Casper one, or else), sleeping positions are always going to be the one thing that you need to figure out before committing to a purchase.
NECTAR
CASPER

Ultimate comfort for all sleepers
100% risk-free 365-night trial
Pressure point relief for any body type
Unique 4-layer design

Made of Quality Material
Casper is For Every Sleeper's Needs
Medium-Firm Level of Support that Works for Almost Everyone
100-Nights Sleep Trial
Durable (Confirmed by Users' Reviews)

Might be a bit too firm for some people
Some customers report that the mattress is a tad bit too warm

Only One Firmness Option
Not so Great for Hot Sleepers

Visit site
Read Review
See TOP10 Brands
Read Review
Table: Nectar and Casper mattress optimal sleeping positions
How do you do that? Well, pretty simple. First of all, determine your dominant sleeping position(s). There are three (four) big groups that most people fall into - back, side, stomach and combination sleepers.
Once you've done that, all that's left is to figure out whether the mattress of your choice fits your dominant position. Simple!
The great thing with this Nectar mattress VS Casper comparison is that both beds are considered to be more than suitable for all of the different types of sleepers out there. It's a very rare scenario, and while it likely doesn't make the process of choosing one of these two beds easier, it's still a point that's worth knowing.
Price
Finally, before finishing off this Nectar VS Casper comparison article, let's discuss the pricing and other technicalities associated with the two beds in question.
Table: Nectar and Casper mattress pricing options
Nectar's pricing and sizing options are:
Casper prices look a little something like this:
As you can probably tell by yourself, Nectar is the much-cheaper alternative here. While Casper also shouldn't be considered as an "expensive" bed, Nectar truly takes the cake in this aspect.
Table: Nectar and Casper mattress shipping, warranty and trial information
On top of that, Nectar offers customers a 365-night sleep trial, and a lifetime warranty. As opposed to that, Casper provides only 100 nights to safely test the bed out, and a 10-year warranty. That said, Casper does ship internationally, while Nectar doesn't.
Conclusions
Now, with the Nectar VS Casper comparison done and presented in front of you, the ultimate question remains - which of the two beds should you pick?
In my honest opinion, I would go with Nectar. While the Nectar mattress is much more affordable, it also provides better motion and noise isolation, is bouncy, durable and responsive. It also comes with a lifetime warranty - something that very few mattresses can boast of!
That being said, Casper isn't, by no means, a bad mattress. It does also have good durability, is a bit softer than Nectar and isn't all that expensive, in general.
If you would like some more information about both of the products in question, do check out our side-by-side Nectar VS Casper comparison. Also, if neither of these two beds looks suitable for you, you can also take a look at our list of the best mattresses, overall.
With that being said, I thank you for reading this Nectar VS Casper comparison article, and hope that the decision you have to make is going to be much easier! Good luck!
Nectar Deal Active Right Now:
33% OFF
Nectar Special Offer
With the current Nectar mattress sale you can save up to 33%. Get one of the biggest discounts on mattresses when using this special Nectar mattress coupon.
Expiration date: 13/06/2023
3,101 People Used
Only 99 Left
Leave your honest feedback
Leave your genuine opinion & help thousands of people to choose the best mattress. All feedback, either positive or negative, are accepted as long as they're honest. We do not publish biased feedback or spam. So if you want to share your experience, opinion or give advice - the scene is yours!