The company behind the brand that we're talking about today - GoodMorning.com - deals in various different types of beds in Canada. The brand in question - Recore - sells customers a pretty unique foam and latex mattress. In this Recore mattress review, we'll be taking a look at this very product.
While we'll be discussing everything from the core benefits of this mattress all the way to some negative customer Recore mattress reviews and how it all relates to pricing. I can tell you already - whatever your opinion about Recore is, there are surely some better options online, especially if you're looking for a top-tier bed. If you're interested, you can find a list of some of these products here.
With that being said, though, the Recore mattress is still worth checking out, nonetheless - let's do just that.
TL;DR: Reading through the various Recore mattress reviews left online, it's pretty obvious that the company sells some decent quality mattresses. The unique latex-foam combination of these products allows them to be soft, yet provide decent support, and also some great motion isolation, too.
Pros
Good motion isolation
No noise
Relieves pressure
Affordable
Cons
Some initial odors may be present
Sleeps warm for some
Lacks bounciness
Recore Mattress Review: PROS
As is our tradition when writing mattress reviews, we'll start off this Recore mattress review discussing the positive aspects of the mattress, too.
Note that Recore, unlike many other bedding brands out there, does only sell a single mattress to the general public - the Recore Latex Foam Mattress. This does make things much easier, since we are able to fully concentrate on a single product, and there are no customer Recore mattress reviews that would be talking about two or three different products.
So, ya - let's get straight to it.
Latex + Foam = Top-Tier Motion Isolation
Due to the COVID-19 pandemic, there has been an increase in research and studies that discuss the effects that certain specific sleep aspect could have on anything concerning the virus[1]. While it surely is a "hot topic" nowadays (and is likely to remain one for a long time to come), you shouldn't forget other factors that influence your quality of sleep daily.
Well, "nightly" would probably be the better term to use here.
One of the more important of such factors would have to be motion isolation.
If you sleep with someone else, you probably know just how important motion isolation can be, from first-hand experience. Maintaining a high quality of sleep can be difficult due to stress and other more subjective factors, but all of that doesn't matter if your partner turns into a kung fu fighter as soon as they fall asleep.

Customer Recore mattress reviews will tell you that this isn't something that you'd need to worry about with the Recore mattress. It's somewhat-unique combination of foam and latex guarantees that you'll experience minimal-to-none motion transfer while you sleep - all of the motion made should stay on that same side of the bed.
Lone sleepers can benefit from motion isolation, too - in their case, the "motion reduction" part might actually be a bit more important.
You see, a proper motion isolating mattress is going to reduce the movements that you make on the bed, in general, thus also providing you with fewer chances of randomly waking up in the middle of the night.
The thing about the Recore mattress Canada, though, is that both the graphite-infused latex layer, and the foam one act as motion isolators (as opposed to some other beds that only utilize foam). This maximizes the potential benefits of the mattress, and make it effective, in general.
Latest Saatva Coupon Found:
UP TO $500 OFF
Limited-time Saatva Sale
We're sharing a limited-time Saatva mattress discount with our readers! Grab this deal & enjoy your new mattress with huge discounts.
Expiration date: 12/12/2023
4,042 People Used
Only 83 Left
As Silent as They Come
If you've already come across some customer Recore mattress reviews that talk about the motion isolation capabilities of this bed, this next point is probably not going to come as a surprise to you, too.
The Recore mattress isn't going to make any noise when bearing weight. Like, any - whatsoever.
That's great! Yet again, though, it's probably not unexpected.
You see, the mattress contains foam and latex - that's basically it. Neither one of these two materials isn't prone to making noise. If you'd really want to find a potentially noisy mattress, you'd have to look towards the innerspring market - foam and latex, though, are some of the quietest product to sleep on, even long-term.
What is a silent mattress even good for, you may ask? Well, a couple of things, actually.

The first one does come up in some customer Recore mattress reviews - if you're a sensitive person, and sleep rather lightly, you might be woken up by the sounds that your mattress makes when you're turning around in your sleep. It's happened to me before - a really strange sensation, since at first, you're not even sure what woke you up!
Something that you won't find mentioned on many Recore mattress reviews, though, and speaking in a more practical sense, a silent mattress will always be better in regards to one, single topic - sex. I mean, do I even have to explain it? No one would probably want to do their business on a bed that sounds like it's going to break at any given point in time.

Did you know?
Relieves Pressure Quite Well
Pressure alleviation is going to be a feature that's important to those who experience a lot of pain in some certain areas of their body in the morning, after they wake up and get out of bed.
You see, if you sleep on an old mattress (especially if it's a foam one) and it has worn out some time ago already, it will also probably be saggy in the middle, and the upper layer might also present a lot of sinking.
Needless to say, that's not good. To be honest, it might actually be quite bad - if you do experience some aches and pains in the morning, chances are that you're sleeping with a completely broken spinal alignment, and your posture becomes terrible throughout the night.
Yet again, this would be due to the bed becoming sinky.
While all of that is an issue that's most prominent with some old foam beds, foam can actually alleviate pressure very well, too - if it's done right, that is. Some Recore mattress reviews point out that the product in question has, indeed, done it right - the latex part of the mattress does not allow it to sink down too much, thus creating perfect conditions for pressure relief.
Recore Mattress Review: CONS
Over time, there's more and more research that comes out regarding various factors that influence our quality of sleep. There are studies that even compare and contrast the relationship between sleep duration and ethnicity in Canada[2] - needless to say, people are becoming more knowledgeable about the topic on a daily basis.
The one thing that is completely common knowledge, though, is that there are no "perfect" products - the same can be said in this Recore mattress review, too. As I've mentioned in the introductory part of the article, there are certain specific points concerning this particular mattress that make it a viable choice, but there are still much better options on the market.
Let's discuss the main shortcomings of the Recore mattress Canada, though.
Lacks Bounciness / May be Too Soft for Some
In the case of this specific Recore mattress review, these two issues - lack of bounciness and softness - are related to one another. Note that this may not be the case in some other mattress reviews!
Right, so - what do I mean by that?
Quite frankly, customer Recore mattress reviews point out that the "softness" aspect of the mattress refers to it lacking responsiveness when you jump on it. The latex-foam mixture absorbs motion into itself, rather than transferring it back up - we've talked about that already earlier on in the Recore mattress review.

While this is great for anyone looking for some quality sleep, it's not going to be ideal for couples that want to "spice up" their sex life. This particular mattress will definitely make it a tad bit difficult, since you'll sink down instead of getting that responsiveness and bounciness back up.
Sleeps Warm for Some
In a very general sense, experiencing warmth while sleeping is a good thing - it makes your sleeping experiences cozy, and you don't need to worry about getting out of bed to grab those extra blankets or comforters.
That being said, though, this isn't exactly what customer Recore mattress reviews mean when they talk about the product in question "sleeping warm". Rather, this is actually an issue that's pretty tough to tackle, especially when it comes to foam-based beds.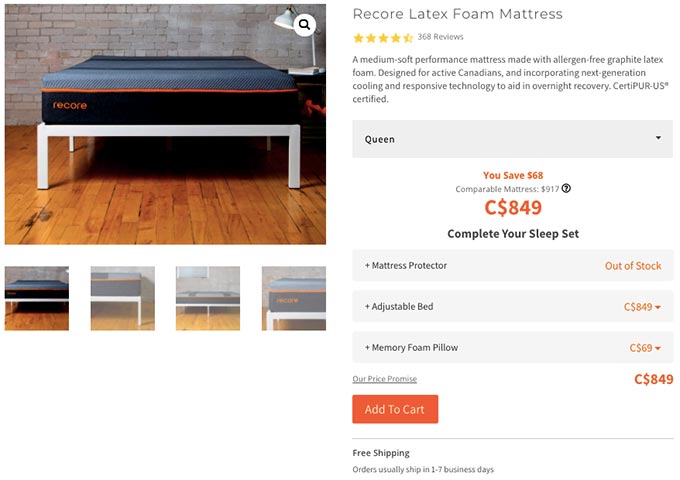 While latex is a bit better at remaining cool at night, foam is completely bad at it - it's going to absorb heat, and then keep it within itself, without dispersing and getting rid of it. This way, the mattress heats up while you sleep, and in the middle of the night, you might wake up feeling like you've been sleeping in an oven.
Admittedly, things aren't that bad with the Recore mattress Canada - while customers do report sleeping warm (some - hot), it's not exactly a "unanimous consensus". Still, if you're a warm sleeper, by default, you're going to need a cooling mattress - Recore simply won't do it.
Some Initial Odors May be Present
If you've ever had a latex mattress before, this probably doesn't surprise you one bit, does it?
Some customer Recore mattress reviews point out that the product may have some initial off-gassing upon first unpacking it. In essence, this is completely normal - as mentioned above, while all mattresses are going to off-gas to an extent, this is going to be much more noticeable with any products that have latex in them.

Yup, latex truly is one of the more odor-producing materials, especially when it's synthetic - that's exactly the case with Recore, too.
Notably, this probably isn't going to be a major issue for most people. Still, if you're someone who's sensitive to smell, do keep this in mind.
Price
Finally, now that you're aware of all of the main pros and cons of the Recore mattress Canada, let us move on to the pricing part of the Recore mattress review.
To be completely honest with you, pricing is that one thing that hasn't popped up in many customer complaints regarding the bed in question. Customers seem to genuinely appreciate the pricing options of the product. They are, as follows:
The Recore mattress is going to be a bit pricier than many other Canadian-made beds that would fall into this particular category of products, but that makes perfect sense - while most of those beds are foam products, Recore is a foam and latex hybrid.
And yes, naturally, latex is going to up the price.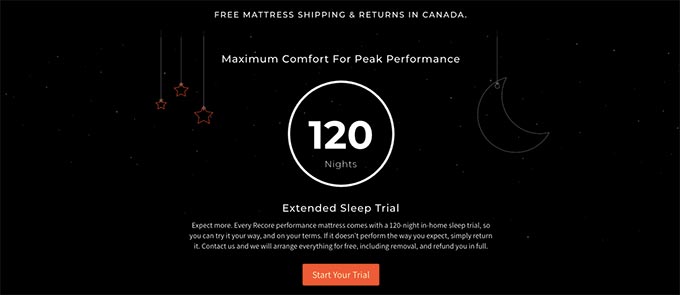 The mattress also comes with a 120-night sleep trial and a 15-year warranty. That's pretty good! Both of those numbers are higher-than-average in regards to most mattresses in this category.
Here is The Best Saatva Offer I Found:
UP TO $500 OFF
Limited-time Saatva Sale
We're sharing a limited-time Saatva mattress discount with our readers! Grab this deal & enjoy your new mattress with huge discounts.
Expiration date: 12/12/2023
4,042 People Used
Only 83 Left
Conclusions
Now, what's the actual verdict that we can extract from this Recore mattress review?
Well, it's actually pretty straightforward, really - Recore is a decent mattress with some great features, and will suit anyone looking for a simple bed for an affordable price.
That being said, if you're in the market to improve your sleep quality as much as possible, and are willing to spend more money to do so, then there are definitely better options for you out there.
Don't get me wrong - Recore possesses some great motion isolation and pressure alleviation features, and is going to be as silent as mattresses come. Still, in regards to longevity, quality of materials and feature balance, it's not really a "top-tier" mattress provider.
Yet again, however, it's worth stressing that this isn't a bad thing, either - Recore simply offers an affordable alternative, which is much appreciated. If you reside in Canada and find yourself needing a new bed, but are also on a budget, make sure to check Recore out - perhaps this product will, in fact, suit your wants and needs?
Scientific References
1. Shneider A, Kudriavtsev A, Vakhrusheva A: 'Can melatonin reduce the severity of COVID-19 pandemic?'
2. Singh M, Hall KA, Reynolds A, et al.: 'The Relationship of Sleep Duration with Ethnicity and Chronic Disease in a Canadian General Population Cohort.'
Leave your honest Recore review
Leave your genuine opinion & help thousands of people to choose the best mattress. All reviews, either positive or negative, are accepted as long as they're honest. We do not publish biased reviews or spam. So if you want to share your experience, opinion or give advice - the scene is yours!