Today, more and more people around the world are becoming increasingly eco-conscious. This translates into many parts of a person's everyday life - shopping for a new mattress is no exception. In this article, we'll take a look at some customer My Green Mattress reviews - a brand that's built a name of being very eco-friendly.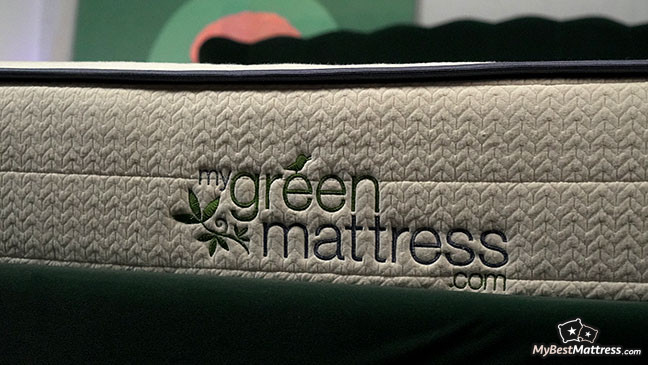 "Eco-friendly" does not automatically translate into "fit for providing quality sleep", though. While natural materials and ethical production processes are important, it's essential to find yourself a bed that would provide you with that quality sleep. That's why we'll talk about some of the more protruding My Green Mattress complaints, too.
If you're interested in high-end mattresses, however, you can also check our list of the top providers here.
TL;DR: Customer My Green Mattress reviews are pretty unanimous - the Natural Escape mattress sold by the company is an all-around well-designed and built product. It offers fantastic edge support and noise isolation, pressure alleviation and cooling. Some customers do report a lack of bounciness and motion isolation, though.
Pros
Good breathability and cooling
Sturdy and reliable edges
Proper pressure alleviation features
Eco-friendly and natural materials
Cons
Lack of motion isolation
Not bouncy enough for most
Does not ship internationally (except Canada)
My Green Mattress Reviews: PROS
Reading through My Green Mattress reviews online, one of the first things that you'll notice is that the brand offers three different mattresses to their customers - Pure Echo, Hope Latex and Natural Escape.

While the three beds are quite different in their design (the first two are innerspring and latex, respectively), we'll focus on the brand's most popular mattress - the Natural Escape.
Top-Tier Pressure Point Alleviation
Natural Escape is a hybrid mattress - it's based out of natural latex at the comfort layer (in addition to wool), and coils at the support base. While well-built latex hybrids do have some notable benefits, by default, one of the most well-known of these benefits has to be pressure relief.
Pressure points can form on some specific parts of your body - this happens more commonly than you'd think, and your mattress is usually at fault. Older beds (especially those that have lost their primary shape, and are now sagging or sinking down in the middle), because of their wear, can form pressure points at your hips, shoulders, neck and lower back.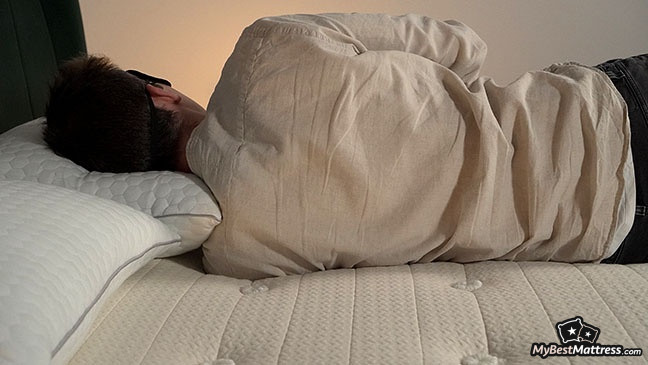 More often than not, these pressure points are also painful. Sure, those sore shoulders might be from your workout the day prior, but that might also be a sign that it's time to start thinking about changing your bed. Granted that you're looking for customer My Green Mattress reviews, however, that's probably what you're thinking of doing, in the first place.
Now, as I've noted above, latex hybrids are quite well-known for providing the sleeper with optimal pressure relief capabilities. That's because latex, much like memory foam, conforms and contours around your body, and thus distributes your weight somewhat equally throughout the bed, avoiding pressure point formation.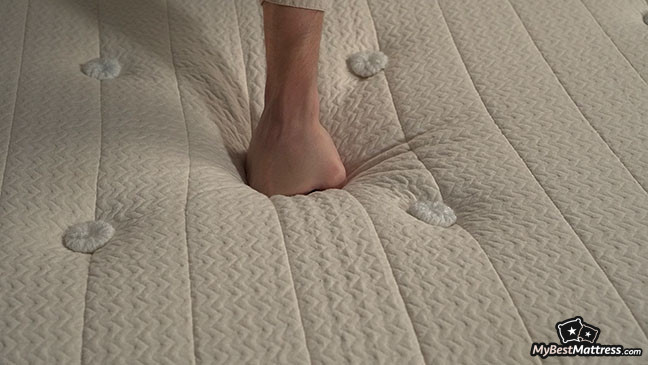 Multiple customer My Green Mattress reviews will tell you that Natural Escape is truly great at alleviating existing pressure points, and preventing new ones from forming.
Latest Saatva Coupon Found:
UP TO $500 OFF
Limited-time Saatva Sale
We're sharing a limited-time Saatva mattress discount with our readers! Grab this deal & enjoy your new mattress with huge discounts.
Expiration date: 05/12/2023
4,042 People Used
Only 83 Left
Cool to Sleep On
There are endless amounts of research that show how sleep disturbances can signal some underlying mental health conditions[1]. Naturally, though, mental health doesn't always have to be the answer - there are many things that can hinder your sleep. Truth be told, a hot-sleeping bed is one of the more common causes.
Mattress providers around the world know perfectly well that heat is a major sleep issue, and are thus taking up different measures in order to make their mattresses as cool and breathable to sleep on as possible. Some resort to cooling gel (especially in foam products), others - breathable covers.
And then there are innerspring beds.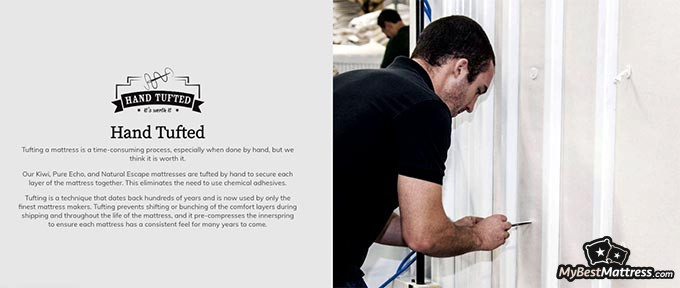 While customer My Green Mattress reviews do note that Natural Escape is a hybrid mattress, it does have pocketed coils down in the support layer. Since latex isn't as prone to trapping heat as, say, foam, the coils can do their job at dispersing the heat from your body and making the entire bed breathable and cool to sleep on.
My Green Mattress Reviews - What's so GREEN About it? (2021)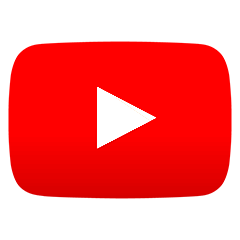 So - if heat is something you simply can't stand, and a cool mattress is a priority to you, judging by the majority My Green Mattress reviews, the Natural Escape bed has got you covered on that end.

Did you know?
Natural Materials
As I've mentioned at the beginning of the article, My Green Mattress is an eco-friendly company that supplies customers with beds made out of natural, organic materials.
The mattress in question - Natural escape - is made out of Dunlop latex and coils. It does, however, also have eco-friendly wool within its construction, and comes with a natural cotton cover.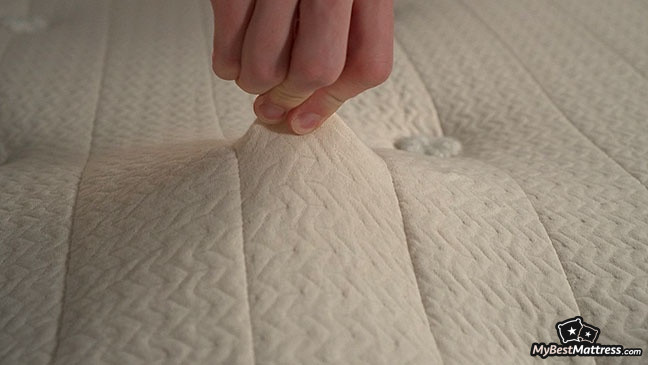 The fact that the mattress is organic and completely eco-friendly does have a few different benefits, but one of the more prominent of these would have to do with it being somewhat hypoallergenic.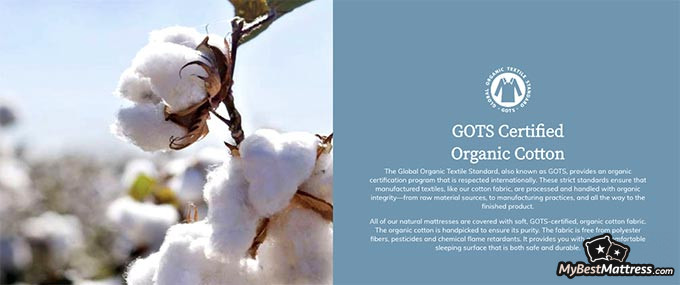 Hypoallergenic products are those that are least likely to cause your allergies to act up. While people have many different allergies, as far as mattresses go, these often come up while you're sleeping on foam products, or ones that have some chemicals within them.
In the majority of cases, this is not something that you'd need to worry about while sleeping on the Natural Escape mattress.
Silent When Bearing Weight
Sleep disturbances can be caused by multiple different things. A study done within the Royal Norwegian Navy showed that noise events are responsible for increased tossing and turning during the night, and with disturbed quality of sleep[2].
Granted none of us are in the Royal Norwegian Navy (well, probably), noisy mattresses can still be an issue. Sometimes, it's little more than an annoyance, but if you're a lighter sleeper, you might actually catch yourself waking up in the middle of the night, all because your bed was making too much noise.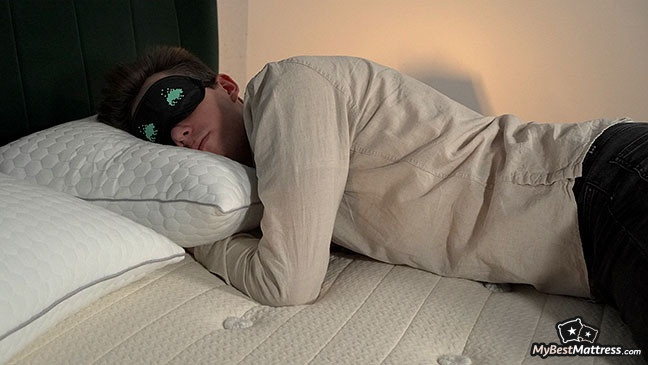 Judging by the customer My Green Mattress reviews, however, that's not an issue you'd face sleeping on Natural Escape.
While the mattress does have springs and coils within its construction (the things that usually make a bed noisy - just ask innerspring owners), My Green Mattress has managed to mitigate this potential issue. Sure, you might still hear an occasional squeak, but it shouldn't be anything that causes you to suddenly jump up at night.
Good Shape Retention (Strong Edges)
One of the more often-mentioned features within customer My Green Mattress reviews is edge support.
The mattress does seem to possess really strong edges!
I can tell you right now - that's all thanks to the coils within the support core of the bed. Well-made spring mattresses have some of the strongest and most durable edges you'd come across - it would seem that Natural Escape is no exception to this rule.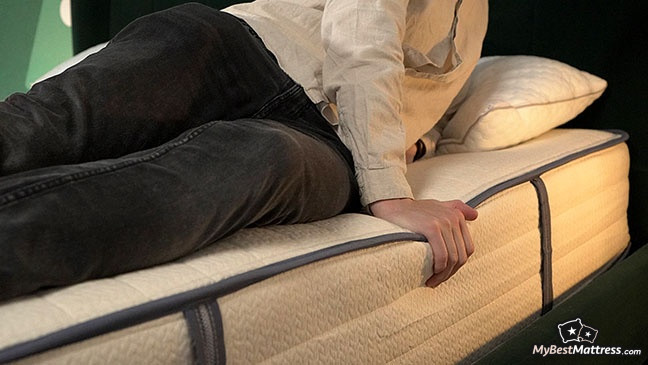 The strength that the bed's edges possess is important for a few different reasons. First of all, proper edge support means that your mattress is going to do a good job of retaining its shape throughout the time that you sleep on it. This way, you won't catch yourself rolling to either side of the bed at night, seemingly without a clear reason.
This, however, has a huge impact on the quality of your sleep, too - minimal rolling around at night means that you'll be able to retain proper spinal alignment, and should thus avoid any pesky lower back pains in the morning.
My Green Mattress Reviews: CONS
Now, it's pretty obvious that the vast majority of the customer My Green Mattress reviews are rather positive. That said, there are no perfect products out there - the Natural Escape bed isn't an exception. With that, let's discuss some of the more common My Green Mattress complaints.
A Lack of Motion Isolation
I'll admit - this is somewhat of a surprise to me. I'll explain.
Whenever a mattress has great pressure relief capabilities, that means it does a good job of contouring to the sleeper's body. Usually, that also means the product will be great at absorbing motion, too.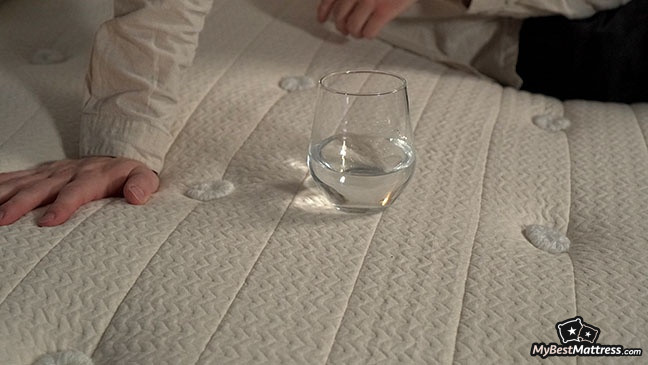 Unfortunately, that doesn't really seem to be the case with Natural Escape. While there are no customer My Green Mattress reviews bashing this feature, there are still people that claim they've expected better motion isolation than they've received.
You see, motion isolation allows you and your partner to sleep at peace on your own, respective sides of the bed. The feature minimizes (sometimes - eliminates) motion transfer - what this means is that, if you sleep with a toss-and-turner, you won't feel them move during the night.
Not Bouncy Enough For Most
Since I've been going on and on about how the Natual Escape mattress is based out of latex and coils, you'd probably naturally think that it has proper bounce potential, right?
Well, reading through some of the My Green Mattress complaints, that doesn't really seem to be the case.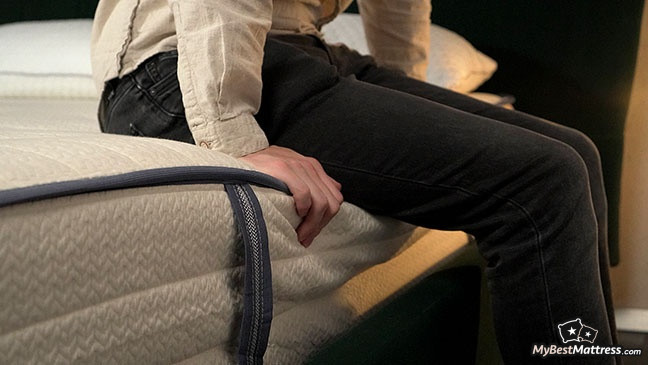 While innerspring mattresses are well-known for providing great bounciness and responsiveness to the sleeper, it would seem that My Green Mattress has decided to sacrifice this feature for increased pressure alleviation capabilities. It's difficult to build a product that would have both - usually, it's one of the other.
Naturally, since the Natural Escape bed does have springs within its construction, you can expect some level of bounce. If you're looking for a bed to improve your sex life, however, I'm afraid that the product might not be sufficient.
Price
Now that we've discussed both the positive and negative customer My Green Mattress reviews, let's quickly take a look at the price tags of the Natural Escape mattress:
As you can probably see for yourself, the prices really aren't all that bad! While it may not be the most affordable mattress you'd come across in your search for the best bed, given all of the different features that it boasts, the price tags do make sense.

The company also offers customers 120 nights to try the mattress out, worry-free. If you don't like it, you can receive a refund during that initial time period. You'll also get free shipping within the US - it's actually worth mentioning that the mattress comes in a box, for your own, personal comfort and convenience.
Finally, you can also expect to receive a surprising 20-year warranty. Even some of the high-end mattress brands out there offer customers 10 or 15-year warranties, by default - that makes it even more impressive!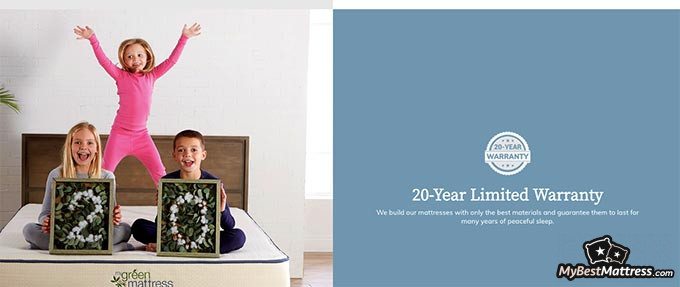 Now, this should probably have been mentioned earlier on in the article, but it has to do with the shipping process of the mattresses, and not the products themselves - customer My Green Mattress reviews state that the company doesn't ship outside the US (with Canada being the one exception).
Basically, if you live somewhere else in the world, you won't be able to purchase the mattress for yourself - the brand doesn't ship internationally.
Here is The Best Saatva Offer I Found:
UP TO $500 OFF
Limited-time Saatva Sale
We're sharing a limited-time Saatva mattress discount with our readers! Grab this deal & enjoy your new mattress with huge discounts.
Expiration date: 05/12/2023
4,042 People Used
Only 83 Left
Conclusions
Finding a proper mattress for yourself is often a long and somewhat difficult task - it doesn't have to be, however! It all depends on how much research you put into it, and how picky you are about the right options for yourself.
Let me tell you - when it comes to the quality of your sleep, you should be VERY picky.
As mentioned earlier, the majority of the customer My Green Mattress reviews are rather positive towards the Natural Escape model of the company. While it does pack some great features, however, there are still pretty notable issues to keep in mind, too.
For some, these issues might be secondary, but for others, they're going to be quite significant.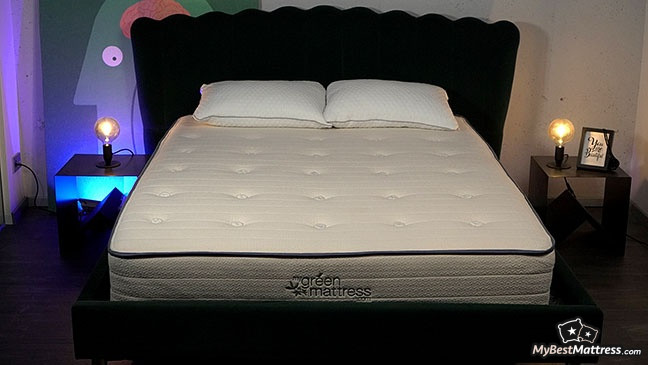 If you're big on natural and eco-friendly products, and are willing to give a latex-spring hybrid a chance, the My Green Mattress Natural Escape mattress might suit you pretty well. However, if you need motion isolation, bounciness or simply want a better bed, in general, you should instead take a look at our list of the best mattresses out there.
With all of that being said, I hope that this article was useful to you, and that you now have a better idea about the best mattresses for yourself (and perhaps your significant other?). Thanks for reading, and don't forget to check out our other mattress- and sleep-related articles! Cheers!
Scientific References
1. Chiara Baglioni, Svetoslava Nanovska, Wolfram Regen, et al.: 'SLEEP AND MENTAL DISORDERS: A META-ANALYSIS OF POLYSOMNOGRAPHIC RESEARCH'
2. Erlend Sunde, Magne Bråtveit, Ståle Pallesen, and Bente Elisabeth Moen: 'Noise and sleep on board vessels in the Royal Norwegian Navy'
Leave your honest My Green Mattress review
Leave your genuine opinion & help thousands of people to choose the best mattress. All reviews, either positive or negative, are accepted as long as they're honest. We do not publish biased reviews or spam. So if you want to share your experience, opinion or give advice - the scene is yours!