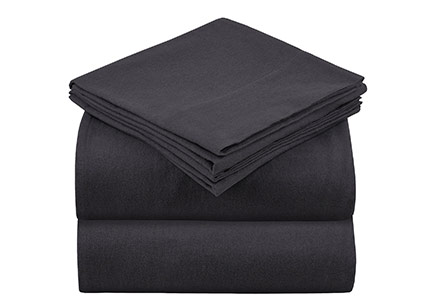 If you're in the market for a new sheet set, you've probably scoured the internet and witnessed a huge number of different products. Picking the right one for yourself can be a challenge, especially if you're not quite sure what to look for. Well, let me tell you - in this Mellanni bed sheet set review, I'll tell you about a very optimal option.
Optimal for what, you may ask? Simple - Mellanni deals in some sheets that are a great compromise between quality and price. While the products aren't going to fit everyone, if you fall into the specific group of people discussed in the article below, you'll likely appreciate the brand's products quite a bit. Well, at least that's what customer Mellanni sheets reviews will tell you.
TL;DR: Customer Mellanni bed sheet set reviews are somewhat split - some customers point out that Mellanni is great in some specific situations, while others note that there are some glaring issues that should be addressed before deciding whether the products are worth purchasing or not. Whatever the case might be, Mellanni does, in fact, offer some decent sheets.
Pros
Very breathable
Thread count - 300
Ease to clean and take care of
Multiple different colour options
Cons
Questionable durability
Thin materials
Mellanni Bed Sheet Set Review: PROS
If you've never heard about Mellanni before, let me just say - that would be surprising. Well, at least if you've been looking for some new mattress sheets for an extended period of time - there are many customer Mellanni bed sheet set reviews online, and it's almost impossible to not notice the brand name in this type of a situation.
Mellanni deals in all things that revolve around bedding - sheets, sheet sets, pillowcases, mattress pads & protectors, coverlets & duvet covers. Visiting the company's official website, you'd be able to find a whole lot of different products - among them there's a variety of bed sheets, too.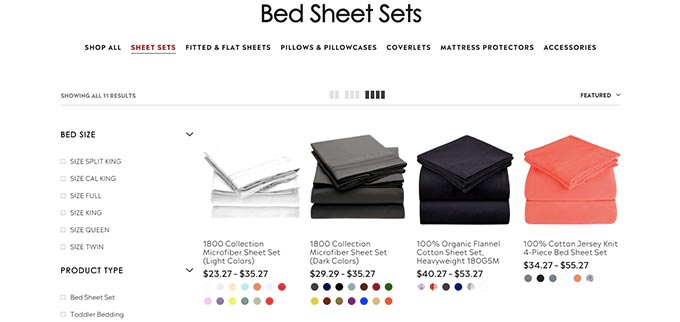 In this Mellanni bed sheet set review, however, we'll be focusing on but a single bed sheet set - the Flannel Cotton one.
Why? Simple - it's one of the most popular and, arguably, best Mellanni bed sheets that the brand has in stock. Reading through customer reviews, it would seem that the vast majority of them talk about this specific set.
So, without further ado, let's get straight to the pros of Mellanni Flannel Cotton sheets.
Decent Breathability and Coolness
Right, so - if you've ever read any other sheet set reviews that I've written, you're probably well aware that I usually start off with this, specific point - one that has to do with the breathability and coolness features of the set.
Truth be told, I'd be lying if I said that this is unintentional - not only is this a topic that's really important to me personally, it's also one of the main features that potential customers look for when trying to decide on a specific sheet set.
Breathability guarantees that your sheets (both the fitted sheets that go on your mattress, and pillowcases, too) aren't going to trap heat from your body while you sleep. While sleep disturbances are pretty common, and happen because of various different reasons[1], one of the more common of these reasons would have to do with heat.
If your sheets, blanket or even the mattress itself traps heat, you'll likely find yourself waking up in the middle of the night, drenched in sweat and feeling like you've just run a marathon. It's not an ideal situation to find yourself in - some customer Mellanni bed sheet set reviews can second that.

Some people sleep hot by default, others - when they're sick and have a fever. Whatever the case might be, you'd probably struggle to find a person who doesn't feel good imagining themselves falling into a cool, freshly-made bed after a long day at work or school. The Mellanni bed sheets can, in fact, provide you with such an experience.
The sheet set in question is made out of cotton - one of the most popular and most commonly used materials in the mattress sheet industry. Cotton products are very breathable, by default - while some brands combine cotton with some other materials to increase the coolness even further (i.e. Molecule), cotton does work pretty well, by itself.
So - in short, if you sleep hot, customer Mellanni bed sheet set reviews will tell you that Mellanni's Flannel Cotton Sheet Set might be a good choice to try out.
Latest Saatva Coupon Found:
UP TO $500 OFF
Limited-time Saatva Sale
We're sharing a limited-time Saatva mattress discount with our readers! Grab this deal & enjoy your new mattress with huge discounts.
Expiration date: 08/12/2023
4,042 People Used
Only 83 Left
Hypoallergenic
Allergies suck - this shouldn't come as a surprising statement to anyone. One of the worst parts of allergies is that they can come anywhere, at any time - you may not even know that you're allergic to some sort of a material, until you come into direct contact with it at some point in your life.
Unfortunately, this is true with mattresses and mattress accessories, too. Some of these products could utilize materials that might, in fact, cause an allergic reaction to the sleeper. Now, it's usually nothing to be alarmed about - it shouldn't manifest as anything else other than a rash, annoying itching, and some other, minor symptoms. Still, the products become useless in a scenario like that.

Reading through customer Mellanni bed sheet set reviews, though, I haven't encountered any complaints regarding this particular topic. That's most likely because there simply weren't any, in the first place - the sheets are hypoallergenic.
Sleeping on hypoallergenic sheets, it does not mean that you won't develop an allergic reaction to the product - instead, it simply means that this is very unlikely to happen. Definitely a great point to keep in mind!
Very Easy to Clean
Cleaning your sheets can be a hassle… Or it can be something that you don't even notice. It all depends on the material and construction of the sheets - some materials (and combinations of materials) are susceptible to tears and roughness, and so they have to be washed by hand.
Needless to say, that's not an idea that would be appealing to most.
When it comes to the Mellanni bed sheets, though, you don't need to worry - the products are completely machine-washable. This means that all you have to do is throw the sheets and pillowcases into the washer, and you're done - simply hang them outside afterwards, or place them in a dryer to finish off.
No particular cleaning methods, no need for manual interference - great!
Mellanni Bed Sheet Set Review: CONS
At the beginning of this Mellanni bed sheet set review, I've mentioned that the sheet set in question - the Flannel Cotton one - is going to be most suitable for a particular kind of group of people. This group would mostly consist of individuals who need some sheets for a short-term goal, such as sleeping in a dorm room or for travel.
Why? Well, mostly because of the one, major issue that many customer Mellanni sheets reviews point out - lack of durability.
Questionable Durability
There are various studies and research articles out there that involve sleep, in one way or another - be it concerning the correlation of sleep and some illness[2], drug consumptions, room temperature, or else. What many of these studies fail to showcase, however, is the fact that lack of sleep-related product durability can be a really disturbing issue, too.
Now, look - it's no secret that you'd probably want the product that you purchase to be as durable as possible. Be it a mattress or a sheet set, no one wants to get stuck with products that don't hold up and need to be replaced in just a few days, weeks or months.

Is this the case with Mellanni's sheets? No, not really - judging by the customer Mellanni bed sheet set reviews, the situation isn't as bad as that. Still, if longevity is a priority to you, it's definitely worth keeping in mind that, reportedly, the Flannel Cotton sheets aren't at the top of the "durability and quality" list.
To put it simply, customer Mellanni sheets reviews will tell you that the set isn't going to hold up all that well, especially if you plan to wash the sheets quite often.
Very Thin - Might Feel Too Cold for Some
Ya, I know - not a notion that you'd encounter all that often.
The Flannel Cotton Sheet Set is relatively thin, at least when compared to other cotton sheets that are currently popular within the market. What this means is that, if you live in a colder environment, you might actually find that the sheets are a bit too cool for comfort (no pun intended).
While it's definitely a strange-sounding issue to have, you should also note that, in this context, "cool" doesn't equate to "breathable". The sheets allow for proper airflow, but it's not the same - the coolness that we're talking about here isn't of the refreshing kind, but rather, the "I should probably get my blanket" type.
Price
To finish off our Mellanni bed sheet set review, let's talk about the pricing options of the Flannel Cotton Sheet set offered by the brand.
Here, it's worth referencing the "price VS quality" fact. The sheet set seems to have some issues when it comes to durability - we've established that much already. That said, however, the pricing options reflect that pretty well:
It surely is one of the more affordable sheet sets out there! This is especially true when you consider the competition - with brands like Brooklinen, Parachute or Frette offering products for much higher prices, Mellanni is surely much closer to a casual consumer's first choice.
What's also really awesome about the product in question is that you can purchase it in many different colors and patterns - there are at least 9 colors to pick from, so if you're going for a specific type of aesthetic in your bedroom, you might be able to maintain it with Mellanni.

Finally, it's worth mentioning that the company also provides free shipping (in the US) and returns, and a lifetime warranty - that's pretty significant! It's definitely not every day that you'll come across a lifetime warranty, on anything!
That said, it's worth keeping in mind that some of these perks (warranty, free shipping, etc.) might not be applicable in some, specific situations - the company notes that you can expect to receive all of the benefits if you purchase the products "from its official channels". These would seem to include the brand's official website, the official Amazon account, and others.
Here is The Best Saatva Offer I Found:
UP TO $500 OFF
Limited-time Saatva Sale
We're sharing a limited-time Saatva mattress discount with our readers! Grab this deal & enjoy your new mattress with huge discounts.
Expiration date: 08/12/2023
4,042 People Used
Only 83 Left
Conclusions
Now, to end on a high note, let me just say - from everything that I've gathered while writing this Mellanni bed sheet set review (and while reading other customer Mellanni bed sheet set reviews, too), I would recommend Mellanni… In most cases.
You see, it really does depend on what it is that you need and want out of your sheet set. Mellanni is definitely a great pick in the scenarios discussed earlier on in the article - if you need a sheet set for traveling, a dorm room bed, or to simply save up money, Mellanni should be a the top of your list.
Does this mean that it's worth using the Mellanni sheets in only these scenarios? No, definitely not - you could surely purchase the product for everyday use at home, too. That said, with some lack of durability and luxuriousness, this point will be completely dependent on your own wants, needs and budget.

If you're actually looking for some longer-term products, or are in the market for a more luxurious sheet set, then you could check out the brands mentioned earlier on in the article, or even take a look at our list of the best bedsheets, in general.
Also, if you're looking for ways of how to improve your sleep even further, do take a look at our list of the best mattresses in the industry - perhaps you'll find a great option for yourself?
All in all, I thank you for reading this Mellanni bed sheet set review, and wish you the best of luck in finding the right product for yourself!
Scientific References
1. Larner AJ: 'Functional cognitive disorders: update on diagnostic status.'
2. Yan Y, Li Y, Liu X, et al.: 'Analysis of factors associated with brittle response in patients with Parkinson's disease.'
Leave your honest Mellani Bed Sheets review
Leave your genuine opinion & help thousands of people to choose the best mattress. All reviews, either positive or negative, are accepted as long as they're honest. We do not publish biased reviews or spam. So if you want to share your experience, opinion or give advice - the scene is yours!