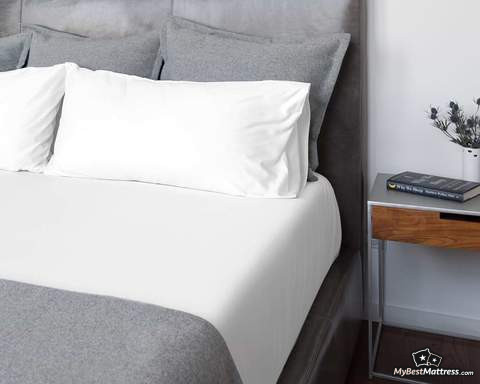 Mattress sheets are some of the better products that you could purchase in order to improve your quality of sleep and freshen up your bedroom, in general. That being the case, it's not always simple to find and buy the best option for yourself - the market is full of various different sheet sets! In this Molecule sheets review, I'll tell you about one of the better options around.
Well, one might not really be all that correct - rather, you'll learn that there are two Molecule bed sheets available. Both of them are very similar in the benefits that they provide, but some features do differ. Worry not - we'll cover all that you need to know in the Molecule sheets review below.
TL;DR: There are two types of Molecule sheets reviews you'll find online - ones that talk about the sateen sheet set, and others that reference the percale one. Both sets are based out of Tencel Lyocell and cotton, though - with that, they both provide some unique and beneficial features to the sleeper.
Pros
Breathable and cool
Construction includes Tencel Lyocell
Sustainable and environmentally-friendly
Durable
Cons
High price point
Lacks pocket depth (percale set)
Molecule Sheets Review: PROS
In most cases, whenever I take a look at some mattress sheet providers, I'd try and cover their most popular products. That's simply because such companies usually have a huge array of different sheet sets, but there is always that one, main set that's most beloved by the majority of the company's customer base.
When it comes to this Molecule sheets review, though, we'll do things a bit differently. I'll tell you about two sheets sets offered by Molecule - the percale one, and the sateen one. Both of these products are quite similar in the benefits that they provide to the sleeper, and are thus both quite popular.

The way that we'll go about this is pretty simple - as we talk about the pros and cons that are most prominent while reading customer Molecule sheets reviews, I'll let you know which of the two (or both) sheet sets the feature applies to.
With that out of the way, let's jump straight into the benefits and most notable features of the Molecule sheet sets.
Great Breathability (Both Sets)
Breathability is usually the first feature that I tackle while writing sheet reviews - it's actually one of the very first features that customers look into before purchasing a sheet set, too! This isn't something that would be unique to Molecule sheets reviews, though - no matter what type of a sheet set it is that you'd like to buy, chances are that you'll inquire about its cooling effects quite fast.
It makes perfect sense, too - breathability and cooling are two of the most important features of a good sheet set, both in regards to pillowcases, and the sheets themselves.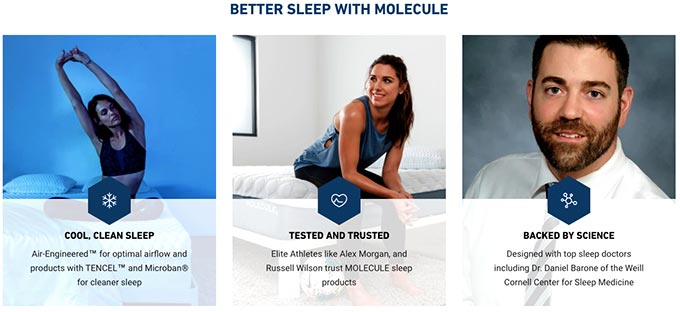 This can actually be proved pretty easily - just think about the last time that you slept hot. A single memory of waking up sweaty, with your mattress, pillow and bedsheets soaked up should be enough to help you understand just how important breathability is.
Thankfully, it's a topic that Molecule is great at - this is true with both of the bedsheet models.
Both sheet sets - the percale one, and the sateen one - utilize Tencel Lyocell and cotton in their construction. Cotton, in of itself, is amazing at getting heat away from your body - combine that with Tencel Lyocell, and you have yourself a set of some truly breathable bedsheets.
Latest Saatva Coupon Found:
UP TO $500 OFF
Limited-time Saatva Sale
We're sharing a limited-time Saatva mattress discount with our readers! Grab this deal & enjoy your new mattress with huge discounts.
Expiration date: 11/06/2023
4,042 People Used
Only 83 Left
Softer (Sateen) and Rougher (Percale) Options
The vast majority of people who are looking for Molecule sheets reviews prefer softer sheets. That's usually because the mattress that they sleep on is relatively firm, and any & all softness that they could get is much appreciated.
That being said, there are also those who like some rougher texture, too - it's a very preference-based matter.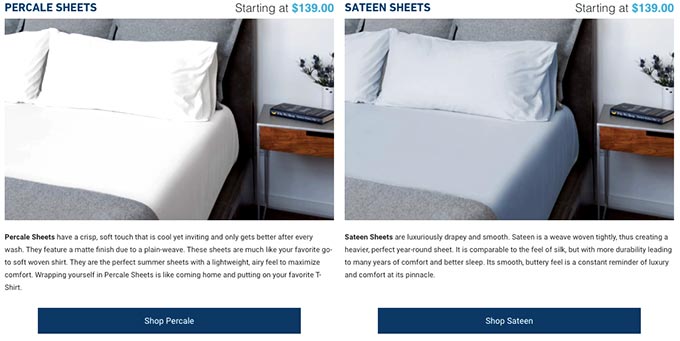 The thing about this topic, though, is that it might be somewhat difficult to find a bedsheet provider that would have options for both types of people - those who prefer softness, and others who like some rougher sheets. Customer Molecule sheets reviews will tell you that Molecule is one of those rare brands.
Now, don't get me wrong - you shouldn't expect the percale option to be "rough". It's just a bit rougher in comparison to the sateen Molecule bed sheets.
Good Durability (Both Sets)
When looking for new mattress sheets, one of the most important aspects to take note of is durability. If the sheets aren't durable, they will simply fall apart after some time, and you'll have to search for a new set - that's not what most people want to happen.
Also, durability guarantees that your bedsheets aren't going to develop any issues while you're cleaning them. You see, this is a pretty common issue with many cotton sheets on the market - with every single washing session, the items become rougher (but not in a good way).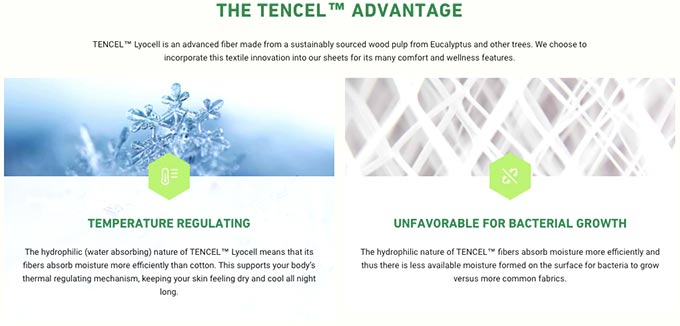 While reading up for this Molecule sheets review, I've noticed that there's actually a lack of criticism from the customer side towards the products in question, durability-wise. On the contrary - many customer reviews note that the sheets are very durable, and maintain their quality even after a few washing cycles.
Speaking of which…
Machine-Washable (Both Sets)
Have you ever owned a set of mattress sheets that would require you to wash them by hand?
I have. And let me tell you - it's not something I'd want to own again.
First of all, manually washing all of the sheets takes a lot of time. While it's not necessarily something you'd do every single day, it can still soak up a lot of time out of your day, when you do do it.
On top of that, if you wash your sheets and pillow covers by hand, you risk doing a pretty poor job. That's because, doing it this way, it's pretty easy to miss some dirty spots, and to not be thorough enough with the entirety of the process, in general.

Why would anyone wash their sheets manually, you may inquire? Well, some customer Molecule sheets reviews will give you the answer - because of the materials from which the sheets are made of.
Some materials (or material combinations) are very sensitive, and if you do decide to just throw them into the washing machine, the sheets will simply tear apart, or become very rough and ruined.
Thankfully, this is not something that you'd need to worry about when it comes to the Molecule bed sheets - they are completely machine-washable.
The cleaning process for both of the types of sheets is very simple and straightforward - you can just throw them into the washer, on a normal cycle, and after it's done washing, simply place them in a dryer or let them dry naturally. That's it!
Sustainable, Environmentally-Friendly Product (Both Sets)
Now, I bet that sustainability isn't exactly one of the first things that you'd think about when picking out the perfect sheet set for yourself, is it?
Well, whatever your answer is, you can rest assured - every single customer Molecule sheets review is going to tell you about how sustainable these sheets are. OK, perhaps that's a bit of an exaggeration, but I swear - it seems to be one of the company's main selling points.

That's really awesome, though! The fact that you get a great quality product that is also made in an environmentally-friendly manner is definitely rare, yet very much appreciated!
It all falls down on the earlier-discussed Tencel manufacturing process. During the process, a lot of the water is reclaimed afterward, thus avoiding excessive and unnecessary water wastage. Well, OK, perhaps "a lot" doesn't really do it - Molecule claims that nearly 100% of the water is reclaimed in the process. Definitely a great feature!
Molecule Sheets Review: CONS
While it's apparent that the majority of Molecule sheets reviews found online are quite positive towards the products in question, there are a few areas in which Molecule still does fall a bit short when compared to some of the company's competitors. Let's take a look, shall we?
Pockets Not Deep Enough for Some (Percale Set)
Pocket depth is something that's usually assumed to be "done right" when it comes to mattress sheets - depending on the sizing option that you pick, your sheets are going to be made so that they'd fit on the mattress itself - height, width and everything in between should be accounted for.
In most cases, it is. There are, however, some customer Molecule sheets reviews that talk about the percale sheets not being fit for some taller mattresses - that's not ideal.
Reading through all of such reviews, it's evident that the issue isn't exactly a very common one. It would seem that people who have some taller-than-normal mattresses are the ones that encounter this problem the most.
Now, sure, you could say that the pocket depth is calculated in accordance with the standard mattress measurements, and that if there seem to be any issues, it's the fault of the customer, and not Molecule. To that I say - fair enough, yet still, there are brands that provide sheets with some much deeper pockets, and avoid issues like this, in the first place.
Price
Finally, let's take a look at the pricing options of the two different mattress sheet sets in question.
The sateen sheet set prices are:
The percale set is priced exactly the same, except for one, single difference - there isn't an option to purchase a Split King version of the these sheets.
Now, undeniably, these prices are definitely in the higher ballpark - most bedsheet sets that you'll find online are going to be much more affordable, even when it comes to the higher-end products. The justification for these prices lies in one, single term - Tencel.

That's right - the Tencel Lyocell technology used in the creation of both of these sets of sheets does increase the price tags by quite a bit. In exchange to that, you receive sustainable products that aren't only considered to be environmentally-friendly, but are also soft, comfortable and very durable.
Is it worth it? Well, it does kind of depend on what it is that you want. If you're suffering from some sort of an illness that affects your sleep[1], and want to get the best products possible, or are an environmentalist and care for the future if this world, the price tags probably will be quite justifiable.
Here is The Best Saatva Offer I Found:
UP TO $500 OFF
Limited-time Saatva Sale
We're sharing a limited-time Saatva mattress discount with our readers! Grab this deal & enjoy your new mattress with huge discounts.
Expiration date: 11/06/2023
4,042 People Used
Only 83 Left
Conclusions
If left untreated, insomnia can become a huge issue in a person's daily life - while it can also act as a sign for some underlying condition[2], more often than not, it simply destroys our ability to rest and recuperate, and makes us feel horrible. Among some actual methods to deal with this issue, high-quality mattresses and mattress accessories can surely help the cause.
That being said, though, what's the conclusion regarding the customer Molecule sheets reviews - are the products worth purchasing?
From what I gather, yes - they are.

Both mattress sheet sets in question are considered to be top-tier - while the percale set is a bit rougher and the sateen set is smoother (softer), the rest of the features that these sheet sets have can be found in both of them - comfort, coolness, durability, and so on.
Yes, the price tags are high - there's no denying that. This, however, is because of the Tencel Lyocell used in the products. The material makes the sheets more breathable, and also allows for an environmentally-friendly production process.
All in all, if you're not hesitant about spending some more money on a good set of sheets, then Molecule is surely a brand worth checking out. The actual, best set for you is going to depend on your own, personal preferences - the mattress that you have, the softness level that you want, and so on.
On top of that, if you're still in the market for a new mattress, do check out our list of the best beds in the current industry - perhaps you'll find the right product for yourself there?
Scientific References
1. Karimi-Sari H, Hosseini MA, Nikjoo N. et al.: 'Patient-reported outcomes of sleep, mood, and quality of life after treatment of chronic hepatitis C infection using direct-acting antiviral agents.'
2. Narasimhan U, Anitha FS, Battula M Jr: 'Specific Learning Disability Unmasked by Psychophysiological Insomnia.'
Leave your honest Molecule review
Leave your genuine opinion & help thousands of people to choose the best mattress. All reviews, either positive or negative, are accepted as long as they're honest. We do not publish biased reviews or spam. So if you want to share your experience, opinion or give advice - the scene is yours!