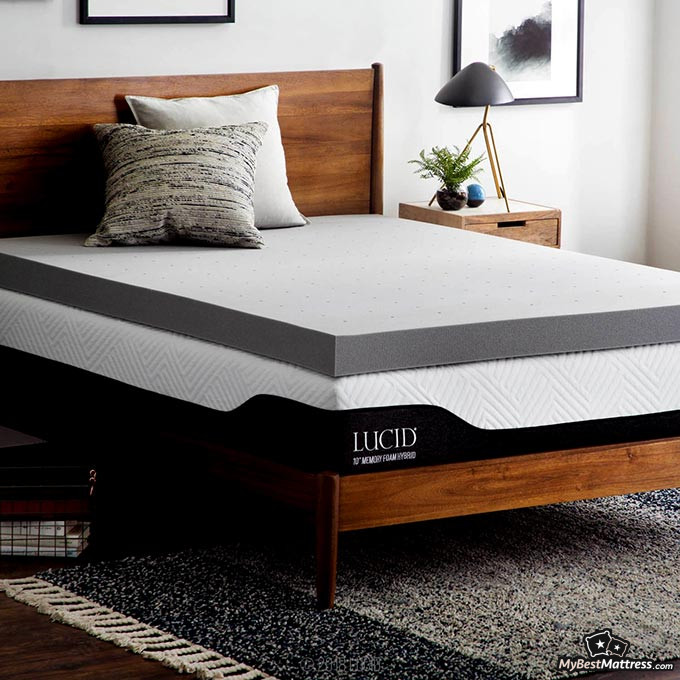 Whenever you're choosing a new bed to sleep on, you'd likely want to purchase the best product possible, right? Well, what if that product just simply isn't in your price range? In such situations, most people try to find the perfect balance between "price VS quality" - there are many customer Lucid mattress reviews that say the same.
While Lucid might not be the most popular company when it comes to mattresses, it isn't a completely random one, either - the brand's toppers are seen by many as some of the best mattress toppers around. In this review of Lucid mattresses, we'll see if the beds offered by the company live up to the reputation, too.
TL;DR: Multiple customer Lucid mattress reviews emphasize the fact that Lucid offers decent-quality beds at some very appealing prices. You could pick from a hybrid, latex and memory foam options, and all of them have their own, specific pros and cons.
Pros
Decent motion isolation
Good pressure alleviation
Best for back sleepers
Silent
Cons
Lacks durability
Weak edge support
Sleeps warm
Lucid Mattress Reviews: PROS
Since Lucid offers customers a rather wide variety of mattresses to pick from, today we'll be looking at three of the brand's most popular options - the hybrid, latex and foam one. While they are all similar in some regards, customer Lucid mattress reviews note that the differences between the three are still significant.
For the sake of clarity, we'll start off by talking about the main benefits of the beds in question. At the top of each chapter (near the title), you'll be able to see which of the three Lucid mattresses are known for those qualities.
Top-Tier Pressure Alleviation (All Three Models)
Pressure alleviation is one of the more important topics when it comes to the quality of your sleep. Research shows that sleep irregularities can end up messing with the way that you feel in your day-to-day life, and impair some certain cognitive and behavioral aspects of your health (this is especially true when it comes to children)[1].
Most customer Lucid mattress reviews would probably agree that one of the biggest hurdles of getting enough quality sleep is when you wake up in the morning feeling like you've just wrestled a bear.
Issues like that are rather common with mattresses that don't provide optimal pressure point alleviation. I can tell you in advance - most of the Lucid mattresses reviews are rather positive in this regard.

When a mattress is good at relieving pressure, that means that it is able to disperse it all throughout the perimeter of the bed. This happens with beds that conform to the sleeper's body - given that the pressure is distributed equally all throughout, painful spots won't form on your hips, shoulders, necks and back.
All three of the company's mattresses - the bamboo charcoal and aloe vera hybrid, the gel-infused memory foam and the pure latex model - seem to be well-equipped with pressure-relieving capabilities. That's definitely good news, for all types of sleepers out there!
Latest Saatva Coupon Found:
UP TO $500 OFF
Limited-time Saatva Sale
We're sharing a limited-time Saatva mattress discount with our readers! Grab this deal & enjoy your new mattress with huge discounts.
Expiration date: 29/09/2023
4,042 People Used
Only 83 Left
Best for Back Sleepers (All Three Models)
So, the majority of Lucid mattress reviews note that all three of the mattresses are going to provide proper pressure relief capabilities - what does this mean for the different kinds of sleepers out there?
Well, it means that while the beds are going to be OK for most, they'll be most suitable for people who prefer sleeping on their backs.
It is no secret that different sleeping positions are going to require different mattress features to feel comfortable. Some sleepers prefer firmer beds that are also more responsive, while others like to feel as if they're lying on a cloud.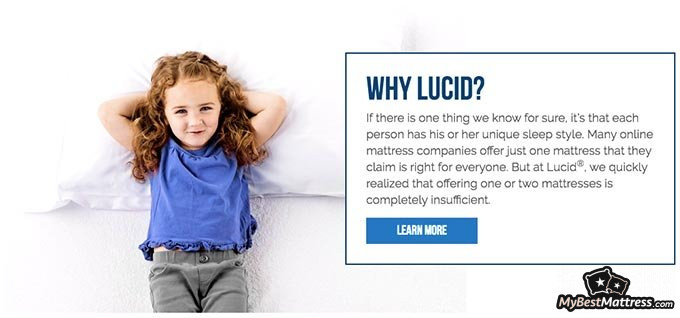 One thing that all types of sleepers have in common, though, is the need for pressure relief. And that's exactly what Lucid provides.
All of that being said, judging by online customer Lucid mattress reviews, it would seem that the mattresses are going to be best for back sleepers. Side sleepers do also seem to enjoy their experiences with the beds, but back sleepers are going to be the group of people that appreciate all three of Lucid's beds the most.
Keep in mind, though, that this is quite a generalization - while the tendency remains so, it doesn't necessarily mean that, if you're a stomach sleeper, you 'definitely' won't enjoy your experience with the mattresses.

Did you know?
Virtually Silent (Latex and Foam Models)
Mattress noisiness can be really annoying. A noisy mattress can create a whole range of problems, from simply being a nuisance, all the way to actually disturbing your sleep and creating loopholes for sleep issues to arise and further-develop.
Now, reading through various online Lucid mattress reviews, it's rather apparent that the only model that is likely to produce some sort of noise while bearing weight is the hybrid - both the latex and latex-foam Lucid models should remain completely silent, no matter if you're placing something on them, or if you lie down on it yourself.
Proper Motion Isolation (Foam Model)
Motion isolation is a feature that's going to be most important to couples and other people who don't sleep alone. If your mattress is good at isolating motion, you're not going to feel your partner toss and turn during the night, and will this be able to get some decent, calm sleep.
That being said, many customer Lucid mattresses reviews also note that, if you sleep alone, motion isolation can still be highly beneficial.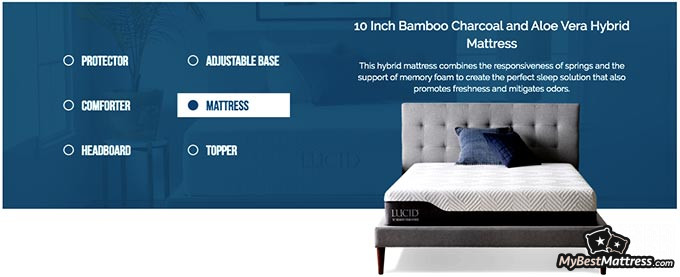 Think of it this way - if your mattress is good at isolating motion, this means that it's going to also be great at conforming to your body and contouring around it. In doing so, the bed prevents you yourself from making too many excess motions in your sleep - frankly, you won't have to worry about waking up on the other side of the bed anymore.
While the Lucid hybrid and latex models offer mediocre motion isolation at best, the foam model is actually great in this regard - Lucid mattress reviews that concentrate on the gel-infused foam model state that there's little-to-no motion felt when lying and turning around on the bed, which is great news indeed!
Lucid Mattress Reviews: CONS
Now that we've gone over the main benefits of the three models of the brand's mattresses in question, let's take a turn and glance at some of the more important Lucid mattress reviews that aren't so positive.
Very Weak Edges (Latex and Foam Models)
A mattress with some sturdy edges inspires confidence and creates a feeling of durability and sturdiness. It does, however, serve some practical purposes, too.
First of all, strong edges are going to prevent you from rolling over to each side of the bed in your sleep. Doing so can quickly break your proper spinal alignment and posture, resulting in numb limbs and painful pressure point formation in the morning.
Furthermore, you could take it a step further - if a mattress has very weak edges, there's always the risk of you falling out of your bed in your sleep. Yes, these things happen - more often than you'd think.
Unfortunately, edge support isn't something that customer Lucid mattress reviews would list as a "pro" - while the edges might be sturdier in the hybrid model of the mattress, the foam and latex counterparts come with some comparatively weak edges. If that's something that's truly important to you, take note!
Sleeps Warm (All Models)
Sleeping warm is one of the biggest pet peeves that a person might have with a mattress. It doesn't matter if you're looking for Lucid mattress reviews or Saatva reviews, no one wants to see the phrase "sleeps warm" listed among the shortcoming of the mattress.
Sadly, Lucid's mattresses aren't able to avoid this - customers report that all three models do sleep relatively warm.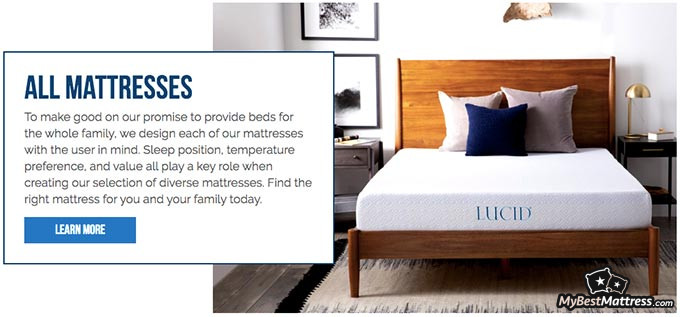 "Warm" is actually the keyword here. The beds don't seem to sleep "hot" - if you're someone who sleeps cool naturally, then the hybrid model might even be "cool enough" for you. Given that most people do tend to sleep hot, however, that's a highly unlikely scenario.
Different mattresses out there have different ways of combating the 'warmness' aspect of their materials. The biggest challenge here is for foam products - since foam tends to retain heat and isn't the most breathable of materials around, it usually results in some unpleasant sleeping experiences.
Lucid has infused their foam mattress with some cooling gel - a common tactic used by other foam bed providers to help alleviate heat issues with their products. Unfortunately, judging from multiple Lucid mattress reviews, it doesn't seem to work in this situation.
Not Very Durable (All Models)
Truth be told, durability is one of the most important (if not THE most important) aspects of any and all mattresses out there, in the industry.
Think about it yourself - a bed can be super-cool, offer perfect firmness, perfect pressure relief and responsiveness, but if it's not durable, it might just break down after a few months of sleeping on it, and all of that won't matter anymore.

OK, perhaps that's a slight exaggeration - you'd probably struggle to find a bed that would break down in a few months. Nonetheless, the argument still stands true - durability is essential.
Well… Let's just say that reading through the various different customer Lucid mattress reviews, durability isn't the thing that pops up in the "benefit" section.
In all honesty, all of the three mattresses in question aren't the most durable options around - however, if you were to take a look at the price tags of the mattresses, you'd likely quickly see why that's the case.
Lack Bounciness (All Models)
Admittedly, bounciness might be a relatively niche feature that some people might be after. This mostly concerns couples who want to improve their sex life - believe it or not, but a proper, bouncy mattress can actually help you do just that.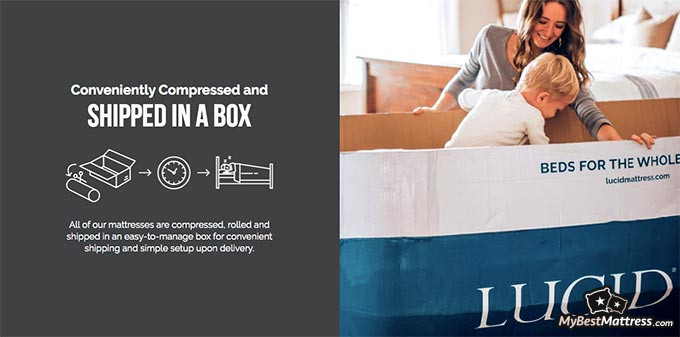 A bouncy mattress isn't going to be prone to sinking - it will retain its shape, and will usually be on the firmer side of things. Yet again, this is not something that Lucid's mattresses would be known for.
It isn't too surprising, though - neither foam, nor latex beds aren't particularly known for providing "top-tier bounciness". If this is a feature that you're interested in, you should keep an eye out and research innerspring mattresses - we have a list of the best innerspring beds that you can find here.
Price
Having covered all of the pros and cons of the trustworthy and reliable Lucid mattresses reviews, let's move on and talk about the actual price tags of the beds.
This is actually the topic that should be considered as a "pro" when it comes to Lucid - the beds are super-affordable. Take a look:
Lucid hybrid mattress prices:
Lucid latex mattress prices:
Lucid memory foam mattress prices:
One thing that you'll likely notice straight off the bat is that the prices seem to be all over the place. That's because the company sells its mattresses via Amazon - the price tags will depend on the stock, demand, thickness, and so on. However, the prices presented here should still be a pretty good indication of what to expect.
On top of all of that, Lucid also offers its customers a 10-year warranty and a 30-night sleep trial.
Here is The Best Saatva Offer I Found:
UP TO $500 OFF
Limited-time Saatva Sale
We're sharing a limited-time Saatva mattress discount with our readers! Grab this deal & enjoy your new mattress with huge discounts.
Expiration date: 29/09/2023
4,042 People Used
Only 83 Left
Conclusions
So - are the Lucid mattresses worth it?
Well, if you're trying to find an average-quality mattress that would serve you for a specific period in your life (i.e. college), or are simply short on money, then sure - the beds offered by the company are very affordable, and offer decent motion isolation, pressure relief and body-conforming features.
Quality sleep is super-important, though - sleep deprivation is often associated with various different mental health issues[2], so it's important to get all of the proper rest you can. To do so, you'll need the best possible mattress for yourself - I recommend checking out our list of the top-tier mattresses of the year.
All of that said, I thank you for reading, and wish you good luck. Cheers!
Scientific References
1. Sarah N. Biggs, PhD, Lisa J. Meltzer, PhD, Ignacio E. Tapia, MD, MS, et al.: 'Sleep/Wake Patterns and Parental Perceptions of Sleep in Children Born Preterm'
2. Andrew D. Krystal, M.D., M.S.: 'PSYCHIATRIC DISORDERS AND SLEEP'
Leave your honest Lucid review
Leave your genuine opinion & help thousands of people to choose the best mattress. All reviews, either positive or negative, are accepted as long as they're honest. We do not publish biased reviews or spam. So if you want to share your experience, opinion or give advice - the scene is yours!