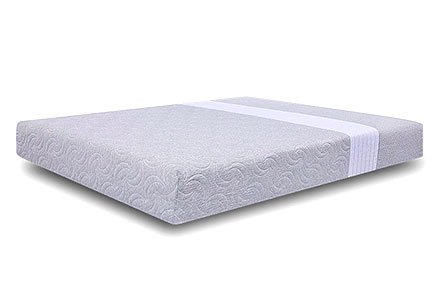 Whether you love 'em or hate 'em, foam mattresses are some of the leading products in the industry. While they do have their specific pros and cons, it's clear both from Level Sleep reviews and other, similar bed reviews that people actually do love foam mattresses.
That is exactly why today we'll be talking about Level Sleep, and the mattress that the company produces. After going in-depth with all of the main pros and cons of the product, I'll give you my opinion on the bed, based on everything that we've talked about in this article.
TL;DR: Level Sleep mattress reviews point out the fact that, while the bed is great at motion isolation and back pain relief, it might not suit people who like to sleep on their stomach, and has little-to-no edge support. Keeping that in mind, it's obvious that Level Sleep is a very preference-based mattress.
Pros
Good motion isolation
No noise
Good for side and back sleepers
Cons
Weak edges
Not responsive enough for most couples
Not well-suited for stomach sleepers
Level Sleep Reviews: PROS
There are a few different ways of how we could approach customer Level Sleep reviews, but let's just get some of the obvious things out of the way. And there is nothing more obvious when you first unpack the mattress than the fact of just how silent it is.
Practically Completely Silent
Straight off the bat, I'll admit - this point might not be the most impressive, especially since we're talking about an all-foam product.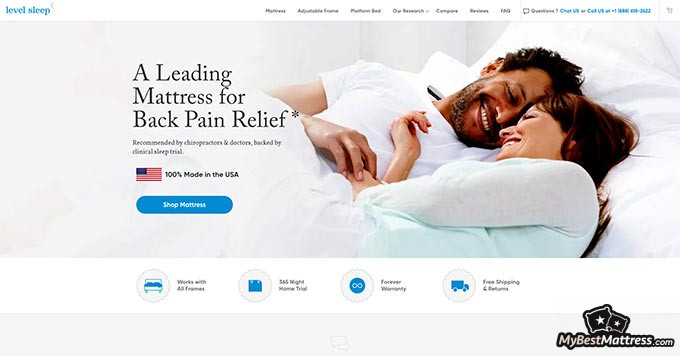 Foam mattresses have no sound - there are no springs or other complex metal constructions inside of the mattress, and there's no cheap, squeaky latex to give off a squeal every time you sit on the bed, either. Naturally, the foam has to be of some higher quality - cheap foam can, indeed, make some noises.
Level Sleep reviews are pretty straightforward, though. Both people who have just bought the mattress and also long-time customers of the brand all agree on the fact that the bed is made out of good, high-quality layers of foam, and thus doesn't make any significant sounds, whatsoever.
Latest Saatva Coupon Found:
UP TO $500 OFF
Limited-time Saatva Sale
We're sharing a limited-time Saatva mattress discount with our readers! Grab this deal & enjoy your new mattress with huge discounts.
Expiration date: 12/12/2023
4,042 People Used
Only 83 Left
Amazing Motion Isolation
Speaking about the obvious, it would be difficult to continue analyzing Level Sleep reviews without addressing the elephant in the room - motion isolation.
While this is another feature that people are used to seeing in the majority of all-foam or hybrid-foam mattress reviews and lists, it is definitely not "a given". You see, while it's true that memory foam, by design, is great at absorbing motion, the extent at which it can do so depends purely on the overall quality of the mattress.
According to Level Sleep mattress reviews, the company's product is truly built with quality in mind. Just to give you a quick rundown of how Level Sleep manages to achieve the amount of motion isolation that they do, the mattress is made out of layers of memory foam, with polyfoam acting as the base (core) support of the entire bed.
Now, you might be wondering - what is motion isolation even good for, in the first place?
Well, let me tell you - if you've ever slept with someone who's keen on twisting and turning throughout the night, you'll definitely appreciate motion isolation. With this feature, it doesn't matter that your partner might be a restless sleeper - their movements shouldn't impact your sleep, whatsoever.

Did you know?
Great for Back and Side Sleepers
Whether it's a 10-minute nap during lunch break (10-minute naps are actually much better than 30-minute ones[1]) or some peaceful rest back home, people like to sleep in various different positions. Depending on your bodyweight, form and other, smaller details, you'd most likely fall into one of the three main categories of sleepers - stomach, side and back ones.
Foam products - most of the time - are great for side sleepers. These people often prefer a softer mattress, and softness is exactly what foam provides. That being said, a lot of Level Sleep reviews emphasize how the company uses a special type of technology to even the firmness of the mattress out - this makes the bed very attractive to back sleepers, too!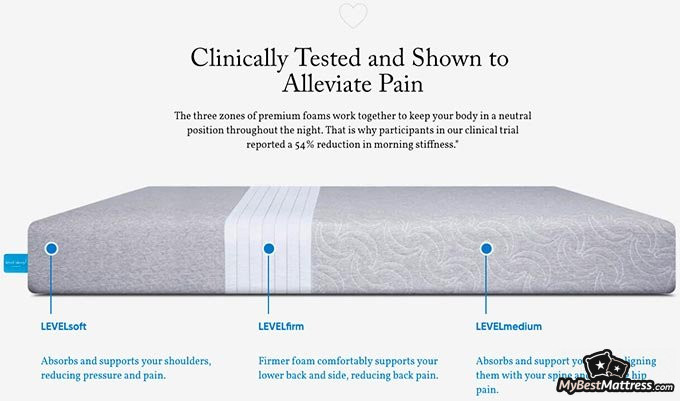 Speaking of back and side sleepers, these are also the groups of people who are most prone to developing back, neck and shoulder pain in their sleep. Let me explain.
For the sake of the argument, let's just say that your current mattress is of a less-than-ideal quality, or that it has already passed its age expectancy by a longshot. Well, when you sleep on this type of a mattress, your body develops what are known as pressure points - the areas on the body where the most amount of pressure is applied to the mattress[2].

Over time, these pressure points can become really painful. This is actually one of the main reasons for why so many people develop (lower) back pain - a good mattress can fix all of that in no time!
And, reading through the Level Sleep reviews, it would seem that Level Sleep really is one of these good mattresses!
Level Sleep Reviews: CONS
Since it's obvious from the Level Sleep mattress reviews that the bed is packed with some really cool benefits, one might think - are there any noticeable cons to the product? Well, ya - let's take a look at just how serious these cons actually are.
Not Really Suited for Stomach Sleepers
As you might have noticed from the way I've worded the earlier-mentioned benefit of Level Sleep being good for side and back sleepers, the mattress isn't particularly popular among people who prefer sleeping on their stomach.
There are actually quite a few customer Level Sleep reviews that reference the fact of how uncomfortable the bed is when you try to sleep on it on your stomach. Quite apparently, this is mostly due to the fact that stomach sleepers often require a firmer surface to be able to sleep soundly.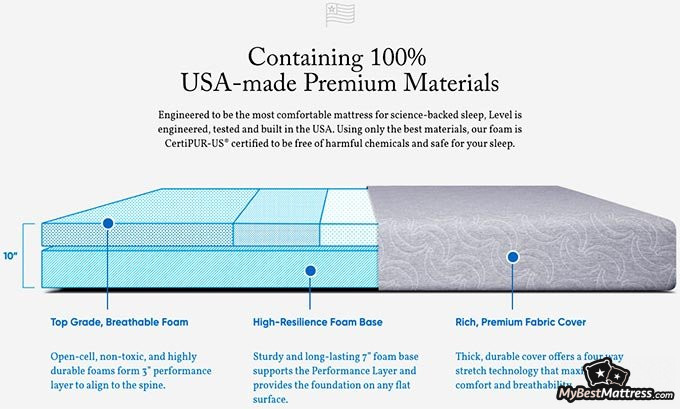 All of the above is especially true if you're a heavier person. Since the Level Sleep mattress is neither too firm, nor too soft, a heavier individual is bound to notice some sinkage when laying on the bed.
Speaking of which…
No Noticeable Responsiveness
Out of all of the Level Sleep reviews, the ones that were left by couples seemed to be the most adamant on the mattress not really being "up to par with what they've expected". This is mostly because of the issue of responsiveness.
Mattress responsiveness (something that often goes hand in hand with bounciness) is important for sex. Admit it - no one wants to literally sink into their mattress while they're occupied doing something else. It's enough work as it is - if you have to fight your mattress at the same time, it kind of takes all the joy of the activity (unless that's your thing, of course).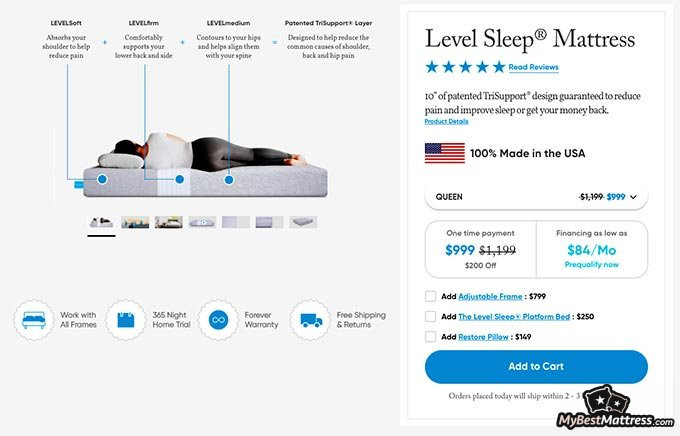 All-foam products were never really all that well-known for being bouncy or responsive. That's why most couples that are looking for a good mattress for sex just turn to innerspring beds. Reading the Level Sleep reviews, the company is no exception - the mattress tends to sink, and is thus far from being good for sex.
If this mattress doesn't quite float your boat (hehe), there are other options to pick from. Take a look at our list of the top mattress providers - you're bound to find something to your liking.
Weak Edges
Finally, let's talk about yet another prominent issue that's seen all throughout the all-foam mattress industry - weak or non-existent edge support.
Since the mattress doesn't have any springs, coils or anything in between to support the sides, you might soon notice that sturdy edges are not really the thing that Level Sleep has.
I'll admit - this might be a rather niche issue. That being said, as you sit or lie on the edge of the mattress, you're bound to notice the edges become increasingly weaker over time. Not an ideal situation at all!
What is the Level Sleep mattress price?
Before closing out and putting a full stop on the analysis of the customer Level Sleep reviews, there's one more thing left to discuss - price.
Here are the available sizing and pricing options for Level Sleep:
While the prices aren't really low, assuming that the prices will stay the way they are as of writing this article, they are also somewhat far from being over-the-top. To add to that, as of writing this article, there is currently a promotion happening - all of the above-mentioned-sized mattresses come with a $200 USD discount.
In addition to that, you'll receive a whopping 365-night sleep trial and a "forever" warranty. Now, not only is that a very rare sight to see, but it also shows us that the Level Sleep reviews were at least right about one thing - the company truly is confident in their product.
Here is The Best Saatva Offer I Found:
UP TO $500 OFF
Limited-time Saatva Sale
We're sharing a limited-time Saatva mattress discount with our readers! Grab this deal & enjoy your new mattress with huge discounts.
Expiration date: 12/12/2023
4,042 People Used
Only 83 Left
Conclusions
So, to finish off analyzing the Level Sleep reviews, only one question remains to be answered - would I personally recommend checking Level Sleep out?
It depends.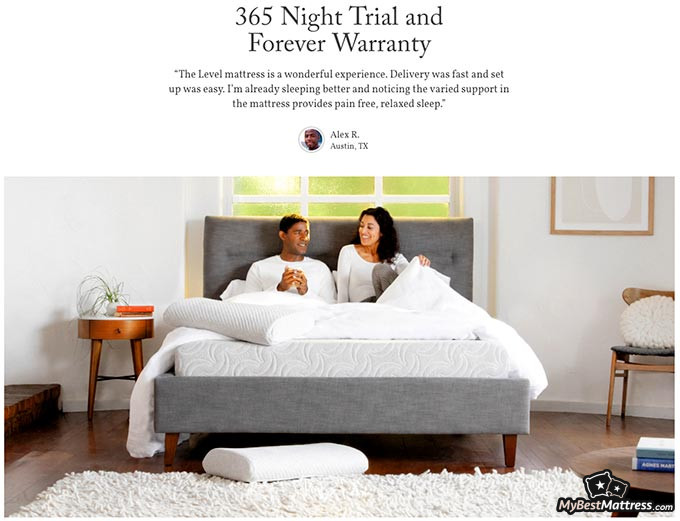 Level Sleep is one of those mattress providers that are very preference-based. The product is definitely on the "good" side of the spectrum, but at the same time, it comes with some noticeable problems. The choice of whether or not Level Sleep is worth it is going to depend solemnly on your preferences and expectations.
If, however, you decide that Level Sleep isn't really for you, then you could always check out some of the other top-level mattresses that are dominating the current market. Surely, after reading through a couple of reviews, you're bound to find something that you'll like.
Scientific References
1. Cassie J. Hilditch, BSc, Stephanie A. Centofanti, BPsych, Jillian Dorrian, PhD, and Siobhan Banks, PhD: 'A 30-Minute, but Not a 10-Minute Nighttime Nap is Associated with Sleep Inertia'
2. Fan-Zhe Low, BEng, Matthew Chin-Heng Chua, PhD, Pan-Yin Lim, BEng, and Chen-Hua Yeow, PhD: 'Effects of Mattress Material on Body Pressure Profiles in Different Sleeping Postures'
Leave your honest Level Sleep review
Leave your genuine opinion & help thousands of people to choose the best mattress. All reviews, either positive or negative, are accepted as long as they're honest. We do not publish biased reviews or spam. So if you want to share your experience, opinion or give advice - the scene is yours!