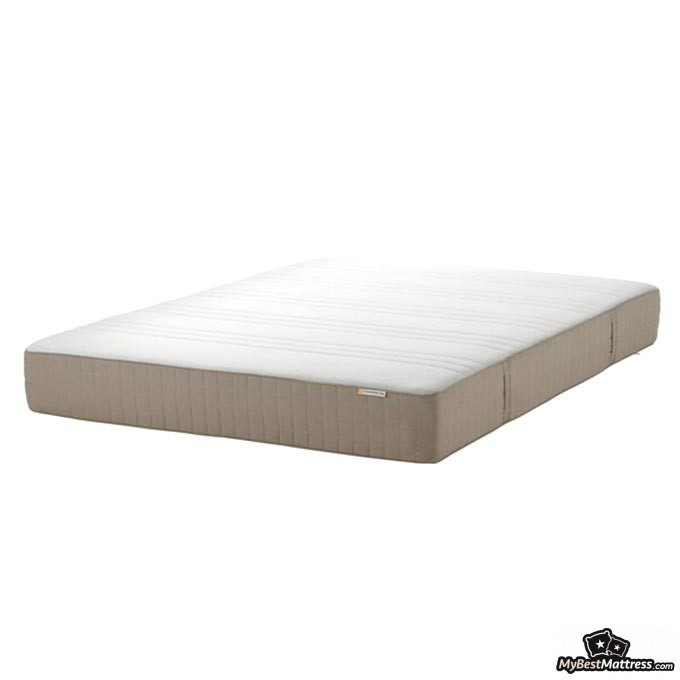 Today, there are so many different mattress brands out there, that it can get rather difficult to pick and choose the best one for yourself. That being said, there are some companies which reputations precedes them - customer Ikea mattress reviews will tell you that Ikea is exactly that type of a company.
Today, we'll be taking a look at some of the best Ikea mattresses - two, to be exact. While the company offers customers a very wide range of beds to pick from, we'll focus on two types of Ikea mattress reviews - ones that deal with Haugesund, and others that talk about Minnesund.
Do note, though, that Ikea sells a huge assortment of different items - if you're looking for a standalone best mattress for yourself, you should look into some lists of the best mattresses of the year.
TL;DR: Customer Ikea mattress reviews will tell you that both of the beds in question - Haugesund and Minnesund - fall in line with the features that the materials from, which they're made of, offer. The mattresses aren't really all that durable, but offer decent pressure relief and motion isolation capabilities.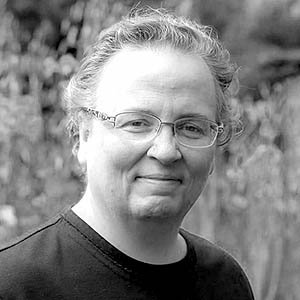 Cynthia Tamlyn
Certified Clinical Aromatherapist, CMHIMP
What should be done every day to ensure good sleeping patterns?
Turn off as many lights as possible in the evening. Reducing light, especially blue light, cues the body to start producing melatonin. Staying properly hydrated throughout the day and going to bed at a consistent time helps the quality of sleep. If you wake up hungry in the middle of the night, eating a protein-dense snack a half hour before bed is helpful.
Pros
Good motion isolation (Minnesund)
Strong edges (Haugesund)
Very affordable (both models)
Cons
Not durable at all (both models)
Tend to sleep hot (both models)
Ikea Mattress Reviews: PROS
When it comes to finding the best Ikea mattresses, Haugesund and Minnesund are often thought to be on the top of the list. Granted that this is the case, let's first take a look at some of the most prominent benefits that these two beds offer to the sleeper.
Now, both of the mattresses are very different - they're made from different materials. That's why, at the top of every chapter (whether a pro, or a con), near the headline, you'll be able to see which mattress we're talking about.
Decent Motion Isolation (Minnesund)
If you're someone who sleeps with their partner, you likely have a pretty good idea of just how important motion isolation can be in order to be able to get some good night's worth of sleep. There are plenty of studies done that aim to promote the need for proper, high-quality sleep[1] - a mattress that isolates motion is one of the better tools to help you do so.
You see, the vast majority of people in the world are going to make movements in their sleep. Some are very restless and will toss and turn all night, while others might turn around a few times and that's it - the sentiment, however, still stands.

Multiple customer Ikea mattress reviews will tell you that, if you're a lighter sleeper, even the slightest bit of motion on the mattress might wake you up. That's terrible news for anyone who wants to improve their quality of sleep.
That being said, the best Ikea mattresses can help you deal with this issue. Minnesund is a foam mattress - it doesn't have a comfort layer, but it does possess a polyfoam core. Foam is quite well-known for its motion isolation capabilities - it tends to sink down when bearing weight, thus isolating motion to one side of the bed, and preventing your body from excessive movements.
Reading through the customer Ikea mattress reviews, it would seem that Minnesund does offer quite decent motion isolation capabilities. That's good to know!
Very Bouncy (Haugesund)
Remember when I said tat Minnesund and Haugesund are two completely different mattresses? Well, while Minnesund is constructed out of foam, Haugesund is an innerspring bed, and comes with all of the benefits that innerspring mattresses provide, with bounciness being one of the more notable of them.
Admittedly, bounciness is a bit of a niche feature - while some Ikea mattress reviews claim it to be essential, other customers couldn't seem to care less.
Bounciness is going to be important for anyone who wants to improve their sex life - a bouncy mattress is one of the simplest ways to do so. Well, if you fall into this category of people, then Haugesund should provide you with all the bounciness that you might need.
Decent Pressure Point Alleviation (Minnesund)
One thing that all-foam mattresses are pretty well-known for is pressure point alleviation.
Have you ever felt sore after you've woken up in the morning? Chances are that your mattress is at fault here - if you sleep on an old bed that should have been changed and replaced a long time ago, it may develop painful pressure spots on your body. These are most common on the hips, shoulders and neck.
Customer Ikea mattress reviews will tell you that foam beds are among the best tools to deal with this problem. Because of the material's natural proclivity to sink and contour around the sleeper's body, the pressure is dispersed equally all throughout the mattress, thus allowing you to sleep without much worry.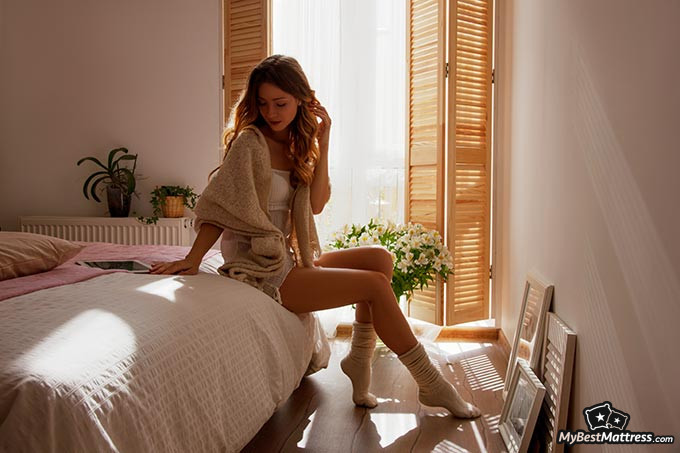 Now, notably, too much sinking is a big no-no. This will break your proper spine alignment, and will cause a whole heap of other problems. You should be looking at a mattress that sinks just enough.
According to many customer Ikea mattress reviews, Minnesund is exactly a bed like that. Thanks to a lack of a comfort layer, it won't sink down too much, thus providing optimal pressure point relief without causing any other major issues.
Great Edge Support (Haugesund)
Strong mattress edges are going to prevent your body from rolling to either side of the bed while you sleep, and thus breaking your spine alignment in the process. Also, if you're someone who likes to keep their stuff on the bed during the day, you'll be able to remain sure that it doesn't fall off at any given time.
Admittedly, foam mattresses tend to have a huge problem with edge support - they lack it, by default. Minnesund is no different - customer Ikea mattress reviews further that notion.
Haugesund, however, is different in that regard. Being based out of metal coils, the mattress is reported to have some truly strong edges! Depending on what it is that you want out of your bed, this can be a real gamechanger!
Ikea Mattress Reviews: CONS
Now, while Minnesund and Haugesund are widely considered to be some of the best Ikea mattresses that the company has in stock, they are surely not without issues, either. With that, let's take a look at some of the more noticeable and important negative customer Ikea mattress reviews.

Did you know?
Sleep Warm (Both Models)
Now, you would think that Haugesund, being an innerspring mattress, is going to sleep cool, right?
Well, that doesn't really seem to be the case, at least according to customer Ikea mattress reviews.
Customers report that both of the beds in question are going to sleep relatively warm. Naturally, Haugesund will sleep cooler, while Minnesund might be too hot for even the coolest of sleepers out there.
Is this really that big of an issue? Well, to tell you the truth, yes - for most people, it's a major flaw.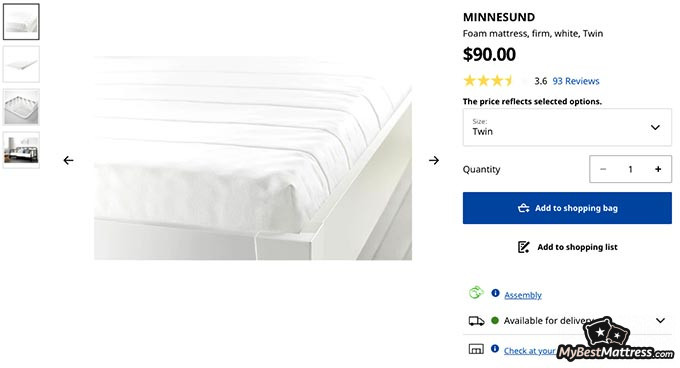 While researchers find correlations between poor sleep and overall health on the human gene level[2], you don't really need to be a scientist to understand how heat can tamper with your quality of sleep. All it takes is a single night on a hot mattress while also having a fever - that should clear any doubts in your head.
Unfortunately, it would seem that both of the Ikea mattresses in question have not managed to deal with this issue. So, if you do sleep warm by default, you should really take this factor into consideration.
Not at All Durable (Both Models)
While some issues and shortcomings that a mattress might have can be ignored or even solved, durability is not really one of them.
The vast majority of customer Ikea mattress reviews are going to tell you that durability should always be at the top of the requirements that you might have for your mattress. I concur - that's something that I've been saying all my professional life.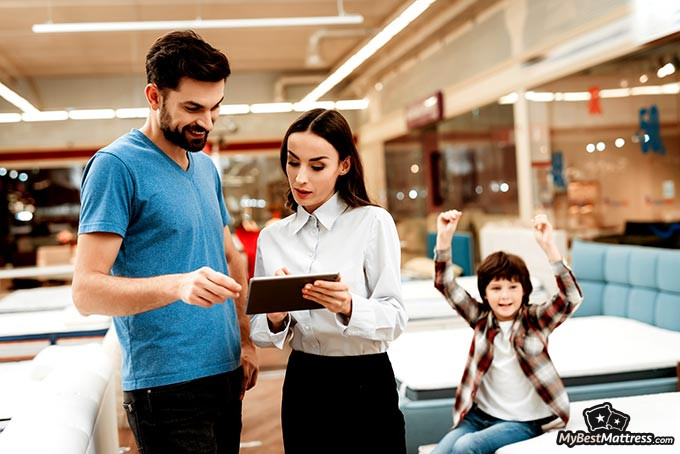 I mean, think about it yourself - a bed can be cool to sleep on, rock top-tier motion isolation and pressure relief features, but if it's going to break down on you in the first few months, do all of those others things really matter?
Nope. Not really.
Reading through customer Ikea mattress reviews, it's rather clear that Ikea does not offer sturdy and reliable beds. The trade-off here is the price tags - the mattresses are really affordable. That said, an Ikea mattress (whether it be Haugesund, or Minnesund) can be a good choice for a short-term bed, or one that you'd place in the guest room.
Very Weak Edges (Minnesund)
Remember when I mentioned that Haugesund has rather strong edges? Well, that's because it's an innerspring mattress. Minnesund, however, is very different in this regard.
As noted earlier, foam mattresses aren't really known for having strong edges. This type of beds don't have any coils to support their upper layers. While Minnesund does not have a comfort layer, customer Ikea mattress reviews still report the mattress having practically no edge support.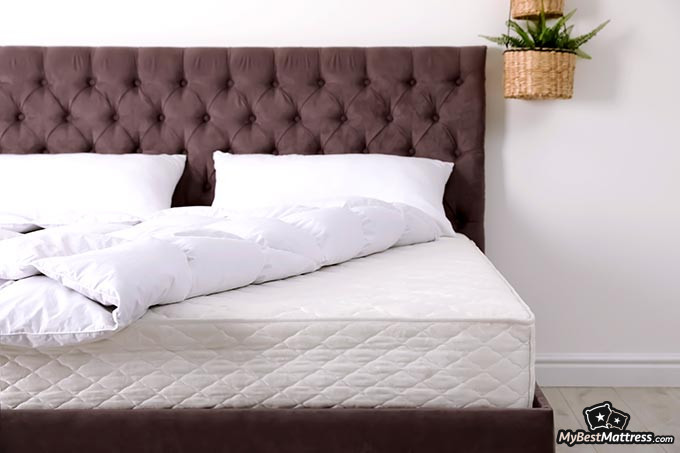 This does kind of come back to the point I've made earlier - both of the Ikea mattresses in question aren't good options for anyone looking for a long-term, high-end bed. However, if you want to purchase a mattress so that you could have a place to lie down your guests, or are very short on money, they become optimal choices, to an extent.
Price
I've already hinted at this earlier, but customer Ikea mattress reviews emphasize the fact that one of the best qualities of these beds is that they are very affordable. Take a look for yourself:
The prices for the Haugesund model are:
And for the Minnesund model:
Truth be told, both Haugesund and Minnesund are likely the most affordable mattress alternatives that I've ever come across. While many people often use the term "affordable" when talking about some cheaper bed alternatives, Ikea does truly take it to the next level.
On top of that, the brand offers customers a 365-night sleep trial and a huge 25-year warranty, with free shipping in the US.
That's… Difficult to believe! You see, most mattress brands out there offer customers 100 nights of free trial, and the standard warranty period is usually around 10 years. It's rather odd that Ikea nearly triples that amount, with also providing a full year's worth of sleeping trial.
That said, it just goes to show that the brand does trust its products, and stands behind them all the way through. Definitely a huge plus on their side!
Conclusions
As I've mentioned at the beginning of this article, finding a decent mattress can be a real challenge these days. There are many different brands with a huge variety of different beds to pick from, all with their own, specific pros and cons.
Ikea is no different in this regard, except that perhaps its name and reputation are much more well-known than some other mattress companies that would offer higher-end products.
That being said, it's rather obvious that, if you're looking for a mattress that you'd sleep on for the coming 5 or 10 years, Ikea likely isn't the best option - your best bet is to look elsewhere.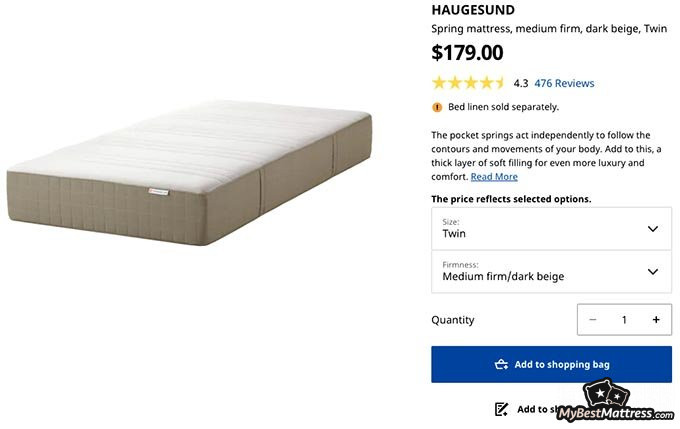 You see, while both Haugesund and Minnesund come with a set of their own benefits (with the price tags being at the top of them), neither of the mattresses are really going to withstand the test of time - at least not according to customer Ikea mattress reviews.
If, however, you're looking for a mattress alternative for a short period in your life (i.e. college), or need a bed where you could lie down your friends and guests, then sure - you could consider the Ikea mattresses as some of the better options. Truth be told, the price tags attached to these products really are appealing.
All of that said, do remember - the quality of your sleep should always be placed at the top, even if it means spending a bit more money on a one-time purchase. All in all, I thank you for reading this article, and hope that it was informative to you. Cheers, and until next time!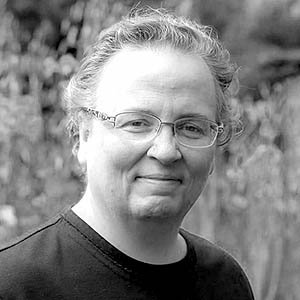 Cynthia Tamlyn
Certified Clinical Aromatherapist, CMHIMP
Contributed By Cynthia Tamlyn, Certified Clinical Aromatherapist, CMHIMP
Cynthia Tamlyn is a Certified Clinical Aromatherapist specializing in pediatric post-traumatic stress disorder. She works with families to support healthy sleep patterns and emotional wellness for ...
Read Full Bio...
Scientific References

Contributed by
Cynthia Tamlyn
, Certified Clinical Aromatherapist, CMHIMP
1. Tea Lallukka, PhD, Risto Kaikkonen, MSc, Tommi Härkänen, PhD, et al.: 'Sleep and Sickness Absence: A Nationally Representative Register-Based Follow-Up Study'
2. Mary A. Carskadon, PhD, Katherine M. Sharkey, MD, PhD, Valerie S. Knopik, PhD, and John E. McGeary, PhD: 'Short Sleep as an Environmental Exposure: A Preliminary Study Associating 5-HTTLPR Genotype to Self-Reported Sleep Duration and Depressed Mood in First-Year University Students'
Leave your honest Ikea review
Leave your genuine opinion & help thousands of people to choose the best mattress. All reviews, either positive or negative, are accepted as long as they're honest. We do not publish biased reviews or spam. So if you want to share your experience, opinion or give advice - the scene is yours!