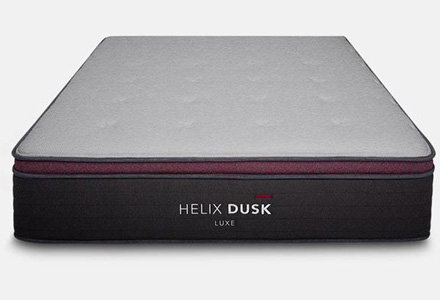 Look, I know how confusing it is to find the right Helix Dusk Luxe review. Because there are various types of Helix beds, it can be difficult to track down a review that covers all of the major features of each one. Fortunately, you can learn everything you need to know about the Helix Dusk Luxe mattress right here.
Helix has a sleep quiz if you still aren't sure which model is the best for you, where you can find out which bed suits you the best, based on your preferences and needs. Moreover, we'll have some medieval fights right here - Helix Dusk VS Dusk Luxe, Helix Dusk VS Midnight, Helix Midnight VS Dusk Luxe, to find out which one deserves the throne.
By the way, there are a few more reviews about Helix mattresses, such as Helix Plus, Helix Luxe, Helix Midnight that you can take a glance at.
There are many more excellent beds out there, like Saatva, Puffy Lux, and Layla, that you should consider before making your final pick. After all, we're talking about the quality of your sleep.
TL;DR: Helix Dusk Luxe mattress is a high-quality hybrid bed that is made out of 6 different layers and is very bouncy, responsive, and has exceptional edge support. Additionally, this mattress is best for back and combination sleepers. Nonetheless, the bed isn't as suitable for side sleepers.
Pros
Firm
Bouncy
Amazing for combination and back sleepers
Cons
Rather heavy
Mediocre motion isolation
Helix Dusk Luxe Review: PROS
We know for a fact that Helix mattresses are of good quality. This one, though, takes it a step further by being luxurious. So, what do the sleeper Helix Dusk Luxe reviews have to say about that? Let's look at the benefits of this mattress and see what we can learn.
A Firm Bed with 6 Different Layers
It's no secret that this model is one of the firmer mattresses. The sleeper Helix Dusk Luxe reviews would tell you that the bed is a bit above the medium-firm side. Besides, studies have demonstrated that medium-firm mattresses improve sleep quality and reduce the risk of developing lower back pain[1].

People have the misconception that firm beds aren't as comfy as overly soft ones. And, since this statement is usually false, I'm sure they would change their mind after sleeping on a high-quality, firm mattress. Aside from that, firm mattresses are more adaptable, meaning they can accommodate a wide range of sleepers.
And if someone says "just sleep on the ground" if you like the firm feel, throw this article at them.
Speaking of firmness, the mattress has 6 different layers. These layers determine the density and the luxury feel you'll experience by lying on the bed. So, let's take a closer look at them.
For starters, at the very bottom of the bed is the DuraDense foam. The foam increases durability and makes the mattress steadier. There isn't much more you could say about this layer of the bed.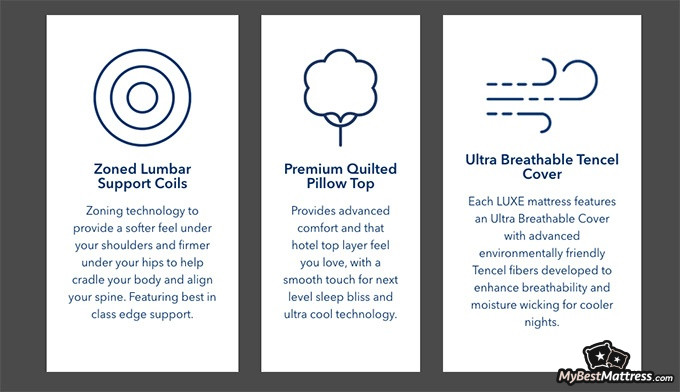 Next is the star of all of the hybrid mattresses - the 1,000+ wrapped coils. The coils make the whole mattress more steady and firm, but it also has other benefits besides the obvious.
The pocketed coil layer provides a softer feel in the shoulder area and a little firmer body support under the hip area so the spine is aligned appropriately. Also, the coils are wrapped individually so that they can better adjust to your body and movements by moving independently.
Responsiveness is one of the things mentioned a lot in the sleeper Helix Dusk Luxe reviews.
Lastly, coils enhance edge support, so the bed won't sag for a long time, which equals better durability.
Above the coils is the high-grade polyfoam. As the company said themselves, this part provides ergonomic support and comfort. It's a transition layer that adds body contouring and a bit of softness.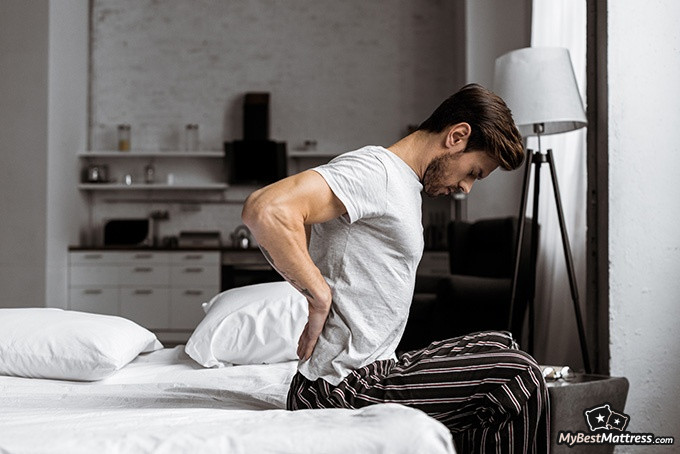 The memory plus foam layer follows the transition layer, and its primary purpose is to relieve pressure. This is a fantastic feature for individuals who have existing aches, since this area of the bed can assist in alleviating them.
And that's not all. On top of the memory plus foam lies the Helix dynamic foam. The dynamic foam carries a medium-firm feel and a high-density feature.
Alright, that's it with the layers. It's no doubt that the composition of this bed is made thinking about every struggle people could've faced in the past.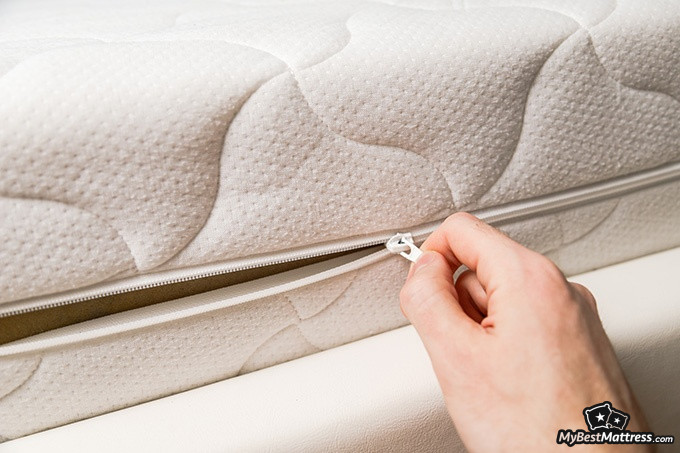 While we're talking about the construction, one last thing is the breathable premium pillow top, which is highly praised in sleeper Helix Dusk Luxe mattress reviews. Sleeper reviews even said that the bed had a cooling effect thanks to the exceptional breathability and airflow throughout the pillow top.
Well, that's all about the luxury layers, let's move on to the specifics.
Latest Saatva Coupon Found:
UP TO $500 OFF
Limited-time Saatva Sale
We're sharing a limited-time Saatva mattress discount with our readers! Grab this deal & enjoy your new mattress with huge discounts.
Expiration date: 29/09/2023
4,042 People Used
Only 83 Left
Bouncy and Responsive
Although springs naturally give some bounce, the sleeper Helix Dusk Luxe reviews indicate that this particular model is very bouncy and responsive. This feature will appeal to people who prefer that type of feel.
Moreover, because the bed is exceptionally responsive, it will be easier to move, change sleeping positions, get in and out of bed.
Also, let's not forget the devil's tango (if you know what I mean). A responsive and bouncy bed is very appreciated by couples who enjoy some high-quality time together. Since there will be less sinking and disruption during that time.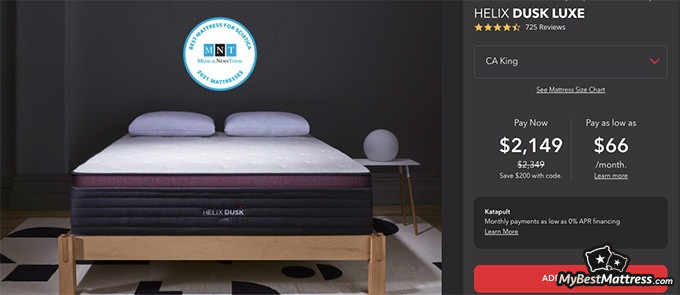 Most couples prefer a mattress that combines motion isolation and responsiveness. Therefore, a bed that has too much snuggle is challenging to move around on, which can be problematic during sex. Nonetheless, the Helix Dusk Luxe mattress is a bit different.
The bed is bouncy and responsive due to the coils and memory plus foam that adapts to your body movements and almost immediately returns to its original state. To be fair, that kind of bouncy bed isn't everyone's cup of tea. Nevertheless, if you've always preferred these types of beds in the past, this Helix Dusk Luxe mattress is an excellent option for you.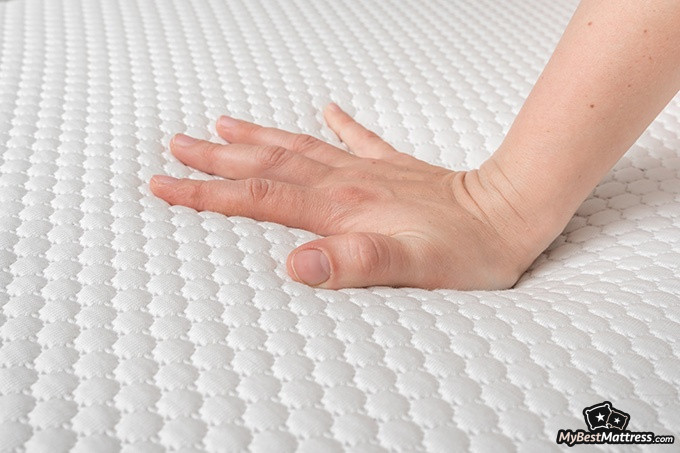 In addition, sleeper Helix Dusk Luxe reviews state that the mattress is well-balanced. Meaning, responsiveness gives the impression that all of the body parts are evenly distributed and that there isn't any noticeable sinking when moving on the bed.
As I would say, a cocktail of body contouring and a fun bounce!
Combination and Back Sleepers Will Love It
To put it shortly, combination sleepers are the ones that don't know which one is their dominant sleeping position. It's because they change sleeping positions throughout the night. I'm one of them, and I move around constantly. Frankly, it was a bit weird to find out that people lie in one position all night. I don't know guys how you do that, but you're cool.
Speaking of which, the sleeper Helix Dusk Luxe reviews indicate that this bed is the best for combination and back sleepers. Combination sleepers will appreciate the mattress since, as we all know, it's a pretty firm one. Furthermore, changing positions during the night will be simple and won't cause any further sinking.

Back sleepers need more body support because sinkage promotes back-bending, resulting in pain sooner or later. That's where the pocketed coils and foam layers are of service by ensuring that your hips and spine are aligned as they should.
Additionally, it's pretty essential that the mattress contours your body shape. Owner Helix Dusk Luxe reviews indicate that it does it quite well for back sleepers. Therefore, a mattress adjusts well to your body outline and shape. Thus, it will be more comfortable.
As we already know, combination sleepers move around a lot, so by quickly adjusting, the mattress will keep you soothed and make your movements easy. As a result - less disruption and fewer awakenings throughout the night.
Strong, Trustworthy Edges
We established by now that the Helix Dusk Luxe is a hybrid bed with 1,000+ individually wrapped coils. This factor already makes us imagine the feel of a very sturdy, supportive mattress.
By being new to the concept, you might be wondering why there's an entire chapter talking about the edges of an object. But let me tell you that it's not as useless as it can seem.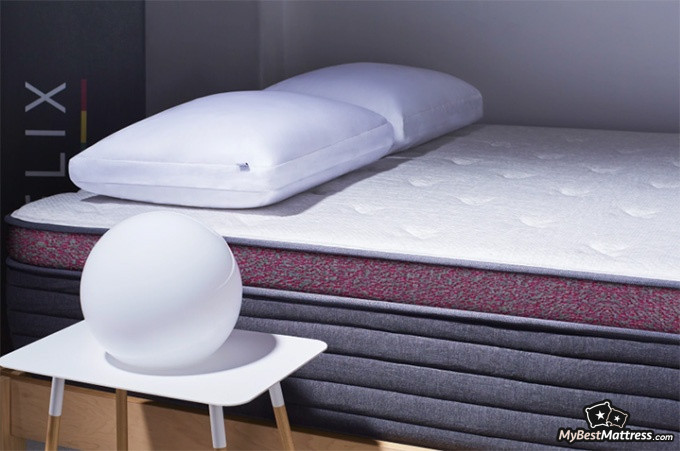 If you're an individual that sleeps in one place throughout the whole night, your confusion is very understandable. On the other hand, if you sleep in a starfish position from time to time, you'll know the struggle.
To put it simply, weak edges create sagging. Sagging results in inadequate support throughout the surface of the bed. Your uncomfortably hanging legs and arms are at the very end of the chain.
In the worst-case scenario, you can even fall to the ground.
Another thing to consider is how you'll arrange your belongings on the bed. Imagine a situation where your stuff is placed on the chair at night and then moved to the bed at day.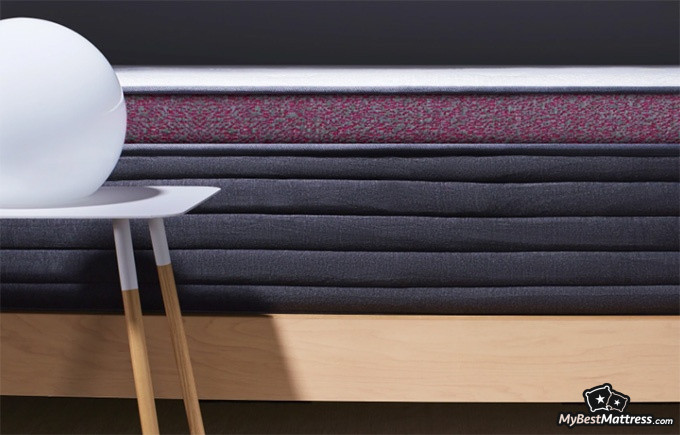 A mattress with a lack of edge support won't hold your stuff for long, and it will slide off eventually. So, many troubling aspects can occur as a consequence of sagging edges.
Having that said, sleeper Helix Dusk Luxe reviews would tell you that these unfortunate actions won't happen with this bed. Hence, the mattress has strong, trustworthy edges.
Helix Dusk Luxe Review: CONS
Now that we've talked about the best aspects of the bed in this Helix Dusk Luxe review, it's only fair that we turn to the opposing side. However, there isn't a lot to talk about here.
So, we'll be done before you say blueberry pie!
Somewhat Heavy
Helix Dusk Luxe is a mattress on the bigger side, with a few additional layers. What may be the issue? Well, to be exact, it's a little weighty. Because of the extra layers, all Luxe line models weigh roughly 20-30 pounds more than the original models.
Several sleeper Helix Dusk Luxe reviews state that carrying this bed to a higher floor of the building and finally setting it up in your bedroom might be difficult. As a result, make sure you have some assistance. Also, just in case, complete a round of warm-up exercises.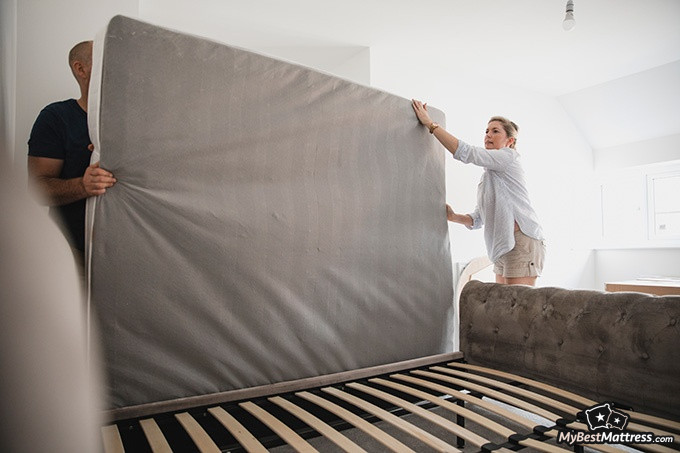 You'll also need a solid, stable bed frame in addition to the difficulty of getting the bed into your bedroom. The bed frame may break at the bottom if it isn't strong enough, and you wouldn't want the additional struggle, right?
Let me add that this con doesn't affect your sleeping quality if it isn't apparent already. Take Saatva as an example, it's a heavy mattress as well, but it doesn't change the fact that it's one of the best beds in the market overall.
Table: Features of the Saatva, Layla and, Puffy mattresses
If the weight of the mattress is a significant factor in your purchase, you can also look at Layla or Puffy. These beds are a little lighter than the Helix Luxe ones, but they are still among the finest mattresses out there.
Not the Best for Side Sleepers
Studies have reported that the most preferred body position during sleep by adults is on the side, while the front position is least preferred[2]. Besides that, children sleep equally much on the side, back, and front, with a progressive preference for the side position when approaching adulthood.
Given that the side position is one of the most popular among adults, I was surprised to discover several sleeper Helix Dusk Luxe reviews indicating that this mattress isn't ideal for this position.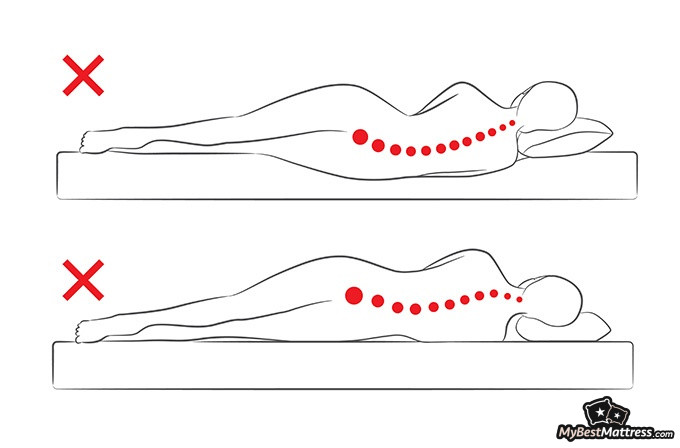 Don't get me wrong, it's not the worst, in fact, folks who are a little heavier may enjoy lying on their side because it allows them to get a little more body contouring. However, this bed isn't ideal for lighter side sleepers.
So, if you sleep on your side, I'll remind you of Saatva once again. Saatva is a universal mattress that is suitable for all types of sleepers. That's why I'm making such a big deal about this brand in this Helix Dusk Luxe review. Take a look for yourself:
Table: Pressure points of the Saatva mattress
Saatva is made out of two coil layers and several foam ones. Additionally, it's worth knowing that all of their foams are certified and 100% organic.
The biggest challenge a mattress manufacturer would have in this case is pleasing side sleepers, back sleepers, and stomach sleepers all at the same time. If a mattress is suitable for side and back sleepers, it will almost certainly be bad for stomach sleepers, and so on. Nonetheless, Saatva seems to be the one that cracked the code.
Well, it's a luxury bed made out of the highest quality materials, so you should expect nothing less.
Comparisons
When a brand has so many different types of beds it's only a matter of time before you get curious about what's different or similar between them. In this case, I feel the need to compare at least a few models. So, without further ado, let's get right to it in this Helix Dusk Luxe review.
Helix Dusk VS Dusk Luxe
For starters, Helix Dusk vs Dusk Luxe is a bit softer, meaning it can be more compatible for people who like a bit more of a "hugging" feel. However, the Helix Dusk Luxe compared vs Helix Dusk is better for back sleepers. Its thicker dynamic foam layer and zoned support coils make it a bit more supportive than the standard model.
Both of the beds have a memory plus foam layer, nevertheless, the initial model is a tiny bit better at pressure relief. Also, the beds are both mediocre at motion control, so, not the best option for couples. Well, at least not as good as Puffy.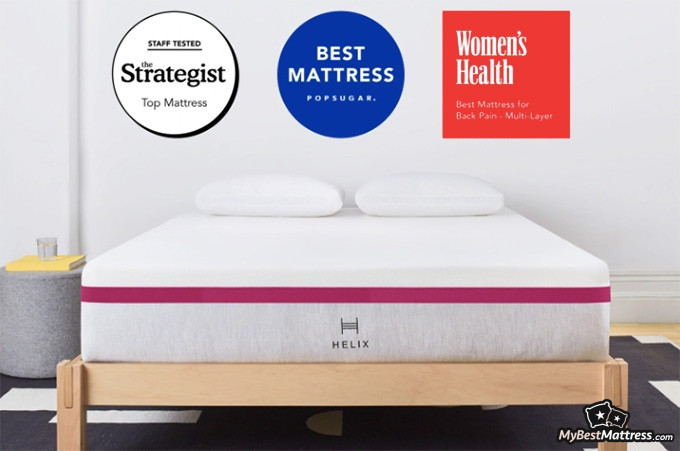 By looking at the layers, we would see that the Helix Dusk Luxe mattress has two more layers - the contour layer that's made of high-grade polyfoam, and a pillow top layer made out of gel foam that adds a bit more cushion.
The last thing you should consider is the price. The initial Helix model is way more affordable than the luxury one. You can buy a Helix Dusk Queen mattress for $1099 and a Helix Dusk Luxe Queen mattress for $1949.
That's a bit of a difference there, nonetheless, let me mention once again in this Helix Dusk Luxe review, that Luxe is considered a luxury line, so the price has to reflect that.
Helix Midnight Luxe VS Dusk Luxe
The Dusk Luxe is firmer than the Midnight Luxe, despite the fact that both mattresses are considered medium-firm. Helix Dusk Luxe is also the most bouncy of the Helix Luxe beds. Nonetheless, there is also the motion transmission where there is the bounce. Keeping that in mind, Helix Midnight Luxe is a superior alternative for couples regarding motion control.
Additionally, Helix Midnight Luxe is the most popular model. So, there is surely a reason behind that. And don't you think for a second that we'll not go full detective mode to figure it out.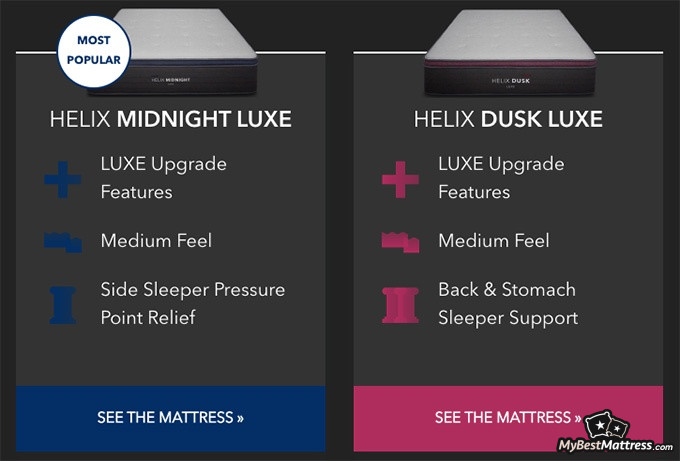 Let me start by saying that Helix Midnight Luxe vs Dusk Luxe has plenty of pressure relief and body contouring. Even though the Dusk Luxe has these features as well, the Midnight Luxe is still one step ahead when it comes to comfort and pain alleviation.
Speaking of sleeping positions, Helix Midnight Luxe vs Dusk Luxe is better for side sleepers. Nonetheless, Dusk Luxe is better for stomach sleepers. Also, the Helix Midnight Luxe mattress isn't suitable for people on the heavier side as much as the Dusk Luxe model.
Furthermore, it would help if you determined whether you prefer a standard, innerspring, bouncy, responsive sensation or a more conforming "hugging" memory foam feel. In terms of sex, responsive and bouncy mattresses like the Helix Dusk Luxe are ideal. When it comes to motion transfer control and less disruption, contouring beds are at an upper-level.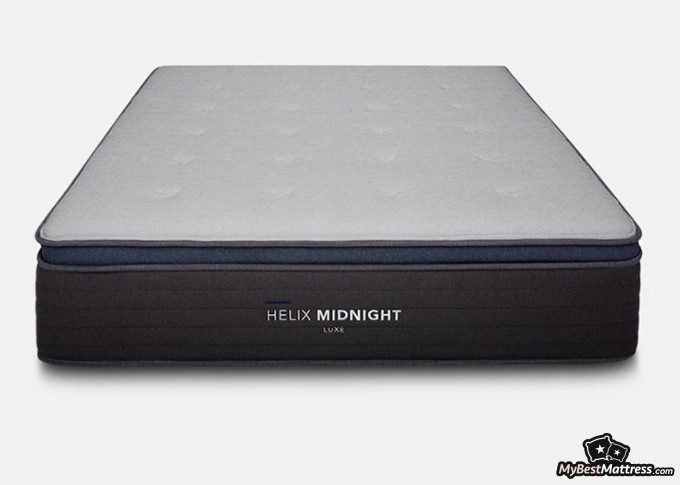 Sensitive folks with a sleeping companion should choose the Helix Midnight Luxe since it's better at motion control. Those who prefer a little more bounce could choose the Helix Dusk Luxe mattress.
Lastly, the beds are priced the same, so it really depends on your sleep preferences. Keeping that in mind, take your time, and choose wisely.
Helix Midnight VS Helix Dusk
I felt it would be fitting to discuss the initial models briefly in the final section of the comparisons. Big-budget products are not for everyone. Some of you may have a tighter budget than others, and that's fine! You don't always have to pay a lot of money to get a decent product.
Take a look at Puffy and Layla mattresses, which are well-liked, high-quality, and, in my opinion, not the most expensive on the market. However, they are both among the greatest mattresses available.
Table: Main features of the Puffy and Layla mattresses
Besides, as I've mentioned before, all of the Helix beds are of great quality! And the initial models are no different.
The main difference between the Helix and the Helix Luxe beds is the additional layers.
While Helix mattresses are high-quality, the Luxe versions add a luxurious feel and more features. The Luxe beds include a 2-inch extra layer, more pocketed coils, and better lumbar support for your lower back.
Comparing Helix Midnight vs Helix Dusk - they're both on the medium-firm side. This means the beds are quite versatile and can be suitable for many different types of sleepers.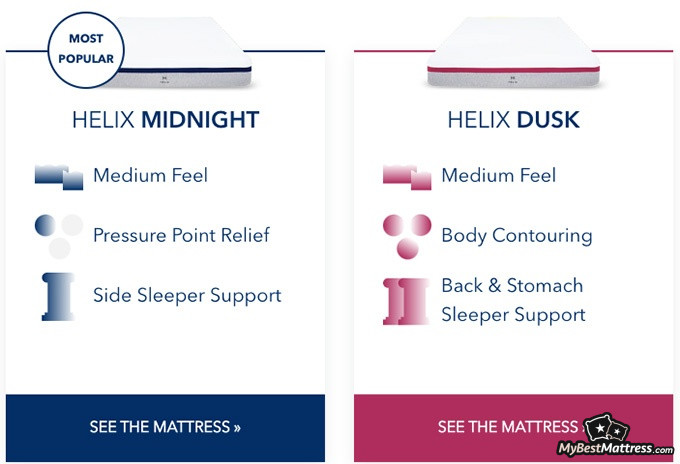 To put it another way, these original models' compatibility and important characteristics are extremely similar to those of the Luxe options. Because it's incredibly firm and very bouncy, the Helix Dusk bed, for example, is excellent for combination and back sleepers, and midnight, on the other hand, is suitable for everyone.
Aside from that, this bed reduces pressure efficiently and conforms to the body of the sleeper well.
In my humble opinion, Helix Midnight compared vs Helix Dusk is an ultimate choice for those that need a universal, medium-firm, medium-soft, well-liked bed.
Nevertheless, Helix Dusk might be an option for those that sleep strictly on their back or seek easy movements on their bed.
What's the Helix Dusk Luxe Mattress Price?
The pros and cons have been explored, and the only thing left to discuss in this Helix Dusk Luxe review is the cost. Make sure to double-check the prices, since they may have changed by the time you read this! Just click anywhere on the list below:
Luxury models have luxury prices! But don't let that stop you, these mattresses have top-notch quality, and the prices reflect that. Moreover, if you're looking for a Helix mattress Dusk discount, make sure to take a glance at our special deals for Helix.
Moreover, make sure to check the brand's website from time to time, since you might also find a Helix mattress Dusk discount there.
Getting that out of the way, I have to mention that you'll be getting a 100-night trial and a 15-year warranty.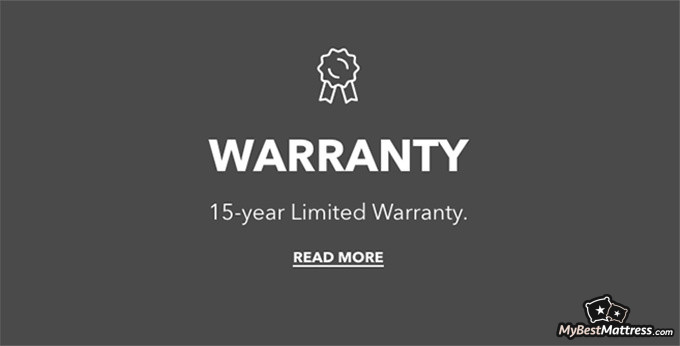 And yes, the Helix prices are above-average and aren't affordable for everyone. For that reason, Puffy Lux is also considered a luxurious, hybrid bed. Therefore, Puffy Lux also has a premium price tag. Nonetheless, this bed is a little bit more affordable than Helix Luxe mattresses.
Of course, do have in mind that there are also budget-friendly options in our list you can take a look at.
Rewinding to the Puffy Lux bed, the brand is one of the market leaders, providing exceptional comfort for all sleepers out there. Therefore, side, stomach, back, and even combination sleepers can rest assured.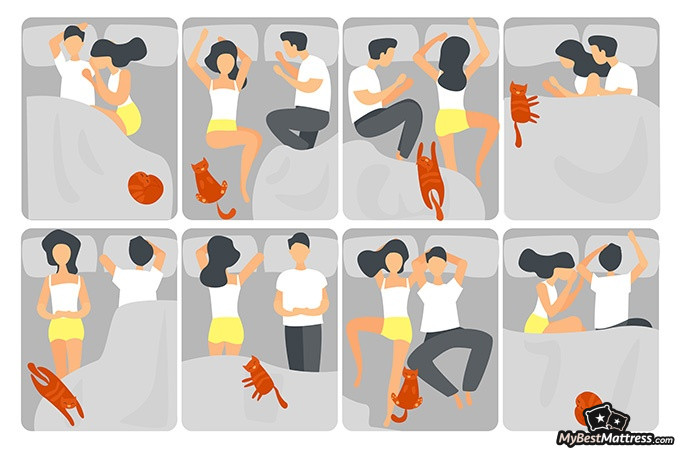 It has superb motion and noise isolation, according to sleeper reviews. And let me remind you that the price difference between Puffy Lux and Helix Luxe is approximately $100, which might seem like nothing. But if you think about it for a moment, you'll get an amazing bed and spare $100 for an additional treat of a new pillow or bed sheets.
Here is The Best Saatva Offer I Found:
UP TO $500 OFF
Limited-time Saatva Sale
We're sharing a limited-time Saatva mattress discount with our readers! Grab this deal & enjoy your new mattress with huge discounts.
Expiration date: 29/09/2023
4,042 People Used
Only 83 Left
Conclusion
We've talked about a lot in this Helix Dusk Luxe review, and we've walked a full circle of the positives and the negatives. We even went through several comparisons to see how each of the beds are similar or different and how the baseline models compare to the upgraded ones.
One thing we know for sure is that Helix mattresses are high-quality and provide a lot of contrasting options for everyone in the world based on their dominant sleeping position, preferred firmness, and even weight. I'm referring to the Helix Plus mattress option.
The Helix Dusk Luxe has excellent responsiveness, bounce, ease of movement, and edge support. Therefore, back and combination sleepers will highly appreciate this option. However, side sleepers might not find this bed suitable for themselves.
I would recommend side sleepers to look into Saatva, an innerspring mattress that's excellent for all types of sleepers. Or if you're looking for a traditional, simple memory-foam bed, you can check out Layla, one of the best mattress brands out there.
Lastly, if you're eager for luxury, but still searching for the best deal, make sure to look into Puffy Lux, an amazing hybrid luxury mattress that's a tiny bit more affordable.
Table: Company information of the Saatva, Layla and, Puffy mattresses
I dare to believe that this Helix Dusk Luxe review was helpful and, I can't wait to see you in the next one!
Scientific References
1. Gianfilippo Caggiari, Giuseppe Rocco Talesa, Giuseppe Toro, et al. 'What type of mattress should be chosen to avoid back pain and improve sleep quality? Review of the literature'
2. Eivind Schjelderup Skarpsno, Paul Jarle Mork, Tom Ivar Lund Nilsen, et al. 'Sleep positions and nocturnal body movements based on free-living accelerometer recordings: association with demographics, lifestyle, and insomnia symptoms'
Leave your honest Helix review
Leave your genuine opinion & help thousands of people to choose the best mattress. All reviews, either positive or negative, are accepted as long as they're honest. We do not publish biased reviews or spam. So if you want to share your experience, opinion or give advice - the scene is yours!