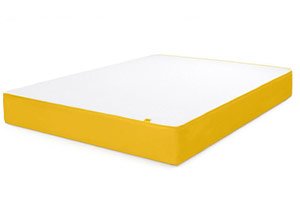 Looking for a reliable UK mattress brand? Eve Sleep might be one of the companies that you should take into consideration.
Eve Sleep was founded in 2014, with an intention to create high-quality, comfortable mattresses that would be affordable for all sleepers. At the moment, the company offers the Premium mattress, the Premium Hybrid mattress, the Original mattress and the Hybrid mattress. Therefore, every sleeper can find a suitable option.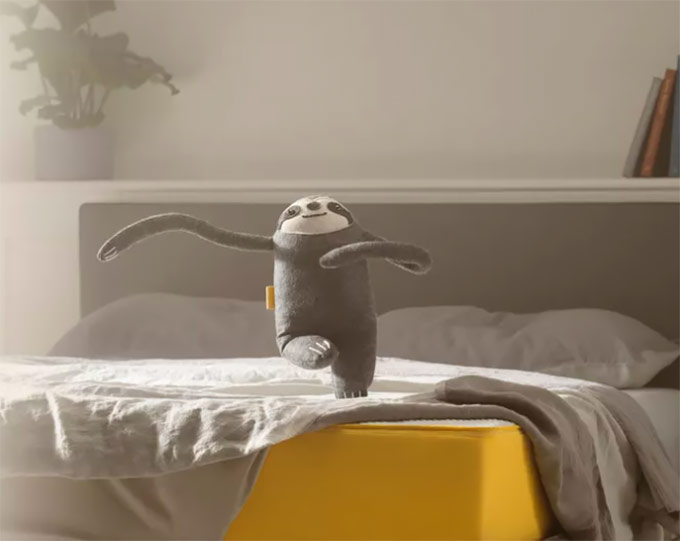 In this Eve mattress review, I will introduce you to the company's original model, including its structure, Eve mattress problems and advantages, pricing and even more details that should help you decide whether or not it's suitable for you.
Verdict at a Glance
Eve offers four mattress options to choose from, each of them featuring different structures. The company's original model is made of memory foam. It provides you with pressure relieving properties, isolates motion transfer and is completely noiseless. However, it has some issues with temperature regulation and lacks edge support.
Pros
Good pressure relief
Great motion isolation and no noise
Durable
Cons
Lacks edge support
Not bouncy
Might sleep too warm
Eve Mattress Review: Mattress Structure
Before jumping straight into Eve mattress review, I would like to take a look into the mattress structure and discuss each of the layers. Here's the Eve Original mattress design:
The top cover - soft, moisture-wicking material that shouldn't allow you to sleep too warm.
The evecomfort® layer - the material is similar to memory foam but springier. It provides more support and ensures that your spine is aligned.
The memory layer - provides you with pressure point relieving properties.
The base layer - support layer with seven different contour zones that provide you with close conforming and ensure that there are no pressure points.
The anti-slip base - makes sure that your mattress stays in place.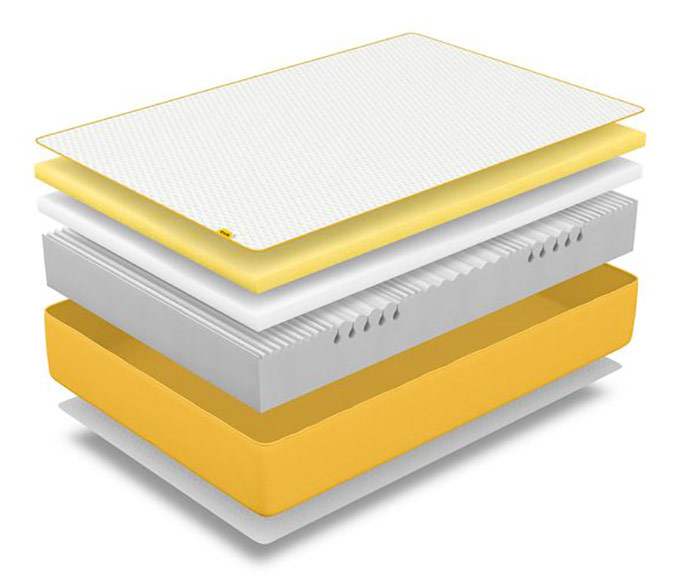 As you can see, it seems that the Eve mattress is very well structured. However, you cannot evaluate how the mattress sleeps only based on its structure. For this reason, further in this article, I'll be focusing on Eve mattress reviews and provide you with all the pros and cons that Eve mattress reviews distinguish.
Without further ado, let's get right into it.
Eve Mattress Review: PROS
Just like with any other review, I would like to begin this Eve mattress review from the positive aspects.
Remember that while the company offers multiple mattress options to pick from, today I'll be focusing only on the original model. Thus, take all the aspects into consideration and decide whether or not Eve is suitable for you.
Let's get right into it.
Conforms Closely and Alleviates Pressure Points
Pressure alleviation is one of the most important features that you should be looking for in a mattress, especially if you're experiencing pain in certain areas of your body.
That being said, if you wake up in the morning and feel aches, it's probably because your mattress is unable to alleviate pressure points and it's time to get a new one. Old mattresses tend to sag in the middle and are unable to provide the right amount of support for the most problematic areas.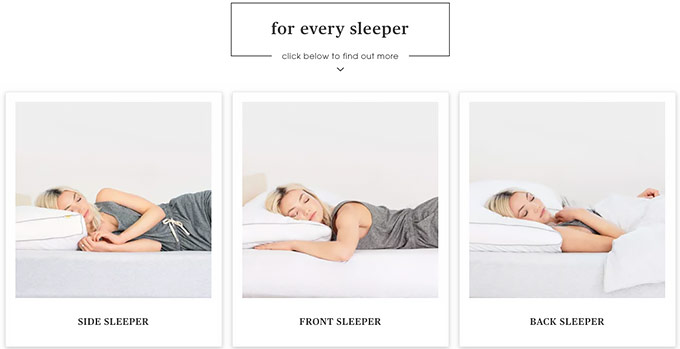 Talking about Eve Original mattress, it's really good at alleviating the pressure points. According to multiple Eve mattress reviews, it conforms closely to your body and provides a good amount of support in the problematic areas.
People should notice that when sleeping on the side, their spine remains in a straight, healthy position. What is more, the memory foam manages to cushion the shoulders and hips, which makes it really comfortable.
Great Motion Isolation and No Noise
If you want to get a high-quality rest, you should make sure that there are no interruptions. Noise and motion transfer are the two aspects that might affect the quality of your sleep.
Talking about motion transfer, you won't be feeling it if you're sleeping alone, however, if you have a partner that keeps tossing and turning throughout the night, you can definitely get frustrated. Studies indicate that when a person experiences nightly movement, he/she is getting less stage 3 and 4, and more stage 1 sleep,[1] meaning that the sleep quality is highly affected.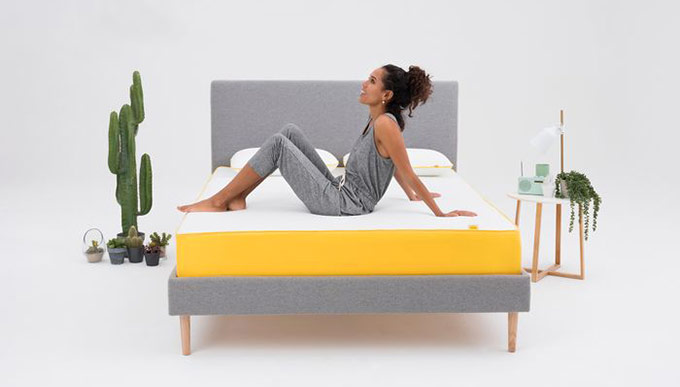 Now, it's known that the majority of memory foam mattresses are able to provide top-tier motion isolation. According to Eve mattress reviews, it's no exception. Sleepers claim that they no longer feel when their partners get in or out of bed, or when they're having bad dreams and keep tossing and turning. Therefore, if you have this issue, Eve can help you solve it.
Moving to the noise, you probably know that some mattresses tend to be really loud, especially the old squeaky ones, however, when it comes to memory foam mattresses that have no coils in their construction, that's not an issue at all. Multiple Eve mattress reviews claim that it's completely noiseless. Therefore, you'll be able to enjoy uninterrupted sleep.
Quite Durable
Mattress durability can be a bit difficult to evaluate, especially when it comes to the companies that haven't been around for long. Eve is one of them. Since the company was founded in 2014, we're unable to assess how it sleeps after, for example, 10 years.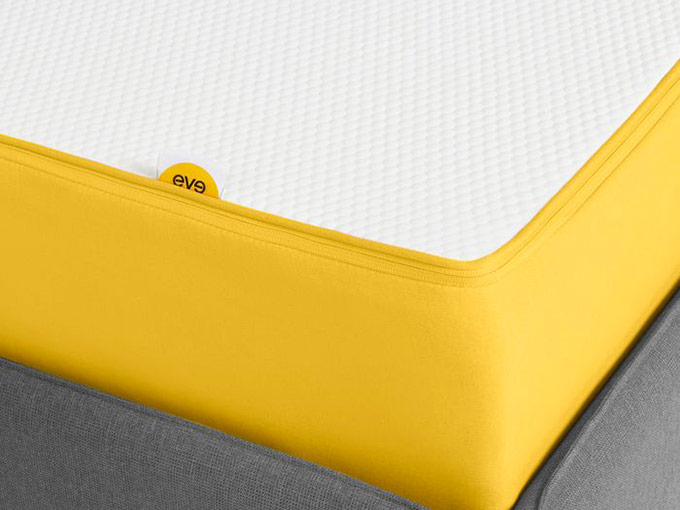 On the other hand, we can still evaluate whether or not Eve maintains its initial shape after about 5 years into usage. To do so, I went through multiple Eve mattress reviews.
According to the customers, there are no issues with Eve mattress when it comes to durability. There's no sinkage and the mattress manages to maintain its initial shape. That being said, you'll be able to sleep comfortably for years.
Eve Mattress Review: CONS
It's time to move to the less pleasant part of this review and discuss Eve mattress problems. Remember that every aspect matters, so consider each of them before making a final decision.
Might Sleep Too Warm
Mattress breathability is one of the most important aspects when it comes to the quality of sleep. According to the study, insufficient sleep is strongly affected by temperature anomalies.[2] This means that it's important to make sure that a mattress is capable of ensuring neutral body temperature throughout the night.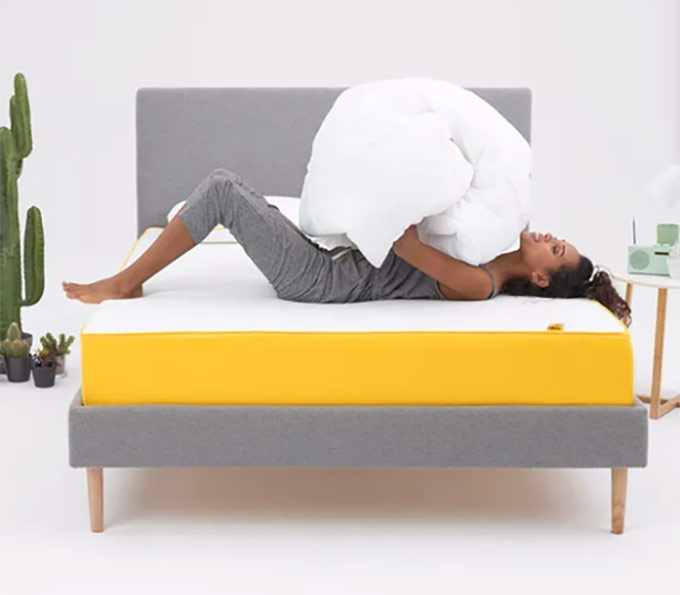 Mattress's breathability usually depends on the type of mattress. In most cases, hybrid and innerspring mattresses have the best cooling properties because they have coils in the construction. Memory foam mattresses, on the other hand, tend to trap heat.
Talking about Eve mattresses, I have to disappoint you. Just like the majority of memory foam mattresses, Eve has an issue with breathability. Multiple Eve mattress reviews reported that it traps heat and sleeps too warm. That being said, if you prefer sleeping cool, Eve may not be the best option.

Did you know?
Not Very Bouncy or Responsive
Mattress bounciness and responsiveness are the two qualities that are important to couples. You probably know why. According to multiple partners, bouncy mattresses can help to improve your sex life. Let me explain why.
If a mattress is soft and unresponsive, your body might 'stuck' into it, without providing enough stability. However, mattresses that are bouncy and responsive can provide you with instant bounce back and make the entire process so much more enjoyable.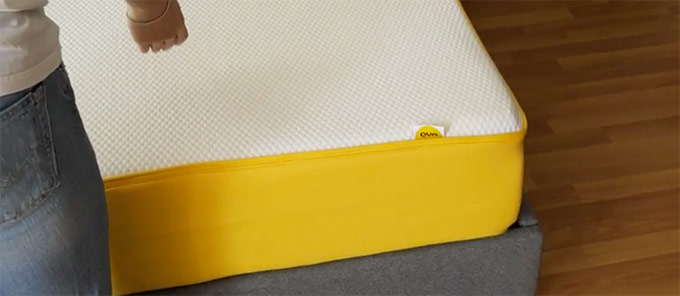 When it comes to Eve mattresses, many couples claim that it lacks responsiveness. Since it's made of memory foam that tends to contour your body and adapt to it, you can expect only minimal bounciness, which might not be enough for you and your partner.
Lacks Edge Support
Many sleepers don't take edge support seriously enough, however, if you share a bed with someone, you know that when there's no edge support, it can be really uncomfortable and you might feel as if falling out of the bed. However, that's not the only reason why it's important.
In many cases, mattresses with firm edges are more reliable and sturdy. You can expect them to serve you longer. That's because edges help to maintain the mattress's initial shape longer.
What is more, elderly or people who are experiencing lower back pain, know that it can be difficult to get out of the bed when edges have no support, especially if there's a low mattress base. That's why, in some cases, edge support is necessary.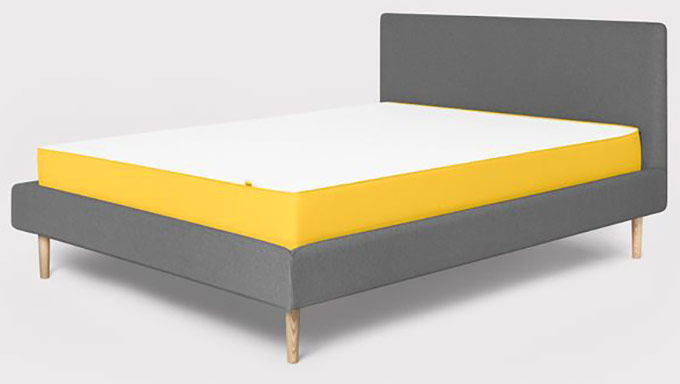 You'll find that mattresses with springs, including hybrid and innerspring, usually have really firm edges, however, when it comes to the memory foam mattresses, they usually lack it.
As you probably understood, one of the Eve mattress problems is that it lacks edge support. Multiple Eve mattress reviews reported that it's an issue, probably one of the most noticeable ones.
Eve Mattress Price and Additional Details
Finally, since you're already aware of all the pros and cons of this Eve mattress review, let's move further and discuss prices, shipping, free trial and other information. It should be important to you when making a final decision.
What is the Eve Mattress Price?
Let's begin with Eve mattress prices. Here's the full list of Eve pricing and size options:
Note that the prices are changing all the time, so if you want to find out the most accurate information, you should check out the Eve official site.
As you can see, Eve mattress prices are very attractive. The company manages to provide you with a good price-quality ratio. That being said, even if you have quite a tight budget, it's still affordable.
You should also know that the company is offering discounts and promotions on special occasions. That's why you'll be able to purchase the Simba mattress for even lower prices.
Make sure to look into the measurements as well in order to choose a mattress based on your preferences:
UK Single - 90 x 190
Small Double - 120 x 190
UK Double - 135 x 190
UK King - 150 x 200
Super King - 180 x 200
Emperor - 200 x 200
With so many options available, you'll be able to find a suitable size, no matter if you have a very small or spacious bedroom.
What About Warranties, Shipping and Sleep Trial?
Eve mattresses prices are not the only good part, you should also be aware of the trial period, shipping charges and warranty. Let's take a look at each of them.
First of all, Eve provides you with a 200-night sleep trial. That's more than the majority of mattress providers are offering. This means that you can sleep on Eve mattress for up to 200 nights and only then decide whether or not it's suitable for you. In case you decide to look into different mattress manufacturers, the company will provide you with a full refund.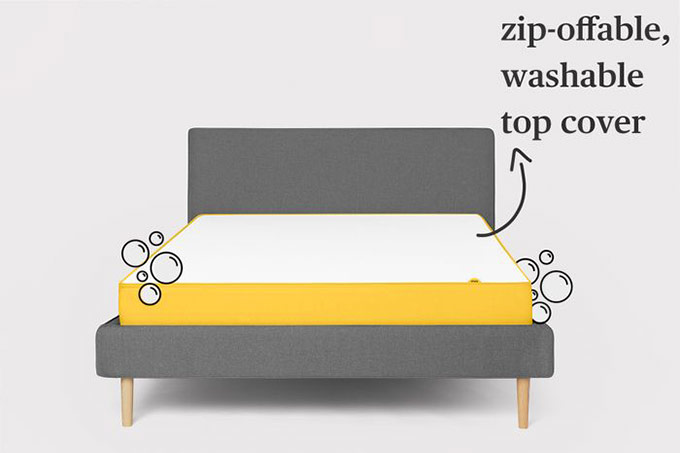 What is more, your Eve mattress will be delivered straight to your doorstep for free. Since the mattress comes sealed in a box, you'll be able to move it to your bedroom easily. Once you unpack your mattress, you should wait a bit for it to fully expand. Usually, it takes a few hours.
The final aspect that you should be aware of is that Eve mattress comes with a 10-year warranty. The company's warranty covers the issues with mattress performance, manufacturing defects and the splitting or cracking of the materials. However, the warranty is not valid if the mattress was used not as intended.
I believe that's it as far as this Eve mattress review goes. Thus, let's jump to conclusions.
Conclusions
Therefore, when it comes to the most popular UK mattresses, Eve seems to be one of them. The company offers multiple mattresses to choose from, however, the original version is the most affordable.
Eve original mattress sleeps comfortably, it conforms closely to your body and alleviates pressure points. What is more, since it's made of foam, there's completely no noise when bearing weight, and you can be sure that there's no motion transfer.
On the other hand, some Eve mattress reviews reported that it traps heat and sleeps too warm, lacks bounciness and edge support.
So, it's for you to decide whether or not Eve mattress suits your needs. In case you want to check out other alternatives, you can take a look at this list of the best UK mattresses.
Scientific References

1. J J Wellman, M Bohannon, G W Vogel: 'Influence of Lateral Motion Transfer on Sleep'
2. Nick Obradovich, Robyn Migliorini, Sara C. Mednick, et al.: 'Nighttime temperature and human sleep loss in a changing climate'
Leave your honest Eve review
Leave your genuine opinion & help thousands of people to choose the best mattress. All reviews, either positive or negative, are accepted as long as they're honest. We do not publish biased reviews or spam. So if you want to share your experience, opinion or give advice - the scene is yours!