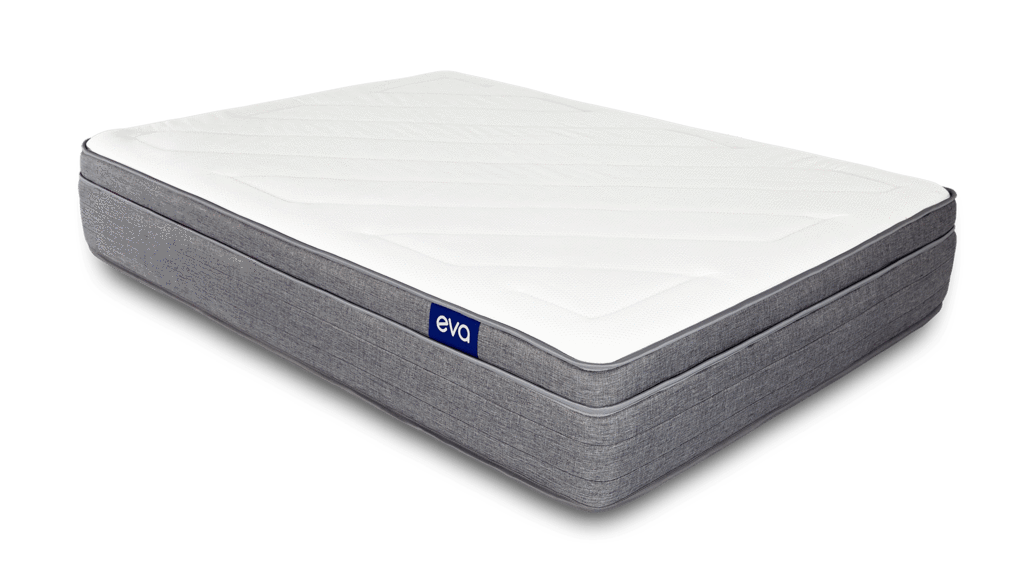 Have you been feeling tired lately? Maybe you're not pleased with your life quality? If so, chances are that it's time for you to get a new mattress.
A comfortable mattress can not only improve the quality of your sleep but also solve multiple problems,[1] such as back or shoulder pain, excessive sweating, and many more. That being said, if things have been difficult lately, you should consider changing your old mattress for the better.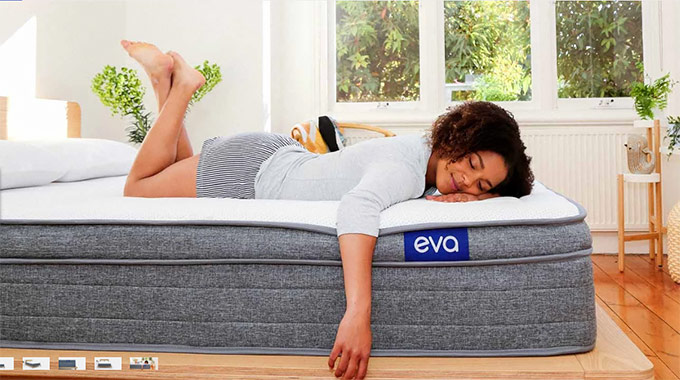 One of the Australian brands you should take into consideration is Eva's mattress. Even though the company's still relatively new, it seems that many people have already fallen in love with Eva's products. What's crucial to know is that Eva donates 1 mattress to charities and homeless shelters for every 10 mattresses sold, which means that you can also contribute to this amazing initiative.
In this Eva mattress review, I will introduce you to the mattress, all the major pros and cons, prices, warranties, and even more details. After Eva mattress product review you will know if it suits all your wants and needs.
Verdict at a glance
Eva is a hybrid mattress that offers an amazing price-quality ratio. It's on the firmer side - about 7-8 on the mattress firmness scale. According to Eva mattress reviews, it's durable, breathable, alleviates pressure points, manages to isolate the motion transfer while also providing responsiveness and bounciness. However, some people lack firmness options to choose from, especially light-weight ones.
Pros
Very affordable
Durable
Bouncy and responsive
Alleviates pressure points
Eva Mattress Review: PROS
A good mattress must have all the aspects that matter for high-quality sleep, including motion isolation, responsiveness, support, edge support, and so much more. Let's begin this Eva mattress review with the positive aspects and find out if it can provide us with the most important properties.
Made of High-Quality Materials
Mattress's durability, comfort, support, and other aspects completely depend on its structure and quality of the materials. According to Eva mattress reviews, customers Take a look at each of the layers that Eva is constructed of:
Gel memory foam - the first layer ensures that the mattress conforms closely to your body and provides you with pressure point relief. It's infused with millions of gel beads that ensure neutral body temperature throughout the night.
Natural latex - it's one of the best materials for a mattress. Natural latex is antimicrobial and dust-mite resistant, it's very flexible and breathable.
Density foam - this layer ensures that your body gets enough support as well as comfort.
Five Zone pocket spring - this layer deals with sleep disturbances and makes sure that both you and your partner get a high-quality rest that you deserve.
Edge support - makes sure that the mattress maintains its structure and has firm edges.
As you can see, Eva's mattress structure seems truly exceptional. According to Eva mattress reviews, it's very durable - you won't notice significant sagging years into the usage.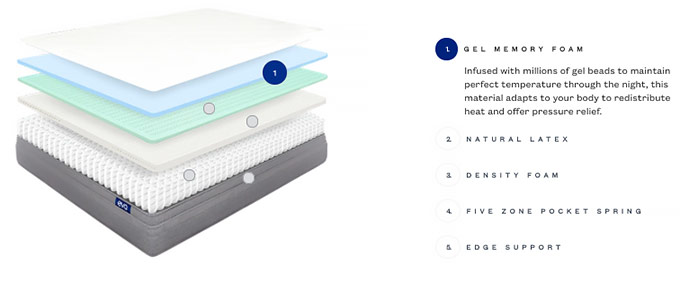 Eva mattress also comes with this white and grey mattress cover, which has a very stretchy top that's super soft and breathable, whereas the sides are more sturdy and are made of polyester blend. Such cover design ensures that your mattress stays in place and even helps to maintain the initial mattress state longer.
While the structure seems to be very reliable, I would like to move to other aspects and see what Eva mattress reviews have to say about it.
Isolates Motion - No Partner Disturbance
Sleep disturbances can highly affect the quality of your sleep, that's why, when choosing a new mattress, you should pay attention to such quality as motion transfer isolation.
Talking about motion transfer and different types of mattresses, you should know that innerspring beds tend to deal with this issue worst, whereas memory foam mattresses usually isolate motion transfer to a significant extent. When it comes to hybrid mattresses, it completely depends on the provider and mattress structure.
Moving back to Eva mattresses, sleepers claim that it minimizes sleeping disturbances significantly. Five Zone pocket springs ensure uninterrupted sleep for both you and your partner, even if you're having nightmares. Since sleep disturbances are associated with different health issues, including digestive symptoms,[2] you should pay crucial attention to this.
Alleviates Pressure Points - Amazing for Back Pain
The majority of people believe that a firm mattress is not such a great choice when it comes to health benefits and pressure relieving properties, that's why many sleepers, who want a mattress that would alleviate pressure points, choose softer alternatives.

However, the reality is actually different. Soft mattresses often lack support and are quite saggy, meaning that, in many cases, they won't be able to maintain your spine in a healthy position, and consequently, you will wake up feeling sore.
When it comes to Eva mattress Australia, which is on the firmer side, you would assume that it doesn't work that well at alleviating pressure points, however, it's on the contrary. Multiple Eva mattress reviews indicate that it manages to conform closely and alleviates pressure points really well.
The 5 zone pocket springs ensure that you get enough support where needed. Your body will be properly aligned, no matter if you're sleeping on your side, back or stomach, you won't feel pressure in problematic areas.
If you're wondering which sleepers can benefit from Eva mattresses the most, that would be back sleepers. Since Eva mattress is about 7-8 out of 10 on the mattress firmness scale, it is quite firm - multiple studies reveal that firmer mattresses can help with chronic back pain. That being said, if you're suffering from back problems, then Eva mattress Australia could be one of your top choices.
Bouncy and Responsive - Great for Sex
Bounciness is not something people talk about when it comes to sleep quality because it doesn't directly affect it, even though your sleep quality can be affected by aspects that you haven't even thought about.
However, sleep is not the only thing that we do in our beds. Bounciness and responsiveness are the two qualities that can be highly beneficial for your sex life. Multiple Eva mattress reviews can assure you that it's really bouncy and responsive, and is something that all the couples appreciate.

Since Eva mattress Australia is not only responsive but also supportive, it won't allow your body to sink down and will provide you with that instant bounce back, which is exactly what will make the whole process a lot more enjoyable.

Did you know?
Cool and Breathable
If you'd ask me what is the most important aspect that you should take into consideration when choosing a new mattress, I would always distinguish breathability as one of the most crucial ones.
If you also hate sleeping too warm, then you should know that this issue is usually associated with foam mattresses. Since they tend to 'hug', you might feel like sleeping in the mattress rather than on top of it.
However, when it comes to innerspring or hybrid mattresses, in most cases, that shouldn't be an issue due to the fact that they have coils that promote airflow. But it also completely depends on other materials that are used in mattress construction.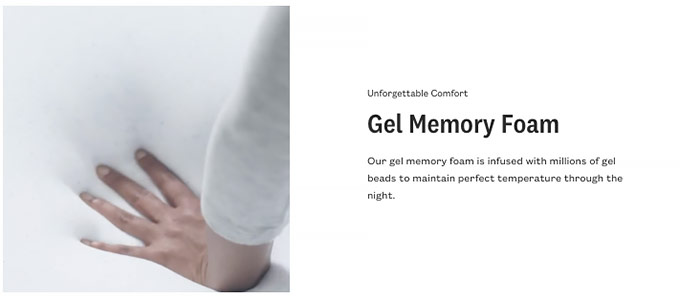 Eva is a hybrid mattress, so you would assume that it's breathable, right? If so, you're not wrong. Multiple Eva mattress reviews claim that it manages to maintain neutral body temperature throughout the night and doesn't trap heat. Knowing that temperature is one of the most crucial factors that affect the quality of your sleep, this is amazing news!
Strong Edge Support
You know the feeling when you're laying on the side of your mattress and feel as if you could fall down to the ground any second? If that is familiar to you, it means that your mattress has very soft edges, which might be a huge issue for some sleepers.
I have to say in this Eva mattress product review that strong edge support is something that you must think about. Edge support not only allows you to sleep safely on the side of your mattress but could also improve the longevity of your bed.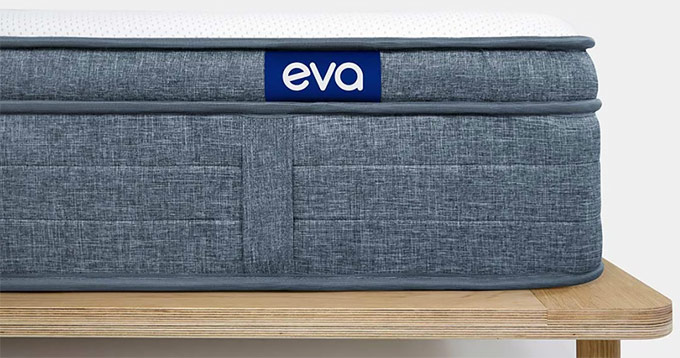 You see, firm edges help to maintain the mattress's initial shape, it's like they hold the entire mattress together. What is more, I noticed that this quality is vital to older people. Strong edges allow them to get in and get out of the bed without much effort, whereas soft edges make it so much more difficult because they don't provide the needed support.
Eva Mattress Review: CONS
As you've seen in this Eva mattress review, the company definitely has a lot to offer. However, even the most reliable mattresses tend to have some flaws, so let's see what Eva mattresses are missing.
Only One Firmness Option That Might Be Unsuitable for Some
As you probably know, one mattress is rarely suitable for all sleepers. That's mostly because we all prefer different sleeping positions and are of the different weight groups.
There's one issue that multiple Eva mattress reviews distinguish - it's too firm. When I saw that Eva mattress has only one firmness option that is 7-8 out of 10 on the mattress firmness scale, I thought that this might be an issue. Even though firm mattresses are highly beneficial for back sleepers, not all of us prefer this sleeping position.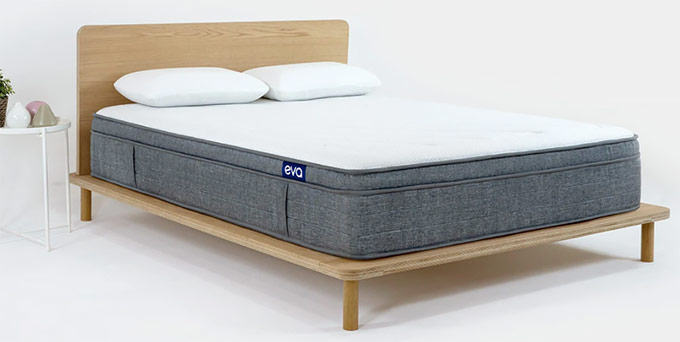 That being said, if you're a light-weight sleeper, you might find Eva mattress to be too firm, especially if you prefer sleeping on your stomach (even though this sleeping position is considered to be one of the worst ones).
Eva Mattress Pricing and Additional Details
I've already introduced you to all the aspects that are the most important in this Eva mattress product review. However, there's still pricing, shipping, and warranty details to discuss. Thus, let's get right into it.
What are the Prices for Eva Hybrid Mattress?
Take a look at the list for Eva hybrid mattress size options and prices:
Even though hybrid mattresses tend to be slightly on the firmer side, Eva's prices are very attractive. The company proves that you don't have to spend a fortune to sleep comfortably and get all the benefits that high-quality mattresses can provide you with.
If you're one of those people who are afraid of risking it, there's completely no need. There are a few reasons why I'm saying that.
First of all shipping in Australia is completely free. What is more, once you get a mattress, you have 120 nights to try it out and only then decide if Eva is exactly what you were looking for. If you decide that it's not exactly what you were expecting, you can return it within 120 days and get your money back. The returns won't cost you anything as well.
Apart from all of this, Eva mattress comes with a 12-year warranty, meaning that if you notice some significant sagging or any manufacturing defects, you can always contact the company and they will replace your mattress.
Now that I've introduced you to all the important aspects of this Eva mattress review, let's get to the conclusions.
Conclusions
Therefore, I believe that I fulfilled my promise and introduced you to all the important aspects that matter when choosing a mattress for your personal needs, and also provided you with a thorough Eva mattress review.
Eva mattress is designed using high-quality materials, that's why it's so durable. What is more, it offers ultimate breathability and comfort as well as manages to alleviate the pressure points.
Also, even though hybrid mattresses tend to be on the pricey side, Eva manages to maintain a lower-than-average pricing point. That being said, I believe that Eva offers one of the best values for money!
Hopefully, this Eva mattress review was helpful and you managed to decide if it suits your needs. Don't forget that even if you're not completely sure, you can always try it out for up to 120 nights and only then make a decision - to keep it or return it.
Scientific References
1. Duo Wai-Chi Wong, Yan Wang, Jin Lin, et al.: 'Sleeping mattress determinants and evaluation: a biomechanical review and critique'
2. Min Kyung Hyun, Younghwa Baek, and Siwoo Lee: 'Association between digestive symptoms and sleep disturbance: a cross-sectional community-based study'
Leave your honest Eva review
Leave your genuine opinion & help thousands of people to choose the best mattress. All reviews, either positive or negative, are accepted as long as they're honest. We do not publish biased reviews or spam. So if you want to share your experience, opinion or give advice - the scene is yours!