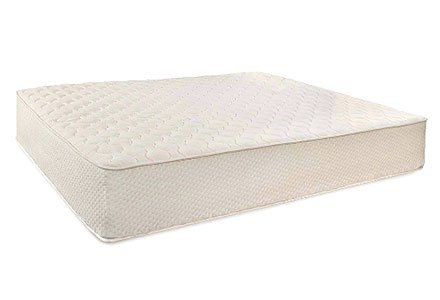 Latex mattresses are an interesting product - while all-foam and innerspring beds are competing for the spot of the best mattress out there, latex products are seemingly becoming increasingly more popular by the day. Today, we'll take a look at some of the Latex for Less reviews, and see what customers talk about this brand.
We'll talk about the mattress's pros and cons, the price, what types of sleepers should be interested in this mattress, and so on. So, let's get straight to the point, shall we?
TL;DR: Latex for Less offers a very high-quality, flippable latex mattress. It has amazing motion isolation and conforms to your body very well, but can have some initial odors and possesses weaker edge support.
Pros
Affordable
Flippable design
Good motion isolation
Cons
Slight off-gassing
Weak edge support
Latex for Less Reviews: PROS
Let's begin by looking at the positive side of the Latex for Less reviews. I'll tell you in advance - there are actually quite a few of them to cover! I'll try to be as short and concise as possible, and after we're done, we'll move on to the Latex for Less complaints.
Multiple Firmness Options
The very first thing that should be mentioned in any of the Latex for Less reviews is that the mattress is a flippable product.
Is this a good, or a bad thing?
Neither, actually. This is a great thing.
Flippable mattresses are too far and wide apart from each other. Basically, a flippable bed is a mattress that you can (you won't believe this) flip (uhh!), most commonly for different options of firmness.
To put it very simply, you don't need to choose a single firmness option while purchasing the mattress - there are a couple of options integrated into the mattress itself.
So, why is this so cool?
Well, different types of sleepers require different sleeping conditions. More often than not, it all kind of boils down to the firmness of the mattress - Latex for Less reviews are a great example of that. While back and stomach sleepers tend to prefer firmer surfaces, side sleepers often go for the softer mattress.
With Latex for Less, you get both of these things in a single package. Yup, it's that cool.
This means that whichever type of a sleeper you are, you are bound to have a pretty good experience with the bed - at least that's what a lot of the Latex for Less mattress reviews state!
Latest Saatva Coupon Found:
UP TO $500 OFF
Limited-time Saatva Sale
We're sharing a limited-time Saatva mattress discount with our readers! Grab this deal & enjoy your new mattress with huge discounts.
Expiration date: 05/12/2023
4,042 People Used
Only 83 Left
Great Motion Isolation
Motion isolation is one of the features for which latex mattresses are pretty well-known for. In a similar way to memory foam, latex is able to absorb and minimize the impact that your movement on the mattress makes, thus keeping the overall bed pretty stable.

According to Latex for Less reviews, the company's mattress is a great example of this.
Customers claim that while they're lying on the bed, they can feel little-to-none motion when their partner or friend turns around or sits down on the other side of the mattress. This is also cool if you like keeping things (i.e. glasses of water or cups of coffee) on the mattress and not wanting to worry about it spilling because of a breath of air in the wrong direction.

Did you know?
No Noise
Latex is somewhat of an interesting piece of material when it comes to making some noticeable noise. A single look at the Latex for Less reviews will reveal a significant divide in opinion - some people claim that the bed is rather noisy, while others state that it's completely silent.
It's all simple, really.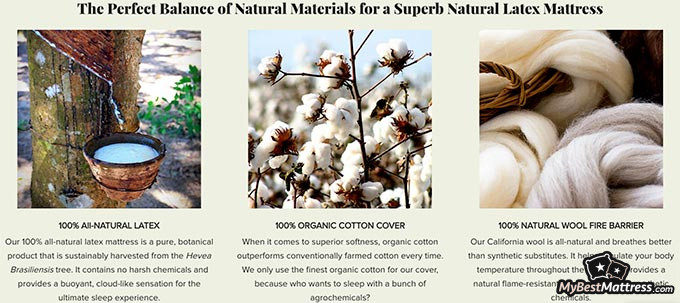 You see, latex can, indeed, be either absolutely silent, or somewhat noisy. It all boils down to the quality of the material. And, reading through Latex for Less mattress reviews, it's obvious that the majority of the company's customers are happy with how silent the mattress is.
Sleeps Rather Cold
If this isn't one of the first Latex for Less reviews that you're reading, you might already know that latex beds often face the same problems as all-foams ones. One of the more prominent of these problems is temperature neutrality.
A well-designed mattress keeps rather equal temperature neutrality, which means that it sleeps neither too warm, nor too cold. The latter is extremely rare, while sleeping hot is actually a huge problem that latex and foam-based beds have.
Latex for Less has managed to solve this issue, though.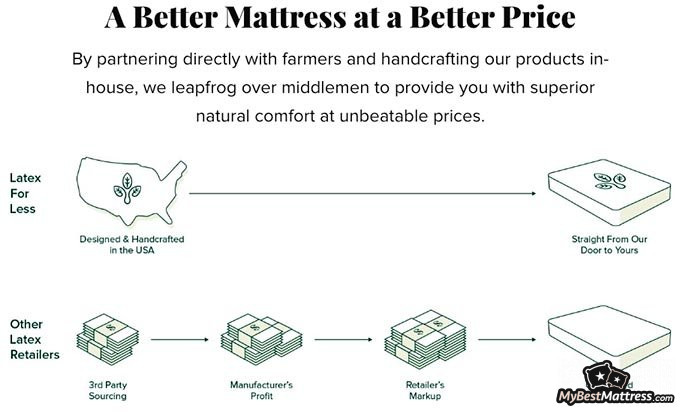 Looking and reading through the Latex for Less reviews, there are very few people who would complain about the mattress being too hot. Some reviews do state that it's somewhat warm, but the general consensus seems to be that people are enjoying their experiences with the Latex for Less bed.
That's actually a pretty big deal, since, apart from outside factors such as ethnicity, physical training or economic status[1], the temperature of your mattress is actually one of the determining factors of how well you're going to rest at night.
Somewhat Responsive
You might be confused by the title of this pro - what do you mean, "somewhat"..?
Table: Latex for Less pressure point alleviation score
You see, this is where the whole "flippable mattress" ordeal comes back into place once again. Customers who've tested the softer side of the mattress weren't all that happy with the responsiveness side of things - it does, indeed, lack bounciness.
However, if you're a firm sleeper, and do in fact choose the side that has a thinner and firmer surface, then you will, in turn, receive better bounciness parameters.

The responsiveness of a mattress matters mostly to couples who want a bed that isn't only going to be good for sleeping, but will also be useful for sex. The bouncier the mattress - the better the sex (at least in most cases)!
Latex for Less Reviews: CONS
So, then - we've discussed the main benefits that are commonly brought up in a lot of the Latex for Less reviews. Now, let's take a look at some of the Latex for Less complaints.
Off-Gassing
Mattress off-gassing refers to the smell (odor) that some freshly unpacked beds possess.
Very little off-gassing is usually felt from coil-based products. Foam mattresses differ - some do have that "new mattress smell", while others come completely off-gassed ('cuz that's a term). Finally, latex mattresses are the ones that often give-off the most noticeable odor.
That being said, while there are a few Latex for Less mattress reviews that talk about the before-mentioned odor coming from the bed, it should dissipate in just a few days. The smells rarely tend to linger, and I've yet to find a review that would emphasize "how bad the stench coming from the Latex for Less bed is".
If you don't feel like this mattress is going to suit you, don't worry - there are a few alternatives you can choose from. Take a look at the "Best Mattress" list that we've comprised, and who knows - maybe you'll find something that'll catch your interest?
Weak Edge Support
Yet another factor that is often a big issue with latex and all-foam mattresses, edge support is something that Latex for Less seemingly lacks.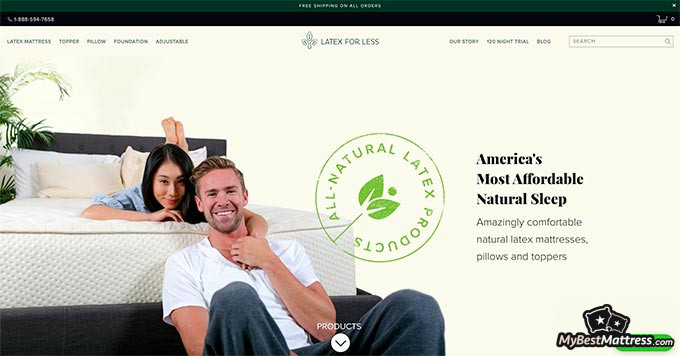 Why is this feature important? Well, it actually depends - perhaps it's not important at all. Ask yourself this - do you like to sit on the edge of your bed, or place heavier items on it? If you've answered "yes" to either one of those questions, then ya - edge support is something you should look for in a brand new bed.
If you're not concerned with the before-mentioned activities, then you can probably ignore edge support altogether. While it's an important feature, it has more to do with the overall quality of the bed, rather than the specific activities concerning it.
Price
We've talked about the benefits of the mattress, and even analyzed some of the Latex for Less complaints. All that's left to do is talk price tags.
What is the Latex for Less mattress price?
Here's a list of sizing and pricing options available for the Latex for Less mattress:
While Latex for Less might not be the cheapest option for a well-built, latex-based mattress, it's certainly not too expensive, either! The general impression that you'd get from reading the various Latex for Less reviews is that the bed is worth the money.
Furthermore, the mattress comes with a 120-day sleep trial. That's actually quite a bit longer than the standard 100-day trial. In addition to that, you'll get free shipping and free returns (US). A pretty solid deal!
Here is The Best Saatva Offer I Found:
UP TO $500 OFF
Limited-time Saatva Sale
We're sharing a limited-time Saatva mattress discount with our readers! Grab this deal & enjoy your new mattress with huge discounts.
Expiration date: 05/12/2023
4,042 People Used
Only 83 Left
Conclusions
To finish off, I want to answer one simple question - is Latex for Less worth trying out?
Yes, it is.
Even though it might be a less-known company, Latex for Less provider a great quality product for anyone looking for a latex mattress with multiple firmness options. Firmness can have a lasting effect on your quality of sleep and how long you sleep, in general[2], so it's nice to know that the brand does actually have this point covered.
Table: Information about the Latex for Less company
If we were to judge solemnly from the Latex for Less reviews, the bed is comfortable and rather cool to sleep on, with some good motion isolation and responsiveness. Sure, it does have a few things that might bug some people, but in general, it's a pretty solid product!
If, however, you are not convinced by Latex for Less, and would like to find some other mattress provider (perhaps a more well-known one, or one that sells different kinds of beds, altogether?), I would highly advise you to check out our "Best Mattress" review. Here, you will find some of the best and most established mattresses in the industry - surely, you'll be able to pick a new bed in no time!
Scientific References
1. Julia Whinnery, BS, Nicholas Jackson, MPH, Pinyo Rattanaumpawan, MD, MSCE, and Michael A. Grandner, PhD: 'Short and Long Sleep Duration Associated with Race/Ethnicity, Sociodemographics, and Socioeconomic Position'
2. CDC: 'How Much Sleep Do I Need'
Leave your honest Latex for Less review
Leave your genuine opinion & help thousands of people to choose the best mattress. All reviews, either positive or negative, are accepted as long as they're honest. We do not publish biased reviews or spam. So if you want to share your experience, opinion or give advice - the scene is yours!