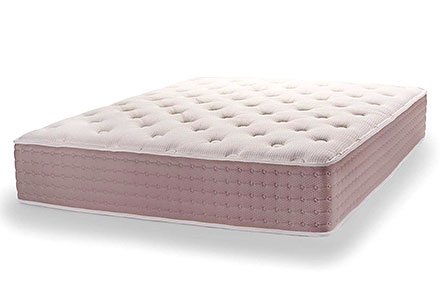 Want to know more about Eco Tera? You came to the right place! In this Eco Terra mattress review, I will tell you everything there is to know about the quality, materials and other important aspects of Eco Terra.
Take a Peek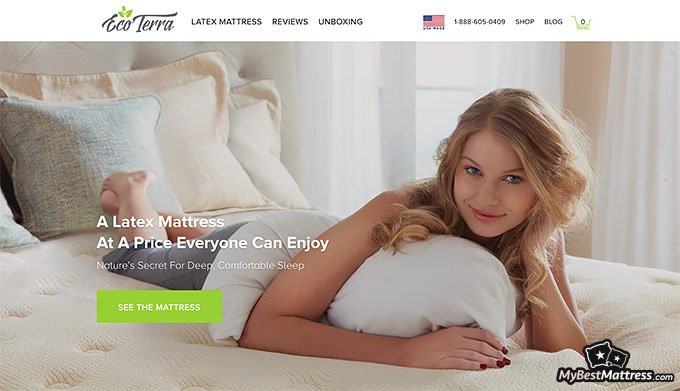 The Eco Terra is a hybrid latex mattress, which is designed from natural Talalay latex, pocketed coils for support and organic-cotton cover. It offers two firmness options: medium (5) and medium firm (6.5).
Eco Terra mattress sleeps cool and offers pressure relief. It isolates sound and transfer motion pretty great. Moreover, it's great for side and back sleepers, not that amazing for stomach nappers. And, if you're looking for an inexpensive mattress, it can be a great decision.
Pros
Pressure Relief
Environment-Friendly
Below Average Price Point
Cons
30-Days Break-in Period
Not Great for Stomach Sleepers
Only Two Firmness Options
Eco Terra Mattress Review: PROS
For those of you who want to get more information, continue reading this Eco Terra mattress review.
Eco-Friendly Mattress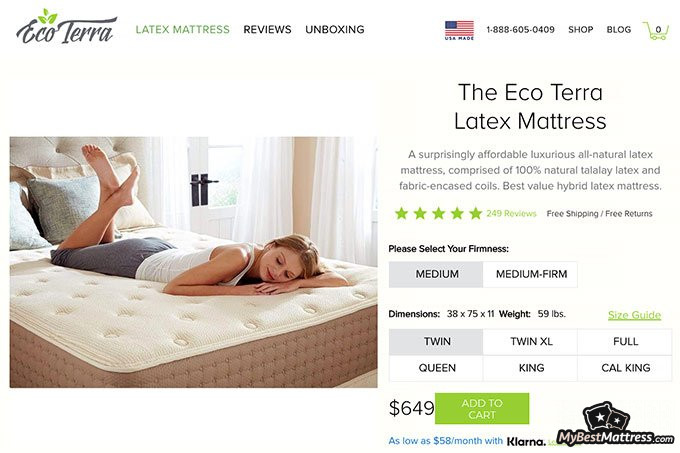 Came to this Eco Terra mattress review looking for an eco-friendly mattress? Great news - you found it. But do you know why eco-friendly mattresses are great?
First of all, natural materials usually cause very minimal or zero off-gassing, which is a very uncomfortable sensation for some customers. Secondly, as you sleep, you're not exhaling chemicals and can breathe easier due to the natural antimicrobial qualities of plant-delivered latex.
I believe that one of the significant Eco Terra's pros that must be mentioned in this Eco Terra mattress review is eco-friendliness. This mattress is designed from organic-cotton cover, which provides you with the most pleasant sensations.
The second layer of the mattress is all-natural latex, which is not only responsive but also adapts to your body curves. And, the encased coils are created to provide you with support and zero motion transfer.
Of course, sometimes it can be difficult to know if the mattress is actually organic but Eco Terra is OEKO-TEX Standard 100 and GOTS certified, which only proves that this mattress is from all-natural materials.
Good Temperature Neutrality
If you're just like me and like to sleep cool, then Eco Terra mattress is a great option. Let me tell you why.
Even though the latex layers tend to trap some heat, the fabric-encased coils add circulation and provide you with coolness during the night. Majority of the sleepers confirmed. However, some Eco Terra mattress reviews don't match with this opinion. But it's never all good.
Also, since Eco Terra's cover is created from natural Talalay cover, it is both comfortable and breathable. And, according to Eco Terra mattress reviews, it's extra pleasant-to-feel and super soft!
Therefore, even if Eco Terra is not the most cooling mattress you can get, it is quite a good option for those who don't like to sleep hot.
Good Conforming and Pressure Relief
One of the significant advantages in this Eco Terra mattress review is that it offers a fantastic conforming and pressure relief. Since nowadays many people have problems with the spine and back pains, it's vital to find a comfortable bed.
Sleepers, which have health problems said that Eco Terra is highly beneficial, they no longer have to suffer from unpleasant sensations in the morning as they wake up rested and feel zero tension in their problematic areas.
Great for Side and Back Sleepers

You probably know that it's essential to choose a mattress based on your normal sleeping position. People who usually sleep on their back and stomach tend to choose firmer mattresses. Those who prefer to sleep on their side should think about a softer option.
Of course, your body weight is important as well. Heavier sleepers should go for firmer mattresses because they offer more support, and lighter sleepers should consider softer mattresses.
After going through Eco Terra mattress reviews, I found out that the mattress sleeps very good for back and side sleepers. Since the Eco Terra mattresses come more on the firmer side, they work incredible for back sleepers supporting them. It's especially vital for those who suffer from neck and back pain.
According to Eco Terra mattress reviews, side position is more comfortable to average sleepers rather than light ones. The reason for this is that lighter sleepers usually choose softer mattresses, for the mattress to adapt to their body curves.
Therefore, after analyzing each of the Eco Terra mattress reviews, I concluded that it's the best option for average-weight side sleepers and light-weight back sleepers. And, it also works excellent for light-weight back sleepers and average weight side sleepers.
Great Motion and Sound Isolation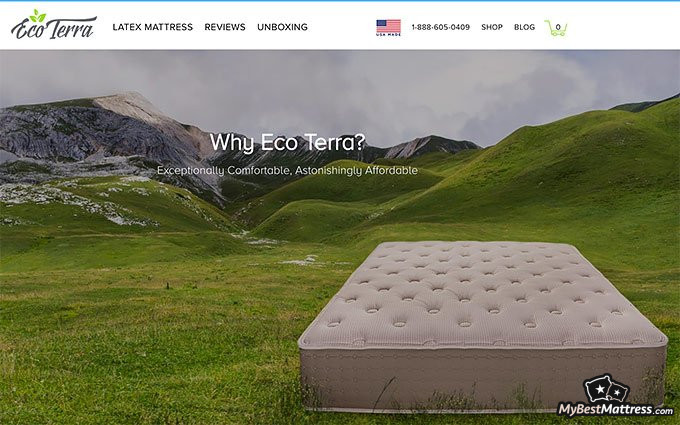 If you sleep with your partner, then these aspects should matter. While most of the hybrid mattresses are not that great at motion and sound isolation, Eco Terra seems to work just fine.
According to Eco Terra mattress reviews, majority of sleepers claimed that it minimizes the movement to a notable extent due to the latex comfort system. Eco Terra does produce some noise but no more than the regular hybrid mattress.
Now, what about sex? You may have noticed or heard that latex mattresses can be not the best option for sex because they're not very responsive to pressure. Of course, since Eco Terra is a hybrid latex mattress, it works much better.
Majority of the Eco Terra reviews claimed that it's bouncy enough for sex. However, some couples disagreed. So, it should be wrong to say that it works for everyone, but at least the majority of the couples should be happy.
Eco Terra Mattress Review: CONS
Eco Terra is not all good, so let's see what it's missing.
Two Firmness Options
For the mattress to be fittable to as many sleepers as possible, the provider should offer a variety of options due to our weight, sleeping position, and other differences.
Sadly, Eco Terra offers only two firmness options: medium and medium firm. It can be a massive problem for light sleepers as they need softer mattresses than regular ones.
Therefore, if you're a light sleeper, why don't you take a look into our top mattresses' list, I know you will find an option here.
Not the Best For Stomach Sleepers
Some side sleepers didn't give the best evaluations to Eco Terra mattress. Once again, it' because Eco Terra offers only two firmness options, which are not the best for light sleepers.
So, the majority of negative reviews came from light sleepers, which claimed that it was quite uncomfortable to sleep on their stomach as the mattress was too firm. So, I guess that's what you get for offering only two firmness options.
Additional Information
No need to go through other Eco Terra mattress reviews, I will provide you with all the needed information.
You may have noticed that latex mattresses tend to be more expensive than regular all-foam beds. However, I have to say that Eco Terra offers relatively low price points.
What is the Eco Terra mattress price?
Here's the full Eco Terra pricing list:

Now, what about the warranty? Eco Terra offers 15-years warranty, which starts from the day of purchase. If your mattress has manufacturing defects, then it will either be fixed or replaced for free. If you want to find out more about their warranty, you can find all the information here.
You should also know that Eco Terra mattress comes packed into a hassle-free box and delivered right to your doorstep. This way, you can place your mattress in any room you want and unpack within a few minutes.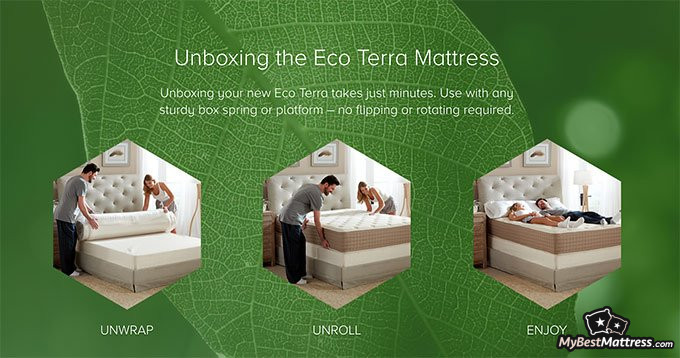 If you decide that Eco Terra is not the best option for you, then you have 90 days to return the mattress. There's only one catch. Try it for at least 30 days in order for the mattress to adjust to your body. However, if it still doesn't work for you, then simply call Eco Terra and arrange the bed pick up. After the Eco Terra receives your mattress, you will get a full refund.
That's all you need to know about additional Eco Tera info, now let's move to the Eco Terra mattress review conclusions.
Conclusions
All in all, I have to say that the major Eco Terra pros are the eco-friendliness, high-quality materials, and pressure relief. Considering other aspects I can say that Eco-Terra was neither good nor bad; however, it didn't surprise me.
If you ask for recommendations, I couldn't tell you it's the best mattress you can get. Mostly because it offers only two firmness options and is not the best for stomach sleepers, even if its price is lower than the average hybrid mattress has to offer.
So, if this Eco Terra mattress review didn't convince you, I would recommend looking into our best providers: Nectar, Casper or Purple. I believe you will find a great alternative there.
Leave your honest Eco Terra review
Leave your genuine opinion & help thousands of people to choose the best mattress. All reviews, either positive or negative, are accepted as long as they're honest. We do not publish biased reviews or spam. So if you want to share your experience, opinion or give advice - the scene is yours!