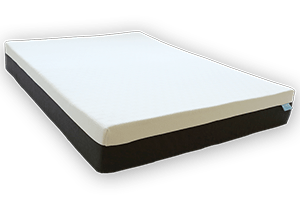 If you've been doing your homework and researching the mattresses based on your needs, then you probably came across the Bear mattress multiple times. Its original bed is a widely known memory foam model that has its perks and quirks. Other Bear mattresses are more advanced; they cover Hybrid and Pro versions.
Today, I'll be going through the original Bear mattress reviews, its pros and cons, pricing, and other crucial details. In the end, you'll know if this bed is what you're looking for. Without further ado, let's get to it.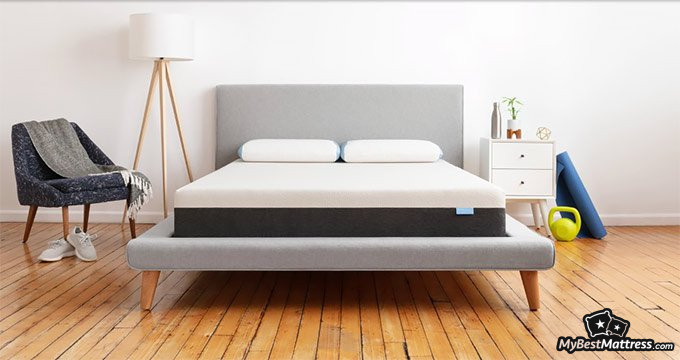 Verdict at a Glance
The original Bear mattress is perfect for those who prefer traditional memory foam beds. It's great for couples due to the motion isolation and noise reduction properties. All Bear mattresses are designed using special Celliant technology that makes them perfect for athletes. On the other hand, their memory foam bed lacks some bounciness, edge support, and might sleep warm.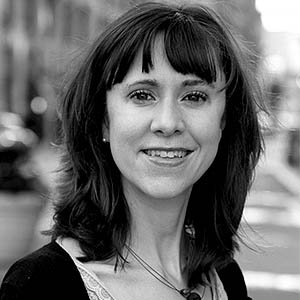 Ivy Branin
Naturopathic Doctor
What are the main things that contribute to the quality of our sleep?
Bedroom environment: dark (light can interfere with melatonin secretion), cool to facilitate the body's decrease in temperature to initiate sleep, clean and noise-free.
Pros
Breathable Celliant® cover
Reduces motion transfer to significant extent
Noiseless
Medium firmness for every sleeper
Cons
Lacks edge support
Not very responsive
Bear Mattress Reviews: Introduction
Bear sleep was started as a family business more than 25 years ago. Their main purpose was to provide sleepers with the first-class customer experience and top-notch sleep products that would improve the quality of customers' sleep significantly.
To make sure they've managed to implement their main purpose, I researched hundreds of sleepers' reviews and will provide you the answer as I'll go through different aspects.
But now, let me show you what Bear mattress is made of. Here's the Bear construction:
Breathable Celliant® cover - ensures that you're not sleeping too warm.
Cooling Graphite-gel memory foam - additional breathability.
Responsive transition foam - alleviates pressure points and provides the needed support.
High-density support foam - makes sure the mattress is durable.
The mattress offers medium feel, about 5.5 out of 10 on the mattress firmness scale, and is 10 inches thick, which is the average height.

The construction indicates that Bear offers a truly high-end bed, but what's important to find out is what Bear mattress reviews have to say about it. Let's move further and find out.
PROS
Let's begin Bear mattress review from the good aspects.
Celliant Fabric Cover
The exceptional feature of the Bear mattress is the cover. It's made using the Celliant® technology that leads to higher-quality sleep, fewer disruptions, and even quicker recovery. That's why Bear works excellent for athletes.
The Celliant fabric is a widely clinically tested infrared textile that comes with a variety of benefits. Some of them include:
Temperature regulating qualities. Celliant cover makes sure that you're not sleeping too hot.
Better sleep. It's been clinically proven that Celliant used in bedding leads to more restful sleep.
Quicker recovery. Based on one study[1], Celliant socks have a beneficial impact on chronic foot pain. It means that such a cover can help you to recover way faster.
Improved performance. Since the Celliant fabric is designed to covert your body heat into infrared energy and then transmit it back to you throughout the skin, it can increase the tissue oxygen levels and lead to faster recovery.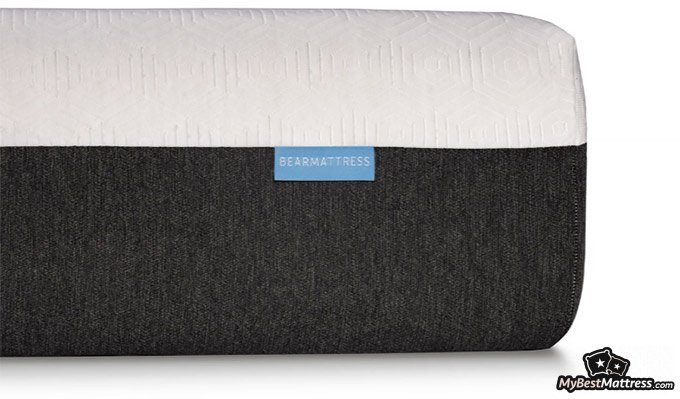 As you can see, the Celliant fabric adds additional value to the bed. Based on Bear mattress reviews, many active, athletic people prefer this bed due to the materials that it's made of.
Latest Saatva Coupon Found:
UP TO $500 OFF
Limited-time Saatva Sale
We're sharing a limited-time Saatva mattress discount with our readers! Grab this deal & enjoy your new mattress with huge discounts.
Expiration date: 08/12/2023
4,042 People Used
Only 83 Left
Significantly Reduces Motion Transfer
If your partner is an active sleeper, then you have probably experienced the annoyance of nightly disruptions. While fixing sleep habits can be genuinely challenging, and sometimes impossible, changing your mattress requires way less effort.
As you probably know, memory foam mattresses tend to have excellent motion isolation properties. That's why you will never have an issue with that while sleeping on a Bear mattress.
Based on the Bear mattress reviews, when sleepers changed their old mattress to the new Bear bed, they noticed a significant improvement in the quality of their sleep. They no longer wake up multiple times throughout the night due to the motion but instead have a restful sleep.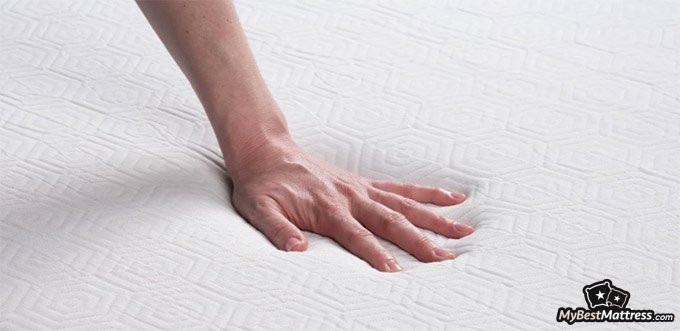 Based on the study[2] that examined the effects of motion transfer, it can lead to more stage 1 sleep and less stage 3/4 sleep. Since deep sleep and REM sleep stages are necessary not only for mental but also physical rehabilitation, nightly disruptions can lead to some serious health issues, inability to focus, lack of energy, and so on.
On the same note, let's move further.

Did you know?
Noise Isolation
Noise isolation is another factor that's crucial for couples. Once you toss and turn on your mattress, you shouldn't hear any disturbing noises. Some squeaks might be heard if you're sleeping on a bed that has coils.
Now, since Bear mattress is made mostly of memory foam and doesn't have coils in it, you won't be able to hear any sound when changing sleeping positions. Based on Bear mattress reviews, it's completely silent, and even when their partner is moving, they neither hear nor feel anything.
Based on the study[3], the duration of the deep sleep stage increases when sleeping in a quiet bedroom. Not only people in another room, or city sounds but also your old mattress can create a noise that might interrupt your sleep.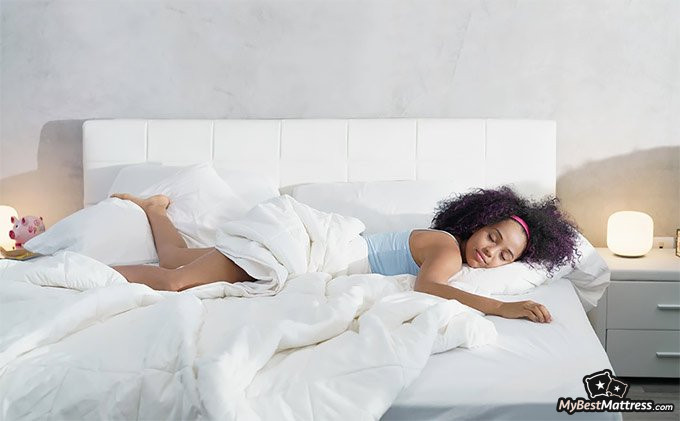 Even though it's not surprising that Bear mattress is virtually silent as it's a memory foam bed, this aspect is still highly beneficial and should be taken into account once deciding which mattress to choose.
Minimal Off-Gassing
Mattress off-gassing is an unpleasant smell that you can feel when opening a new mattress. It occurs when chemicals that are known as volatile organic compounds (VOCs) break down. Even though many people are concerned about mattress off-gassing, you should know that such levels of VOCs are not dangerous.
Based on Bear mattress reviews, you might feel minimal unpleasant smell when unpacking the mattress; however, after about 24 hours, the odor is almost completely gone.
So, if you find mattress off-gassing an issue, Bear makes sure that you have nothing to worry about.
Bear Mattress for Almost Every Type of Sleeper
Each sleeper should pick a mattress depending on his/her sleeping position, body weight, and health issues. Heavier individuals require more support and firmer mattress, while light sleepers need a softer bed.
Furthermore, if you're a back sleeper and suffer from back pain, then you should pick a mattress that would be on a firmer side from your personal point of view. If you're a side sleeper, then a softer mattress is what you need.
While the majority of mattress brands provide you with the ability to choose from different comfort levels: soft, medium, and firm; other providers offer only one option that should be optimal for the majority of sleepers.
Now, Bear mattress comes in only one firmness, which is, based on Bear mattress reviews, medium (5.5 out of 10), even though the company claims that it's firmer. You probably think that it should be considered as a significant drawback, however, that's not actually the case.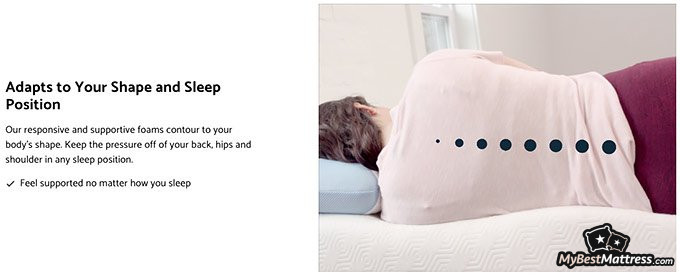 You see, since it's a medium firm option, the mattress should be great for almost every medium-weight sleeper. Light sleepers who prefer to sleep on their backs, will also find this bed perfect for their needs.
The weakest results were revealed when evaluating the stomach sleepers. Both light- and medium-weight sleepers found it quite good, whereas heavy-weight sleepers were less satisfied.
Therefore, based on Bear mattress reviews, back and side medium weight sleepers find this bed the greatest option for their needs.
Now that we're done with all the perks, it's time to take a look at the Bear mattress flaws.
CONS
No matter how good the product or service is, it will always have space for improvement. It's the same with the Bear mattress. Even though the bed is truly high-end, you should know what's missing.
Lacks Edge Support
To test if your mattress has firm edges, you should first try to lay down on the very side of your bed. Do you feel that the mattress is holding you? Or maybe you're falling down? What is more, sit on the very edge of your mattress and see how it feels. Once again, if you feel like falling down, then it might not be supportive enough.
Now the lack of edge support can also be an issue if your mattress lays on the ground or is alleviated only slightly. Then you can find it difficult to get out of your bed. So, it's pretty clear why this measure is important.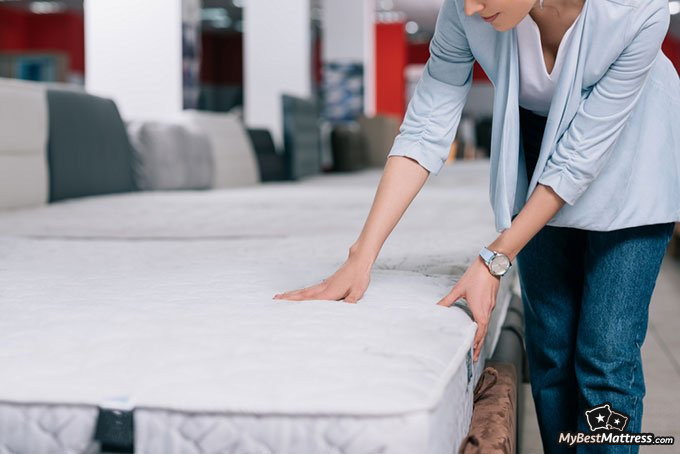 The sad news is that the majority of memory foam mattresses lack edge support, Bear mattress is one of them. Even if the mattress is on the firmer side, it still gives you that sinking feeling when responding to pressure.
I believe that the lack of edge support might be an issue for some couples that don't own a king-size bed because you might accidentally fall out of your bed while sleeping.
Even though the majority of Bear mattress reviews didn't underline this aspect as a major drawback, it could be an issue for some sleepers.
Might Sleep too Warm for Some
Bear mattress providers accentuate the fact that the bed is designed using breathable Celliant® cover and cooling graphite-gel memory foam, but some Bear mattress reviews said that it sleeps quite warm.
It has to do with the fact that it's a memory foam mattress. When sleeping on such a bed, you will feel like being "hugged". That's exactly what makes you feel warm. If you prefer sleeping cool throughout the night, then you should pick an innerspring mattress. You won't sink in as much, and the coils provide additional airflow.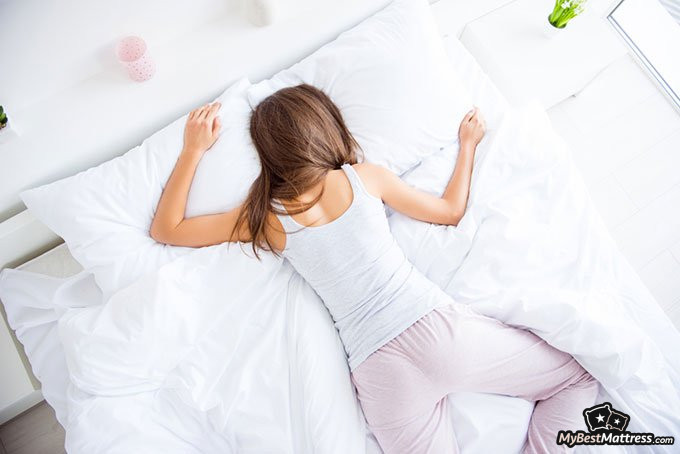 Since you can choose from not only one Bear mattress alternative, if you want to sleep cooler, you should go with their hybrid bed.
Bounciness? Not Here...
The final aspect that I want to discuss in this Bear mattress review is bounciness. This aspect is beneficial for couples, and their private time, however, memory foam mattresses are known for the lack of responsiveness to pressure.
Bear mattress shows pretty average results when evaluating bounciness. Even though it might not be an issue for most of you, some couples might want a bed that's more responsive.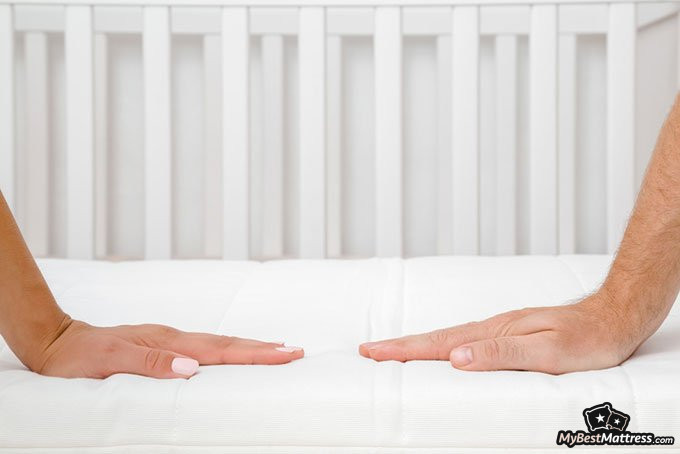 If you want a mattress that's bouncy, you should take a look at the list of most recommended hybrid and innerspring beds. And if you want a more eco-friendly alternative, then there are latex mattresses you can pick from.
Now that all the aspects on Bear mattresses are clear, let me provide you with some additional details.
Bear Mattress Pricing and Additional Information
Based on Bear mattress reviews, sleepers are truly pleased with the value for money. Take a look at the list for Bear sizes and prices:
Note that these prices are provided at the time of writing this Bear mattress review. Thus, they might be slightly different by the time you're reading it.
You can get any size of Bear mattress for less than $1,000 USD. I'd say that the prices are way lower than the average, especially since you can find various deals and promotions regularly.

Once you purchase a Bear mattress, you get a 10-year warranty that will protect you from any manufacturing flaws, free shipping & returns (in case you decide to go for another product), and a 100-night risk-free trial (try it out first before making a long-term commitment).
Bear mattress reviews show that sleepers are truly happy with the price-quality ration they get. While Bear memory foam bed has some flaws, it works great for sleepers who prefer memory foam feel instead of innerspring or hybrid mattresses.
Here is The Best Saatva Offer I Found:
UP TO $500 OFF
Limited-time Saatva Sale
We're sharing a limited-time Saatva mattress discount with our readers! Grab this deal & enjoy your new mattress with huge discounts.
Expiration date: 08/12/2023
4,042 People Used
Only 83 Left
Conclusions
All things considered, I would recommend Bear mattress for those who prefer memory foam feel over innerspring mattresses. Celliant technology is great for athletes and active people who need some help to recover faster.
What is more, since the mattress comes in medium firm level of comfort, average-weight sleepers will find it the most comfortable. Based on Bear mattress reviews, back and side sleepers were the most pleased with the experience.
The Original Bear bed is also great for couples since it manages to isolate the motion transfer and noise significantly. However, some partners might lack edge support and bounciness. Also, despite all the cooling technologies, it's still a memory foam mattresses that "hugs" you when sleeping, and can make you feel warm.
If you want to take options, other than Bear mattresses, into account, you can check out the list of the most recommended alternatives.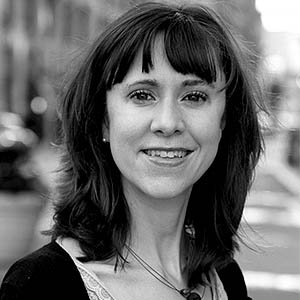 Ivy Branin
Naturopathic Doctor
Contributed By Ivy Branin, Naturopathic Doctor
Dr. Ivy Branin is a naturopathic doctor based in New York City. After three years of working in the pharmaceutical industry as a biochemical engineer, she packed her bags and moved to Seattle, WA, ...
Read Full Bio...
Scientific References
Contributed by
Ivy Branin
, Naturopathic Doctor
1. York RM, Gordon IL: 'Effect of optically modified polyethylene terephthalate fiber socks on chronic foot pain.'
2. Wellman JJ, Bohannon M, Vogel GW: 'Influence of lateral motion transfer on sleep.'
3. Ingo Fietze, Charlotte Barthe, Matthias Hölzl, et al.: 'The Effect of Room Acoustics on the Sleep Quality of Healthy Sleepers'
Leave your honest Bear review
Leave your genuine opinion & help thousands of people to choose the best mattress. All reviews, either positive or negative, are accepted as long as they're honest. We do not publish biased reviews or spam. So if you want to share your experience, opinion or give advice - the scene is yours!