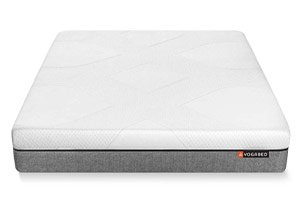 If you're looking for a mattress that would be suitable for both you and your partner, you must consider multiple aspects, such as mattress firmness, ability to reduce motion transfer, alleviate pressure points, etc. Today, we'll take a look into the Yogasleep and see if the company's mattress is suitable for you.
Yogasleep was founded back in 1962, the company was initially called Marpac and focused on white noise machines. However, later on, they started expanding and added new sleep products, such as pillows, mattress protectors, sheets, bed frames, scent diffusers, mattresses, and so much more.
At the moment, the company is offering two mattress options: Unplug and the Yogabed. However, in this Yogabed review, I will focus on the Yogabed, which is a memory foam mattress.
In this review, you'll find detailed information about the Yogabed mattress, including its structure, performance, pricing and additional details. Without further ado, let's jump right into it.
Verdict at a Glance
The Yogabed is a medium-firm memory foam mattress that conforms closely to your body and alleviates pressure points. The mattress is the most comfortable for average-weight sleepers due to the optimal amount of support. However, it also lacks edge support and bounciness.
Pros
Reliefs pain
No motion transfer
Noiseless
Good for average-weight sleepers
Cons
Traps some heat
Lacks bounciness
Could have firmer edges
Yogabed Reviews: PROS
Just like with any other mattress review, I'll start off by providing you with the positive aspects of the Yogabed mattress.
Just to remind you, even though Yogasleep provides two mattress options, in this review, we'll be focusing on the Yogabed. Even though it's pricer than the other model, customers evaluate it so much better. Therefore, it might be suitable for your needs as well.
Average Durability
The first aspect that I would like to talk about in this Yogabed mattress review is the structure. The thing is that everything depends on that. If a mattress is made of high-quality layers, you can expect it to be really durable. That being said, let's take a look at the Yogabed mattress structure:
Removable zip-n-wash cover - the cover protects the mattress from dust and allergens. You can easily remove it, wash it and put it back on to always keep it fresh and clean.
1" Instant Response YogaFoam - this layer alleviates pressure points and minimizes motion transfer so that both you and your partner would be able to enjoy a high-quality sleep without any interruptions.
2" of YogaGel - provides you with cushioning, however, at the same time, makes sure that you're not sleeping too warm.
5" of high-density YogaCore foam - breathable, provides you with support and responsiveness.
2" base layer - the foundation that supports the whole mattress.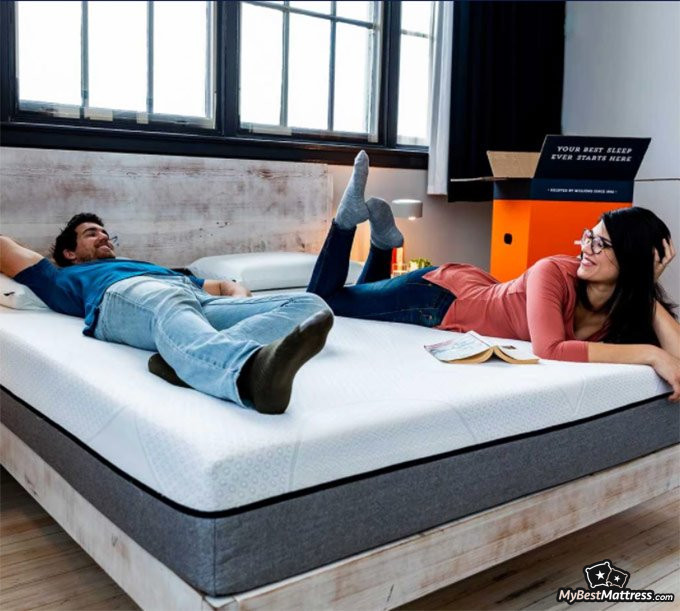 Even though the layer description sounds really good, it's a must to pay attention to honest Yogabed reviews and find out if it's really that good.
Talking about durability, customers claim that the Yogabed mattress should serve you at least 7 years. Even though that's not as much as top-tier memory foam and innerspring mattresses can provide you with, it's still quite good.
Now, I would like to move further and take a look at some other Yogabed mattress features. You'll see that not all qualities are as good as you were expecting.
Latest Saatva Coupon Found:
UP TO $500 OFF
Limited-time Saatva Sale
We're sharing a limited-time Saatva mattress discount with our readers! Grab this deal & enjoy your new mattress with huge discounts.
Expiration date: 12/12/2023
4,042 People Used
Only 83 Left
Pressure Point Relief
Pressure points are the parts of your body that experience the biggest amount of pressure when sleeping on a mattress. In most cases, you can feel the pressure in lower back, shoulders and hips.
High-quality mattresses that are designed to provide you with healthy sleep, tend to deal with this issue pretty well. They make sure to distribute your body weight evenly and promote healthy spine alignment, leading to so much less pressure in unwanted areas. That being said, if you wake up with pains in your body, this could indicate that you need to look for a new mattress.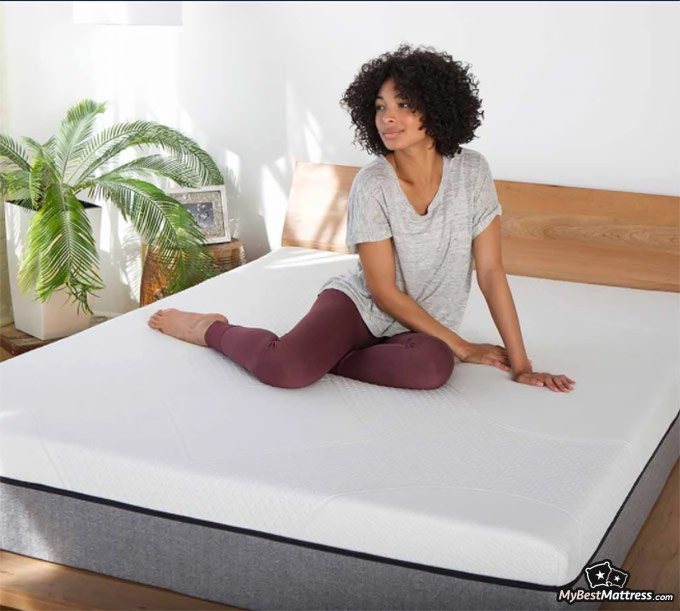 I have to admit that I had a few concerns about that because Yogabed mattress is on the firmer side (6.5 out of 10). However, based on multiple Yogabed reviews, it manages to conform closely to your body and alleviates pressure points. Therefore, you won't be having any issues as far as pressure relief properties go.

Did you know?
Completely Noiseless and Zero Motion Transfer
Both motion transfer and noise can interfere with your sleep. These issues might not be as important to single people, however, they strongly affect couples.
A bed that's unable to isolate motion, can transfer every movement that your partner keeps making throughout the night. Imagine feeling it every night, it's awful. Now, as far as motion isolation goes, foam mattresses tend to perform the best.
That being said, I won't surprise you by saying that multiple Yogabed reviews distinguished motion isolation as one of the best features of this mattress. The Instant Response YogaFoam layer works really well at absorbing all the motion.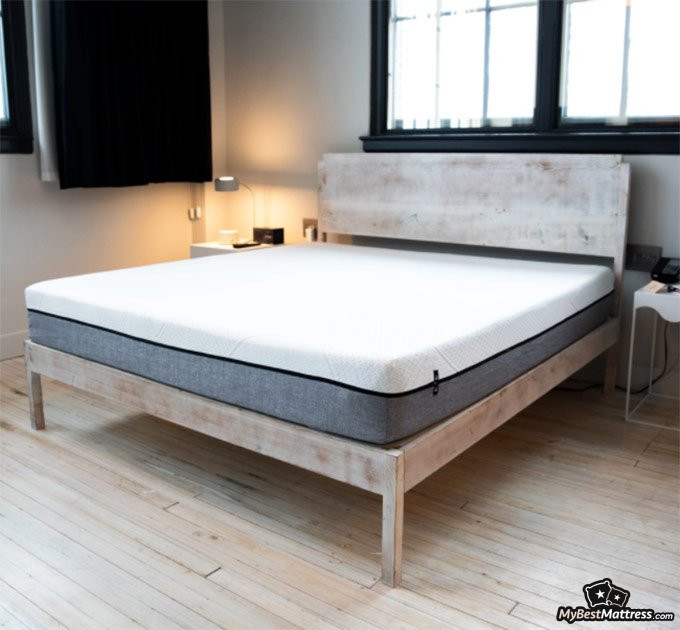 Noise also matters if you want to get a good nighttime sleep. This issue is usually associated with old squeaky mattresses that usually have springs in their construction. However, when it comes to Yogabed mattress, sleepers say that it's completely noiseless when bearing weight.
Therefore, Yogabed mattress won't disrupt your sleep and will allow you to rest quite without any unwanted noises.
Works Really Well For Back Sleepers
You probably know that when choosing a mattress based on your personal needs, it's important to pay attention to multiple factors. Since we all prefer a different level of firmness, it's fair to say that it's one of the most or even the most important aspect.
Since Yogabed is a medium-firm mattress, which is about 6.5 out of 10 on the mattress firmness scale, it might be really uncomfortable for light-weight sleepers (less than 130lbs). However, to ensure that this is the case, I went through multiple Yogabed reviews that reveal the opinion of different weight sleepers.
According to them, the Yogabed mattress works best for average weight sleepers (from 130lbs to 230lbs). When it comes to light-weight sleepers, it might sleep too firm, especially when it comes to side sleepers who need more cushioning. Heavy sleepers, on the other hand, might find that it lacks some support.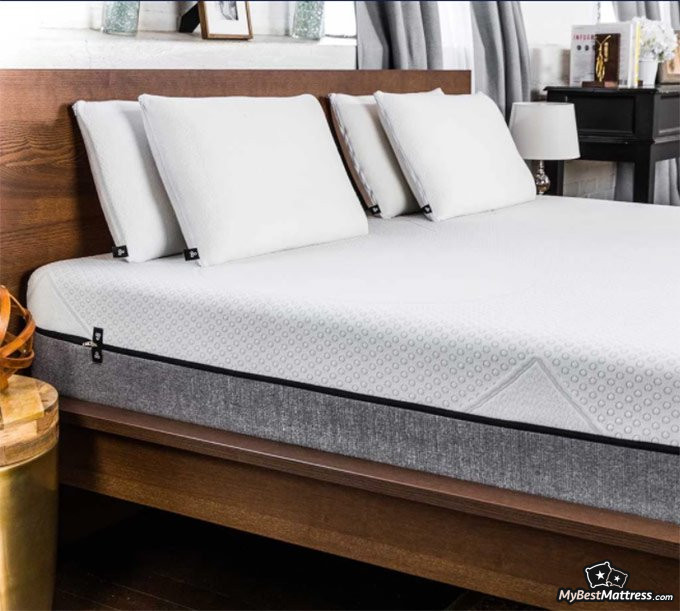 What is more, according to Yogabed reviews, back sleepers should benefit the most from it. Based on two separate studies,[1] medium-firm mattresses can reduce clinically diagnosed back pain, shoulder stiffness and improve the quality of your sleep significantly.
Therefore, if you're an average-weight sleeper or prefer sleeping on your back, then you should definitely consider Yogabed mattress.
Yogabed Reviews: CONS
Even though Yogabed mattress comes with some really amazing qualities, it also has some issues that you should be aware of. Hence, if you're looking for a mattress that would be best suited for your needs, you should consider each of them.
Quite Soft Edges
One of the main issues that multiple Yogabed reviews distinguish is the soft edges. Single sleepers usually don't appreciate this aspect as much as couples because they're sleeping in the middle of the bed, however, there are a few reasons why that matters.
First of all, when a bed has firm edges, you can sleep on the entire surface, not being afraid that you'll fall out of the bed. That's right, soft edges can make you feel as if you could fall on to the ground any second.
What is more, firm edges are usually associated with more durable mattresses. That's because they manage to maintain the mattress's initial shape longer. Of course, that also highly depends on the quality of the materials.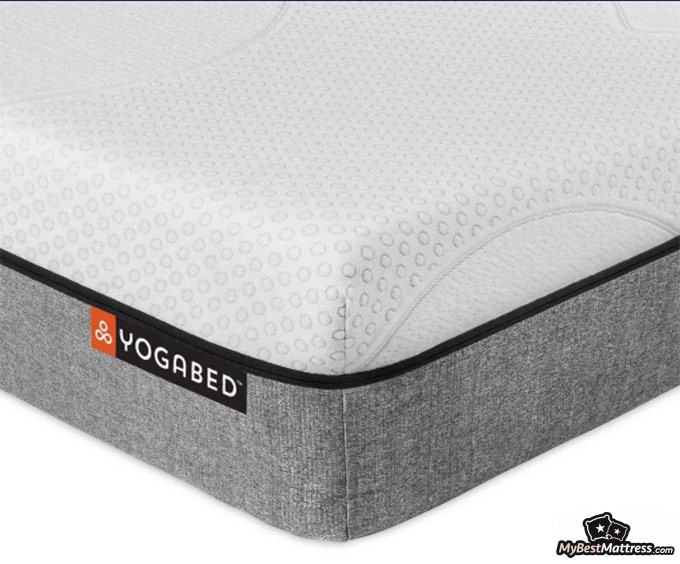 Finally, the elderly and people who are experiencing lower back pain might find it difficult to get out of a bed that lacks edges support, especially if they have a lower base. Therefore, edge support truly matters.
According to Yogabed reviews, light-weight sleepers can feel some sinkage, however, they can still sleep comfortably enough. Average- and heavy-weight sleepers, on the other hand, claim that this issue is more noticeable, they feel unsafe when sleeping too close to the edge, as if they could roll out of the bed.
Lacks Bounciness
If you're looking for a bouncy and responsive mattress you should definitely consider innerspring or hybrid mattresses that have coils in their construction. Memory foam mattresses that do not provide enough support, on the other hand, are not the best option.
Talking about Yogabed mattress, some couples might find it not responsive enough. Since the mattress conforms closely to your body, it can be a bit difficult to move around. However, since the Yogabed mattress is on the firmer side, at least you won't be sinking deep into the mattress.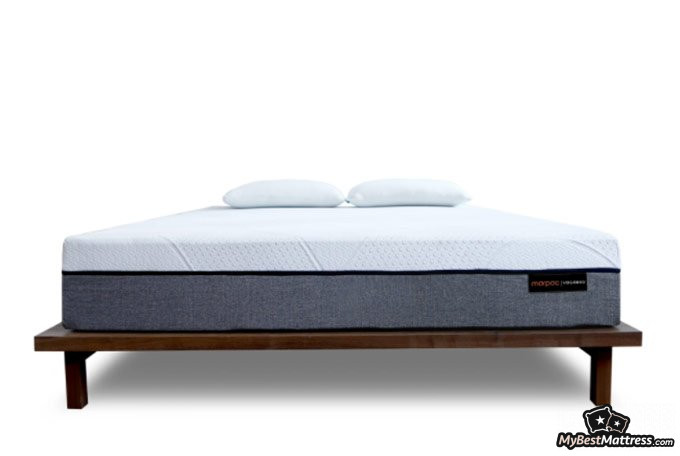 Based on the Yogabed mattress reviews, the good part is that it's completely silent. Therefore, in case you have any guests sleeping in another room, no one will be hearing you.
Traps Heat
Temperature regulation[2] is one of the most important aspects that you should pay attention to when choosing and mattress. After all, it can highly influence the quality of your sleep.
Based on Yogabed mattress reviews, it traps some heat. The majority of memory foam mattresses have this issue because they conform closely to your body and make you feel as if being hugged.
If you're looking for a breathable mattress, you might want to check out innerspring or hybrid mattresses. Coils in their construction tend to promote airflow and, therefore, they cool off your body.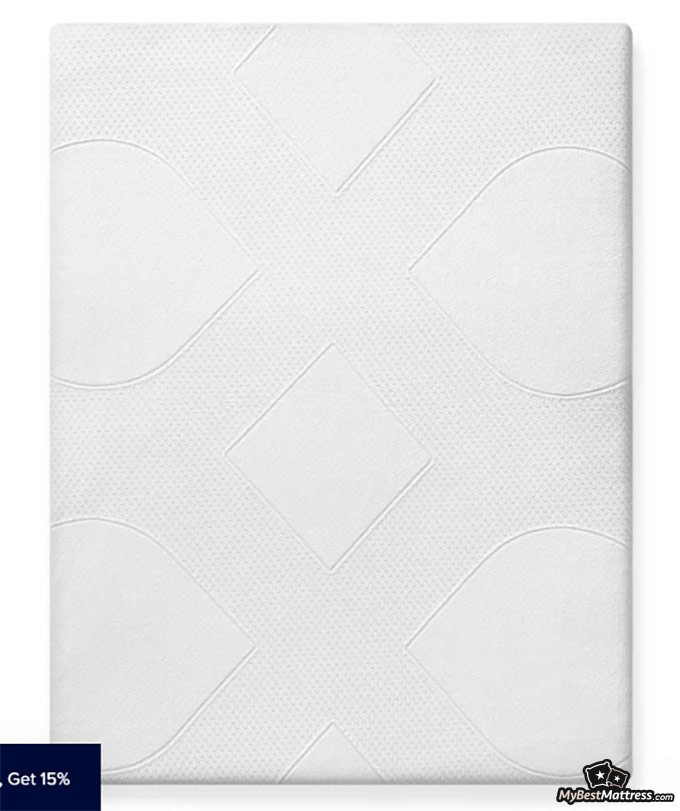 So, if temperature regulation is what you're looking for in a mattress, the Yogabed is definitely not the most suitable option for your needs. Instead, choose the best cooling mattresses that can maintain neutral body temperature throughout the night.
Pricing and Additional Details
Even though you're aware of all the pros and cons that Yogabed reviews distinguished, there are some additional details that matter when choosing a mattress for yourself. That being said, I would like to introduce you to Yogabed prices, shipping & return information, warranties, and even more.
What are the Yogabed Prices?
Take a look at the Yogabed mattress prices and size options:
Note. Prices and an object of change, so they might be slightly higher or lower by the time you'll be reading this Yogabed review. To find up-to-date information, you should visit the company's official website.
As you can see, Yogabed mattress prices are on an average pricing point comparing to top-tier memory foam beds. However, since it comes with some really noticeable flaws, I believe that you find better options for a similar price.
However, if you think that the Yogabed mattress is suitable for you, you can simply try it out without any risks. The company provides you with a 101-night sleep trial that will allow you to sleep on the Yogabed to ensure that it's suitable (or not) for you.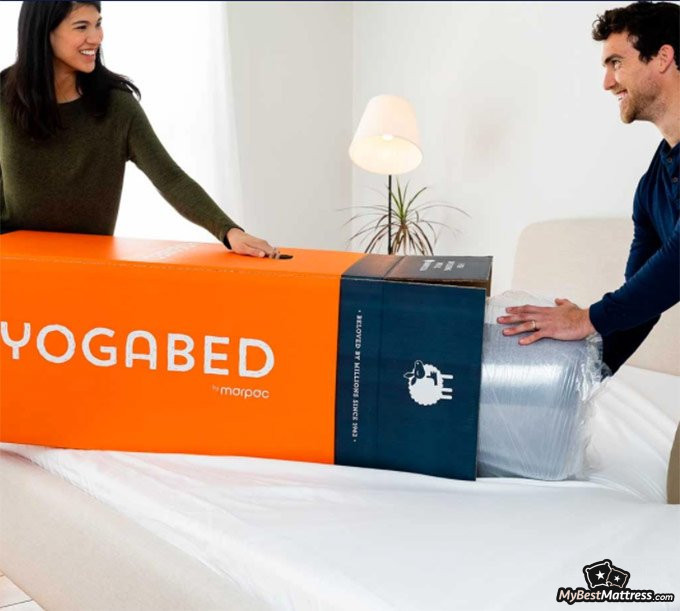 What is more, based on Yogabed reviews, customers really appreciate a 10-year warranty that the Yogabed mattress comes with. Even though it's limited, you'll get a full refund in case any manufacturing defects appear.
By now you should have all the needed information to make up your mind about Yogabed mattress. However, in case you want to remember everything that was said in this Yogabed review, jump to conclusions.
Here is The Best Saatva Offer I Found:
UP TO $500 OFF
Limited-time Saatva Sale
We're sharing a limited-time Saatva mattress discount with our readers! Grab this deal & enjoy your new mattress with huge discounts.
Expiration date: 12/12/2023
4,042 People Used
Only 83 Left
Conclusions
Therefore, the Yogabed mattress is a suitable bed for everyone who prefers how firmer memory foam mattresses feel. It manages to conform closely to our body and alleviate pressure points, produced completely no noise and managed to isolate the motion transfer to a significant extent.
On the other hand, some Yogabed mattress reviews noticed that it sleeps too warm and lacks some edge support that's needed for a comfortable sleep. Thus, there are some flaws concerning the Yogabed mattress that you should take into consideration.
According to multiple Yogabed reviews, the Yogabed mattress is not a bad option, however, there are better alternatives that come with a similar pricing point. If you want to check them out, you should take a look at this list.
Scientific References
1. Bert H. Jacobson, Ali Boolani and Doug B. Smith: 'Changes in back pain, sleep quality, and perceived stress after introduction of new bedding systems'
2. Eva V. Osilla, Sandeep Sharma: 'Physiology, Temperature Regulation'
Leave your honest Yogasleep review
Leave your genuine opinion & help thousands of people to choose the best mattress. All reviews, either positive or negative, are accepted as long as they're honest. We do not publish biased reviews or spam. So if you want to share your experience, opinion or give advice - the scene is yours!