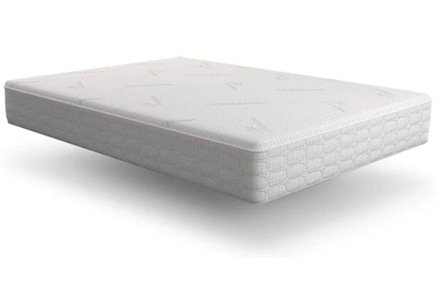 A Snuggle-Pedic mattress review isn't one you'll come across frequently. But since Relief-Mart released this product in 2019, it's started carving out a name for itself in the memory foam mattress market.
While it's by no means a no-name, the company is better known for its shredded memory foam pillows. The Snuggle-Pedic Hybrid Memory Foam mattress is one of the first arrays into this field for the company.
So, as with any newer product, there are quite a few questions to answer. What does the hybrid memory foam structure look like? Is there a top and bottom to the Snuggle-Pedic mattress, or is this model flippable? How do you protect it from fast wear-and-tear?
I'm here to answer all these questions—and more. My Snuggle-Pedic mattress review will cover the good, the bad, and the ugly. I'll let you know where you can find this product, and what the price mark is.
As a bonus, I'll introduce you to the company's infamous pillows. You'll see why the Snuggle-Pedic Patented Double Layered Density Memory Foam mattress topper is exactly what you need to keep your brand-new purchase plush and more durable.
Let's get started with this Snuggle-Pedic mattress review.
TL;DR: The Snuggle-Pedic mattress is a very lightweight, budget-friendly memory foam bed. It's great for back sleepers, and the comfort levels can be adjusted with an extra layer or a Snuggle-Pedic mattress topper. Unfortunately, the mattress tends to collect heat and is held together only by the bamboo knit cover.
Pros
Customizable
Good motion isolation
Lightweight
Cons
Poor temperature neutrality
Weak edge support
Not very responsive
Snuggle-Pedic Mattress Review: PROS
Before we get started, I want to clarify one thing. While the full name is Snuggle-Pedic Hybrid Medium-Firm Memory Foam Mattress, it's actually an all-foam product. It can be considered a hybrid foam since it uses different types of this material – ventilated memory foam and polyurethane.
That means that my Snuggle-Pedic mattress review will evaluate this model based on the standard criteria for memory foam beds. As it doesn't have coils in the structure, it cannot be considered in the same league as typical hybrid mattresses.
With that out of the way, let's start off by taking a look at where the Snuggle-Pedic mattress performs well.
Medium-Firm Feel
Snuggle-Pedic's mission is to help those dealing with physical pain and stress to sleep better and feel comfortable in their beds. The product was designed with alleviation for chronic back, neck, leg, and hip pain in mind.
This means that the firmness of the mattress had to be fine-tuned. Considering that it's a memory foam mattress, that's no small feat. Foam-based support layers do not have the same firmness as the coils in hybrid or innerspring mattresses.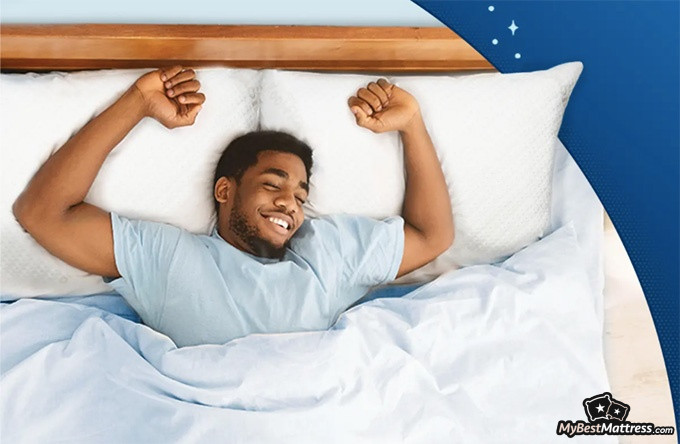 So, what's the Snuggle-Pedic mattress made of? Let's take a look:
Zipper-removable bamboo knit cover
1.5" Snuggle-Flex memory foam comfort layer
1.5" HD-Flex comfort-transition layer
7" Flex-Support high-density polyurethane support layer
Overall, the mattress has a feel of about 5-5.5 on the firmness scale (10 being the firmest). Of course, the way the body support feels is completely dependent on the individual – children might find the mattress a tad too firm, while bulkier adults could sink into the mattress more.
Some people think that the softer the mattress feels, the more comfortable it is. It's actually quite the contrary – a firmer mattress provides better support for your body. If you happen to be a back sleeper, it aligns evenly along your spine without sinking.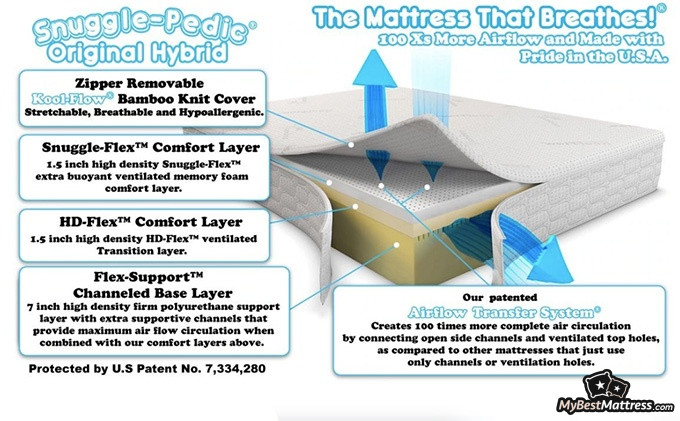 According to some Snuggle-Pedic mattress reviews, although the mattress felt very firm at first, after taking some time to break it in, they could sleep comfortably and their pain appeared to have been somewhat alleviated.
Latest Saatva Coupon Found:
UP TO $500 OFF
Limited-time Saatva Sale
We're sharing a limited-time Saatva mattress discount with our readers! Grab this deal & enjoy your new mattress with huge discounts.
Expiration date: 29/09/2023
4,042 People Used
Only 83 Left
Customizable
Let's imagine a scenario where you've finally gotten through the analysis paralysis of looking for a new mattress. You've made your decision, the box is on your doorstep. The time finally comes for you to lie down and… It doesn't feel the way you expected it to.
Maybe it sinks deeper than what the description had said. Or perhaps it's on the opposite end of the scale and feels like you just can't break it in, no matter what you do.
Since the Snuggle-Pedic mattress only has one firmness option, it can feel like you have little choice in terms of comfort. But here's something that might surprise you. Snuggle-Pedic offers its clients the ability to receive an additional mattress layer to alter the feel of the bed.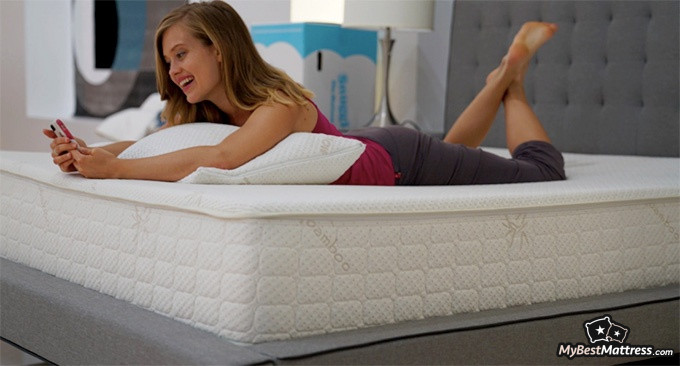 This isn't an opportunity you'll come across often. Some mattresses don't have a zipper in their cover to open it up and peek into the structure. Others shouldn't be open altogether – some brands use fiberglass as a protective material against flammability.
Loose fiberglass can cause skin irritations and even lung problems. Thankfully, you won't find fiberglass anywhere in the Snuggle-Pedic mattresses. They are non-toxic and GreenGuard Gold-certified.
So, if you want to adjust the comfort of your mattress, you can simply get in touch with Snuggle-Pedic and they'll mail you the extra foam layer. According to the Snuggle-Pedic mattress reviews, customer support is happy to help you set up the new layer.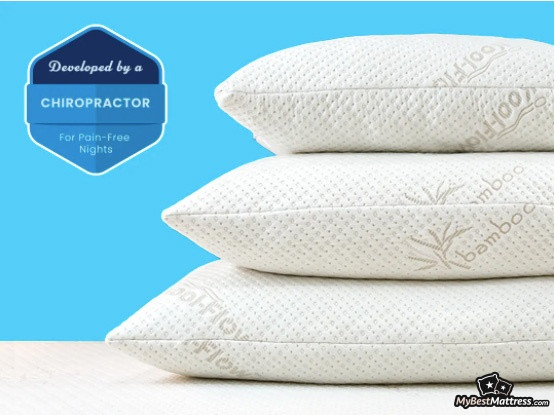 When it comes to inserting the extra layer, some people might wonder – is there a top and bottom to the Snuggle-Pedic mattress? The answer is yes. This is not a flippable mattress. Make sure that you put the new layer on top of the 1.5" comfort layer, not below the 7" support foam.
In addition to altering the construction itself, you can also look into getting a Snuggle-Pedic mattress topper for a more plush feel. I'll be getting more in-depth about mattress toppers later on.
Good Motion Isolation
Good motion isolation is something that's come to be expected of memory foam mattresses. As the material adjusts to the body and its movements, it should feel more like a wave moving underneath you rather than a whirlpool pulling you in.
And when it comes to motion isolation, the Snuggle-Pedic meets all expectations. It quickly adjusts to the body contour and ensures that the weight is distributed evenly, making it a great choice for all sleeper types – particularly those who like lying down on their backs.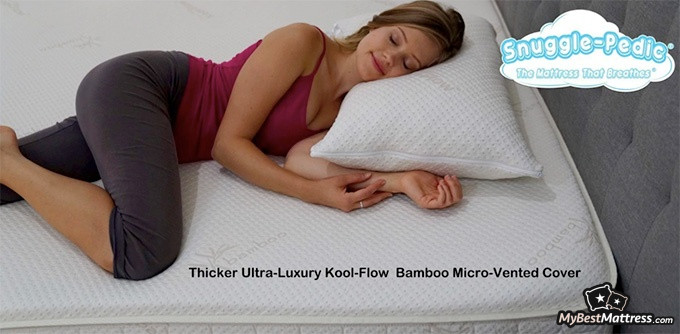 Motion isolation is key if you're not the only person on the bed. The three layers of foam prevent movement from transferring from one side of the bed to the other. You don't even need a split mattress!
Another aspect that the Snuggle-Pedic mattress reviews have praised is that you don't hear the mattress at all as it readjusts. The all-foam structure is very quiet, so there's no creaking underneath the cover.
Lightweight & Standard-Sized
For some people, the size and weight of a mattress can be a matter of concern. Some brands offer dimensions outside the standards or create custom options altogether. That can get confusing – non-standard sizes may not fit your bed frame properly.
Well, there's no need to worry about that. This product is available in all standard sizes that you're used to seeing– from Twin to Cal King. And there are no variations here either. So, the Snuggle-Pedic king-size mattress dimensions are your usual 76" x 80", the queen is 60" x 80", and so on.
Another thing to consider is how much a mattress weighs. There is a whole list of reasons why someone might not be able to own a heavyweight mattress – it's hard to carry upstairs, the person is not physically able to do it on their own, or it's simply inconvenient.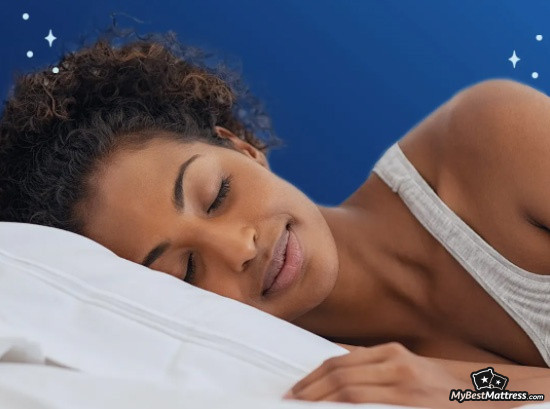 A lightweight memory foam mattress might not always be a long-term solution but it's a pragmatic one. A bed-in-a-box like the Snuggle-Pedic mattress is easy to carry and ridiculously easy to set up.
The twin size model only weighs 44 lbs and the king is about double that. Furthermore, the bed is rolled up and shipped in a box so it's easy to store and relocate.
Snuggle-Pedic mattress reviews have been pretty pleased with how easy it is to set it up even if you're on your own. The bed takes a few hours to expand, and once that's done, it's good to go.
Snuggle-Pedic Mattress Review: CONS
So far, the Snuggle-Pedic mattress review has covered the good side of the product. You're probably able to see why it can be a good option for a budget-friendly mattress, both for couples and those who like the entire bed to themselves.
But it's time to flip things over. What issues might be hiding under the covers? How can they impact the owner's experience?
It's time to move on to the downsides that quite a few Snuggle-Pedic mattress reviews have emphasized.
Poor Temperature Regulation
Poor temperature regulation is a massive problem of all-foam mattresses. It's down to the properties of the material. Without getting too sciency, memory foam is polyurethane, kind of like a type of plastic. The way memory foam changes shape is by reacting to warmth.
All that warmth has to go somewhere. In this case, it's usually retained inside the mattress, where it builds up and keeps the sleeper warm throughout the night. Too warm, usually.
Since the Snuggle-Pedic mattress uses polyurethane in its structure, the company had to get innovative to keep things cool. They've patented a unique Airflow Transfer System that allows for more air circulation by combining open side chambers with ventilation holes.

Or, at the very least, it should. Unfortunately, many of the Snuggle-Pedic mattress reviews disagree. Customers have reported nightly discomfort and no escape from just how warm the mattress can get.
This can be a very unpleasant experience. Add in factors like hot summer nights or running a fever, and it takes an instant jump from mildly uncomfortable to virtually unbearable.
Unlike some other cooling mattresses, the Snuggle-Pedic does not contain cooling gel or any similar binding material within or between the layers. The mattress is held together by a bamboo knit cover which allows some breathability.
Although adding a Snuggle-Pedic mattress topper may help cool things down a bit. However, bear in mind that some of the toppers also contain memory foam, so there might not be much of a difference.
Weak Edge Support
If you sleep on a smaller mattress or move a lot in your sleep, it's possible that you sometimes roll over closer to the edge. Having strong edge support means that the feel of the mattress underneath you is more or less even, whether you're lying down in the middle or closer to the side.
This can be another weak point for all-foam mattresses. Since the material itself is quite soft, it has a tendency to sink to adapt. While the sinking isn't as noticeable at the core, there's less support towards the edges.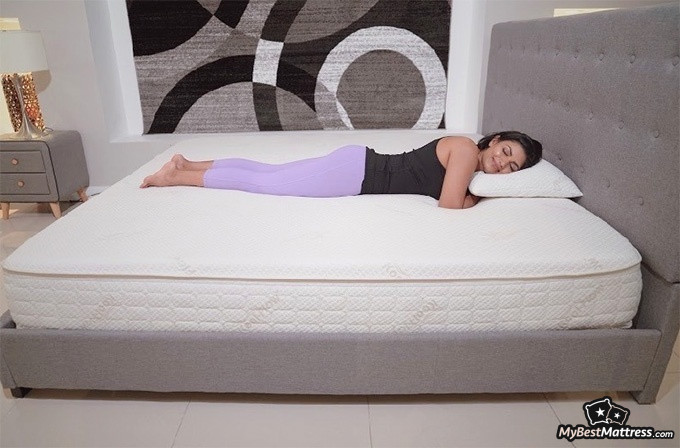 So, if you were to sit down on the edge of the Snuggle-Pedic, you'd sink very close to the base you're keeping it on (and it's a model that should be kept on a bed frame, not just on the floor).
In fact, you might notice an even more significant sinking compared to some other memory foam mattresses. To figure out why, we must dissect the innards of the bed.
In my analysis of the thermal qualities, I mentioned that the layers are not bound by a cooling gel, a material you'll often see inside of some memory foam beds. As it turns out, none of the layers are bound together, at all.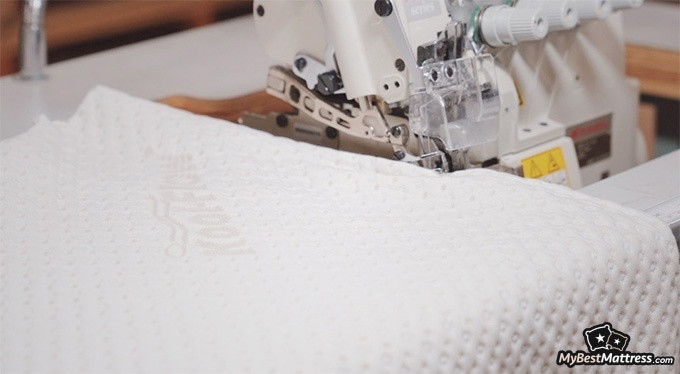 Some unhappy Snuggle-Pedic mattress reviews have pointed out that the layers of the mattress are simply placed together on top of each other and only held together by the bamboo knit cover.
While at first it might not feel like a massive problem, the layers might start sliding around inside the cover and wear out from the friction. That might also mean that the mattress density isn't distributed evenly along the edges.
So, if you intend to use your bed as a part-time sofa, the Snuggle-Pedic mattress might not be the most convenient option.
Lacks Responsiveness
As a child, did you ever imagine what falling into quicksand would feel like? Well, personally, I think the sensation has to be something similar to lying on some memory foam beds.
With this type of material, it can sometimes feel that you're lying inside the mattress, rather than on its surface. Such experience is typical for beds that are unresponsive – slow to adjust when you move on the surface.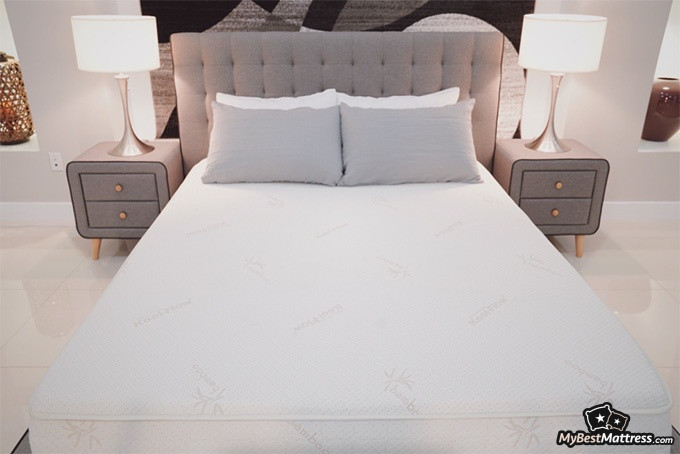 The tripe-foam structure of the Snuggle-Pedic mattress makes it slow to respond. This can be unpleasant if you're a combination sleeper who suffers from physical pain – if the mattress takes too long to conform to the body, it can cause further physical discomfort.
Some Snuggle-Pedic mattress reviews have noted this as an unfortunate downside. Though the mattress fits the needs of back sleepers quite well, if you shift from side to side, you might struggle to get cozy.
Off-Gassing
Off-gassing is not the biggest issue a mattress can have, but it's a good one to keep in mind. To clarify, off-gassing is a specific odor that a new mattress may have once you unbox it. It's usually either caused by memory foam expanding or the plastic used in packaging.
This isn't a cause to panic, though. Off-gassing does not release toxic fumes. Furthermore, the Snuggle-Pedic mattress doesn't contain harmful levels of any chemicals.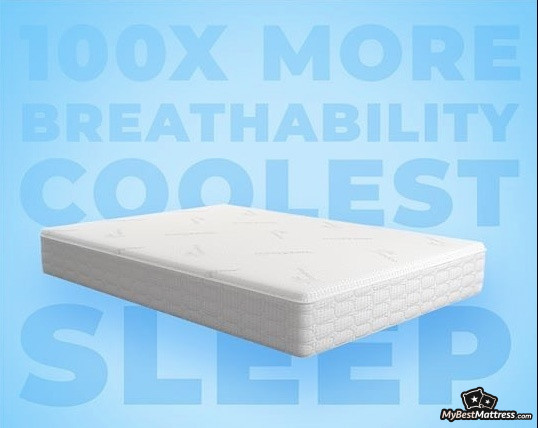 That being said, when you purchase the mattress, it arrives compressed in plastic and rolled up in a box. Some Snuggle-Pedic mattress reviews have noted that after the mattress was left to settle into place, they could feel a specific smell in the room.
The odor tends to dissipate after a few hours so it's not a persistent issue. But it's one to keep in mind if you live in a smaller space, where it might linger for longer.
Pricing
There are two places online where you can find Snuggle-Pedic mattresses – the Snuggle-Pedic official website and the Amazon catalog.
Let's say that there are no Snuggle-Pedic king mattress dealers available in the brick-and-mortar shops near you. In that case, you might have better luck finding this model online.
Here are the prices for the Snuggle-Pedic ​​Hybrid Medium-Firm Memory Foam mattress:
The mattresses are usually shipped off the day of or the following day after placing an order. The estimated delivery time is 1–3 working days. However, delivery times may experience some delays due to the COVID-19 pandemic.
If you have any questions regarding your order, or wish to exchange or return the mattress, you may get in touch with the company via their phone number or email. Customer support has received a lot of praise in the Snuggle-Pedic mattress reviews, so you can be certain your issue will be resolved.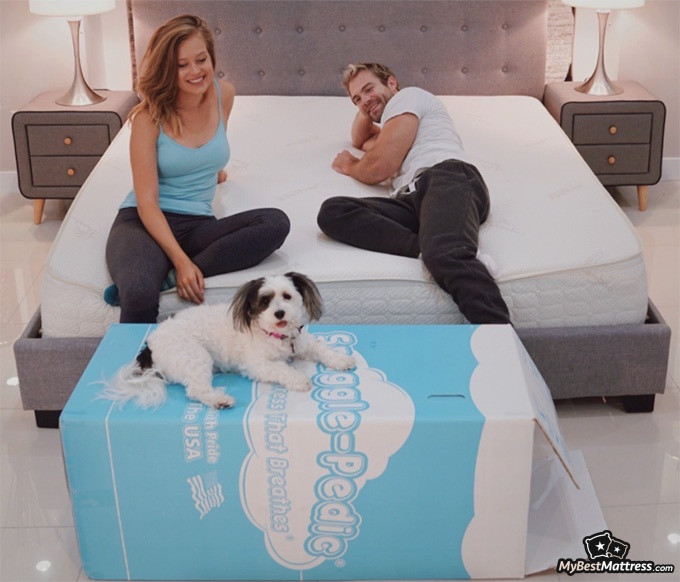 All Snuggle-Pedic mattresses come with a 20-year warranty. You can have your order refunded within 120 days from your purchase date. You may be provided with a list of local organizations that accept mattress donations and rehome the mattress while being eligible for the refund.
Bear in mind that if you purchase the mattress on Amazon, the standard 30-day return window will be applied instead.
Accessories
While the Hybrid Medium-Firm Memory Foam is the focus of this Snuggle-Pedic mattress review, I want to bring your attention to a couple of other products by the company. You might recall me mentioning that Snuggle-Pedic is best-known for its memory foam pillows.
So, I'll give you a brief overview of sleep accessories offered by the company. First, we'll see how the Snuggle-Pedic mattress topper complements the main product. And then you'll find out what makes the Snuggle-Pedic body pillows special.
So, let's take a little detour towards the Snuggle-Pedic sleep accessories.
Snuggle-Pedic Mattress Topper
Mattresses are not ageless products. Once they've been broken in, they start wearing out, until they no longer feel as comfortable as during those first few months of ownership. You usually get a few good years, and then it's time to look for a replacement.
But there are some steps you can take to prolong the lifespan of your bed. One of the most recommended ones is rotating your mattress every few months to make sure the layers are evenly distributed.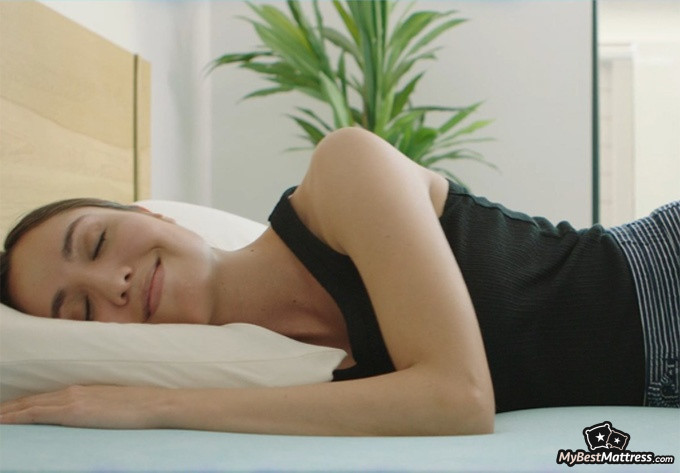 Another thing that can improve durability is using a mattress topper. This helps in more than one way – the bed will feel plusher when you lie down on it, and it puts some distance between you and the comfort layer, slowing down the process of wear-and-tear.
The Snuggle-Pedic Patented Double Layered Density Memory Foam mattress topper (I know, it's quite a mouthful – just Snuggle-Pedic mattress topper for short) is designed with this goal in mind. It helps the Hybrid Memory Foam maintain its durability longer.
As you can probably see in the name, this 2" topper is double-sided, meaning that it's flippable. The firmer side has a density of 5 lbs/cubic ft, while on the plusher side it's 4 lbs/cubic ft. The two density options may help alleviate some pressure off the body.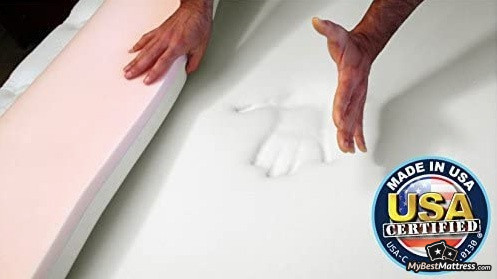 In addition to the comfort it provides, the Snuggle-Pedic mattress topper is breathable, which can allow you to sleep cooler than you would directly on the mattress.
Although the Snuggle-Pedic mattress topper is out of stock at the time of writing, you can check its availability on Amazon. You can also find some more information on this product as well as other great mattress toppers for back pain here.
Snuggle-Pedic Body Pillow
The Snuggle-Pedic Memory Foam Bamboo body pillow is one of the company's best-sellers. This model is great for several uses. While body pillows are usually known as pregnancy comfort items, they can actually provide support for those experiencing back or neck pain.
Rather than containing one piece of foam, the Snuggle-Pedic body pillow is stuffed with shredded foam. This ensures that the product is flexible and adjusts well to the body.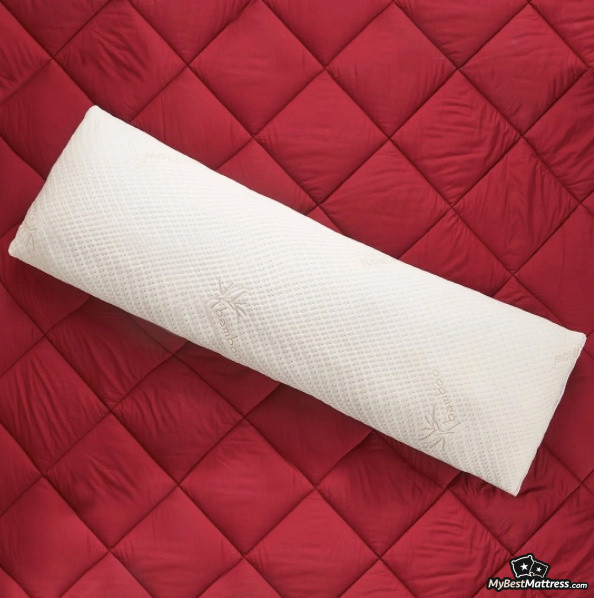 And have I mentioned that it's customizable? If you find that the pillow isn't sufficiently stuffed, Snuggle-Pedic can provide you with extra shredded foam. Likewise, if you want it lighter, simply take out some of the foam.
The unique structure of shredded foam, reinforced by the bamboo cover, allows for great breathability. And as a nice perk, it's safe for machine washing and tumble-drying!
This Snuggle-Pedic product is one of our contenders for the best body pillow. You can find the full list here.
Alternative Recommendations
We've gotten through quite a lot of information on this Snuggle-Pedic mattress review. Before we wrap up, I'd like to look at some of the alternatives for this product on the market that might suit your needs better if the Snuggle-Pedic isn't the perfect choice for you.
Puffy
Puffy is one of the best-rated mattress brands out there. The flagship memory foam model is known for providing comfort to all sleeper types.
Like the Snuggle-Pedic mattress, Puffy performs well in terms of motion isolation. It's a great choice for those dealing with back pain because the mattress alleviates spine pressure.
Table: Features of the Puffy mattress
One of the downsides of Puffy is that, not unlike the Snuggle-Pedic, its thermoregulation qualities aren't outstanding. It's something to keep in mind with all foam-based mattresses – they run the risk of capturing heat instead of letting it pass through.
The prices for the Puffy mattress start at $1145 for the Twin size mattress. But by using one of the promo codes, you can get up to $755 off.
Layla
Layla is a brand that offers one of the more interesting mattress options on the market. The flagship product is the 2-in-1 flippable mattress. Instead of flipping a single layer of a topper, you can turn your whole bed over!
This product offers two levels of firmness – the softer side feels like a 5.5, and once you flip it over, it feels closer to a 7. Both sides provide great motion isolation and pressure point support for almost every sleeper.
Table: Pressure points of the Layla mattress
Furthermore, the copper-infused foam offers rapid cooling and body heat transfer. Both top layers have antimicrobial properties, so no unpleasant smells will stick to the surface.
The prices for the Layla flippable mattress range between $749 and $1249. While it's pricier than the Snuggle-Pedic mattress, you can look into the financing opportunities, powered by Affirm. You can also find our Layla discount codes here.
Helix
Okay, this might seem like cheating – Helix offers not just one, but an entire range of mattresses for its clientele. You can find the full review of all six models here. And to keep things fair, I'll talk about the most popular model in the range – the Helix Midnight.
This hybrid bed contains Helix's special ​​Memory Plus foam, along with the Body Shape coil support – and that's just a small peek into the structure. Like all models discussed in this article, it provides good motion isolation.
If you prefer sleeping further from the center of the bed, you might enjoy the edge support provided by the reinforced perimeter. Overall, this bed is medium-firm, so you should feel comfortable and properly supported by the hybrid structure.
The Helix Midnight model is pricier than the Snuggle-Pedic. You can purchase the Queen size Midnight for $1099. But if you're interested, you can also find special offers by Helix here.
PUFFY
LAYLA
HELIX

Best for all type of sleepers
Lifetime warranty
Total spine pressure elimination

Lower Than Average Pricing
Flippable
Pressure Relief
Cooling Properties

Different levels of firmness
Responsive and bouncy
Good motion isolation

Average temperature neutrality

Fair Edge Support
2-Week-Break-In-Period

Somewhat noisy
Some off-gassing involved

Visit site
Read Review
Visit site
Read Review
Visit site
Read Review
Table: Comparison of the Puffy, Layla, and Helix mattresses
You can find more information on these products, as well as other great suggestions, on our list for the best cheap mattresses.
Here is The Best Saatva Offer I Found:
UP TO $500 OFF
Limited-time Saatva Sale
We're sharing a limited-time Saatva mattress discount with our readers! Grab this deal & enjoy your new mattress with huge discounts.
Expiration date: 29/09/2023
4,042 People Used
Only 83 Left
Conclusions
So, let's answer the big question – is the Snuggle-Pedic mattress worth the price?
Given the materials and their comfort level, I think the price tag of the Snuggle-Pedic Hybrid Memory Foam mattress is quite fair. It's a lightweight bed-in-a-box that meets most of the checkmarks.
But there's still plenty of room to improve. From the way the layers are placed to heat accumulation – the Snuggle-Pedic might not bring the coziest sleep of your life. Since it's still a relative newcomer to the industry, I can only hope we'll see improvements with upgraded models.
Nevertheless, even if the mattress isn't a stand-out product, the company's other sleep accessories, like their body pillows and mattress toppers, are worth checking out.
Have you gotten your hands on this product? Share your experience and leave a Snuggle-Pedic mattress review in the comments.
Leave your honest Snuggle-Pedic Mattress review
Leave your genuine opinion & help thousands of people to choose the best mattress. All reviews, either positive or negative, are accepted as long as they're honest. We do not publish biased reviews or spam. So if you want to share your experience, opinion or give advice - the scene is yours!