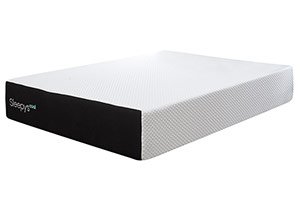 If you're looking for a mattress that would provide you with a high-quality rest and solve health issues, such as back or neck pain, it's important to find an option based on your personal needs.
Sleepy's is one of the companies that you should take into consideration. It was founded back in 1931 by Louis Acker and Harry Acker. At first, Sleepy's was a retail mattress chain that has more than 1000 stores within the country, however, in 2015 it was acquired by Mattress Firm and all of the stores were rebranded. Therefore, now you can purchase Sleepy's mattresses in Mattress Firm physical store or on their official site.
In this Sleepy's review, I will introduce you to all of the company's models, however, will focus more on their hottest product - Sleepy's Cool, including its pros and cons, pricing, and even more important information. At the end of this review you'll know if Sleepys mattresses are suitable for you.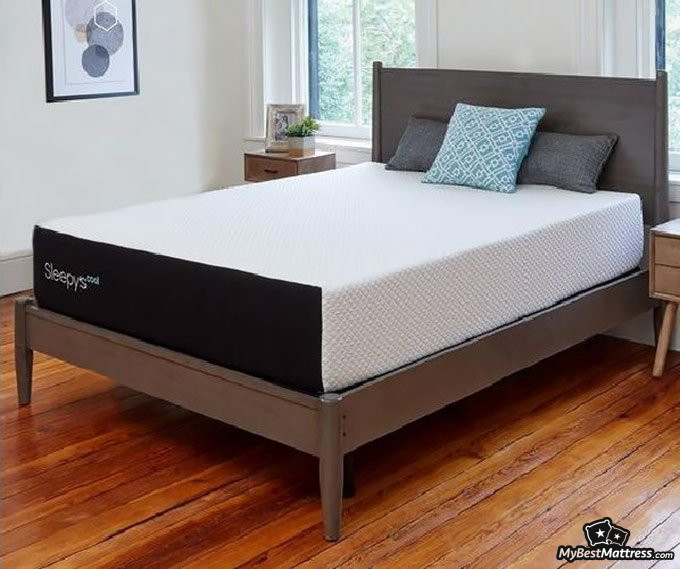 Verdict at a Glance
Sleepy's offer multiple mattress designs to pick from, however, the company's hottest product is the Sleepy's Cool memory foam mattress. It sleeps relatively cool, alleviates pressure points and is great for side sleepers. On the other hand, there are issues with the lack of support and bounciness.
Pros
Adapts to your body
Breathable
Good for side sleepers
Cons
Lacks edge support
Not bouncy or responsive
Sleepys Mattress Review: Introduction to the Company's Mattresses
Since everyone prefers different types of mattresses and firmness options, Sleepy's provides you with multiple alternatives to choose from. Therefore, everyone will be able to find a suitable level of comfort, support, and durability as well as an option that fits your budget.

The company offers foam, innerspring and encased coil mattresses. Each of them comes in three different designs that differ in structure, feel and pricing. Now, I would like to introduce you to each of them shortly.
Calm - great for those who prefer a more supportive surface. It provides pressure point relief, comfort and additional support for your back.
Cool - breathable memory foam mattress that helps to maintain neutral body temperature throughout the night.
Essential - a perfect alternative for those who are looking for a budget-friendly mattress. It provides you with the right amount of support and comfort.
Basic - firmer innerspring mattress that's amazing for back sleepers or those who need more support.
Relax - mattress with enhanced comfort and top plush foam layers. It focuses on comfort and pressure point relieving properties.
Rest - durable mattress that's on the firmer side and provides good support for your spine. It utilizes a unique coil design and is really breathable.
Hush - comes in different firmness options, provides contouring and alleviates pressure points.
Reserve - a bouncy and responsive mattress that features a luxurious mattress surface and unique foam layers that are supported by nano coils.
Slumber - focuses on the support for different areas of the body. Five zones of encased coil provide a different amount of support for your shoulders, back and hips.
As you can see, there are so many different mattress options to choose from. There's no doubt that every sleeper will be able to find a suitable mattress for their wants and needs.
Sleepy's Cool Mattress Reviews: PROS
I've introduced you to all of the Sleepy's mattresses, however, I would like to focus more on their most popular option - Sleepy's Cool, and tell you all about it. Thus, let's begin from the positive aspects and see all of its benefits.
Great Design and Good Materials
Mattress's design and the quality of the materials are the two aspects that make a whole difference. After all, you want your mattress to be not only comfortable but also durable and healthy for your spine. That's why I would like to begin this Sleepys mattress review from the Cool model structure:
Ventilated Woven Cover - doesn't trap heat and is very breathable.
Phase-Change Material Gel Top Surface Layer - gel promotes cooling properties and ensures that you're not sleeping too warm.
3" Memory Foam - adapts to your body and alleviates pressure points.
9" High-Density Core Foam - provides you with support.
As you can see, Sleepy's Cool mattress has quite a simple structure. Don't get me wrong, simple design doesn't mean bad, in many cases that's even better.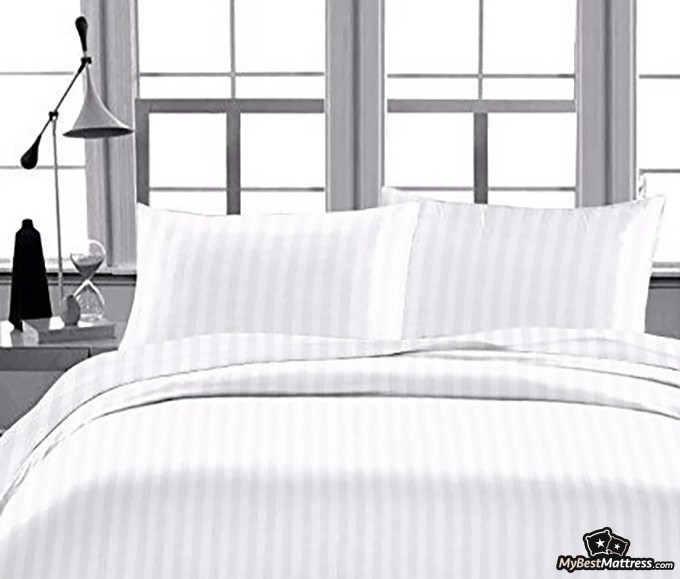 Now, the company claims that they're using high-quality and durable materials, however, to make sure that this is the case, I went through multiple Sleepys mattress reviews. I have to say, I managed to find a few complaints about durability, but the majority of customers were pleased with it.
Based on the mattress structure, it seems that it should be really breathable and provide pressure point relieving properties. However, to find out the real experiences, I would like to go through different features and evaluate each of them based on Sleepy's Cool mattress reviews. Let's get right into it.
Relieves Pressure Points
Poor sleep quality is associated with multiple aspects, including light, temperature noise, and mattress quality.[1] If you're sleeping on an old, uncomfortable mattress and are not pleased with your sleep quality, then I believe that's the issue.
When it comes to comfortable mattresses, pressure point relief is one of the most crucial factors that you should take into consideration. Such mattresses are able to distribute the body weight evenly and ensure that there are no spots in your body where you get too much pressure.

Since you came here for Sleepy's Cool mattress reviews, I can assure you that customers are very happy with pressure point relieving properties. Since it's made of foam, the mattress manages to conform closely to your body and alleviate pressure points. This means no more aches in the morning.
Doesn't Trap Heat = Comfortable Sleep
You probably know that the majority of memory foam mattresses tend to trap heat. Such mattresses make you feel as if being hugged and more like sleeping in the mattress rather than on top of it. However, this is not always the case.
Even though Sleepy's Cool mattress is made of memory foam, it was designed with an intention to control your sleep climate. Just to make sure that the company succeeded, I went through multiple Sleepys mattress reviews.
According to the customers, the Cool model is very breathable, it doesn't trap heat and simply allows you to feel fresh in the morning. That being said, if you hate sleeping too warm but love the way memory foam feels, Sleepys mattresses with cooling properties might be exactly what you're looking for.
No Noise or Sleep Disruptions
It's nice to sleep with a partner, however, it might also lead to certain issues, such as noise and sleep disruptions, especially if your partner keeps tossing and turning throughout the night.
Multiple studies implicate that motion transfer and noise can lead to lower quality sleep. That being said, even if you sleep, for example, 7 or 8 hours, you might still wake up tired due to poor sleep quality.
Noise and motion transfer is usually associated with old and squeaky spring mattresses. However, today even some innerspring mattresses that are designed with pocketed coils are very quiet.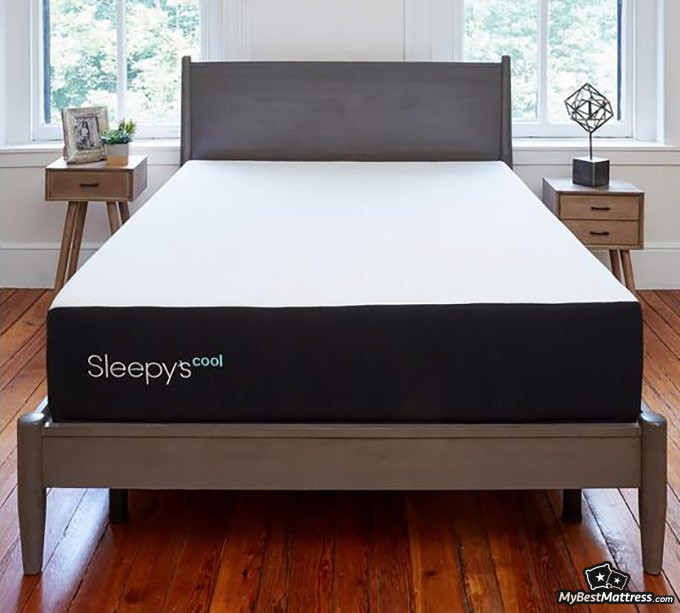 According to Sleepys mattress reviews, it's completely quiet when bearing weight and manages to isolate the motion transfer to a significant extent. That being said, even if your partner keeps tossing and turning throughout the night, your sleep won't be interrupted.

Did you know?
Great for Side Sleepers
We all have personal preferences when it comes to sleep. Sleeping position is one of them. You probably haven't even thought about it, however, it's one of the aspects that you should evaluate when choosing a mattress.
When you choose a suitable mattress for your sleeping position, it is capable of alleviating pressure points,[2] provide the right amount of support and comfort. There are multiple benefits.
Now, based on Sleepys mattress reviews, the Cool model is perfect for side sleepers. Since it's on the plushier side, it manages to hug your shoulder and hips, however, it still ensures that there's enough support for your hips and you don't sink too deep.
Since the majority of us are side sleepers, this is one of the biggest perks of Sleepy's Cool mattress.
Sleepy's Cool Mattress Reviews: CONS
The pleasant part of this Sleepys mattress review is over, now it's time to take a look into the mattress's flaws and decide if it's worth it.
Quite Soft Edges
The first issue that multiple Sleepys mattresses reviews distinguished is soft edges. You might know this feeling when you sleep on the sides of your mattress and feel as if you could fall down any second. If so, this means that your mattress doesn't provide enough edge support.
Firm edges make sure that you can sleep on the sides of your mattress just as comfortable as in the middle. What is more, some say that such beds are more durable and reliable because edge support helps the mattress to maintain its initial shape longer. Of course, that also highly depends on the quality of the materials.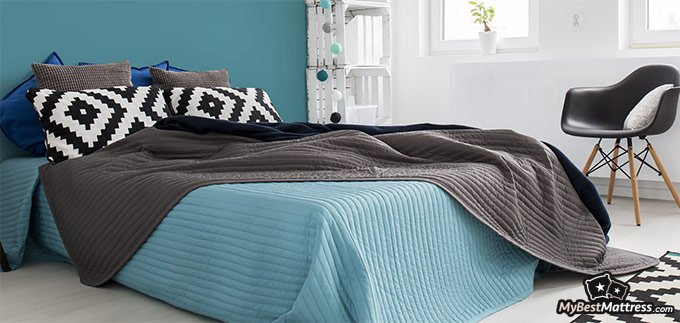 Therefore, it's a huge drawback that Sleepy's mattress lacks this feature.
Might Not Provide Enough Support
Mattress support is just as important as pressure relieving properties, it's crucial for healthy spinal alignment. Unfortunately, not all mattresses are supportive enough for sleepers of different weight groups.
Some Sleepys mattress reviews, especially medium- and heavy-weight sleepers, claim that the Cool model doesn't provide enough support for their back and hips. Also, since it's on the softer side, they claim that there's too much sinkage.
Therefore, if you're a heavy-weight sleeper or prefer sleeping on your back, you can expect that the Sleepy's Cool mattress won't provide you with enough support.
Lack of Bounciness
The final aspect that should be included into Sleepys mattress review is bounciness. Even though it doesn't have anything to do with sleep quality directly, couples find it more than important. There's a reason why.
Mattress bounciness and responsiveness can highly benefit the quality of your sex life. I'm not saying that it's bad right now, however, couples claim that there's a huge difference between soft and sinking mattresses, and firmer and responsive beds.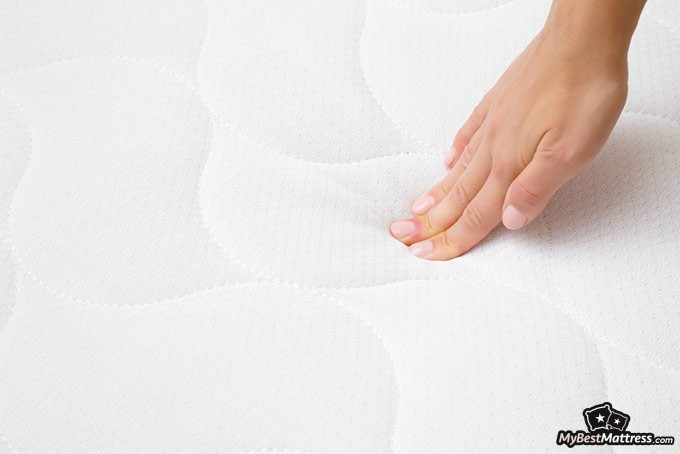 Unfortunately, multiple Sleepys mattress reviews claim that the company's Cool model lacks bounciness and responsiveness. This problem is often associated with softer memory foam mattresses, that's why it wasn't a surprise at all.
Sleepy's Cool Mattress Prices and Additional Details
Even though all the positives and negatives in this Sleepys mattress reviews are clear, there are still a few aspects that you should be aware of before deciding whether Sleepy's Cool mattress is suitable for your needs, including pricing, shipping, and even more. Thus, let's move right into it.
Sleepy's Cool mattress prices vary from $899.00 to $1,599.00. While it may not be the cheapest option, Sleepy's mattress reviews claim that it's completely worth it. Also, it's important to know that you'll be able to find discounts and promotions for Sleepy's mattress during special occasions, so you can spare your savings and get it for even less.
Since Sleepy's mattresses can be purchased on the Mattress Firm official site, the conditions might be slightly different when it comes to each Sleepy's mattress. In most cases, you'll get free shipping, meaning that your mattress will be delivered straight to your doorstep without additional charges.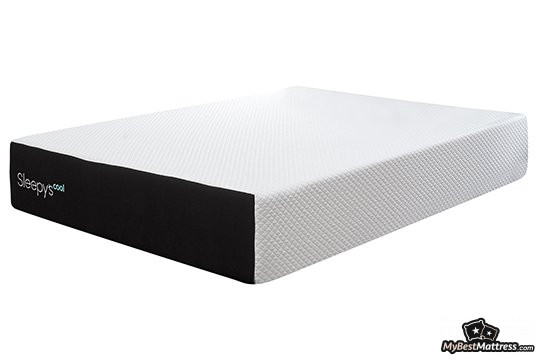 What is more, you get a 120-night sleep trial that will allow you to rest on the Sleepy's Cool mattress for up to 4 months and only then decide whether or not it's suitable for your needs.
Now, when it comes to the mattress warranties, you probably noticed that the majority of top-tier mattress brands offer a 10- or 15-year warranty. However, when it comes to the Sleepy's mattresses, you get only 5 years… I have to say that it was one of the drawbacks that multiple Sleepys mattress reviews distinguished. After all, if a mattress is durable, the company shouldn't be afraid to offer longer warranties.
Conclusions
Therefore, you can find multiple Sleepys mattresses that feature different construction, including foam, innerspring and encased coils. The company's most popular mattress is the Sleepy's Cool, which is mainly made of memory foam.
The Sleepy's Cool mattress adapts to your body curves and alleviates pressure points, it's completely noiseless and doesn't transfer movement. What is more, even though it features memory foam construction, multiple Sleepys mattress reviews claim that it's very breathable.
However, there are also a few drawbacks when it comes to Sleepy's Cool mattress. Sleepers claim that it lacks support, especially in the edges, and may not be bouncy enough for couples.
In general, Sleepy's mattress is good for those who prefer memory foam feel, however, if you want to find even better options, you should check out this list.
Scientific References
1. Fan-Zhe Low, Matthew Chin-Heng Chua, Pan-Yin Lim, et al.: 'Effects of Mattress Material on Body Pressure Profiles in Different Sleeping Postures'
2. Mattresses for Chronic Back or Neck Pain: A Review of the Clinical Effectiveness and Guidelines [Internet].
Leave your honest Sleepy's review
Leave your genuine opinion & help thousands of people to choose the best mattress. All reviews, either positive or negative, are accepted as long as they're honest. We do not publish biased reviews or spam. So if you want to share your experience, opinion or give advice - the scene is yours!