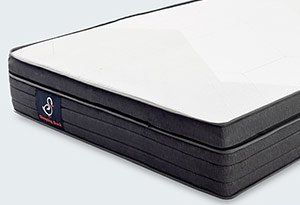 Sleeping Duck is a relatively new mattress company that was founded in 2014 by Melbourne-based engineers. Since mattresses tend to be pretty expensive, Winston Wijeyeratne and Selvam Sinnappan wanted to create a top-tier mattress for customer-friendly pricing.
That's why they put effort into designing their own mattress. Their main goal was to bring the good night's sleep back to the basics and create only one mattress that would be comfortable for different sleepers, no matter what's your weight or preferred sleeping position.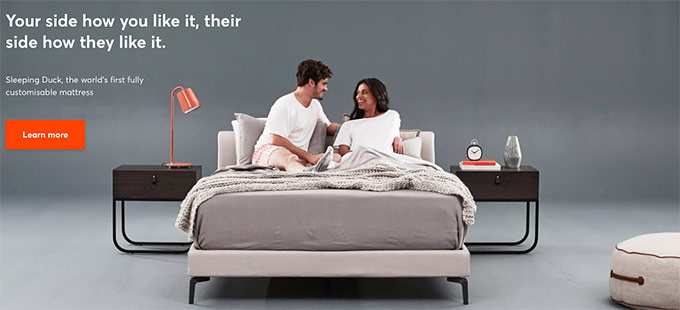 In this Sleeping Duck review, I will provide all the information about the company's mattress, including materials, pros and cons, and additional information that matters when choosing a mattress for your personal needs.
Without further ado, let's get right into the Sleeping Duck mattress review.
Verdict at a Glance
Sleeping Duck offers a hybrid mattress that's made of top-tier materials. It comes in two different firmness options - medium and firm. Sleeping Duck mattress is breathable, responsive to pressure, offers good motion and has other amazing qualities. However, Sleeping Duck reviews distinguished that it has some off-gassing and might be too firm for very light sleepers.
Pros
Made of high-quality materials
3 firmness options
Sleeps cool, comes with bamboo cover
Great bounciness as well as pressure point relief
Cons
Some off-gassing
Might be too firm for light-weight sleepers
Sleeping Duck Review: PROS
I would like to begin this Sleeping Duck review from the positive aspects. Truth be told, Sleeping Duck mattress has a lot of amazing properties that you'll be happy to hear about.
Made of High-Quality Materials
The first thing that must be mentioned in all Sleeping Duck mattress reviews is the quality of the materials. According to the customers, the company's mattress is very durable and maintains its initial condition for up to 10 years. Even after that, the Sleeping Duck mattress should sleep comfortably.
To find out why Sleeping Duck mattress is so durable, let's take a look at each of the layers:
Hyper-Adaptive™ foam - this layer provides you with the qualities of memory foam and latex - pressure relieving properties as well as elasticity, however, it's way more breathable. It's the reason why Sleeping Duck mattresses are so comfortable, no matter which firmness option you choose.
Customizable high-density foam - this foam controls the firmness, it varies depending on which firmness option you choose.
5 zone pocket springs - pocket springs ensure that you get the right level of support in different areas of your body. What is more, they're very quiet when bearing weight, so your partner won't be disturbing you. Sleeping Duck mattress reviews completely agree with that.
As you can see, Sleeping Duck mattress has a very smart design that ensures you get all the best properties and might improve the quality of your sleep significantly.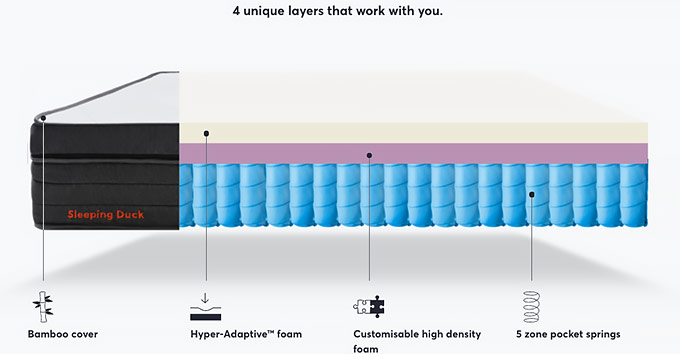 Sleeping Duck mattresses also come with a natural bamboo cover, which feels very soft and silky, promotes extreme breathability, and is antimicrobial, meaning that it will stay fresh longer. Also, when it's time to wash it, you'll be able to easily remove it and then put it back on.
Sleeps Cool, Feels Refreshing
The study on the thermal environment on sleep and circadian rhythm[1] that was performed in 2012 found that thermoregulation is one of the most important factors affecting the quality of sleep. You should know that some mattresses tend to trap more heat than others and this issue is often associated with memory foam beds.
If currently you're experiencing low quality sleep and keep waking up during the night, chances are that your mattress lacks breathability and cooling properties. Sleeping Duck reviews claim that the company's mattress works really well at maintaining neutral body temperature, which allows sleeping calmly and comfortably.
But why is that, you might ask? The thing is that Sleeping Duck is a hybrid mattress and is constructed with pocket springs, which are known to promote airflow in the mattress.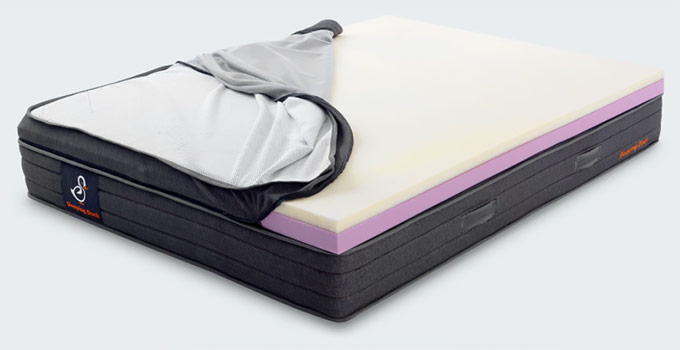 What is more, Sleeping Duck mattress comes together with a natural bamboo cover. It not only feels very soft and silky but also provides you with extreme breathability. What is more, the cover is antimicrobial, which means that it will stay fresh longer.
Great Responsiveness and Bounciness
Even though bounciness and responsiveness are the qualities that won't have a significant impact on the quality of your sleep, some sleepers take these properties very seriously, especially those who have a significant other.
According to Sleep Duck reviews, the mattress is bouncy and responsive, no matter which firmness option you choose. It's known that bouncy mattresses can improve your sex life, which is something that all of you should appreciate.
A bouncy and responsive mattress doesn't allow you to sink in too deep and allow your body to bounce back faster, which makes the whole process a lot more enjoyable.
The Majority of Sleepers Will Find it Just the Right Fit
You probably know that there are a lot of aspects to consider when choosing a mattress for your personal needs. One of the most important ones is firmness. Light sleepers usually choose beds that on the softer side, average-weight sleepers tend to find medium firm mattresses the most comfortable, and heavy-weight sleepers usually consider firmer options.
However, that also depends on your personal preferences and sleeping position. If you want to find out more about how to choose a mattress, you should check this guide.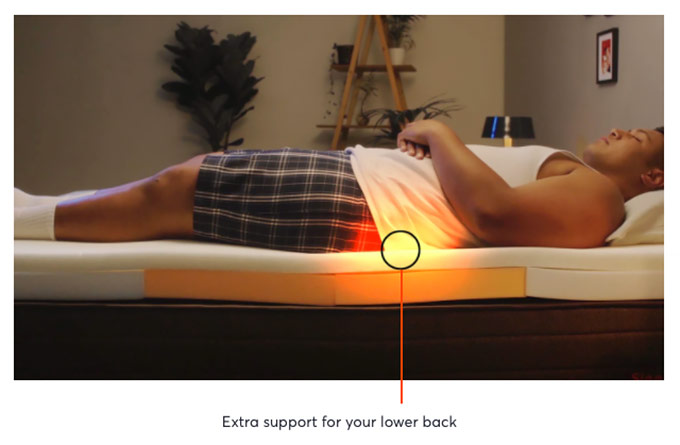 When it comes to Sleeping Duck mattresses, you can pick from three firmness options: medium, firm or half-half. The latter option is perfect for couples when one partner prefers a firmer option, while another likes a softer mattress. You won't often come across such a mattress design.
Sleeping Duck medium-firm mattress is about 6 out of 10 in a mattress firmness scale, it's great for medium-weight side sleepers because it cushions your shoulders and hips while still providing the right amount of support.
Sleeping Duck firm mattress is about 8 out of 10 on the mattress firmness scale. It's great for back sleepers because it's very supportive. Based on the research,[2] back sleepers, especially those who experience chronic back pain, can benefit the most from firmer mattresses.
When it comes to half medium, half firm mattress, as I mentioned previously in this Sleeping Duck reviews, it's amazing for couples who prefer different firmness options.

Did you know?
Firm Edges
Even though many people underestimate the importance of strong edges, they're more than important if you want to sleep comfortably on your mattress. That said, this is one of the aspects that you should pay attention to when choosing a mattress.
Strong edges will allow you to feel comfortable even if you're sleeping on the very side of your mattress. I cannot tell the same thing about mattresses with soft edges, they can make you feel as if falling out of the bed, which is definitely not the most pleasant feeling.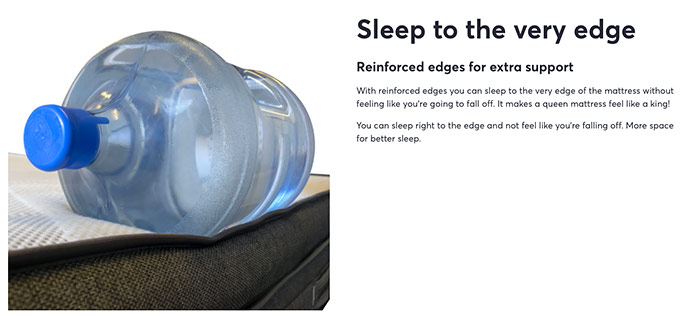 What is more, it's known that mattresses, which have strong edges, are more durable. That's because they manage to maintain the initial shape of your mattress longer. Of course, mattress durability also depends on multiple other aspects, such as the quality of the materials, how you take care of it, etc.
Moreover, firm edges are needed for older people, especially if the mattress base is slightly shorter. That's because mattresses with firm edges provide enough support when getting out of the bed.
Based on Sleeping Duck reviews, customers are really pleased with edge support. They claim that even if you put stuff on the side of the Sleeping Duck mattress, it keeps them very secure.
Good Motion Isolation
In most cases, when a mattress is bouncy and responsive, it lacks motion isolation, however, that's not always true when it comes to hybrid mattresses, which tend to provide you with all the best properties of memory foam and innerspring mattresses.
That said, you probably know where I'm going with this. Sleeping Duck mattress is not only bouncy and responsive but also manages to minimize the motion transfer to a significant extent - individually-wrapped pocketed springs and high-quality foam will eliminate any disturbance.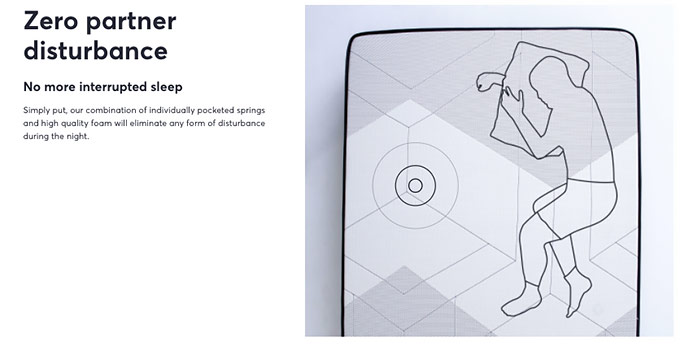 Some people do not appreciate motion transfer isolation enough, however, those of you who have partners that keep tossing and turning in their sleep, know how important this quality is.
Also, studies show that nightly disruptions, not only noise but also motion transfer, can significantly affect the quality of your sleep, meaning that you will experience less deep sleep and more wakefulness.
Sleeping Duck Review: CONS
Now that all the positive aspects of Sleeping Duck mattresses are clear, it's time to reveal to you what this mattress is missing.
Might Be Too Firm For Light Sleepers
As I mentioned previously in this Sleeping Duck review, it's crucial to pick a mattress based on your personal needs. That said, if you're a light-weight sleeper, you should make sure that the mattress you're choosing will provide you with all the needed properties - pressure point relief, the right amount of support and comfort.
It's usually recommended for light-weight sleepers (less than 130lbs) to choose mattresses that are on the softer side. That's because if the bed is too firm it will not only be uncomfortable but will also lack contouring and won't be able to alleviate pressure points.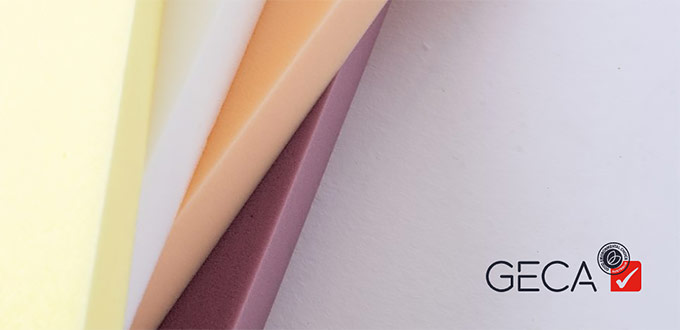 Since Sleeping Duck offers two firmness options - medium and firm, some customers, especially those who are lightweight, lack softer alternatives. That said, you should pay attention to this aspect before deciding which bed to choose.
Some Off-Gassing
Mattress off-gassing can be really unpleasant. If you haven't heard about this term before, it's the smell that new mattresses have, when you just open them. Mattress off-gassing happens when volatile organic compounds break down.
Even though mattress off-gassing is not harmful, some people react towards it negatively - feel nauseous, find it difficult to breathe, have a headache, and even throat irritation. However, a very small percentage of people experience such side effects.
I found some Sleeping Duck reviews that reported quite a strong mattress off-gassing. While this might be an issue, the majority of mattresses off-gas, it takes about 2 days for the smell to completely evaporate.
If you find that mattress off-gassing is a huge issue for you, then consider organic mattresses. Since they're made out of natural materials, no toxic flame retardant chemicals were used in the process and you won't feel any off-gassing.
Sleeping Duck Mattress Price and Additional Details
Since I already provided you with all the aspects that I wanted to include in Sleeping Duck review, the last thing that's left is Sleeping Duck mattress price. It should help you to make the final decision.
What is the Sleeping Duck Mattress Price?
Let's take a look at Sleeping Duck mattress prices. Here's the whole list for prices and size options:
As you can see, Sleeping Duck offers a lower-than-average pricing point. Since hybrid mattresses tend to be on the more expensive side, I was quite surprised by such an amazing value for money.
You'll also be happy to know that Sleeping Duck offers a 100-night sleep trial, during which you'll be able to try their bed and only then decide whether or not it works for you. Since delivery and returns are completely free in Australia, you won't be losing anything. Also, if you choose a mattress that's too soft or too firm, the company will replace it without additional charges.
Moreover, you get a 10-year warranty for a Sleeping Duck Mattress. It means that in case any manufacturing flaws appear, the company will replace your mattress with a new one.
Now that this Sleeping Duck review is getting to an end, let's move to conclusions.
Conclusions
Therefore, Sleeping Duck offers a hybrid mattress that's made of high-quality materials and should serve you at least 10 years.
The mattress is very comfortable and breathable, it conforms closely to your body and alleviates pressure points. That said, if you're experiencing back or shoulder pain, Sleeping Duck mattress could help you to solve this issue.
Moreover, Sleeping Duck reviews assure that the mattress has very firm edges, which allows sleeping comfortably even on the side of the bed. Also, it's bouncy and responds to pressure really well.
Therefore, Sleeping Duck mattress has all the qualities that are needed to ensure high-quality nighttime sleep!
Scientific References
1. Kazue Okamoto-Mizuno and Koh Mizuno: 'Effects of thermal environment on sleep and circadian rhythm'
2. Francisco M Kovacs, Víctor Abraira, Andrés Peña, et al.: 'Effect of firmness of mattress on chronic non-specific low-back pain: randomised, double-blind, controlled, multicentre trial'
Leave your honest Sleeping Duck review
Leave your genuine opinion & help thousands of people to choose the best mattress. All reviews, either positive or negative, are accepted as long as they're honest. We do not publish biased reviews or spam. So if you want to share your experience, opinion or give advice - the scene is yours!