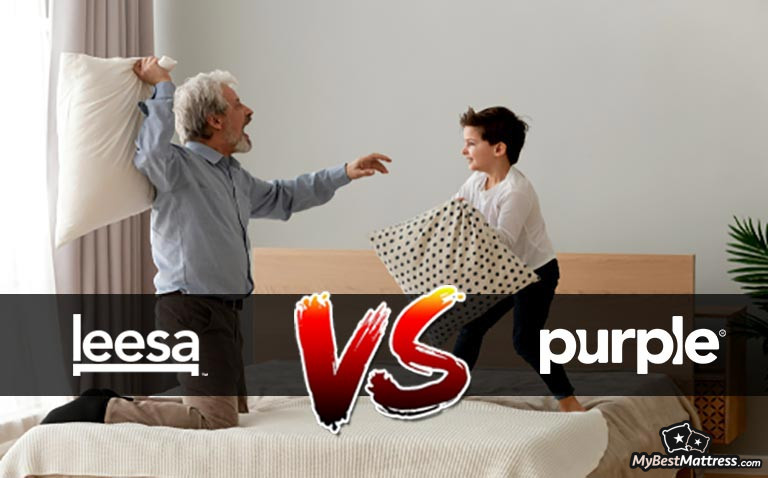 So - after a long and strenuous decision making process, you've narrowed your preferred mattress list to two - Leesa and Purple. Both beds are awesome, both offer great benefits and both are considered to be top-tier - which one should you pick? Well, this Leesa VS Purple comparison is going to help you answer just that.
While both of the beds in question are quite different from one another, the key, essential features that they should both have are the same. After figuring them out, you'll be able to pick the best bed for yourself much easier!
Table: Leesa and Purple mattress introduction
Oh, and also - if, after reading this Purple mattress VS Leesa article, you are still unsure of which of the two beds is better for your own, personal preferences, you can take a look at our "Leesa VS Purple Side-by-Side Comparison" for more clearance.
Leesa VS Purple: Figuring Out the Important Aspects
As I've mentioned in the introduction of this Leesa VS Purple comparison article, there are some features that should be found in every single mattress out there, whether it's Leesa, Purple, Saatva, or any other.
While everyone is going to have their own, preferred things that they would like to see in a bed, some features are universal. Similarly to our other comparison articles, I've extracted 5 essential things that everyone should pay attention to when purchasing a new bed - durability, firmness, motion isolation, cooling and bounciness.
Table: Main features of the Leesa and Purple mattresses
While you'll be able to see more features in the table above (i.e. edge support, off-gassing, and so on), the five features that I've referenced are ones that do need the most explanation and elaboration. After all, you can't really pick the better bed out of the Leesa VS Purple comparison if you don't know what to look for, right?
Durability. This is probably going to come off as pretty obvious, but most mattress companies out there try to make their products as durable as possible, whether it be the mattresses themselves, pillows, or anything else. Truth be told, the contenders of this Leesa mattress VS Purple article are no different! That said, however, durability still varies - while some beds can hold up for a decade, others will have difficulty staying in place for five years.
Firmness. While some people could sleep in a heap of feathers, others will be hard to wake up while lying on a pile of rocks. Firmness is completely preferential - and that's perfectly fine! That being said, though, both soft and firm mattresses have their own pros and cons - before going on a whim and picking one bed of the Leesa VS Purple comparison, you should take the time and get to know them better!
Motion isolation. Some of the higher-end mattresses isolate motion pretty well. This means that even if your partner is having a difficult time falling asleep, and is twisting and turning all around the bed, you're not really going to feel it. This, in turn, means that you'll be able to get some good night's worth of sleep yourself.
Cooling. Whenever the word "cool" is used to describe a mattress, it usually has less to do with the visual and aesthetic appeal of the bed, or even the social admiration that you'd boast about owning it to your friends, but rather more with the topic of temperature neutrality. A cool mattress is going to be one that's breathable and that doesn't heat up during the night - an important aspect to not only the Leesa VS Purple comparison, but to other mattresses, too.
Bounciness. Bounciness refers to the mattress's ability to not sink down upon weight being placed on top of it. Some types of mattresses are very bouncy by design, while others are actually rather prone to sinking - it depends on the material, sure, but even with the most sinking-prone materials, the product can still remain responsive, if it's designed well enough. Is this the case in this Leesa mattress VS Purple debate? Well, we'll see soon enough.
With the "Big Five" out of the way, we can move on to the actual Leesa VS Purple comparison itself.
Leesa VS Purple: The Comparison
Staying in-tact with our above-created list, let's start off by taking a look at the durability aspect of both of the beds in question.
Durability
In order to analyze the durability side of both of the Purple VS Leesa mattresses, we should first take a look at the main materials from which each of the beds are made of. This is because, more often than not, the materials are going to primarily dictate the quality of the bed itself.
Leesa is a memory foam mattress. It's made out of three high-quality layers, each comprised of different types of foam. The memory foam sits in the middle layer, and acts as a tool for pressure relief.
Purple, on the other hand, is a hybrid mattress. Hybrid beds are basically a mixture of a few different materials - in Purple's case, these would be elastic polymer, buckled column gel and polyfoam.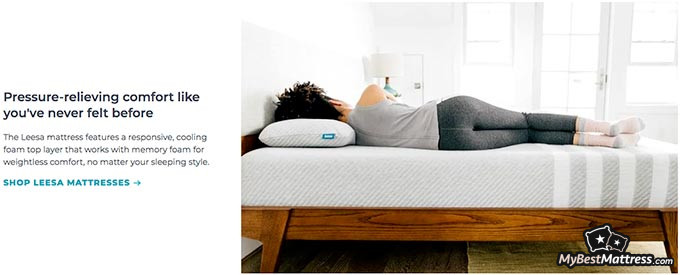 Now, if you've read any other customer Leesa VS Purple comparisons, you might already know that memory foam doesn't have a good track record when it comes to being durable. Many people actually think that it's one of the least durable types of materials to base your mattress out of.
Is there any merit to these claims? Well, yes - unless the mattress brand actually knows what they're doing. And in Leesa's case, they do.
As far as this Purple VS Leesa article goes, both of the mattresses are actually very similar in the durability department. Both hold up very well, and you shouldn't experience any premature issues.
Latest Saatva Coupon Found:
UP TO $500 OFF
Limited-time Saatva Sale
We're sharing a limited-time Saatva mattress discount with our readers! Grab this deal & enjoy your new mattress with huge discounts.
Expiration date: 27/09/2023
4,042 People Used
Only 83 Left
Firmness
I've mentioned earlier on in the Leesa VS Purple comparison that both firm and soft mattresses have their benefits. Well… What are they, though?
With soft beds, it's pretty simple and straightforward - the main benefit of a soft mattress is comfort. This is where many people give in - I mean, who doesn't want to sleep comfortably, right?
Well, whatever the case might be, things are never as simple as that. While soft mattresses might be comfortable, firmer ones are going to better for the health of your back.
Table: Leesa and Purple mattress firmness options
You see, a firm mattress will keep your body properly aligned, without it breaking that alignment throughout the night. This way, you'll be able to avoid developing lower back and hip pains.
When it comes to the Leesa mattress VS Purple comparison, it's rather obvious that these two beds are quite different. Leesa is somewhere in the middle - it's neither too soft, nor too firm. Purple, however, is considered by many to be quite a firm mattress, especially if you place and compare it with memory foam products.

Did you know?
Motion Isolation
Motion isolation is a rather interesting topic, not only on this Leesa VS Purple comparison, but whenever you're talking about mattresses, in general.
Why is that the case? Well, simple - some people care about it a lot, others couldn't care less. And there's only one, single factor that distinguishes this - the question if you sleep alone, or with your partner.
You see, if you sleep alone, then chances are that you're not going to wake yourself up by tossing around at night. Well, you might, but that would require you to wage an entire crusade against somebody in your sleep.

Sleeping with another person is different, though. When there's someone else fighting in a war on the other side of the bed from you, that's actually something that you might feel, whether you want it or not.
That being said, both mattresses in this Leesa VS Purple article actually have rather decent motion isolation, with neither exceeding the other all that much. In Leesas's case, that's thanks to the memory foam design - with Purple, it's the elastic polymer at play.
Cooling
Many customer Leesa VS Purple reviews will tell you that most companies in the industry are going to try and implement some sort of a cooling technology into their products. Whether it's a special cooling cover, or even foam infused with cooling gel, there are many different ways to go about it.
That being said, though, the sentiment still stands - cooling is an essential feature to any mattress.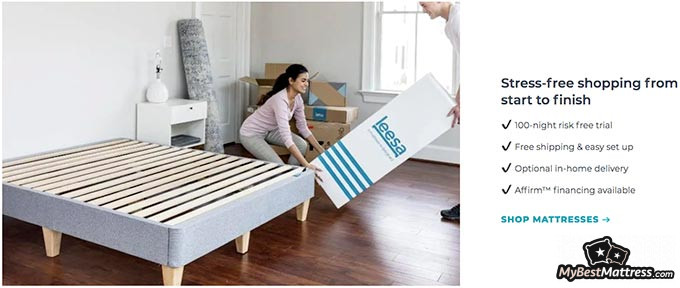 This is actually a topic in which Purple exceeds by quite a bit. This is mostly thanks to the bed's "Smart Comfort Grid" design (the elastic polymer part) - the mattress offers exceptional breathability, and should suit most hot sleepers out there.
Leesa, on the other hand, while not sleeping all that hot, isn't a "cool" mattress, either. The company tries to combat the whole "memory foam = heat" issue, and succeeds to a certain extent, but if you're a person that is known for sleeping really hot, chances are that you'll feel it with Leesa, too.
Bounciness
As far as Purple mattress VS Leesa comparisons go, bounciness has a couple of benefits.
First of all, bouncy mattresses tend to be firmer - this also means that they are going to be better for your back, hips and general sleep quality.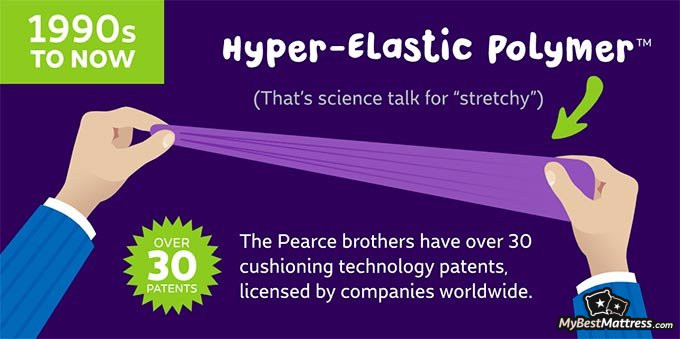 Furthermore, if you're looking for ways to improve your sex life, a brand new and bouncy mattress can help you do just that. Truth be told, that's actually one of the better-known reasons for why people buy bouncy beds, in the first place.
Whether it will come as a surprise or not, but both Purple and Leesa actually offer better-than-average bounciness. With Purple, this isn't too big of a surprise - Leesa being a foam bed and offering good bounciness, however, is definitely cool.
Sleep Positions
You might have heard about it or even read it at some customer Purple VS Leesa reviews, but there are three main sleeping positions that most people around the world sleep in - back, side and stomach.
Each of these three positions require some specific conditions to be slept in comfortably - whether it's the firmness level, moldability, motion isolation, or anything else.
It's relatively rare that a single mattress would suit all of the different types of sleepers, at least more or less. While there are companies and beds like that, most are still going to be better for one position, and worse for the other.
LEESA
PURPLE

High-Quality Layers
Medium Firmness - Almost for Every Sleeper
Almost For Everyone
Minimal Off-Gassing

Really good temperature neutrality
Firm, but not too much
Great motion isolation

Not Perfect for Side-Sleepers
Not Great for Cool Sleepers

Expensive
Not the best edge support

Visit site
Read Review
See TOP10 Brands
Read Review
Table: Leesa and Purple mattress sleep positions
Reading through Purple mattress VS Leesa comparisons, you'll quickly notice that Purple is often considered to be the better alternative for side sleepers, while Leesa should be best for most back sleepers out there.
Now, that being said, there is some form of subjectivity there, too - these parameters are by no means "golden rules". However, as far as general trends go, they should give you a pretty good idea.
Price
Now, before finishing up this Leesa VS Purple comparison article, let's take a look at the price tags of each of the two beds in question.
Table: Pricing options for the Leesa and Purple mattresses
Purple's prices are:
Leesa has these price tags in place:
While the prices of both of the beds are similar, Leesa is still the slightly-more-affordable alternative.
Table: Shipping, trial and warranty information for the Leesa and Purple mattresses
Furthermore, both of the companies in this Purple VS Leesa comparison offer 100-night trials, 10-year warranties and free shipping within the US. Leesa does not ship internationally, however - Purple does.
Conclusions
So, then - which one of the two beds is better?
Well, if you're looking for a cool-sleeping bed that would also be quite bouncy, firm and durable, and aren't too sad to pay a bit more money, then Purple might be the better choice for you.
However, if you prefer the feeling of foam, and want a softer mattress that would also suit different types of sleepers better, then Leesa would be the alternative.
Before you make up your mind, though, do check out our side-by-side comparison of both Leesa VS Purple - perhaps that will help you decide easier? And if you're still not sure, we also have a list of the best mattresses of the industry, too - maybe your dream bed is actually waiting for you there?
Purple Deal Active Right Now:
Purple Black Friday Deal
Up To $800 OFF
Don't miss a chance to purchase Purple mattresses with an impressive $800 discount. You deserve to enjoy this Purple Black Friday Sale!
Expiration date: 27/09/2023
2,089 People Used
Only 72 Left
Leave your honest feedback
Leave your genuine opinion & help thousands of people to choose the best mattress. All feedback, either positive or negative, are accepted as long as they're honest. We do not publish biased feedback or spam. So if you want to share your experience, opinion or give advice - the scene is yours!