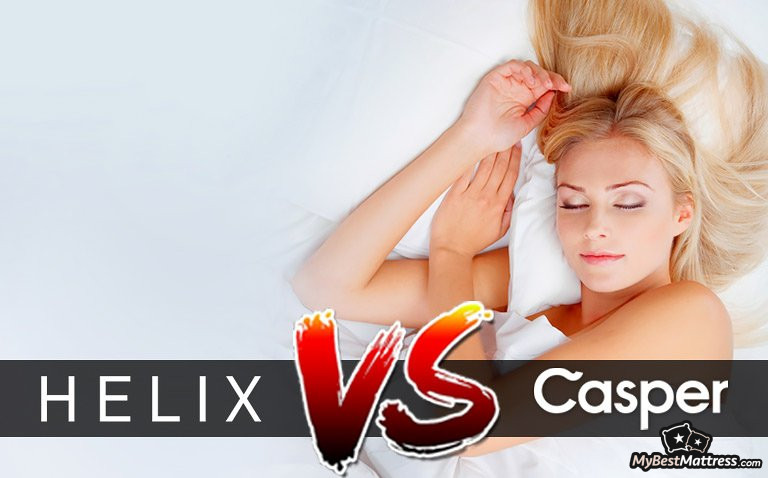 Helix VS Casper - each unique and very different from one another, however, which one of the two - hybrid or memory foam mattress is a better option?
Finding a mattress that benefits your sleep is crucial. After all, sleep deprivation is often linked to a higher mortality rate, inability to focus[1] and fully perform. Thus, if you're suffering from a lack of sleep, then it might be time to take a look into new options.
In this Helix VS Casper comparison, I'll take a look into both mattresses, compare each of their features, provide you with pricing options, and answer the question - which one of the mattresses is better?
Before moving further, I have to notify that there's a possibility to see all the Helix mattress VS Casper characteristics in one place. To do so, use the comparison tool.
Helix VS Casper - The Most Crucial Features
In order to perform a thorough Helix VS Casper comparison, it's important to know which features are the most crucial ones. Thus, let's go through each of them so that you would know why they're so important.
If you can't wait to see the comparison results, then you can take a look at the general characteristics provided below.
Table: Helix VS Casper features' comparison.
As you can see, the results look pretty even, however, there's so much more to find out about these two mattresses. Thus, further analysis is needed.
Here are the Helix VS Casper measurements to be considered:
Durability. It's crucial to pay attention to the quality of mattress materials in order to make sure it's durable and will serve you for quite some time.
Firmness. Not all providers offer mattress firmness that can benefit all sleepers. It's important to know how soft or firm your mattress should be not only based on your personal preferences but also on various health issues.
Cooling. I doubt that any of you like sleeping hot and sweating throughout the night. At least I don't. Thus, choosing a mattress that manages to maintain the neutral body temperature is crucial. We'll see which of the Helix VS Casper have better thermoregulating qualities.
Motion transfer. Sleeping with your partner can be disturbing, especially if one of you is experiencing regular nightmares, tossing and turning all the time.
Noise isolation. Similar to motion transfer, noise isolation is rather important to each of us. If every time when turning around you hear squeaks and creaks, you will probably experience nightly interruptions that lead to less quality sleep.
Bounciness. Mattress bounciness together with responsiveness is the two aspects that are needed for couples and their private one on one time. You know what I'm talking about.
Pressure point relief. The ability to alleviate the pressure points is a miracle. Such a mattress can revive you after a long day at work and allow you to wake up completely rested and ready to rule the world.

Now that each of the aspects is clear, it's time to move on to the actual Helix VS Casper comparison and find out the truth.
Helix VS Casper - The Comparison
When I search for specific products myself, I have to go through various different reviews to finally find the one that's both clear and provide me with all the needed information. For this reason, I'll go through each of the provided aspects one by one and compare Helix VS Casper.
Durability
I'll begin by telling you that these two mattresses are very different. Helix is a hybrid mattress that has coils in its structure while Casper is a memory foam bed. After the research, it became clear that people tend to change innerspring mattresses more often than memory foam.
Let's take a look into each of their construction to understand more about Helix VS Casper differences. Note that in this comparison, I'll be reviewing the Helix Midnight mattress, so, don't get confused.
Let's begin Helix VS Casper design comparison from Helix:
2" Memory Foam
1" HD Polyfoam
6" Wrapped Coils
1" DuraDense Foam
And here's the Casper mattress layers:
1.5" Latex Foam
1.5" Memory Foam
1.5" Polyfoam/Polyurethane Foam
5" HD Polyfoam
As you can see both beds are designed out of four different layers. What is more, both of them include memory foam, polyfoam, and foam in their layers. So, they're quite similar, yet very different.
Both beds have a higher-than-average lifespan. Moreover, since the providers completely trust in the quality of the products that they offer, you get a 10-year warranty. It means that your bed will serve you at least that long. In case of any manufacturing flaws, the manufacturers are obligated to change your mattress to the new one.
Table: Casper VS Helix trial, warranty, shipping.
Therefore, in Helix VS Casper durability comparison, it's quite clear that both of them will serve you longer than expected and you get all the assurance that the product you purchase is of the highest quality.
Latest Saatva Coupon Found:
UP TO $500 OFF
Limited-time Saatva Sale
We're sharing a limited-time Saatva mattress discount with our readers! Grab this deal & enjoy your new mattress with huge discounts.
Expiration date: 08/12/2023
4,042 People Used
Only 83 Left
Firmness
When choosing a mattress, it's important not to forget that we're all unique sleepers - prefer different sleeping positions, have different health issues and are of different weight. So, when picking a bed for yourself, always know that heavier sleepers should pick a firmer mattress while lighter sleepers usually choose a plushier option.
What is more, when sleeping, your spine should remain straight, and your hips should go in line with your shoulders. Both Helix and Casper mattresses are medium firm - 5.5 out of 10. It means that they should be the perfect option for the majority of sleepers.
Table: Helix VS Casper mattress firmness.
Moreover, such an option is almost always great for all sleeping positions. However, since back sleepers need more support, I would recommend choosing Helix mattress as it's a memory foam and is known for this quality.
Only heavier and very light sleepers should pick different alternatives. You see, when heavy sleeper picks a mattress that's too soft, it doesn't provide enough support and will not serve you as much as it should. When picking a mattress that's too firm, you may not find it comfortable and won't be able to feel all the benefits of the first mattress layers.
Therefore, when comparing Helix VS Casper, it's clear that they both are great for medium-weight sleepers.

Did you know?
Cooling
Temperature neutrality is highly linked to sleep quality. Based on the research, both heat and cold exposure negatively impact the quality of your sleep[2] - lead to more wakefulness and decreased REM and Slow-wave sleep. So, the mattress thermoregulation function is crucial for everyone who wants to get the best of their rest.
What is more, another study suggests that increased temperature is associated with less comfortable sleep[3]. Needless to say, that's one more reason to pick a mattress with temperature regulating qualities.
It's safe to say that innerspring mattresses usually have better thermoregulation qualities than memory foam beds. But let's compare Helix VS Saatva beds to find out if it's the case with these two mattresses.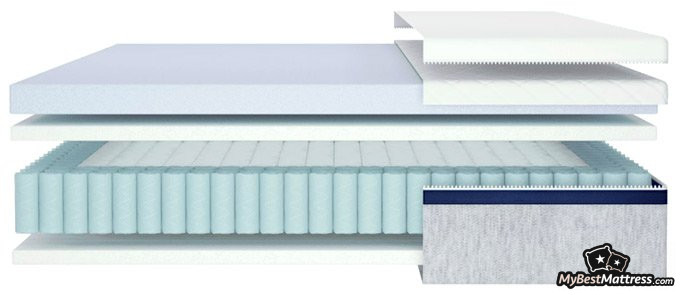 Based on the data, the Helix mattress is better at maintaining neutral body temperature throughout the night. The majority of sleepers were pleased with the experience. Casper owners, on the other hand, said that during the hot nights it tends to trap some heat. However, it still performs quite great compared to the memory foam mattresses of lower quality.
It seems that Helix manages to provide such thermoregulation qualities due to the airflow in the mattress coils. Thus it's clear that this time the Helix VS Casper competition wins the innerspring bed.
Motion Transfer
Couples know the struggle of the motion transfer. When your partner moves, he or she creates interruptions and constantly wakes you up during the night. However, this problem can be easily solved by picking a mattress that transfers zero motion.
Individuals who experience this problem, usually pick memory foam mattresses as they're known for truly good motion isolation. However, it's not always the rule. What surprised me when comparing Helix VS Casper mattress is that the innerspring mattress managed to reduce motion transfer better than memory foam bed.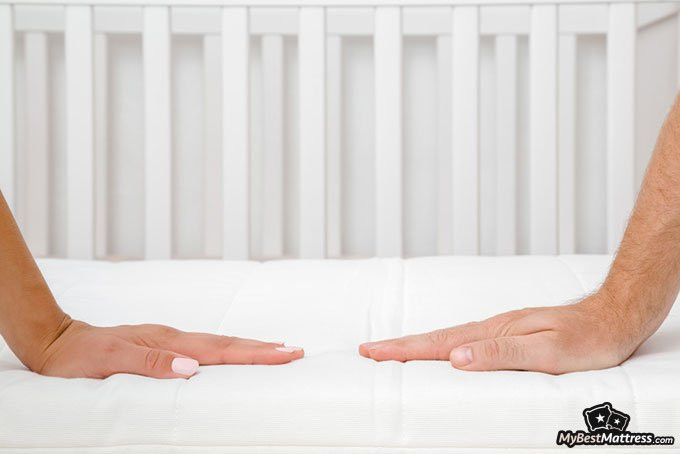 Helix is one of few innerspring mattresses that manages to significantly reduce motion transfer and allows couples to experience uninterrupted sleep. Casper, one the other hand, showed slightly worse results but still managed to cope with the task quite well.
Thus, in this Casper VS Helix motion transfer, innerspring mattress thrived.
Noise Isolation
Noise isolation just like motion transfer can interfere with your sleep. Once again, this measurement is crucial for couples. When tossing and turning throughout the night, your mattress might be producing some squeaks and creeks that's not only annoying but can also interrupt your sleep.
For this reason, it's important to pick a bed that can isolate the noise significantly. Casper is one of the best options when picking the most "quiet" mattress. Since it's a memory foam mattress, it doesn't have anything in its structure that could produce noise. That's why it works so well.
Helix, on the other hand, does produce some noise when tossing and turning on the mattress due to the mattress coils. However, the majority of Helix owners didn't name it as a flaw, so, it shouldn't be a problem if you decide to go with this option.
Bounciness
Now let's move to bounciness - the feature that shows how good a mattress responds to pressure. Bounciness together with responsiveness is the two qualities that can define how good a mattress is for sex.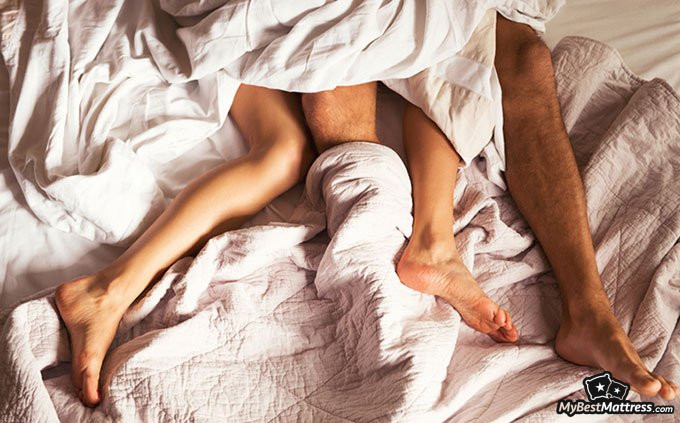 It's known all around and there's no reason to hide the fact that memory foam mattresses are way less bouncy than innerspring. That's exactly what became clear after Helix mattress VS Casper bounciness evaluation.
Helix, being innerspring mattress as it is, offers great bounciness and responsiveness, which makes it perfect for your quality time. Now, since Casper is a memory foam mattress, it lacks some responsiveness to pressure and is not as good. However, comparing it to other memory foam mattresses in the market, it performs quite well.
Pressure Point Relief
Individuals who sit all day by the computer, seniors, people who experience aches and everyone else who want to get the most of their nighttime sleep, should look for the bed that can relieve the pressure points.

At this point, Helix VS Casper mattress comparison doesn't give much as both mattresses work equally great. They both offer back, joint and neck relief together with the needed shoulder support.
Table: Helix VS Casper mattress pressure points.
So, no matter which bed you pick, they will both provide you with amazing qualities. However, if it would be my choice, I would pick Helix mattress, as I find innerspring beds better for my personal needs.
Pricing
Mattress features are always what should come first when picking an option for yourself. However, pricing is the aspect that can change your decision. For that reason, it's crucial not to forget the Helix VS Casper price comparison.
Here's the list for Helix price and size options:
And here's Casper's pricing:
Note that the provided pricing was at the time the Helix mattress VS Casper comparison was written. Thus, they might be slightly different at the time you're reading this comparison article.
As you can see, both providers offer lower than average pricing. I was mostly surprised by the Helix mattress pricing because innerspring mattresses are usually way more expensive. Thus when comparing Helic VS Casper, it's obvious that the pricing doesn't make much difference.
Conclusions
All things considered, both Helix hybrid and Casper memory foam mattress are great options for people who appreciate quality nighttime sleep. However, in this Casper VS Helix comparison, a few major differences were defined.
Helix is a much better option for those who prefer a mattress with great temperature regulation qualities, very minimal motion transfer, bounciness, and responsiveness. These qualities are generally associated with innerspring mattresses.
The only factor that is better in Casper mattress is noise isolation as it's a memory foam mattress and has no parts of its structure that could produce sound.
All things considered, in this Helix VS Casper mattress comparison, the innerspring mattress managed to outweigh its competitor.
Table: Helix VS Casper mattress overall score.
Before making the final decision, you can take advantage of our comparison tool, and see all the Casper VS Helix differences in one place.
Scientific References
1. Marco Hafner: 'Why Sleep Matters: Quantifying the Economic Costs of Insufficient Sleep'
2. Kazue Okamoto-Mizuno: 'Effects of thermal environment on sleep and circadian rhythm'
3. R.Califano, A.Naddeo: 'The effect of human-mattress interface's temperature on perceived thermal comfort'
Leave your honest feedback
Leave your genuine opinion & help thousands of people to choose the best mattress. All feedback, either positive or negative, are accepted as long as they're honest. We do not publish biased feedback or spam. So if you want to share your experience, opinion or give advice - the scene is yours!