Adjustable beds refer to the mattress foundation that can be customized based on your needs: raised at the head or leg area as much as you like. Even though some people still associate adjustable beds with the hospitals, it's no longer just for people with health issues.
Nowadays, many people prefer having adjustable beds at home, not only for such issues as snoring or sleep apnea but because it's super comfortable. You can raise your legs after a long day at work, or raise your head once reading a book or watching a movie. What is more, most modern options can be adjusted using remote control.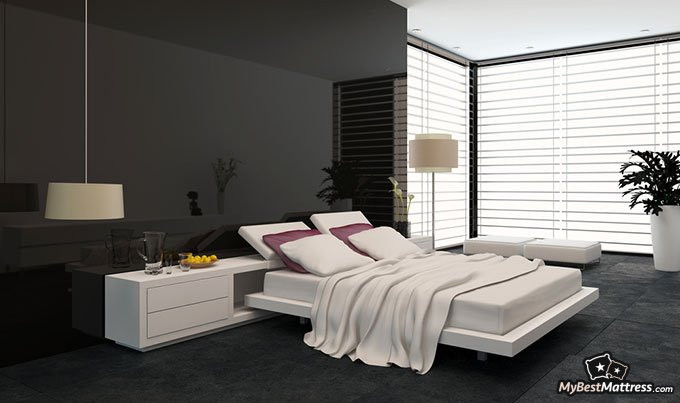 Since there are so many different options, the best adjustable beds can be difficult to find, especially when you need to pick only one of them. For this reason, I did my best at finding the most worthy adjustable bases that sleepers evaluated as the most comfortable. Take a look at the top 5 picks:
The options are clear, however, you're not yet aware of all the benefits that the best adjustable beds can provide you with. So, before getting straight into the reviews, I want to give you additional information.
Best Adjustable Beds: How Can They Improve Our Health?
Without long introductions, let me introduce you to some major benefits associated with the best adjustable beds:
Reduce leg swelling. There are many different reasons for swollen legs, some of them are more serious than others. It might be caused[1] by pregnancy, medications, liver disease, and other health issues. Best adjustable beds will help you to reduce leg swelling by raising your legs.
Back pain relief. By being able to adjust bed based on your needs, you can easily find the perfect position to reduce the back pain. You can lift your head up by 45 degrees and relieve the pressure to the lower back. Based on adjustable beds reviews, this is one of the most effective ways to reduce back pain.
Ease snoring, sleep apnea and asthma. These issues migth occur when sleeping on a flat surface. Based on the research[2], sleep apnea can affect people of various ages, even children. By slightly lifting your head, you will improve the airflow while reducing sleep apnea and will get more oxygen, meaning smaller chances for an asthma attack.
Improve circulation. You can position your mattress in the needed position to improve blood flow.
I've named only some of the conceivable benefits of the best adjustable beds, there are so many more of them. So, you can imagine what they're capable of.
Now, let's take a look at each of the products, their pros and cons, and, of course, find out what are adjustable beds prices.
Ranks #1 out of 5 Mattresses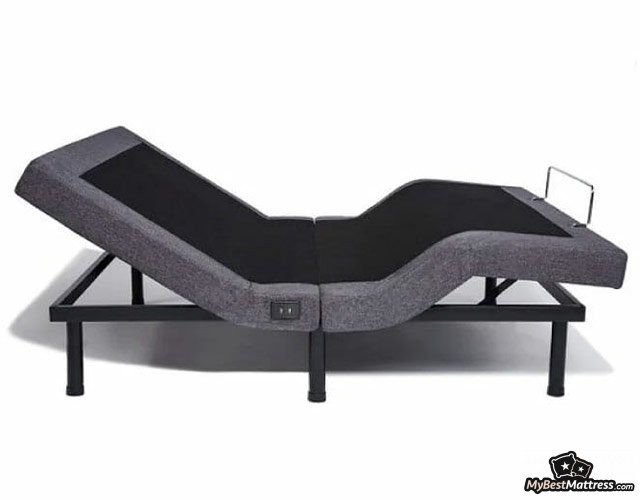 Things we liked:
+ Quickly adjusts sleeping position
+ Zero-gravity function
+ Two USB ports
+ Build-in massage
Things we didn't like:
- King-size is often unavailable
Nectar's product is often considered as the best adjustable bed. And for a good reason. It offers a luxurious-looking bed frame for the most inexpensive pricing. Using this adjustable frame, you can easily lift your head or/and feet up, to find the perfect position for sleeping, reading or watching a movie.
When choosing a king-size bed frame, you can choose the split version. It means that you and your partner will be able to find the right position - you can even choose different height options.
Nectar's adjustable bed frame offers the zero-gravity function. It was first founded by NASA as an optimal sleeping position for astronauts who were heading to space. With only one click, using the remote control, you can set this sleeping position immediately.
What is more, since Nectar adjustable bed frame comes with two USB ports, you can use it to charge any electronic device without getting out of your bed. Also, it offers built-in massage - one session lasts 15 minutes while providing you with relaxing vibrations.
How Much Does Nectar's Adjustable Bed Frame Costs?
Nectar's adjustable bed frame costs from $649 to $1298. It's way lower than the average price range, especially considering the fact that adjustable bed reviews often evaluate it as the best option.
What is more, since such a product is a huge investment, you should take advantage of Nectar's 50-night home trial. Also, you get a 3-year warranty. Therefore, if any manufacturing flaws appear, you'll be completely safe.
You should also be aware of additional deals and discounts. Since Nectar and other providers that offer the best adjustable beds carry out various promotions, you can easily decrease the pricing.
Ranks #2 out of 5 Mattresses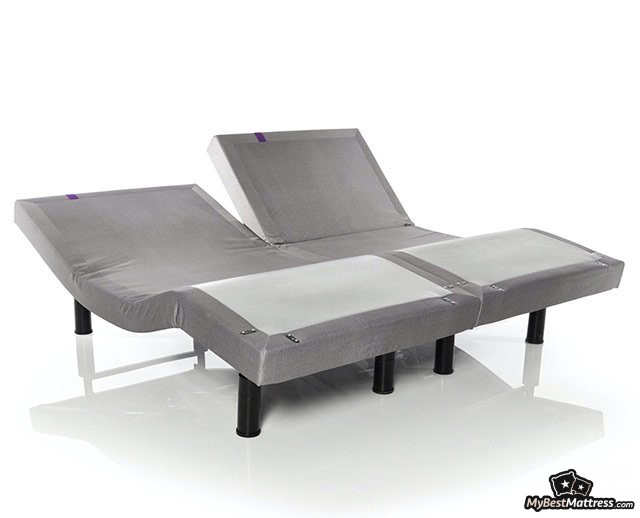 Things we liked:
+ Free white-glove delivery
+ Different massage functions
+ Great for loud snorers
Things we didn't like:
Purple's PowerBase is amazing not only for people who experience such health issues as sleep apnea, asthma or back pain but also for those who simply want to improve the quality of their sleep by finding the perfect sleeping position that no mattress or pillow can provide.
You can choose from different sizes and even split design once choosing a king-size bed. This way, you and your partner will be able to adjust different sleeping positions. What is more, PowerBase offers the zero-gravity position that is considered the most natural and healthy body placement for sleep.
What is more, you get the resonant frequency massage that comes in five different settings. So, it not only your bed but also your in-home spa.
Now, of course, you get a remote control and can use the USB port to charge your electronic devices. Also, since Purple known that finding your bed in the dark is not always so simple, they integrated under-bed lighting for their best adjustable bed.
How Much Does Purple PowerBase Costs?
Purple PowerBase costs from $1399 to $2798. Even though it seems truly expensive, most good adjustable beds prices are similar. The only sad part is that you don't get a trial period. However, to fix it, Purple offers a limited 20-year warranty.
What is more, you get free white-glove delivery, which means that the PowerBase will be delivered and set up. If you'll want to get rid of your old mattress, that will be taken care of as well. To get one of the best adjustable bed for attractive pricing, you should check out the most recent offers.
Ranks #3 out of 5 Mattresses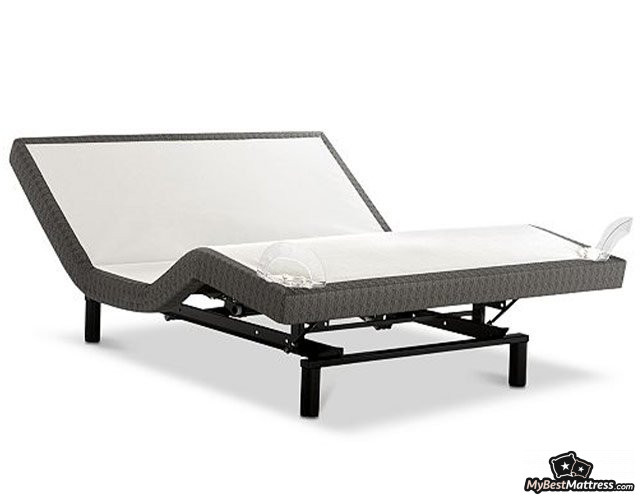 Things we liked:
+ Control various angles
+ 3 massage options
+ Remote control included
Things we didn't like:
- No free trial
- No USB port
Saatva's adjustable bed allows every sleeper to find a perfect sleeping position by regulating the hight of your head, neck, shoulders, and legs. Since you have the ability to control various angles, you can find a position for different activities: reading a book, watching a movie, and so on.
Their adjustable bed is made of the steel foundation, polyester cover, and motor. Since it's made using only one material, the foundation doesn't look bulky at all, it's all smooth and even. Saatva's adjustable bed also has transparent corner retainers that allow keeping the mattress in place.
The bed can be raised 14" to 18" inches from the floor, and legs can be adjusted from 6" to 10". Lineal also offers 3 massage options: full-body wave, head, and leg. And you can choose from three different speeds. Everything is regulated using the remote control.
Even though the Lineal base is recommended to use together with Saatva's mattresses that are up to 11.5" tall for the best results and most pleasurable experience, based on adjustable beds reviews, your old mattress can work as well.
Even though it's one of the best adjustable beds, Lineal's transitioning from one position to another takes longer than expected. This information is based on adjustable bed reviews.
What is Saatva's Lineal Pricing?
Adaptable foundations can be truly pricey, especially when talking about the best adjustable beds. However, Saatva manages to offer great price-quality ratio. At the moment the price ranges from $1,199 to $2,498, depending on your size preferences. Remember that prices can slightly vary.
Saatva will not only deliver Linear for free but will also set it up for you without additional charges. You also get a 25-year warranty, and you won't be paying for any repairs for the first 5 years.
By the way, you should check out the most recent Saatva mattress promotions here. You will find exceptional offers.
Ranks #4 out of 5 Mattresses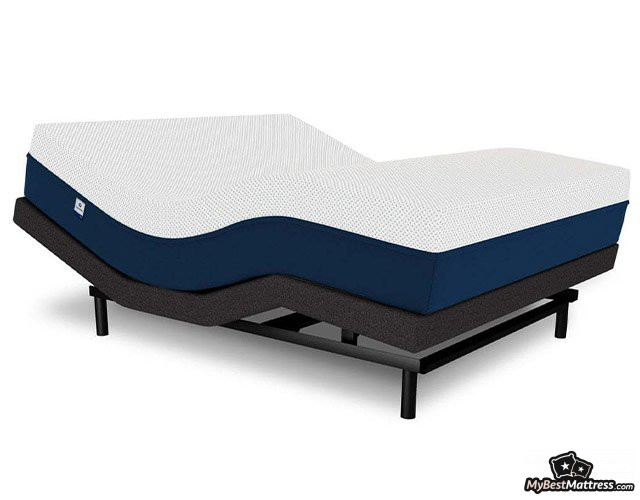 Things we liked:
+ Comes together with a mattress of your choice
+ Snore button
+ Under-bed lighting
Things we didn't like:
As the name says, Ameriseep offers the whole package. It includes one of the best adjustable bases together with a mattress of your choice - soft, medium, and firm. But let's now focus on the base.
The adjustable bed comes with a remote control that offers a variety of features, including different sleep positions, pillow-tilt, and even snore button. What is more, you get a full-body wave massage that sleepers find a perfect relaxation method after a long day at work.
What is more, the Amerisleep adjustable bed comes with under-bed lighting that's fully-dimmable. So, you can create a perfect atmosphere for you and your partner.
Moving further, Amerisleep created their adjustable bed using Wallhugger® engineering. It lifts you up while gliding your back at the same time.
What is Amerisleep Adjustable Bed Package Pricing?
Since it's the whole set, it's perfect for when you also consider getting a new mattress. Amerisleep adjustable bed package costs from $3088 to $5877. Needless to say, the price is higher than the average but don't forget that you get two products.
What is more, you get a 100-night free trial for Amerisleep mattress, however, such an option is not provided for their adjustable bed. But you get a 10-year warranty that will keep you safe in case of any manufacturing flaws. So, you're completely safe.
Ranks #5 out of 5 Mattresses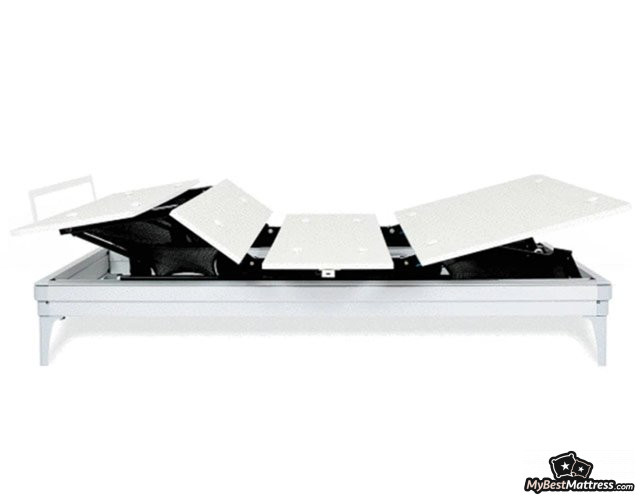 Things we liked:
+ 10-year warranty
+ Free white-glove delivery
+ Modern-looking
+ No massage function
Things we didn't like:
- Weight limit 700 lbs per base
Yaasa offers one of the most modern-looking and one of the best adjustable beds in the market. It allows you to choose from various sleeping positions, even zero-gravity - the healthiest and most natural sleeping potions of them all that was first founded by NASA.
Based on the best adjustable bed reviews, Yaasa is great for heavy snorers. It offers a special anti-snoring position and an extra sharp head lift that works perfectly.
Yaasa has an exceptional design that includes a Premium Aluminum frame and matte finish. Such a design is favored by minimalists. It uses the Wall Sliding Technology that makes sure the distance between you and your nightstand remains the same no matter what's your sleeping position.
What is more, it comes with USB outlets, so you can charge your electronic devices. The clean design also provides spacious under-bed storage.
However, there's one major drawback - a weight limit of 700 lbs per base. If you get Split King, then the weight limit is twice as much. But in other situations, Yaasa is simply not the best adjustable bed for heavier individuals.
How Much Does Yaasa Adjustable Bed Cost?
It's quite similar to other adjustable beds prices. The cost varies from $1699 to $3199. So, while it's definitely not the cheapest alternative, Yaasa manages to maintain quite a good price-quality ratio.
It comes together with a 10-year warranty and white glove delivery. It means that you'll be protected from any manufacturing flaws, and your bed will be installed for you.
Conclusions
As promised I've provided with the best adjustable beds. All five products are on the list because they allow you to find the right sleeping position while controlling their adaptable base.
However, it's clear that Nectar offers the best adjustable bed. It offers the lowest price, yet manage to provide the most distinctive features and variety of functions, including adjustable height, zero-gravity position, USB port, built-in massage, and others. Based on adjustable beds reviews, this is the most recommended option.
For the best experience, I recommend purchasing a Nectar mattress together with their adjustable bed. However, if you want to consider other options, then you can check out the most recommended options here.
I hope this article was helpful and you've managed to make up your mind about which one of the best adjustable beds to pick.
Scientific References

✓ Fact Checked
1. Natalie S Evans, Elizabeth V Ratchford: 'The swollen leg'
2. Matthew L. Ho and Steven D. Brass: 'Obstructive sleep apnea'
Leave your honest Best Adjustable Beds review
Leave your genuine opinion & help thousands of people to choose the best mattress. All reviews, either positive or negative, are accepted as long as they're honest. We do not publish biased reviews or spam. So if you want to share your experience, opinion or give advice - the scene is yours!