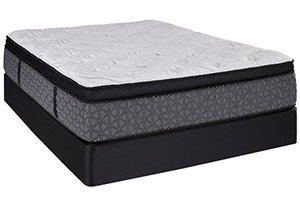 Finding the right mattress based on your wants and needs requires both time and effort. This Restonic mattress review will help you decide which bed to pick for better sleep.
Restonic was founded in 1938 as the Triple Cushion Corporation. In 1946 they got the name as it's today. So, the company has been around for a while and were looking for new ways to improve the quality of their products and your sleep.
To help you decide which bed to choose, I'll provide you with Restonic mattress reviews and introduce you to every collection while mostly focusing on Scott Living beds that customers seem to be loving the most.

Verdict at a glance
Restonic mattresses have been in the market for quite some time now. The issue is that not all Restonic mattresses are available online, and since the same models have different names, it gets very confusing. Overall, the beds are supportive and sleep relatively cool.
Pros
Cooling properties
Variety of designs to pick from
Cons
Can be too expensive
Some customers question the quality
Restonic Mattress Reviews: Introduction to Beds
On the official Restonic site you'll notice that they offer three mattress collections, including:
ComfortCare Mattresses
Biltmore Mattress
Scott Living Mattresses
Each of these collections offers distinctive mattress designs and firmness options. ComfortCare mattresses come in different levels of comfort: pillow top, firm, euro top, and cushion firm. Each of the beds in this collection has the same structure, however, they differ in the height of the layers to create a firmer or softer feel.
ComfortCare mattresses feature in Marvelous Middle technology that provides you with additional support, gel-infused memory foam, high-density extra-firm foam, airflow border, and Superedge Plus® - technology that makes edges of the bed firm. Based on Restonic mattress reviews, these products are worth the attention, however, they can be pretty expensive.
Now, Biltmore mattresses offer four mattress models to pick from, including microcoil, hybrid, memory foam, and latex. So, it's pretty clear that each of them has distinctive qualities for everyone's needs. Even though Bitmore mattresses are quite expensive, I've noticed that they offer discounts and promotions that decrease the Restonic mattress price significantly.
The last collection is Scott Living mattresses. After going through Restonc mattress reviews, I came to the conclusion that these models are the most favored among sleepers. For this reason, I'll go through more detailed Restonic mattress reviews while focusing on each of these models.
Scott Living mattresses come in microcoil, hybrid, memory foam, and latex designs. Since they're using different structure elements, it's a must to pick the design based on your personal wants and needs to get the most of your sleep.
Since you already know your options, it's time to focus on more detailed Restonic mattress reviews and beds that seem to be the most loved by the sleepers.
Scott Living Mattresses: How Good are They?
You may have heard about Drew and Jonathon Scott who have been renovating houses on the show Property Brothers. Not that long ago, after realizing what significant role furniture play in our house, they decided to focus on mattresses and partnered with Restonic.
To evaluate how good each of Scott Living products are, I went through Restonic mattress reviews and can now present all the results to you. So, let's take a look at each of the beds one by one.
Scott Living Microcoil
I'll start with Scott Living Microcoil mattress. It's safe to say that you don't come across such models often. This bed features in more than 1,300 individually-wrapped coils that make it very supportive.

To make sure that the bed is breathable, Scott Living use the special Restonic's technology. It's super soft to touch and adds additional coolness. The second layer features in aluminum fiber infused foam that provides you with more comfort, support, and breathability that the traditional foam.
The third layer is created using micro-coils, and the last layer that features in pocketed coils, gives you firm edges, and 5 support zones to keep your spine straight.
Now, what is the Restonic mattress price? The queen-size Scott Living Microcoil mattress costs about $1300 USD. But remember that prices are constantly changing.
Thus, this bed is great for everyone who hates sleeping hot. If you want to find more options like this, you should check out the list of the best cooling mattresses.
Latest Saatva Coupon Found:
UP TO $500 OFF
Limited-time Saatva Sale
We're sharing a limited-time Saatva mattress discount with our readers! Grab this deal & enjoy your new mattress with huge discounts.
Expiration date: 29/09/2023
4,042 People Used
Only 83 Left
Scott Living Hybrid
Scott Living hybrid bed is quite similar to their Microcoil model. The only difference is that there are no micro coils in the structure, only the layer of pocketed coil springs.

This mattress is also made of the Alumilast memory foam, Talalay latex, Quantum edge support, and Q5 coil system. So, you can expect it to have pressure relieving qualities, support, and cool sleep.
Restonic mattress reviews claimed that these mattresses are durable, however, the main question still remains - what is the Restonic mattress price? The cost for Scott Living Hybrid mattress is about $1200 USD for a queen-size bed. Even though it's quite average, you can easily find better-evaluated beds for even less.

Did you know?
Scott Living Memory Foam
Based on Restonic mattress reviews, Scott Living's memory foam model is great for everyone who wants a bed that offers close conforming. This bed is great for side sleepers, as it hugs the shoulders and supports hips to keep your spine aligned.

Since all Scott Living beds feature in aluminum-infused foams, Restonic mattress reviews say that they sleep cooler than regular memory foam mattresses. Also, everyone who experiences aches should consider it as a great alternative as it offers pressure point relief.
On the other hand, if you don't like the traditional memory foam feel, then you won't like this mattress as well - you will feel like sleeping in the mattress rather than on top of it. That's why it feels warmer than innerspring or hybrid mattresses.
Based on Restonic mattress reviews, Scott Living memory foam mattresses are one of the least expensive options that they managed to purchase for as low as $899 USD for a queen-size mattress.
If you're a fan of memory foam mattresses, then you should be aware of other recommended alternatives.
Scott Living Latex
Everyone's who's willing to invest in the quality of their sleep, should consider latex mattresses. They're the best option for sensitive people due to hypoallergenic properties.

Scott Living offers a mattress that's made of high-quality latex. It's not only breathable and supportive but also bouncier than memory foam mattresses. What is more, getting out of the bed won't be an issue because the edges are firm.
You're probably wondering how much it would cost to get a Scott Living Latex mattress. The price is about $2000 USD for a queen-size mattress, depending on the retailer. However, since they're constantly changing, don't be surprised to see even higher pricing.
If you're looking for environmentally friendly alternatives that wouldn't cost you a fortune, you should take a look at the Latex mattresses that offer the best price-quality ratio.
Which Mattress Type Should I Choose?
About 70% of people[1] are affected by sleep problems. One of the conceivable causes is an unsuitable bed. It means that you should pay crucial attention when picking the right mattress.
When choosing a new bed you need to consider your weight, sleeping position, health issues, and personal preferences. To help you to make the right decision in this Restonic mattress review, I would like to present you with different types of beds together with their pros and cons.
The most popular types of mattresses you can find in the market today are:
Memory foam
Innerspring
Hybrid
Let's get through them.
Memory Foam
Memory foam was invented by NASA-funded researchers that aimed to keep pilots cushioned throughout the flight.
Memory foam mattresses are great for everyone who prefers sleeping in the mattress rather than on top of it. They "hug" you and provide close conforming together with pressure relieving qualities.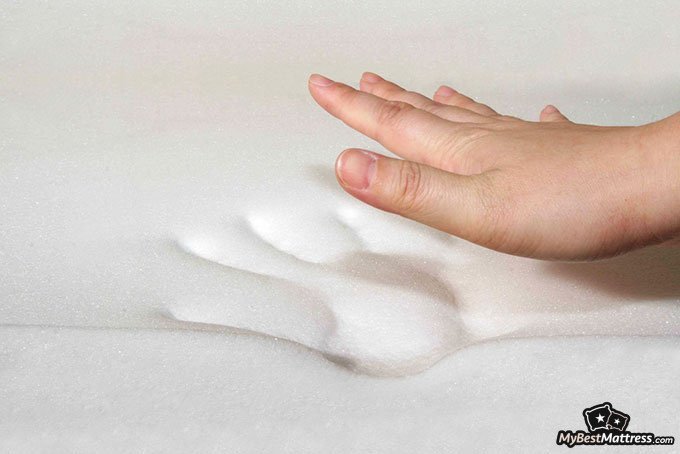 Such beds tend to be amazing for side sleepers. The problem with sleeping on your side is that your hips can sink in, and your shoulders might get too much pressure. It can easily result in a crooked spine.
Now, once sleeping on a memory foam mattress, you will feel that your shoulders are hugged while hips supported. It means that your spine stays in a straight, healthy position, and you wake up rested without feeling aches in problematic areas.
You should also pay attention to memory foam mattress firmness. Since there are multiple options, pick one based on your needs. If you're a light sleeper, you should pick a softer bed, whereas if you weight more than 230 lbs, you should pick a firmer option. The denser the foam, the firmer the mattress is.
However, even if about 60% of the adults in Europe[2] pick such beds, memory foam mattresses tend to sleep too warm and have very soft edges that make it uncomfortable to get out of the bed.
If you're interested in memory foam mattress but these qualities seem very unattractive, then you should check out the list of the recommended alternatives that manage to solve these issues.
Innerspring
Innerspring mattresses are no longer as they used to be. Now, all respectable options are made with individually wrapped pocketed coil springs that produce very minimal sound. Innerspring Restonic mattresses also feature this structure.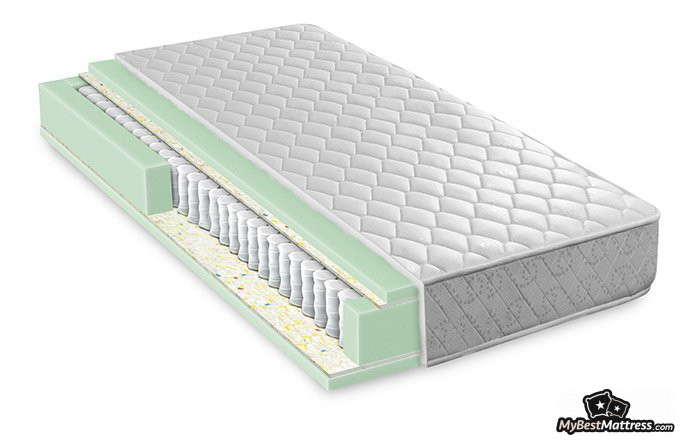 What I and many other sleepers love about innerspring mattresses is that they tend to sleep really cool. After all, waking up in sweat is not something we desire. Due to the airflow in the mattress coils, you will never sleep hot. What is more, the best mattresses for sex always feature in spring construction. So, you can spend some quality time with your partner.
Just like with every other mattress, you should make sure to pick the right level of firmness to ensure better sleep. One study researched how medium-firm memory foam mattresses affect sleep and noticed a significant improvement in sleep quality.
The only issue is that innerspring beds are not as conforming and pressure relieving as memory foam mattresses.
Hybrid
Finally, hybrid mattresses. You should think about them as a mixture of innerspring and memory foam or latex beds. Hybrids tend to be more expensive than memory foam and innerspring mattresses due to a more sophisticated structure.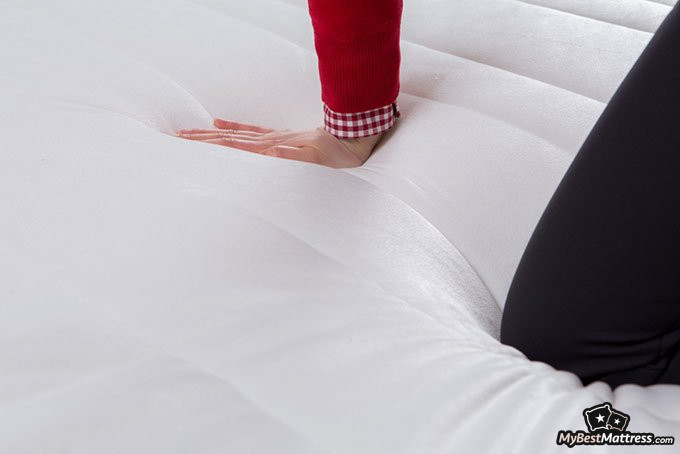 The main goal of the hybrid mattresses is to bring out all the best features of memory foam and innerspring mattresses, such as conforming and pressure-relieving properties and, at the same time, bounciness and support. Only the most recommended brands manage to reach this goal.
If you're experiencing chronic back pain that is a very common issue, then it's recommended to choose either an innerspring or hybrid bed.
Therefore, when choosing between Restonic mattresses, you should always pay attention to their structure. Even though all the qualities I named are common to specific mattress types, it doesn't necessarily mean that it's a rule and every bed will be the same.
So, pay close attention to Restonic mattress reviews and you'll easily make the right decision.
Here is The Best Saatva Offer I Found:
UP TO $500 OFF
Limited-time Saatva Sale
We're sharing a limited-time Saatva mattress discount with our readers! Grab this deal & enjoy your new mattress with huge discounts.
Expiration date: 29/09/2023
4,042 People Used
Only 83 Left
Conclusions
All things considered, Restonic mattress reviews seem to be rather positive. Sleepers like the way their mattresses feel - cool, supportive, and pressure relieving.
Even though Restonic offers multiple mattress collections, Scott Living beds are the most favored option. You can pick from four mattress models, including Microcoil, Innerspring, Latex, and Memory Foam.
Each of them features in Alumilast cooling materials but strongly differ in structure. For this reason, you should pick the best option based on your personal preferences. Even though Restonic mattress reviews are really helpful, we all have unique needs.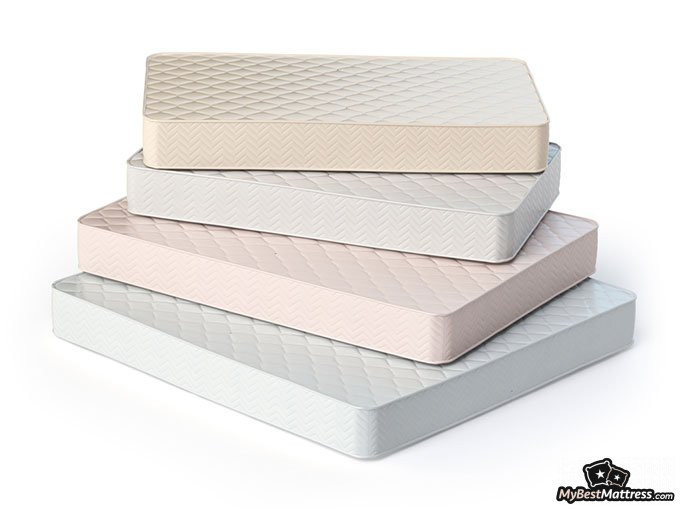 If you need more guidance on which mattress to choose, you should check out this guide. And if you're open to suggestions, then you should take a look at the list of the most recommended beds. They all come with a money-back guarantee, free shipping & returns, and can be ordered online.
Scientific References
1. Bert H. Jacobson, Ali Boolani, and Doug B. Smith: 'Changes in back pain, sleep quality, and perceived stress after introduction of new bedding systems'
2. Doug Cary, Kathy Briffa, and Leanda McKenna: 'Identifying relationships between sleep posture and non-specific spinal symptoms in adults: A scoping review'
Leave your honest Restonic review
Leave your genuine opinion & help thousands of people to choose the best mattress. All reviews, either positive or negative, are accepted as long as they're honest. We do not publish biased reviews or spam. So if you want to share your experience, opinion or give advice - the scene is yours!