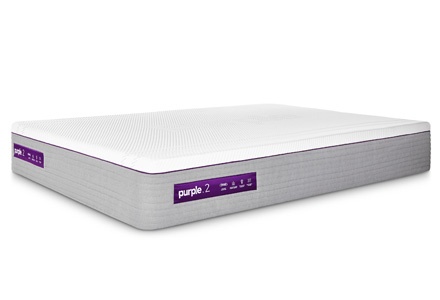 Choosing a mattress can get slightly confusing. Keeping that in mind, in this Purple Hybrid mattress review, I'll talk about one of the best hybrid mattresses with GelFlex grid.
In my opinion, every individual should consider investing in their sleeping quality. Besides, our world contains numerous options of anything you could think of. So there is no doubt that "your perfect match" is out there somewhere. Maybe in this Purple Hybrid Mattress review?
Speaking of which, I would watch a series of "your perfect match" aimed at mattresses. Yes, I'm that old. Or, am I?
In all seriousness, I'll talk about the pros and cons, which hybrid mattress is the best, and is the Purple Hybrid mattress worth it overall?
TL;DR: Purple Hybrid is suitable for back and side sleepers, not as great for stomach sleepers. It's made of 3 layers which include a purple grid comfort layer. The comfort layer makes the mattress both soft and firm. Also, as the Purple Hybrid mattress reviews state, the mattress provides good support and temperature neutrality.
Pros
Very good temperature neutrality
Great motion isolation
Responsive
Firm at the right spots
Purple Hybrid Mattress Review: PROS
Let's be honest with ourselves. In the early stages of our life, we rarely thought about the quality of our bedding. These were the golden days, when you could easily fall asleep wherever you pleased and never felt the consequences in the morning. No back pain, no insomnia, no neck stiffness, or shoulder aches.
Well, time flies, and our needs change.
Keeping that in mind, different individuals require different bedding qualities. Since there are so many fundamental, practical elements to consider, this Purple Hybrid mattress review will be easily understandable and straight to the point.
So, let's start with the pros, shall we?
High-Quality Layers
Perhaps you were wondering how thick is the Purple mattress? In short, it depends on which particular mattress you are talking about. Regardless, the original Purple mattresses, as well as the Hybrid ones, aren't particularly thick. All of them fall into the middle category, more or less.
Each of these mattresses has varying thicknesses of its comfort layers. Furthermore, Purple Hybrid is the company's thinnest hybrid model. Depending on the option you choose, the Purple Hybrid Premier versions are a bit thicker.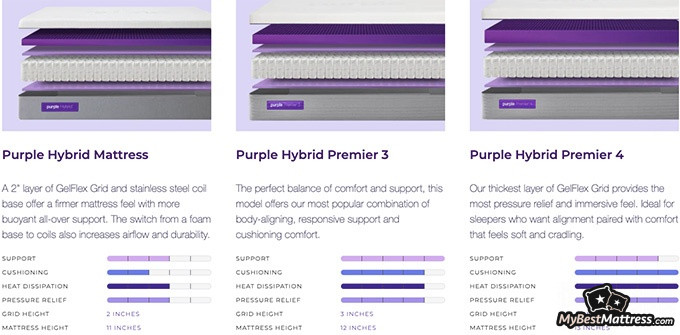 Sleepers who desire more room to snuggle into their mattress, or those who find it difficult to get into or out of a lower bed, may choose a thicker option. For beds with a smaller bed frame, the opposite option may be preferable.
Purple mattresses focus on being breathable and providing support to specific areas. Those might be the factors that determine how thick the Purple mattress will be.
There are a variety of different materials to use when compounding a mattress. As you've probably seen yourself — the Purple Hybrid mattress is no different. It's made of 3 separate layers.
The layers are divided into — transition foam, responsive support coils, and the purple GelFlex grid.
The transition foam is located at the bottom and top of the coils. It provides extra cushion and prevents sinkage. Which is amazing for spine alignment. Since, as we all know, if lying on your bed feels like sinking in a deep hole — your back will cry for help at some point. I've been there, and with the help of this Purple Hybrid mattress review, it should be easier to acknowledge the issue.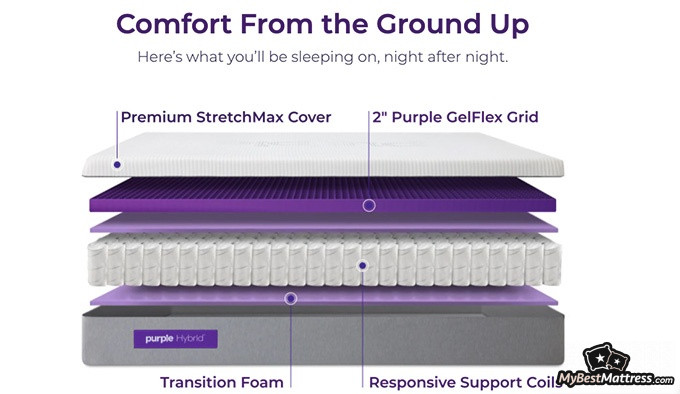 Next up we've got responsive support coils or pocketed coils — they are quite frequent in hybrid mattresses. Probably for a reason. Multiple smaller coils are separately wrapped in noise-reducing fabrics. Also, each spring should move independently. So, as a result, it will better contour to the shape of your body.
The star of this mattress — purple GelFlex grid. As I've mentioned earlier, this layer does the magic by making the mattress feel both soft and firm. So, more support in your back and legs, and softer to your hips and shoulders. That's truly something different, right?
Moreover, the material that the grid is made of is very stretchy and adapts to every bit of movement. Besides, it's something that makes the Purple mattresses stand out from the other ones out there. You won't find this unique technology elsewhere.
Moreover, the stretchy comfort layer is made out of hollow squares, making it look like some kind of utopian, geometric discovery. Regardless, the comfort layer is here to let the air flow freely and regulate the temperature. No overheating allowed! We are all cool here. Yes, while sleeping and in general.

The last thing, not part of the layers, but worth mentioning is the Premium StretchMax cover. It's designed to enhance the GelFlex grid effects and is very breathable because of the side panels.
The mattress layers are the mighty trinity. Or the three Musketeers behind the benefits. All of them combined, create the great Purple Hybrid mattress.
Getting that out of the way, we shall move on from technical aspects to the more fun stuff. However, let me remind you that this Purple Hybrid mattress review isn't an overview of the technical factors or numbers, it's aimed at the features that actually matter when choosing what mattress to sleep on, for the upcoming several years.
Latest Saatva Coupon Found:
UP TO $500 OFF
Limited-time Saatva Sale
We're sharing a limited-time Saatva mattress discount with our readers! Grab this deal & enjoy your new mattress with huge discounts.
Expiration date: 11/06/2023
4,042 People Used
Only 83 Left
Great For Side and Back Sleepers
Your sleeping positions are totally up to what seems the most comfortable. However, there might be more factors that have an influence. For example — people with sleep apnea should avoid sleeping on their backs[1].
Furthermore, if the Purple Hybrid Mattress review was something you intentionally searched for, I would like to immediately acknowledge that if you are"a weirdo" sleeping on your stomach, this mattress might not be the most comfortable choice, since this mattress is more suitable for side and back sleepers.
Nevertheless, people tend to switch their sleeping positions throughout the night. If the switching and turning are frequent — it might be a red flag that your bedding isn't comfortable enough.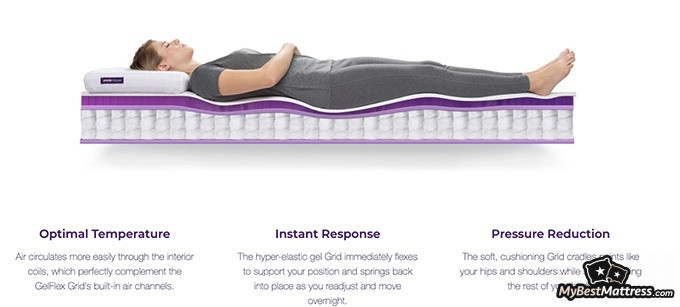 Speaking of Purple mattresses, their "no pressure" grid technology has been tested by sleepers and medical professionals for over 20 years and I can confidently say, it does work.
Users indicate that they felt decreased discomfort almost immediately after sleeping on their new mattress, despite the fact that they had been experiencing pain and soreness in the mornings for several years.
Table: Purple mattress pressure points
From what I've gathered from these back and side sleeping Purple Hybrid customers, they've all had similar, pleasant results in regards to pain and the light feeling of floating.
However, the experience may depend on your weight. Keeping that in mind, some individuals might feel a lot more comfortable while resting on their stomachs. The lighter the weight, the more body support the mattress provides. Nevertheless, others may also appreciate the stable body support, but it can get a little softer.
Temperature Neutrality
Those who despise feeling hot while sleeping may have a hard time finding a mattress that is breathable enough. Well, I've always thought that "it's just me" when I felt like I was boiling in the middle of the night. If you feel that too, let me tell you a little secret — that's not something you should be okay with.
Waking up from being hot and drenched in sweat — something sent straight from a horror movie.
Now, it would be a crime to not talk about cooling in this Purple Hybrid mattress review. I don't actually know about you, but with that in mind, but I'm definitely not a criminal.
Jokes aside, temperature neutrality is one of the greatest strengths of this mattress. 80% of the Purple mattress grid is air, which speaks for itself, right? It also includes gel material that neutralizes the temperature. All in all, there is no doubt that Purple mattresses have a unique structure.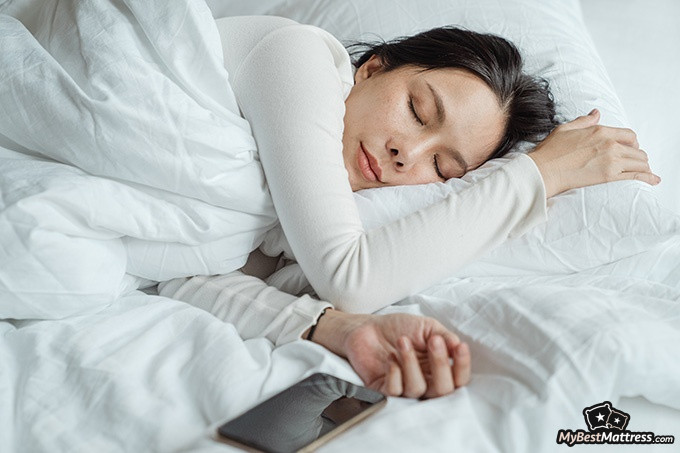 Additionally, the air is always flowing between the grid and the breathable cover. So, there is nowhere for the heat to stick. It could seem like it flows from your body through open-air channels and the structure of the coils. Also, it doesn't get cold, if you were wondering. The mattress structure doesn't work as an air conditioner. So, don't worry.
If that seemed obvious — good to know. If not — glad to help. Well, that's the purpose of this Purple Hybrid mattress review.
So, if you heard the rumors, they are true. The users are very satisfied with the cooling and uninterrupted sleep by drastic temperature changes. Furthermore, a full night of zero awakenings is one step closer.
Studies have shown that within a sleep episode, patterns of the autonomic nervous system, thermoregulation activity, and the ability to defend against heat and cold exposure differ during nonrapid eye movement (NREM) and rapid eye movement sleep[2].
In regards to that, it's important for a mattress to have the temperature neutrality feature.
Motion Isolation
If you are a lone wolf and have no partner in sleep — it's possible that you haven't noticed the motion isolation. Nevertheless, perhaps you are sleeping with a partner or a pet? If that's the case, you definitely know the drill.
There is nothing fun about your partner having vivid dreams and moving around like crazy. While sleeping on a bad mattress, in this situation, you would feel like lying on a trampoline. If one is moving, the other one follows.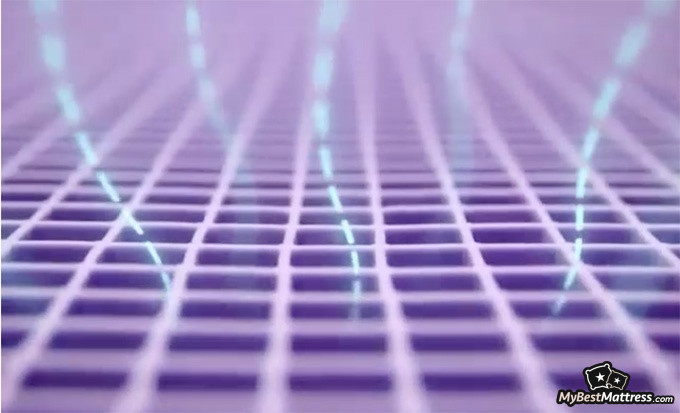 It should be really daunting if you are a light sleeper. To be fair, I have no idea how you could sleep at all in this scenario.
But fear no more! These people are sleeping well again Purple Hybrid, thanks to you. Yes, you've read that right. It's a quote by the famous Superman. Well, not quite word to word, but you get the idea.
The majority of Purple Hybrid mattress reviews say that the motion feeling across the surface is very minimal. The grid adapts and shifts throughout every bit of movement. However, only in a specific area. The motion doesn't spread.
To put it simply, it's super responsive.
This is a result of the layers and the thought behind compounding them. The GelFlex grid is used strategically to secure a person's body weight and the transition layer prevents motion from reaching the coils.
So, if that was a major problem in your household, keep in mind that the Purple Hybrid mattress reviews are seemingly great on motion isolation topics.
Will Last For a Long Time
Another thing I want to mention in this Purple Hybrid mattress review is durability.
Speaking of durability, we might think that our old mattress is still as good as it was twenty years ago. Could it be that the mattress was never great in the first place? To be honest, that happened to me.
I've slept on the same mattress for at least a decade. I've felt some pain here and there, some sleepless nights occurred, but I've never thought about it seriously. Yes, I am that clueless sometimes.
However, some time ago, I decided to sleep over at my friend's house. To put it simply, it was the best sleep I've ever had in my entire life. I had no idea a mattress can be so comfortable.

That's when my friend enlightened me about all the key features that are important when choosing a mattress. To be fair, he had one of the best mattresses out there, can't say for sure, but something similar to either Saatva or Helix.
Rewinding to durability, no one wants to spend a fortune on an object that needs to be changed frequently. Also, as we all know, mattresses aren't the cheapest object in the bedroom, to say the least. But we'll come back to that later.
Needles to say, this won't be the scenario. Everything goes back to the grid. It's said that the GelFlex grid is created to stretch out and get back to its starting point numerous times. Which is one of the reasons why this mattress is backed by a 10-year warranty.
So, once again the GelFlex grid is definitely worth the hype.
Purple Hybrid Mattress Review: CONS
In this Purple Hybrid mattress review, we've established that the mattress has multiple benefits. However, nothing can be completely perfect, can it? In regards to that, I've looked at the negative reviews as well.
Note that the cons are acknowledged and adjusted when creating newer mattresses.
But without further ado, let's see what is keeping the mattress from being the best one?
Not As Good for Stomach Sleepers
Only 7.3%[3] of people worldwide sleep on their stomachs, while the most popular sleeping position is the side one. This mattress is a wonderful choice if you are one of the majority of individuals who sleep on their back and side.
However, if you are a stomach sleeper, apart from the fact that it isn't the most natural position for your neck, you might need a different kind of mattress.

However, I've never met a person who sleeps on his stomach all night. In my experience, the position varies from time to time. It could also depend on comfortability.
Regardless, the mattress isn't necessarily bad for belly sleepers. Furthermore, there are aspects that need to be kept in mind when upgrading your bed situation.
A Little Heavy
I feel like you might be thinking, how's that a con? Well, let me put things simply. While the weight of the mattress doesn't affect the comfortability nor the size to fit in a bed frame, it might be hard to set the mattress into your home in the first place.
However, you should consider if your bed frame is strong enough since the weight of the mattress could easily break the bottom of it. Moreover, if it's not, keep in mind that additional money will be spent since you would need to buy a stronger bed frame.
The Purple Hybrid mattress weighs around 110lbs, while the usual weight of a mattress can vary between 60-90lbs, so the process of actually getting it into your bedroom might be tiring. You would need some help with that.
The majority of the mattresses nowadays weigh a lot less, however, one of the best mattresses in the market Saatva is also quite heavy. So, if the desire is strong enough, nothing should stop you. Just make sure to warm up before attempting to carry this mattress to the 5th floor.
Noise
There is an opinion among people that mattresses with coils tend to make more noise when moving. Moreover, I wouldn't specifically say that the Purple Hybrid mattress is noisy. Nevertheless, to be fair, some reviews state that you might hear minimal sound when moving.
So, if you are easily annoyed, keep that in mind.
To be completely honest, I think I wouldn't even notice the smallest amount of sound that a mattress can make. But, it probably depends on the person.
Which Hybrid Mattress is the Best?
While reading through this Purple Hybrid mattress review you might still think to yourself — which Hybrid mattress is the best?
There are three different Purple Hybrid mattresses in the market:
Let's be honest, the newer model mattress the more upgraded the features might be. For instance, Purple Hybrid has seemingly good support, pressure relief, but mediocre cushioning.
Purple Hybrid Premier 3 on the other hand, has amazing support, even better than the Premier 4. However, the Premier 4 has the best cushioning, pressure relief, and temperature control.
So, it depends on the individual, their specific needs, and funds.
Nevertheless, if you find yourself searching upon which Hybrid mattress is the best, there are a few more alternatives to look into:
Table: Saatva, Layla and Helix features
All in all, Hybrid mattresses are an essential choice for couples. Mostly for the ability to accommodate different firmness preferences at the same time. So, the best of both worlds.
A multilayer bed can be a game-changer for some of the people out there. Perhaps it's you?
The Purple Mattress VS The Purple Hybrid
The initial model of the Purple mattress was the one that started "the dynasty". With that being said, naturally, it lacks the key features that the Purple Hybrid has. However one of the major differences are coils. Hybrid mattresses have them and the original ones don't.
The coils make the mattress more bouncy. If the mattresses were put side by side you could see the difference. However, for me, the fact is more than enough.
Don't get me wrong, overall, the Purple mattress is also a good choice. Nevertheless, there can always be something better.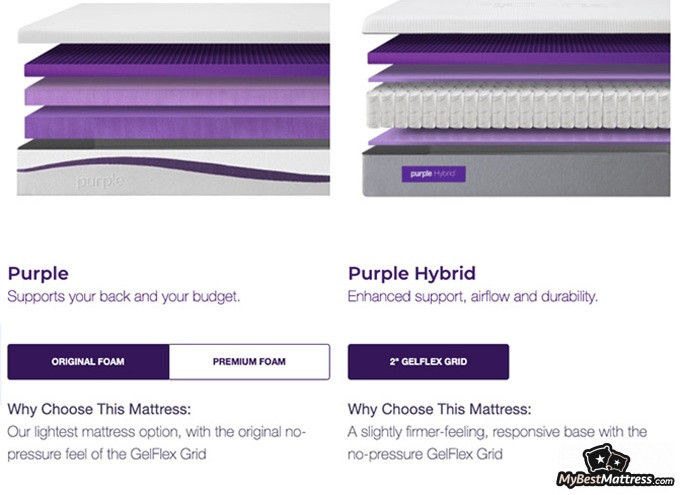 Purple mattress has good support, pressure relief, cushioning, and breathability. While Purple Hybrid mattress is a bit more advanced on the features. Stainless steel coils make the mattress more firm. Which is a great feature for spine alignment.
Moreover, the Hybrid mattress has better cooling and breathability, because of the layer composition.
All in all, by writing this Purple Hybrid mattress review I've come to the conclusion that the Purple mattress is a great choice if the need is for something simple and tested, with no mind-blowing features.
Nevertheless, note that the Hybrid mattress provides more support and temperature control. Because of that, if I were you, I would save up and choose the more advanced product.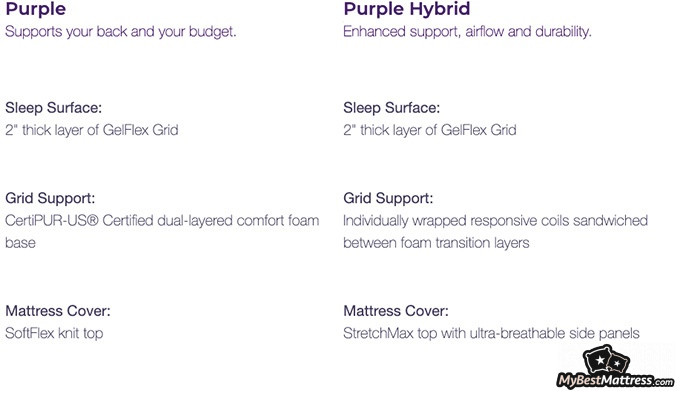 The price is also something to think about. Without getting into details, the difference between mattresses varies from $700-800. So, that's an aspect to keep in mind.
Either way, the most essential factor — what kind of upgrade are you looking for. If your old mattress is seemingly good, there is no surprise you wish to choose the pricier one. However, if you are sleeping on the same bed since 5th grade, the Purple mattress is an amazing choice.
What's the Price?
We've talked about every bit and piece of the mattress in this Purple Hybrid Mattress review. So, now I'll cover the price, and leave the question "is the Purple Hybrid mattress worth it" up to you. Well, probably because you can already guess my answer to that.

With that in mind, let's take a glance at the original Purple mattresses prices:
The prices are a bit contrasting between the Purple, Purple Hybrid, and Purple Hybrid Premium lines. Nevertheless, after feeling the quality for yourself, all of that will make sense.
Here are the Purple Hybrid mattresses prices:
The Purple mattresses aren't the most affordable. Regardless, comparing the value nowadays, the price you pay is a good reflection of the product's quality. That's true especially if you would choose the "The Purple Hybrid" line.
Not forget to mention, the "Purple Hybrid Premium" mattresses which are even pricier. For a reason, of course.
While choosing, let me remind you that the price changes between sizes. For instance, Purple Hybrid mattress king size, most of the time will cost more than a queen.
Twin and twin XL are only slightly different and are made for one sleeper. Moreover, full size mattress is the best to fit a kid and a parent or a pet but can be a bit too narrow for two adults.
Queen is the most popular size and is perfect for couples. King and the ones above are the most suitable for families or couples sleeping with their pets. The size of them can get really big.
Note that the price can change depending on the time of you reading this. So, make sure to check them out yourself.
Also, you'll have a 100-night trial! So, if you'll come to the conclusion that Purple Hybrid mattress king (or any other size) isn't suitable for you — you can return it for free, and get your money back!
Additionally, the company offers free shipping in the US. Moreover, the mattress can be shipped to 48 contiguous states of the US, Alaska, and Hawaii, for an extra cost.
Here is The Best Saatva Offer I Found:
UP TO $500 OFF
Limited-time Saatva Sale
We're sharing a limited-time Saatva mattress discount with our readers! Grab this deal & enjoy your new mattress with huge discounts.
Expiration date: 11/06/2023
4,042 People Used
Only 83 Left
Conclusions
This was quite a journey. Regardless, if you were truly wondering then yes, I would recommend using this mattress. Furthermore, by looking at the reviews, I can see that I'm not the only one.
In this Purple Hybrid mattress review, I talked about layers, motion isolation, durability, and temperature neutrality. The mattress is quite firm, however, more in the areas that need body support and less in the ones that don't. Also, the coils make it more bouncy!
Not to forget to mention, the best thing — cooling. The company really focuses on this feature, and for that reason, this mattress has the best temperature neutrality. The GelFlex grid, made out of hollow squares is an amazing technology that ensures durability, great airflow, and responsiveness.
While the prices might look high, it does match the quality of the product. Additionally, keep in mind that nowadays, we have a shortage of any kind of materials. It's quite an achievement that you are able to get the mattress at all.
Table: Saatva, Layla and Helix company info
Nevertheless, there are alternatives like Saatva, Layla, or Helix. These mattresses can be a game-changer for lots of people with or without sleeping problems.
Scientific References
1. N B Kavey, A Blitzer, S Gidro-Frank, et. al 'Sleeping position and sleep apnea syndrome'
2. Ronald Szymusiak 'Body temperature and sleep'
3. Eivind Schjelderup Skarpsno, Paul Jarle Mork, Tom Ivar Lund Nilsen, et al.: 'Sleep positions and nocturnal body movements based on free-living accelerometer recordings: association with demographics, lifestyle, and insomnia symptoms'
Leave your honest Purple Hybrid Mattress review
Leave your genuine opinion & help thousands of people to choose the best mattress. All reviews, either positive or negative, are accepted as long as they're honest. We do not publish biased reviews or spam. So if you want to share your experience, opinion or give advice - the scene is yours!