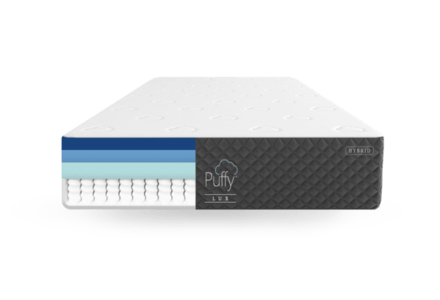 We all have our preferences when it comes to sleep, whether it's mattresses or sleeping positions. In fact, some people still can't figure out what's best for them. That's why, in this Puffy Lux Mattress review, I'll get you on board with a premium quality bed which will put your doubts to rest.
Don't know about Puffy? Well, it is a bed product company, launched in 2017, with the sole purpose of creating mattresses with superb comfort, almost as if you would lay on a cloud. Likewise, these mattresses are handcrafted from premium quality materials, and made exclusively in the USA.
My goal throughout this review will be to provide you with all the ins and outs of this particular mattress. That includes giving you the right tools to evaluate if the Lux Hybrid is right for you, from a research-based perspective. Also, you'll get some insight gathered from previous buyers, and learn who sells Puffy Lux mattresses.
Now, let's see what this mattress is all about!
TL;DR: The Puffy Lux is a hybrid mattress with 5 layers of polyfoam/memory foam, and a contour-adapt coil system that gives it a nice, neither too soft nor firm, balanced feeling. It works best with side and back sleepers because of the body contouring and pressure relief features.
Pros
Superb Pressure Relief
Great Motion Isolation
No Noise
Best for Back and Side Sleepers
Cons
Temperature Control
Sinkage
Puffy Lux Mattress Review: PROS
In this Puffy Lux Hybrid Mattress review section, I'll give you some insight into the best features of the Lux Hybrid, and what types of sleepers it suits best. After that, we'll get into a couple of things that you should consider before buying this mattress.
Finally, I'll bring you up to speed with the pricing, give some extra information on warranty, shipping, and a couple of closing thoughts on the mattress overall.
Now, let's begin with the structural part of the Puffy Lux Mattress review.
6 Layers of Comfort
I'm sure you were quite flabbergasted seeing that the mattress has a whopping 6 layers. Well, it's definitely an unconventional number for a mattress per se, but they're there for a reason. Let's dissect each and every one of these layers.
Now, the Puffy Lux Hybrid is topped with a Cloud Cover that protects the mattress from stains. Also, the cover is hypoallergenic, so it repels dust mites and other causes for allergies.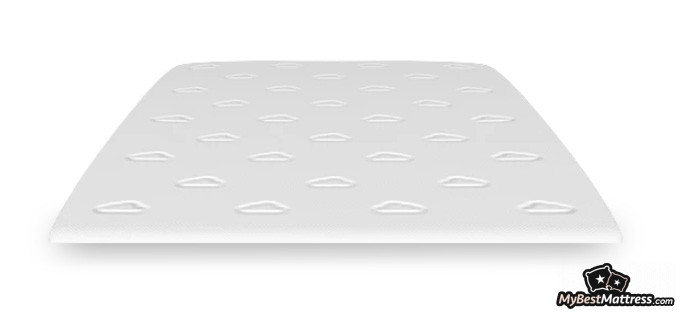 Next up, we have the Cooling Foam Layer which, as the name suggests, helps increase the airflow throughout the mattress. It is infused with gel microbeads which make foam layers a lot more breathable, and cooler to sleep on.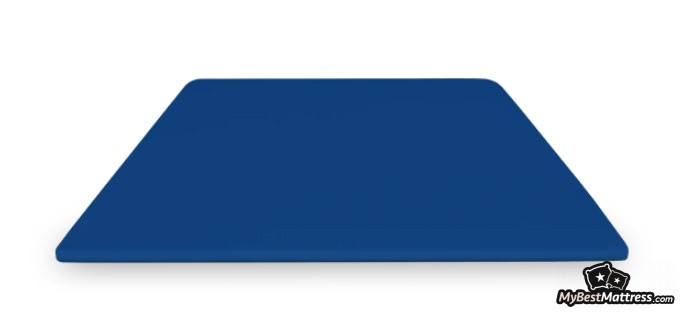 Then there's the Plush Dual Layer which is used only in the hybrid variant of Puffy mattresses. It is packed with 1.5 inches of Cloud Foam, and acts as a supporting element for pressure-relief. Also, this layer helps the mattress retain its form with a swift recovery feature.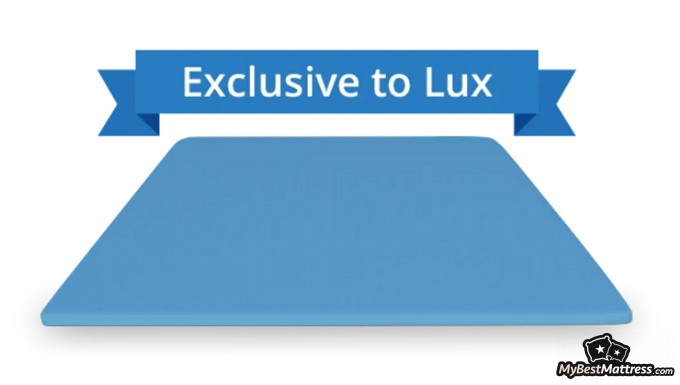 Moving on, we have a slightly more dense layer which is called the Climate Comfort Foam. It essentially helps retain a lot of the moisture content from building up inside the mattress, which is crucial for a bed that has multiple foam layers.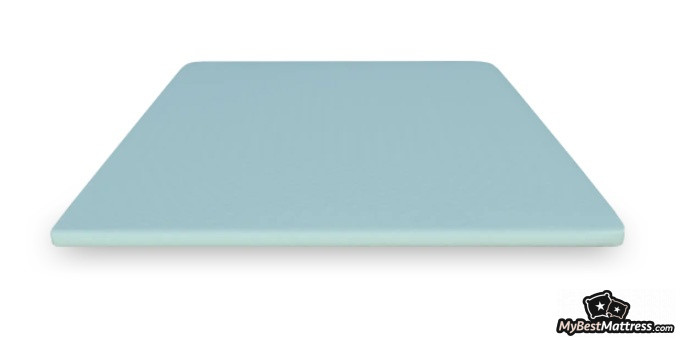 Why is that important?
Well, foam layers are prone to trap heat which will make you sweat during the night, or you'll wake up drenched in sweat.
Now, the fifth layer is the meaty part of the mattress. It is a 7-inch Density Core Support Foam, coupled with a pattern of Contour-Adapt Coils. What this combination does is it creates balance for the number of layers that are stacked on top.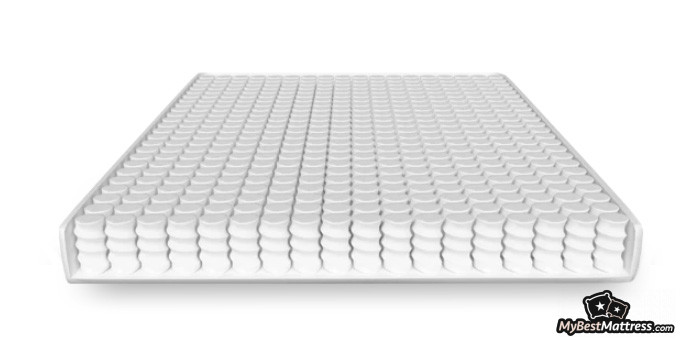 Likewise, the contour-adapt coil springs go all around the sides of the mattress, so they give it additional edge support, which is usually non-existent in most memory foam beds. However, the Puffy Lux is a hybrid, so having slightly reinforced edges is not uncommon.
Last but not least, we have the foundational part of the mattress - the Grip Base Cover which is there to keep everything intact, so the bed stays put when there's a lot of movement up top.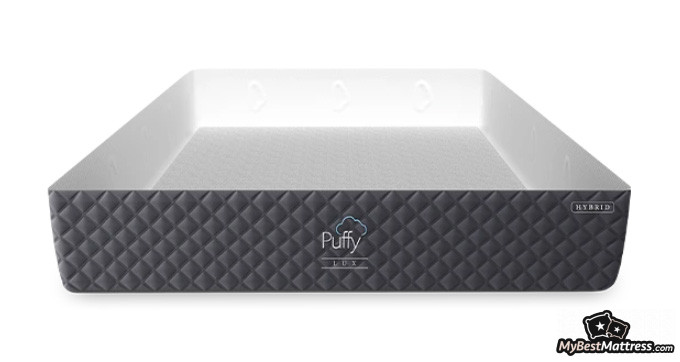 In fact, the foam layers are checked and certified by CertiPUR-US. This organization evaluates if the foam mattress is safe to use by ensuring that the layers don't have any potentially harmful materials such as ozone depleters, various flame retardants, and heavy metals.
Likewise, Puffy Lux mattresses have low VOC emissions which are connected to off-gassing, but we'll touch on that later. But, in short, the fewer VOC emissions, the better your indoor air quality.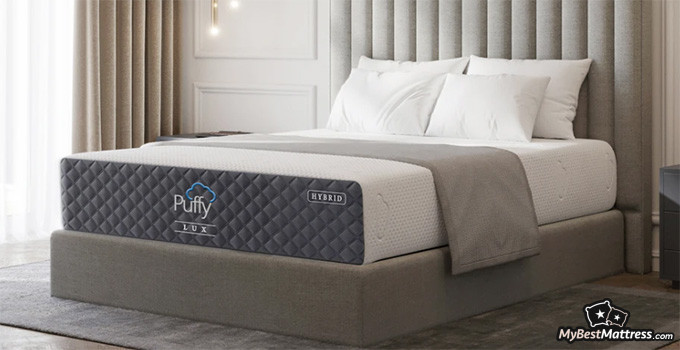 As a side note, the Puffy Lux can be placed on practically any flat surface, so you won't have to worry about getting a bed frame, or look for any other foundational element for your mattress.
With that being said, studies suggest that sleeping near the floor may result in disturbed sleep and increased allergic reactions.[1] Therefore, getting a bed frame could prevent the risk of gathering dust mites on your mattress.
So, now that we know what the Puffy Lux Hybrid is made of, let's look at some of the beds' top features.
Pressure Relief
Waking up with an achy back is never fun, and it shouldn't be something to live with. For this reason, memory foam mattresses are specifically designed to alleviate pain in various pressure points.
As I've mentioned previously in this Puffy Lux Mattress review, this hybrid bed has 6 layers which are made out of memory foam and polyfoam. It creates a nice balance between body contouring (for pressure relief), and responsiveness (so you don't sink as far down).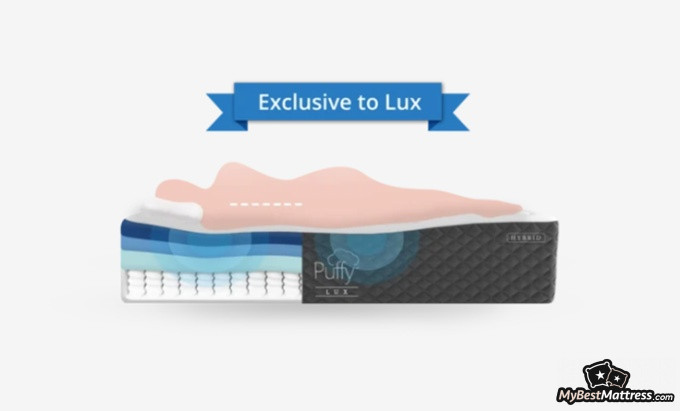 Also, Puffy's trademark Contour-Adapt Coil Technology gives the spring layer some body-conforming attributes. The springs essentially adapt to the movement of your body, and provide some relief on the main pressure points.
Not only that, the Puffy Lux is a medium-firm mattress (5 on the firmness scale), so it's definitely on the softer side, but just solid enough to hold every part of the body aligned, especially if you're an average weighing person.
Latest Saatva Coupon Found:
UP TO $450 OFF
Limited-time Saatva Sale
We're sharing a limited-time Saatva mattress discount with our readers! Grab this deal & enjoy your new mattress with huge discounts.
Expiration date: 29/09/2022
4,042 People Used
Only 83 Left
Great Motion Isolation
Memory foam mattresses are widely known to have great motion isolation, especially when they are combined with a spring base.
In this case, the springs should essentially increase the motion transfer, and in no way, shape, or form help with isolating movement. So, logically, the Lux Hybrids' Pocketed Coil Layer should make the motion isolation worse.
However, that is not entirely true.
The springs are individually wrapped into small sleeves which make the spring coils stay in place, and move only when there's pressure applied.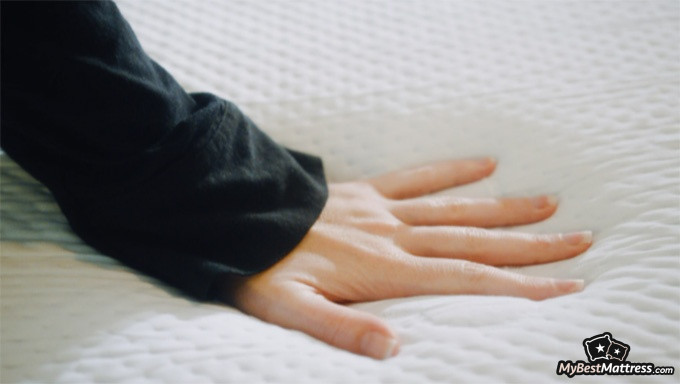 On top of that, the spring layer is stacked with 4 layers of memory foam, so you shouldn't feel any rough, solid pieces pushing against your back, neck, etc.
Some Puffy Lux Mattress reviews from customers suggested that it had barely any motion transfer. Also, I was quite surprised by the number of people who sleep with their pets, especially on a new mattress.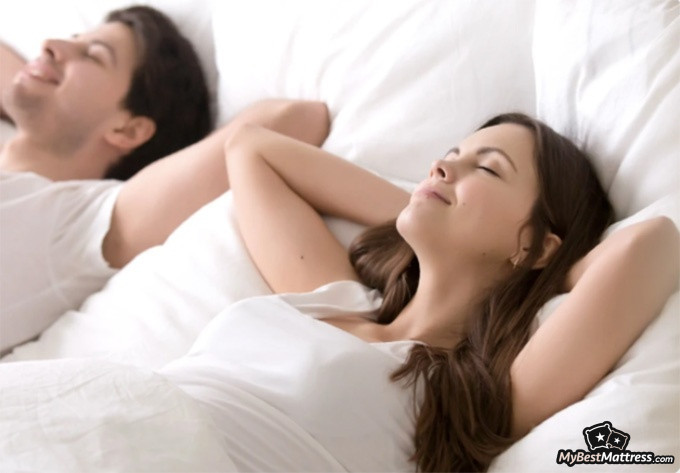 The point is though - customers didn't feel much motion when their pets would jump back and forth on the Lux Hybrid. Likewise, a couple of sleepers claimed that the mattress was perfect for co-sleeping, especially after they've slept on a regular spring mattress their whole lives.
All in all, the Puffy Hybrid has great motion isolation, which is provided by the stack of memory foam, so, you don't disturb your family members, or even pets, during their beauty sleep.
Noise Isolation
If you've ever laid down on an all-foam bed, you must've noticed that it is completely silent. But what about hybrid mattresses like the Puffy Lux?
Mattresses that don't make noise are great for late-night workers who don't want to wake their partners up. Likewise, it's great for sex, for obvious reasons.
Not only that, a noisy mattress will eventually get on your nerves, if it hasn't already. I mean, every time you crawl onto that thing, you get anxious to move around, because, you know, it's eventually gonna start squeaking. However, that ain't a problem for foam mattresses. Here's why.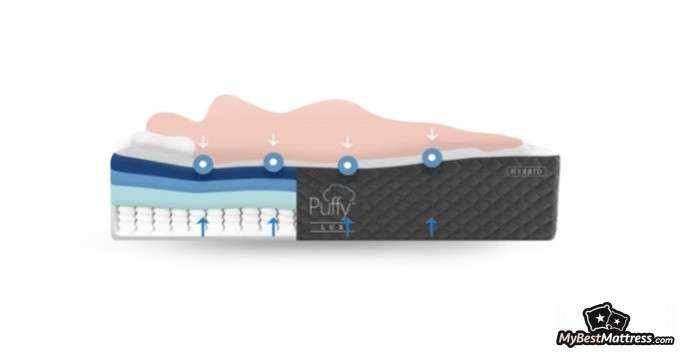 Earlier in this Puffy Lux Mattress review, I've touched a little bit on the foam structure of the mattress. But, as you may already know, hybrid mattresses like the Lux have spring layers at the bottom. So, it's only fair to say that you would expect some noise coming from it.
However, the Puffy Lux uses Pocketed Spring Coils which are covered in dense memory foam. This essentially nullifies the springy-type sounds without sacrificing any qualities of a hybrid mattress.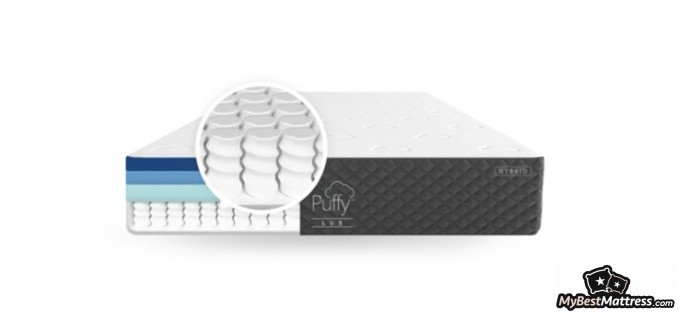 Let's not forget that this pocketed coil layer is topped with 5 layers of polyfoam/memory foam. So, if there's any sound coming from the bottom, it will most likely be muffled by this stack of soft layers.
Most online reviews of Puffy Lux Mattresses suggested that the bed is quiet as a mouse, and posed no sound when jumping on and off it. Therefore, if you like to keep things down low, you'll surely enjoy this mattress.
Side and Back Sleepers Love It
Choosing a mattress based on your sleeping position is crucial for improving your quality of sleep. In fact, studies show that medium-firm memory foam mattresses are the most effective at tackling achiness in the main pressure points[2] which are around your back, shoulders, and hips.
So, the Puffy Lux Mattress, as we've established before, is mostly made out of memory foam, and it's on the softer side for a medium-firm bed. And this pretty much gives the green light for most side and back sleepers.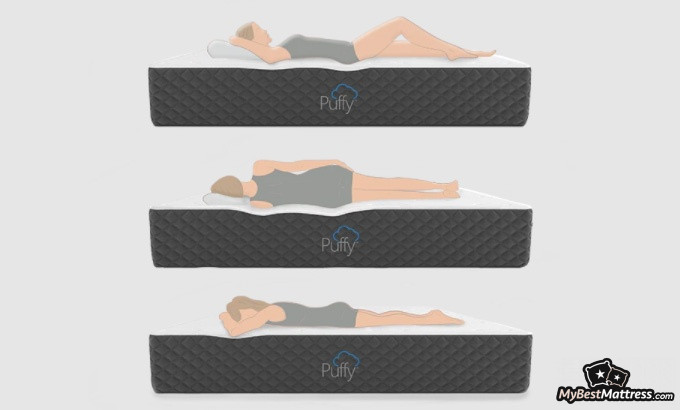 While stomach sleepers would probably enjoy a rather more firm surface, side and back sleepers require that extra cushioning for their shoulders, hips, and back. The good news is, the Lux Hybrid provides excellent support and contouring around these areas.
In fact, most Puffy Lux Mattress reviews suggested that this medium-firm foam mattress is actually fit for any sleeping position.
But, what about people who sleep on their stomachs? Don't they require something denser?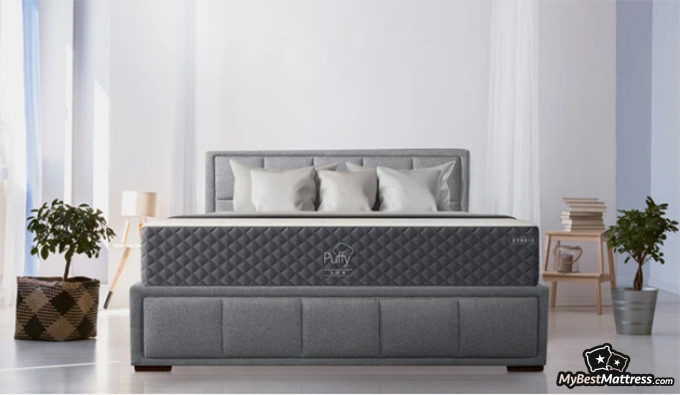 I mean, even though stomach sleepers may require a more firm surface, it really comes down to weight. And this essentially goes for any sleeping position.
So, if you see yourself in the average weight category, then you'll probably enjoy the Lux Hybrid at any sleeping position. However, people with above-average weight should consider getting an innerspring bed, at the expense of less pressure relief and no noise isolation.
Good Edge Support
Having some "fortified" edges around your mattress might not seem as much, but it definitely helps people who enjoy doing barrel rolls in their sleep.
With that being said, foam mattresses usually don't have proper edge support like innerspring mattresses, because their whole shtick is to mold around your body. Therefore, having static material around the sides would defeat the whole purpose of a foam mattress.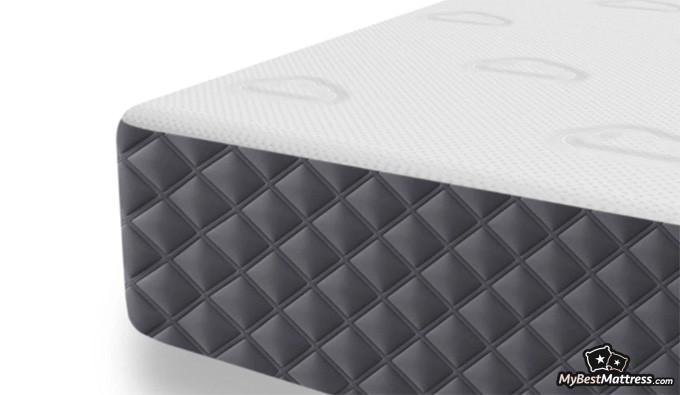 However, the Puffy Lux is a hybrid mattress which means that it has a Pocketed Spring Layer underneath the stack of foam. It gives the mattress some form of stability, and, at the same time, slight support around the edges.
But, sure, most hybrid mattresses are built this way. So, how's the Lux Hybrid different in terms of edge support?
Well, Puffy has its own support system called the Contour-Adapt which basically means that spring coils are wrapped in premium memory foam. This sort of pocketing of the springs, so to say, helps stabilize the mattress, while the high-density memory foam on top creates a stable yet soft surface around the edges.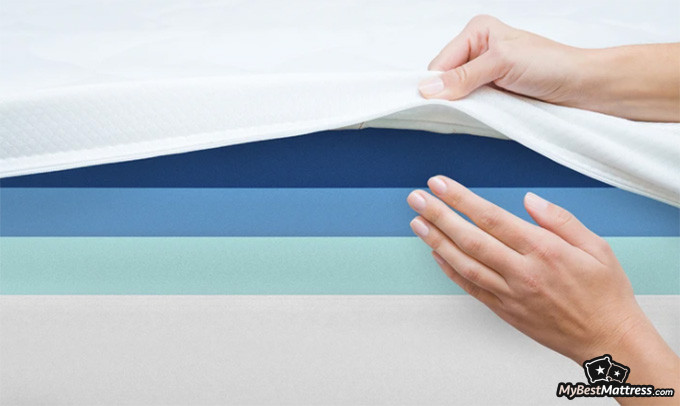 Now, I'm sure you want to know what previous buyers thought of this feature. Well, most Puffy Lux Mattress reviews seemed quite positive regarding the edges, because the pocketed spring layer provides additional support along the sides of the bed.
However, this can be completely subjective since weight is a crucial factor, especially when it comes to foam mattresses. So, if you do decide to get this bed product, then make sure to choose the Puffy Lux King Size mattress which holds a lot more weight than other variants.
Puffy Lux Mattress Review: CONS
So, now that we've got the pros covered, let's take a look at some things that you should look out for before purchasing the Lux Hybrid. Also, I'll be looking through some Puffy Lux Mattress reviews by customers, and putting their doubts into perspective.
Likewise, I'll give you my insight into some Puffy Lux Mattress complaints, and why they are targeted towards particular features that will be named below.
Tad Bit Too Hot
I'm sure you're wondering how temperature affects sleep. Well, if you're a hot sleeper who just can't seem to cool off in any way, then you're probably no stranger to waking up in a puddle of sweat. Which usually results in disrupted sleep, especially during REM.
I mean, this might not be a problem if you live in a quite cool climate, because you can just open your window, and keep it like that for a while. But, if you reside in a place where tropical heat blasts throughout the day, getting a cooling mattress doesn't seem like a bad idea.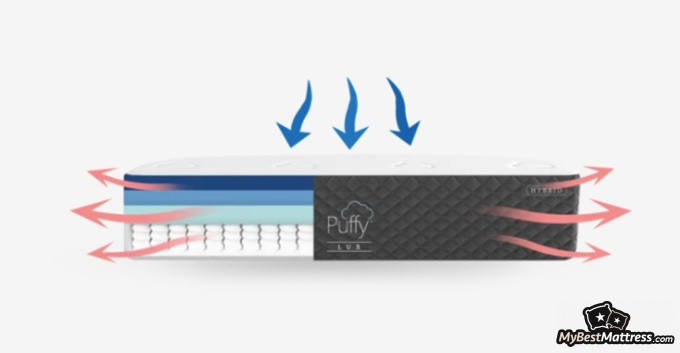 However, it's not easy to pull off good temperature control in a mattress. Especially if it contains a lot of foam layers which are like sponges that absorb heat. This essentially leads to all that heat being trapped in your mattress throughout the night.
Even though the Puffy Lux has a gel-infused cooling surface, and a pocketed coil layer - it's not as effective as you might think. While it's definitely cooler than an average all-foam mattress, you shouldn't expect it to have innerspring-type temperature control.
In fact, some Puffy Lux Mattress reviews posed temperature control as one of the key drawbacks. Which is understandable, because getting excellent airflow through 6 layers of foam is probably beyond the realms of possibility at this time.
May be too Soft for Heavier Sleepers
So, foam mattresses struggle to keep their form intact, because their whole purpose, as we've established before, is to provide body contouring. But, the Puffy Lux Mattress has just enough firmness to keep most people from sinkage.
Also, it comes in different sizes which makes it a lot more durable. For instance, the regular Puffy Twin-Sized Mattress can hold up to 350 lbs in total. But, if we want to go bigger, then, let's say, the Puffy Lux Queen Mattress endures 350 lbs on each side of the mattress.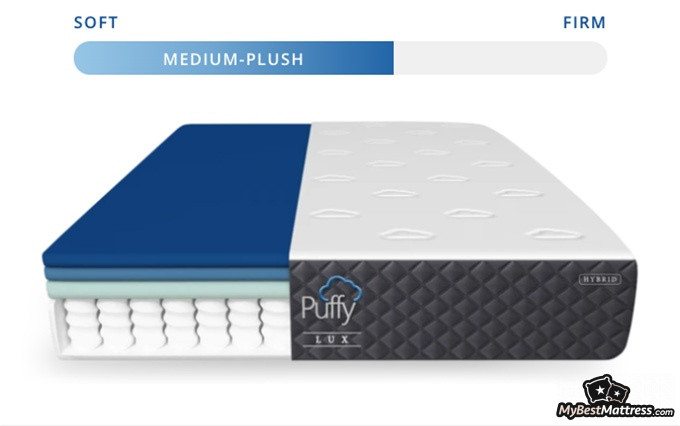 Either way, no matter how durable the mattress might seem - too much weight may cause some sinkage, especially if you're a stomach sleeper. That's because the mattress is pretty much made all out of foam, and the pocketed coil base is also covered in memory foam.
So, this makes the bed more soft, rather than responsive like an innerspring mattress.
From what I've seen in Puffy Lux Mattress reviews, lots of customers experienced sagginess, which is relatively normal for all-foam bed products. That's usually the case for memory foam mattresses, because they tend to wear off faster when there's a lot of pressure applied, or used for longer periods of time.
Not That Responsive
For a mattress to be responsive and bouncy, it needs to be built on a spring layer. In fact, responsiveness is an important feature for couples that sleep together, and helps prevent sinkage.
While you shouldn't expect a hybrid, let alone an all-foam mattress to be super responsive, the Puffy Lux will definitely provide some form of bounce. After all, it has a pocketed spring layer at the bottom that gives the mattress slight responsiveness.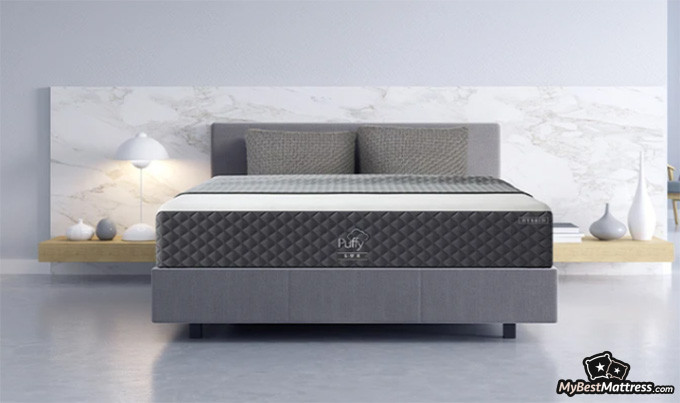 Sadly, that won't make it innerspring-type bouncy whatsoever.
While you'll be less likely to sink into the soft memory foam layers because of the spring base, the pocketed coils won't have enough juice to regain their form fast enough.
This obviously means that you won't be getting that nice bounciness. Especially when the spring base has 4 layers of foam on top of it, so the bounciness doesn't really get through to the top.
Slight Off-Gassing
I'm sure you've dealt with off-gassing before, but you didn't realize it yet. Have you ever noticed that strange smell that comes out of a package? That's literally what off-gassing is.
But why does that happen?
So, new items tend to release a certain scent if they're stuffed in some sort of packaging. That's because chemical compounds (VOCs) get trapped inside the mattress at the time of making it, and obviously, the packaging doesn't properly air these particles out.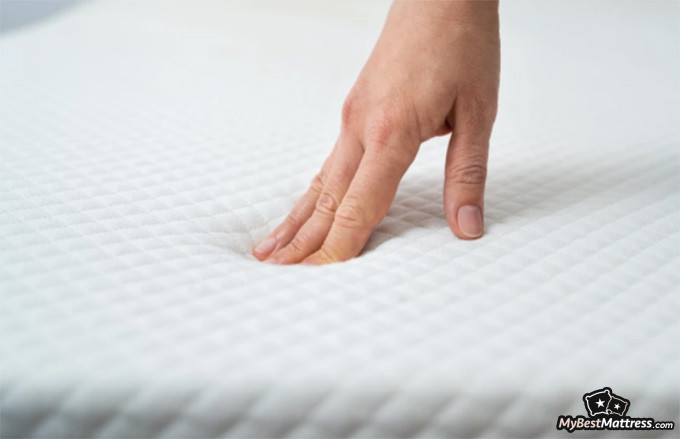 Therefore, after you unpack the Puffy Lux Mattress, it might have this sort of plasticy smell which probably won't bother you that much. However, it will obviously be more noticeable when sleeping, so I'd advise airing the mattress out for a couple of days.
In fact, you can try leaving it out on the balcony, or any other place with decent ventilation for a while. But be sure to vacuum it after, because the mattress will definitely gather some dust from the outside.
Price
Now that we've covered the positive and negative sides of the mattress, let's see where you can get one, and learn how much a Puffy Lux Mattress costs. To be completely honest, these mattresses carry a hefty price tag so be sure that you choose the right one for you.
How Much is a Puffy Lux Mattress?
So, now the question is - what is the Puffy Lux Mattress price? Well, here's a list of all the sizes options for the Lux Hybrid, and their respective price tags:
At the time of writing this article, the Hybrid Lux Mattresses are on sale, so prices are subject to change. However, if you missed the sale - don't worry. You can still knock off the price a little by using some promo codes from our coupon page.
As a side note, if you're wondering why the Puffy Lux King Mattress price is the same as the Cal King, well, they're not that different. While the Cal King is lengthier (with more room for your feet, which comes at the cost of width) the King-Sized bed has it the other way around - less room for legs, but larger in width.
Where Can I Buy a Puffy Lux Mattress?
There are plenty of online retailers that have a Puffy Lux Mattress for sale. However, Puffy doesn't have its own physical stores, but you can try the mattresses out in its partnered showrooms.
Additional Benefits
So, are there any other benefits that I'll get after purchasing this mattress?
Certainly. First of all, you'll get a lifetime warranty for your Puffy Lux which covers manufacturing defects that involve sagginess, zippers, tearing, and unraveled stitches. However, the warranty doesn't cover issues that come up as a result of the mattress being worn out naturally, or used improperly.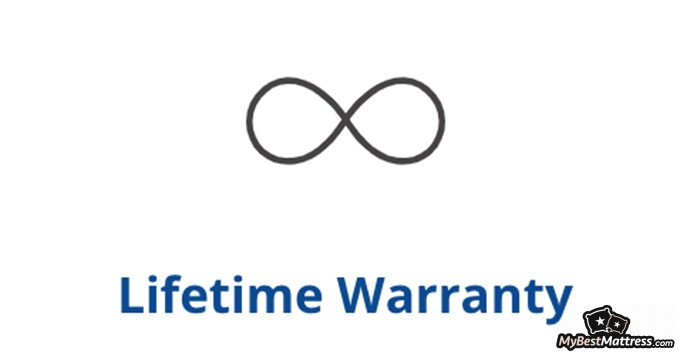 Secondly, you'll get a 101-Day Sleep Trial which means that if you're not satisfied with the Puffy Lux during the 3-month period, you may return it and get a full refund.
Likewise, if you notice that the mattress is not for you in the first few weeks, Puffy offers a completely free pick-up and a full refund. P.S. all the returned mattresses won't be refurbished and put back on the market, but rather donated to charities for children.
But, what about the delivery of my mattress? Do I need to pick it up somewhere?
Well, for your convenience, Puffy offers free shipping across the US, and the mattress will arrive at your door within 2-5 business days.

Having all of these extra benefits in mind, it's quite certain that Puffy puts quality and customer support at the forefront of the business. Considering that the prices of mattresses are definitely not cheap, it's really good knowing that you're able to test the product beforehand, and get a full refund within 101 days.
Here is The Best Saatva Offer I Found:
UP TO $450 OFF
Limited-time Saatva Sale
We're sharing a limited-time Saatva mattress discount with our readers! Grab this deal & enjoy your new mattress with huge discounts.
Expiration date: 29/09/2022
4,042 People Used
Only 83 Left
Conclusions
While choosing a mattress can be difficult - there's definitely one for everybody. But, the hardest part is finding one which fits your sleeping position, weight, and has proper attributes for potential health problems, if you have any.
Now, the only question that remains is - would I recommend it? Of course. Why?
Well, it has great pressure relief capabilities, isolates motion and noise, and has decent edge support for a hybrid. Likewise, the Puffy Lux Mattress reviews from customers seem to be of similar judgment with many praising its comfort and durability.
Table: The features of a Puffy mattress
But, there are some things that can be off-putting. Therefore, I wouldn't advise getting it for hot sleepers who already wake up drenched in sweat, because good temperature control on foam-based mattresses is just not there yet.
All in all, I would say that the advantages highly outweigh the negatives, because things such as weak temperature control are usual for memory foam and hybrid mattresses. So, apart from that, there are really not many things that you can pick on.
Anyhow, thanks for reading my Puffy Lux Mattress review, and I hope it helped you decide whether it's the right one for your bedroom.
Scientific References
1. Berson S, Klimczak J, Prezio E, et al.: 'House Dust Mite Related Allergic Rhinitis and REM Sleep Disturbances'
2. Radwan A, Fess P, James D, et al.: 'Effect of different mattress designs on promoting sleep quality, pain reduction, and spinal alignment in adults with or without back pain; systematic review of controlled trials'
Leave your honest Puffy Lux Hybrid review
Leave your genuine opinion & help thousands of people to choose the best mattress. All reviews, either positive or negative, are accepted as long as they're honest. We do not publish biased reviews or spam. So if you want to share your experience, opinion or give advice - the scene is yours!