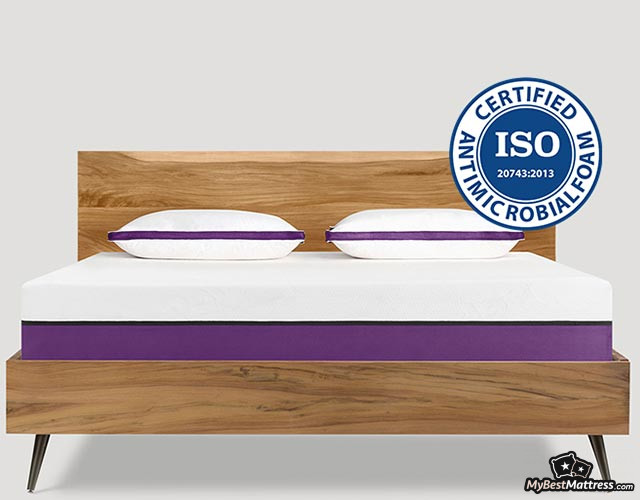 Are you searching for a memory foam mattress? Do you long to fall into a cozy, comfortable bed and get some soothing, quality sleep? If so, let me tell you - this Polysleep review might be just what you need.
Polysleep is a Canadian mattress brand that deals in a few different beds and some bed accessories, too. While the company may not be a particularly well-known one (at least compared to some other high-profile industry names, such as Saatva or Nectar), customer Polysleep mattress reviews point out that it still offers some rather decent bedding options.
Whether that's actually true or not, we'll figure out in the article ahead - let's go!
TL;DR: Reading through customer Polysleep reviews found online, it appears that the Polysleep mattress is the most popular option that the company has in stock. The memory foam mattress is great at alleviating pressure, isolating motion and noise, and is durable, too, but might sleep warm for some customers.
Pros
Medium-firm
Good motion isolation
No noise
Decent edges strength
Pressure relief capabilities
Affordable
Cons
Sleeps warm for some
Some reports of excess sinkage and lack of bounciness
Polysleep Review: PROS
We'll start off this Polysleep review by talking about the pros of the mattress offered by the brand in question, but that's exactly it - mattress, not mattresses.
What do I mean by that? Well, Polysleep offers its customers a few different mattresses, but in this article, we'll be focusing on just one - the self-titled Polysleep mattress.
The reason behind this decision is pretty self-evident, too - this particular mattress is one of the best (according to some customer Polysleep mattress reviews - the best) bed options that the company has to offer.
Not only that, but the particular mattress appears to possess the most customer reviews, too. It would appear that it's definitely the "crowning gem" of Polysleep's mattress collection.
With that said, let's get to it, shall we?
Durable and Well-Built
Mattresses come in different shapes and sizes - different types, too. All of the types have their own, "default" pros and cons - for example, foam beds are better at isolating motion, while spring mattresses are going to be great when it comes to breathability and cooling.
If there's one feature that should be universal for all of the different types of mattresses, though, it has to be durability.
Think about it yourself - no matter if you're opting to purchase a hybrid bed or a latex one, you're probably always going to want the product to be durable, sturdy, and to withstand the test of time.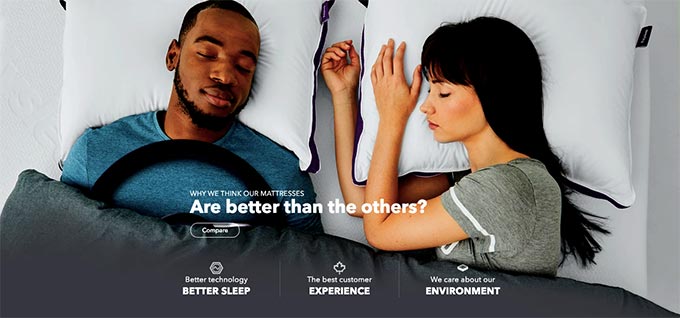 Not all beds are durable, though - that's pretty obvious. But that's actually the issue, too - while you won't really find this mentioned on customer Polysleep reviews, all-foam mattresses tend to lack durability, speaking in a completely general sense.
Polysleep has managed to avoid this issue - the company creates sturdy and reliable mattresses. This is, in part, due to the materials that the brand uses - three layers of high-quality foam (including memory foam), surrounded by an encasement that serves the purpose of providing sturdiness to the mattress' edges.
Overall, you can be sure that the Polysleep mattress is going to be a high-quality bed that'll serve you for some time to come.
Latest Saatva Coupon Found:
UP TO $500 OFF
Limited-time Saatva Sale
We're sharing a limited-time Saatva mattress discount with our readers! Grab this deal & enjoy your new mattress with huge discounts.
Expiration date: 12/12/2023
4,042 People Used
Only 83 Left
Good Motion and Noise Isolation
The areas in which all-foam mattresses excel the most in are mostly those that relate to foam's qualities. One of the better-known of such qualities would have to be motion isolation.
Not all types of foam are capable of this, but memory foam surely is. The material is going to isolate motion to a specific part of the mattress - where the motion is first caused -, and won't spread it any further than that.
As you can imagine, this has some great benefits for the sleeper - customer Polysleep reviews do point this out, too.
If you sleep with a partner, you probably know how annoying it can be to have to be woken up in the middle of the night simply because they've stood to go to the bathroom, or because they're having a restless night, in general. That can really impact your quality of sleep - believe it or not, but a lack of proper sleep can result in some very bad complications[1].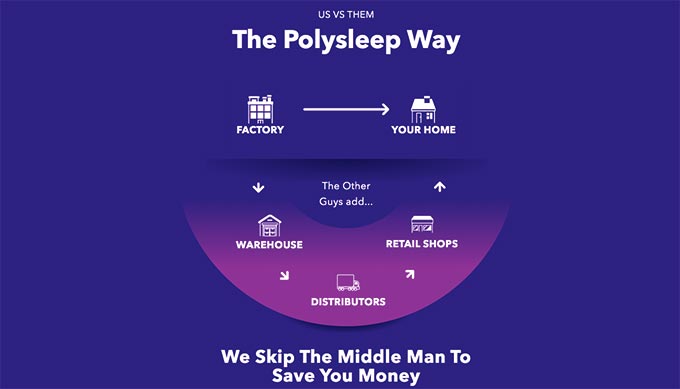 Even if you do sleep alone, if you yourself are prone to making a lot of motion during the night, you'll definitely appreciate a mattress that has some good motion isolation and restriction features.
In this Polysleep review, we're talking about one such mattress.
The Polysleep self-titled mattress is going to provide sleepers with some high-quality motion isolation features. On top of that, it will also minimize the restlessness that you yourself are experiencing - at least in the physical regard.
Above-Average Pressure Relief Capabilities
Pressure alleviation is yet another well-known aspect of memory foam mattresses. Well, for the most part - it's actually a pretty tricky topic.
You see, it all depends on the quality of the mattress, and it's firmness level. While we're going to talk about firmness in just a bit, we've already established that the mattress in question is a high-quality product earlier on in the Polysleep review.
So, ya - high-quality foam mattresses are going to do a good job at contouring around the sleeper's body, and keeping it in place throughout the night. This is done by sinking the body down into the foam just the right amount.

It's actually very important that it would be "just the right amount" - sink down too much, and this will break your proper spine alignment, and your entire posture, effectively causing the formation of new pressure points, instead of alleviation of the old ones.
Customer Polysleep reviews do point out that the bed is going to do a pretty good job of alleviating already-existing pressure points. If your old mattress has been making you feel all sore in the morning, perhaps all of the Polysleep mattress reviews have the answer to this issue of yours?
Medium Level of Firmness
Depending on your body type, weight and personal preferences, you might be looking for a firmer mattress alternative, or a softer one. Most of the time, though, it's the latter.
In the same way how there are different types of research regarding sleep deprivation[2] and quality of sleep, there is also enough reliable research to support the fact that a firmer mattress is going to be better for your sleep health, especially long-term.
You see, a soft mattress is going to be much more prone to sinking than a firmer one. This, in turn, causes your body to break its proper spine alignment, which then leads to a lot of pains and aches in the morning.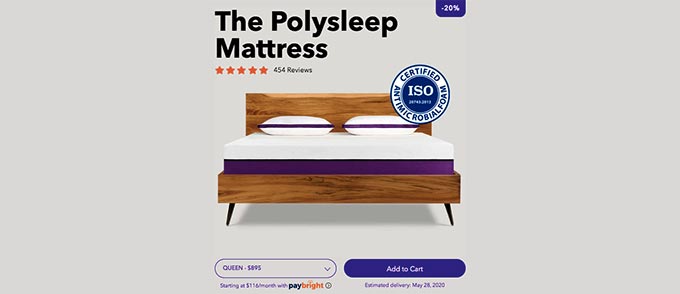 Customer Polysleep reviews will tell you that the company's mattress is a "medium-firm" option. As you might have guessed, that's actually the best level of firmness for a bed.
First of all, it makes the mattress approachable and appealing to a much bigger population of people. While a person who likes sleeping soft might not compromise for a firm mattress, medium-firm is like the perfect middle-ground.
Following that, medium levels of firmness are actually going to be best for the general person's sleep health, too. It's an all-around great choice! It's also one that you'll receive if you do decide to purchase the Polysleep mattress after reading this Polysleep review.
Polysleep Review: CONS
As with any other mattress on the current market, the Polysleep model might prove to be lackluster in some certain areas - this shouldn't come as a surprise. That being the case, though, it's important to mention and discuss some of the more prominent of these issues, since only then could you decide whether or not the product is really worth looking into.
Well, that's exactly what we're going to be doing now.
May Sleep Warm
As you may or might not know, temperature neutrality is surely one of foam's weak points. Well, at least as far as the foam-based mattress industry is concerned.
Whether it be memory foam or polyfoam, these materials are prone to trapping heat within themselves. In turn, companies that manufacture foam mattresses have to search for ways of how they can alleviate this issue - some brands choose to cover the beds in some breathable covers (i.e. those made from cotton), others fill certain layers with cooling gel.

Unfortunately, depending on the construction of the mattress, this might not always help.
Judging by the customer Polysleep reviews, it would seem that the bed in question does sleep relatively warm, at least for some customers. Notably, it does depend on the type of sleeper that you are - if you're naturally prone to sleeping warm, the lack of cooling capabilities that this product might possess could lead to some heatwaves.
Not something you'd want happening, that's for sure.
Prone to Developing Some Excess Sinkage
We've already discussed this, but foam mattresses, if built from poor-quality materials, are prone to developing some excess sinkage. As noted, though, this is quite a difficult topic to cover, since some sinkage is actually good, and the line where the "excess" part starts is a pretty blurry one.
That being said, though, some customer Polysleep reviews do point out that the mattress lacks bounciness, and might develop a bit more sinkage than originally intended.
What's worth pointing out here, though, is that this doesn't necessarily happen due to some "poor design" or "poor-quality materials", at least not when it comes to the bed in question. Instead, the lack of bounciness is actually quite simply explainable - foam isn't bouncy, by default, and will thus not suit anyone who's looking for the best mattress for sex.

Sinkage-wise, we've already established that the Polysleep mattress is a high-quality, durable and sturdy product. It does also possess some decently-strong edges, too - so what's the deal with the "sinkage" part, then?
Well, yet again, this can be partially due to some people's personal preferences. There are foam-based mattresses out there that are going to be as firm as an innerspring product, and vice versa. If you've been sleeping all your life on a hybrid or spring-based bed, and then transition to a foam one, chances are that it's going to feel a bit too "sinky", at least at first.
Price
Finally, to finish off this Polysleep mattress review, let's take a look at the pricing options of the bed.
If you were to purchase the mattress from the company's official website, the prices you could expect are:
The prices are surely some of the better ones that you'd come across! In all honesty, considering all of the positive features that you'll receive with the mattress, the price tagsa definitely do make sense.

On top of all of that, you'll also receive free shipping and returns (if you'd need to return the mattress, of course), a 10-year warranty, and a 100-night sleep trial. The sleep trial period is pretty standard for most mattress brands out there, but the 10-year warranty should help you see that the company truly does trust their beds.
Here is The Best Saatva Offer I Found:
UP TO $500 OFF
Limited-time Saatva Sale
We're sharing a limited-time Saatva mattress discount with our readers! Grab this deal & enjoy your new mattress with huge discounts.
Expiration date: 12/12/2023
4,042 People Used
Only 83 Left
Conclusions
Now, to finish off, is Polysleep worth checking out?
Well, I can tell you the exact same thing that some customer Polysleep reviews point out - if you're looking for an overall medium-quality bed that would be based out of foam and provide you with some decent motion isolation and pressure alleviation features, then yes.
That being said, though, you should also note that there are quite a few better options for you to pick from. Even when it comes to the foam-based mattress market, there are going to be memory foam mattresses that exceed the Polysleep's beds quite significantly.
Surely, these products might be priced higher, too, but that's kind of the point - if you're able to invest a bit more money into some top-tier products, that's surely what you should be aiming to do.
With that being said, though, we've reached the end of this Polysleep review. I do hope that you're now a bit more knowledgeable about his Canadian brand and its self-titled mattress, and that you're also a bit more sure about the best products for yourself, too. Cheers, and until next time!
Scientific References
1. Geoffroy PA, Oquendo MA, Courtet P, et al.: 'Sleep complaints are associated with increased suicide risk independently of psychiatric disorders: results from a national 3-year prospective study.'
2. Collet J, Ftouni S, Clough M, et al.: 'Differential Impact of Sleep Deprivation and Circadian Timing on Reflexive Versus Inhibitory Control of Attention.'
Leave your honest Polysleep review
Leave your genuine opinion & help thousands of people to choose the best mattress. All reviews, either positive or negative, are accepted as long as they're honest. We do not publish biased reviews or spam. So if you want to share your experience, opinion or give advice - the scene is yours!