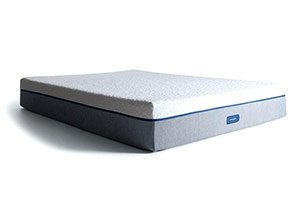 Memory foam, innerspring, hybrid, latex… So many options that it gives you a headache. When picking the right mattress for yourself you'll need to overcome many obstacles. But I'll help to make this process easier by providing you with thorough Novosbed reviews.
Novosbed provides a gel memory foam mattress that comes with its perks and quirks. In this article, you'll find out everything there is to know about the Novosbed mattress, what measures you should always pay attention to, and, in the end, I'll help you to make the right decision.
Verdict at a glance
Novosbed mattress comes with all the perks that are associated with memory foam beds. It offers pressure point relief, motion, and noise isolation. Since you get three firmness levels to pick from, it will be easy to find the right one. However, Novosbed reviews claimed that this bed lacks edge support, bounciness, and might sleep warm.
Pros
Noiseless
Close comforming
Motion transfer reduction
Three levels of comfort
Cons
Soft edges
Lacks bounciness
Might sleep warm
Novosbed Reviews: What Qualities Matter?
There are certain characteristics that you should be aware of in order to choose the right bed. They're known to every person in this field but it's completely normal if you're unaware of them - I can help.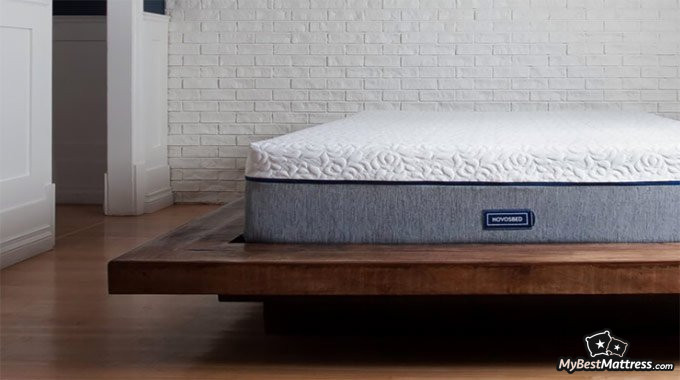 Here are the main features that you should be looking for in a high-quality mattress:
Durability. Since mattresses are a huge investment, you should expect to get a high-quality product for the price you pay. It's crucial to pay attention to the quality of the materials used and Novosbed reviews to make sure that it's worth it.
Pressure point relief. Getting healthy sleep is more important than getting much sleep. If you have specific health issues, such as back or neck pain, then you'll need a bed that can alleviate those aches.
Motion reduction. Feeling your partner tossing and turning right next to you is not the most pleasant experience. A capable mattress should be able to reduce motion transfer to a significant extent, making your partner's movement barely noticeable.
Noise isolation. Some mattresses that have coils in their construction tend to be really noisy. That can be even more disturbing than motion transfer.
Temperature neutrality. I cannot imagine what could be worse than sleeping too hot and waking up in a sweat every night. Yup, poor quality mattresses can do that… Since the issue of sleeping too warm is associated with memory foam mattresses, in this Novosbed reviews, we'll see whether or not that's an issue with their bed.
Bounciness. This measure is needed for couples. A mattress that's bouncy can improve your sex life, who wouldn't want that?
Now that all the measures are clear and you know what can be expected, let's move to more detailed Novosbed mattress reviews.
Novosbed Reviews: PROS
Let's begin Novosbed review from the positive aspects. After all, these are the measures that matter the most.
Durable Bed
It wouldn't be wrong to say that what we're all looking for in a bed is high-quality materials and durability. Of course, these two factors are almost the same - you wouldn't have a high-end mattress if it would have been made of poor components.
Based on Novosbed reviews, the Novosbed should last at least 7 years. That being said, after that you might notice some natural sagging. However, it doesn't mean that it's time to change your mattress. If it feels comfortable, then you can continue sleeping on it.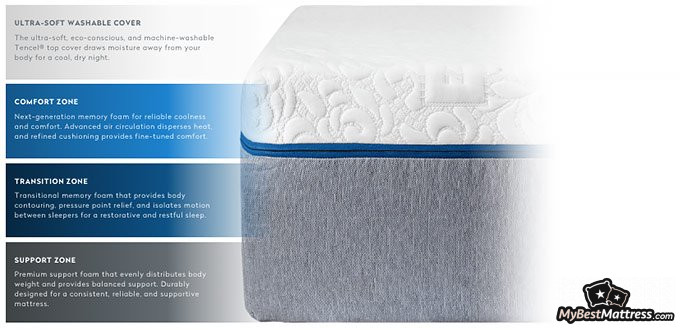 Let's take a look at the Novosbed mattress structure to understand why it's so durable. Here are the main components:
Eco-friendly washable cover
Memory foam
Transitional memory foam
Polyfoam
What's exceptional about Novosbed is that each mattress comes with a Comfort+ adjustment kit. It provides you with an additional layer that can make your bed slightly softer or firmer. Since the cover is super easy to unzip, you'll be able to do that within a few minutes.
Now, let's take this Novosbed review to further measures.
Latest Saatva Coupon Found:
UP TO $500 OFF
Limited-time Saatva Sale
We're sharing a limited-time Saatva mattress discount with our readers! Grab this deal & enjoy your new mattress with huge discounts.
Expiration date: 13/06/2023
4,042 People Used
Only 83 Left
Pressure Point Relief
Pressure points are such areas of your body that tend to stick out the most, it's your shoulders, hips, and even knees. When sleeping on an unsuitable mattress you'll most likely feel pressure in these areas.
Now, Novosbed reviews revealed that when choosing the right comfort level they were able to relax and feel the ultimate pressure point relief. Needless to say, pressure point relieving properties are needed not only for those who experience back pain but also for people who feel constant stress and have aches in their neck and shoulders.

Based on the study[1] that performed research on people with chronic low-back pain, individuals who were sleeping on medium-firm beds had better outcomes and were experiencing less pain during the day. Pay attention to that when choosing the right mattress firmness.
Also, if you're an athlete and have regular workouts, such a bed can help you to recover much faster.

Did you know?
No Motion Transfer
Motion transfer isolation is crucial for couples. After all, if one of you keeps tossing and turning during the night, another one is also experiencing less good sleep, especially if it's a sensitive sleeper we're talking about.
You can perform a motion transfer test on your mattress by putting a glass filled with water on one side of the bed and then lay down on the other. Then make some movement and look at whether or not the glass of water spills.
Novosbed mattress reviews claimed that when sleeping on their bed, very minimal motion transfer can be felt. However, such a level of movement doesn't wake up even the most sensitive sleepers.
Noiseless
Just like motion transfer, if the mattress produces sound when getting in and out of the bed, and also when changing your sleeping position, your sleep can be interrupted.
It's pretty clear that memory foam mattresses, such as Novosbed, tend to be noiseless. That's another perk that Novosbed mattress reviews mentioned. So, you'll be able to sleep like a baby.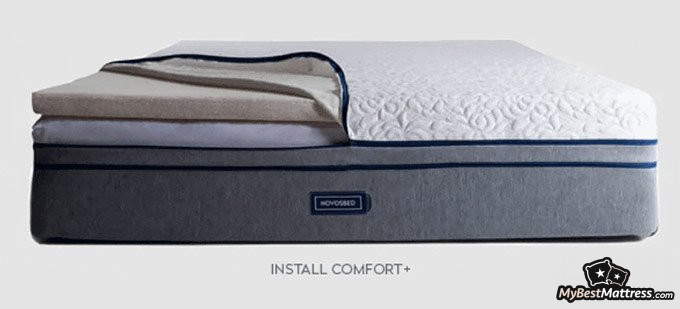 You should know that mattress noise is strongly linked to springs. You can expect innerspring and hybrid beds to be loud. However, if we're talking about reputable brands that use pocketed coils in the construction of their beds, noise is also not an issue.
Thus, if you want to experience the highest quality of sleep, you should choose wisely.
Firmness for All Sleepers
Picking the right mattress is not always as easy as it seems in the first place. Those who claim that one mattress firmness can fit all are wrong. Even though the majority of sleepers find medium firm beds just the right option, others will need an option that's either on the softer or firmer side.
Novosbed provides you with three firmnesses:
If you're a light-weight sleeper, it's recommended to choose a bed that's on the softer side, if you're an average-weight person, then you'll probably find a medium bed just the right fit. Firm mattresses are recommended for heavier individuals (above 230lbs). This way you get enough support and protect your bed from premature sagging. If you want to find out more about how to choose the right bed, you can check out this article.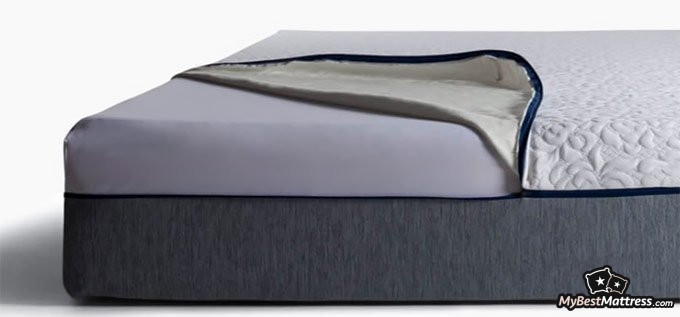 What Novosbed reviews also loved is the fact that you get the Comfort+ adjustment kit. So, even if you choose a bed that's slightly too soft or too firm, you can easily fix this issue.
That's about it about Novosbed review pros, now let's take a look at the issues that this bed has.
Novosbed Reviews: CONS
No matter how good the bed is, it tends to still have something that not all sleepers appreciate.
Edges Feel Soft
The main issues associated with memory foam mattresses is the fact that almost all of them lack edge support. You might think "this is not such a huge issue" but many customers would disagree.
You see, soft edges not only make you feel insecure when sleeping on the side of your bed but they also make it difficult to get out of the bed, especially if you have a low foundation. Also, when sitting on your bed, you might feel as if falling out of it. That's not the most pleasant feeling.

As you probably already understand, Novosbed mattress, being a memory foam mattress that it is, also lacks edge support. I've noticed that Novosbed reviews mention this issue multiple times.
If you like the way memory foam mattresses feel, however, hate the fact that Novosbed has soft edges, you can check out some other memory foam mattresses that manage to cope with this issue.
Lacks Bounciness
Bounciness is what couples tend to expect for mattresses. It's known that this measure is beneficial for your sex life. The sad news is that the majority of memory foam mattresses are rarely bouncy, Novosbed is one of them.
When sleeping on this bed you will feel a sinkage that creates this feeling as if sleeping "in the mattress". The majority of couples do not appreciate it. If that's not how you prefer to sleep, then, let's just say, memory foam mattresses are not the best option for you.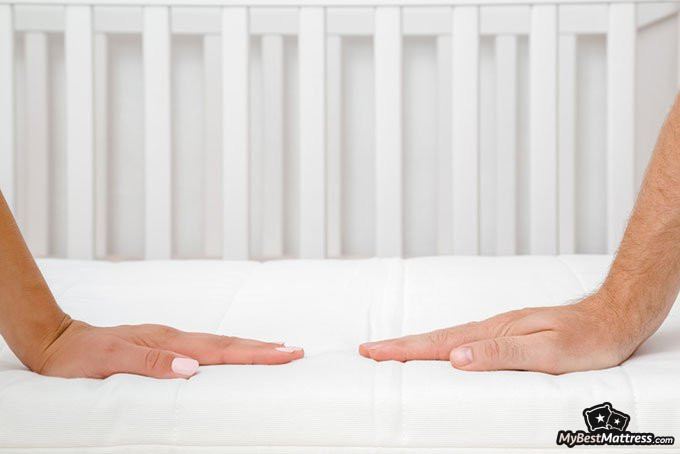 If a bouncy, supportive bed that allows you to sleep on top of it is what you're looking for, then I recommend innerspring and hybrid beds. Due to coil springs in their construction, such beds are way more bouncy. But if you want a mattress without coils, then the latex bed might be the right choice.
Some Customers Reported Sleeping Warm
Temperature and sleep quality[2] are linked closer than you think. People who sleep too hot or too cold experience lower quality sleep than those who sleep neutrally.
Some beds tend to trap more heat than others, usually memory foam mattresses are the ones that have this issue. It's not recommended to pick such a bed if you hate sleeping warm.
I've managed to find some Novosbed reviews that claimed this mattress sleeps warm. However, considering the ratio of those who were pleased and those who didn't, it's pretty clear that Novosbed performs better than an average memory foam mattress.
Therefore, we're done with all the Novosbed reviews pros and cons, however, there are some additional details that you would probably like to be aware of.
Novosbed Pricing and Additional Details
It's fair to say that even if the bed has all the crucial measures, pricing is what could change our decision easily. Now, here's the full pricing list for Novosbed prices and sizes:
Twin - $799 USD
Twin XL - $849 USD
Full - $899 USD
Queen - $999 USD
King - $1199 USD
Cal King - $1199 USD
Note that all the prices were provided when writing this Novosbed review. They can be slightly by the time you're reading it.
As you can see, Novosbed offers mattresses of the average price range. You can get a queen bed for slightly less than $1000, and that's the good news. If you would like to check the best memory foam mattresses that come in similar pricing, then you can do that here.
Don't forget that the majority of mattress brands offer various discounts and promotions that we have collected for you to find. You can find all the available options here.

Just like all the reputable mattress brands that sell their products online, Novosbed offers a 120-night sleep trial, 15-year warranty, and free shipping & returns. So, it's completely risk-free.
Here is The Best Saatva Offer I Found:
UP TO $500 OFF
Limited-time Saatva Sale
We're sharing a limited-time Saatva mattress discount with our readers! Grab this deal & enjoy your new mattress with huge discounts.
Expiration date: 13/06/2023
4,042 People Used
Only 83 Left
Conclusions
All things considered, Novosbed mattress is great for everyone who likes how the traditional memory foam mattress feels. It offers close conforming, pressure point relief, reduces motion transfer significantly, and is noiseless.
On the other hand, this bed lacks bounciness, edge support, and might sleep too warm for some. So, I would say that it's an average bed for average pricing.
If you're still in the research stage and would like to consider some other options, then feel free to check out the list of the most recommended mattresses that we have prepared.
I hope this article was useful and helped you to find the right option.
Scientific References
1. Francisco M Kovacs: 'Effect of firmness of mattress on chronic non-specific low-back pain: Randomised, double-blind, controlled, multicentre trial'
2. Kazue Okamoto-Mizuno and Koh Mizuno: 'Effects of thermal environment on sleep and circadian rhythm'
Leave your honest Novosbed review
Leave your genuine opinion & help thousands of people to choose the best mattress. All reviews, either positive or negative, are accepted as long as they're honest. We do not publish biased reviews or spam. So if you want to share your experience, opinion or give advice - the scene is yours!